In a country that has the sixth longest coastline in the world at roughly 25,780 kilometers (16,020 miles), there is certainly no shortage of locations from which you can launch one of the best fishing kayaks in Australia.
The type of kayak that you launch, however, will depend on what exactly you're fishing for and a host of other factors. For instance, while Australia offers some great spots for coastal kayak fishing, there are also plenty of lakes and rivers for kayak fishing.
As you might expect, those locations require a little different set up and the conditions will require a different style of kayak as well. If you are new to the world of kayak fishing in Australia, let's just say there's a little something for everyone.
Still, you will need to do your homework to make sure the kayak you choose is going to serve your needs once you're on the water. Fortunately for you, we are going to highlight 15 of the best fishing kayaks in Australia and provide some insights to help you choose the best one for you.
So let's get to it!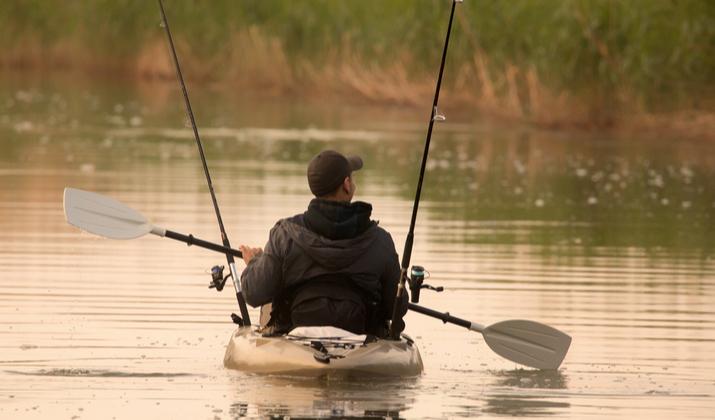 Photo by allanw via Shutterstock
Best Fishing Kayaks in Australia
Bay Sports Pedal Pro Fish
Hydroten Big Dace Pro
Sevylor Coleman Colorado
Intex Excursion Pro K2
Elkton Outdoors Steelhead
Bay Sports Angler Pro
Blue Coastline Kerio 200
Bay Sports Perch Angler
Bay Sports Pedal Pro Fish XL
Bay Sports Clearview 3
Bestway Hydro-Force Koracle
Aquaglide Chinook 120
Aquaglide Backwoods Angler 75
Aquaglide Backwoods Purist 65
HotMax Inflatable Kayak
Quick Fishing Kayak Buying Guide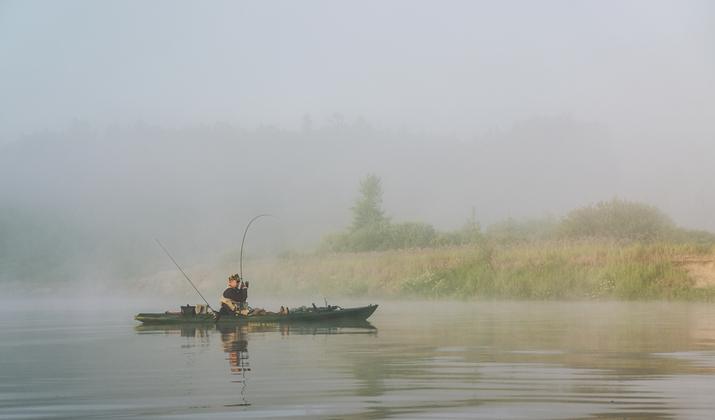 Photo by wwwarjag via Shutterstock
Not all anglers have a great sense of humor, but you might surprise a few with some of these funny fishing quotes. Once you get back to serious matters, however, here's what you should look for in a fishing kayak.
Inflatable Versus Hardshell
The best place to start is a brief conversation about the pros and cons of inflatable fishing kayaks versus more traditional hardshell, sit-on-top fishing kayaks. Ultimately, you will have to weigh these pros and cons according to your preferences, but let's lay them out quickly here.
Inflatable Pros and Cons
Pros:
They take up minimal storage space in your vehicle and at home
They are easier to transport without a roof rack
They usually come as a complete package with many of the kayaking accessories you'll need
They can be more affordable
Some allow you to switch between carrying two paddlers or paddling solo
Cons:
They offer less rigidity and durability
They can be more difficult to paddle and maintain a straight course
They are more susceptible to punctures and tears
They typically feature sunken cockpits that can make casting more difficult
Hardshell Pros and Cons
Pros:
They are very durable and meant to handle the rigors of fishing
This type is the only of the two that offers some models with pedal propulsion
They offer great enclosed storage to help you keep your tackle organized
They tend to offer elevated seats and some can be adjusted to multiple positions
Cons:
They tend to be more expensive
They are heavier when transporting or lifting them onto a roof rack (you might want an easy-load roof rack if your kayak is over about 80 pounds)
They ideally need a covered storage area at your home when you're not using them
If you are brand new to kayak fishing, it can be wise to opt for a cheaper inflatable kayak when you're testing whether or not you really like it. Once you gain some experience, however, many anglers love the durability and functionality of a hardshell fishing kayak.
Weight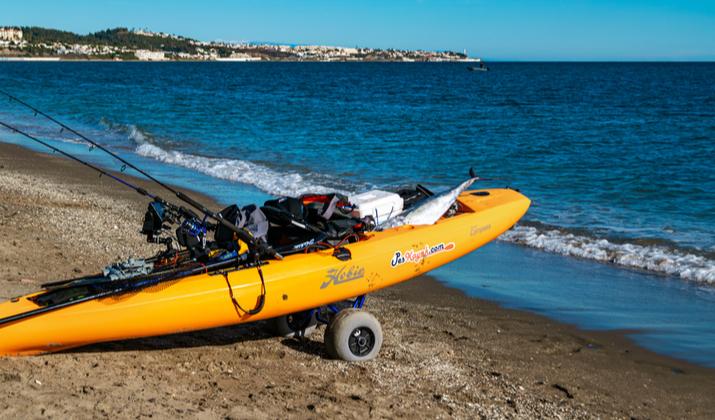 Photo by Maritxu via Shutterstock
These fishing kayaks can get heavy because of the many features they are laden with. What that means for you is more weight to load onto your truck to transport your kayak as well as once you get it off your truck and need to make the long haul down to the water's edge.
These kayaks tend to get away with being a bit heavier because most anglers aren't trying to set any speed records out on the water. That said, you have to prepare to handle your kayak in and out of the water.
Check the weight of the kayaks you're interested in to see if you're comfortable with handling that amount. While there may not be a huge difference in two kayaks with a five-pound weight difference, the handling of two kayaks with a 30-pound difference will be quite a shift.
The good news is that there are many tools that make it easier for you to handle the weight of a fishing kayak. Because of their higher weights, we strongly recommended looking into kayak carts for rough terrain and easy-load kayak roof racks.
These two accessories will make a world of difference in your process of getting your kayak on and off your vehicle and then getting it to and from the water's edge. No matter how light your fishing kayak is, these accessories will make your life easier.
Storage Layout
For the novice angler, you may or may not have an idea of how you would like to organize fishing equipment on a kayak. Experienced anglers learn this over time and many eventually customize their fishing kayaks to their specific needs.
When you're just starting out, however, it pays to find a kayak that offers a good combination of sealed and open storage. This will allow you to play with putting less-used gear in a place where it stays protected while keeping your most-used gear more readily accessible.
Most anglers love having at least one sealed storage hatch that they can reach right from their kayak seat. That allows for smaller fishing supplies or personal items to be stored safely within reach at all times.
From there, it is really up to you whether you prioritize covered and sealed storage more or less than open, bungee-secured storage areas. The latter keeps things a little more accessible, but it does require the use of dry bags if there is anything you absolutely must keep dry.
The Seat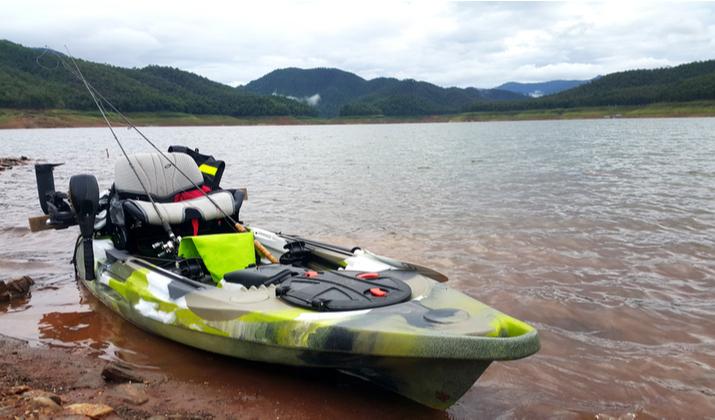 Photo by Aekchai Doungdee via Shutterstock
Unfortunately, all kayak seats are NOT created equal. Some are much more comfortable than others but, in this case, we are more concerned about functionality and specific effectiveness than we are about comfort.
A quality fishing kayak has a raised seat with aluminum framing and some sort of mesh material stretched between the frame. This provides an elevated vantage point for anglers while breathing better to keep you cooler on hot summer days.
The best fishing kayaks have elevated seats that can be adjusted to multiple positions depending on your activity. While this isn't standard to all fishing kayaks, it is nice to be able to adjust your seat whether you're actively fishing, actively paddling, or just relaxing and enjoying your lunch.
Reviews of the Best Fishing Kayaks in Australia
Check Price on Amazon
Length: 320 centimeters
Width: 84 centimeters
Weight: 35.5 kilograms
Weight Capacity: 150 kilograms
Bay Sports is one of the top brands in the fishing kayak industry in Australia and they make a wide variety of kayaks for different fishing applications. The new Pedal Pro Fish is lighter and more reliable than last year's version and it also boasts a new gear-powered pedal-drive system.
It is packed with features and upgrades including anti-slip deck matting for standup kayak fishing, a revamped rudder design to eliminate breakage when the kayak is dragged, and a hinged storage hatch with levers at the bow to keep your gear dry even if this stable kayak does somehow overturn.
Check Price on Amazon
Length: 310 centimeters
Width: 84 centimeters
Weight: 23 kilograms
Weight Capacity: 175 kilograms
The Big Dace Pro from Hydroten is a little lighter and a little more compact than the Pedal Pro Fish. It doesn't come with a pedal drive system, but it does feature a drop-down rear rudder to help you keep the kayak straight without overcorrecting with your paddle.
The deck is also wide enough and the kayak is stable enough for standup fishing, but when you do sit down you'll still have an elevated platform with the mesh seat in this kayak. It also boasts a central storage hatch and a larger covered storage area at the bow, in addition to the open stern storage compartment.
Check Price on Amazon
Length: 305 centimeters
Width: 100 centimeters
Weight: 19.5 kilograms
Weight Capacity: 213 kilograms
The Sevylor Coleman Colorado is the first inflatable fishing kayak on our list and this one is made to handle two paddlers. That said, it can also be set up for a single paddler and extra fishing gear if you're the kind of angler that likes to be prepared for anything.
It features 18-gauge PVC construction with a 1000-denier tarpaulin bottom and an 840-denier nylon cover. It is also designed with multiple air chambers so that this kayak remains afloat if a single air chamber somehow does become compromised.
Check Price on Amazon
Length: 384 centimeters
Width: 94 centimeters
Weight: 21.2 kilograms
Weight Capacity: 181.4 kilograms
The Intex Excursion Pro K2 is similar to the Coleman Colorado in that it can be set up for one or two paddlers. This one, however, features super-tough laminate PVC construction with a polyester core that offers great resistance to impacts, abrasions, and even UV damage.
This kayak comes with a number of fishing-specific features, such as two integrated recessed fishing rod holders and a removable (and adjustable) mounting bracket for securing kayak fishing accessories like portable fish finders and kayak GPS units.
Check Price on Amazon
Length: 330 centimeters
Width: 100 centimeters
Weight: 18.4 kilograms
Weight Capacity: 181 kilograms
Another inflatable option for single paddlers is the Elkton Outdoors Steelhead, which offers reinforced layered PVC construction and a solid drop-stitch floor that allows you to cast comfortably from a standing position.
That's a rarity among inflatable fishing kayaks, but the fun doesn't stop there. This kayak also features multiple Scotty-style attachment points for fishing accessories, a large bungee storage area at the bow, and two skegs for better tracking ability.
Check Price on Amazon
Length: 400 centimeters
Width: 78 centimeters
Weight: 27 kilograms
Weight Capacity: 185 kilograms
This is one of the most versatile fishing kayaks that Bay Sports produces and it is plenty capable of tackling offshore fishing demands as well as handling lakes and rivers. One of its coolest features is a live baitwell in the center console with a clear bottom for excellent fish viewing.
It is also laden with multiple flush-mounted fishing rod holders, a swivel-mounted rod holder on the center console, reflective deck rigging for better safety in low visibility conditions, and a host of other features that the kayak angler will love.
Check Price on Amazon
Length: 305 centimeters
Width: 91.4 centimeters
Weight: 15.9 kilograms
Weight Capacity: 210 kilograms
The Kerio 200 is an inflatable fishing kayak that is made with heavy-duty, 1000-denier PVC material and finished with a waterproof layer that also provides excellent UV resistance. This kayak is made for two paddlers, but both seats are removable and adjustable so you could set it up for a single angler as well.
Made for the novice angler, this kayak comes with nearly everything you will need to get started. That includes two aluminum kayak paddles, two seats, two footrests, a removable fin for better tracking ability, a double-action hand pump, a pressure gauge, a repair kit, and its carry bag.
Check Price on Amazon
Length: 330 centimeters
Width: 84 centimeters
Weight: 28 kilograms
Weight Capacity: 190 kilograms
The Perch Angler is designed with the fishing family in mind and this unique kayak is ideal for an adult and a child to enjoy a day on the water together. The raised aluminum-framed seat is super comfortable for Mom or Dad and the small grooved seat in the center gets one of the kids out too.
Designed for fishing on harbors, lakes, and rivers, this kayak boasts plenty of storage for all of your tackle and fishing equipment. It is also equipped with a drop-down, foot-controlled rudder system to improve tracking when you're dealing with crosswinds or tidal currents.
Check Price on Amazon
Length: 398 centimeters
Width: 85 centimeters
Weight: 41 kilograms
Weight Capacity: 250 kilograms
The Pedal Pro Fish XL from Bay Sports is the larger version of the standard Pedal Pro model. It offers all of the great features of that kayak, including the innovative pedal propulsion system, in a larger package with more storage space and overall carrying capacity.
That makes it ideal for almost all types of fishing and for larger paddlers as well. Even smaller paddlers might enjoy the added ability to bring a bunch of extra supplies for a multi-day kayak fishing trip.
Check Price on Amazon
Length: 401 centimeters
Width: 74 centimeters
Weight: 39 kilograms
Weight Capacity: 200 kilograms
While the Clearview 3 isn't laden with as many rod holders, mounting points, and other fishing-specific accessories as some of the others on our list, it is really unique option for the novice anglers out there.
It features two clear panels on the hull of the kayak so that you can clearly view whatever is swimming below you. Because it can handle two paddlers, there's also plenty of space for fishing rods, or to bring your favorite furry companion out on the water with you.
Check Price on Amazon
Length: 270 centimeters
Width: 100 centimeters
Weight: 9.03 kilograms
Weight Capacity: 150 kilograms
The Bestway Hydro-Force Koracle is another inflatable fishing kayak and this is arguably the most budget-friendly choice on our list. It's made for lakes and rivers, but may also be able to handle protected marinas with minimal boat traffic.
It is equipped with built-in fishing rod holders to keep rods secure while you're paddling and it also has built-in paddle parks to keep your paddle secure while you're fishing. Plus, it comes with multiple footrests to accommodate paddlers of different sizes.
Check Price on Amazon
Length: 370 centimeters
Width: 93 centimeters
Weight: 12.6 kilograms
Weight Capacity: 250 kilograms
Ideal for inshore fishing on flat water, the Aquaglide Chinook is a slightly more durable inflatable fishing kayak than many of the others on our list. That is largely due to its drop-stitch construction and thick outer cover that provides excellent puncture and UV resistance.
The open design of the cockpit provides plenty of room to move about and rotate as you cast. Plus, there are covered storage areas at the bow and stern and it offers enough carrying capacity to accommodate two adults plus a small child or dog.
Check Price on Amazon
Length: 231 centimeters
Width: 123 centimeters
Weight: 4.4 kilograms
Weight Capacity: 136 kilograms
Aquaglide's Backwoods Angler 75 is made with the backcountry angler in mind. Their entire Backwoods series of inflatable fishing kayaks are made for packing a kayak into a remote lakefront or riverfront camping area and being able to do more than just fish from shore once you're there.
This Angler 75 provides enough buoyancy for larger paddlers while still retaining an extremely light pack weight. It is equipped with MOLLE plates in convenient locations to provide nearly endless opportunities to customize your fishing setup.
Check Price on Amazon
Length: 201 centimeters
Width: 110 centimeters
Weight: 2.8 kilograms
Weight Capacity: 113 kilograms
Just in case the Angler 75 isn't quite lightweight enough for you, the Purist 65 is made to go even further and access even more remote fishing locations. While it doesn't offer the same carrying capacity as the larger version, it makes up for it when it comes to ease of portaging between alpine lakes.
In spite of its smaller size, it's a rugged design made with a heavy-duty TPU cover and floor. Plus, it comes with paddle keepers, cargo bungees for gear storage, webbed handles for easy transport, and its own ultralight two-stage foot pump.
Check Price on Amazon
Length: 325 centimeters
Width: 53.34 centimeters
Weight: 13.8 kilograms
Weight Capacity: 181 kilograms
The final selection on our list is another budget-friendly inflatable with room for two paddlers and covered storage at the bow and stern. The major benefit of this design is that it features eight separate air chambers to keep it afloat if one is compromised.
Check Price on Amazon
The Bay Sports Pedal Pro Fish XL is our top pick for the best fishing kayak in Australia because it facilitates the easiest hands-free locomotion of any kayak on our list. What exactly does that mean?
Well, you will have the freedom to keep casting or adjusting trolling lines while you keep your kayak moving. Sometimes something as simple as being able to re-string a line while you relocate can save you a ton of time and make you much more efficient and effective on the water.
Another benefit of this kayak's pedal-drive system is that the muscles in your legs tend to be a bit larger than those in your arms and shoulders. In other words, they should allow you to go farther and stay out longer so that you can make your family proud when you bring home a solid catch for dinner.
Aside from its awesome pedal propulsion system, we love many of the other features of this fishing kayak, such as its elevated seat, anchor trolley line, sealed storage hatches, and adjustable skeg to help you control your heading.
All in all, it's worth the extra investment to get a kayak that is truly going to serve all of your fishing needs for years to come!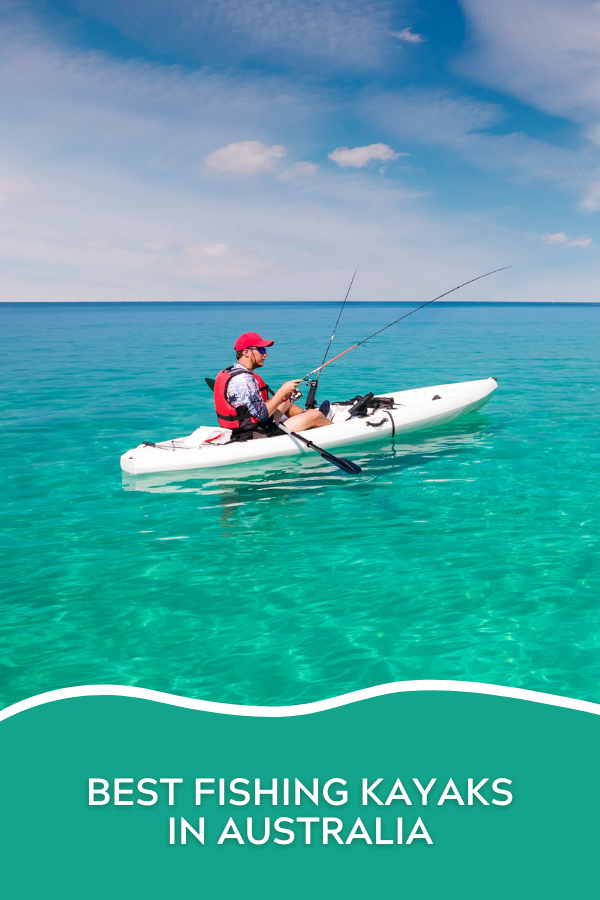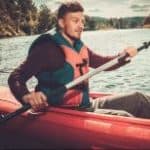 Author: Peter Salisbury
Pete is the Owner of KayakHelp.com. Born and raised in Cleveland, Ohio, he grew up kayaking, fishing, sailing, and partaking in outdoor adventures around the Great Lakes. When he's not out on the water, you can find him skiing in the mountains, reading his favorite books, and spending time with his family.