Whether you need to buy a new water ski or some of the accompanying equipment to go with it, you will want to choose one of the best water ski brands that you can find. These brands are trusted for quality products that perform well and last long.
Water skiing is a super fun watersport for adrenaline junkies that love flying along the water's surface at high speeds and making quick cuts across a relatively flat wake. Of course, you will need a relatively expensive ski boat to tow you along.
Finding someone with a vessel from one of the best water skiing boat brands doesn't preclude you from having an actual water ski ready to go when you get an invite from your friend that owns a ski boat.
The best water ski brands have been crafting high-quality skis for professional water skiers for years. We are going to spend our time today reviewing these ski brands and we will also provide some general tips to help you select a quality water ski that meets your needs.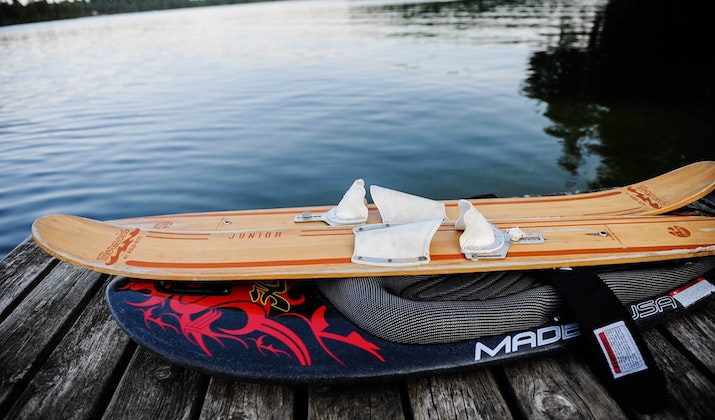 Photo by Clark Young via Unsplash
Best Water Ski Brands
Airhead
Connelly Skis
HO Sports
Radar Skis
O'Brien Watersports
Reflex Water Ski USA
RAVE Sports
D3 Skis
KD Watersports
Goode Ski Technology
Quick Tips For Buying A New Water Ski
Photo by Claudio Schwarz via Unsplash
Choosing the right water ski for you is bigger than simply choosing one from a quality water ski brand. Let's discuss a few tips to help you select a quality water ski for your needs and skill set.
Water Ski Size
The first thing to consider is the length of the ski that will match your body type and experience level. The two main factors you will look at here are your body weight and the speed at which you typically ski.
Experienced skiers tend to enjoy being pulled at higher speeds while novice skiers need to go a little slower as they build skills and experience. Generally speaking, however, most water skiers are pulled at speeds that range from 15 miles per hour all the way up to more than 35 miles per hour.
This is a vast range and ski length also has quite a bit of variation as well. Water skis average from 59 inches up to 72 inches in length. Smaller skiers will usually be fine with a shorter ski while heavier skiers will need a longer ski to provide more buoyancy.
As tow speeds increase, advanced skiers actually wind up graduating to a slightly smaller ski because it will allow them to maneuver more quickly and they will not require as much buoyancy when being towed at higher speeds.
Here is a quick sizing chart that may be useful when deciding what length of skis to buy: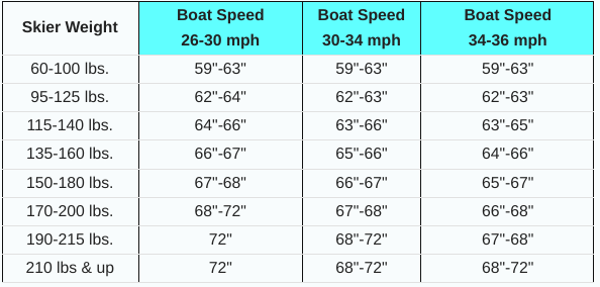 PC Water Ski World
Combo Skis, Trainers, Or A Slalom Ski?
These are the three main types of water skis that are widely used by both competitive and recreational skiers. There are also trick skis and jump skis, but these require a higher skill level before you can make the transition to them.
If you are a beginner, you should always begin with combo skis or trainers. Trainers are usually the best for beginners because they are the most buoyant and also include a length of rope that keeps the ski tips together when you are just starting out, which is one of the hardest skills to master at first.
Combo skis are the best if you are thinking about transitioning from two skis to one. One of the skis in a combo set is usually set up with a slalom ski binding that will allow you to "drop" a ski and move your second foot onto the single ski as you learn how to slalom.
Getting out of the water on a slalom ski is the hardest part of the whole sport of slalom skiing. You should have experience dropping one of your two combo skis and riding on a slalom before you attempt to start with only a single ski.
Binding Sizes
Water ski binding sizes usually come in ranges that can make it hard to decide which is best for you. For example, you might not be able to find a binding that matches your exact shoe size of 11.5.
Instead, you will probably find that these water ski brands make their bindings in sizes that range from small (6-9) to medium (9 to 12) to large (12 to 15). This is just an example, but it should illustrate that some of you will find yourself in an "in-between" state when it comes to proper binding sizes.
Based on the example above, this would be folks with shoe sizes of 9 or 12. In this case, most binding companies recommend that you choose the smaller of the two binding choices, but you can also avoid this issue by choosing adjustable "universal" bindings that will be able to adapt to all user's shoe sizes.
Getting in and out of your ski bindings easily is also important at the beginning and end of your ski runs. If your bindings happen to be on the smaller size for your feet, we highly recommend picking up a bottle of Babe's Boot Butter Lubricant.
Best Water Ski Brands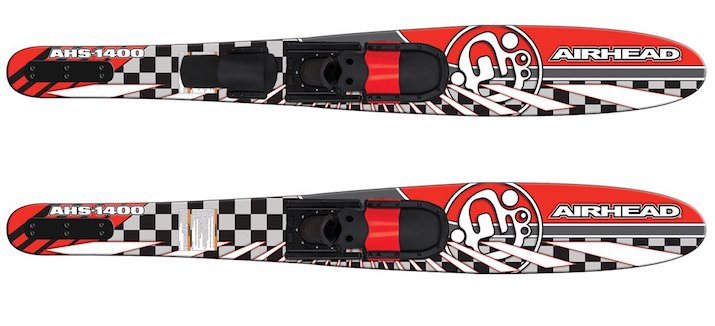 PC Airhead
The Airhead water ski brand makes more than just quality water skis. They also make boards for wakeboarding and wake surfing, as well as towable tubes, tow ropes, and a variety of other boating accessories.
They have several trainer water ski options that are great for beginners, but they also offer dual trick water skis for more advanced maneuvers. You will also find a few combo ski models with an optional slalom ski included that makes it easy to drop one ski as you are learning how to slalom ski.
For casual days on the waterfront, they also offer a few neat accessories, such as floating coolers, floating loungers, and floating mats for the kids. You can also get river tubes on their site and they even offer some snowsport accessories as well.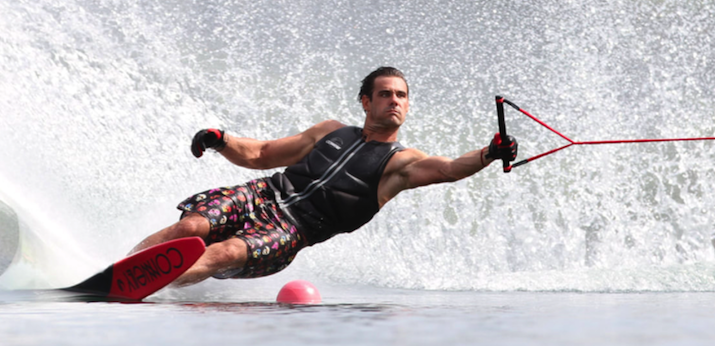 PC Connelly Skis
The Connelly Ski company has been a leader in the watersports industry since 1965 and their products are widely used by professional water skiers at the pinnacle of their sport. They pride themselves on striking a balance between providing products to enhance performance as well as offering options that will surely help you enjoy your time on the water.
Their experience is what sets this water ski brand apart and they have been responsible for many firsts over the course of the last five-plus decades. That includes developing the Big Easy ski design in the 1990s and pioneering V-step ski innovation in the early 2000s.
There is nearly constant innovation going on in the water ski industry, but this company has kept up with every new development for more than 50 years, which is quite impressive for a company that got its start shaping water skis made from mahogany and white cedar in the 1960s.
Today, they offer a huge array of products designed for water skiing and other watersports. That includes wakeboards, wake surfboards, stand-up paddleboards, kneeboards, tubes, floats, and much more.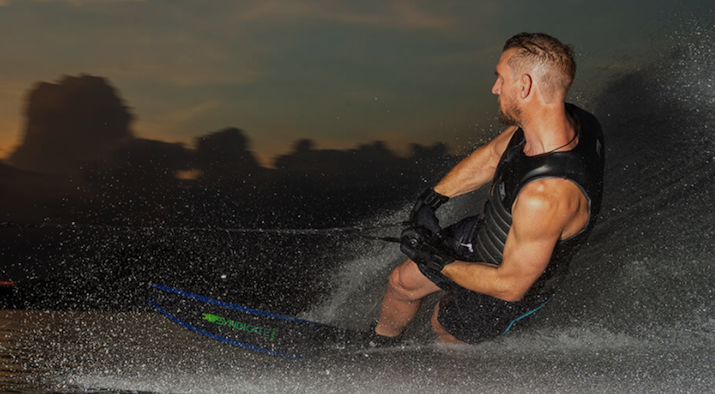 PC HO Sports
The HO Sports water ski brand is all about helping you live your best lake life. The company was founded on the shore of Lake Sammamish, Washington in 1982 and has become a leading manufacturer of watersports equipment for nearly 40 years now.
In the world of competitive water skiing, the HO Sports brand has been known for quality craftsmanship and innovative ski designs. Their skis and water ski products are available in more than 70 countries globally today.
One of the great parts of this ski company is that they design products for skiers of all skill levels. If you need training skis, combo skis, trick skis, or slalom skis for competitive use, you can find them from HO Sports.
The HO Sports brand also has its own tournament waterski division that is called Syndicate Skis. This branch is dedicated to developing and innovating in the world of competitive water skiing and other competitive watersports.
Like most of the water ski brands on this list, they offer a wide array of products for other watersports as well. That includes a full line of stand-up paddleboards, kayaks, floaties, water ski vests, and much more.
The HO Sports water ski brand is also one of the industry leaders in terms of environmental sustainability. They have a variety of initiatives on this front, but they are constantly committed to developing cleaner and greener products and processes to protect the environment moving forward.
PC Radar Skis
Radar Skis is a water ski brand that has been started by skiers and commits to pioneering the best skis for professionals. Their founders know what it is like to get the first run on a completely still lake and they design products that won't let you down once you get there.
The team behind Radar Skis is quite large, which gives them the ability to incorporate many different perspectives into their product designs. All of their products, however, come alive in the Radar Lab.
The Radar Lab is based on the shores of Radar Lake in Woodinville, Washington and it is Radar's innovation hub. This small lake to the northeast of Seattle is where they test new materials, develop new ski shapes, and source different carbons for lighter, faster skis.
They pride themselves on many innovative technologies, but their Aero Core polyurethane foam formulation allows their skis to sit deeper in the water and provide a more forgiving and consistent ride for beginners.
They are also one of the leading companies when it comes to implementing tracking technology in their skis. By embedding small NFC chips in their skis, they allow the skier to observe critical data about their ski right from a compatible smartphone.
In addition to some of the best waterskis in the industry, they also produce a number of products for other watersports. That includes tow ropes, gloves, ski vests, kneeboards, tubes & inflatables, and more.

PC O'Brien Watersports
O'Brien Watersports is another water ski brand that has been around for more than 50 years and its mission is specifically to develop watersports products designed for family fun. They do make great water skis, too!
The O'Brien Team is made of up a vast collection of watersports professionals from all over the world. The company also has two smaller branches dedicated to pool floats (Margaritaville) and kneeboards (Hydroslide).
O'Brien makes training skis, combo skis, trick skis, and slalom skis designed for professional water skiers. Of course, they also produce tow ropes, bindings, handles, gloves, and water ski bags.
If you have one of the most expensive ski boats but you aren't really into water skiing, O'Brien also offers plenty of gear for other watersports. That includes wakeboards, kneeboards, towable tubes, and much more.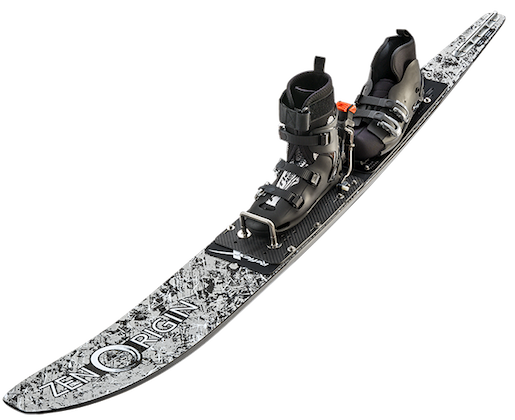 PC Reflex Water Ski USA
Reflex Water Ski USA is one of the best water ski brands that has somehow flown a little bit under the radar for years. The company has actually been around since the 1950s and originally developed some of the best wooden water skis for champion slalom and trick skiers.
During the 1990s, however, the ski brand has gotten away from the world of competitive water skiing and transitioned into the leisure market. They are most known in Europe, Japan, and South America and many beginners in these regions took their first water ski ride on a pair of Reflex Water Skis.
In the early 2000s, Reflex welcomed a new boss from the composite materials industry and they subsequently renewed their efforts to innovate new products and designs in the worlds of competitive slalom and trick skiing.
They are credited with developing the world's first hard-shell releasable binding for slalom skis and their skis have since stood on the podium alongside many of the world's top skiers. In 2007, they also released a new line of fully carbon water skis and they continue to innovate annually.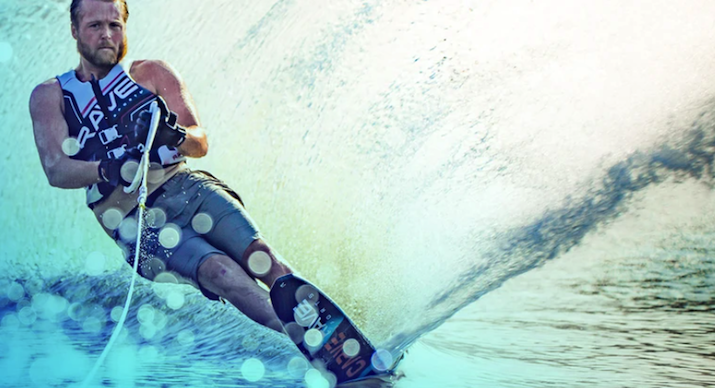 PC RAVE Sports
RAVE Sports offers one of the largest lineups of watersports toys, pool floats, and water ski equipment in the industry. While they might be more well-known for producing the original inflatable water trampolines, they also offer some great water skis.
Their training skis are built for kids and beginners that are just learning how to water ski and their combo and slalom skis are designed for experienced riders. They also make some great wakeboards and boards for wake surfing.
This water ski brand was originally founded in September of 1996 and it was originally developed as a marketing and distribution platform to help streamline the process of getting innovative watersports equipment from production out to a worldwide market.
Over the years, their business acquisitions and innovative developments have expanded their product offerings and kept them atop the recreational watersports industry. They now have equipment dedicated to paddle sports, waterboggans, water bouncers, and more.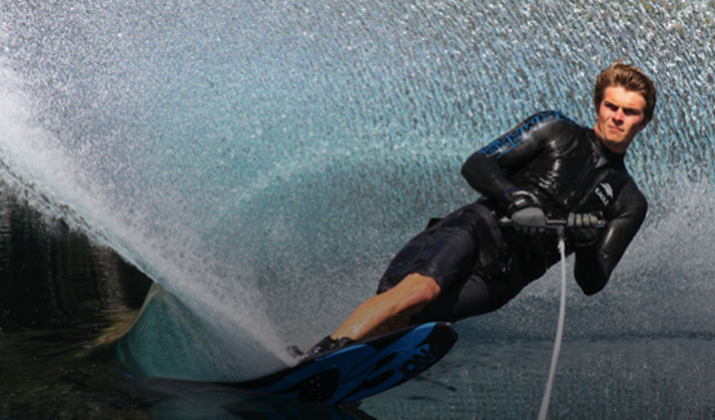 PC D3 Skis
D3 Skis is located in Auburn, Washington and this ski brand is actually a subsidiary of the K.C. Technology company. They are the only water ski brand dedicated to three-event competitive water skiing and their U.S.-made skis are now available in 30 different countries.
D3 Skis is one of the only companies on our list that makes ski models for ski jumping as well as slalom and trick skiing. Their lineup of slalom skis is their largest selection and it currently features more than 10 unique water skis.
They also make three different water ski bindings and a variety of soft goods and travel bags. Their limited warranty covers most of their new products and they offer plenty of informational resources and technical support to help you care for and maintain your ski products as best as possible.
One of the coolest things about D3 Skis is that they offer a three-week trial that only costs as much as the shipping on their skis. So if you are not sure which of their ski models is best for you, you will have the freedom to try one or two before finalizing your selection!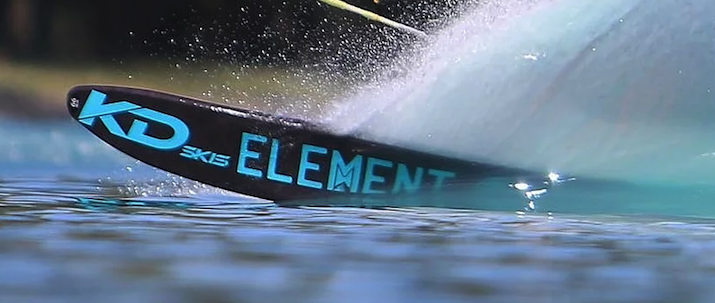 PC KD Watersports
KD Watersports is an Australian water ski brand that has expanded its reach into North and Central America. Currently, most of their ski team members that are based on this side of the world reside in either Florida, Chile, or Mexico.
This watersports company has been around for more than two decades and they pride themselves on being "designed by skiers for skiers." In addition to their Australian presence, they do have branches here in the United States and South Korea.
Their hardware includes slalom skis, trick skis, combo skis, kneeboards, and bindings. On the accessories front, they offer apparel, slalom buoys, ropes & handles, and ski bags & covers.
KD Watersports offers a useful demo program that allows you to trial a new water ski for up to 15 days and then return it for a full refund (minus a $75 demo fee). The ski must be returned in 'like new' condition and will be thoroughly inspected in order to qualify for a refund.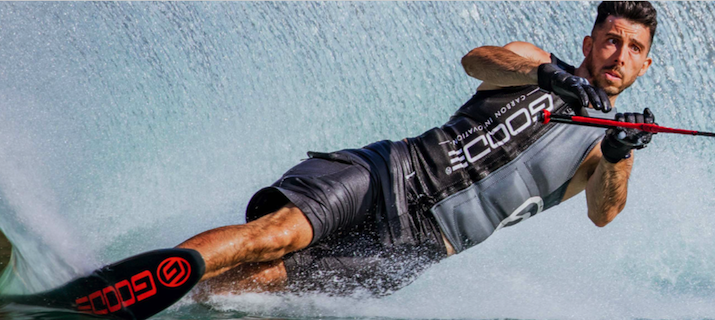 PC Goode Ski Technology
The final water ski brand on our list is Goode Ski Technology and they are based out of Ogden, Utah. The company was founded by Dave Goode, who actually started the company right out of high school and the company was originally driven by his passion to become a member of the United States Ski Team.
As you can imagine, Dave had a passion for both skiing on snow as well as on the water and that passion was reflected in the products he produced for athletes in both of these respective specialized sports.
Goode Ski Technology is known for developing the first carbon fiber ski pole and they are renowned today for their carbon fiber slalom skis. These skis regularly stand beside the world's best slalom skiers on podium after podium.
Over the years, Dave became known as a "mad scientist" of sorts in the industry due to his out-of-the-box methods and commitment to innovation. This approach allowed Goode Ski Technologies to constantly remain at the forefront of both water skiing and snow skiing.
Tragically, the company's founder lost his life in a snow skiing accident in January of 2020. This is when the company started its Ski for Dave memorial foundation, which "provides support to young water skiers, snow ski race athletes, and innovators" in an effort to keep Dave's legacy alive.
In terms of water skis and other watersports products, Goode offers skis, bindings, vests, gloves, apparel, and other watersports accessories. They also offer equipment for snow sports and branded clothing.
Final Thoughts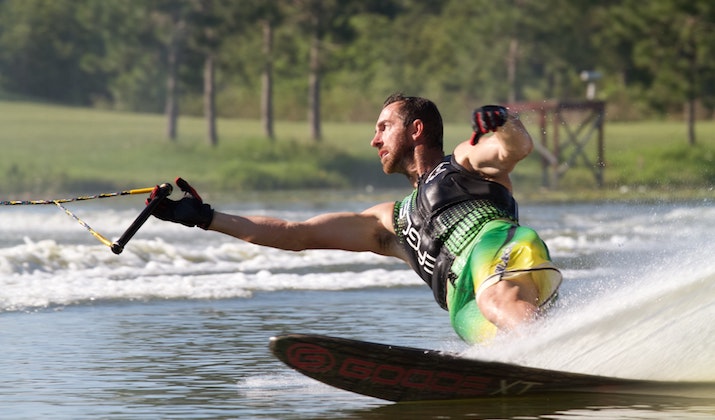 Photo by Ian Wagg via Unsplash
Water skiing is a surprisingly physical sport and it takes a lot of strength just to hold on to the tow rope and let the boat pull your body out of the water. Once you get up though, you will love skimming across the water's surface and ripping across the wake.
While there is sometimes a little debate between whether water skiing or wakeboarding is better, we think there's room for everyone on your boat. As long as you avoid the five worst boat brands, there shouldn't be any problems.
We hope this guide gives you plenty of quality water ski brands to choose from when adding a new ski to your boat. As always, we wish you the best of water-based adventures in the months and years to come!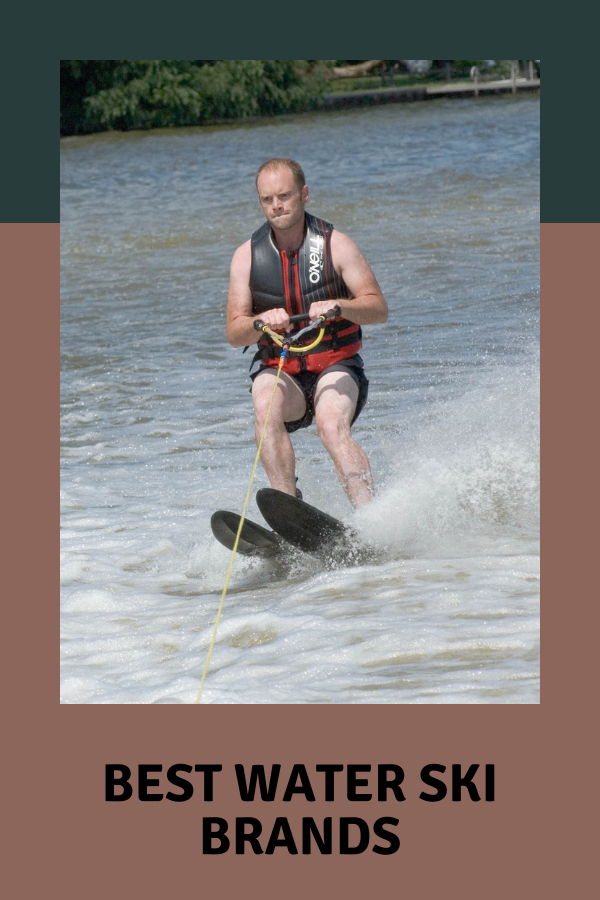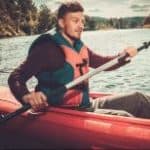 Author: Peter Salisbury
Pete is the Owner of KayakHelp.com. Born and raised in Cleveland, Ohio, he grew up kayaking, fishing, sailing, and partaking in outdoor adventures around the Great Lakes. When he's not out on the water, you can find him skiing in the mountains, reading his favorite books, and spending time with his family.