Ocean kayaking is a popular activity in many locations around the United Kingdom. Whether you intend on exploring the west coast of Scotland or heading out to the Isle of Man, you'll need one of the best sea kayaks in the UK.
Some of the kayaks we have selected for this list are designed for open ocean kayaking and others are better suited to protected coves and harbors. Still, paddling around your local marina is a great way to spend a day and see marine life and the local activity.
If you're new to the sport of sea kayaking, this is a great place to start while you practice techniques like the draw and low support strokes. It's also a place where you are more likely to meet up with fellow kayakers who can help you learn and possibly organize longer trips in the future!
Still, getting into kayaking or expanding your paddling horizons starts with the right kayaking gear and equipment. So let's discuss the best sea kayaks in the United Kingdom today!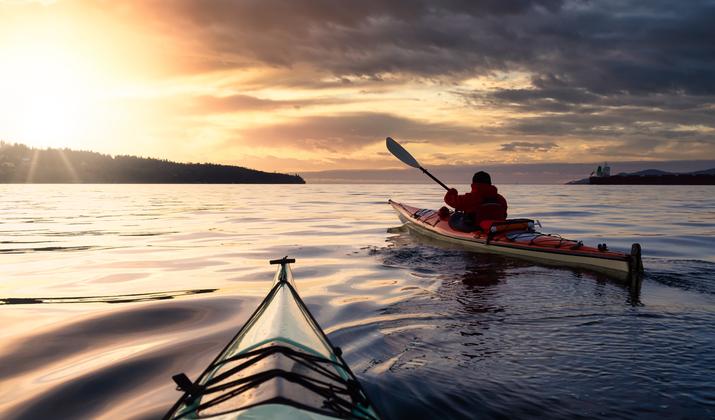 Photo by EB Adventure Photography via Shutterstock
Best Sea Kayaks in the UK
Aquaglide Navarro 145
Bestway Hydro-Force Cove Champion
Aquatec Hudson Kayak
Conwy Kayak Menai
Conwy Kayak Rhosneigr
Cambridge Kayaks Neptune
Cambridge Kayaks Barracuda
Bestway Hydro-Force Ventura
Cambridge Kayaks Adventure 350
Cambridge Kayaks Sunfish
Bluewave Glider
Cambridge Kayaks Adventure 450
Aqua Marina Steam 412
Aqua Marina Betta 412
Cambridge Kayaks Dogfish
Quick Sea Kayak Buying Guide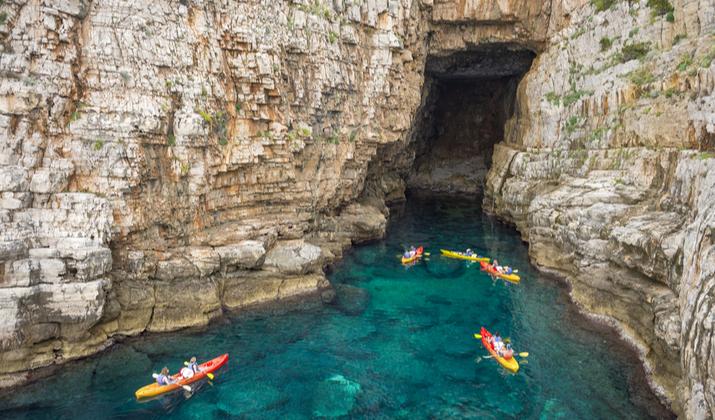 Photo by lazyllama via Shutterstock
Before we get into the details of the best sea kayaks for paddling around your area, it makes sense to highlight what to look for in a sea kayak. Some of your decisions will depend on your specific skills, experience, and the type of sea kayaking you're looking to do.
So be sure to weigh these factors according to your personal preferences so you can choose the right kayak for you!
Style
You will notice several different styles of kayaks in our reviews below. There are inflatable kayaks for single and tandem paddlers, sit-on-top kayaks with bucket seats and seats with lifted frames, and sit-inside kayaks.
Inflatables
Inflatables tend to be better if you don't have a lot of room to store a kayak at your house, which is also why they are a great solution if you have a smaller vehicle and/or you don't feel comfortable with transporting a kayak on top of your vehicle.
They give you the ability to stow your kayak in the trunk of your vehicle and eliminate the need for a kayak roof rack. That saves you a little money not having to invest in one of the many accessories that go along with having a kayak.
Sit-on-Tops
Sit-on-tops are great if you intend to do a little bit of kayak fishing. They are also the best choice for beginners because most sit-on-tops are wider and offer considerably more stability than their sit-inside counterparts.
Sit-on-tops are known to have a reasonable amount of open storage at the bow and stern and many also have small storage hatches somewhere in the cockpit. Still, most sit-on-top kayak owners invest in dry bags to protect any gear that they don't want to get wet while on the water.
Sit-Insides
Sit-insides are very popular for sea kayaking because they protect you from the elements more than the other types. They are also the only of the three that are compatible with a spray skirt to keep the entire cockpit (and your lower half) dry and protected from the wind.
This style of kayak is typically better for paddlers with a little more experience because they tend to be slightly less stable than the others. That being said, they offer the most enclosed storage space and are capable of achieving the highest top speeds over long distances.
Carrying Capacity
Aside from the style of kayak that suits you best, you'll need to decide on how much carrying capacity you need. That includes both the number of paddlers you think you'll have onboard as well as the weight of all your kayaking safety essentials.
As a rule, it is wise to avoid exceeding roughly 80 percent of the advertised weight capacity of any kayak. While your kayak won't sink if you exceed that threshold, it will sit much lower in the water and will be much less effective and less stable.
Experience Level
Your level of experience also dictates which kayak makes the most sense for you. For beginners, start out with something that's a little more affordable and a little more stable as you stick to sea kayaking in protected coastal waterways.
As you gain experience, you can always sell your old kayak and upgrade, but going for a kayak that is too difficult for you to handle right off the bat can be dangerous and can also ruin your excitement to try out a sport that you really could be doing for the rest of your life once you get into it!
Reviews of Sea Kayaks in the UK
Check Price on Amazon
Style: Inflatable Tandem
Length: 442 centimeters
Width: 100 centimeters
Weight: 18.25 kilograms
Weight Capacity: 272 kilograms
The Aquaglide Navarro is one of the sleekest tandem inflatable kayaks that you will find on the market and it is one of the few that boasts an enclosed cockpit design similar to what you would find on the best sit-in kayaks.
The added length of this kayak makes it more efficient over longer distances, but they have also added extra width to help you remain stable in choppy waters. The cover around the entire kayak provides extra durability against punctures and abrasions too.
In spite of the cover, you will still be able to store plenty of kayaking equipment in the enclosed areas at the bow and stern of this kayak. The stern hatch is accessed through a Velcro-sealed hatch and the bow compartment is accessed by opening the long zipper running along the top of the deck.
Check Price on Amazon
Style: Inflatable Single
Length: 275 centimeters
Width: 81 centimeters
Weight: 10 kilograms
Weight Capacity: 100 kilograms
The Bestway Hydro-Force Cove Champion is a great inflatable kayak for beginners and children. It is easy to inflate, easy to transport, and easy to pack up so that it requires minimal storage space in your vehicle, as well as at home.
Suitable for paddlers from age six and up, this kayak is made of pre-tested vinyl material and it offers an enclosed cockpit to provide more protection from splashing water and wind.
The Cove Champion is suitable for ocean paddling in protected areas like harbors and marinas and it comes with everything you need (minus a life vest) to get started.
Check Price on Amazon
Style: Inflatable Single or Double
Length: 300 or 420 centimeters
Width: 90 or 60 centimeters
Weight: 12 or 17 kilograms
Weight Capacity: 130 or 170 kilograms
The Aquatec Hudson kayak is the only one on our list that is available in a single or tandem kayak setup. Both designs, however, share some important features, such as air-tight valves that lock in the pressure in the tubes up to 18 PSI and military-grade, drop-stitch PVC material used throughout.
Cargo webbing straps at the bow and stern on both designs make it easy to keep all the gear on your printable kayaking checklist secure no matter what the weather throws at you.
Plus, this kayak boasts molded ABS cones at the bow and stern to cut through the water while minimizing resistance and reducing jarring impacts.
Style: Sit-on-Top Single
Length: 274 centimeters
Width: 80 centimeters
Weight: 24 kilograms
Weight Capacity: 115 kilograms
The Menai kayak from Conwy is the perfect introductory kayak for teens or even just smaller paddlers. Its lighter weight makes it easier to transport (whether on a kayak trailer or a roof rack) and it is versatile enough to adapt with you as your paddling preferences change.
This single sit-on-top kayak is also meant for ocean fishing, as it comes with multiple molded-in and swivel-mounted rod holders. Keep your tackle secure in the sealed storage hatches in the cockpit and at the bow while your lar​​ger stuff stays secure under the bungee rigging in the stern compartment.
Style: Sit-on-Top Tandem
Length: 370 centimeters
Width: 86 centimeters
Weight: 32 kilograms
Weight Capacity: 240 kilograms
This is a great family-friendly sea kayak for casual days on the water in protected areas. It boasts an optional third seat in the center for children and includes multiple fishing rod holders if you and your paddle partner want to try your luck at reeling in something to bring home for dinner.
The Rhosneigr is also one of the more affordable tandem kayaks on our list and it's versatile enough to accommodate medium-distance touring as you gain skills and experience. It also happens to be a very stable kayak for beginners to get used to the sport before graduating to a skinnier design.
Style: Sit-on-Top Single
Length: 263 centimeters
Width: 75 centimeters
Weight: 21 kilograms
Weight Capacity: 150 kilograms
The Neptune from Cambridge Kayaks is a great starter sea kayak for beginners and it is best suited for marinas, harbors, and other protected coastal waterways.
Its nesting molded design also makes it a great choice if you're planning on getting multiple kayaks and stacking them together when they are in storage at home.
When this kayak is on the water, however, it's super stable and boasts a deep center keel that provides added directional tracking. It also offers plenty of storage for day trips in the open stern compartment and the small sealed hatch in the cockpit, as well as a small zippered bag behind the kayak seat.
Style: Sit-on-Top Single
Length: 350 centimeters
Width: 86 centimeters
Weight: 33 kilograms
Weight Capacity: 200 kilograms
Cambridge Kayaks' Barracuda model is made with the ocean angler in mind and it boasts one of the most comfortable elevated fishing seats around. With three sealed storage hatches (two in the cockpit and one at the bow), you will have plenty of secure and protected space for your fishing equipment.
If that's not enough, somehow, you can also set extra gear in the open stern storage area (if you don't have a kayak tackle crate back there). Plus, it comes with a drop-down skeg at the stern and there's a mounting location for a portable kayak fish finder if you decide to install one down the line.
Some of the Barracuda's other excellent features include two sliding rails for attaching kayak fishing accessories, paddle parks on both gunwales, and a lightweight, collapsible kayak paddle that eliminates the need to make a separate purchase before you can actually get on the water.
Check Price on Amazon
Style: Inflatable Single
Length: 280 centimeters
Width: 86 centimeters
Weight: 11.01 kilograms
Weight Capacity: 100 kilograms
The Ventura from Bestway Hydro-Force is one of the most compact and lightest inflatable sea kayaks you'll find. The depth of the cockpit will somewhat keep you protected from waves and splashing water, but this kayak is meant for use in protected coastal bays and harbors.
It offers a comfortable seat for a single paddler and comes with a storage bag that straps into the bow for your gear. It also boasts two skegs on the hull for added tracking ability and comes with its own four-piece kayak paddle and hand pump for easy inflation.
Style: Sit-Inside Single
Length: 350 centimeters
Width: 65 centimeters
Weight: 22 kilograms
Weight Capacity: 150 kilograms
The Adventure 350 touring sea kayak from Cambridge Kayaks is kind of like the little brother of the Adventure 450 that we'll mention later. It's a great sit-inside kayak for smaller paddlers with experience handling the stability and maneuverability of a sit-inside design.
It boasts two bulkhead storage compartments at the bow and stern for all of your sensitive gear and the cockpit dimensions measure 46 centimeters wide by 80 centimeters long.
If there isn't enough room in the storage compartments for all of your stuff, there are also bungee straps on the deck that make it super easy to attach one of the best kayak deck bags.
Style: Sit-on-Top Tandem
Length: 385 centimeters
Width: 86 centimeters
Weight: 33 kilograms
Weight Capacity: 220 kilograms
If you like the idea of a tandem kayak for you and your paddle partner but you aren't sure about putting both of you in an inflatable design, check out the Sunfish from Cambridge Kayaks.
It offers plenty of weight capacity for two paddlers and there's an optional third seat in the center for paddling with a small child or sea kayaking with a dog.
As its name somewhat suggests, this kayak is also a great choice for folks that want to do some coastal fishing. It is equipped with multiple molded and swivel-mounted fishing rod holders, paddle parks on both gunwales to free your hands up, and sealed storage hatches in front of both seats for tackle and bait storage.
Style: Inflatable Single
Length: 391 centimeters
Width: 71 centimeters
Weight: 14.3 kilograms
Weight Capacity: 225 kilograms
Most inflatable kayaks tend to plow through the water rather than glide over it, but not this one (heck, it's in the name!). The Bluewave Glider is light and sleek and it requires less than ten minutes to fully inflate and get it ready to hit the water.
When you're on the water, you will love the maneuverability and comfort of this kayak. When you're finished, it easily deflates and packs down to 22" x 22" x 12" before you stow it away in its included rolling carry bag, along with the included hand pump, removable fin, collapsible kayak paddle, and patch kit.
Style: Sit-Inside Single
Length: 450 centimeters
Width: 55 centimeters
Weight: 26 kilograms
Weight Capacity: 120 kilograms
This is one of the longest and skinniest sea kayaks on our list, which tends to lend itself well towards speed and efficiency. A skinnier kayak has less drag and, therefore, helps you maintain a higher average speed over a longer distance.
If you're interested in one day packing up your sea kayak for a multi-day camping trip, the Adventure 450 is an excellent choice.
You'll read more about it below (because it's our top pick for the best sea kayak in the UK), but a few notable features include a foot-operated rudder system, multiple fishing rod holders, and loads of bulkhead storage space.
Check Price on Amazon
Style: Inflatable Tandem
Length: 412 centimeters
Width: 90 centimeters
Weight: 15.5 kilograms
Weight Capacity: 180 kilograms
The Steam 412 is one of the lightest and most easily transportable inflatable sea kayaks on our list, which makes it a great choice if you want to explore sea kayaking locations all over the United Kingdom.
It has enough cockpit space for two paddlers with high-back seat cushions and adjustable footrests for each paddler. It comes with a pump, seats, two fins, a 10-liter dry bag, and everything packs up into a kayak bag with backpack straps for easy carrying.
Check Price on Amazon
Style: Inflatable Tandem
Length: 412 centimeters
Width: 80 centimeters
Weight: 13.5 kilograms
Weight Capacity: 155 kilograms
This inflatable kayak is made out of a durable PVC material and the floor is reinforced with I-beam construction that provides more rigidity than many other inflatable kayaks. It offers two high-back seat cushions that can be inflated to the firmness of your liking.
This kayak also boasts adjustable footrests to help you maintain a proper paddling position throughout your time on the water.
Take advantage of the small covered storage area at the bow and make sure you know how to operate the kayak's built-in, self-bailing drainage system so you can get water out of the cockpit quickly if needed.
Style: Sit-on-Top Single
Length: 375 centimeters
Width: 76 centimeters
Weight: 30 kilograms
Weight Capacity: 200 kilograms
The Dogfish is a great kayak for sea fishing because it boasts multiple fishing rod holders and an enclosed storage hatch at the bow for any fishing gear you need to keep dry and protected from the weather.
It also includes a drop-down rudder at the stern that can be controlled by foot pedals in the cockpit, which is a rarity for sit-on-top kayaks.
It also features an elevated, aluminum-framed seat to raise your vantage point on the water and a large open storage area at the stern for tackle boxes or one of the best kayak coolers.
The Cambridge Kayaks Adventure 450 is our pick for the best sea kayak in the UK because it boasts a protected, sit-inside design and offers more legroom and storage space than the Adventure 350.
Made for intermediate and experienced paddlers, this kayak is great in less-than-stellar conditions and can accommodate a kayak spray skirt to keep your lower half dry and warmer.
It also offers easy maneuverability and exceptional tracking with the use of the drop-down rudder and ocean anglers will love the fact that it boasts two fishing rod holders right behind the cockpit.
Take note that kayakers should have experience with a sit-inside touring kayak before going for this one, but it's going to allow you to cover more ground and handle ocean conditions better than most on this list.
You should also take the time to practice self-rescue and other useful kayak rescue and safety techniques before kayaking alone. That said, with the right skills and experience, this is a great kayak for your seafaring desires!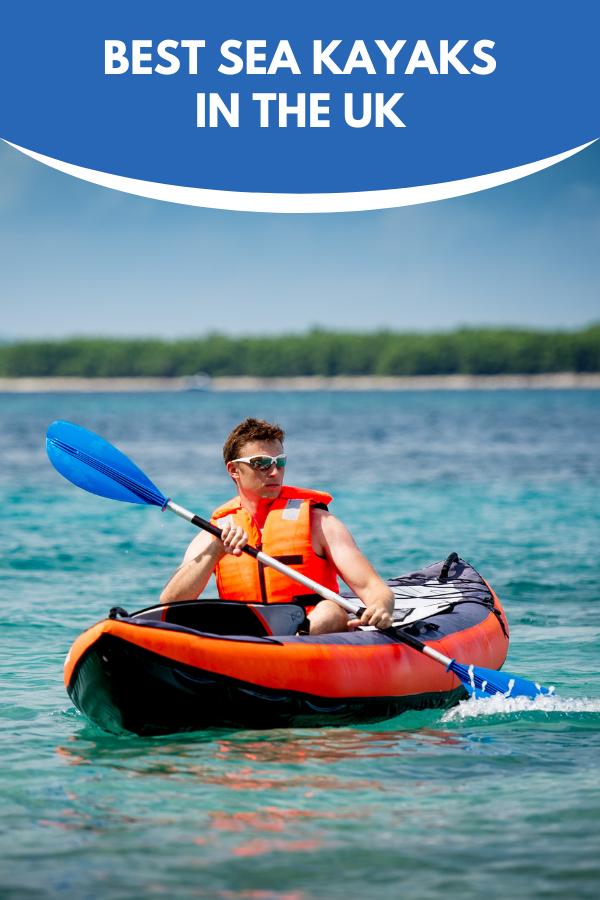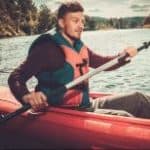 Author: Peter Salisbury
Pete is the Owner of KayakHelp.com. Born and raised in Cleveland, Ohio, he grew up kayaking, fishing, sailing, and partaking in outdoor adventures around the Great Lakes. When he's not out on the water, you can find him skiing in the mountains, reading his favorite books, and spending time with his family.