Have you been searching for an affordable kayak for two people? You may have come across the Tobin Sports Wavebreak Kayak, sold by Costco, during your search.
This is an inflatable tandem kayak, but is it any good? While it's quite affordable, is it worth the money, or can you find a better kayak at a similar price?
Today, I will be reviewing the Tobin Sports Wavebreak Kayak in depth. I will be going over its main features, discussing some of the pros and cons of buying this kayak, and showing you real reviews from real customers.
Finally, I will give you my verdict: Is the Tobin Sports Wavebreak Kayak from Costco a good deal or not?
Let's get into it.
Costco Tobin Sports Wavebreak Kayak – Overview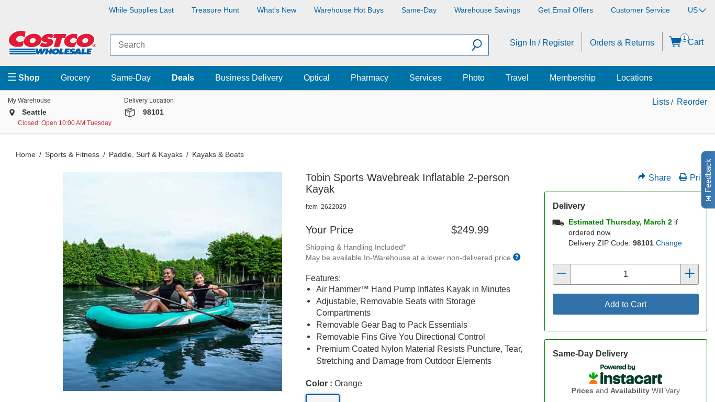 One of the first things to know about the Tobin Sports Wavebreak Kayak from Costco is that it is an inflatable kayak. I will dedicate a separate section to the pros and cons of inflatable kayaks, because they do have many advantages but are not for everyone.
For now, though, let's discuss some of the main features that stand out about the Costco Tobin Sports Wavebreak Kayak.
Length of the Kayak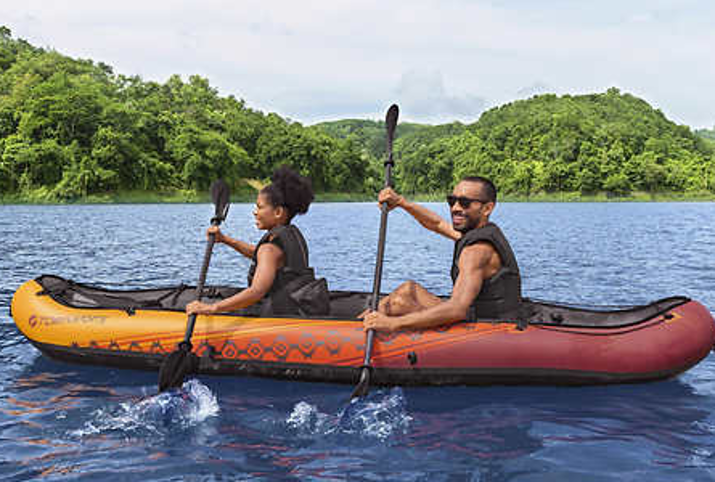 Source: Costco.com
The Tobin Sports Wavebreak Kayak is 10 feet and 10 inches long, which is a great size for intermediate and beginner paddlers.
Long kayaks that are 18 feet or so are sometimes more difficult to handle. We have a whole article dedicated to the optimal kayak length for different kayaking purposes, such as touring vs fishing, so I suggest that you check it out.
However, as we discuss in another article, beginners should generally avoid long kayaks, as they don't have the stability and maneuverability of shorter kayaks.
The width of this kayak is 34 inches, which is also an ideal width for a standard kayak.
The kayak weighs 36 pounds – it's relatively light, making it easy to carry.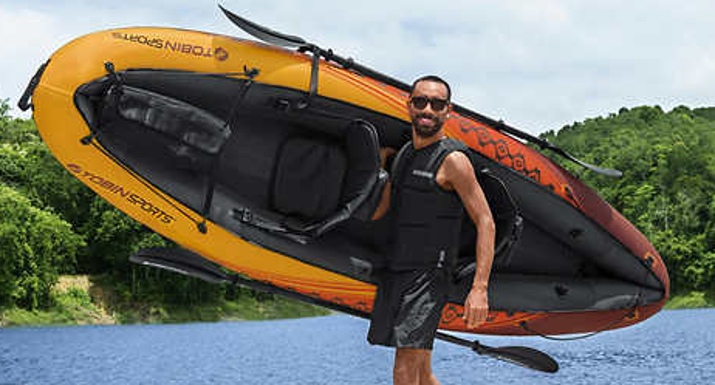 Source: Costco.com
Material the Kayak Is Made Of
This kayak is made of strong nylon material; it has an extra protective coating. As such, it can withstand all kinds of weather conditions and elements, and it is very durable and long-lasting.
It will not rip or tear easily, and it is resistant to damage, including punctures and stretching. While it's not smart to leave it in the sun while storing it, it is made to withstand sun exposure and won't experience sun damage easily, nor will it get easily damaged by salt water.
Nylon is one of the materials we talk about in our articles about 10 different types of kayak materials. And, as we mention in our article on the most popular kayak materials and manufacturing processes, nylon is commonly used in conjunction with PVC to manufacture inflatable kayaks.
The nylon helps reinforce the PVC, a type of plastic that is common in inflatable kayaks. This makes it less likely to experience tears and punctures.
Performance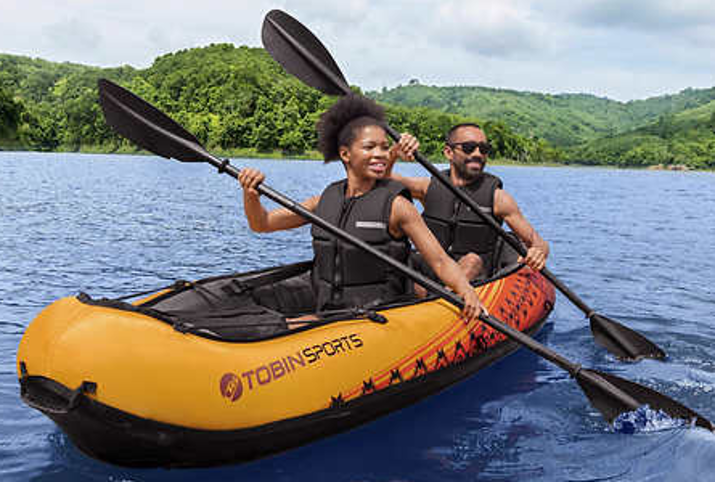 Source: Costco.com
Like most inflatable kayaks, the Tobin Sports Wavebreak Kayak offers decent performance. Many people who have no experience are surprised to learn how versatile and awesome inflatable kayaks really are, but more on that later.
You can expect a smooth and easy paddling experience with the Tobin Sports Wavebreak Kayak from Costco. One of the things that improve its performance is the removable fin.
The fin helps you get better directional control when using the kayak. You don't need to use the fin – for example, you might prefer to use it only when you are in tough weather conditions that make it difficult to achieve directional stability, such as when there are strong winds.
Fins are more common in inflatable kayaks than other kayaks due to the design of these kayaks – they are typically flat on the bottom, which makes tracking a bit more difficult.
Comfort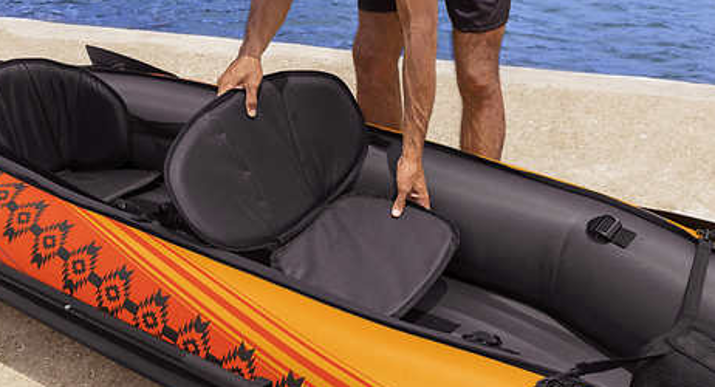 Source: Costco.com
The Tobin Sports Wavebreak Kayak makes comfort a top priority. The two seats have backrests and are thus great if you have been struggling with back pain due to kayaking and looking for an alternative that will not give you back pain.
The seats are removable as well, in case you want extra space in the kayak.
By the way, if comfort is your top priority, you might find our guide to the most comfortable kayaks useful.
Storage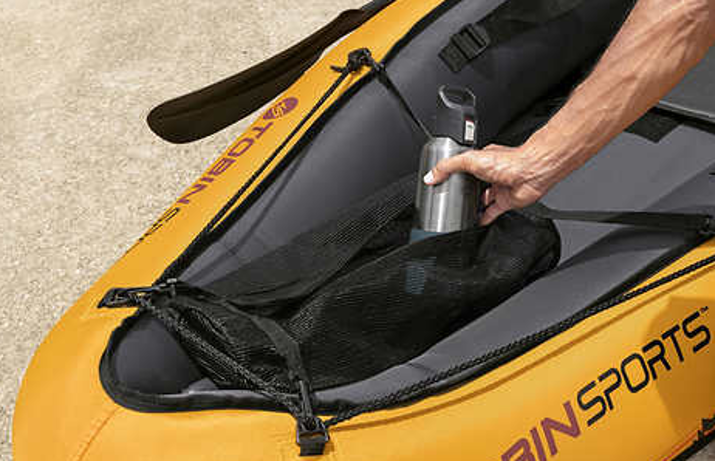 Source: Costco.com
One of the things that you should look for when purchasing a kayak is the amount of storage it offers. A good kayak will have roomy storage compartments that give you plenty of room to keep your gear, including extra clothing, drinks, food, and anything else you might be carrying with you.
Having enough storage space is especially important if you plan on fishing or camping, as you will need extra space to store your fishing or kayak gear.
Unfortunately, I can't say that the Tobin Sports Wavebreak Kayak has a lot of storage space, because it doesn't. As an inflatable, compact kayak, storage is not one of its strong points.
That doesn't mean there are no storage compartments at all. The manufacturers have put storage pouches on the removable seats, giving you a place to put your food, drinks, and small things, but that's still not enough room for lots of gear.
Inflatable kayaks, in general, don't tend to be that good when it comes to storage space.
However, the kayak does come with a removable gear bag as well, where you can pack many essential pieces of equipment and gear.
What Comes Included With the Kayak?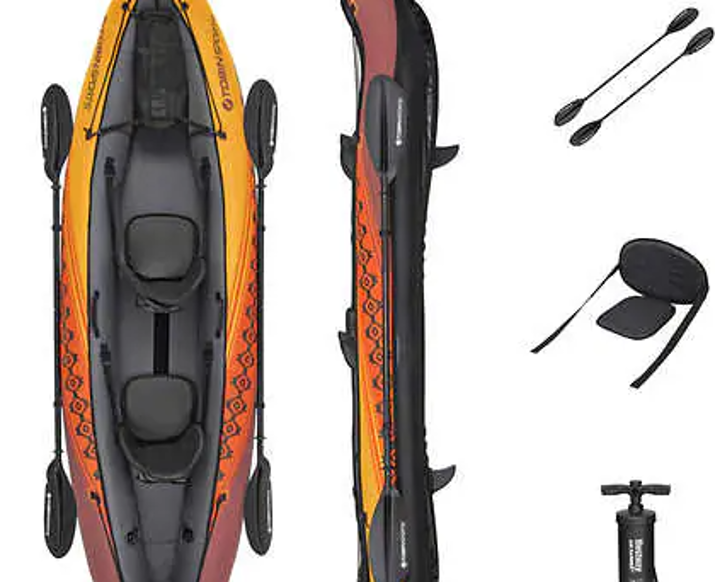 Source: Costco.com
When you buy the kayak, you will get the removable gear bag, a removable fin, and two removable seats, all of which I already mentioned.
However, you will also get an Air Hammer hand pump. Of course, since this is an inflatable kayak, you will need a pump to inflate it – you can't inflate it with your mouth like a balloon, as a kayak is too big for that.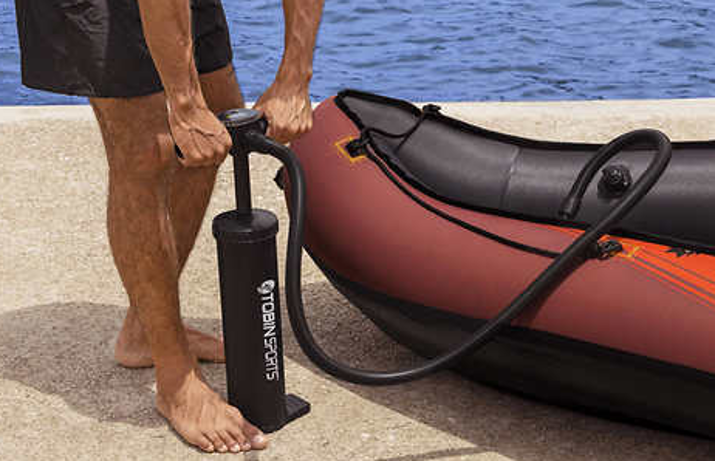 Source: Costco.com
The hand pump is easy to use and lets you inflate the kayak within minutes. However, you will need to take the pump with you on trips, or else you won't be able to inflate the kayak.
In addition, two lightweight aluminum paddles come with this kayak. That allows two people to paddle the kayak together.
What Is the Kayak Best For?
Source: Costco.com
The kayak is relatively stable, but it is not meant for strong currents or higher-class rapids. It is a budget kayak, and that will affect its performance.
I generally recommend this kayak if you plan on paddling in calm waters, such as calm rivers and lakes. You can go with a friend or family member, but as a tandem kayak, it can only hold two people – with a weight capacity of 440 pounds, you may be able to fit a dog in there as well, but not much more than that.
I recommend this kayak for leisure kayaking and not for fishing.
Tobin Sports Wavebreak Kayak Reviews From Real Users
On Costco, the kayak has an average rate of 3.9 stars (out of five), with around 200 user reviews in total. That rating may vary slightly as more reviews come in, so do check back on this page for updated user review data.
That's not the best rating, to be honest. At the same time, it is a budget kayak, so it is important to have reasonable expectations from a kayak you're getting at this price (related reading: Why Are Kayaks So Expensive?).
Let's take a look at some of the good reviews and negative reviews; I will mention some of the main points that led people to give positive or negative reviews.
Positive Reviews – What Stood Out?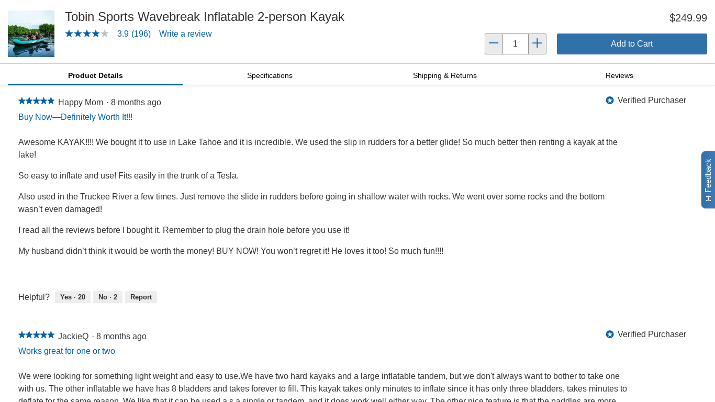 Here are some of the things that stand out from the positive reviews on Costco from real customers who have purchased and used this kayak.
Remember, reading reviews before purchasing any kayak is one of the best ways to ensure you get first-hand information about how the kayak will actually perform.
Excellent value for money: User(s) "B and P" said that the kayak is excellent for the money and that they bought two for the family to enjoy on leisure days. They admit that it won't perform as well as a fiberglass or plastic kayak, but after all, it is an inflatable kayak, and they love the convenience of being able to store it in their trunk.
Hand pump really easy to use: User Freddy said that the hand pump was really easy to use, although the manufacturer instructions don't explain how to use it well, which is why he turned to YouTube for instructions. In fact, he didn't even need an electric pump due to how fast the hand pump worked.
Convenience and ease of transport: One thing that stood out from many positive reviews was the convenience and ease of transport. After all, you can pack it in your trunk and don't need to lift it on the roof of your car or purchase additional transportation equipment such as a roof rack.
Durability: User "Gladstone" says that their kids were unable to puncture this kayak, although they got various inflatable kayaks before, which punctured easily. They cited the strong nylon protective covering as one of the reasons for that.
Performance: User "mama jay" said that the kayak was able to glide on the water, even on windy, choppy days. However, other users have said it did not provide the best performance. Overall, though, users have said that the kayak is pretty stable, which would make it a good choice for beginners.
Negative Reviews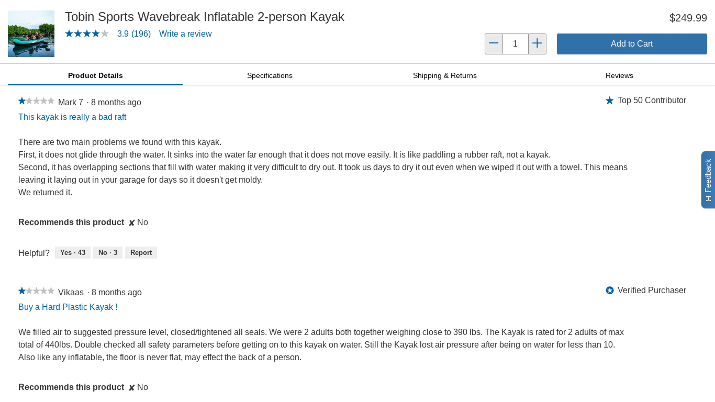 Now that we've discussed what people liked most about this kayak, let's talk about the things that people did not like – the negative reviews and the reasons the reviewers gave for their negative ratings.
Absorbs water: User "Betsi'' said that this kayak absorbs water quickly and that it can become quite difficult to paddle when that happens. Another reviewer mentioned that it gets heavier with water absorption as well. However, that is something you can expect, to varying degrees, from inflatable kayaks. That is why they aren't that good for long trips.
Problems with the pump: Users have mentioned that they had difficulty using the hand pump, as the instructions provided were not clear. Some could not manage to inflate it with the provided pump, complaining that it did not fit the valves of the inflatable kayak.
More like a raft than a kayak: Some reviewers have mentioned that the kayak is more like a raft than a kayak and that it is kind of difficult to control and paddle in windy conditions or when it gets heavy due to absorbing water.
Tobin Sports Wavebreak Kayak Pros and Cons
Let's quickly go over the pros and cons of this kayak. Make sure none of the cons is a dealbreaker before purchasing this kayak.
Pros
Affordable: This kayak is a budget kayak and very affordable, making it a great entry kayak.
Can fit two people: As a tandem kayak, it is great for going on trips with your child, loved one, or friend.
Lightweight and easy to transport: It is an inflatable kayak, so it is easy to transport. You don't need to buy a car rack to transport this kayak, as you can deflate it and store it in your trunk.
Great for beginners: The kayak offers excellent stability and is a great kayak for beginners.
Very durable: The kayak is made of strong materials and incredibly durable. You won't have to worry about punctures.
Cons
Not suitable for challenging waters: For strong, choppy waters, this is not a good choice. It will be difficult to maneuver, and you might find the performance lacking.
Not great for windy days: The kayak is also not the best choice if the weather is not great. However, the removable fin can help with that. Besides, as a beginner, you should probably avoid kayaking on windy days anyway.
Can get wet: This kayak does absorb water. That means that it can get a bit heavier as you stay on the water. Therefore, make sure there is enough air pressure before heading out. Also, it can take some time to dry, so leave enough time in between trips.
Not much storage: There is limited storage space on this kayak.
Where to Buy the Tobin Sports Wavebreak Kayak?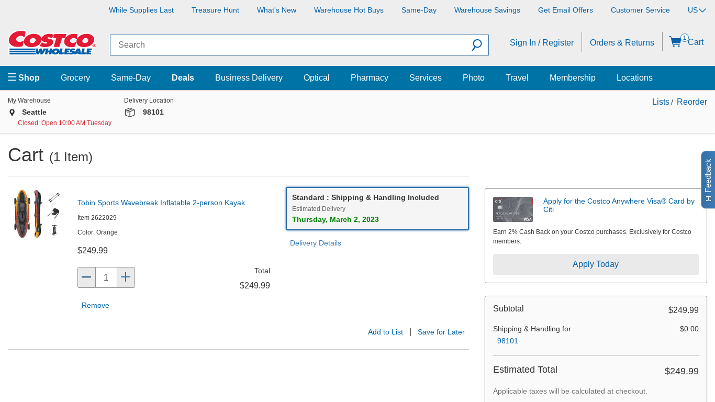 Costco sells this particular kayak, and you can purchase it online or at a nearby Costco store.
Standard shipping is available through UPS Ground and takes five to seven business days. It is included in the quoted price – shipping is free from Costco to the contiguous United States.
Shipping to Hawaii, Puerto Rico, and Alaska is available too but costs extra.
However, express shipping via UPS is also available for an extra cost.
Costco has partnered with Instacart, and same-day shipping may be available. Remember, as it is an inflatable kayak, it is easier to ship than a regular kayak.
However, if you are not interested in waiting or paying extra for faster shipping, you may be able to purchase this kayak at a nearby Costco warehouse.
Note that when purchasing directly at a Costco warehouse near you, the price might also be a bit lower, helping you save a little more money, but warehouse availability does vary.
When you purchase the kayak from Costco, Costco's standard 100 percent satisfaction guarantee and return policy apply. As such, you can return the item for a full refund.
If you purchased the item online, you can initiate a return on Costco.com or return it to any Costco warehouse in person. See the Costco return policy for more information.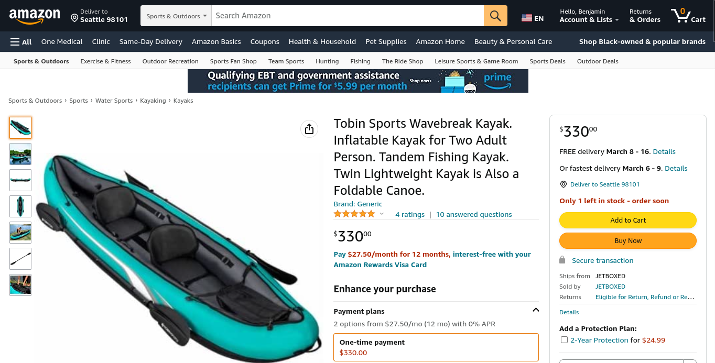 You may also be able to find the kayak on Amazon. However, the price might be higher, and since this is a Costco kayak, there is really no reason to do so if you are a Costco member, as Costco does offer free shipping.
What if you are not a Costco member? In that case, you may still purchase the kayak on Costco.com, but you will be charged a five percent surcharge, which is the standard surcharge for all purchases on Costco.com by non-members.
One reason you might prefer purchasing on Amazon is if you have an Amazon gift card.
Another reason is that you can find this kayak for cheaper on Amazon if you purchase a used one. The problem with a used kayak, of course, is that the condition of the kayak can vary from one seller to another, and it might have sustained damage and not last as long.
I would highly recommend paying a bit extra for a new kayak unless you only plan on using the kayak on rare occasions.
Pros and Cons of Inflatable Kayaks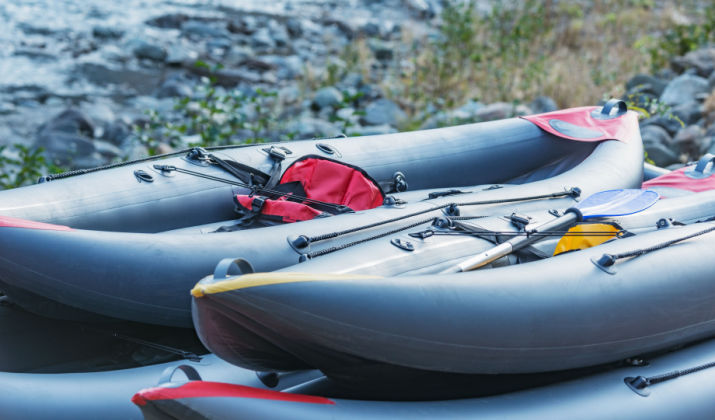 Image Source: Shutterstock
I did say that I would touch upon the topic of inflatable kayaks in a bit more depth for our readers who are unfamiliar with inflatable kayaks. Some of the negative reviews on Costco complain about it being an inflatable kayak and recommend getting a hardshell, traditional kayak instead.
However, those reviewers may have been better off if they knew a bit about inflatable kayaks beforehand, as they could have avoided all the hassles with some knowledge about what inflatable kayaks are and what they are best for.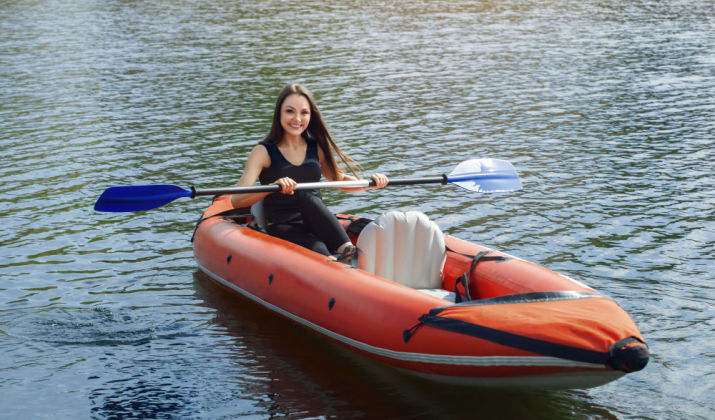 Image Source: Shutterstock
Inflatable kayaks are typically made of PVC and sometimes reinforced with other materials. They can be inflated and deflated, either with a hand pump that requires manual work or an electric pump – electric pumps tend to be more expensive, but they do save you the manual labor of inflating a kayak.
Inflatable kayaks are typically durable, despite what many people think. However, that does depend on the materials used, as cheap inflatable kayaks can be susceptible to punctures and tears.
Overall, though, most inflatable kayaks can withstand impacts with rocks and tree branches without a problem, although a very sharp rock hitting one from the right angle might cause a puncture. Nevertheless, good inflatable kayaks will have several separate air chambers, thus ensuring that your kayak can remain afloat even if you sustain a puncture.
Image Source: Shutterstock
The main advantage of inflatable kayaks is how easy they are to transport. You can fit them in your trunk or carry them over your shoulder or in a transport carrier bag, which is included with many inflatable kayaks.
Another big advantage is that they tend to be very affordable, especially when compared to fiberglass kayaks. While they don't fare as well when it comes to performance, for the price, they tend to be very good.
There are cons, though. Inflatable kayaks tend to absorb water, requiring you to dry them out in between trips. If you simply fold them up, mold can start growing – check out our guide on how to properly care for your inflatable kayak.
Here are some additional resources on inflatable kayaks:
Check out the last link if you are interested in inflatable kayaks but the Costco Tobin Sports Wavebreak Kayak doesn't suit your fancy.
Is the Tobin Sports Wavebreak Kayak for You?
If you are looking for an affordable kayak that won't break the bank, I would say it is a good choice. However, it does depend on what you are looking for.
Are you looking for casual kayaking on calm waters with a friend or family? In that case, the kayak is an excellent choice – you can buy two or three for the whole family, as they are not that expensive.
Just be aware of the limitations of this kayak, and don't take it on rough waters or take it out on windy days.
On the other hand, if you need a kayak that can handle more advanced waters, or you don't like the idea of an inflatable kayak in the first place, consider looking into other options.
Wrapping It Up
The Tobin Sports Wavebreak Kayak is an excellent inflatable kayak for the price, with extra points for the strong and durable material it is made of.
While not for everyone, it is a good choice if you are okay with an inflatable kayak and are simply looking for a budget kayak for casual, leisure kayaking from time to time on weekends.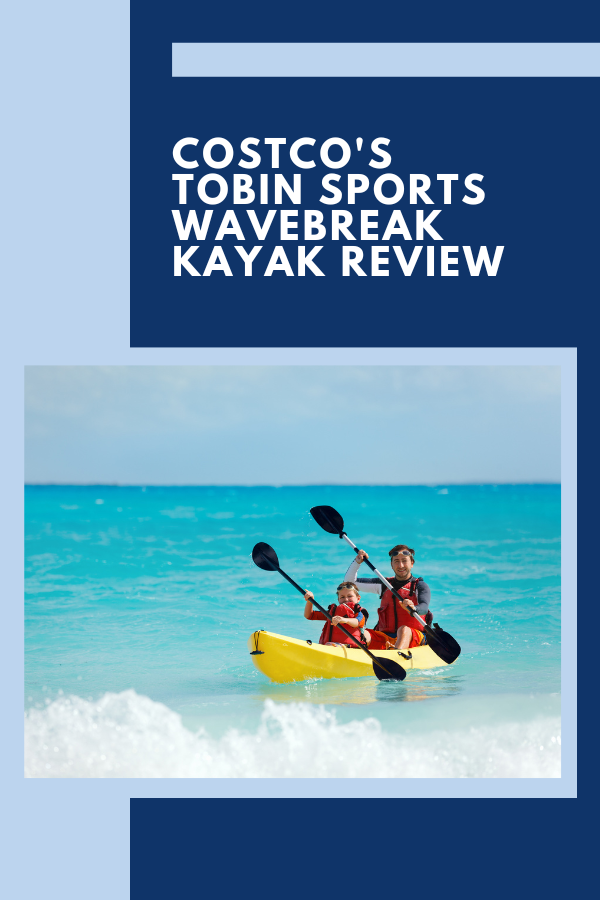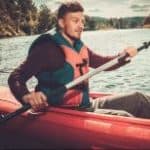 Author: Peter Salisbury
Pete is the Owner of KayakHelp.com. Born and raised in Cleveland, Ohio, he grew up kayaking, fishing, sailing, and partaking in outdoor adventures around the Great Lakes. When he's not out on the water, you can find him skiing in the mountains, reading his favorite books, and spending time with his family.