Skiing is an expensive sport that requires you to buy lots of specialized equipment and clothing. You may be tempted to cut corners by using the clothing that you already have. For example, you may have a decent raincoat or insulated jacket.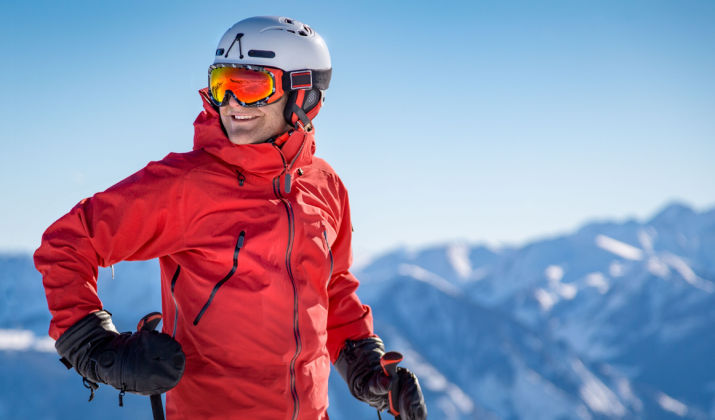 Image Source: Shutterstock
On paper, your regular coat may suit the needs of skiing by being warm and dry. However, we do not recommend wearing an everyday coat for skiing for several reasons.
In this article, we will go through why a regular coat is unsuitable for skiing. We will also give you tips on what to wear on a mountain instead.
Can You Wear A Normal Coat Skiing?
A Normal Coat Isn't Durable Enough For Skiing
Image Source: Shutterstock
The mountains are punishing places for ski equipment and clothing. Therefore, ski brands make their clothing extremely durable to cope with the harsh conditions you encounter and put your clothing through.
The durability of a ski jacket prevents it from tearing or ripping when you fall or blast through the trees, catching your sleeves on low branches.
They can also withstand unforeseen accidents on the chair lift or even in the lift line. Your snazzy, casual winter coat isn't designed to cope with the rigors of mountain life.
If you decide to ski in a regular coat, it probably won't last a couple of days without it wearing out or acquiring new holes. Therefore you'll need to buy a new one for just a few hours of skiing, which is a false economy.
Regular Coats Are Not Waterproof Enough For Skiing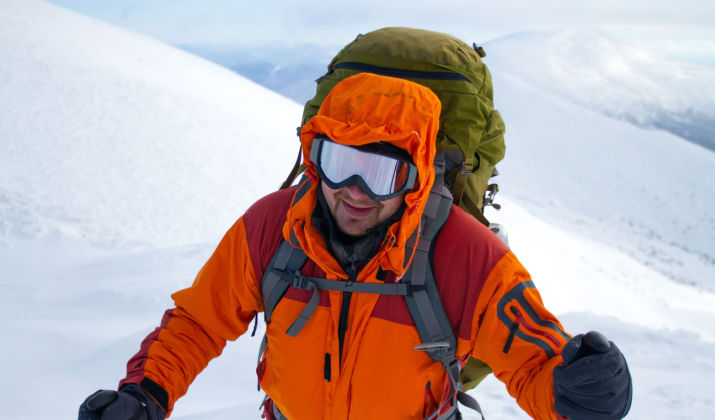 Image Source: Shutterstock
Regular coats are usually made to look good and keep you warm around town, so there's a good chance yours isn't waterproof enough for skiing. In fact, some coats are made from materials that simply absorb water, which is definitely not good for skiing.
You'll soon realize that anything that touches snow will get wet. This could be from falls, weather changes, or even sitting down and resting in the snow.
If you are lucky enough to ski on a powder day, there's a good chance you'll be rolling around in deep snow, making your regular coat soaking wet and affecting your comfort.
Skiing in subzero temperatures will mean this water will quickly turn to ice. This will affect your core temperature and make your day on the mountain miserable, cutting your fun day short.
Becoming cold on the mountain can be extremely dangerous, and you may be far away from shelter. Therefore, your regular coat may get you into trouble rather than keeping you safe.
Your Regular Jacket Isn't Breathable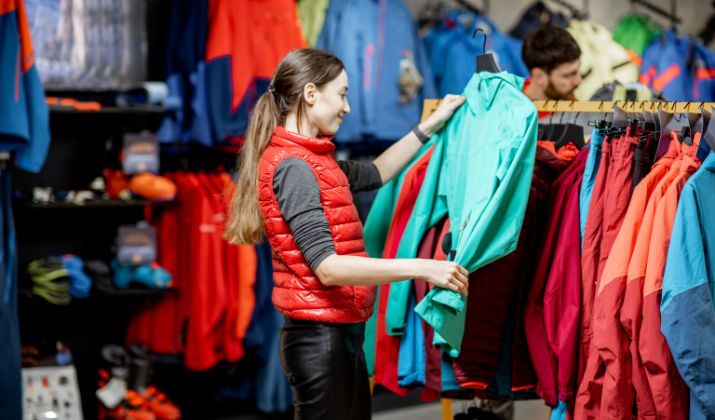 Image Source: Shutterstock
You may think that wearing a waterproof raincoat for skiing is sufficient to keep you dry. It is true that moisture won't get in, but when you ski or walk up a steep mountainside, you work up a sweat.
The problem with a waterproof raincoat or a thick fashion jacket is that moisture cannot escape. Therefore, the sweat will stay inside the coat and against your body, which will eventually make you incredibly cold.
A proper breathable ski jacket helps your body to regulate its temperature by allowing moisture to escape while preventing water from getting in. This is an essential quality for a ski jacket, as your body runs hot and cold all day while skiing.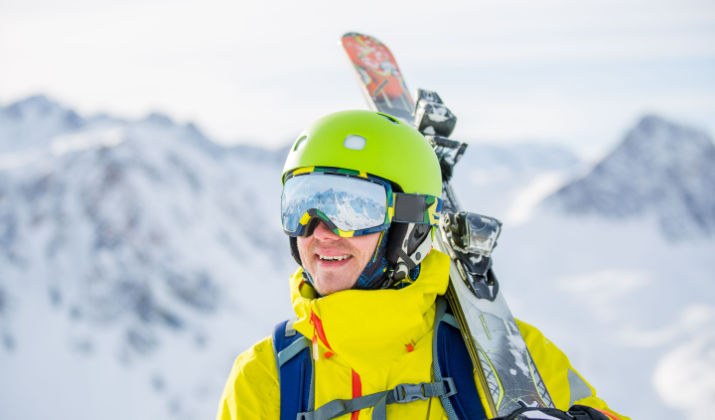 Image Source: Shutterstock
You get hot while working hard on the way down the mountain, but you get cold quickly while sitting on the chair lift. Also, if you are out all day, you will find yourself in shady parts of the mountain and in the sun, which significantly affects your temperature.
Regular Coats Are Not Windproof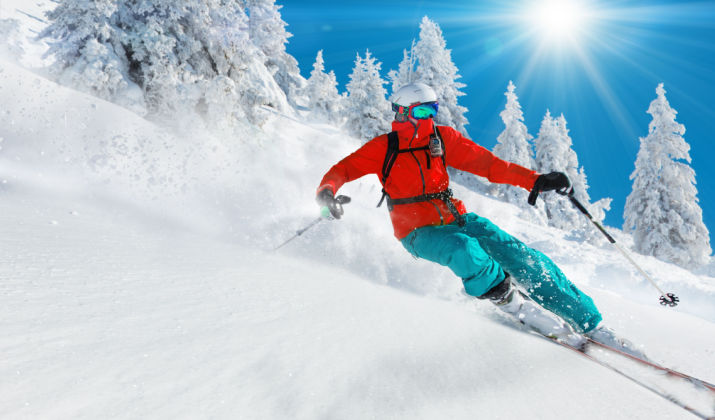 Image Source: Shutterstock
Sometimes when you're on the mountain, you can be exposed to high winds. Also, when you build up a bit of speed, the cold wind rushes past you and penetrates your jacket if it is not windproof.
Most regular coats are not designed to be windproof. Most people just wear them walking around town, so they don't need to be able to withstand the high winds associated with mountains and skiing, so the wind will just rip right through your coat.
When the wind gets into your clothing, it can be incredibly unpleasant. Don't forget that wind has whistled around icy peaks at high altitudes, making it incredibly cold, which can make you shiver all day, even if you wear lots of layers under your coat.
This cold wind can ruin your day, especially if you have been sweating. But you can face more severe problems even when the conditions aren't that extreme.
You may be surprised to learn that hypothermia and frostbite are quite common with skiers who don't wear the appropriate clothing.
This goes for downhill skiing and cross-country skiing, as they are both cardio workouts that make you sweat. When you combine this moisture with a cold wind, your risk of hypothermia increases exceptionally.
Your Regular Coat Won't Keep You Warm Enough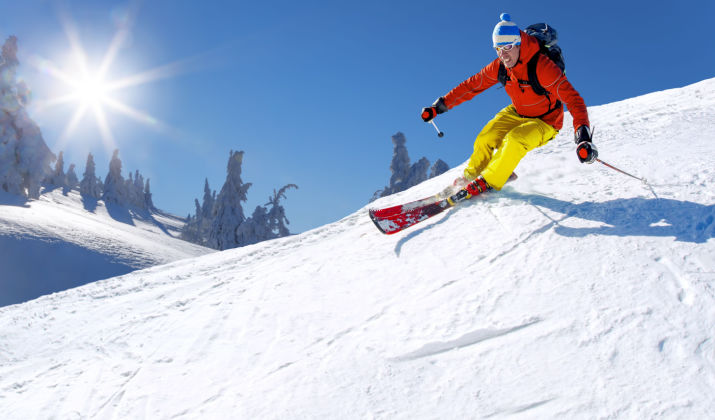 Image Source: Shutterstock
The mountains in the winter are subjected to freezing cold temperatures, especially in January. If you are in the mountains without sufficient insulation, you will be incredibly uncomfortable and want to head back down to the resort as soon as possible.
The type of coats you wear around town or in general day-to-day life will not have enough insulation to keep you warm and comfortable while skiing or simply being in the mountains during winter.
You may choose to wear an incredibly thick coat packed full of insulation, but this is not the best option for skiing. These thick fashion coats are bulky, which will restrict your movement and reduce your range of motion, hindering your performance on the mountain.
What Kind Of Ski Jacket Do I Need?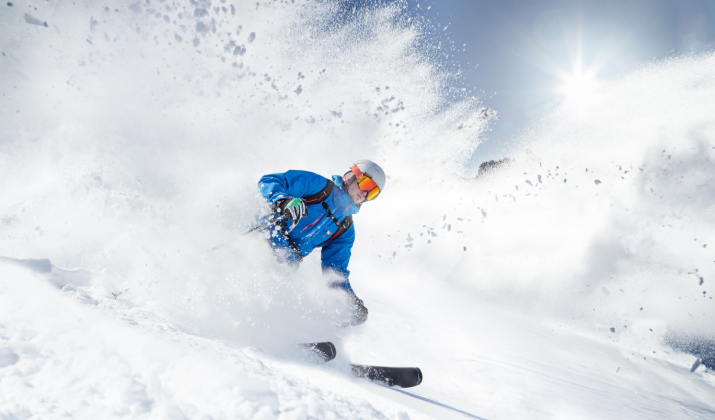 Image Source: Shutterstock
So now we've established why a regular coat isn't suitable for skiing or mountain life. Therefore, we will now go into the things to look for in a ski jacket and how you can stay warm and comfortable on the slopes.
Managing Your Body Temperature While Skiing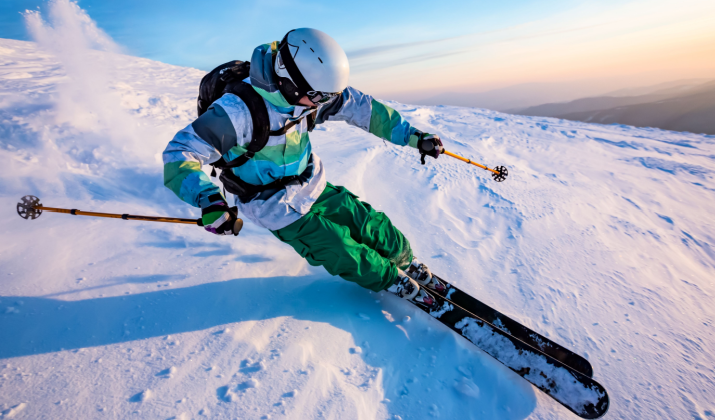 Image Source: Shutterstock
There are two ways you can manage your body temperature while skiing. Which one you choose is up to your personal preference, the style of skiing you do, and where you ski.
The first way to stay warm on the slopes is to choose an insulated ski jacket. You can get ski jackets with various levels of insulation, and some even place thicker insulation around your body to maintain your core temperature.
When you buy a ski jacket, it is worth considering how easily you feel the cold, if you are going to be skiing in very cold temperatures, and how often you ski.
For example, you may be a casual skier who just likes to stay on the easy slopes in the resort. In this case, you may need something a little thicker, as you won't be working particularly hard while skiing, and you need to stay warm on the chair lift.
The other way you can manage your body temperature while skiing is to use a three-layer system. This consists of a base layer, a mid-layer, and an outer layer which is your ski jacket and pants.
Using the three-layer system is beneficial as you can add and remove layers under your ski jacket to suit how you feel and the weather conditions. Some people wear a ski jacket that is just a thin shell and add extra layers under it, such as a lightweight down jacket for extra warmth.
Skiers who head into the backcountry or go ski touring generally wear lots of thin layers so they can strip off for hiking. This also means they can put extra layers on for the descent or when the temperatures drop.
Understanding Breathability And Waterproofing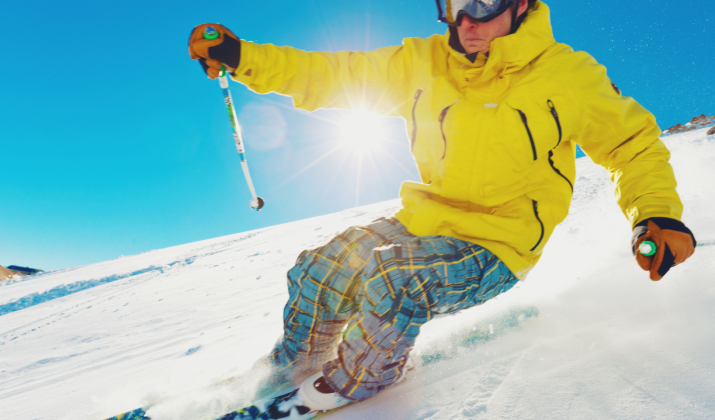 Image Source: Shutterstock
Ski jacket manufacturers usually indicate how waterproof and breathable their products are using two numbers. The first number is related to waterproofing, while the second refers to breathability.
The higher these numbers are, the higher the waterproof and breathability rating is. If you are a fair-weather skier, you would be okay with a minimum waterproof rating of 5,000 mm, but if you spend lots of time in wetter climates, aim for a ski jacket with waterproof ratings between 10,000 and 20,000 mm.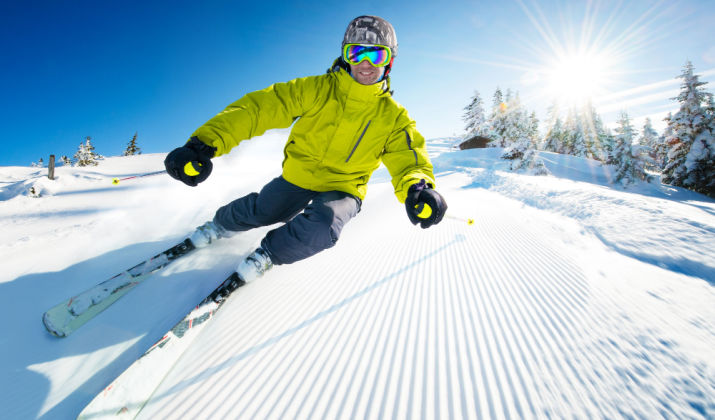 Image Source: Shutterstock
When it comes to breathability, a casual skier should wear an outer layer with a breathability rating between 5,000 and 8,000 g. But if you are more active, you should aim for at least 10,000 to 15,000 g.
Backcountry skiers will benefit more from ski jackets with breathability ratings of 20,000 g or more. These jackets are incredibly expensive but perform exceptionally well in harsh conditions.
Another characteristic of how waterproof a ski jacket is lies in its seams. You'll see some ski jackets with critically taped seams, which means that the seams around the shoulders and vulnerable areas are sealed with waterproof tape.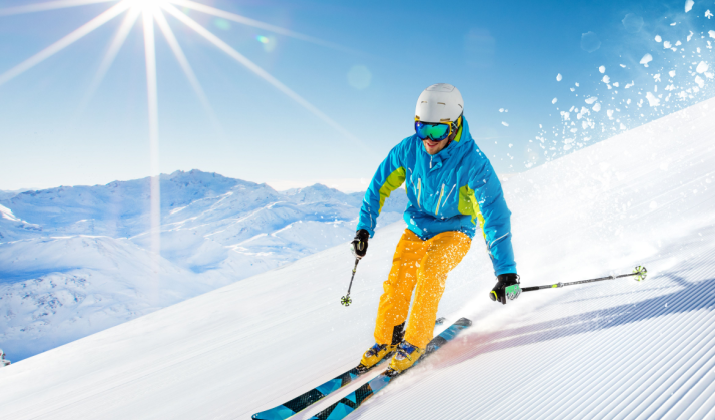 Image Source: Shutterstock
Ski jackets that are advertised with fully taped seams have a higher waterproofing level, as all of the seams are taped to prevent water from getting in.
Ski jacket manufacturers also use various waterproofing technologies. An example of this is DWR which stands for durable water repellent and is a treatment that stops the jacket's outer fabric from becoming soaked.
DWR wears out eventually, but you can reapply it yourself to refresh the water-resistant properties of your ski jacket or pants.
What Is Gore-Tex?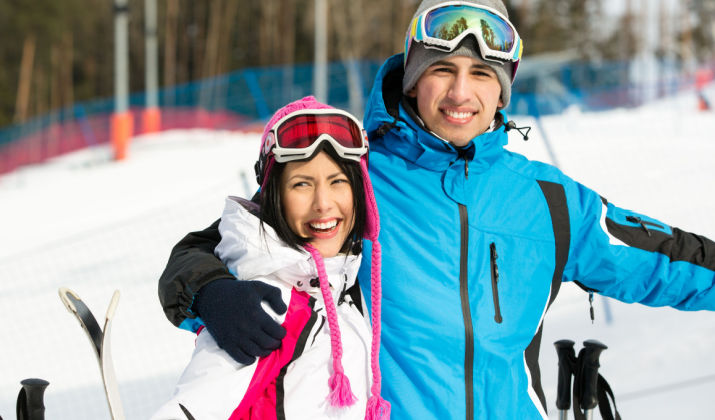 Image Source: Shutterstock
You will see some jackets with Gore-Tex, which is a high-performance membrane with a high waterproof and breathability rating. You can buy various levels of Gore-Tex ski jackets to suit your needs and budget.
Gore-Tex ski jackets offer the ultimate in waterproofing and breathability, but these jackets are costly. However, if you can afford to splash out and know you will benefit from it, it is well worth buying a Gore-Tex ski jacket.
Top Tips For Buying A Ski Jacket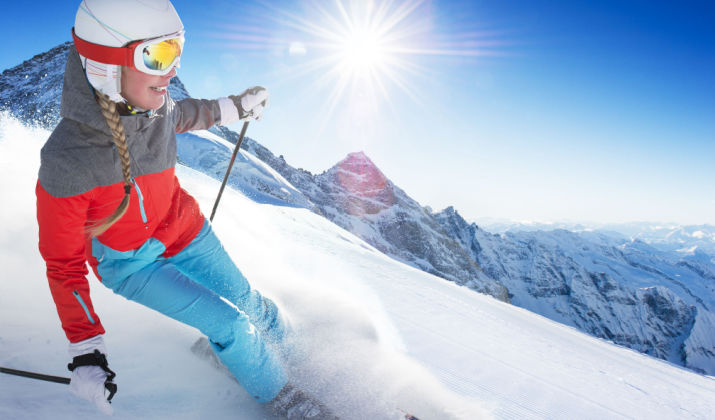 Image Source: Shutterstock
We've already talked about staying warm and dry, but what other features should you look for in a ski jacket?
Pockets
If you don't like to carry things, choose a ski jacket with plenty of pockets. Most modern ski jackets are well thought out and feature pockets that will keep your stuff safe and organized.
Look for jackets with lift pass pockets and somewhere to safely put your goggles and sunglasses. These pockets should be lined with fleece or other soft materials to prevent your lenses from getting scratched.
It's also a good idea to choose a jacket with an insulated pocket for your cell phone, so the cold doesn't affect the battery too much.
Powder Skirt
A powder skirt is an internal gasket that cinches around your waist to stop snow from getting inside. Some powder skirts attach to your ski pants with zippers or poppers to create an impregnable seal, keeping you warm and comfortable, even in the deepest snow.
Ventilation
A good way of being able to manage your body temperature is with a ski jacket with ventilation.
Most quality ski jackets come with zippered vents under the arms or down the sides, which allow you to create airflow within the jacket on warmer days. They usually have mesh inserts to prevent snow from getting in as it sprays up from your skis.
Hoods
Some ski jackets have hoods to improve coverage during lousy weather. The best ones are compatible with helmets and are removable, so you can choose to leave them at home when not needed.
Final Thoughts On Wearing A Normal Coat While Skiing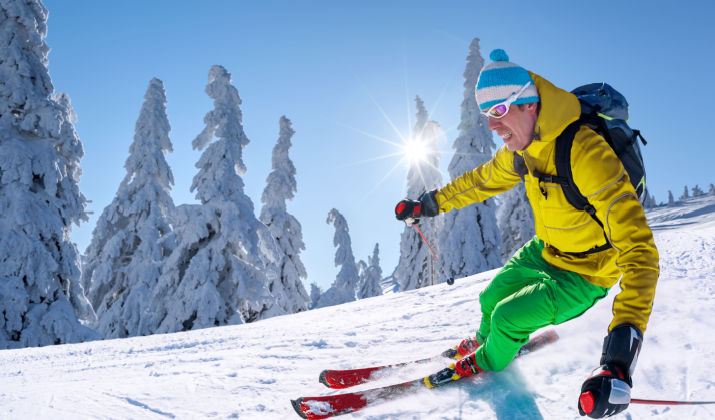 Image Source: Shutterstock
It is tempting to cut costs by wearing your regular jacket while skiing. But your enjoyment would be compromised just like if you were skiing while wearing jeans.
There is no substitute for a good ski jacket. These may seem expensive, but you can buy reasonably priced ones if you know where to look.
If you buy a low-cost ski jacket, you need to be realistic about its performance. As with anything, you get what you pay for, so don't expect a cheap ski jacket to keep you warm and dry in all conditions.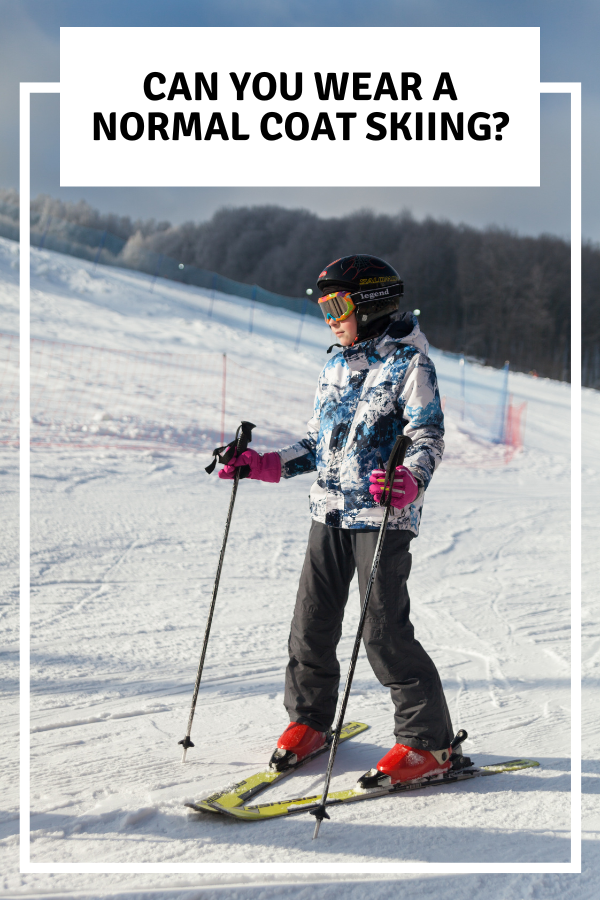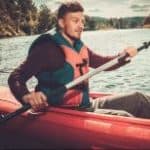 Author: Peter Salisbury
Pete is the Owner of KayakHelp.com. Born and raised in Cleveland, Ohio, he grew up kayaking, fishing, sailing, and partaking in outdoor adventures around the Great Lakes. When he's not out on the water, you can find him skiing in the mountains, reading his favorite books, and spending time with his family.