Are you looking for a place to buy high-quality fishing equipment online? If you're an avid kayak fisher, you know how important it is to get your gear from a trustworthy store.
High-quality fishing gear won't break in the middle of a fishing trip. It's worth investing a bit more in good gear that will last you a longer time.
Today, I will be showing you the best websites for finding quality fishing gear for kayak fishing, canoeing, and other fishing expeditions.
Let's get into it.
Best Fishing Gear Websites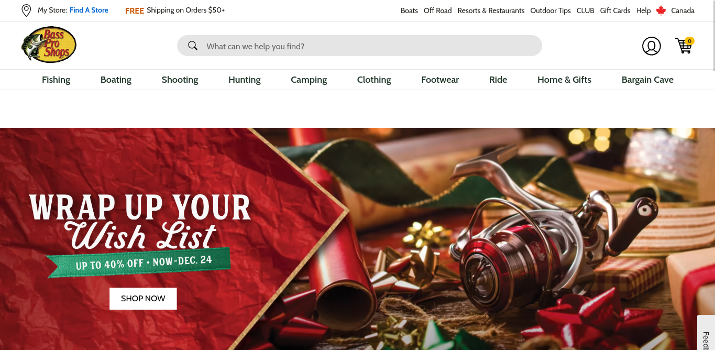 Bass Pro Shops is an icon in the American fishing gear industry. Founded in 1972, Bass Pro Shops sells all kinds of outdoor gear, including fishing, hunting, camping, boating, and riding equipment.
However, Bass Pro Shops founder Johnny Morris started Bass Pro Shops by selling fishing tackle out of his father's liquor store in Missouri. The company only expanded to other equipment as it grew.
Some of the gear you can get from Bass Pro Shops are:
Fishing reels and rods
Lures
Fishing lines and hooks
Weights
Ice fishing gear
Filet knives
Fly fishing gear
You can also buy fishing apparel, such as sunglasses and rain gear.
Bass Pro Shops also sells a wide range of boating accessories, including:
As you can see, Bass Pro Shops sells everything you need to go on a kayak fishing expedition if you are starting from scratch. If you want to combine that with a camping trip, you're in luck; Bass Pro Shops sells:
Tents
Sleeping bags and pads
Camp chairs and furniture
Flashlights and headlamps
Bags
Camp kitchen tools
And lots of other camping equipment
Hunting and shooting gear is also available, and Bass Pro Shops also has a clothing line for outdoor activities like fishing for men, women, and children.
You can order online or use the Find My Store tool to find a physical location near you. When you shop online, Bass Pro Shops offers free shipping on orders above $50, a target you're likely to reach easily.
Otherwise, shipping will cost $5-8. One-day shipping (not including weekends or holidays) is available but costs $25, even for orders above $50.
Shipping to Hawaii, Alaska, US territories, Canada, and international locations costs more.
If you have a friend or relative you'd like to introduce to fishing or kayaking, why not get them a Bass Pro Shop gift card? Gift cards are available in physical and digital form, with digital cards sent instantly.
Businesses buying gift cards in bulk can get discount pricing.
Bass Pro Shop also has a loyalty rewards card that has no annual fees and earns you 1-2% in points as rewards on your purchases, depending on the type of purchase. These points never expire, and you can redeem them for free gear.
Cardholders also get access to special member perks, discounts, and more.
Support is available via live chat, email, or phone.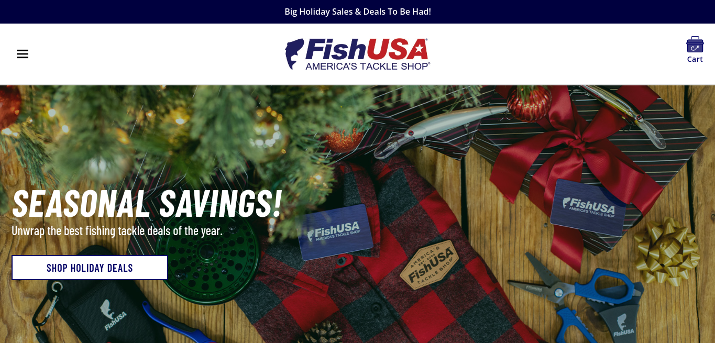 FishUSA brands itself as "America's Tackle Shop." It's been around for over two decades, and it works with various suppliers to bring you the best fishing tackle in the country.
Some of the equipment you can pick up on its website include:
Fishing rods and reels
Rod and reel combos
Baits and lures
Fishing line and hooks
Terminal tackle
Gear and tackle storage equipment
Bait storage gear
Kayak lovers can also buy:
Free shipping on orders above $75 is available to the contiguous US (48 states but not Hawaii and Alaska), but shipping can take up to six business days. Fast shipping (next business day, two business days, and three business days) is also available.
Customers who live within 150 miles of FishUSA's physical shop in Fairview, Pennsylvania, are eligible for free curbside pickup, with orders ready in two hours.
For kayak shipping, an additional handling fee is required, and you may have to pay an additional shipping fee of $250 if you live in select states. See more information here.
International shipping is available as well.
FishUSA has a generous 60-day return policy if you're not satisfied with your order.
You can buy gift cards for friends, and phone support is available.
TackleDirect has a large inventory of fishing equipment for all types of fishing, including saltwater, freshwater, and fly fishing.
Some of the gear you can buy on TackleDirect include:
Reels
Line
Lures
Terminal tackle
Rod holders
Nets
You can also purchase clothing, sunglasses, and other fishing apparel. Plenty of marine and boating equipment is available, including:
Signaling equipment
Boat maintenance supplies
Navigational systems
Fish finder systems
Anchors and docking tools
Trailer equipment
If you order more than $50 worth of equipment, you usually qualify for free shipping.
Shipping to the contiguous United States is typically shipped the same day (if ordered by 2 PM EST). USPS First-Class Mail is used, with most orders arriving within 4 USPS shipping days (that includes Saturdays).
Various other shipping methods are available, including one-day, two-day, and three-day shipping, if you need your gear quickly.
International shipping is available, and you can select from different carriers, including DHL, FedEx, UPS, and USPS.
Returns are available within 30 days of your purchase, providing you meet certain conditions like keeping the original manufacturer tags and stickers. You can return items for an exchange or full refund; during holidays, the 30-day period is often extended.
Physical and digital gift cards are available for purchase.
Support is available via email and via the phone, with a toll-free number you can call.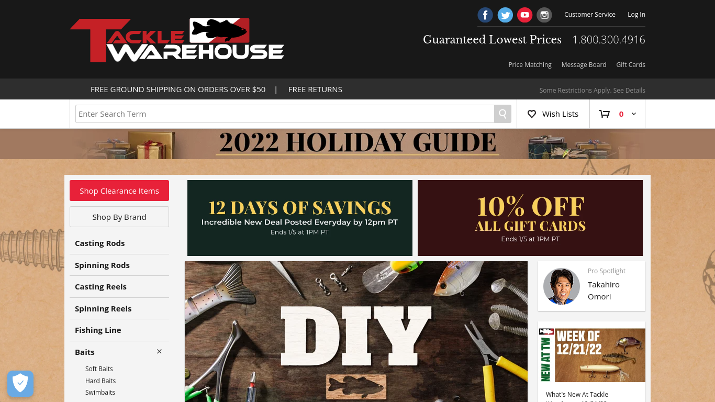 Another great place to buy tackle is Tackle Warehouse. It sells a wide range of equipment at affordable prices, including:
Casting and spinning rods
Casting and spinning reels
Soft and hard baits
Hooks
Fish finders
Boating equipment
Sunglasses
In addition to fishing gear and equipment, Tackle Warehouse sells videos and books that teach you how to do things like make better knots.
There is also a learning center with a video vault full of instructional videos and other content, like how-to guides, purchasing guides, and gear review.
Free ground shipping is offered for orders over $50. All other orders come with a flat shipping charge of just $6.75 (within the contiguous United States).
Orders placed before 12:30 PM EST will be packed and shipped out the same day. UPS Next Day Air Saver shipping is available if you need your gear quickly.
Tackle Warehouse has a price-matching guarantee. If you find any product it stocks at a lower price, it will match that price.
Support is available via email or over the phone (there is a toll-free number you can call).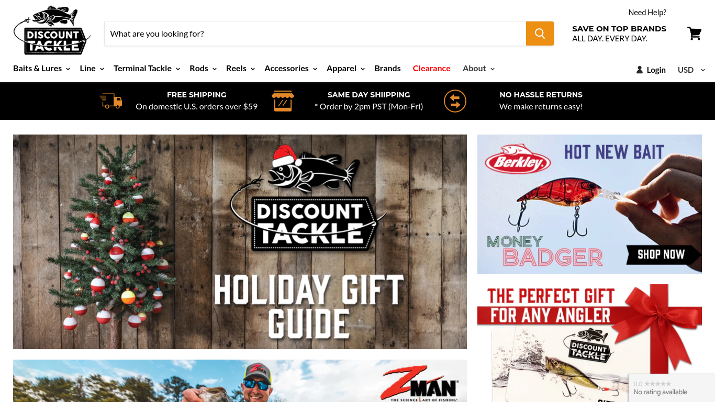 Discount Tackle offers a wide range of fishing equipment. It sells fishing baits and lures, different types of fishing line, rods, reels, terminal tackle, kayak fishing accessories, and more.
Free shipping is offered to anywhere in the contiguous United States on orders above $59. Orders lower than that come with a flat shipping fee of just $3.99.
For expedited delivery (1-3 business days), the shipping fee is $9.99, regardless of order amount.
A 60-day return policy applies to orders, but certain exclusions apply. A price match guarantee is offered as well.
Discount Tackle has a useful tool to help you find and buy a fishing license in any of the 50 states. Every state requires you to purchase a license to go fishing, but it's usually easy to buy.
The tool can also help you register your boat.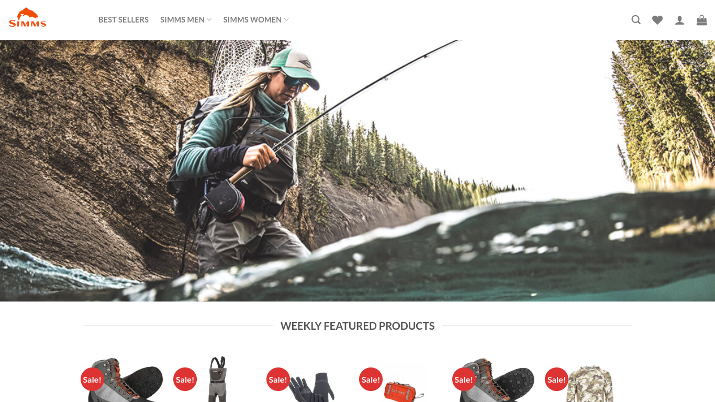 Simms Fishing has excellent prices on various fishing gear.
It's a great place to go if you need kayak fishing accessories, such as fishing boots, fishing gloves, dry packs, and other accessories or apparel.
You can browse the weekly featured products or new arrivals, or you can use the menu to find men's or women's apparel.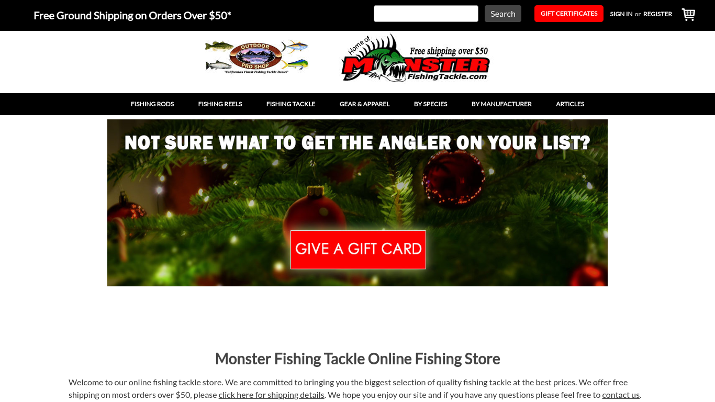 Outdoor Pro Shop is a site with a nice variety of fishing equipment. Some of the categories on the site include:
Casting, fly, spinning, and surf rods
Baitcasting, convention, spinning, and fly reels
Fishing line and hooks
Terminal tackle
Weights
Jigs and jig heads
Soft plastic and hard baits
Other useful items for sale include life jackets, rod holders, knives, rain gear, and coolers for your drinks.
Orders over $50 get free ground shipping – USPS First Class or Priority Shipping. That will usually take 1-5 business days; for orders below $50, it's a flat fee of $6.50.
International shipping is not available, other than to Canada.
For more information about shipping rates, see here.
A discount is available to members of the military.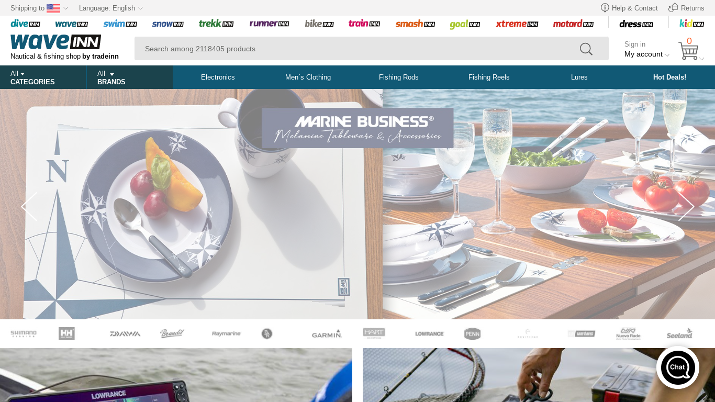 Waveinn is an online shop with a nice selection of fishing gear and apparel. From reels to rods to lures, you can buy fishing equipment for any kind of fishing expedition.
Waveinn sells a lot of fishing clothing as well, including gloves, t-shirts, underwear, rash guards, accessories, and other apparel that you can wear on your fishing trips and at other times.
The website offers a generous return policy of 30 days. You can log into your account, print your return sticker, and ship your product back for a full refund, as long as it has not been soiled, damaged, etc.
Waveinn ships worldwide to most countries. Simply look for your country in the drop-down menu at the top-left of the screen.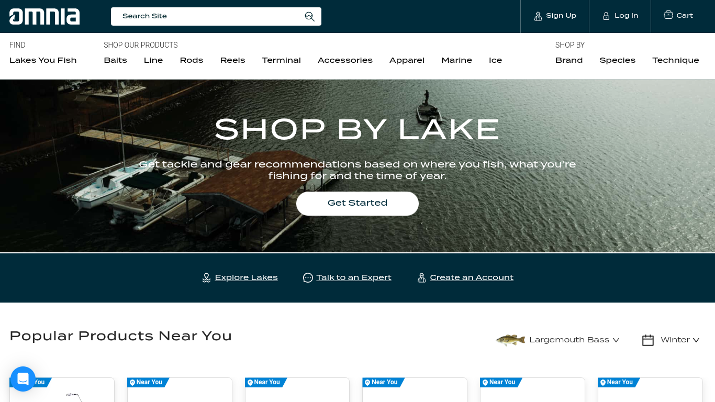 Omnia Fishing is an excellent site for finding shipping gear because it gives you shopping recommendations based on where you are going fishing.
Start by selecting which fish you are trying to catch. Possible choices include:
Largemouth bass
Spotted bass
Northern pike
And others
Then, choose a lake near you. If you're going sea kayaking, this tool might not be as helpful, but it's great for lake fishing.
However, you can also shop by state, brand, species, or fishing technique, making it easy to find what you're looking for on Omnia. Products include bait, line, rods, reels, ice fishing gear, apparel, and more.
Ground shipping is free for orders over $50 and just $5 for orders under $50. Two-day shipping costs just $6 on all orders, but this offer doesn't apply to tackle boxes and rods.
If you sign up for Omnia Premium, which costs $29/year, you will be eligible for free shipping on all orders, with no order minimum. Orders will be shipped out the same day, as long as you placed the order before 1 PM central time.
In addition, Omnia Premium members get 10% cash back on most orders. You can use your cash back rewards on future purchases, making it a great option for people who shop at the store often.
Omnia Premium members are also sometimes eligible for exclusive discounts of 20% or more.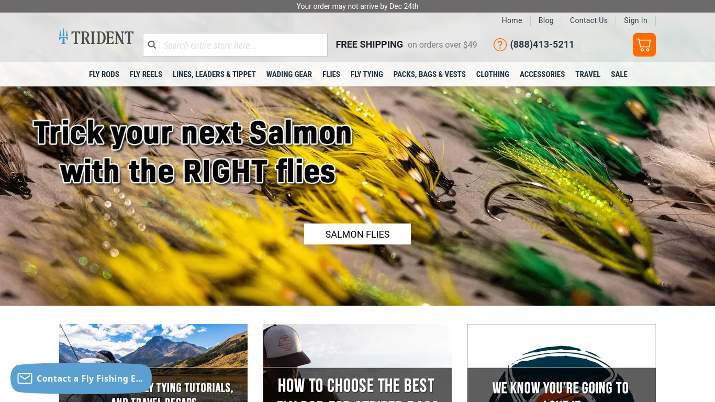 Trident Fly Fishing is an online store that sells products like:
Fly rods
Fly reels
Lines
Leaders
Wading gear
Packs and bags
Fishing clothing and apparel
If you're looking for cheap products, there is also used gear available in the store.
Orders over $49 are eligible for free shipping. This type of shipping takes around a week to arrive.
Expedited shipping is also available.
If you are located internationally, you will be pleased to learn that not only does Trident Fly Fishing ship to all countries worldwide, but it also offers free international shipping on orders above $600.
Most orders fall under the 30-day return policy, as long as the product is still in sellable condition. Some products, such as engraved or personalized products or those sold for over 25% off, are not eligible.
In addition to the regular exchange policy, the store offers a castability guarantee on all fly rods. You can return a fly rod within seven days if you don't like it for a full refund.
Unlike the regular exchange policy, which requires products to be in a sellable condition, this policy is a bit more lenient, so you can use the equipment without needing to be too careful.
One-piece, two-piece, bamboo, and special order rods are not part of this offer.
Trident Fly Fishing has a useful trade-in program. If you own used fishing gear, you can use the program to get an instant quote on your gear and then ship it in for store credit, which you can use to buy new fishing gear (you can't buy used gear from the store with this type of credit).
Note that the final valuation may differ from the original quote. However, if it's too low for you to accept, don't worry – Trident Fly Fishing will simply ship it back to you, so there's no harm done.
The store also offers a price match guarantee. That includes coupons and shipping – for example, if a local store is offering the same product at 20% off, you can get it at the final discounted price from Trident Fly Fishing instead.
However, the program does not include prices from eBay auctions, a low price you got from purchasing a product in bulk (more than three at a time), prices on used or refurbished products, etc. See more details here.
Gift cards are available from as low as $1.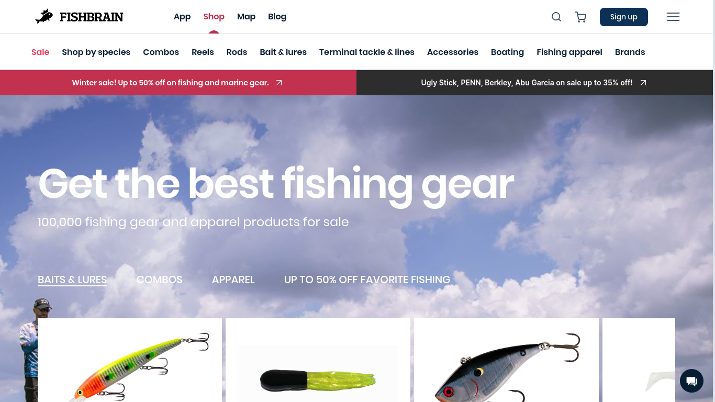 Fishbrain is a site that sells baits, reels, rods, lines, terminal tackle, boating equipment, fishing apparel, and more.
With over 500 brands available on the site, you'll have an easy time finding the right equipment for your needs.
You can sign up for a Fishbrain Pro membership, which gives you access to exclusive deals, like 10% off on select products.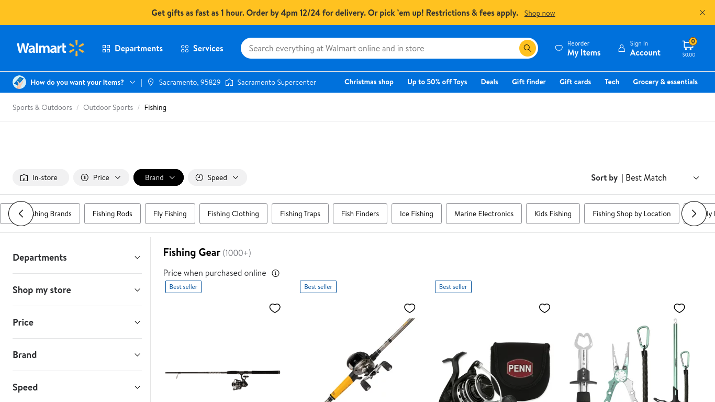 Walmart has an online fishing section with all kinds of fishing gear, such as lures and baits, reels and rods, fish finders, marine electronics, tackle boxes, and more.
While shipping is available, you can also select to pick up the product at your nearest Walmart if you have one near you. Note that prices may differ slightly when buying products online compared to buying them in-store.
One of the advantages of shopping on Walmart is that it now offers free two-day delivery on many products, as long as they have the two-day shipping tag near them. Some products are also available for next-day delivery.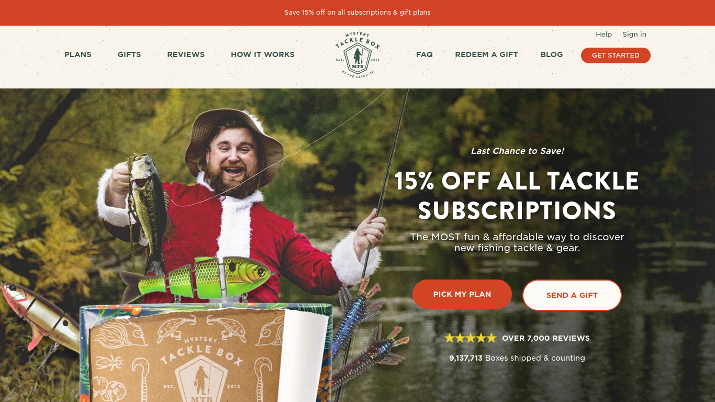 If you want to make shopping for tackle more fun, Mystery Tackle Shop is the place to go. It focuses primarily on subscription-based tackle and bait boxes, but it's a lot of fun and well worth the price.
Start by selecting a plan. There are three monthly plans you can sign up for:
You can get discounts on any plan for subscribing for a longer period of time. Either way, you will get more in value than what you are paying.
When signing up, make sure to select a species of fish to focus on. Options include bass, inshore saltwater, panfish and trout, ice fishing, and walleye.
Remember, you can always switch your species if you'd like to start catching different fish.
Every month, you will get a new box with new bait. It's pretty exciting.
You can cancel your subscription at any time, or you can pause it if you'd like to take a break from fishing and don't want bait delivered to your home that you're not going to use.
According to Mystery Tackle Box, you will never receive the same item twice, as it is always changing the products in the boxes.
The helpful in-box magazine contains tips that will improve your fishing skills and technique.
If you want to give someone a Mystery Tackle Box, there are flexible and affordable gift options. You can give a single box or sign a friend or family member up for a subscription lasting three, six, or 12 months.
To give your friend more flexibility, gifts come in the form of printable certificates that your recipient can redeem, so they can customize their box.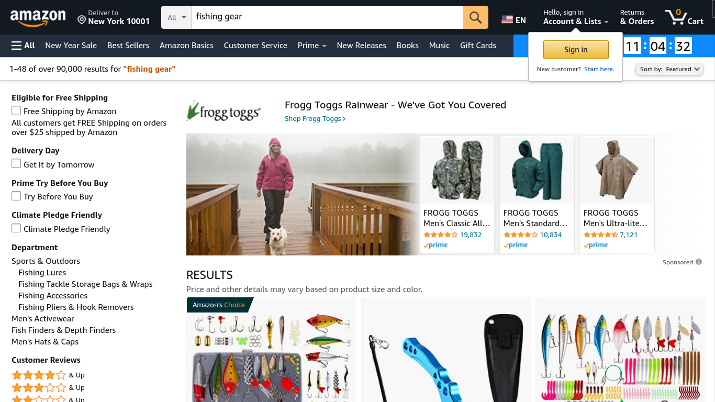 Amazon has an entire section dedicated to fishing gear and equipment. You can buy:
Baits
Lines
Reels
Terminal tackle
And a lot more
One of the advantages of shopping on Amazon is that if you're an Amazon Prime member, you are eligible for free, two-day shipping on most products. Many products even come with free one-day delivery, although that depends on your location, the product, and the time of day you buy it.
Amazon has its own delivery vans, so you can usually get products delivered on weekends, including Sundays. However, some sellers ship their products directly from their own warehouses, and they may use other shipping carriers.
If you sign up for an Amazon Visa Rewards card (subject to a credit check) you can also earn up to five percent back on Amazon purchases if you have Amazon Prime. If you don't have Amazon Prime, then you will earn three percent cash back on purchases on Amazon.
You will also earn 1-2% cash back on all other purchases.
Another advantage of using Amazon is that you can read real reviews from customers, allowing you to get a better idea of which products are high-quality and worth buying. You can also see answered questions that others have asked.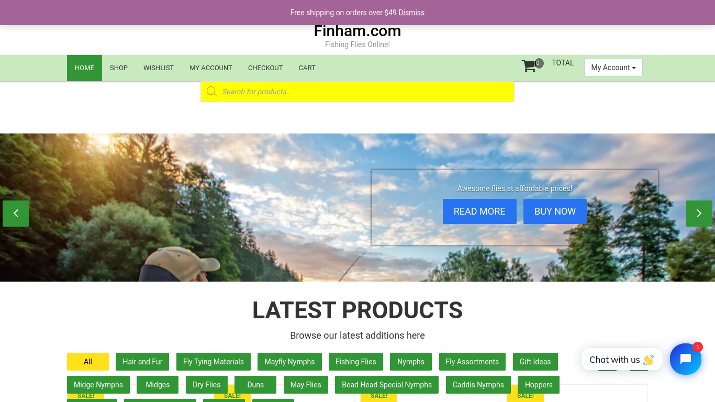 Finham is a website where you can buy flies for fishing bait. It has a wide range of different fly species, including nymphs, midges, hoppers, and others.
You can buy single flies or assortment packs.
It also sells other equipment, such as fly tying materials. However, it doesn't sell much else other than that.
Orders above $49 qualify for free shipping.
Wrapping It Up
Check out our guide to buying a fishing kayak if this is your first time going kayak fishing and you don't yet have a vessel. You can also find a rental shop that rents kayaks near you.
We hope you liked this article. If you did, share this article with a friend, so they can purchase the best gear as well!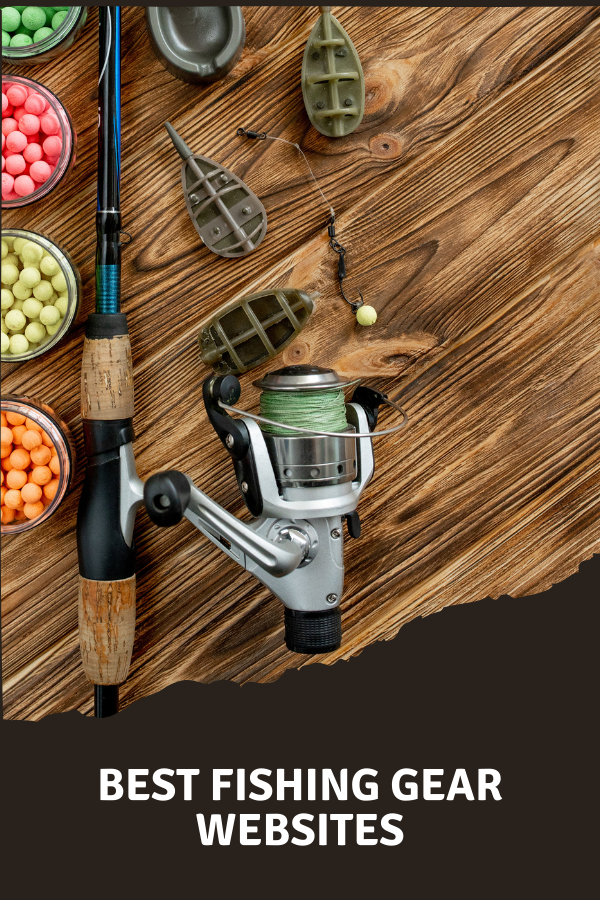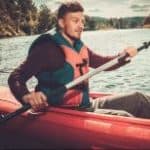 Author: Peter Salisbury
Pete is the Owner of KayakHelp.com. Born and raised in Cleveland, Ohio, he grew up kayaking, fishing, sailing, and partaking in outdoor adventures around the Great Lakes. When he's not out on the water, you can find him skiing in the mountains, reading his favorite books, and spending time with his family.