Many of the best kayaks for high-speed kayak racing are of the sit-inside or touring variety. That said, the fastest sit on top kayaks rival their sit-inside counterparts when it comes to top speeds and they can also offer a little more overall comfort.
There is also a major difference between a recreational kayak for casual paddling and a higher-end model that performs better over longer distances.
Fast sit on top kayaks are a bit more of a niche item than some other types of kayaks.
Fortunately for you, we've compiled a list of the 10 fastest sit on top kayaks that we could find. Our selections were made based on kayak size, weight, and the presence of certain features that make it easier for you to achieve higher speeds on the water.
We'll provide a brief overview of the most important features and specifications for each of these 10 fast sit on top kayaks.
Plus, we'll outline several useful criteria that will help you choose the best kayak for your particular needs.
So let's get started!
Fastest Sit On Top Kayaks
Stellar Kayaks Stellar Racer
Swell Watercraft Scupper 14
Stellar Kayaks S18S EXP
Vagabond Kayaks Marimba
Stealth Pro Fisha 525
Carbonology Sport Cruze
Epic Kayaks V6
Kaskazi Dorado
Stellar Kayaks Elite Small
Epic Kayaks V14
Jargon Buster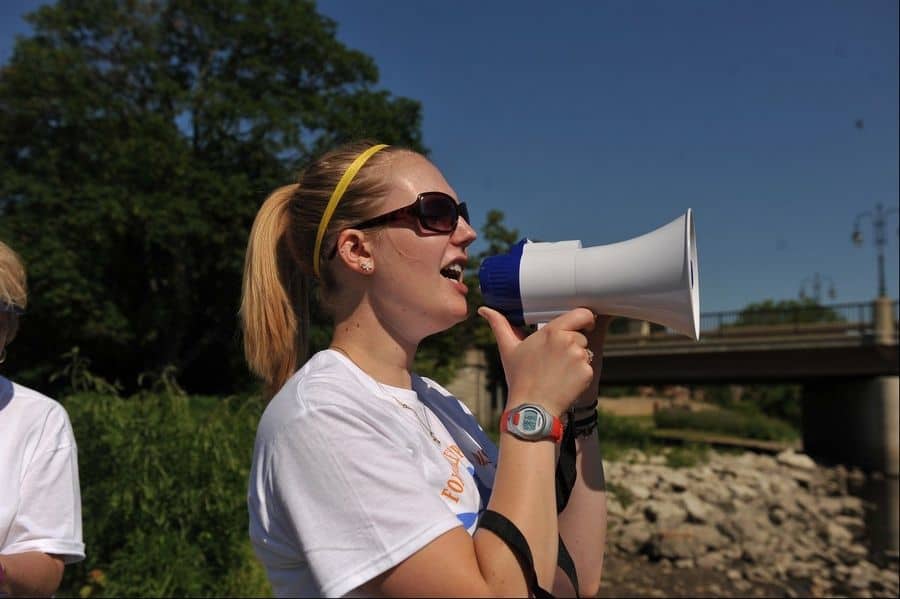 High-speed kayaking is actually something we have not covered all that much here. So let's take a moment to define some of the kayak racing terms that may be new to some throughout this guide.
Entry
Entry is a general term that refers to the design of the forward portion of a kayak that 'enters' the water as you paddle.
A longer, narrower entry usually provides less drag and higher touring speeds.
Leg Drive
An efficient paddling technique is less about the arms than it is about the legs and core. Leg drive is the pressure applied against the footboard of your kayak on the side that you are paddling on.
As you push your leg forward, energy transfers through your hips and naturally rotates them toward the side you're paddling on.
That energy transfer continues through your core and into your trunk and arms to achieve a more powerful stroke.
Beam
A kayak's beam is the measurement from gunwale-to-gunwale. You will often see the term 'beam' used interchangeably with 'width'.
Buying Guide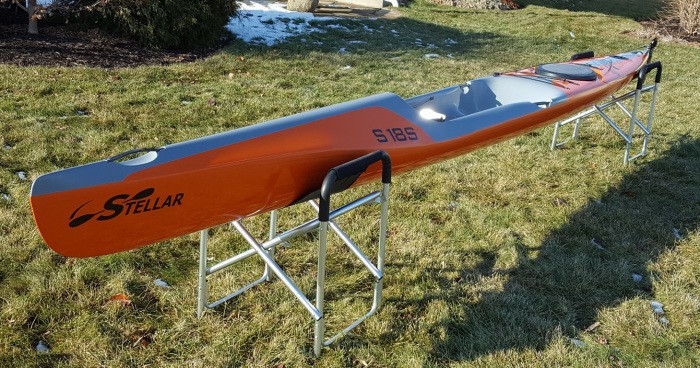 Before we get into the descriptions of the ten kayaks below, you should know what to look for in a fast kayak.
In this Buying Guide, we'll examine how certain specifications and kayak features will contribute to a kayak's on-water speed, as well as how those factors may impact other aspects of your kayak's performance.
Length
There is a reason why you won't find any short and squatty kayaks on our list.
As kayaks get shorter, they naturally tend to be slower in the water because your weight, as the paddler, is spread over a smaller area.
This causes the kayak to sink further down in the water and creates more drag.
With a longer kayak, your weight is spread over a larger surface area and the kayak remains more buoyant with less resistance.
Just keep in mind that a longer kayak will be more difficult to turn quickly.
That's usually a lower priority for kayak racing or high-speed paddling, but it's worth mentioning for those that are more interested in long-distance kayak touring.
Beam
A fast sit on top kayaks with a smaller beam will cut through the water with less drag than a wider kayak.
If you are looking at two kayaks of the same length and one is two inches narrower, for example, it's reasonable to assume that the narrower kayak will be faster.
Just be sure that you consider comfort at least a little bit when you are looking at kayak beam.
Narrower kayaks also come with smaller cockpits that may or may not be comfortable for paddlers of all body types.
Weight
A kayak's weight also plays a huge role in how effortlessly you are able to move it through the water.
Surprisingly, there's actually quite a large range of kayak weights among the models we've chosen below.
You will find heavier versions with weights upwards of 60 pounds and the lightest models with weights under 30 pounds.
Obviously, the weight you are comfortable paddling will depend on your size, experience, and strength.
If you are a larger, more experienced paddler, you may be alright with a slightly heavier version that includes some of the other features and amenities that are important to you.
For those that are a bit smaller or laser-focused on finding a kayak that will help you blow the competition out of the water at your next flatwater race, it will be more important for you to choose one of the lightest kayak models from our list below.
Cockpit Draining
These kayaks also feature various methods for draining water out of the cockpit. Some of them include natural scupper holes like you will find on traditional sit-on-top kayaks.
Others boast more intricate bailing systems that have to be operated manually in order to drain water from the cockpit.
The option that is best for you depends on your paddling style and the type of water you typically paddle on.
Those that paddle on flat water or in colder waters will enjoy a draining system that allows you to keep the cockpit completely sealed until draining is absolutely necessary.
Those that paddle in rougher conditions where getting water into the cockpit is a frequent occurrence will need a natural solution for draining the cockpit as they go.
Fast Sit On Top Kayak Reviews

The Stellar Kayaks Stellar Racer is a perfect choice for folks transitioning from one of the best touring kayaks to something a bit faster.
This kayak measures 19'2" long, 18.9" across, and 13.4" deep.
It's designed for paddlers from 5' to 6.5' tall and it boasts a maximum weight capacity of 285 pounds. In redesigning this kayak, Stellar moved the cockpit forward in order to make it easier for interested paddlers to catch waves.
This kayak also offers above-average stability in rough conditions and it features a reduced-volume footwell for improved speed.
Rudders under the stern are connected to a high-strength steering line for easy and efficient steering in all conditions.
As far as luxury amenities, you won't find too many on this kayak, but it does include a water bottle holder in the cockpit and a small section of bungee cord behind the cockpit for gear storage.
It's still meant to go light and fast, however, with a slender entry that reduces drag. In the cockpit, you'll also have two scupper holes for shedding water efficiently and a three-point footbrace that allows you to achieve more leg drive on your paddle strokes.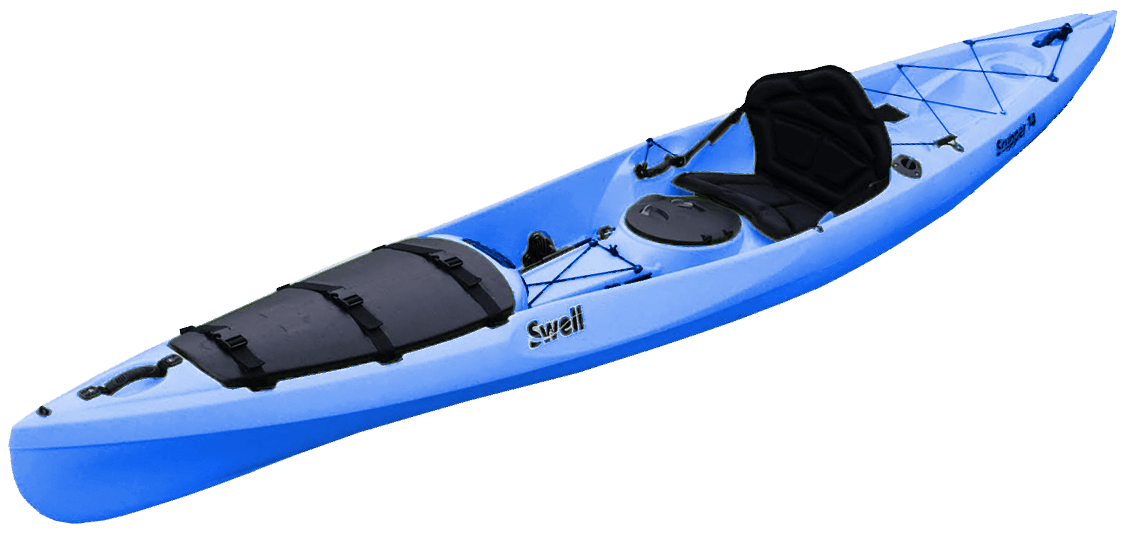 The Scupper 14 from Swell Watercraft is an excellent choice for intermediate paddlers that are just getting into kayak racing.
Even if you don't want to race, it can be a great next-level kayak for those that want to achieve higher speeds on long-distance paddles.
The great thing about this kayak is that it's still functional for recreational paddling and it can compete with some of the best ocean fishing kayaks out there as well.
The Scupper is 14'1" long, 25.5" wide, and 13.5" deep. The kayak weighs a total of 64 pounds and boasts a maximum weight capacity of 390 pounds.
Unlike most fast sit on top kayaks, the Scupper boasts a huge covered hatch in the bow for gear storage.
This is why it can be utilized for storing your kayak fishing accessories or even overnight camping gear for multi-day paddles.
The cockpit also functions like a sit-inside kayak even though it's not completely enclosed.
Instead of having open drain holes in the bottom, this kayak features scupper valves that can be opened and closed as needed.
While it doesn't come with one, this kayak is designed to make it easy to attach a rudder at the stern.
Plus, there are also channels to connect electronic cables from the footbraces to the rudder for hands-free steering.

Stellar Kayaks is clearly one of the industry leaders when it comes to fast sit on top kayaks.
So don't be surprised if you see a few more models of theirs on our list but, for now, let's focus on the S18S EXP.
This surf ski kayak measures 18 feet long, 20.2" wide, and 13.3" deep.
Like the Stellar Racer, it's also designed for paddlers between 5' and 6.5' tall and it boasts a maximum weight capacity of 285 pounds.
As the last three letters in this kayak's name suggest (EXP), it was originally known as Stellar's 'Expedition Ski' kayak.
That is largely due to the fact that, while it's made for speed, it's also made to carry everything you will need for longer kayaking expeditions.
The bow storage compartment offers a total of 39 liters (10.3 gallons) of storage space.
At the stern, you will be able to store gear in another 89.6 liter (23.7 gallon) enclosed bulkhead compartment.
Both of these compartments are watertight and relatively easy to access while you're seated in the cockpit.
Speaking of keeping water out, this kayak is equipped with a DeBrito bailer that makes it easy to quickly drain water from the cockpit while you're underway.
The bailer can also be completely closed when you are paddling in colder, flatwater conditions.
This kayak is also equipped with an under-stern rudder, but it comes with a rudder post and steering line tubes pre-installed for those that want to switch to over-stern steering.

The Vagabond Kayaks Marimba may not keep up with some of the fastest racing kayaks on the market, but you will be hard-pressed to find a faster recreational sit on top kayak than this one.
The Marimba measures 14'9" long and 26" wide. It weighs a total of 66 pounds and offers a maximum weight capacity of 335 pounds.
When designing this kayak, the Vagabond guru wanted to find a balance between speed and storage.
It's intended for kayak river marathons where speed is important, but you also need the ability to carry several weeks' worth of gear and food supplies.
That's why this kayak is equipped with three storage hatches in the bow, cockpit, and stern, as well as additional bungee storage in those areas as well.
So you will have covered, watertight storage and plenty of space for securing large or medium-sized dry bags to the deck of this kayak.
In the cockpit, adjustable footbraces allow you to find your perfect paddle position and increase leg drive.
They can also be adjusted independently for paddlers that prefer a more unique leg position.

The Stealth Pro Fisha 525 is arguably the most popular of all Stealth Kayaks.
This brand is well-known for producing high-performance racing kayaks, but this one is also useful for those interested in saltwater kayak fishing.
The Pro Fisha 525 measures 17'3" long and 24" wide.
The kayak itself weighs a total of 60 pounds and it is rated for a maximum weight capacity of 430 pounds (kayaker plus fishing gear).
This kayak is constructed with epoxy-based resins and CNC technology to keep it super lightweight while still making it strong and durable. By designing it with a more pronounced rocker, Stealth also gave this kayak improved wave-riding abilities compared to some other fast sit on top kayaks.
Overall, this kayak is meant to provide a balance between speed and stability.
With the saltwater angler in mind, it's meant to help you pursue fast-moving fish while remaining stable on rougher ocean waters.
This kayak also boasts a live baitwell, central fish hatch, trawling rod holders, and a carbon fiber rudder system that makes it easier to maneuver your kayak on-a-dime when chasing large ocean fish.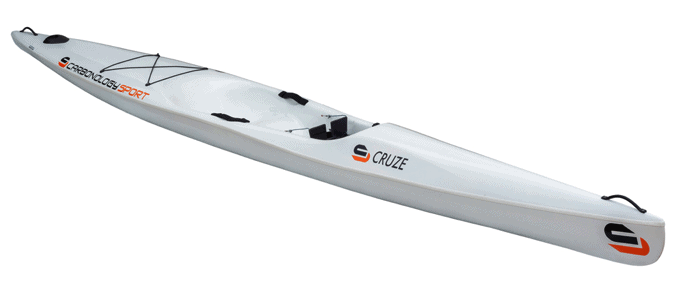 The Carbonology Sport Cruze classifies as an entry-level surf ski kayak that's perfect for beginner and intermediate kayakers that have just begun to feel the need for speed.
It's also one of Carbonology's most stable kayaks for high-speed paddling.
The Sport Cruze measures 18 feet long, 22" wide, and 13" deep. It's also one of the lightest kayaks on our list at just 28 pounds and it's best suited for kayakers between 110 and 265 pounds.
The Cruze includes automatically adjustable foot braces to accommodate paddlers of varying heights.
Plus, it has elliptical rudders for better tracking and bullet scuppers for quick draining of the cockpit.
Aside from that, the Cruze isn't big on unnecessary features or luxury amenities. It's meant to ease the learning curve for those just getting into high-speed paddling in crossover conditions.

The design of the Epic Kayaks V6 is intended to provide the performance of a surf ski kayak with the storage capacity of one of the best sea kayaks.
That makes it a great choice for touring kayakers interested in transitioning into kayak racing or a high-performance sea kayak.
The V6 measures 16 feet long, 23" long, and 11.5" deep. It boasts a maximum weight capacity of 335 pounds and there are actually two construction options to choose from that weigh 39 pounds (Performance construction) and 32 pounds (Ultra construction) before being loaded down.
Speaking of loading, this kayak boasts one of the largest storage capacities of any kayak on our list.
The bow storage capacity measures 71.5 liters (18.9 gallons) and the stern storage compartment provides an additional 103 liters (27.2 gallons) of storage space.
This kayak is equipped with a Smart Track rudder system that makes maneuvering its extra length much easier.
That rudder system is also designed to kick up automatically on impact, which makes this kayak well-suited to shallow water paddling too.
Inside the cockpit, the adjustable foot braces allow you to optimize your paddling position for maximum leg drive.
The bottle holder keeps your preferred hydration solution close at hand and the Epic bailer makes it easy to keep the cockpit dry in all conditions.
In addition to its extra-large bow and stern storage compartments, this kayak also features a large bungee rigging section on the stern part of the bow.
That section is perfect for attaching a large dry bag or one of the best kayak deck bags.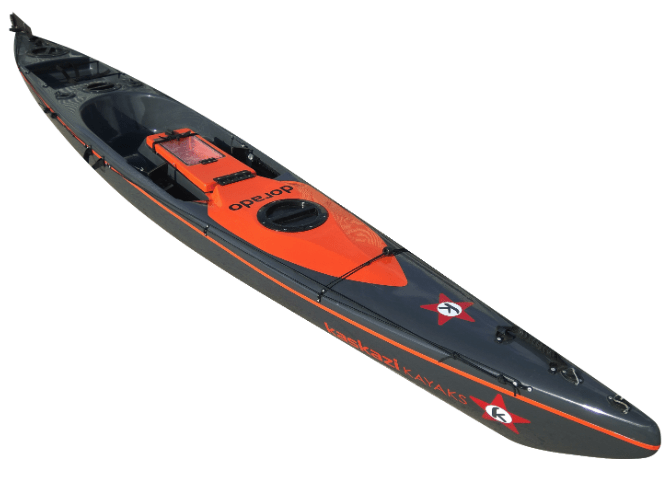 The Kaskazi Dorado kayak is a speedy design that's great for kayaking expeditions.
It's also ideally equipped for those interested in a variety of ocean recreation activities, such as diving, spearfishing, snorkeling, and kayak fishing.
The Dorado measures 15'8" long and 24.8" wide. The kayak weighs just over 57 pounds when empty and offers a maximum weight capacity of approximately 396 pounds.
This kayak tracks decently well even without the stern rudder, but it does include a rudder with attached steering lines for easier maneuvering.
Those steering lines are attached to adjustable foot pedals that can accommodate paddlers of varying heights.
This extra handling ability makes this kayak easy for beginner paddlers to handle, but experts will also love the added features that it boasts.
That includes a large, center-mounted fish box and a loading bay that's perfect for one of the best kayak fishing tackle crates.
The speed of this kayak is really going to come into play for ocean anglers that are after large, fast fish.
Some kayaks simply won't be able to keep up with fish moving at high speeds, but this one can.
Plus, it has extra volume to provide the kind of stability you need when you are fighting a larger fish for a longer stint.
Finally, this kayak also includes two twist-n hatches and a single bulkhead compartment for dry gear storage.

We couldn't quite finish this guide without including at least one more selection from Stellar Kayaks, and this one is ideally suited for smaller paddlers.
The Elite Small is designed for kayakers from 5' to 6'3" tall and boasts a maximum weight capacity of 200 pounds.
This fast sit on top kayak measures 20'4" long, 16.4" wide, and 13.8" deep. That beam measurement also makes it one of the skinniest kayaks on our list.
Equipped with high-strength steering lines that are made with Spectra Dyneema material, this kayak includes under-stern rudders for easier tracking and maneuverability.
The material in the lines is well-known for not rusting and providing low stretch for better responsiveness.
Like the other Stellar Kayaks on our list, the Elite Small is meant for speed and, as a result, isn't littered with unnecessary features.
That said, it does include a small section of bungee rigging on the deck just behind the cockpit for gear storage.
It also features a two-scupper bailing system that can be manually operated to drain water out of the cockpit.
Plus, there's Stellar's standard three-point footbrace system that allows you to achieve maximum leg drive with each paddle stroke.

The Epic Kayaks V14 is widely considered the fastest sit on top kayak for mid-sized water conditions.
So, unless you are paddling on rough, open ocean, it's going to be tough to find a faster kayak.
The kayak measures 21' long, 16.9" wide, and 12.6" deep.
It's designed for a wide range of paddlers from 5'5" to 6'7" tall and offers a maximum weight capacity of 300 pounds.
Epic included everything that paddlers enjoy about their V10 and V12 models and simply made the V14 sleeker and faster.
This is a classic case of not messing with a good thing and simply improving upon it!

Our pick for the fastest sit on top kayak is the Epic V14 because it features a no-nonsense, streamlined design that is unrivalled.
With two construction options that both weigh less than 27 pounds, it's also one of the lightest sit on top kayaks on the market.
Its combination of lightweight construction, narrow beam and rugged Carbon-Kevlar design makes it fast and strong.
While those lightweight materials do mean that it costs a bit more than the competition, it's worth it if you are truly looking for a kayak that can help you win your next flatwater race.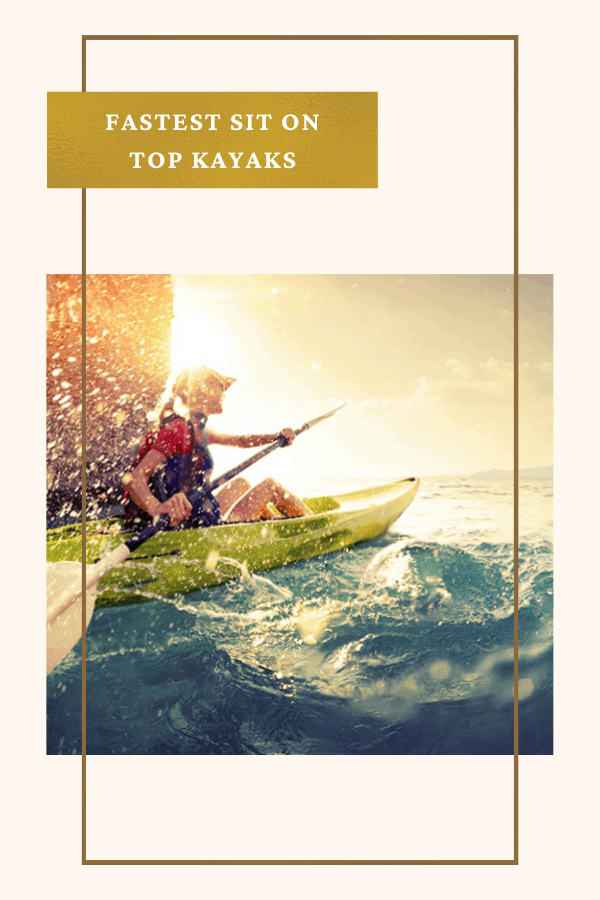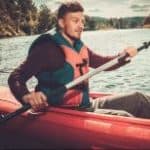 Author: Peter Salisbury
Pete is the Owner of KayakHelp.com. Born and raised in Cleveland, Ohio, he grew up kayaking, fishing, sailing, and partaking in outdoor adventures around the Great Lakes. When he's not out on the water, you can find him skiing in the mountains, reading his favorite books, and spending time with his family.