The mountains are full of characters with their own unique look at Life. These characters are an excellent source for funny, inspiring, and thought-provoking quotes about skiing and snowboarding.
In this post, we are going to share with you some of the best quotes heard on the mountain and ones by the big names in mountain sports.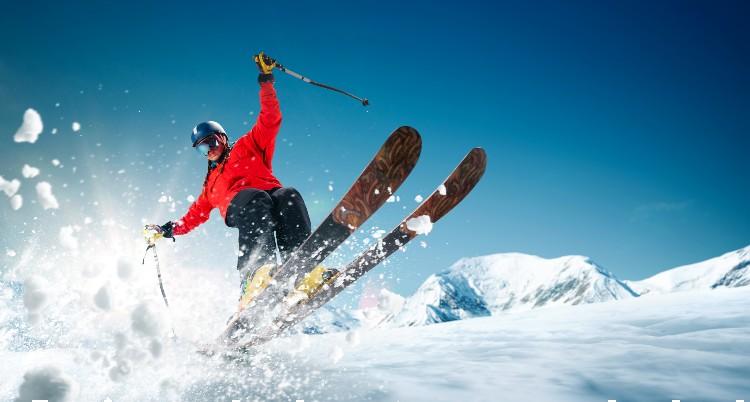 Image by Arthur Didyk from Shutterstock
Common Phrases You Hear On the Mountain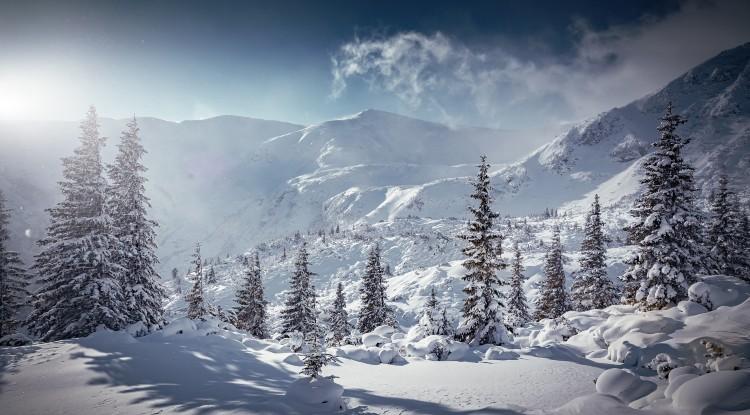 We will start off with some quotes that nobody really knows their origin. However, they have been passed through generations of skiers and snowboarders, making them well-known in the snow sports world.
1. "A bad day skiing beats a good day at work."
This quote is pretty self-explanatory, as most people would prefer to be skiing than grafting at work. Obviously, this should be taken with a grain of salt, like a really bad day skiing can be catastrophic.
2. "Skiing is more than a sport; it's a way of life."
Some skiers and snowboarders just like to spend a week or two on the mountain each winter. However, there are some die-hard people dedicated to getting as much time on the slopes as possible.
The more committed skiers and snowboarders will change their whole life to move to the mountains. They will take on menial jobs and live in terrible accommodations just so they can do what they love the most.
3. "There are no friends on a powder day."
You will often hear this quote in the morning after an overnight dump of snow. The person saying it is referring to the fact that they are going to get the first tracks in the virgin snow.
However, the reality of a powder day is that it is more fun with friends. You can't beat riding alongside your best buddies, doing your favorite thing.
In addition to this, you should never ride powder in the backcountry alone. There are far too many hazards that will get you into trouble.
4. "When life gets hard, I go skiing."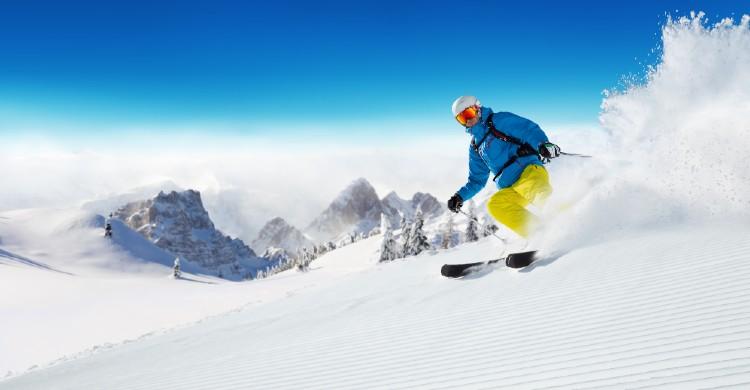 Image by Jag_cz from Shutterstock
This quote refers to the fact that skiing is a great stress reliever. You get fresh air, exercise, and a healthy dose of dopamine and adrenaline when you ski.
There is not much that comes close that will de-stress you when life gets hard.
5. "To ski or not to ski, that is not the question."
This Shakespearian-esque saying indicates that going on the mountain is a no-brainer. If you are ever in doubt about hitting the slopes, think of this quote, and grab your skis.
6. "Skiing is the only sport where you spend an arm and a leg to break an arm and a leg."
It is true that skiing is an expensive sport, and it comes with its risks. But this tongue-in-cheek quote is a jovial view of the mindset of a skier.
In reality, skiing doesn't have to be that dangerous or expensive. There are ways to manage your risk and reduce your skiing trip costs.
7. "Traverse: One of two ways to stop while skiing. Tree: The other method."
Another tongue-in-cheek quote about the dangers of skiing. No doubt, this one was coined by someone in a bar after a close encounter with a tree.
8. "You can't buy happiness, but you can buy a ski pass."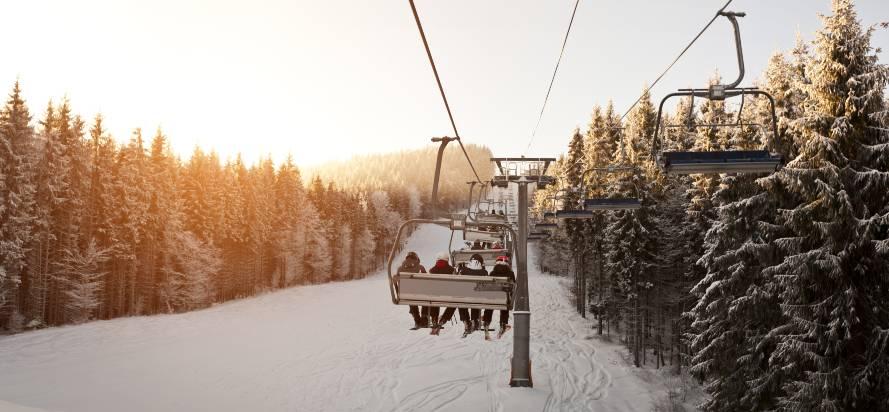 Image by Skylines from Shutterstock
This quote is in the spirit of the fact that skiing provides joy. You are only a chairlift away from happiness.
9. "Skiing is a dance, and the mountain always leads."
The mountain deserves respect, especially when you are pushing your limits. This quote is a reminder that the mountain is in charge, and if you don't respect it, you will not come out on top.
10. "The pain won't last, but the memories will."
Pain comes in many forms, but in skiing, it can be exhaustion, injury, or frustration. This quote refers to the fact that as a skier, you can experience these uncomfortable times, but you will always have lasting memories from the mountain.
The risk and pain are worth it for the character building and experience you gain from them.
11. "My life is going downhill."
This quote is found on t-shirts in pretty much every tourist gift shop in every ski resort. It usually has a picture of a skier falling over or stuck in a giant snowball.
12. "My drug of choice is white powder."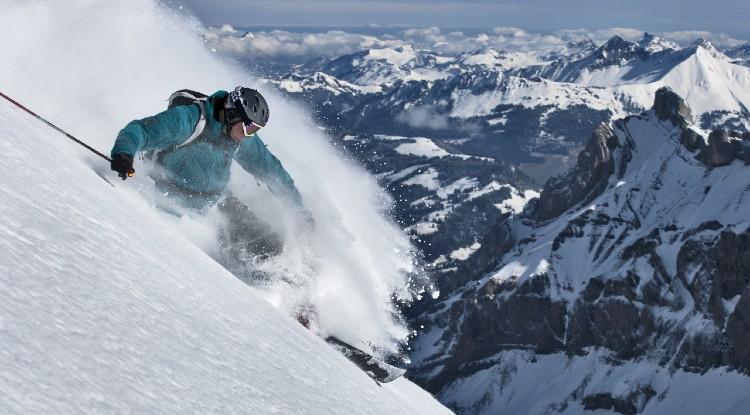 Image by Vitek Ludvik from Shutterstock
Another quote found on gift shop t-shirts and posters. But this one refers to how addictive skiing is, and that some people can't get enough of it, especially on a powder day.
13. "Skiing is expensive, but it's cheaper than therapy."
A cheeky dig at how expensive skiing is, but the quote also highlights the fact that it can make you feel good. A good day on the mountain can solve all your problems, at least in the short term.
14. "Norwegians are born with skis on their feet."
Skiing is Norway's national sport and is the birthplace of modern skiing as we know it. This phrase is very old, and it comes from the country's obsession with skiing.
Norwegians go on family ski trips from a very early age. During a visit to the Scandinavian country, you will see toddlers on skis and even strollers with skis mounted to them.
Norwegians are exposed to skiing at just a few weeks old, which is the next best thing to being born with skis on.
15. "When hell freezes over, I'll ski there too."
You will often find this quote on a bumper sticker on an old car or truck, maybe on a t-shirt too. It is a bit of a bold statement, but it shows the commitment to skiing of the person who said it.
16. "If it's too steep, you are too old."
This is an excellent quote for older skiers who can still shred with the best of them. It is one of the few quotes you see on t-shirts that is actually cool.
This quote is also popular within the climbing community, as it is very relevant. Although it is more about going up the mountain, rather than down it.
Quotes By Famous People In The Skiing World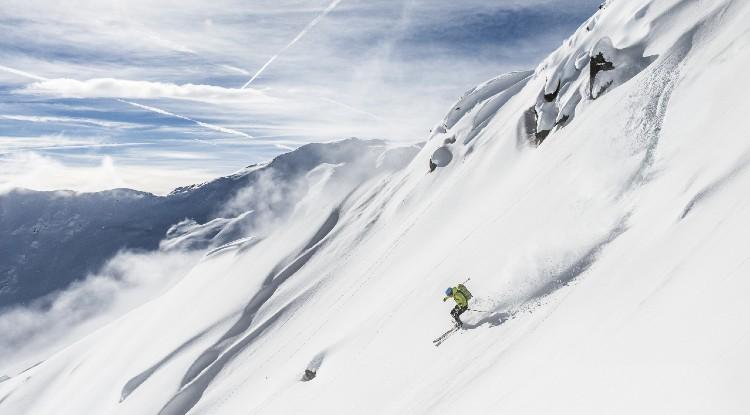 Image by Dolomite_summits from Shutterstock
The following quotes have been made by various famous people in the skiing industry. The quotes come from the author's ample experience in the mountains and lifestyle.
Whether you are a beginner skier or an expert, the words said by these people will resonate with you. The quotes are often witty or inspiring and will put a positive feeling in your soul or a smile on your face.
17. "It is better to go skiing and think of God than go to church and think of sport." -Fridtjof Nansen
Fridtjof Nansen was a visionary skier from Norway who explored Greenland and the North Pole on skis. He became one of Norway's best all-around skiers.
This famous quote is a nod towards his faith and love of skiing. But, skiing was clearly a priority in his life.
18. "You are one with your skis and nature. This is something that develops not only the body but the soul as well, and it has a deeper meaning for a people than most of us perceive." – Fridtjof Nansen
Another quote from Nansen that illustrates the intimate relationship he had with skiing.
Not everyone gets this deep connection with the sport. But those who are lucky enough to get anywhere near to the feeling Nansen had, understand what he meant.
19. "Life is like skiing. Just like skiing, the goal is not to get to the bottom of the hill. It's to have a bunch of good runs before the sun sets" – Seth Godin.
Seth Godin is a best-selling author and entrepreneur with a fondness for skiing. His quote likens skiing to the story of life, as we should make the most of it before our time is up.
20. "When you're skiing, if you're not falling, you're not trying" – Donald Rumsfeld.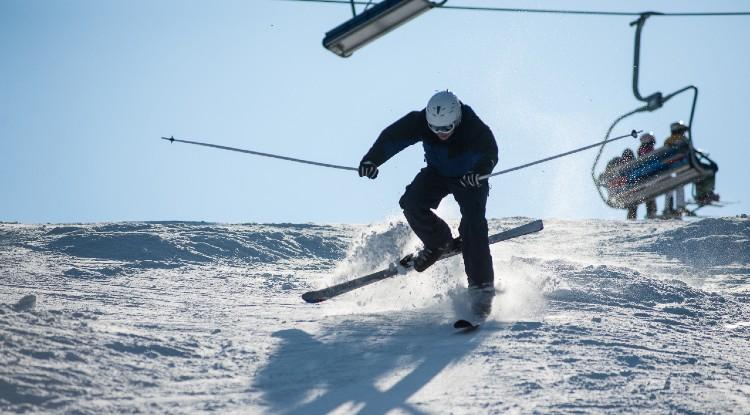 Image by anatoily_gleb from Shutterstock
The former U.S secretary of defense came up with this quote. It suggests that you need to push yourself out of your comfort zone all the time.
With a quote like this, Rumsfeld was either a great skier who pushed his limits or a bad one looking for excuses when he fell over.
21. "If you're looking for a vacation concept that combines the elements of outdoor fun with the element of potentially knocking down a tree with your face, you can't do better than skiing." -Dave Berry
Dave Berry is a former pro skier but is now a ski instructor in Telluride. He competed for 10 years as a speed skier in Europe and Scandinavia between 1983 and 1993.
His fastest speed on skis was an incredible 120mph. His experience and personality have given birth to some excellent quotes.
The one above is a funny take on mixing the risks and rewards of skiing.
22 "Snowboarding is an activity that is very popular with people who do not feel that regular skiing is lethal enough." -Dave Barry
Another great quote from Dave Berry. But this one is a humorous take on the dangers of snowboarding. It suggests that snowboarding is even more hazardous than skiing, and the people who do it love the danger.
23. "A person should have wings to carry them where their dreams go, but sometimes a pair of skis makes a good substitute" – Hans Gmoser.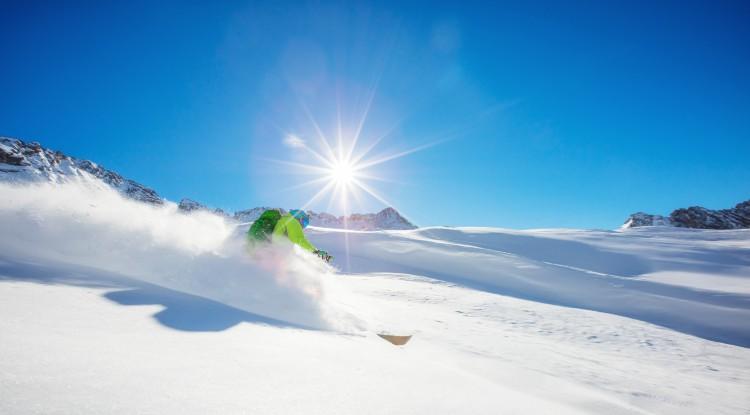 Image by mRGB from Shutterstock
Hans Gmoser was one of the pioneers of heli-skiing, the practice of getting to the top of the mountain via a helicopter. He was a mountain guide who moved to Canada from Austria in 1951.
This quote illustrates his ambition and his passion for encouraging others. But it also shows how much skiing was a part of his life. It is reminiscent of the Fridtjof Nansen quote further up this list.
24. "There is no such thing as too much snow" – Doug Coombs
Doug Coombs was an American extreme alpine skier. He was instrumental in pushing the sport's popularity around the world.
After perfecting his extreme skiing skills in Jackson Hole, he helped to set up the Valdez Heli-skiing company. He also won several extreme skiing championships before setting up his own ski camps.
His impressive resume shows that he is qualified to make a few quotes that have stood the test of time. The quote above highlights that you cannot have too much of a good thing, in this case, powder.
The ultimate goal for many skiers and snowboarders is to find the perfect line with the deepest snow. The deeper the snow, the better.
25. "If you want to get a good taste of powder, first you have to eat some." – Bob Barnes
Sticking with the powder theme, Bob Barnes highlights the steep learning curve associated with skiing powder.
Bob Barnes is the Winter Park Resort Ski & Ride School Director, with many years of ski instructing under his belt. Therefore, he knows first hand about the difficulties of becoming proficient at skiing powder.
His quote illustrates the experience perfectly. You take some tumbles, but luckily it rarely hurts.
26. "There is nothing in the world like going out onto an untouched, open, virgin mountain slope drenched under a thick blanket of new powder snow. It gives a supreme feeling of freedom, mobility. A great sense of flying, moving anywhere in a great white paradise" – Hans Gmoser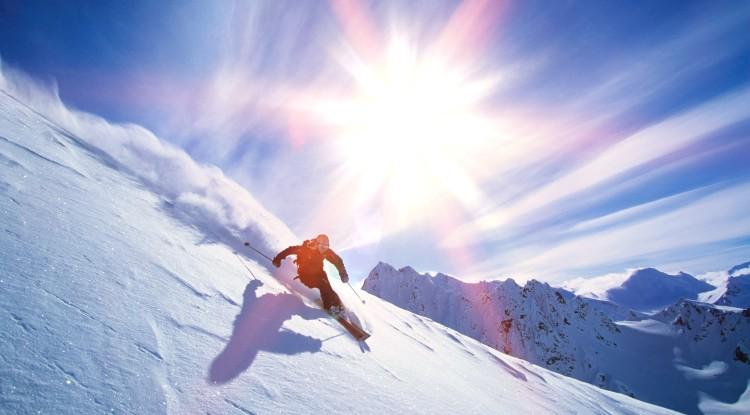 Image by sirtravelalot from Shutterstock
Another great quote from Hans Gmoser, but this one relays the sentiment of skiing powder. When you become a good enough skier to take on an untouched powder field, you will understand precisely what Gmoser means.
27. "Cross-country skiing is great if you live in a small country" – Steven Wright
The comedian and keen skier, Steven Wright, said this to poke lighthearted fun at cross country skiers. The quote is a play on words, suggesting that crossing a country on skis is easier if the country is small.
Not his funniest joke, but it deserves a place on this list.
28. "Just ski down there and jump off something, for cryin' out loud!" – Shane McConkey/Saucer Boy
If you are not aware of Shane McConkey, you need to look him up. He was the definitive extremist thanks to his antics on skis and while base jumping.
McConkey was one of the stars of the legendary ski movie G.N.A.R. Unfortunately, he lost his life in a base-jumping accident in Yosemite.
But while he was alive, he had an alter-ego, Saucer Boy. Saucer Boy was a parody of all the pro skiers of the time who took their lives too seriously.
The quote above has to be taken in the context of the film to appreciate it. It comes from the egotistical Saucer Boy trash-talking other skiers on the mountain.
29. "Skiing is the best way in the world to waste time" – Glen Plake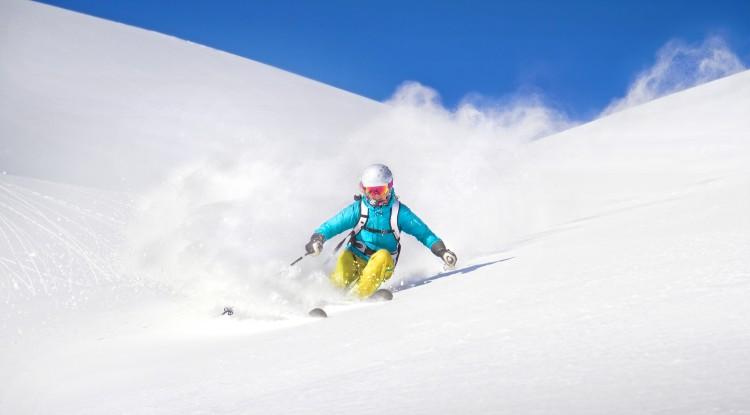 Image by mRGB from Shutterstock
Glen Plake was a true rockstar of skiing in the 1980s. With his mohawk hair, wild personality, and enviable skiing skills, he was an icon of extreme skiing.
His passion for skiing is embodied in this quote. It suggests that nothing else matters as long as you are skiing.
30. "When you are too confident, that's when you hurt yourself" – Candide Thovex
With all the bravado of the previous quotes, this one from French skier Candide Thovex is a breath of fresh air. He brings everything down to earth a bit, saying that you take more risks when you are overconfident.
However, when you watch Candide ski, it is hard to see where he gets this quote from. He takes the sport to a whole new level, and his video parts look like computer games.
Quotes From Warren Miller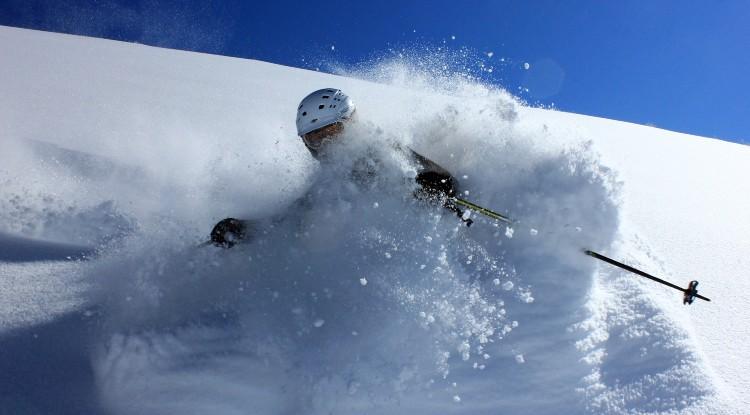 Image by Johnny Adolphson from Shutterstock
Warren Miller was a pioneer of ski cinematography. He created many ski films in the 1980s and 1990s that pushed skiing's popularity around the world.
All his films had funny commentaries, so it is no wonder that he came up with some of the most memorable quotes in skiing.
During his time, Warren Miller made many quotes, both amusing and inspirational. So this section is dedicated to Warren's wisdom.
31. "People weren't meant to fly; that's why we make kickers." -Warren Miller
Warren's films pushed the boundaries of extreme skiing. His films blended freestyle and extreme skiing to create a whole new discipline.
He directed skiers to not only drop cliffs and steep faces but to send it off huge kickers too.
32. "If you don't do it this year, you will be one year older when you do" – Warren Miller.
This quote is a great reminder to get started on something sooner rather than later. If you don't do it now, you are wasting time and making it harder for when you finally get around to it.
33. "A pair of skis are the ultimate transportation to freedom" – Warren Miller
This quote reminds us of the feeling of freedom you get when you ski. It is an excellent opportunity to switch off from our daily lives and live in the moment.
34. "You won't get hurt skiing if you don't fall" – Warren Miller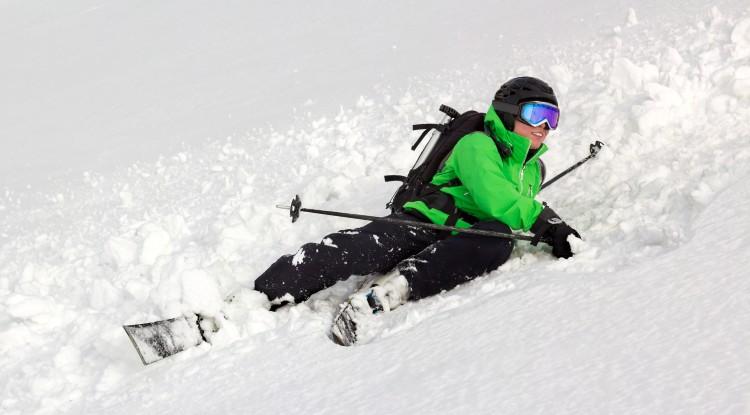 Image by Alex Egorov from Shutterstock
An amusing but accurate take on the dangers of skiing. Everything is fine until it isn't.
35. "Twin tip skis have ensured that today's skiers can ride backward as much as they can forwards; why do they want to do that? I don't know….." – Warren Miller.
A humorous and sarcastic point of view of the evolving technology of ski equipment. Warren Miller spent his career filming skiers with long straight-cut skis, well before the evolution of side cuts and twin tips.
Inspiration Quotes From Ski Racers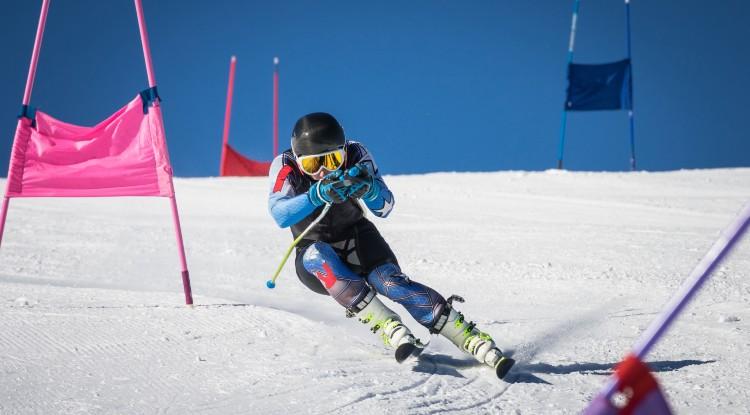 Image by Arialvision_it from Shutterstock
Professional athletes can get pretty deep when they quote things. It comes from their mindset of dedication and the will to win.
This final section will focus on some inspirational quotes from some of the best ski racers in the world.
36. "When my parents were getting divorced, I just said to myself, 'Go to sleep, and tomorrow you can go skiing.' I cried myself to sleep, and in the morning, I was up on the mountain, and I was good" – Lindsey Vonn
This quote from Lindsey Vonn is another account of how skiing is an excellent stress reliever. Even in the darkest of times, getting on the mountain makes a positive change in our mental health.
37. "I'm never tired of winning, and I'm never tired of skiing" – Lindsey Vonn.
Here Lindsey projects her competitive spirit, alongside her love for skiing. The quote gives us a great insight into her mindset and shows us why she was so successful in her racing career.
38. "I think the most important thing in skiing is you have to have fun. If you're having fun, then everything else will come easy to you." – Lindsey Vonn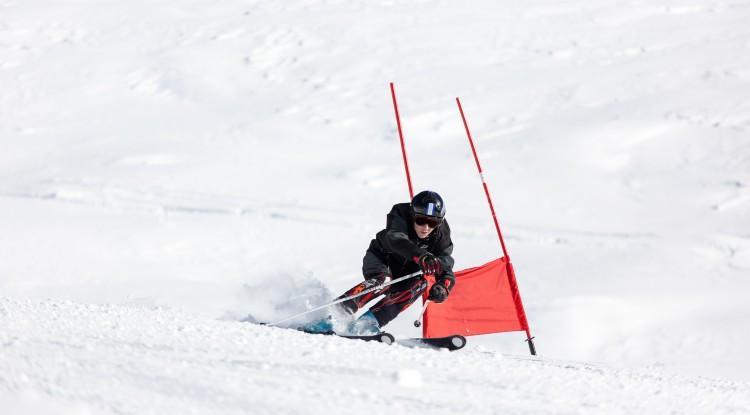 Image by Roberto Caucino from Shutterstock
Many people say that you need to love what you do to be good at it. In this quote, Lindsey reinforces the sentiment, which becomes more apparent when you see her trophy cabinet.
39. "I don't know if it's just me or everyone, but the whole vibe with skiing is not so much thriving on competition against others as it is against myself and the clock" – Picabo Street.
Picabo Street was an Olympic gold medalist. Here she talks about the essence of racing and that it is as much a race against yourself as it is against others.
40. "Obviously, you always want to win, but you want to win by skiing a race that you're proud of, and you feel like you really challenged yourself and left it all out there" – Bode Miller
Bode Miller had some iconic races in his career. But he didn't just want to win races; he wanted to win in style while crushing his competitors.
When Bode raced, he went at 100%, as you can see when he skied along the fence during the Kitzbuhel Downhill in 2008.
Final Thoughts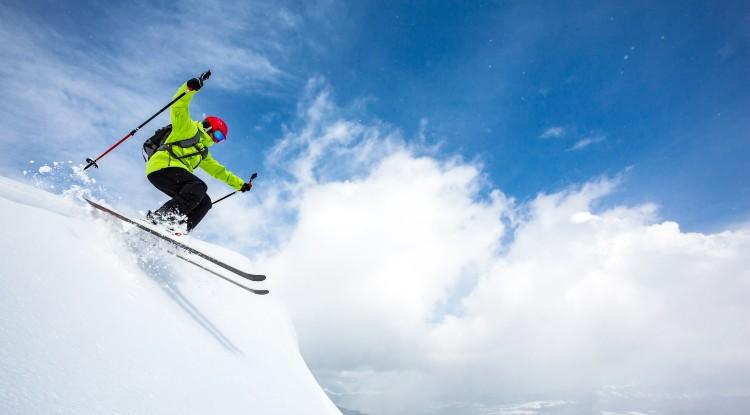 Image by Taras Hipp from Shutterstock
These funny and inspirational quotes have stood the test of time. They are just as relevant now as when they were said.
Who knows what quotes we will get in the future. Hopefully, they will be just as entertaining and encouraging.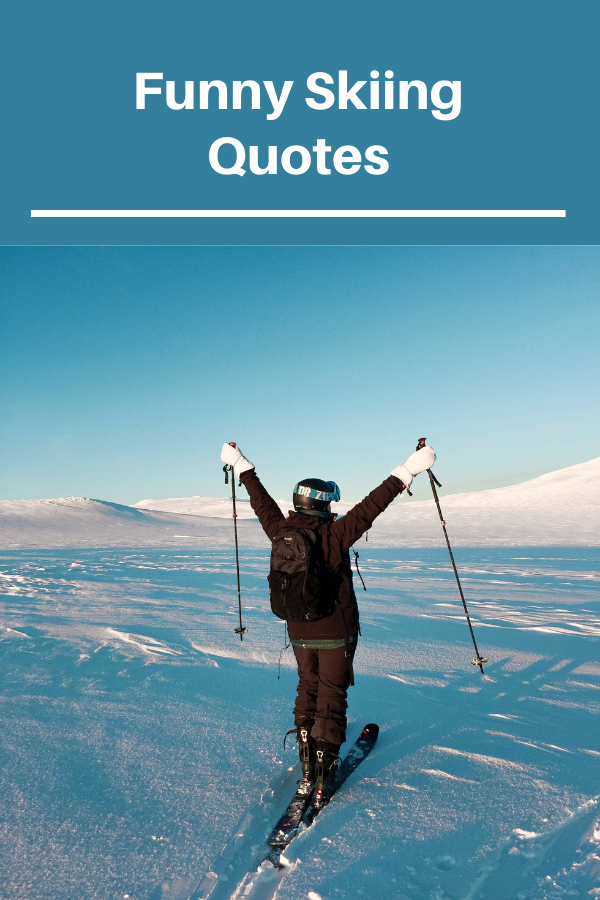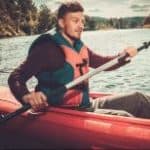 Author: Peter Salisbury
Pete is the Owner of KayakHelp.com. Born and raised in Cleveland, Ohio, he grew up kayaking, fishing, sailing, and partaking in outdoor adventures around the Great Lakes. When he's not out on the water, you can find him skiing in the mountains, reading his favorite books, and spending time with his family.