Skiing is regarded by many as a rich person's sport. Mentioning skiing to someone often conjures up images of plush chalets with roaring fires, expensive après bars and restaurants, and exotic locations.
The reality of skiing is that it isn't a cheap sport. There are many costs associated with it, but there are ways to make skiing more affordable. You don't have to empty your bank account every time you want to get your snow fix.
In this post, we will go into the details of why skiing is so expensive. We will also give you some top tips for making it cheaper.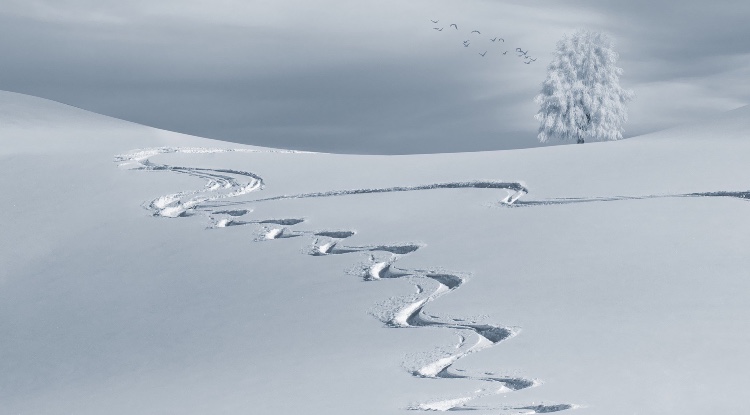 The Equipment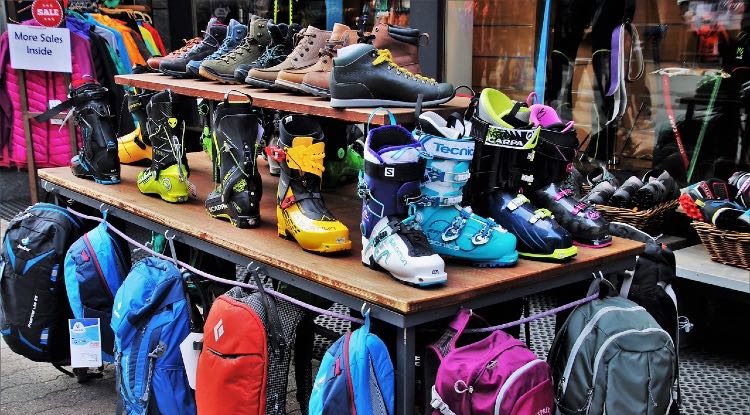 Skiing involves lots of equipment, and you can't go skiing without skis, boots, and poles. Buying ski poles won't break the bank, but you can spend lots of money on skis and boots.
If you are an average recreational skier, you can expect to pay between $600 and $800 for a pair of skis, boots, and bindings. However, it is entirely possible to spend up to $1,000 on skis alone.
Ski boots can also be super pricey, especially when you buy fancy ones with lots of adjustments. Ski boots become more expensive when you buy customized ones from specialist shops, but this is something you only really do when you become a more serious skier.
If you are a beginner skier, you won't want to buy your ski equipment just yet. You are still finding your feet, so renting your equipment is the best solution when you get to the resort.
The type of equipment you would need to buy as a beginner won't suit you for very long. You will grow out of it quickly as your skills develop, so buying it in the early days is not the best solution.
Ski resorts have many ski rental shops, and these days they have excellent equipment. They also have a wide range of ski equipment to suit all levels.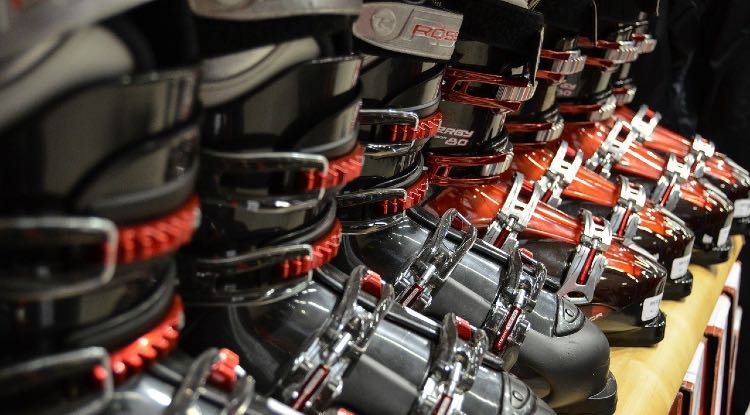 After a few ski trips, you may realize that you want to buy your own stuff. We recommend that the first thing you buy is a pair of ski boots. The reason for this is that ski boots form to the shape of your feet over time.
Your own ski boots will fit any pair of rental skis, and they will be much more comfortable than rental boots. A pair of correctly fitting boots will also give you more control, making your skiing more enjoyable and safer.
As a beginner skier approaching the intermediate level, it would be best for you to buy all-mountain ski boots. As the name suggests, all-mountain ski boots are suitable for most situations and conditions.
We recommend that you visit a boot fitter who will be able to help you get the best ski boots for you.
Ski Clothing
Ski clothing has to be pretty technical due to the environments we ski in. You can spend lots of money on ski clothing, especially when you start to look for top-end clothing with high waterproofing and breathability ratings.
However, if you shop smart, you can save yourself money. For example, ski shops sell off their clothing much more cheaply at the end of the season; also, you can find some great online deals.
Alternatively, a budget ski jacket will work fine until you save up for something more technical and suitable. If you only ski on groomed slopes a couple of times per year, you don't need to buy anything too fancy.
Of course, you care about how you look, but buying ski clothing based on how it looks alone is a bad idea. Your primary purchasing decision should be based on comfort and protection from the elements before style.
Often expensive ski clothing gets its price from clever marketing. But you need to balance your budget with how waterproof, breathable, and insulated your ski clothing is.
When you are choosing your ski clothing, you need to think about layering. Adding a base layer, a mid-layer, and an outer layer may seem excessive, but it is essential for your comfort and enjoyment.
Ski Accessories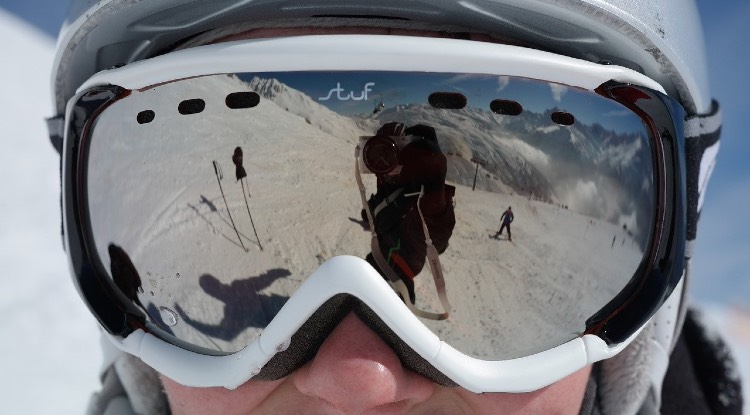 There are some ski accessories you need to enjoy your time on the mountain. For example, nobody should ski without a helmet.
You may be tempted to wear a cycling helmet while skiing, but this is a bad idea. You need to wear a proper ski helmet to provide you with the appropriate protection.
A good ski rental shop should rent you a helmet for free, but buying your own is much better. Your own ski helmet will fit you properly, will be more hygienic, and you will know if it has been dropped or not.
You don't have to go overboard when buying a helmet, but you do get what you pay for. The most critical aspects of buying a ski helmet are fit and coverage.
Another essential accessory is some eye protection. The brightness of the snow can damage your eyes and cause severe headaches.
To protect your eyes, you need some sunglasses or goggles. Goggles give you more coverage and protect your eyes from the wind and sun.
You can spend lots of money on sunglasses and goggles, but you don't need to. However, try to buy some with interchangeable lenses to suit the different light conditions you will encounter.
For your first pair of ski goggles, you don't need to spend more than $30 or $40. Goggles at this price will be sufficient for what you need.
However, if you have a pair of sporty sunglasses, you may be able to get away with wearing those. However, when you start to ski faster, you may find that they let in the wind, making your eyes water.
Travel And Resort Choice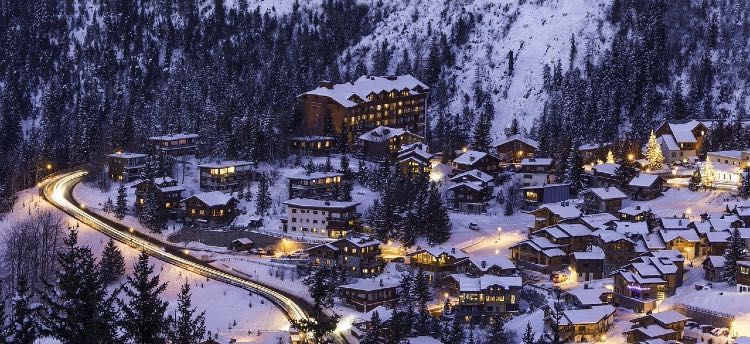 Not everyone is lucky enough to live in, or close, to a ski resort, so they must travel. There is always a cost involved with traveling, but you can reduce your cost by choosing one closer to you or close to an airport.
A good way of reducing your travel costs is to book flights well in advance of your trip. Travel companies often keep their prices low and increase them closer to your departure date.
Some ski resorts have high profiles, thanks to their high-end accommodations and amenities. These places are more expensive to stay in than lower-profile ski resorts.
These days, you don't have to rub shoulders with celebrities to stay in a nice place. By going to a lesser-known ski resort, you can still be comfortable without spending all your money. Also, just because a ski resort has a fancy reputation, it doesn't mean it has the best slopes.
If you are considering traveling to Europe for your ski trip, you can cut the costs with the country you choose to go to. For example, Switzerland is very expensive, as is Norway.
For a much cheaper European ski trip, choose a family resort in Italy or France. If you feel brave, head to Bulgaria or the Czech Republic for a real budget ski trip, but their snow cover is less reliable, and the resorts are more minimalist.
Lift Passes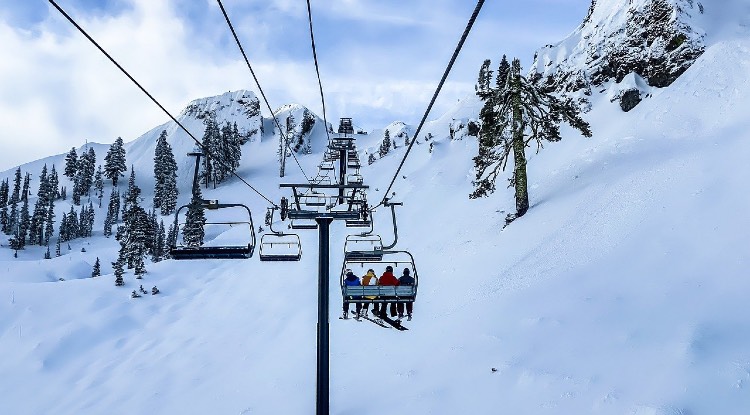 The cost of running a ski resort is astronomical. When you think of all the things a ski resort needs to function, it is understandable.
Ski lifts, snowplows, lift attendants, ski patrol, helicopters, avalanche control, and snowmobiles are just a few things a ski resort needs. None of them are cheap and are paid for by lift passes.
Lift passes are expensive, especially in North American ski resorts. For example, a family ski weekend can see your lift pass bill being thousands of dollars.
Unfortunately, unless you want to hike up the mountain each time, a lift pass is essential for skiing. However, you can often reduce what you pay if you do some homework.
Many ski resorts offer discounted lift passes for families and groups, so if you are in a group, this is something you can benefit from. Also, buying your lift pass online before you arrive is often cheaper and more convenient.
Sometimes beginners will buy a lift pass that covers the whole ski area. Realistically, a beginner will probably stick to the same handful of slopes during their first trip. Therefore, they don't need the expensive full access pass.
Some ski resorts have a few lifts that beginners can use free of charge. Therefore, they don't need to buy a pass at all.
Accommodation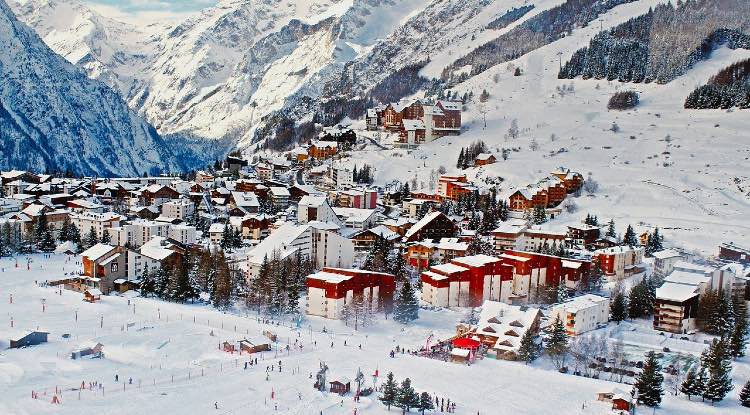 Accommodations in a ski resort can range from cheap and cheerful to mega luxury. Luxury is always great if your budget stretches to it, but you can still have a great time in more modest accommodations.
When you think about it, you will be spending most of your time on the mountain or in the resort. Therefore, do you really need the most luxurious hotel, chalet, or apartment?
Things that add to the cost of accommodations include hot tubs and saunas. Also, ski-to-door accommodations tend to be more expensive due to the extra convenience.
When you book your accommodations, think about what you actually need. Do you need a hot tub? Can you walk five minutes to the ski lifts?
Eating and Drinking In A Ski Resort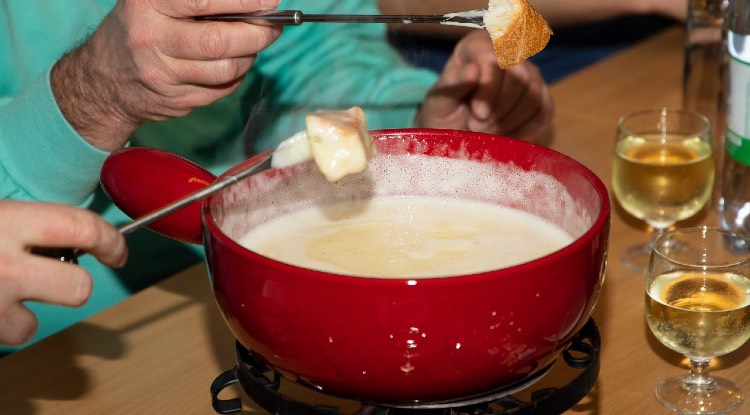 Eating out in a ski resort every night is very expensive. The cost rises exceptionally when you take kids with you, especially if you do it for lunch and dinner.
There are a few hacks that can bring down your food and drink costs during a ski trip. The first one is to take a packed lunch with you on the mountain.
Eating a sandwich you have made at lunchtime slopeside is much cheaper than dining in a mountain restaurant. Most ski resorts have places designated for picnics, but why not eat outside and enjoy the view if the weather is good?
For many skiers and snowboarders, après is a big part of the experience. But, a few cocktails, craft beers, and glasses of wine soon add up.
To keep your bar bill down, look for the bars offering happy hour prices for après. Often bar owners will reduce their prices for a couple of hours in the early evening to entice people into their establishments.
Happy hour is great, especially when the bars have DJs or live music. You can tell where the best bars are, as the locals hang out in them.
If you stay in a self-catered ski property, you can save yourself some money. You may want to eat out a couple of times during your stay, but cooking at your accommodation is much cheaper.
Things You Don't Want To Avoid Spending Money On
We have discussed some things that you can possibly save money on if you are clever or do your homework. But there are some things that you should not avoid paying for.
Of course, you can shop around to find deals, but they are essential for your comfort and safety.
Winter Sports Insurance
You should never go on a ski trip without ski travel insurance. If you have an accident without having insurance, you can receive a nasty bill.
Some people may consider insurance to be an extra expense. But when you learn how expensive rescue and medical attention can be, you will change your mind.
If you have a bad fall and injure yourself in a way that you need to be airlifted off the mountain, you will be thankful for buying insurance. Helicopters are expensive, and you will be charged per minute the helicopter is in the air. When you combine this cost with the price of being treated at a private clinic, your bill gets even more eye-watering.
Before you buy your insurance, make sure you study the policy's small print. Some clauses may include that you have to wear a helmet, cannot ski drunk, cannot snowboard, etc.
Stick to the rules stated in the small print, as you don't want to give the insurance company an excuse not to pay up. Also, make sure that it covers extra activities such as off-piste, ice-skating, and snow tubing.
Ski travel insurance doesn't just cover you for injuries. It should protect you against personal liability and losing your ski pass and equipment.
When looking for ski insurance, make sure it covers your baggage, cancelations, emergency assistance, pandemics, etc. All these elements will keep you protected should the worst happen.
Lessons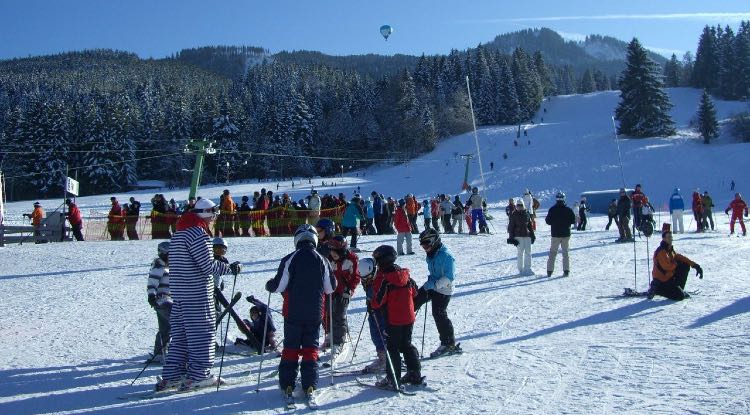 Often, a more experienced friend may offer to give you lessons to save you some money. Your friend may be an excellent skier, but they may not be a great instructor.
Always get ski lessons from a qualified instructor. An instructor will take much of the guesswork out of skiing and teach you the correct techniques.
Your time on the slopes will be much more enjoyable and safer. Also, you will progress much more quickly than if your friend teaches you.
Socks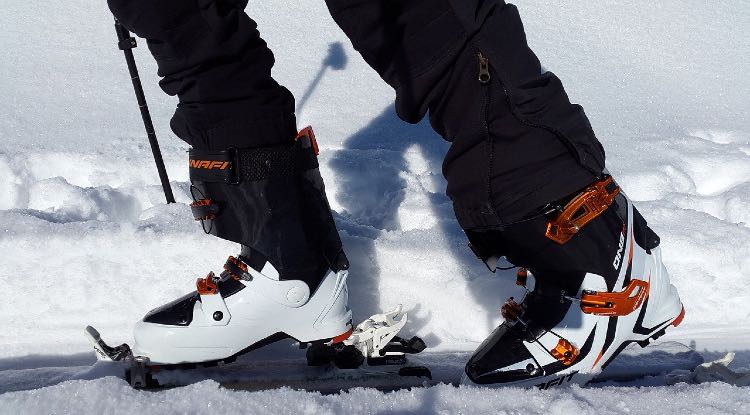 You can never have enough ski socks. Always pack more socks than you think you will need.
If you find yourself skiing in the rain, water will eventually seep into your boots. So having spare socks will mean you will have enough pairs to change into some dry ones later in the day.
You also need to buy the correct socks for skiing. Unfortunately, ski socks can be pretty expensive, but they will keep your feet warm and comfortable while you are skiing.
Some people wear hiking socks instead of ski socks. Hiking socks will rub your feet and ankles, causing painful blisters, ruining your day or week.
Proper ski socks are made from smooth materials to reduce friction and keep your feet warm. They are also shaped to give you optimum comfort while wearing ski boots.
Gloves
There are many different types of ski gloves on the market. Some are very cheap and are fine for mild conditions and dry weather.
However, when the weather is terrible, you need ski gloves that will keep your hands dry. Wet hands are uncomfortable and can face the risk of frostbite when the temperature gets colder.
Make sure you buy ski gloves suitable for the conditions you are skiing in. You may want to buy a spare pair of gloves to wear while your other pair is drying out.
Sunscreen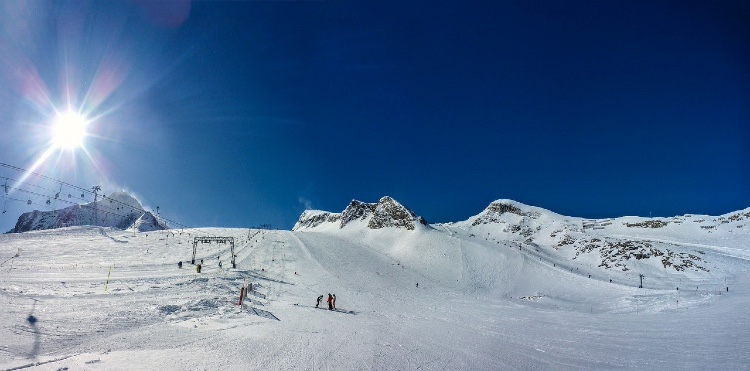 Wearing sunscreen is essential when skiing, especially on bluebird days. The bright sunlight reflects off the snow, making the effects of UV light more intense.
Always put sunscreen on before you leave your accommodation in the morning. You would be wise to keep a small tube of sunscreen in your jacket pocket, too, so you can apply it again later in the day.
Sunscreen doesn't just protect you from the sun. It is also an effective barrier to windburn, so you don't finish your day with a red face.
Final Thoughts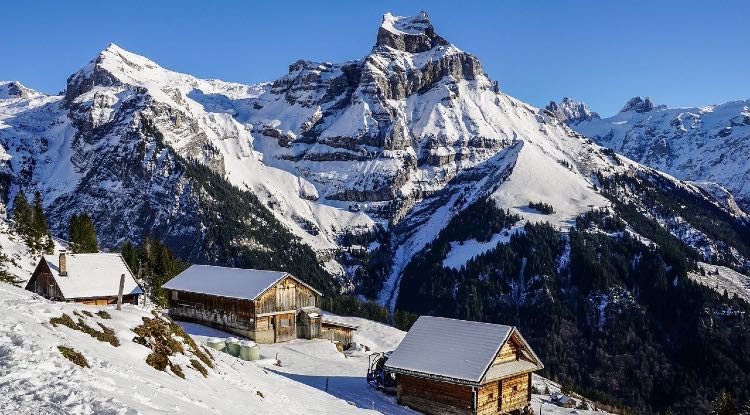 As you can see, there are many things you need to pay for as a skier. But, you can reduce the costs by being a little informed and with smart thinking.
If you are a total beginner, you should ask around your group of friends to see what you can borrow. If you can borrow clothing, goggles, gloves, etc., you only have to pay for your rental equipment, travel, accommodations, lift pass, and expenses.
You may get the skiing bug and become disheartened by all the stuff you want to buy. But it is very rare for a skier to buy all their stuff at once.
Skiers tend to accumulate their equipment and clothing over time. It can take a few years unless you have the means to afford it more quickly.
Images from Pixabay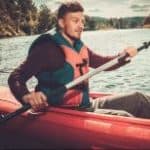 Author: Peter Salisbury
Pete is the Owner of KayakHelp.com. Born and raised in Cleveland, Ohio, he grew up kayaking, fishing, sailing, and partaking in outdoor adventures around the Great Lakes. When he's not out on the water, you can find him skiing in the mountains, reading his favorite books, and spending time with his family.