It's natural that people have said many funny things about kayaking in its long history. There are plenty of resources to help you learn more about how to kayak on our site, but today we're focusing on funny kayaking quotes you can share with your fellow paddlers.
Kayaking should be funny because, well, life isn't always so serious. These funny kayaking quotes will help you bring humor to the party next time you climb into your recreational kayak.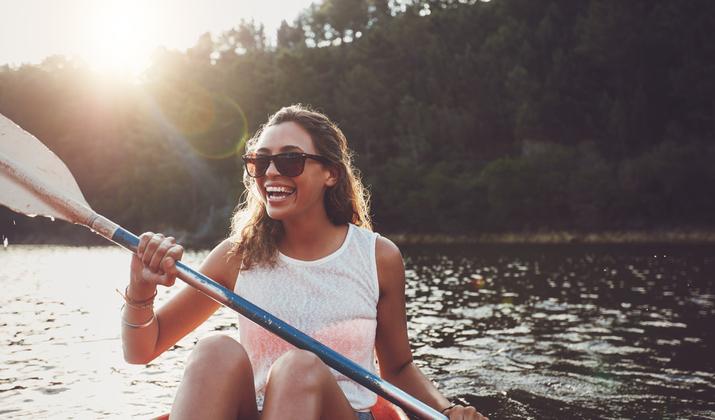 Photo by Jacob Lund via Shutterstock
Funny Kayaking Quotes
Photo by Corepics VOF via Shutterstock
1. "The storms come and go, the waves crash overhead, the big fish eat the little fish, and I keep on paddling."
2. "Writing, to me, is like kayaking a river. You are paddling down, and you come to a walled-off canyon, and you make a sharp turn, and you don't know what's around the corner. It could be a waterfall, it could be a big pool. The narrative current carries you. You're surprised, and you're thrilled, and sometimes you're terrified."
– Peter Heller
3. "If in doubt, paddle out."
4. "Paradise is just a paddle away."
5. "Everyone must believe in something. I believe I'll go kayaking."
6. "Keep your face always toward sunshine and shadows will fall behind you."
7. "I don't need therapy, I just need to go kayaking."
8. "Stress is caused by not kayaking enough."
Photo by Max Topchii via Shutterstock
9. "A rough day at sea is better than any day at the office."
10. "What happens on the river stays on the river."
11. "Kayak more, worry less."
12. "Always assume I'd rather be kayaking."
13. "Life is like the river, sometimes it sweeps you gently along and sometimes the rapids come out of nowhere."
14. "Yes, I do have a retirement plan. I plan on kayaking."
15. "I kayak to burn off the crazy."
16. "Money can't buy you happiness, but it can buy you a kayak and that's kind of the same thing."
17. "The two best reasons to buy a kayak rather than just renting are sunsets and sunrises."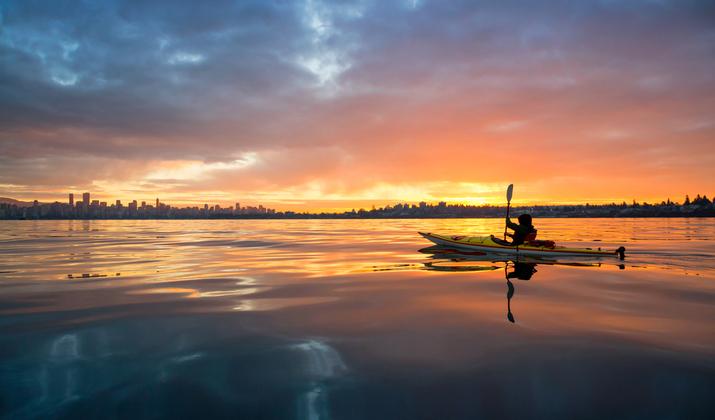 Photo by EB Adventure Photography via Shutterstock
18. "Learn to kayak because zombies can't swim."
19. "Your kayak doesn't have an expiration date."
– Author unknown
20. "You know you're a kayaker when you can't go over a bridge without checking to see how much water is under it."
21. "Never mess with a kayaker. We know places where no one will find you."
22. "Kayaking is the answer. Who cares what the question is."
– Author unknown
23. "Kayaking is not just a hobby. It's a post-apocalyptic survival skill."
24. "There is nothing—absolutely nothing—half so much worth doing as simply messing about in boats."
25. "Born to paddle, forced to work."
– Author unknown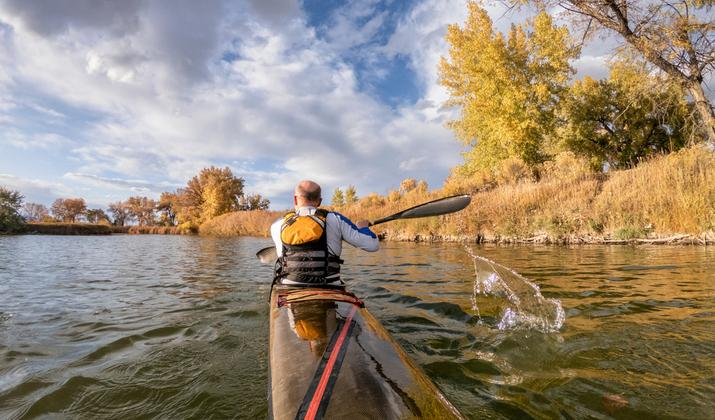 Photo by marekuliasz via Shutterstock
26. "Paddle faster. I hear banjos!"
27. "Life's short, paddle hard."
28. "She wasn't drifting away. She was paddling her own boat."
– Author unknown
29. "Life's a river. Grab a paddle."
30. "There needs to be balance or you will sink."
31. "Around every bend there's a great surprise… you just have to look for it."
32. "Some beautiful waters can't be explored without getting lost."
33. "Good things come to those who paddle."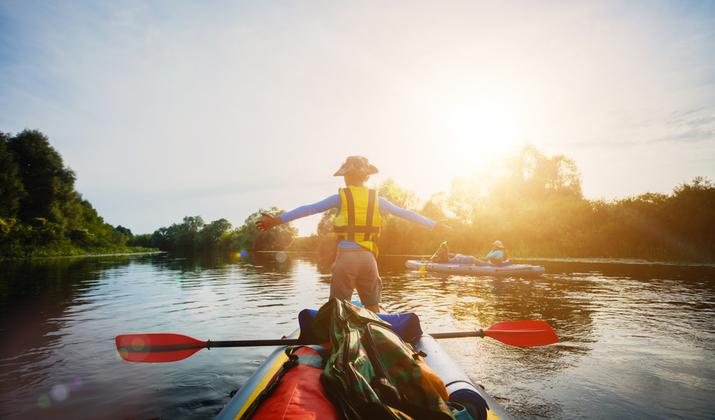 Photo by Max Topchii via Shutterstock
34. "Reality called. So I hung up and went kayaking."
35. "Do I want to go kayaking again? For shore."
36. "Future me is already complaining that my arms are sore."
37. "Kayak Girl: like a normal girl but much cooler."
38. "Life is short. Buy the kayak."
39. "River life. Because beaches be salty."
40. "If you need good paddling then it's time to go kayaking."
– Author unknown
41. "Never underestimate an old man in a kayak."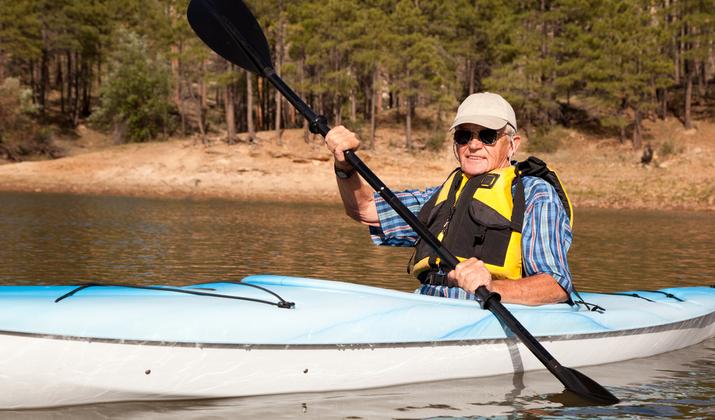 Photo by Jim David via Shutterstock
42. "I'm proof mommy can't resist kayakers."
43. "I kayak because punching people is frowned upon."
44. "If it involves kayaking and dogs, count me in."
– Author unknown
45. "Leave the road. Ride the river."
46. "Rapids are white. Rivers are blue. I'd paddle tandem. But only with you."
47. "Do I want to go kayaking again? For shore."
48. "Paddle solo. Sleep tandem."
49. "I'm sure there are things that are more important than kayaking. I just can't think of any right now."
– Author unknown
Photo by Akhenaton Images via Shutterstock
50. "Sloth Kayak Team: We will get there when we get there."
51. "Time spent on the water is not deducted from one's lifetime."
– Author unknown
52. "I just want to go kayaking…and ignore my adult problems."
53. "Into the kayak I go…to lose my mind and find my soul."
54. "I'm on kayak time."
55. "A day without kayaking probably wouldn't kill me. But why risk it?"
56. "I go kayaking and I know things."
57. "I can load it, launch it, and leave you on the beach."
58. "I might look like I'm listening to you, but in my head, I'm kayaking."
– Author unknown
Photo by BlueOrange Studio via Shutterstock
59. "Put me in a kayak and don't let me come back until I change my attitude."
60. "WARNING! I may start talking about kayaking at any time."
– Author unknown
61. "Education is important but kayaking is importanter."
62. "All I need is coffee and my kayak."
63. "I like kayaking and maybe three people."
64. "Maybe I'm listening…maybe I'm thinking about my new kayak."
65. "It might look like I'm working, but in my head I'm kayaking."
66. "Kayaking is my break from reality."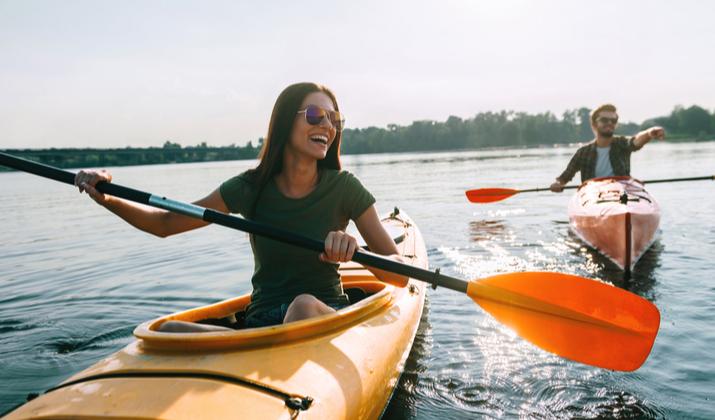 Photo by G-Stock Studio via Shutterstock
67. "Couples that kayak together, stay together."
– Author unknown
68. "Rock beats scissors. Paper beats rock. Scissors beat paper. Nothing beats kayaking."
69. "My broom broke, so now I kayak."
70. "WARNING! Do not mess with my kayak or else you will face the wrath of my paddle."
71. "If I don't answer your text, I'm probably kayaking."
72. "I don't need therapy in my kayak."
73. "We can talk about anything you want, as long as it's kayaking."
74. "Not today. I'm going kayaking."
Photo by CroMary via Shutterstock
75. "Kayakers make the coolest grandparents."
76. "Yippie kayak, other buckets!"
77. "Kayaking because adulting is hard."
78. "Kayaking solves most of my problems. Fishing solves the rest."
79. "People tell me I like kayaking."
80. "My kayak is calling and I must go."
81. "I know I kayak like a girl. Try to keep up."
82. "Learn to kayak. Because studies show that kayaking makes you more awesome than the general population."
83. "WARNING! Too much paddling can make you incredibly awesome."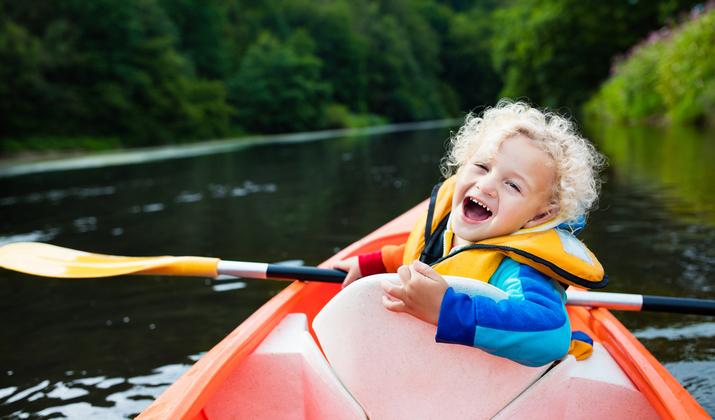 Photo by FamVeld via Shutterstock
84. "Kayaking is cheaper than a psychiatrist."
85. "She asked me to tell her those three words that every girl wants to hear. So I said, "Let's go kayaking!""
86. "Born to paddle. Forced to work."
87. "Love many. Trust few. But always paddle your own kayak."
88. "Kayakers roll over without falling out."
89. "Smooth water does not make a skillful kayaker."
90. "With one foot in the kayak and the other on the shore, you are sure to fall into the river."
91. "Most people don't want to be saved. Besides, if you keep bailing everybody out, they`ll never learn to paddle on their own."
Photo by Johanna Poetsch via Shutterstock
92. "If you want to change the world, find someone to help you paddle. "
– William H. McRaven
93. "Six days shalt thou paddle and pack, but on the seventh thou shall wash thy socks."
94. "I should buy a boat…and a boat trailer and a truck to tow it and boat insurance and gas and…I should buy a kayak."
95. "Why I Paddle Reason #0912: You can always find your car in the parking lot."
96. "Kayak in tributaries. Rivers are too mainstream."
– Author unknown
97. "What do you mean your paddling trip went so well you lost track of time? You were supposed to be home over a year ago!"
98. "Certain members of the kayak club are adrift, so to speak."
– Author unknown
99. "Did you hear about the big paddle sale? It was quite an oar-deal!"
100. "Snow kayak. Because grown-ups don't own sleds."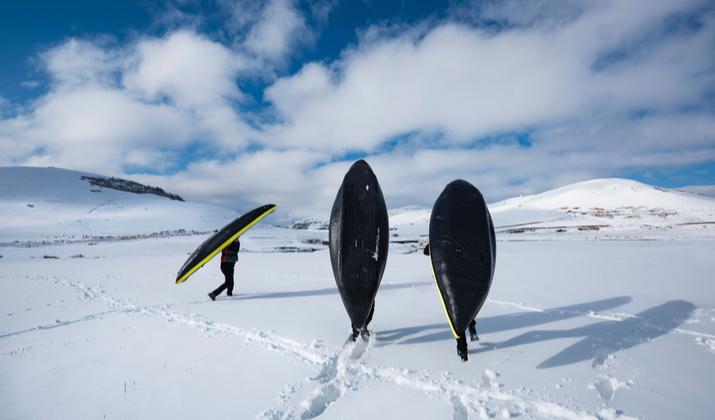 Photo by niyazi_gurgen via Shutterstock
101. "Did you row today? It's PADDLING not rowing!"
– Author unknown
102. "Let's kayak where the WiFi is weak."
– Author unknown
103. "My kayak brings all the buoys to the yard."
– Author unknown
104. "As one goes through life, one learns that if you don't paddle your own kayak, you don't move."
105. "If you kayak with a cap on and the kayak capsizes, whether or not the cap falls off depends on the cap size."
106. "Why don't they allow buffalo on kayaks? Because it's a ka-YAK, not a Ka-UFFALO!"
– Author unknown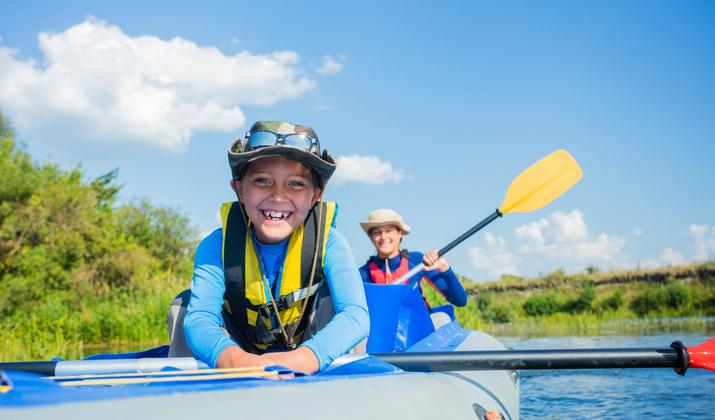 Photo by Max Topchii via Shutterstock
107. "Two Eskimos sitting in a kayak were chilly. But when they lit a fire in the craft, it sank, proving once and for all that you can't have your kayak and heat it too."
108. "I never intended to become addicted to paddling my kayak into whirlpools. It's just something I got sucked into."
109. "My wife had two kayak paddles and asked me which one I wanted. I said I'd take either/oar."
110. "What does 'kayak' sound like upside down? Blblblblbblbllvgll"
111. "Being a dad is a whole lot like kayaking. The same way the water supports you, you have to support your kids."
112. "In the wise words of the legendary outdoorsman Bear Grylls, "It doesn't have to be a big deal. Everyone goes kayaking sooner or later."
113. "Real heroes don't wear capes. They have kayaks under their feet."
114. "Come paddle with us. Let's just say you're going to have a good time whether you're going up the river or down it."
115. "Getting away from the hustle and bustle of life requires a kayak."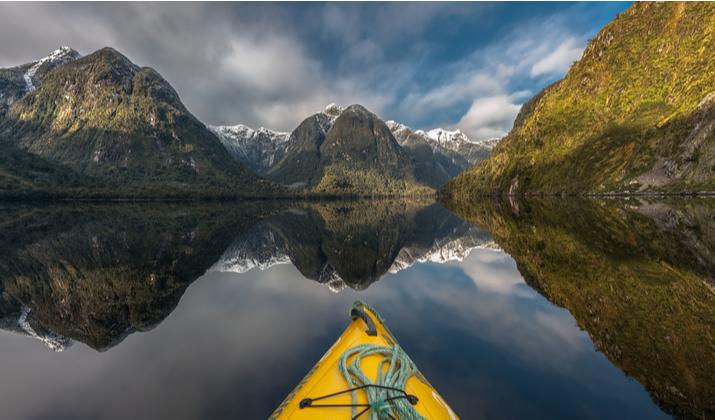 Photo by Thomas Lusth via Shutterstock
116. "Getting a new kayak is like getting a fresh slice of pizza. Even though you've had it before, it's still pretty perfect."
117. "Life is like a kayak. The hard part comes when you don't know which way to paddle."
118. "A kayak is the hippest way of going nowhere I can think of."
119. "Toss your coffee in the water and you'll be addicted to kayaking too."
120. "I love kayaking because it's the only sport where I can see stuff people don't even know is there."
Funny Canoeing Quotes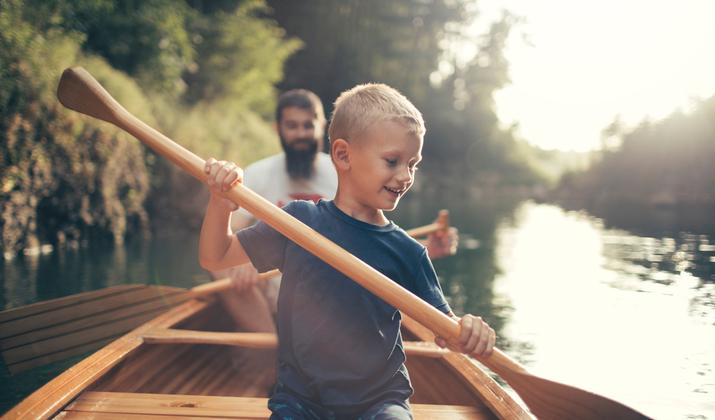 Photo by Popartic via Shutterstock
1. "Canoe believe this view? Oar am I just seeing things?"
2. "Never trust a person whose feet are dry and who is paddling a canoe."
3. "About the best reason I can think of for owning a canoe is that it can take me into the wilderness. And what, you may ask, is so great about wilderness? The silence, for one thing."
4. "I've always thought that you should concentrate on paddling your own canoe."
5. "A canoe does not know who is king. When it turns over, everyone gets wet."
6. "Anyone who says they like portaging is either a liar or crazy."
– Bill Mason
7. "Wherever there is a channel for water, there is a road for the canoe."
Photo by EB Adventure Photography via Shutterstock
8. "First rule of canoeing: never lose the paddle."
9. "…portaging is like hitting yourself on the head with a hammer: it feels so good when you stop."
10. "The goal of a wilderness canoe trip should be to collect enough of the wilderness experience to last the whole year… A full cup is the only way that the winter can be endured."
11. "There`s no mastery to be had. You love the attempt. You don`t master a story any more than you master a river. You feel lucky to canoe down it."
12. "Originality is unexplored territory. You get there by carrying a canoe – you can't take a taxi."
13. "It's quite an oar-deal to be this in love with nature."
14. "What sets a canoeing expedition apart is that it purifies you more rapidly and inescapably than any other. Travel a thousand miles by train and you are a brute; pedal five hundred on a bicycle and you remain basically a bourgeois; paddle a hundred in a canoe and you are already a child of nature."
– Pierre Trudeau
15. "You can't fire a cannon from a canoe!"
16. "No man can paddle two canoes at the same time."
– Bantu proverb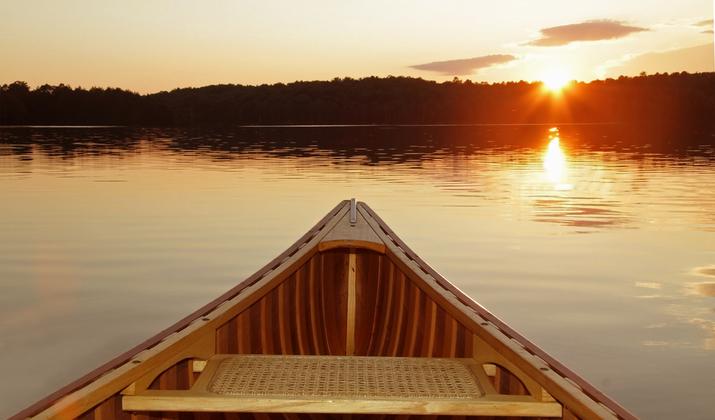 Photo by Brian Lasenby via Shutterstock
17. "If there's a place, canoe there."
18. "Canoe + waterfall = I don't go camping anymore."
19. "The Hawaiian Islands were discovered by hardy Polynesian sailors, who crossed thousands of miles of open ocean in primitive canoes, braving violent storm-tossed seas for months at a time. My family and I arrived by modern commercial aviation, which was infinitely worse."
20. "Ah Jenks? It's not a lake, it's a friggin' freshwater ocean. Did you see the size of the tanker going under the bridge when we came into town? The wake from it could tip us. I'm canoeing it unless your name is Pocahontas."
Final Thoughts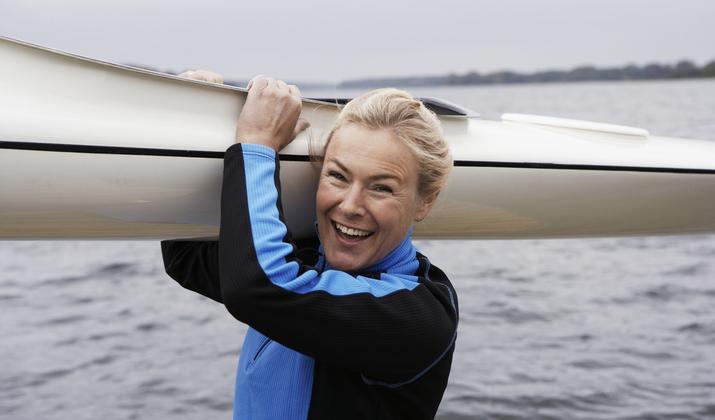 Photo by TAGSTOCK1 via Shutterstock
Keep it fun on your next kayaking adventure.
Whether you're paddling a touring kayak or taking your fishing kayak out with fellow anglers, we hope you take these funny kayaking quotes with you to share wherever you paddle next!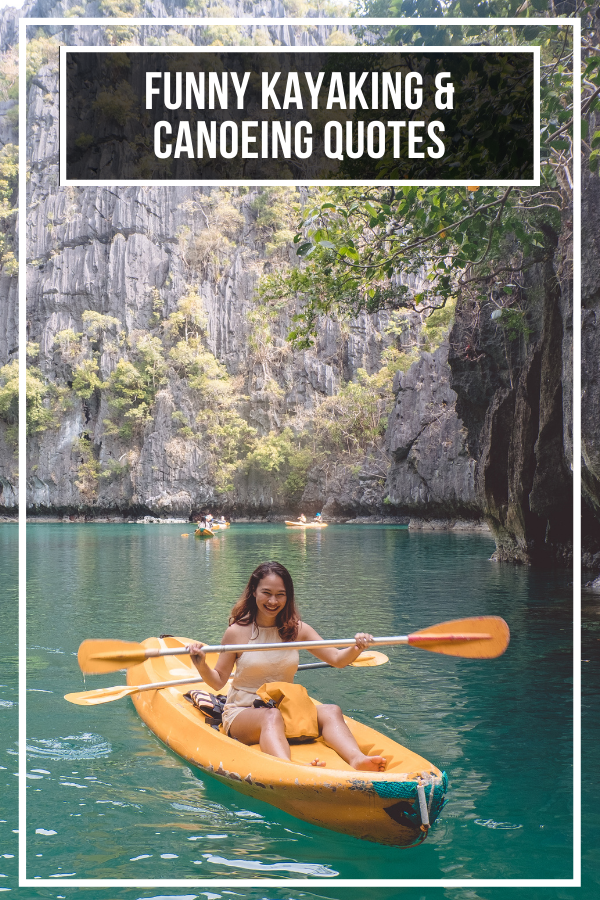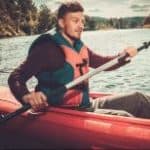 Author: Peter Salisbury
Pete is the Owner of KayakHelp.com. Born and raised in Cleveland, Ohio, he grew up kayaking, fishing, sailing, and partaking in outdoor adventures around the Great Lakes. When he's not out on the water, you can find him skiing in the mountains, reading his favorite books, and spending time with his family.