Oru folding kayaks have taken the world by storm over the last decade. We must admit that they offer some of the best folding kayaks out there, but today we are going to spend some time investigating the best Oru kayak alternatives.
If you are relatively new to the world of folding kayaks, we do recommend you check out our complete review of the Oru kayak brand and their various folding kayak models. In the meantime, let's shift our focus to some of the top kayak brands that are currently giving Oru a run for their money.
Because folding kayaks are all about portability, today's review is going to include some brands that also focus on manufacturing folding kayaks and it will also include some brands that focus on manufacturing inflatable kayaks.
That's why we'll also spend some time discussing the differences between folding kayaks and inflatable kayaks, as well as the pros and cons of folding kayaks themselves. So let's get to paddling through this topic!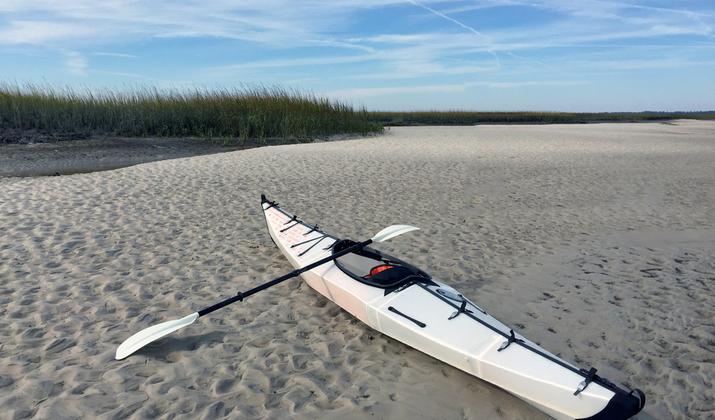 Photo by Joanne Dale via Shutterstock
Best Oru Kayak Alternatives
Tucktec Folding Kayaks
Pakayak Folding Kayaks
Trak Kayaks
MyCanoe
Origami Paddler Folding Kayak
Advanced Elements Inflatable Kayaks
Aquaglide Inflatable Kayaks
BOTE Board Inflatable Kayaks
Intex Inflatable Kayaks
Sevylor Inflatable Kayaks
Pros and Cons of Folding Kayaks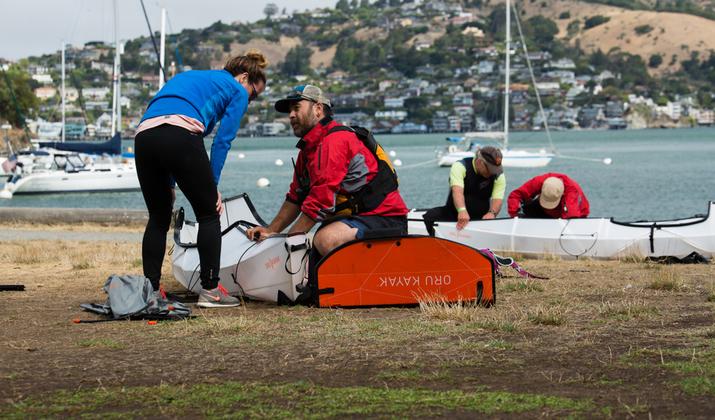 Photo by Geartooth Productions via Shutterstock
First things first, you should consider whether or not a folding kayak is actually the right choice for your paddling needs. So here is a brief breakdown of the advantages and disadvantages of this kayak type:
Pros of Folding Kayaks
Lightweight (usually less than 50 pounds)
Easy to carry (typically come with a carry bag or some sort of strap for over-the-shoulder carrying)
Compact for storage (great for apartment dwellers)
Easy to transport (fits in the trunk of smaller SUVs and sedans)
No need for a kayak roof rack
Cons of Folding Kayaks
Take longer to set up compared to a regular touring kayak
Limited lifespan (even the best don't last as long as most plastic kayaks)
More prone to punctures than other types of kayak hulls
Don't perform as well in rough conditions or high winds
Folding Kayaks Versus Inflatable Kayaks
Photo by Nowacyzk via Shutterstock
Inflatable kayaks do have some of the same benefits as folding kayaks, such as being lightweight, easier to carry, and easier to store in smaller spaces. That being said, there are some important ways in which these two kayak styles differ as well.
For starters, inflatable kayaks require a hand or foot-powered pump in order to set up whereas folding kayaks simply unfold and strap into place. This can increase the amount of time you need to set up an inflatable kayak versus a folding kayak.
Additionally, they offer a bit more buoyancy than you'll find in most folding kayaks, which can provide additional stability in rough waters. Plus, inflatable kayaks are usually built with multiple air chambers so that if one is punctured, you still retain enough flotation to make it back to shore and patch things up.
Finally, both inflatable kayaks and folding kayaks can be a little difficult to keep clean over time. It is a good practice to bring a few clean rags and wipe down either one of these kayaks after each paddle and before you pack them away.
You should also consider opening up either an inflatable or a folding kayak and placing it inside your garage when you get home. This will allow extra airflow so that your kayak dries out completely and doesn't begin to develop mold and mildew because the interior is constantly staying wet.
Quick Buying Guide for Portable Kayaks
Photo by fivetonine via Shutterstock
Whether you choose an inflatable kayak or a folding kayak from the options below, portable kayaks require some different considerations than traditional recreational kayaks. So let's cover the most important criteria to think about when selecting a portable kayak.
Weight Capacity
We recommend starting your search by considering weight capacity because portable kayaks tend to be more impacted by being overloaded than other types of rigid kayaks. You should be aware of the 80 percent rule when loading any kayak (i.e. try not to exceed 80% of the kayak's advertised maximum weight capacity), but there are other considerations as well.
To consider how much weight your kayak will need to be able to handle safely, start by thinking about whether you will typically be paddling solo or with a partner. Tandem kayaks almost always boast higher weight capacities to retain buoyancy under heavier loads.
If you are a larger paddler, you can also identify a tandem kayak that offers the kind of weight capacity you are looking for even if you intend on paddling alone most of the time. Many tandem kayaks allow you to reposition one of the seats to the center and then remove the second seat to set them up for a single paddler.
So if you are struggling to find a solo portable kayak with the weight capacity you are looking for, expand your search to include a few tandem models. Just make sure you factor in an additional 50-100 pounds to account for the weight of your essential kayaking gear and accessories.
Packed Size
Consider how compact a portable kayak will be when it is deflated or folded. This will help you make sure the kayak you choose will fit in the back of your vehicle or wherever you plan to store it in your home or garage.
As an added bonus, look for a model that comes with its own dedicated carry bag. This will give you a place to keep your kayak and its equipment contained so that it doesn't get in the way of your other recreational pursuits when you are not using it.
Durability
For folding kayaks, look closely at the number of folds they are rated to handle. This will tell you a lot about the durability of the kayak and will help you estimate how long you can expect it to last.
For example, let's say you are looking at a kayak that is rated for up to 5,000 folds. At that threshold, your kayak would last nearly 14 years (5000/365 = 13.7), assuming you kayak every day (which is very rare) and it is not damaged by neglect or improper use.
For inflatable kayaks, you can look at things like the thickness of the material and the number of air chambers used in the design to gauge durability. A kayak made with thicker material will be more resistant to tears and punctures and a higher number of air chambers helps your kayak retain more buoyancy if one or more chambers is accidentally compromised.
Add-ons
The last thing to consider is what else a portable kayak model comes with. Many of these models are part of a package deal that includes add-ons like a collapsible paddle, a compact carry bag, and a pump (for inflatable varieties).
If you are comparing two models with similar price tags, the add-ons could be the defining factor. Getting a portable kayak that is part of a more comprehensive package will reduce the additional time (and money) you will have to spend getting the rest of the gear you will need to get out on the water.
Best Oru Kayak Alternatives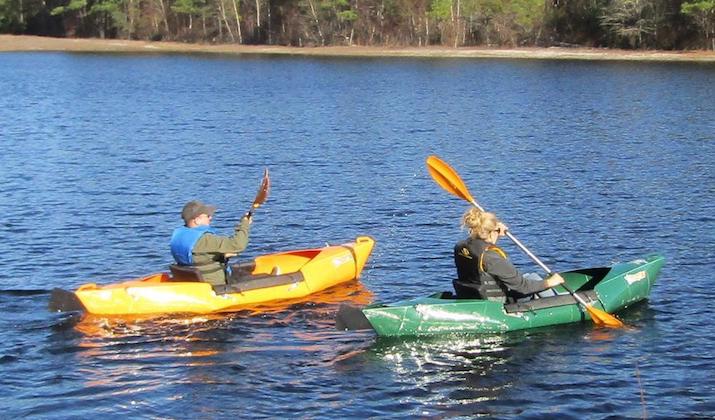 PC Tucktec
Tucktec specializes in making a single folding kayak model that is made of a sheet of plastic that is just an eighth of an inch thick. Despite that thin material, it is designed to perform just like a hard shell kayak once it is assembled.
Here are the basic specifications of the Tucktec folding kayak:
Length: 9'8"
Width: 31 inches
Weight: 28 pounds
Weight Capacity: 300 pounds
The interesting thing about this design is that the material actually rolls up during the disassembly process. So that places less stress on the material overall and eliminates hard creases created by more defined fold lines.
Still, Tucktec boasts that their kayaks are rated for thousands of folds, which means they should last for years if used properly. When rolled, the kayak's packed size measures roughly 47 inches long by 15 inches across, making it small enough to fit in most passenger vehicles.
Learn more about Tucktec folding kayaks in our comprehensive comparison of how they stay up against Oru folding kayaks.

PC Pakayak
Pakayak is an interesting Oru kayak alternative because their kayak models don't actually fold up, but they come apart entirely. Once disconnected, the parts nest inside one another and then fit inside a compact case to make transportation and storage much easier.
Their Bluefin 142 is their primary model that we would consider an Oru kayak alternative and it assembles in five minutes. It also breaks up into six sections and packs down to just 42 inches in length when you're finished.
Here are the basic specifications of the Bluefin 142 when it is assembled:
Length: 14'2"
Width: 24 inches
Weight: 59 pounds
Weight Capacity: 300 pounds
Each section of this kayak is equipped with built-in clamps and watertight gaskets to ensure no water leaks into the body of the kayak. When assembled, it functions in much the same way as you'd expect from the best sea kayaks.
However, it has a clear advantage when it comes to the storage space required when it's not in use. Whereas a regular sea kayak requires an easy-load roof rack to transport and space under your deck for storage, the Pakayak packs up into a zippered bag that even has wheels for effortless transport.

PC Trak Kayaks
Trak Kayaks are another great Oru kayak alternative and they offer several different models to choose from. Their 2.0 kayak is currently in production and they offer three editions: the Signature, Fuchsia, and Origin models.
All their models pack down in just 10 minutes so that they can be easily transported from destination to destination. All three editions assemble into a 16-foot kayak and the main differences are found in their color schemes.
Here's a complete list of the main technical specifications for Trak Kayaks:
Length: 16'
Width: 22.5 inches
Weight: 44 pounds
Weight Capacity: 350 pounds
When disassembled, Trak Kayaks pack down to a size of 41" x 19" x 9" and their pack weight is roughly 53 pounds. That is compact enough to fit in the trunk of your car or even in an airplane's cargo storage.
In addition to being one of the best touring kayaks that can fold down and pack up, Trak's kayaks come with several additional accessories. That includes that rolling travel bag, a spray skirt, sea sock, two flotation bags, and MX5 kayak lubricant.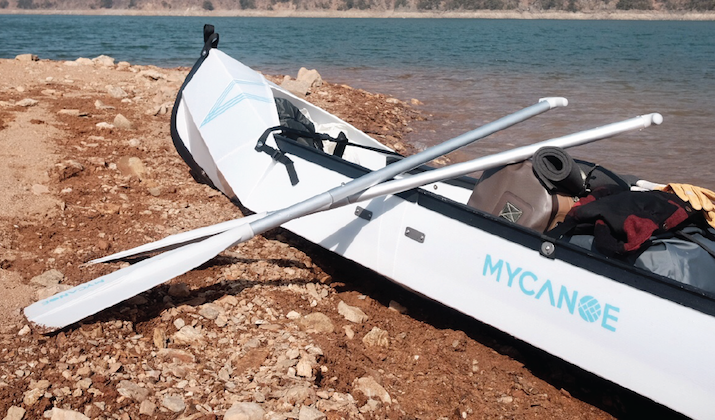 PC MyCanoe
If you're comfortable with a canoe oar in your hands versus a kayak paddle, then you'll love the options from MyCanoe. If you're wondering whether you can paddle a canoe with a kayak paddle, check out this article, but let's get back to the topic at hand.
MyCanoe makes a solo canoe and a duo canoe and both are foldable. They are made with a custom polypropylene material that is coated with a 15-year UV treatment and these canoes are rated for up to 20,000 folds.
Here are the basic specifications for their two canoe models:
Solo Canoe
Length: 10'
Width: 32 inches
Weight: 28 pounds
Weight Capacity: 330 pounds
Duo Canoe
Length: 14'6"
Width: 35 inches
Weight: 43 pounds
Weight Capacity: 480 pounds
Both models fold up and pack down into compact packages so that you can transport or store them easily. The folded Solo canoe measures 45" x 21" x 12" and the folded duo canoe packs down to 36" x 27" x 10".
MyCanoe models are also designed for open water and the Duo Canoe can handle up to class III whitewater. Plus, they feature an improved gunwale system that can handle most off-the-shelf accessories that you might want to add to your canoe.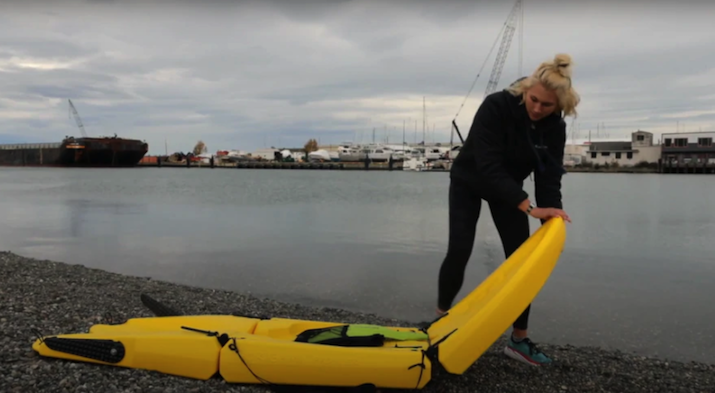 PC Origami Paddler
Origami Paddler is an interesting newcomer to the world of folding and portable kayaks. Their kayak design is kind of a hybrid between a sit on top kayak and a stand up paddleboard, but it can be folded for easy storage and transportation.
Each kayak comes with a paddle, an adjustable seat that includes a backrest, and a shoulder strap for easy carrying. Unlike more complicated designs, the Origami Paddler kayak also unfolds and is ready to go in just 60 seconds, making it one of the quickest folding kayaks to set up on the market.
The body is the same as most rigid kayaks and it's made of recycled plastic materials so it is more environmentally friendly than others. It is also highly durable and resistant to punctures and scrapes.
Here are the basic specifications of the Origami Paddler folding kayak:
Length: 9'
Width: 31.5 inches
Weight: 45 pounds
Weight Capacity: 230 pounds
When the Origami Paddler kayak is folded up, it measures just 35.5" x 31.5" x 13.5". Assembling it is not tricky either, as you simply need to unfold the pieces and lock them in place to be on your way.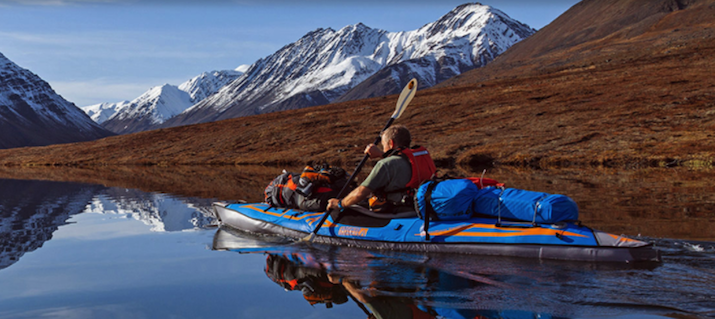 PC Advanced Elements
Advanced Elements offers a comprehensive selection of inflatable kayaks designed for various paddling purposes. Their models include kayaks that are specifically designed for day touring, expedition paddling, kayak fishing, crossover kayaking, whitewater paddling, and recreational kayaking.
All of their inflatable kayaks are highly durable and deflate to store in a compact package. They also offer some of the best inflatable fishing kayaks on the market and they are one of the few inflatable kayak manufacturers that makes spray-skirt compatible designs.
We hope you took note of the differences between inflatable and folding kayaks earlier, but as an Oru Kayak alternative, we can confidently say that most Advanced Elements' offerings are considerably more affordable than their competition.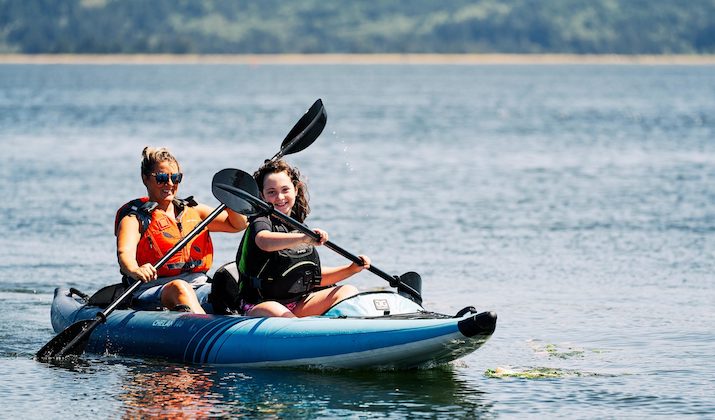 PC Aquaglide
Aquaglide is another manufacturer that specializes most in inflatable kayaks. Well, they technically make all sorts of other inflatables, pool toys, and aquapark features, but that's beside the point.
Their inflatable kayaks that serve as Oru kayak alternatives are primarily made for whitewater paddling. This is especially true for the McKenzie and Deschutes models, but you should also look closely at the Chelan and Chinook designs if you are looking for one of the best inflatable whitewater kayaks.
In addition to those models, their Navarro designs are some of the best options for a sit-in kayak that is made on an inflatable base. They can even be compatible with the right spray skirt if you plan on doing any cold-weather kayaking.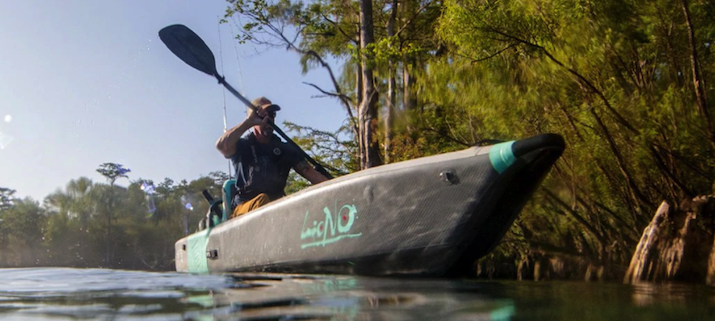 PC BOTE Board
BOTE Board might be a little more well-known for their inflatable paddleboard offerings, but they have made some impressive new designs in the foldable kayak space in the last few years as well.
Currently, they have 15 different kayaks in their Aero inflatable kayak series. That includes designs with a maximum length of 12'6" and a minimum length of 10'.
Their offerings are designed to serve multiple purposes as well, including kayak fishing, tandem paddling, kayak hunting, and solo touring. Amongst inflatable kayaks, their designs also feature some of the deepest and most well-protected cockpits that you'll find on the market today.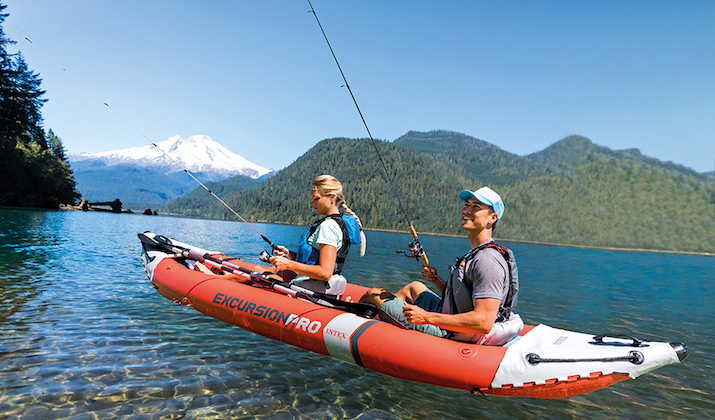 PC Intex
The collection of inflatable kayaks available from the Intex Corporation is a great place to start if you are relatively new to the world of kayaking. An inflatable kayak is a great way to find out if you actually like this sport without spending an arm and a leg on the required gear.
Their Professional Series boats include designs made for tandem paddlers, kayak fishing, and even casual rafting. They are great Oru kayak alternatives because their price tags are often less than a quarter of what you'd need to spend to get a brand new Oru kayak.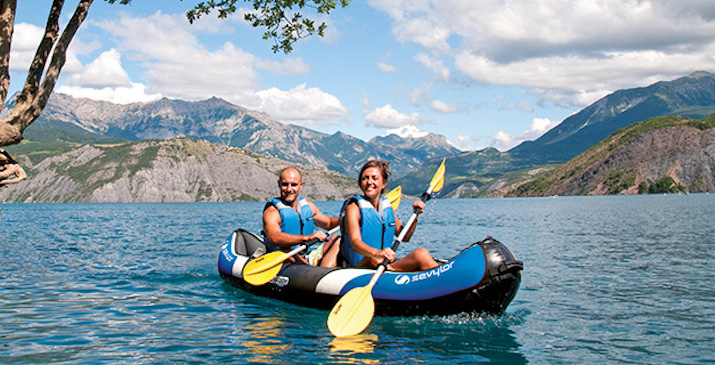 PC Sevylor
Sevylor is another Oru kayak alternative that is a great choice for beginners and folks that only kayak a few times each year. They offer exclusively inflatable kayaks but their collection includes a number of models for varying uses.
They have tandem and even three-person inflatable kayaks, as well as those made for solo paddling or kayak fishing. They also offer a useful tool that allows you to compare their various kayak models to find the best one for your paddling needs.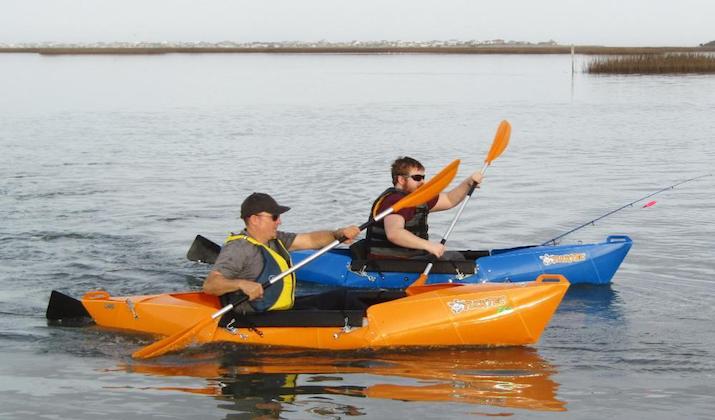 PC Tucktec
Tucktec is our pick for the best Oru kayak alternative because it is one of the most budget-friendly options on our list and it boasts a highly durable design. You can also pick up two Tucktec kayaks as part of a package deal to equip yourself and your paddle partner.
But there are more reasons that Tucktec gets our vote than just its price. For one, you will not find too many folding kayaks with a retractable fin at the stern, but that is exactly what Tucktec offers.
This fin will be super helpful if you plan on paddling in high winds or you frequent ocean waterways with strong currents. It also helps to provide the kayak with additional stability if you are a larger paddler.
Finally, Tucktec offers an adjustable high-back seat that provides excellent lumbar support and can be moved forward or backward in the cockpit. That allows this kayak to accommodate paddlers with longer legs by moving the kayak seat back to provide a more comfortable ride.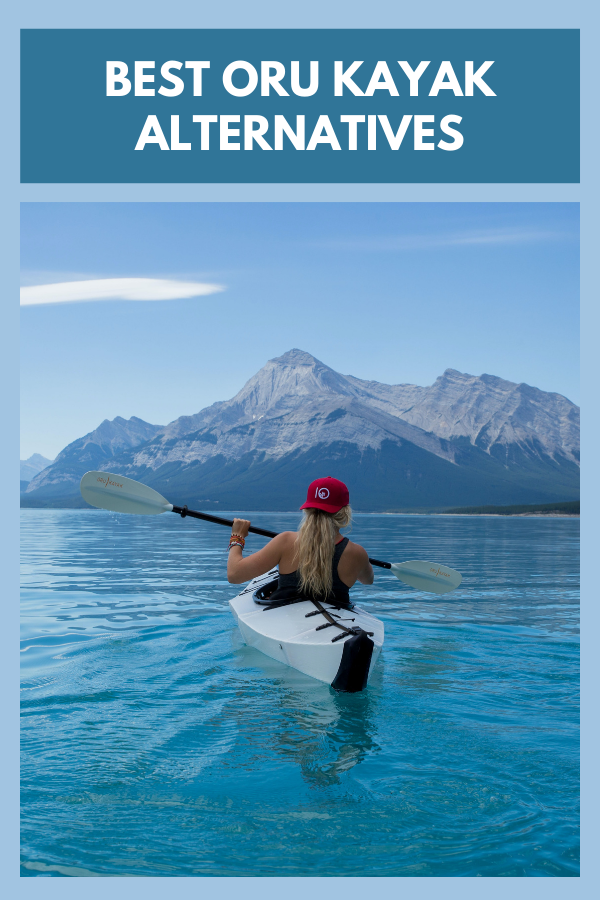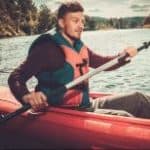 Author: Peter Salisbury
Pete is the Owner of KayakHelp.com. Born and raised in Cleveland, Ohio, he grew up kayaking, fishing, sailing, and partaking in outdoor adventures around the Great Lakes. When he's not out on the water, you can find him skiing in the mountains, reading his favorite books, and spending time with his family.