Brooklyn Kayak Company is slowly gaining a name for itself. Based in New Jersey, it offers a variety of kayaks, paddleboards, and kayak accessories.
Is it any good, though? Should you get your kayak from Brooklyn Kayak Company, or would you be better off finding another company to buy your kayak from?
In this article, I will be thoroughly reviewing Brooklyn Kayak Company, looking at the quality of the kayaks it sells, and more.
Let's get into it.
About Brooklyn Kayak Company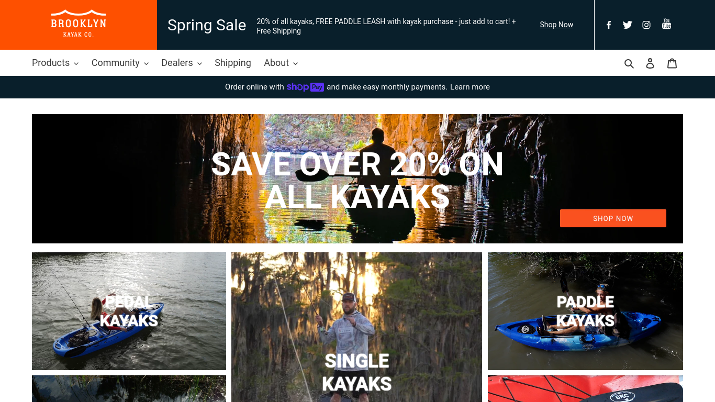 Brooklyn Kayak Company was founded in 2019.
It sells a wide range of kayaks, including fishing kayaks, tandem kayaks, sit on top kayaks, pedal kayaks, and more. Its kayaks are affordable compared to some big name brands.
Despite being based in the Tri-State area, BKC also ships across the nation.
Where Does Brooklyn Kayak Company Get Its Kayaks From?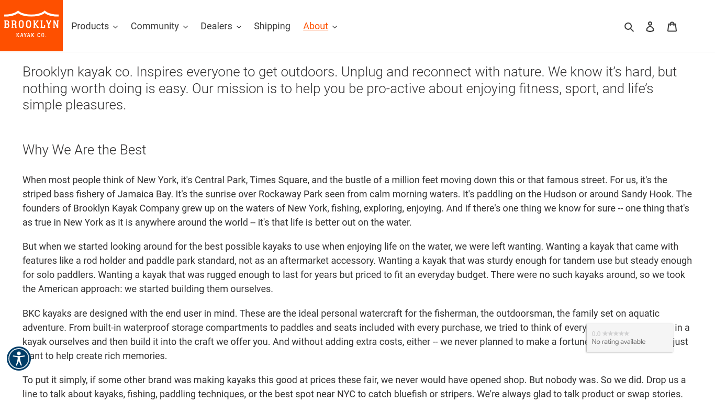 Before I tell you about my experience with BKC kayaks, I want to clear something up, because the name Brooklyn Kayak Company is a bit misleading, in my opinion.
Yes, the company is based in the US, but that's not where the kayaks are made. A name like Brooklyn Kayak Company might lead you to believe you are buying American-made products.
In fact, BKC's kayaks are not made in the US at all but imported from China.
According to BKC's FAQs page, Brooklyn Kayak Company designs the products in the US and manufactures them in China. However, the part about "designing the kayaks in the US" doesn't really mean anything when you think about it; it's simply a marketing gimmick to make you feel good about buying American products when you're not.
If you want top quality America-made products, do be aware that BKC kayaks are made in China.
Besides, the company isn't even based in New York as the name suggests but rather New Jersey. It doesn't even have a physical storefront – it's an entirely online retailer, so there's no way to even check the products out before buying them.
The Best BKC Kayaks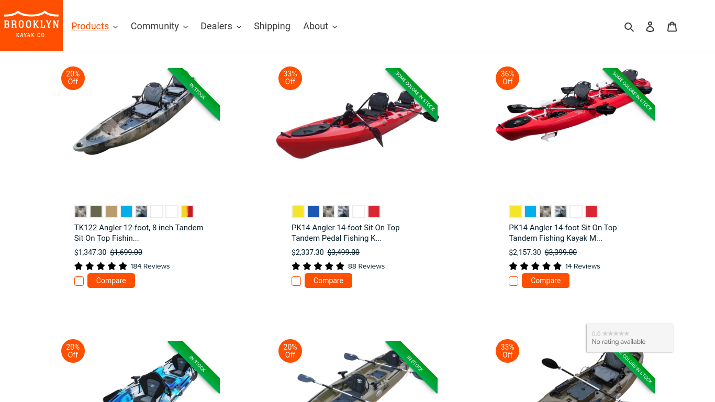 With that being said, let's take a look at some of the types of kayaks sold by Brooklyn Kayak Company.
Single Kayaks
BKC sells various single kayaks, with prices usually ranging from $1,000 and up, although there are often discounts of several hundred dollars off particular kayaks.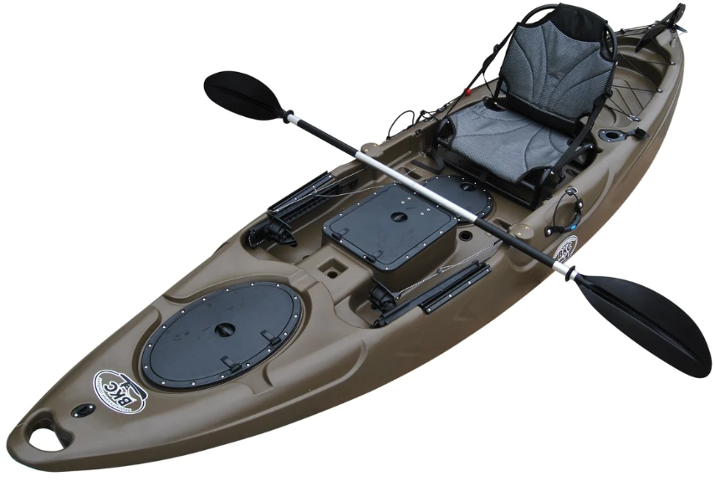 Take the RA220 angler fishing kayak, for example.
It comes with an aluminum seat with adjustable footrests and has plenty of storage space. There are three waterproof storage areas, including one at the front with a storage bag and another round one right in front of the seat, and yet another rectangle hatch in front of that one.
There is also a fourth, open storage area at the back where you can put crates and other equipment, using bungee cords to tie things down and secure them in place.
The footrests also double as the rudder control system.
With eight scupper holes, you don't have to worry about draining.
It's a stable kayak that's perfect for fishing, and it comes with paddle rests and flush-mounted rod holders, so you can free up your hands.
It has a weight capacity of 550 pounds, despite only weighing 65 pounds, and it's easy to transport as well with built-in handles. The kayak has a length of 11 feet and 6 inches and a width of 34 inches.
Overall, this is one of my favorite kayaks from Brooklyn Kayak Company. It's sleek and looks really nice, and the foot-controlled rudder system is an interesting and nice touch, allowing for easy control and stability, especially on windy days.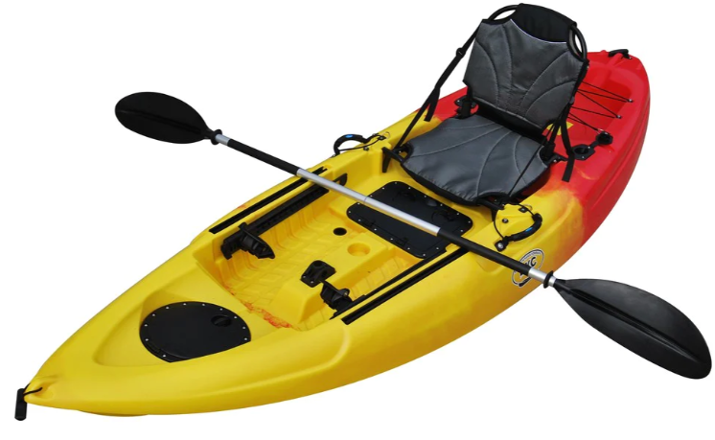 Another good option if you're looking for a single kayak is the BKC FK285. This 9.2-foot sit-on-top kayak is affordable and comes in several amazing color schemes, including red and yellow, blue camo, regular camo, and gray camo.
This stable, responsive kayak is perfect for fishing and other kayaking adventures. It has plenty of storage space, typical of BKC kayaks, with a storage hatch in the front, a rectangular storage hatch in front of the seat, and a storage area with bungee cords in the back for crates and other items.
The kayak comes with a bungee cord, so you don't have to buy one separately.
It's a bit smaller than the previous kayak, which is why it has a bit less storage space. It's also lighter, at 50 pounds, and has a weight capacity of 350 pounds, so you can't take as much fishing equipment with you.
Like the previous kayak, though, it comes with eight scupper holes and one drain plug, ensuring your kayak doesn't sink.
Tandem Kayaks
If you plan on kayaking with a buddy or partner, BKC sells tandem kayaks as well. My favorite is the TK122 Angler.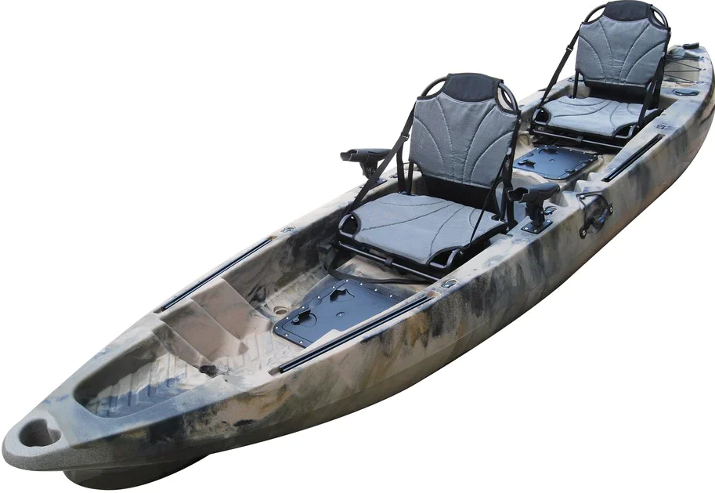 Like other BKC kayaks, it comes in unique colors that will definitely make you stand out. Most importantly, though, it offers a great blend of performance and comfort.
It has a weight capacity of 770 pounds at 12 feet and 8 inches long, and it can hold not just two adults but a child as well, so you can turn your kayak trip into a family outing.
There are two storage hatches, one in front of each seat, so each kayaker can easily access bait, tackle, snacks, and personal items. Both of these hatches are water-resistant, so you don't have to worry about your equipment getting wet.
The adjustable seats are also pretty comfortable, boasting aluminum frames and padded mesh seat covers that are quick to dry in the case of getting wet. In addition to the two seats, there is a small area in the front for a child (or a dog, alternatively).
In addition to a built-in cupholder next to each seat, there are four accessory mounts that you can use to mount additional accessories. There are also D-ring mounts for paddle keepers.
I really liked the paddle parks. There is one on each side; securing your paddle in place is as simple as placing it inside the attached bungee cord and then locking it in.
Pedal Kayaks
A lot of you have probably been drawn to Brooklyn Kayak Company while searching for affordable pedal kayaks. Pedal kayaks could easily break the bank, but BKC sells them at affordable rates.
If you're looking for a pedal kayak, the PK series is my top choice. It comes in various lengths and sizes, denoted by the number in the model name, and both single and tandem kayaks are available.
The PK12, for example, comes with bicycle-style pedals for your feet, complete with straps to ensure you can operate them comfortably. These pedals operate a propeller that allows you to keep your hands free and avoid getting tired out from paddling.
The pedal system works well with the hand-operated rudder, which allows you to maintain proper direction.
Storage is good, with a decently sized hatch in front and an additional storage area out back. There is a small watertight storage hatch in that rear open storage area as well, with bungee cords provided for securing your items in place in the rear storage area.
There is a cupholder to help you stay hydrated and a tackle tray where you can keep your tackle for quick and easy access at any time.
The kayak is stable, with foam areas for standing up easily. Flush mounted rod holders make it easy to free up your hands if you're fishing.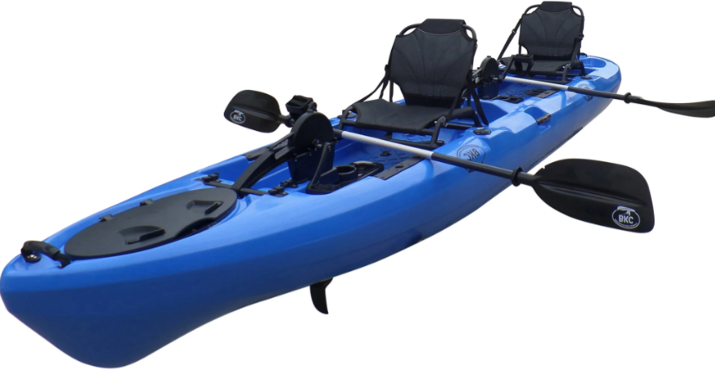 If you need a tandem pedal kayak, BKC has got you covered as well with the PK14, for example. It's similar to the PK12 but is longer and has two seats, with two pedal drives that control two propellers.
The hand controlled rudder is located in the back seat, though. That means that if you are operating this kayak alone, you would have to sit in the rear and not the front.
Inflatable Kayaks

Another awesome thing about BKC is that it sells inflatable kayaks, including inflatable pedal kayaks!
Inflatable kayaks have many benefits, including ease of transportation and lower costs. A good example is the BKC IN13 Inflatable Pedal Kayak, which you can deflate for easy storage but which also supports a pedal drive system.
The kayak is strong and sturdy – inflatable kayaks are quite durable these days. It has a weight limit of 400 pounds as well, which is pretty impressive.
Other Products Sold by Brooklyn Kayak Company
Here are some of the other products you can get from BKC, whether you are buying a kayak or already own one:
You can also purchase stand up paddleboards and kneeboards. Kneeboards are similar to stand up paddleboards, but instead of standing upright, you kneel on your knees; they come with knee rests.
Are Brooklyn Kayak Company Kayaks Just Rebranded Alibaba Kayaks?
You may have heard rumors that BKC kayaks are simply rebranded Alibaba kayaks, and that you can get the same exact kayak from Alibaba at a cheaper price without the BKC branding.
BKC, on the other hand, states that they design the kayaks in the US and manufacture them in China. What does that really mean?
Upon closer examination, I found evidence for the claim that BKC kayaks are, indeed, not unique in any way, including the design, and are simply rebranded kayaks.
Take the PK12, for example. Look at it below – this screenshot was taken from the BKC website.

Now, take a look at the Hoodoo Tempest 120 Hybrid Kayak. We did a review of Hoodoo as well, and people also claim that Hoodoo simply rebrands Alibaba products.
This is the Hoodoo Tempest 120 Hybrid Kayak (not the Hoodoo Tempest 120P):

I don't know about you, but to me, these two kayaks look almost entirely identical. The main difference is not in the design or features of the kayak but the branding.
Now, I haven't examined every single kayak that BKC sells. However, this evidence is pretty damning.
What would then be the advantage of buying from BKC instead of Hoodoo or indeed, instead of Alibaba?
The main difference would relate not to the actual kayak and the quality of it but rather the customer experience. Things like shipping, length of warranty, and customer service would differ from one company to another.
Those things might be missing entirely when purchasing from Alibaba, even if you manage to get it at a much cheaper price. For example, shipping might take very long, and you might not have a decent channel for communicating with customer service in case anything goes wrong.
Important Customer Information
Before buying from Brooklyn Kayak Company, here is some important information you should know.
Shipping Policy
Shipping varies from one product to another, but one to two weeks is the average. You will get a call from the shipping carrier BKC works with to coordinate shipping.
You have to be there in person to accept the shipment, but you can coordinate the exact timing with the shipping carrier to make it easier for you.
Express shipment is not available.
Warranties
The kayaks themselves have a warranty of five years, which is pretty good. The warranty covers defects in the material or workmanship of the hull and deck.
Meanwhile, accessories and parts only have a warranty that is valid for one year.
The warranty excludes products that were used as rentals, damaged due to negligence, etc. It is also only valid for the original owner and not transferable and does not cover normal wear and tear.
See more information about the warranty here.
Refunds
Brooklyn Kayak Company offers a 14-day refund policy, allowing you to return the kayak for any reason within 14 days for a full refund if you are not satisfied with your purchase.
The kayak must still be in its original condition and unused. Furthermore, you will have to pay for return shipping and a restocking fee.
Payment Plans
While BKC doesn't offer financing directly, it has partnered with Affirm to offer payment plans. Shop Pay, a service by Affirm, allows customers to pay in installments or over time.
Pay in 4 plans allow you to split a single payment into four bi-weekly payments, with no interest. If you are waiting for your upcoming paycheck, it's a good option.
You can also pay monthly; payment plans are available for terms of three, six, and 12 months. However, you may have to pay interest.
In both cases, applying won't hurt your credit score. See more information here.
If you check out with PayPal, you have additional options. PayPal allows you to split your payments to BKC in four – the amount will depend on how much PayPal has preapproved you for pay-in-4 plans.
There is also PayPal Credit. Your credit limit will depend on how much PayPal approved you for.
Brooklyn Kayak Company Reviews: What Are People Saying?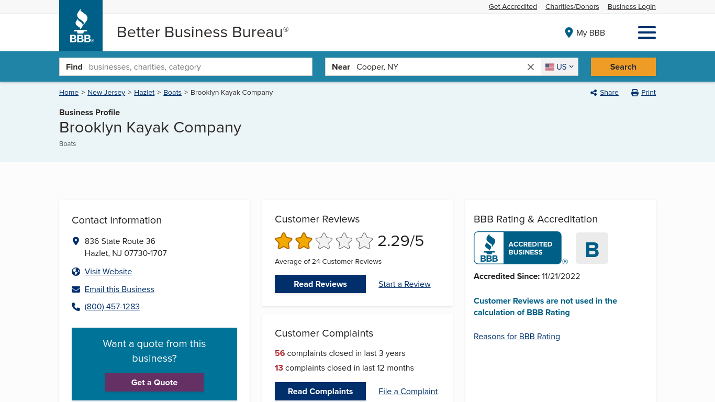 Despite operating since 2019, BKC only became BBB accredited in 2022. Right now, it has a B rating with the Better Business Bureau, which isn't that bad but also not that good either.
BKC has been responding to complaints, many of which center around shipping and refund issues, and that's a good sign. The overall customer rating on the BBB site is just 2.29/5, though, which isn't such a good sign.
On Yelp, BKC has a meager rating of just 1.6 out of five stars, which is also pretty bad.
What stood out to me the most from the reviews were the complaints about the lack of quality control, both in terms of shipping and quality, and the lack of satisfactory customer service to address issues.
That makes me a bit wary in recommending BKC, especially considering the fact that the kayak you'll get is probably just a rebranded Alibaba kayak in either case. And, while BKC kayaks are affordable, it's not like they're dirt cheap either; for the price, you can usually get higher quality kayaks from Amazon.
We're here to help with our guides. Check them out:
Brooklyn Kayak Company Pros and Cons
Pros
The kayaks tend to be affordable, especially when it comes to pedal kayaks.
BKC kayaks tend to be very stable and have a lot of storage space.
A wide range of kayaks is available, as are kayak accessories.
There is a five-year warranty on kayaks.
Cons
The name is a bit misleading, as the company is not based in Brooklyn.
The kayaks are not made in the US but imported from China and rebranded.
There have been reports of quality control issues.
Conclusion: Is Brooklyn Kayak Company Any Good?
I can't really recommend Brooklyn Kayak Company. While the kayaks themselves are decent overall, the price is too high for imported, rebranded Chinese products.
Just for comparison, the PK12 is currently almost double the price of the Hoodoo Tempest 120 Hybrid, despite the two being pretty much the exact same thing.
BKC manages to charge higher because the name makes you think it's a NYC-based company, but it's not. Instead, I'd recommend looking elsewhere for a kayak, and you'll get a better bang for your buck.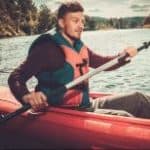 Author: Peter Salisbury
Pete is the Owner of KayakHelp.com. Born and raised in Cleveland, Ohio, he grew up kayaking, fishing, sailing, and partaking in outdoor adventures around the Great Lakes. When he's not out on the water, you can find him skiing in the mountains, reading his favorite books, and spending time with his family.