Taking your kids on their first ski trip is a wonderful experience. It is very rewarding to see them progress from rolling around in the snow to linking turns and charging down the mountain.
But to ensure your kids have the best experience, you need to put them in the right gear. A pair of quality and comfortable ski boots should be at the top of your list for ski equipment, whether renting or buying.
However, comfort is the main priority when it comes to ski boots. If your children's ski boots don't fit properly, they won't enjoy skiing at all, and it may put them off for life.
When buying or renting kids' ski boots, you need to take time to ensure you get the right ones. The shop assistant should have the knowledge and skills to select the correct ones, but it is worth knowing some basics to be 100% sure.
Image by FamVeld from Shutterstock
What To Look For In Kids Ski Boots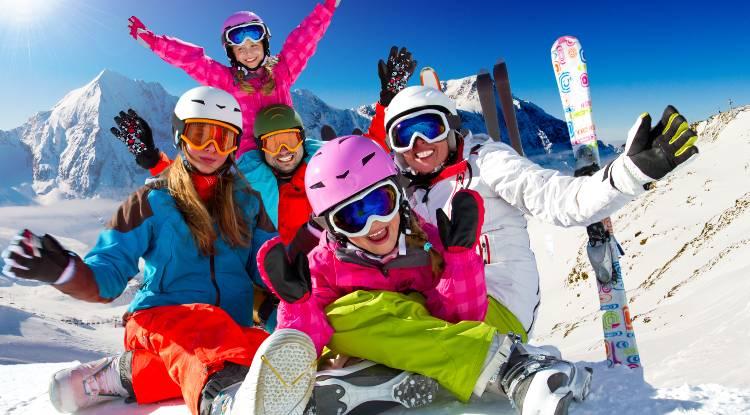 Image by gorillaimages from Shutterstock
A poorly fitting pair of ski boots can ruin anyone's day on the mountain. In fact, it may only take a few minutes of wearing them before they cause discomfort and pain.
The wrong ski boots may pinch, have pressure points, and be too tight, heavy, and difficult to put on. If your child (or you) experiences any of these characteristics, it can spell game over very quickly for their day of skiing.
Therefore, we have put together some top tips and things to look out for when it comes to fitting your kids with the right ski boots. We have even put together a list of recommended kid's ski boots.
1. Pay Attention To The Ski Boot's Weight
If your child is petite and light, they will need more lightweight ski boots than heavier kids. You will find that some kids' ski boots under 1 kg will give plenty of control and stability, depending on the brand.
Ski boot brands will reduce weight by using thinner outer shells. But they compensate for the flex with additional support and extra buckles.
2, Make Sure They Are User Friendly
Ski boots can be pretty challenging to get on and off, and kids find it especially difficult. Look for kids' ski boots with self-shaping tongues and plenty of adjustability.
If your kid's ski boots are awkward to put on or close and open the buckles, you will have more to do. If they are easy to use, your child will be able to put them on and remove them themselves.
You can buy rear-entry kids' ski boots, but these are only suitable for young kids and should be avoided for older kids.
Another useful feature to look out for is "walk mode." This unlocks the boot to make it more flexible and easier to walk in, which is advantageous when trying to get your child to ski school on time.
3. Look For Removable Liners
Your kids' ski boots should have removable liners. As children are smaller and closer to the snow than adults, their boot liners can quickly become wet, especially when the snow is deep or slushy.
By buying ski boots with removable liners, you can dry them out properly. This way, your child doesn't have to start the following day with cold, wet feet, setting them up for a bad day.
Often ski boot liners mold to your child's feet. These improve comfort and are well worth looking out for in your child's new ski boots.
4. Consider The Ski Boot's Flex
As kids' feet are still growing, look for boots that are not too stiff. Softer ski boots won't have as much control as stiffer ones, but that isn't the main priority at this early stage.
Softer ski boots are far more comfortable than stiffer ones. They also have a shorter shaft, enhancing comfort for this formative time in your little skier's life.
Older and more experienced kids will gain from wearing slightly stiffer ski boots. They provide more stability and control, which is needed for fast turns and aggressive skiing.
5. Get The Right Size
Your kid's ski boots must fit correctly and offer an appropriate amount of support. You can buy adjustable kids' ski boots with telescopic shells and liners that expand.
These adjustable ski boots give your child room to grow. Some of them can expand up to four sizes, so you don't have to buy new ski boots too often.
You may be tempted to buy ski boots that are too large, so your child can grow into them. This is a very bad idea, as there will be too much movement inside the boot, resulting in a lack of control, which is very dangerous.
When your child grows out of their ski boots, make sure you replace them immediately. Ski boots that are too small can be agonizing and will make your child's time on the mountain a misery.
How To Find The Right Size Kids Ski Boots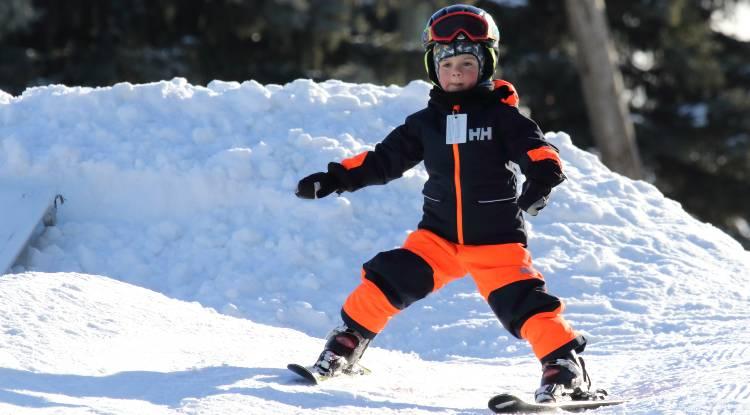 Image by yvontrep from Shutterstock
Kids' ski boot sizes are on the Mondopoint system, precisely the same as adult ski boots. So don't expect to see the regular kid's shoe sizes when buying ski boots.
The reason for this is that footwear sizes for street and sports shoes are not standardized. Therefore, manufacturers can make their own minds up about how they size their products.
Ski boot manufacturers use the Mondopoint system, as it is the world's only standardized system for sizing ski boots.
The Mondopoint sizing system is solely based on length. Check out the kids' ski boot size chart below for a starting point for your kid's ski boots.
However, you also need to pay attention to the last. The "last" is the width of the ski boot, which makes a massive difference to comfort.
Kids Ski Boot Size Chart From Intersport
Mondopoint boot size chart for children based on ISO specification ISO/TS 19407:2015
| | | | | |
| --- | --- | --- | --- | --- |
| Mondo­point | Foot length in cm | EU | UK | US |
| 120 | 12 | 19.5 | 3.5 | 4 |
| 125 | 12.3 | 20 | 4 | 4.5 |
|   | 12.7 | 20.5 | 4.5 | 5 |
| 130 | 13 | 21 | 5 | 5.5 |
|   | 13.3 | 21.5 | 5.5 | 6 |
| 135 | 13.5 | 22 |   |   |
| 140 | 13.8 | 22.5 | 6 | 6.5 |
|   | 14.2 | 23 | 6.5 | 7 |
| 145 | 14.6 | 23.5 | 7 | 7.5 |
|   | 14.8 | 24 |   |   |
| 150 | 15 | 24.5 | 7.5 | 8 |
| 155 | 15.4 | 25 | 8 | 8.5 |
|   | 15.7 | 25.5 | 8.5 | 9 |
| 160 | 16 | 26 | 9 | 9.5 |
|   | 16.4 | 26.5 |   |   |
| 165 | 16.6 | 27 | 9.5 | 10 |
| 170 | 16.9 | 27.5 | 10 | 10.5 |
|   | 17.3 | 28 | 10.5 | 11 |
| 175 | 17.6 | 28.5 | 11 | 11.5 |
| 180 | 17.9 | 29 | 11.5 | 12 |
|   | 18.2 | 29.5 |   |   |
| 185 | 18.5 | 30 | 12 | 12.5 |
|   | 18.8 | 30.5 | 12.5 | 13 |
| 190 | 19.2 | 31 | 13 | 13.5 |
| 195 | 19.5 | 31.5 | 13.5 | 1 |
|   | 19.8 | 32 |   |   |
| 200 | 20 | 32.5 | 1 | 1.5 |
| 205 | 20.4 | 33 | 1.5 | 2 |
|   | 20.7 | 33.5 |   |   |
| 210 | 21 | 34 | 2 | 2.5 |
|   | 21.3 | 34.5 | 2.5 | 3 |
| 215 | 21.7 | 35 | 3 | 3.5 |
| 220 | 22 | 35.5 | 3.5 | 4 |
|   | 22.4 | 36 |   |   |
| 225 | 22.6 | 36.5 | 4 | 4.5 |
| 230 | 23 | 37 | 4.5 | 5 |
|   | 23.2 | 37.5 |   |   |
| 235 | 23.6 | 38 | 5 |   |
Tips For Fitting Kids' Ski Boots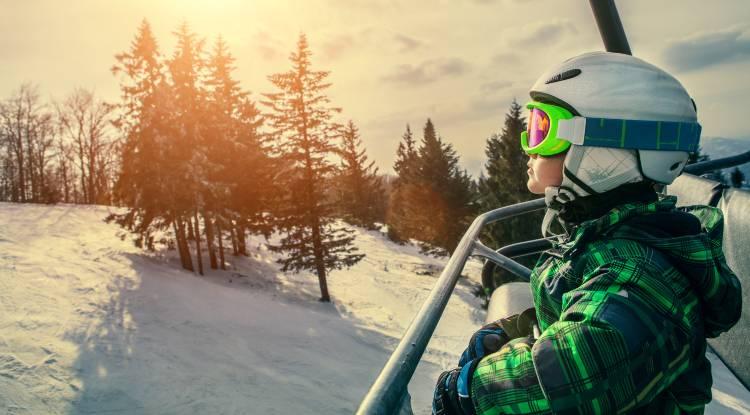 Image by Soloviova Liudmyla from Shutterstock
The real test of how comfortable ski boots are is once your child puts them on. Here are the steps to ensure that the ski boots won't cause tears on the slopes.
1. Choose A Pair Of Boots Using The Sizing Chart
The kids' ski boot sizing chart is your starting point, but you need to measure your child's feet to use it.
The most effective way to do this is to have your child stand on a piece of paper. Their heels should be against the bottom edge of the page, and their instep at the inside edge (so their foot is in the corner of the paper).
Mark the end of their big toe and the widest part of their foot on the paper. Then measure the length in millimeters from the bottom of the paper to the mark where the end of the toe was.
This is the length that corresponds to the Mondopoint boot size on the chart.
Once you have the length, measure the width from the edge of the paper to the mark you made for the width. This will give you the last, so you can make an informed decision on the correct width.
2. Try The Boots On With The Liner Removed
The next step is to pull out the removable liner and for your child to slip their foot into the shell.
They then need to slide their foot forward until their toes just touch the front of the boot. Get them to flex their knees slightly forward as if they were on the slopes; this should create a gap behind their heel.
You should be able to fit two fingers between the heel and the inside of the shell. If not, accordingly change the boots for ones that give you this gap.
3. Put The Liner Back In
Once you have found a pair of ski boots with the appropriate gap, put the boot liner back in. Then get your child to put the boots on and buckle them up as if they were going skiing.
They should then walk around for a bit and spend some time standing in the boots. This will give them time to get a good feel for the boots and notice if there are any pressure points, discomfort, etc.
You need to ask your child how the boots feel, as it can be pretty subjective. Even boots that have been sized correctly can feel too tight or too loose.
If the ski boots feel too tight, this could indicate that your child's feet are too wide for the boot. In this case, you may need to find a pair with a wider last. Alternatively, if you are buying them in a ski shop, the shop assistant may be able to stretch the liner to suit.
It is worth remembering that your child's feet are still growing. So stretching the liners at this early stage may mean that the boots will be too small pretty soon.
4. Ensure They Have The Right Flex
We mentioned flex earlier, but while your child is wearing the boots, you can better understand how stiff they are and if they are appropriate.
As a general rule, stiffer ski boots are for more advanced and heavier skiers. If your child is a complete beginner or very light, they will benefit from a lower flex rating.
To give you an idea of flex, race ski boots are very stiff and usually have a flex rating of 70 to 90. Most kids younger than six years old will require ski boots with much lower flex ratings.
When your child is wearing the boots, get them to bend at the knee. This should put their weight on the ball of their foot; if they cannot do this, they may need a softer boot.
Thumbnail
Title
Rossignol Comp J1 Ski Boots Kid's Sz 9k (15.5) Black
Fischer RC4 60 Jr. Thermoshape Ski Boots Kid's Sz 5.5 (23.5) Black/Black,U19118
Salomon S/Max 65 Ski Boots Black/Red 26/26.5
Salomon QST Access 70 T Ski Boots Kid's Sz 9/9.5 (27/27.5) Orange/Black
Thumbnail
Title
Rossignol Comp J1 Ski Boots Kid's Sz 9k (15.5) Black
Thumbnail
Title
Fischer RC4 60 Jr. Thermoshape Ski Boots Kid's Sz 5.5 (23.5) Black/Black,U19118
Thumbnail
Title
Salomon S/Max 65 Ski Boots Black/Red 26/26.5
Thumbnail
Title
Salomon QST Access 70 T Ski Boots Kid's Sz 9/9.5 (27/27.5) Orange/Black
Recommended Kids' Ski Boots
Here are some superb kids' ski boots that you may want to consider. We have chosen these examples for their features, comfort, and price.
Check Price on Amazon
If your child is still a beginner but is starting to enjoy blue runs, the Rossignol comp J1 is an excellent choice.
Rossignol has made these kids' ski boots very user-friendly by making them easy to get on and off. They have done this with a single buckle that is easy to use with little fingers.
Thanks to the anatomically shaped shell, these kids' ski boots are also super comfortable. The shells have been carefully made to fit the feet in all the right places.
In addition to this, the liner is nicely insulated to ensure your child's feet stay warm all day. But the liner's construction incorporates separate layers and combinations of materials, thicknesses, and densities. This results in a liner that conforms to the foot shape and is quick drying.
Check Price on Amazon
The Fischer RC4 60 Thermoshape kids' ski boots are ideal for progression. The 60 in their name refers to the flex rating, which is pretty soft, making them ideal for young beginner skiers.
Fischer has fitted the RC4 Jrs with four micro-adjust buckles, which gives your child a wide range of adjustments while providing lots of support. The velcro strap enhances the adjustment further, making dialing in the perfect fit effortless.
Check Price on Amazon
If your child is an aspiring ski racer, they may want to slip into some Rossignol Hero J4s. These kids' ski boots are designed to help kids develop their carving skills in preparation for racing.
They are pretty soft in their flex rating of 50, so they are best suited to lighter skiers. However, they do offer lots of support, control, and comfort, ideal for young speed demons.
Rossignol has chosen their Comfort Fit liner for the Hero J4. This liner consists of soft materials designed to provide all-day warmth and cushioning.
These kids' ski boots also feature Sensor Inside, which incorporates the three main balance points of your feet; the big toe, little toe, and heel. This gives unrivaled power and feel for the snow.
This technology is used in World Cup ski race boots and has trickled down to these excellent kids' ski boots.
Rossignol has made these boots pretty narrow to enhance the contact between the shell and liner for increased control. So if your child has wide feet, these may not be the best choice.
The diagonal buckles allow for easy entry, but they also give you a secure and comfortable fit. Their arrangement pulls the heel into a pocket to increase support while skiing choppy snow or at speed.
Check Price on Amazon
Salomon has created an outstanding ski boot for kids with the S/Max 65. They have used all the latest technology to make this ski boot lightweight, agile and well-fitting.
The outer shell is thinner than most ski boots, contributing to their lightness. In fact, they are the lightest junior ski boots available, ensuring optimum control and precise turning. In addition to this, the thin shell makes it easy to get in and out of the boots.
Salomon has used a Thermic Fit liner and a shorter cuff. These are specially designed to mold to the shape of young skiers' feet for greater comfort. The liners are removable and quick-drying, so your child can start their day with warm and dry feet.
Check Price on Amazon
Salomon makes excellent ski equipment and clothing, and they are true to form with the Salomon QST Access 70 T Junior ski boots. These boots are incredibly user-friendly, as they work well both on and off the mountain.
Salomon has given these kids' ski boots Hike and Ride technology. This is a V-cut release system that provides two modes. You can unlock the backbone to make walking easier and lock it again for skiing.
The backbone is made from lightweight magnesium, which provides excellent rebound and progressive flex.
In addition to this, these ski boots use the Thermic Fit liner. This makes them cozy and comfortable while molding to your child's feet.
They are slightly stiffer than the other boots we have covered so far, as they are for more advanced young skiers. The characteristics make them ideal for kids who are starting to experience the backcountry and need to hike to the best lines.
Final Thoughts
These days kids have many options for their ski boots. In many cases, the technology is the same as the adult's boots, which gives them a great start to their life on the slopes.
Kids no longer have to put up with poorly designed and low-performing ski boots. But it is essential that you get the sizing right, consider the boot's flex, and how user-friendly they are.
It is always worth visiting a qualified ski boot fitter to ensure you buy the right boots. Ski boot fitters have the knowledge of both feet and the products available to select the perfect pair for you or your child.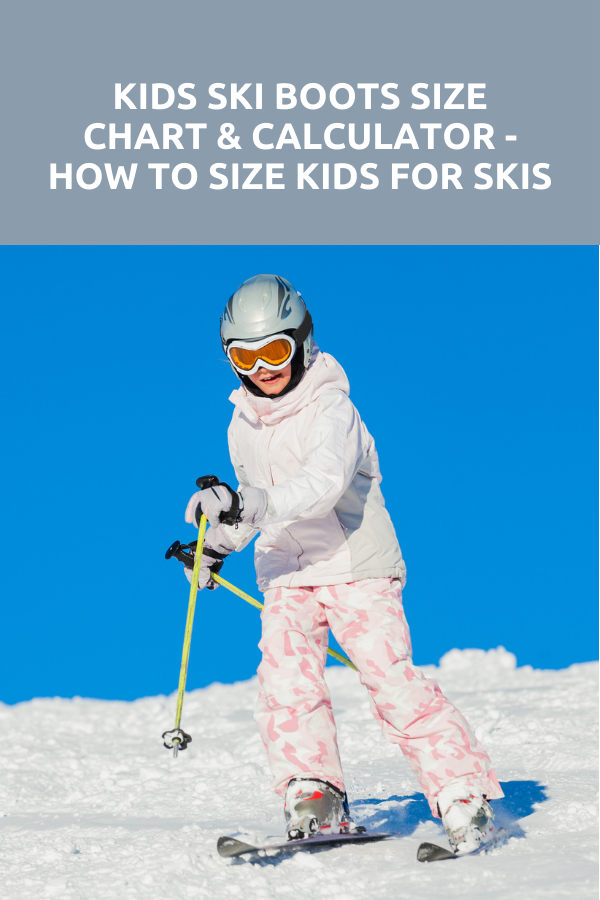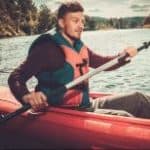 Author: Peter Salisbury
Pete is the Owner of KayakHelp.com. Born and raised in Cleveland, Ohio, he grew up kayaking, fishing, sailing, and partaking in outdoor adventures around the Great Lakes. When he's not out on the water, you can find him skiing in the mountains, reading his favorite books, and spending time with his family.