Wilderness Systems is one of the most trusted and recognized kayak brands on the market these days. They manufacture a wide variety of kayaks for different types of paddling and their craftsmanship is top-notch.
Their line of Pungo kayaks is perfect for everything from recreational paddling on flat water to long-distance touring on coastal waterways.
Today, we're going to take this opportunity to present three in-depth Pungo kayak reviews to help you get a better feel for these great kayaks.
While they share many of the same features, we'll point out some important differences and we'll also suggest a few applications that each is ideally suited for.
We'll also compare the Pungo line of kayaks to their competition so you can get a better idea of how they stack up.
Without further adieu, let's get started!
Wilderness Systems Pungo Kayaks
Pungo 105
Pungo 120
Pungo 125
Wilderness Systems Pungo 105 | Sit Inside Recreational Kayak | Features Phase 3 Air Pro Comfort Seating | 10' 6" | Mango
Wilderness Systems Pungo 120 | Sit Inside Recreational Kayak | Features Phase 3 Air Pro Comfort Seating | 12' 2"
Wilderness Systems Pungo 125 | Sit Inside Recreational Kayak | Features Phase 3 Air Pro Comfort Seating | 12' 6" | Fossil Tan
Wilderness Systems Pungo 105 | Sit Inside Recreational Kayak | Features Phase 3 Air Pro Comfort Seating | 10' 6" | Mango
Wilderness Systems Pungo 120 | Sit Inside Recreational Kayak | Features Phase 3 Air Pro Comfort Seating | 12' 2"
Wilderness Systems Pungo 125 | Sit Inside Recreational Kayak | Features Phase 3 Air Pro Comfort Seating | 12' 6" | Fossil Tan
Pungo Vs The Competition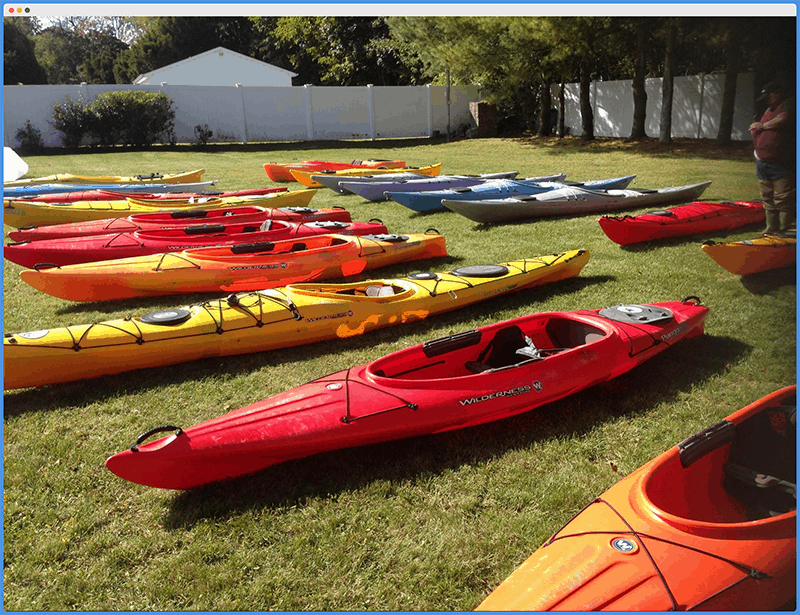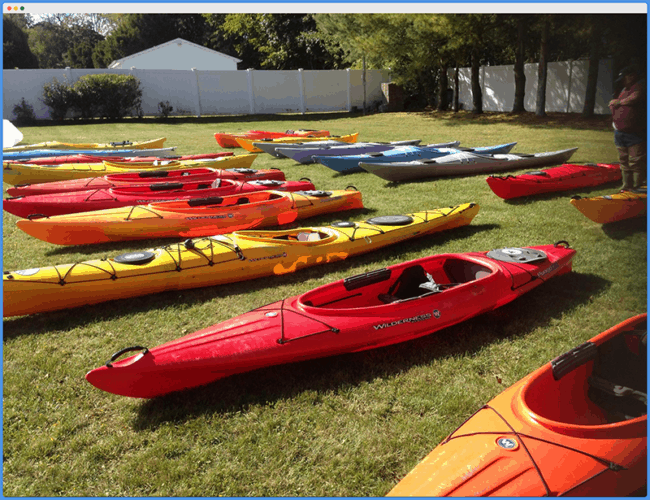 We hate to be the bearers of bad news here, but not all kayak brands are created equal. In fact, there's quite a bit of disparity between the best kayak brands and brands that cut corners to make their kayaks more affordable (but never as long-lasting!).
Fortunately, Wilderness Systems ranks among our top 10 best fishing kayak brands, but they also make great designs for recreational paddling and touring.
If you're curious about which brands to avoid, check out our picks for the five worst kayak brands to avoid!
To help you understand how Wilderness Systems' Pungo kayaks stack up against the competition, we're going to pick several important features or specifications.
Then we'll provide a rating using a basic scale from below average to above average (with average being the center).
Durability
Rank: Above Average
Wilderness Systems has been in the business chasing 'kayak perfection' since 1986, and you don't stay in business for more than 30 years in this industry if your kayak breaks or cracks within just a few months of being put into use.
Trust us, there are many brands out there that can't hold water when it comes to the durability of their kayaks.
By cutting corners and reducing the thickness of their kayaks in critical areas, a lot of cheaper kayak manufacturers get into deep water (ha, kayak pun!) when their models crack after just a year of use.
The good news about Wilderness Systems's kayaks is that you can trust them for years to come. This allows you to buy a kayak that's slightly out of your 'skill comfort zone' and then grow into it over time.
Cockpit Comfort
Rank: Above Average
To put it simply, the comfort of the Pungo kayaks is unmatched among sit-inside kayaks, and that's why it continues to be one of the best-selling sit-inside kayaks on the market year-after-year.
The seat design and adjustability are the first factors that make this kayak extremely comfortable, and we'll cover a bit more on that later. But it also boasts a few more cockpit-centric features that help you actually enjoy long days on the water.
For starters, no comfortable kayak is without adjustable foot braces on the inside walls of the cockpit. These braces slide back-and-forth to accommodate paddlers of many different heights and they allow you to maintain a slight knee bend and keep your core engaged.
By doing so, you'll be able to maintain a more ergonomic paddling position with less effort than you'd have to exert with some other kayaks. That means you can go farther before you start to tire out from doing all the work with your arms and shoulders.
Secondly, some cheaper models that do boast adjustable foot braces or molded footwells forget to take the extra step to include thigh padding on the edges of the cockpit. Without this padding, the tops of your thighs will rub against the bare plastic of your kayak.
While it might not sound so bad at first, keep in mind that these kayaks are made for spending several hours at a time on the water.
Over that period of time, we've seen plenty of people come back with the tops of their thighs rubbed raw due to a lack of thigh braces on the cockpit edges.
Thankfully, you won't have to go through this pain and agony with the Wilderness Systems Pungo kayak (or any of the Wilderness Systems kayaks for that matter!). Because they go through extensive testing with experienced kayakers, comfort is well-accounted for!
Maneuverability
Rank: Average
In terms of maneuverability, the Pungo kayaks are going to fit squarely among the average kayaks on the market today. While you won't be able to swing them 180 degrees on a dime, you also won't have to exert a bunch of extra energy to re-direct your kayak.
The reason we've given these kayaks an average rating on maneuverability is that you'll certainly be able to find shorter kayaks (especially those made for whitewater kayaking) that will turn and edge with much less effort than the Pungo kayaks.
That being said, it's important to keep in mind that Pungo kayaks aren't made for whitewater applications. When appropriately compared with other kayaks made for flatwater paddling, you shouldn't have any difficulty maneuvering a Pungo kayak, regardless of your experience and skill level.
Of course, it's also worth noting that the maneuverability of these kayaks is going to change slightly depending on the exact model you choose. Because of its minimal length, the Pungo 105 is going to be a bit more maneuverable than the 120 or 125 models.
Speed
Rank: Above Average
As of 2019, Wilderness Systems re-engineered their line of Pungo kayaks for more speed and top-end performance.
While they didn't want to sacrifice the stability (more on that later) of these kayaks, they did want aspiring long-distance paddlers to enjoy more efficient paddling with the Pungo.
In order to achieve this, they went with a slightly narrower design and added the ability to attach a skeg on the hull at the stern. By improving tracking ability, that skeg also helps this kayak average higher top speeds over long distances.
Stability
Rank: Average
As we just mentioned, the 2019 re-design of the Pungo kayaks was meant to increase its overall speed and performance for light touring. But they didn't make it so skinny that casual, recreational paddlers wouldn't even be able to sit up straight inside it.
The key here is balance and the moderate V-shaped hull on the bottom of this kayak helps even novice paddlers feel comfortable on the water.
While it offers more primary stability than secondary stability, some users have even found the Pungo to be stable enough to endure Class II whitewater rapid runs.
Storage Space
Rank: Above Average
Again, the Pungo kayaks are going to offer a great amount of storage space for kayakers of all experience levels. Even if you don't necessarily need to pack it full to the brim, you'll be able to use the rear bulkhead compartment to keep gear out of the way.
While the rear hatch is perfect for anything that you don't need quick access to while you're on the water, the Pungo dashboard can hold anything that you do need for a full day of comfort.
And it gives you space for both wet and dry storage, plus the ability to attach mounted accessories.
The dashboard is really the best storage feature of the Pungo line of kayaks. Its ability to accommodate a small lithium battery is what expands its usefulness from just recreational paddling up to light touring.
As is the case with the maneuverability of these kayaks, the amount of storage space you'll enjoy will change according to the precise Pungo model you buy.
A longer kayak (i.e. the 120 or 125) will give you more storage space behind the seat in the cockpit than the shorter model (105).
Pungo Kayak Features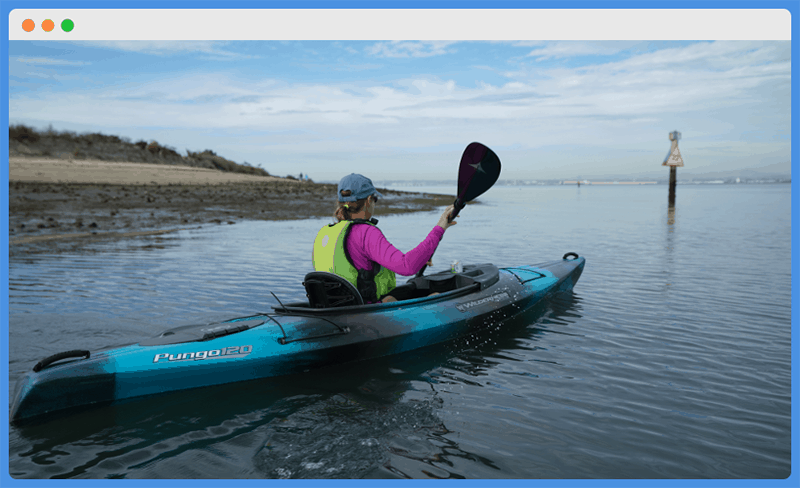 There are several features that are common for the Pungo kayak regardless of size. So, instead of mentioning them repeatedly in our reviews below, we'll provide an overview of the best features you'll find on every Pungo kayak.
Phase 3 Air Pro Seat

Wilderness Systems' third-generation Air Pro seat offers maximum adjustability for ergonomic support where your body needs it the most.
It allows you to increase or decrease the amount of lumbar support to make long paddles more comfortable than nearly any other kayak seat in the industry.
The seat itself is also finished with a honeycomb-patterned mesh material, which breathes exceptionally well in hot and humid weather.
So you won't have to deal with as much sweat and stickiness as you will with more traditional plastic or rubber kayak seats.
The Pungo Dashboard
This enhanced dashboard is truly a feature that makes Punk kayaks unique. Not many other kayaks allow you to store as much in the dash (and keep it as well-organized) as the Pungo does.
All in all, this dashboard includes two cup holders, a removable dry box, sidetracks for attaching your desired kayak accessories, and a recess designed for the Wilderness Systems battery to keep all of your electronics (GPS, fishfinder, etc.) charged and working for you!
Rear Orbit Hatch

At the stern of these kayaks, the rear orbit hatch gives you a secure, dry place to store any gear that you don't necessarily need immediate access to while you're paddling.
This is a great place for camping gear or rescue equipment that you'll only need to access in case of emergency.
The stern bulkhead compartment allows you to pack smaller dry bags according to your preference, but it's also compatible with Wilderness Systems' oval Orbit Hatch Pod or Hatch Cooler if you need an insulated place to keep drinks cold on recreational paddling days.
Deck Bungee Rigging

As you gain the kind of rescue skills and paddling knowledge that you'll need to take longer trips, you'll probably need to utilize the deck of your kayak for additional gear storage. That's why any good multi-use kayak comes with bungee rigging on the deck.
The uses for this rigging are almost endless and you can customize your setup according to your preference.
Whether you just use them to slide your sandals into a secure place or you get more serious and attach a kayak deck bag to the bow or stern rigging, you're bound to make use of it one way or another.
Bow and Stern Carry Handles

The cool part about the smaller version of the Pungo kayak is that it's light enough to carry by yourself. And because it's well-balanced from front-to-back, you'll be able to pick it up from the cockpit edge if you're carrying it solo.
But, here at Kayak Help, we firmly believe in the merits of paddling with a partner whenever you can. So, to make life easier for two people to carry this kayak, bow and stern carry handles are bolted into place for easy transportation.
Spray Skirt Compatibility
All three of these Pungo kayaks are compatible with an appropriately-sized kayak spray skirt for cold weather paddling. Some experienced kayakers even like to use a spray skirt when the weather isn't too bad.
This is an important benefit because keeping your legs and torso warm and dry on longer paddling expeditions is incredibly important.
At the end of the day, it can make all the difference between an enjoyable paddling experience and one that leaves you questioning why you fell in love with the sport of kayaking in the first place.
Who Is The Pungo Best For?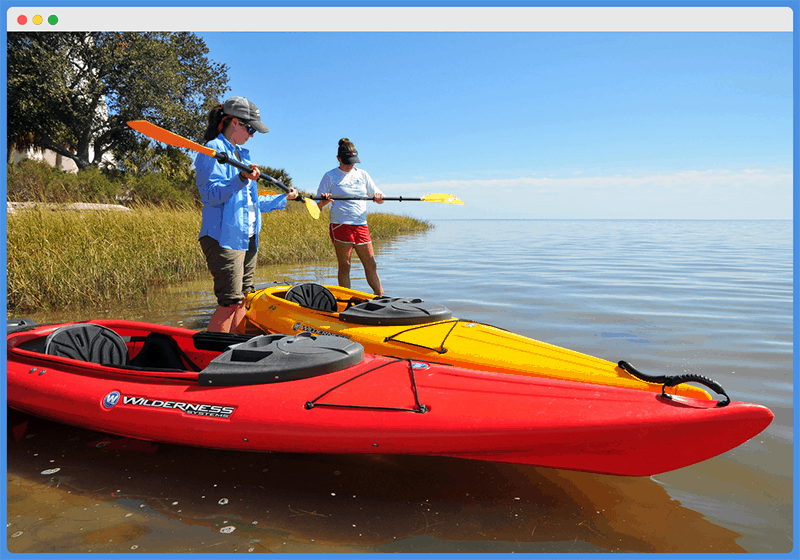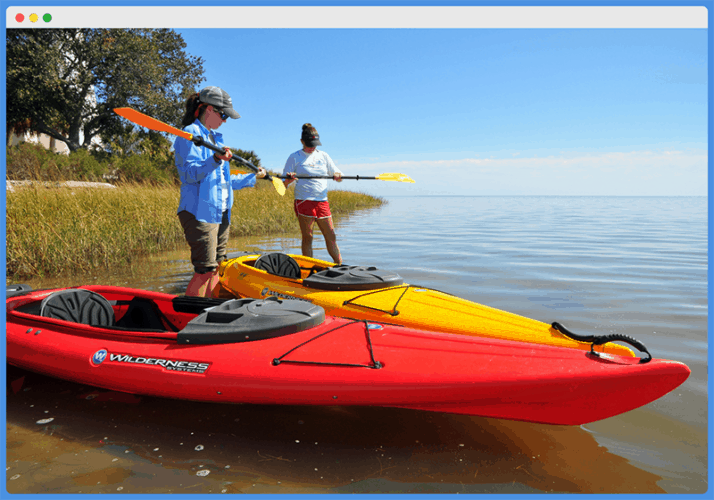 The Wilderness Systems Pungo kayaks are really best for kayak fishing or paddling on calm lakes, flat water, slow-moving rivers, or coastal waterways.
While they can also be useful for recreational paddling, you might not need to invest in a top-of-the-line kayak if you're only going to use it once or twice a month.
But if you're the kind of person that's going to be on the water at least once a week, then you'll want something with a bit more top-end performance and maneuverability. That's where your budget should go up a bit to include models like the Pungo kayak.
While these kayaks will also perform admirably in open ocean waters, it's not their ideal location.
To get even more specific, the Pungo 125 would be best for taller paddlers, the Pungo 120 is ideal for small to medium-sized paddlers, and the Pungo 105 is best for small paddlers or teens.
Pungo Kayak Reviews
Check Price on Amazon
Length:
10'6"
Width: 30 inches
Weight: 47 pounds
Weight Capacity: 300 pounds
An ideal choice for shorter or younger paddlers, the Pungo 105 offers best-in-class top-end speed without sacrificing stability.
This makes it a great kayak to grow into because it won't be hard to learn while being able to accommodate longer paddling trips as your skills and comfort level increase.
Inside the cockpit, the adjustable footrest makes it easy for shorter paddlers to retain the kind of stability needed to paddle more efficiently.
After all, remember that the best way to paddle is to engage your core instead of relying solely on your arms and shoulders!
Check Price on Amazon
Length:
12'2"
Width: 29 inches
Weight: 49 pounds
Weight Capacity: 325 pounds
The Pungo 120 provides the perfect 'happy-medium' between the shorter 105 and the lengthy 125. It has the ability to accommodate the widest range of paddler sizes of any of these three kayaks, which makes it ideal for families with many avid kayakers of varying heights and weights.
It has the advantage of being longer than the 105, which allows you to achieve higher top speeds over long distances, and it's also the narrowest of these three Pungo kayaks, which further aids its efficiency but also slightly reduces its overall stability.
Check Price on Amazon
Length
: 12'6"
Width: 29.5 inches
Weight: 53 pounds
Weight Capacity: 325 pounds
The longest of these three kayaks, the Pungo 125 is an ideal choice for taller and heavier paddlers. In addition to being the longest kayak on our list, it's also slightly wider than the Pungo 120, which adds extra stability for larger paddlers.
The largest benefit of the Pungo 125 is the additional storage space behind the kayak seat. This allows you to store an additional dry bag right behind you and maintain easy access to it while you're on the water on longer expeditions.
Check Price on Amazon
Our pick for the best of the Pungo kayaks is the Pungo 125 because of its extra length. While that added length does make it a bit heavier, it's a trade-off between that and the ability to enjoy higher top speeds for long-distance paddling.
That added length also means that there's additional protected storage space in the kayak's respective bulkhead compartments.
So it makes it easier to fit overnight gear or kayaking safety equipment inside the kayak without having to strap everything to the deck.
If you're a taller paddler or you already know that you want to get into multi-day kayaking trips in the future, the Pungo 125 is going to give you the most room for growth of any of these three kayaks.
Once you learn how to pack a kayak for overnight camping, there will be no limit to how far you can paddle!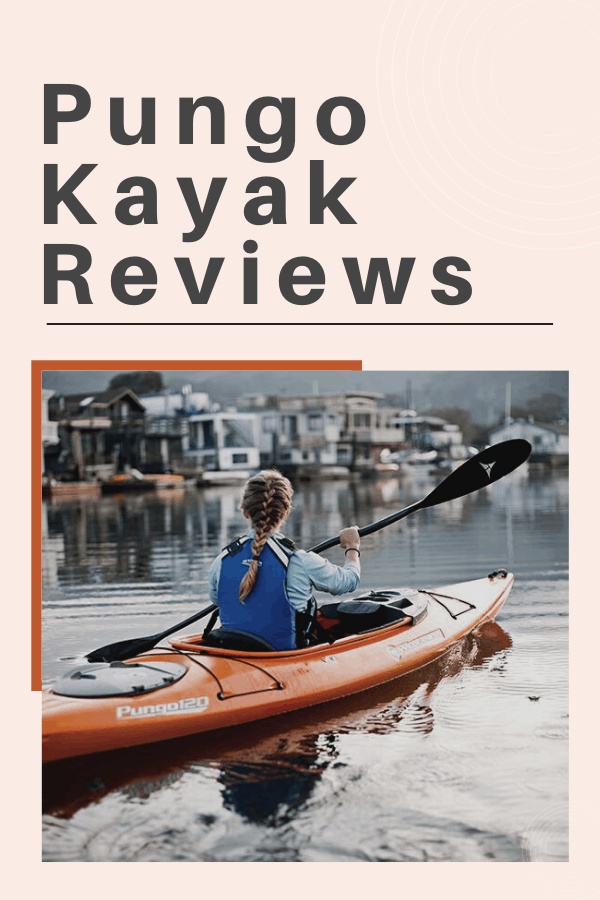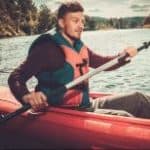 Author: Peter Salisbury
Pete is the Owner of KayakHelp.com. Born and raised in Cleveland, Ohio, he grew up kayaking, fishing, sailing, and partaking in outdoor adventures around the Great Lakes. When he's not out on the water, you can find him skiing in the mountains, reading his favorite books, and spending time with his family.