Experienced skiers and snowboarders love to test their skills. Therefore, they like to tick off the most challenging ski slopes in the resort.
In this post, we have listed the steepest ski slopes in the world. So if you want bragging rights and some additions to your skiing bucket list, you know where to go.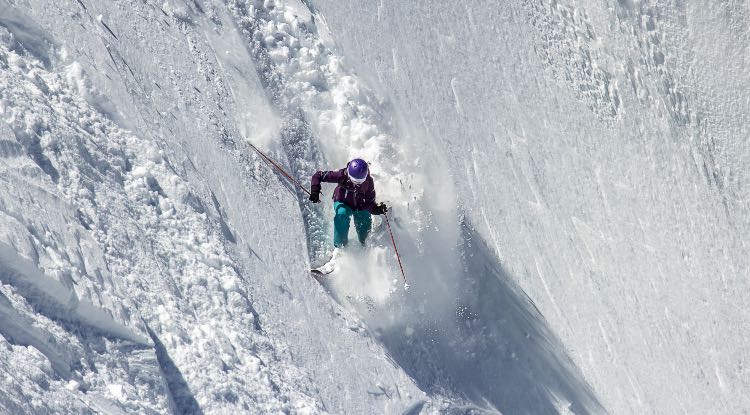 Steepest Ski Slopes In The World
The Streif – Kitzbühel, Austria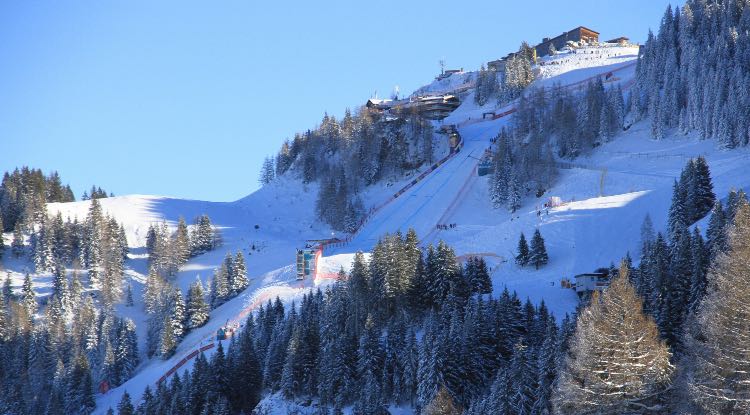 The Streif in Kitzbüel, Austria, is deemed by many as the ultimate when it comes to challenging ski slopes. This is a view held by talented amateurs and pro racers alike.
Every year the Streif is on the Alpine Skiing World Cup Tour. It gives the racers an immense feeling of accomplishment just for getting to the bottom unscathed.
The top of the Streif sits at 1,665m and plunges down Mount Hahnenkamm to 805m to Ziel. It is 3,312m and has a maximum gradient of 85%.
The top 30 seconds sets it apart from all the other courses on the tour when it comes to racing. The competitors reach up to 70kph in this short section before hitting 120kph in the Kompression.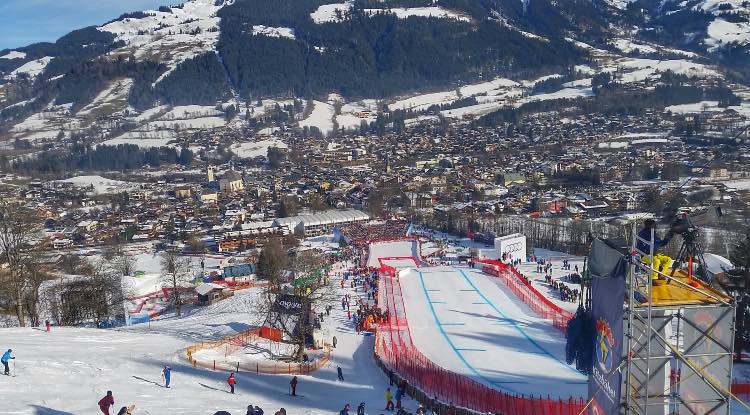 To be competitive, racers need to commit 100% to every section of the course. Much of the course is bumpy and icy, making it highly challenging.
But during the winter season, anyone can ski the Strief. All you need to do is get off the Hahnenkamm cable car, clip into your skis, and go.
As you can imagine, the Strief is not for beginners or nervous skiers. It is graded a black run, so it is only suitable for expert skiers and snowboarders.
However, there is a much easier route down the Hahnenkamm, known as the Familienstreif. This modified version of the Streif cuts out the most challenging sections of the racecourse.
The Familienstreif is graded as a red run, suitable for intermediate skiers. It allows people who may not be skilled enough to take on the main course to tick off the Strief.
The alternate route also means you can ski the Hahnenkamm while the Strief is being prepared for the race. Race organizers need to close specific sections to bring extra snow, prepare it, and freeze it while building the safety fences.
La Chavanette – Avoriaz, France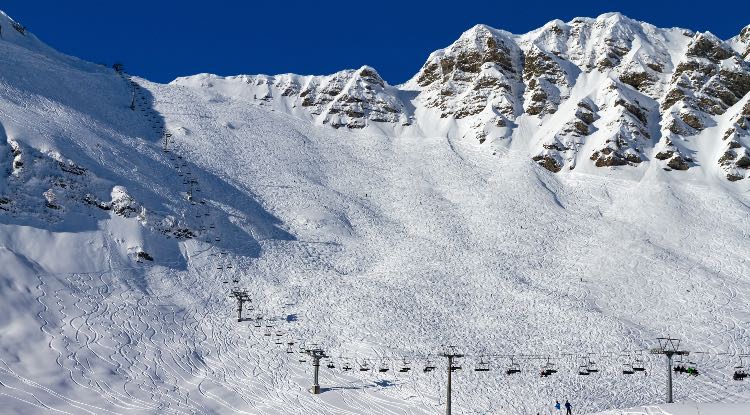 La Chavanette is also known as the Swiss Wall or Mur Suisse. It is located in the Portes du Soleil, which is one of the world's largest ski areas.
The top of La Chavanette sits in the purpose-built ski resort of Avoriaz in France. It runs across the border, dropping skiers into Les Crosets in Switzerland.
La Chavanette is regarded by many as the most challenging slope in the Portes du Soleil. However, how difficult it is all depends on the snow conditions.
The slope starts at 2,151 m, has a vertical drop of 331m, and is about 1km long. It is very steep and is classified as an orange piste, which means it doesn't even fit into the regular difficulty rating system.
As you set off from the top, you have to pick your way through large moguls. Often, these moguls can be the size of a small car or van.
Once you get past the initial moguls at the top, you are greeted with a 40-degree gradient. The whole run is covered in moguls from top to bottom, as it is not groomed.
The slope is less steep the further you go to skier's left. If you carry on down the center of the slope, you will find that it is incredibly steep and challenging.
At about halfway down, the Swiss Wall starts to level out a bit. The moguls become a little smaller too.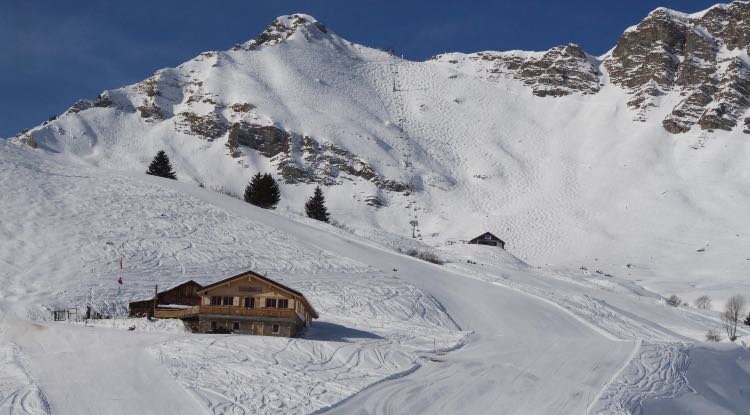 The bottom 200m are relatively flat and great for blasting to the chairlift back up, or to the pistes that take you to Les Crosets and Champéry.
If you are not a fan of moguls, stay well away from La Chavanette. Moguls are completely unavoidable on this piste. However, if you manage to ski or snowboard the Swiss Wall early on a powder day, you will be treated to an incredibly long and fast powder run.
The Swiss wall is very tiring to get down due to the ice and moguls. The top is the most challenging part, and if you get your turns between the moguls wrong, you can get into trouble.
You need to use the moguls to give your edges purchase on the snow. If you don't do this, you will gather too much speed before catching the next mogul.
It doesn't take much to cause a fall that will see you tumbling down the mountain. You can slide for several hundred meters while bouncing off icy moguls if you get it wrong.
You don't need to ski the Swiss Wall to get into Switzerland from Avoriaz, though. You can watch everyone else attempting it from the safety of the chairlift that takes you down the mountain. There are several other routes, too, incorporating blue and red pistes.
If you like off-piste, there are some excellent couloirs running from the left-hand side of the Swiss Wall. To experience them properly and safely, book one of the many local guides.
Harakiri – Mayrhofen, Austria
The Harakiri in Mayrhofen is Austria's steepest groomed slope. When you ski this slope, you can enjoy 1500m of gradient going up to 78% and 375m of vertical drop.
Expert skiers and snowboarders love to take on the Harakiri during their trip to Mayrhofen. It is often a high point for those that dare to brave this legendary slope.
The top of the Harakiri is deceptive and encourages skiers to let their skis run a bit to get some speed up. However, it isn't long before they realize that they need to be less ambitious for this piste.
When skiing the Harakiri, you will come across all sorts of challenging snow conditions. Much of it is coated with artificial snow, so you often get icy conditions.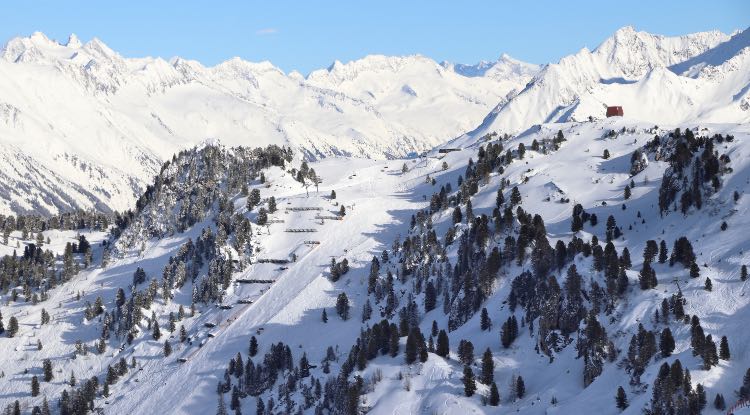 Every day, before the lifts open, the resort pushes layers of artificial snow into the piste. This is necessary, thanks to the mountain's steepness, so it sticks to the mountain. The piste is then groomed at the last minute before skiers are allowed on it.
The ice, combined with the incredibly steep gradient, really puts your skills to the test. A fall on its steepest section will mean a very long slide down the mountain before you stop.
If you are unsure if your skills are up to skiing the Harakiri, you could try the Devil's Run first. This is known locally as the Harakiri Test because if you can get down it successfully, you can go for the big one.
The Harakiri is definitely a slope for experienced skiers and snowboarders. Even though it has a reputation for being tough, it isn't that long.
It claims many injuries every winter, which makes it notorious, but its reputation comes mainly from marketing hype. However, it is definitely a piste that you should tick off if you are in Mayrhofen.
Delirium Dive – Sunshine Village, Banff, Canada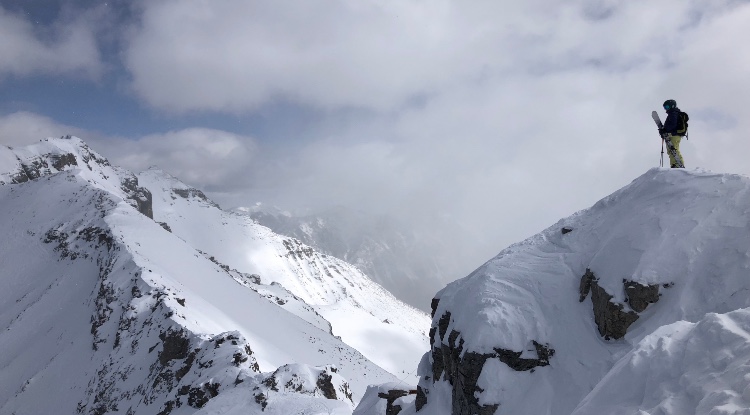 The stunning mountain town of Banff is an incredible destination for skiers and snowboarders. There are three stunning ski areas close to Banff, Norquay, Lake Louise, and Sunshine Village.
Many of the slopes are tree-lined and wide, allowing you to practice long sweeping carve turns. But, Sunshine Village is home to one of the steepest ski slopes in the world, Delirium Dive.
Delirium Dive is an off-piste slope, meaning that it is not patrolled or maintained. In fact, Delirium Dive is more of an off-piste zone, full of chutes and open bowls.
If you have the skills, you can enjoy 2,500 feet of vertical drop, with a gradient of up to 60 degrees. One of the great things about Delirium Dive is that it is North Facing so that the colder temperatures preserve the already fantastic snow.
You have to be prepared if you want to take on Delirium Dive, though. The Sunshine Village Safety team requires you to carry a transceiver, shovel, and probe in your backpack. Also, you cannot ski or ride the area alone, so you have to go with a buddy.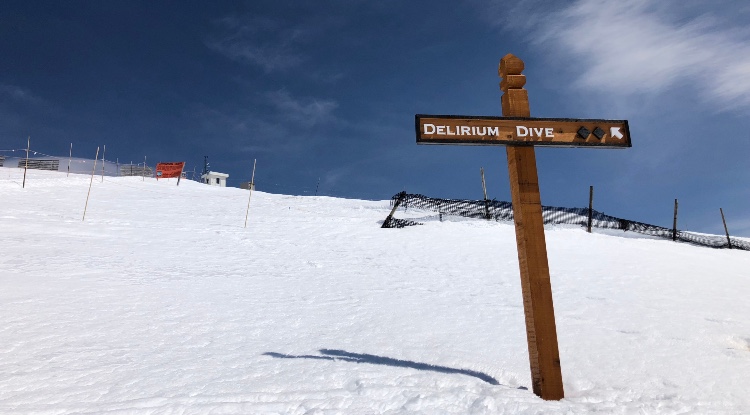 Delirium Dive mainly gets its reputation for being one of North America's scariest runs from its top section. This is where you will come across the area's steepest and most intimidating lines.
But the rest of the area won't worry advanced skiers and snowboarders with experience of off-piste. If you have the skills, Delirium Dive will reward you with an abundance of powder, incredible scenery, and varied terrain.
If this sounds like fun to you but you are concerned about having sufficient skills, there is a slope to test yourself. There are some hikeable chutes on Goat's Eye mountain.
These chutes are good introductions to what you will experience on Delirium Dive. If you can ski these chutes, you should be good to "take the Dive".
You may want to scope Delirium Dive out before you commit to skiing it. If you head to the top of Lookout Mountain, you can hike to Delirium Dive's entrance (as long as you don't take your skis).
From the entrance, you can get a good look at the steep section at the top. You also get incredible panoramic views from up there.
La Face de Bellevarde, Val D'Isère, France
Val D'Isere is an iconic French ski resort. It is well known for its high-end ski chalets, lively nightlife, and excellent skiing.
If you cast your eyes towards the Bellevarde ski area, you will see an incredibly steep slope known as La Face de Bellevarde.
La Face is a 3km long black run that was used for the Men's downhill in the 1992 Winter Olympics. The Olympic Committee chose La Face to test the limits of the world's best skiers at very high speeds.
The event's final race was dramatic and regarded as one of the most exciting Men's downhill races in Olympic history. The gold, silver, and bronze athletes were all within just 0.1 seconds of each other.
The 1992 Winter Olympics is where La Face got its reputation, while Italian Alberto Tomba became the world's most successful male skier winning two medals.
It is no surprise that La Face is popular with skiers wanting to challenge themselves. Many skiers love the fact that they get to experience such a prolific part of skiing history.
To get to the top of La Face de Bellevarde, you need to get on the Olympic chairlift or gondola. From here, you ski left, following the signs.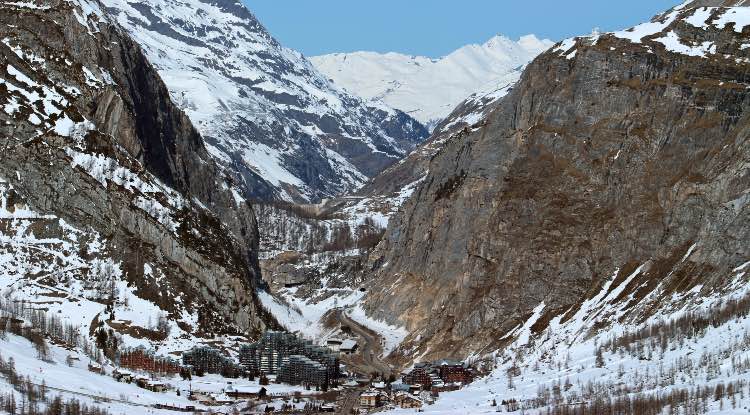 While skiing the top sections, you will enjoy a surprisingly gentle gradient. These parts are not unlike a blue run and are a lot of fun. However, it is the bottom third that makes La Face a black run.
The bottom third is much steeper, but how difficult it is, depends on what time of day you ski La Face.
In the morning, La Face is very icy, which makes the steeper sections incredibly challenging. At the end of the day, the slope conditions are bumpy and are often slushy, especially later in the winter.
For the best conditions, you need to head to La Face between noon and 2 pm. By this time, most of the ice has melted, and it is very quiet, as most people in Val D'Isere are enjoying a long boozy lunch.
After a good snowfall, La Face isn't that challenging. It is no more difficult than a steeper blue run when you catch the conditions at their best.
However, if you get the timing wrong, you can take advantage of a semi-secret run that cuts out the bottom third. Just before it gets bumpy, head right onto a lovely red run called Joseray that takes you to the bottom of La Face.
Corbet's Couloir – Jackson Hole, Wyoming, USA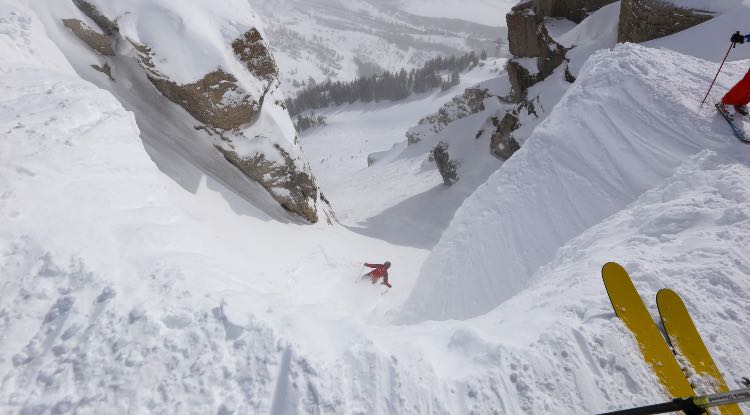 Jackson Hole, Wyoming, is well known for its varied terrain, suitable for skiers and snowboarders of all levels. However, it is also renowned for epic powder and challenging slopes.
One of the most famous and gnarly slopes is Corbet's Couloir. Many skiers regard Corbet's Couloir as a proving ground. If you can ski or snowboard its incredibly steep entrance, you can ski anything.
The couloir gets its name from a 1960's mountaineer called Barry Corbet. He found the narrow chute high up in Jackson Hole and said, "Someday, someone will ski that."
Since then, people have approached the top of Corbet's and either taken on the challenge or sensibly walked away.
You can see Corbet's Couloir from the Jackson Hole cablecar, known as the tram. It gives you a great vantage point for watching people drop in, but many spectators gather at the top to watch the action unfold too.
The videos and images you see online are deceptive. They make Corbet's Couloir look challenging, but ambitious skiers and snowboarders believe that they have the skills to take it on.
Therefore, every winter, people arrive in Jackson to "definitely ski Corbet's." But, when they look down, the reality of the challenge hits them.
Several factors make dropping into Corbet's Couloir more challenging than the average steep slope. The first issue is psychological; not wanting to fail in front of the spectators and people on the tram reduces your confidence.
In addition to this, the images and videos make the drop look much smaller than in real life. You will often see people crawling on their bellies to take a peek over the edge.
A significant factor that affects dropping into Corbet's is the weather and snow conditions. The shape of the cornice constantly changes, the snow quality is always different, and visibility plays a significant part.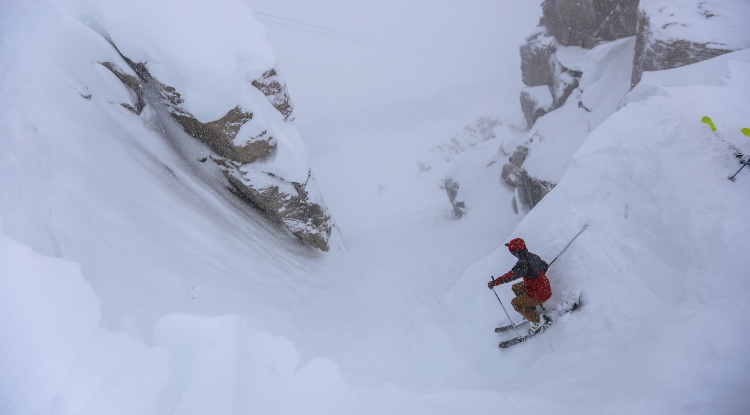 All these factors cause even the best skiers and snowboarders to call it a day.
Standing at the top of Corbet's Couloir is pretty intimidating due to its steep drops. However, once you have conquered the entrance, you are greeted by some fantastic snowy terrain.
The section beyond the initial drop is known as "meet your maker." The name comes from the heavenly experience you are rewarded with after the leap of faith.
La Grave, Les Deux Alpes, France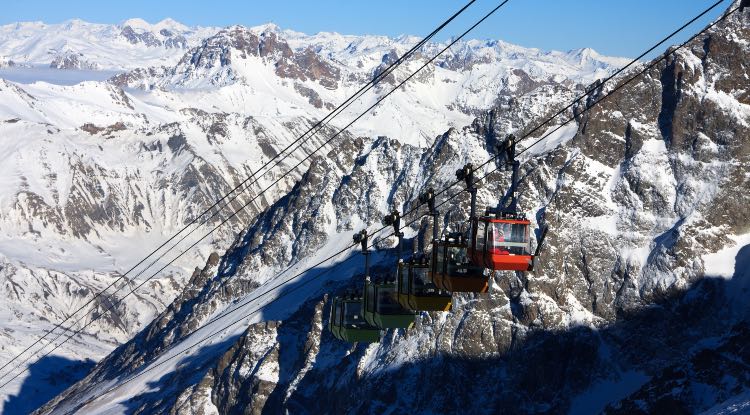 Most of the slopes in this list pale to insignificance when compared to La Grave. La Grave isn't a single challenging run but arguably the world's most extreme ski resort.
La Grave only has one ski lift, a huge "pulse gondola" built in the 1970s, which is split into two stages. The bottom half takes you from La Grave at 1,500m to 2,400m, and the second stage takes you to 3,200m.
Once you step off the gondola, you have endless possibilities for extreme fun.
You can catch a snowcat to the Girose glacier, which has a drag lift open from early March. Alternatively, you can tour to the glacier when the drag lift is not running.
The very top of La Grave sits at about 3,600m. To download on the lift, it will take you around 30 minutes, which gives you an idea of the amount of terrain available in La Grave.
There are several routes for skiing or snowboarding back into the village. You can expect epic descents with 2,300m of vertical, open powder fields, glaciers, tree runs, couloirs, and ridgelines.
All the way down, you will come across crevasses, cliffs, and all kinds of natural hazards. The nature of La Grave makes it a notoriously dangerous place to ski and snowboard.
La Grave has a piste map of sorts illustrating the most common routes down the mountain. However, these routes become very bumpy and tracked out.
A popular route is known as the Vallons de la Meije, but for something a little less challenging, you may want to head for the Vallons de Chancel.
Although there are pockets of powder to be had while skiing and snowboarding La Grave, it may not be the lovely off-piste paradise you may be expecting. La Grave is definitely an "extreme experience," and there is a good chance that you will need to abseil to get down some sections.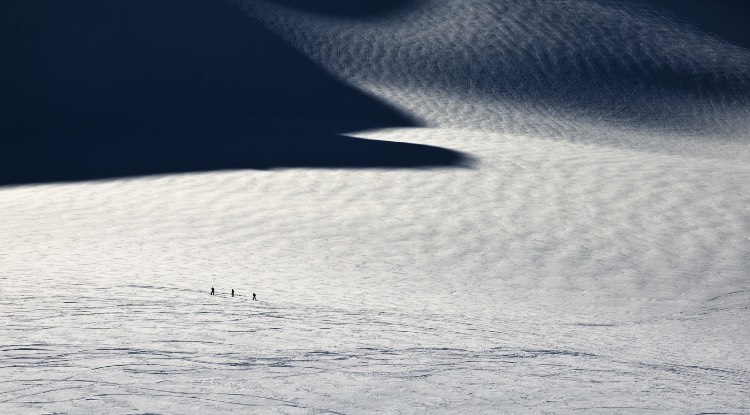 With this in mind, La Grave is not the place to follow other people's tracks. You need to treat La Grave with the respect it deserves, much like the big alpine off-piste descents of Chamonix.
Some people say that a competent skier or snowboarder could ride La Grave if a guide looks after them. On the other hand, many locals say that doing this is a bad idea.
To successfully ski or snowboard La Grave, you need to be able to cope with changeable snow conditions off-piste and be very experienced.
Setting off on the big descent from the Girose glacier is an incredible experience if you have the skills. But having the nerve to take it on is just as important as having the ability to cope with hazards.
Final Thoughts
All of the slopes and areas we have listed above are not for the faint-hearted or inexperienced. Some of them get their reputation from just a tiny section. But, this is often enough to create legendary status and historical moments.
Before taking on any of these slopes, you have to be confident that you are capable. You need to make sure you are proficient at skiing or snowboarding black runs very well.
You also need to have lots of experience in varying snow conditions. There may be times when you will have to contend with choppy powder, ice, and moguls, all in one run.
It is essential for you to use the correct equipment. The last thing you want to do is take on Delirium Dive or La Grave on snowblades.
Your equipment needs to be appropriately serviced too. Ensure that your bases are waxed and your edges are sharp.
If your edges are sharp, you will be able to grip onto the steeper sections and ice much more easily. They will give you the control you need to get down with style and relative safety.
You may have the skills and the equipment, but they are nothing without a good level of fitness. Having a strong upper body, lower body, and core will help you more than you realize.
For some excellent ways of getting fit for skiing, check out these ski fitness machines.
All images taken from Unsplash & Shutterstock.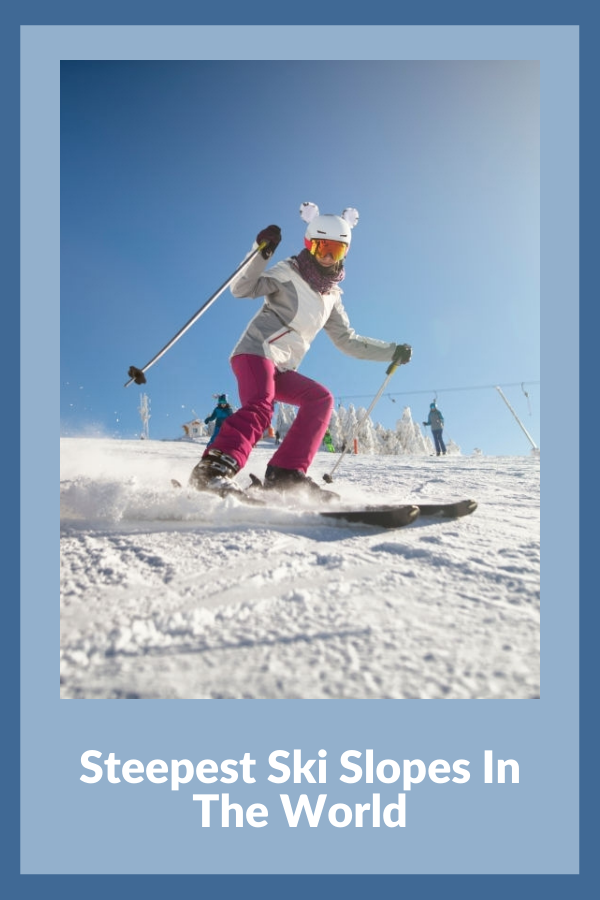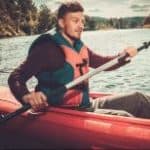 Author: Peter Salisbury
Pete is the Owner of KayakHelp.com. Born and raised in Cleveland, Ohio, he grew up kayaking, fishing, sailing, and partaking in outdoor adventures around the Great Lakes. When he's not out on the water, you can find him skiing in the mountains, reading his favorite books, and spending time with his family.