One of our favorite parts about exploring outdoors is bringing our furry companions along. But kayaking is one of those outdoor activities that can be hard to bring your pup along unless, of course, you have the right boat to help you do it.
One of the many myths about inflatable kayaks is that they aren't good to bring dogs in because the dog's nails might pop the kayak. But consider this: the most heavy-duty whitewater rafts out there today are all inflatable!
So it's less about the fact that the kayak is inflatable and more about whether or not it's manufactured with high-quality materials that provide resistance against punctures, abrasions, and even degradation from prolonged UV exposure.
That type of quality construction and durability is exactly what you'll get from the 10 best inflatable kayaks for dogs. We've scoured the market to review ten excellent options to help you get your kayak out on the water safely this season!
Jargon Buster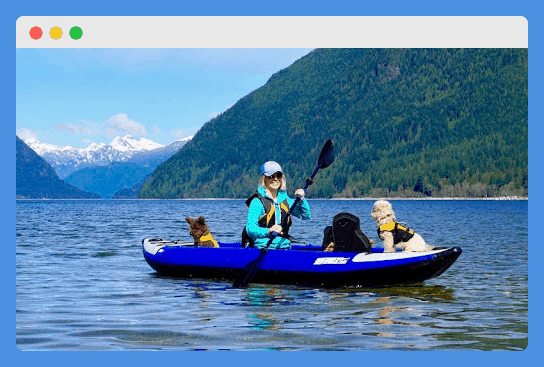 But before we get into our reviews of these inflatable kayaks, it's important to quickly define some key terms that are unique to inflatable kayaks and their construction. If you're a new kayaker, we'd also invite to you familiarize yourself with as much basic kayaking terminology as possible before you go much further.
PSI
PSI stands for 'pounds per square inch.' This rating tells you how much pressure an inflatable kayak can be inflated to safely before it's at risk of popping or tearing.
In general, inflatable kayaks that are designed to handle a higher PSI rating will provide a more stable vessel. These kayaks also tend to perform better because they more closely mimic the rigidity of a hardshell kayak.
Drop Stitch
Drop stitch is sometimes referred to as a fabric that's used in many modern inflatable SUPs and kayaks.
But drop stitching is actually a sewing technique that, when employed, creates a stronger fabric that can handle the higher pressures desired in inflatable kayaks and SUPs.
PVC
PVC stands for 'polyvinyl chloride'. When used to make inflatable kayaks, it provides excellent durability, portability, and, perhaps most importantly, it's cheaper to use so it helps to make the prices of the best inflatable kayaks more reasonable.
INTEX 68307EP Explorer K2 Inflatable Kayak Set: Includes Deluxe 86in Aluminum Oars and High-Output Pump – SuperStrong PVC – Adjustable Seats with Backrest – 2-Person – 400lb Weight Capacity
AIRE Lynx II Tandem Inflatable Kayak-Blue
INTEX 68307EP Explorer K2 Inflatable Kayak Set: Includes Deluxe 86in Aluminum Oars and High-Output Pump – SuperStrong PVC – Adjustable Seats with Backrest – 2-Person – 400lb Weight Capacity
AIRE Lynx II Tandem Inflatable Kayak-Blue
Buying Guide
Before we get into our specific reviews of the best inflatable kayaks for dogs, let's take a moment to talk about how to choose the right kayak for your specific needs.
In this Buying Guide, we'll cover everything you need to know to pick the right inflatable kayak for you and your pup.
Single Versus Tandem
Fortunately for you, most of the best inflatable kayaks feature tandem designs so that you have extra space for your dog and your gear.
But if you have a smaller pup and you want to cover more ground on your paddles, a single kayak may be more appropriate for your needs.
Single kayaks don't always mean you'll have less space inside the kayak for you and your pup.
This will also depend on the total length of the kayak and the dimensions of the actual cockpit area where you and your pup will be hanging out when you're paddling.
Max PSI Rating
A kayak's maximum PSI rating will tell you how rigid the kayak will be when it's fully inflated.
For reference, many of the best inflatable standup paddleboards on the market today (that actually feel like a hardboard when fully inflated) are rated for a maximum pressure of 12 to 15 PSI.
Not many inflatable kayaks are designed for quite that much pressure, but some come close. In general, a kayak that can handle more PSI will be more stable on the water and easier to maneuver.
So if you want a super stable and rigid design, look for a kayak that can be inflated to a maximum pressure of 8 to 10 PSI.
Materials and Construction
The materials used in the construction of an inflatable kayak will tell you how durable it is and how well it can withstand bumps against rocks.
In this particular case, you'll want to be certain that the materials used are strong enough to withstand the pressure of your dog's nails when he or she is standing in your kayak.
PVC material is very common to the most durable inflatable kayaks for dogs.
But one other design feature you should look for is welded seams because this generally makes the entire design much stronger and kayaks with welded seams tend to handle higher inflation pressures than those without.
The Size of Your Dog
The amount of space you'll need inside the cockpit of your inflatable kayak depends largely on the size of your dog. If you're a Jack Russell owner, for example, you might not need the longer design that a tandem kayak offers.
But if you have a larger pup, that extra length is going to come in handy early and often. You also need to keep in mind that you're probably going to want to store other essential kayaking gear and supplies onboard if you're going out for a few hours.
As someone who has spent a lot of time trying to get a dog situated in a smaller kayak, I can tell you that I'd recommend erring on the side of having too much space rather than taking the chance on not having enough.
Price
Because they're designed to be extra durable and provide protection against the wear and tear that comes with exposure to the environment and dogs, some of these inflatable kayaks can actually get quite expensive.
So if you're looking for something a bit more affordable, be sure to check out the best inflatable kayaks under $500!
Best Inflatable Kayaks For Dogs
Check Price on Amazon
The Intex Explorer K2 is designed for exploring smaller bodies of water. It's a tandem design so your dog can enjoy his or her own seat, or you can remove the front seat for a more open floor plan.
This kayak inflates to dimensions measuring 10.25 feet long and three feet wide. It's also 1.75 feet deep so it feels more secure and helps to detract your pup from wanting to jump out and go for a swim when you're not ready.
It comes with a high-output hand pump and two collapsible kayak paddles. On the bottom of the kayak, there's actually a skeg that helps with directional tracking but it can be removed if you know you're going to be paddling in shallower waters.
The good part about this kayak being bright yellow is that it improves your visibility on the water. This can be really important if you plan to paddle in places where there can sometimes be a lot of motorized boat traffic.
Check Price On Amazon
The Star Outlaw II is another tandem design that boasts a bit more of a sporty design than the Explorer K2. It features rugged welded PVC construction (like whitewater rafts) and two adjustable, inflatable thwart backrests.
This inflatable kayak is often popular amongst outfitters, rental operations, and kayak camps because it's durable and reliable. It boasts a total length of 12.16 feet and a width of 38 inches.
That width is one of the largest among kayaks of any kind on the market today and it goes a long way towards making this kayak extra stable.
It boasts a total of five air chambers inside, which compartmentalize the inflation so that a tiny tear in the rear of the kayak doesn't result in the entire thing completely deflating.
It also weighs only 41 pounds and is super easy to inflate and deflate in a matter of minutes.
The width of the cockpit is 17 inches from tube-to-tube and this is what we'd categorize as a 'self-bailing' kayak, which means any water that enters the cockpit naturally exits through one-way drain valves in the floor.
The Star Seminole II kayak is actually designed for rugged whitewater use. Nonetheless, this makes it an exceptionally strong and stable kayak for anyone that's just getting used to paddling with their dog.
It features a high-pressure drop stitch floor that maintains excellent rigidity throughout your paddle. The kayak's five air chambers are sealed with Leafield C7 valves that help the entire kayak maintain the same pressure you inflate it to before even putting it in the water.
It measures 12.58 feet long and 39 inches wide and boasts a total weight of 49 pounds.
This kayak also comes with two adjustable, inflatable thwart seats that give you an elevated vantage point when you're paddling and, for the purpose of this article, gives you better leverage if you do need to pull a swimming dog back on board.
The center compartment on the Seminole II is 17 inches wide and the entire kayak features PVC construction. The floor also includes self-bailing drain ports to keep the cockpit from filling with water if you're paddling on mild whitewater or in windy/wavy conditions.
The Aire Tributary Strike 2 kayak is another tandem option that's adaptable enough to fit two paddlers or have the front seat removed for a single paddler with a pup. It's a great inflatable kayak for beginners because it's extra wide and stable.
This kayak actually measures 36.5 inches wide and 12.3 feet long. It weighs only 37 pounds, which makes it one of the lightest tandem inflatables on our list and helps you transport it more easily.
It includes self-bailing drain ports in the floor to keep the cockpit free of excess water and a total of three air chambers provide added security. If one of these chambers is punctured, the other two will remain inflated so that you can make it back to shore in order to perform a repair.
The Strike 2 is also constructed with welded seams and urethane Airecell bladders that increase its durability. This is why it can also hold up for whitewater paddling and it will certainly be able to handle the rigors of getting your dog to climb in and out.
The Star Viper XL is a single inflatable kayak that's ideally suited for intermediate paddlers with smaller dogs. This kayak's more compact design makes it easier to transport and also easier to maneuver on the water.
The Viper XL measures 10.16 feet long and has a total width of 37 inches. It weighs 39.5 pounds and is constructed with PVC material with a maximum thickness of 1000 denier and a weight of 44.
Despite its smaller size, you'll enjoy plenty of flotation with this kayak because of the displacement chambers in the bow and stern.
There are actually a total of five air chambers inside this kayak, which adds security because one chamber being punctured won't result in the entire kayak deflating.
This kayak also features a center compartment width of 15 inches and it comes with a total of 12 D-rings to give you plenty of places to attach gear and accessories for long days on the water.
It even includes thigh straps that help you maintain your body position if you're paddling in more intermediate or advanced whitewater.
The Aire Outfitter II is a tandem design with a lower seat position to help keep you drier in windy or wavy conditions. This lower seated position also makes this one of the more stable tandem inflatable kayaks on the market.
It offers a total length of 12.16 feet and a width of 41 inches.
That extra width also lends to the excellent stability of this kayak and the maximum weight capacity of 525 pounds provide plenty of breathing room for you, your pup, and all of your kayaking gear.
There are a total of three air chambers inside the PVC construction of this kayak.
So even though it's tough enough to handle bumps against rocks when paddling whitewater, you also won't have to worry about a small tear completely compromising the flotation of this kayak.
The Outfitter II weighs a total of 46 pounds and comes with two carrying handles in the bow and stern that aid when you need to transport it overland. It also includes self-bailing drain ports in the floor to keep water from building up in the cockpit.
The Star Challenger is arguably the most unique inflatable kayak for dogs that we've chosen for our list. It features a super flat design, so it's best for intermediate to advanced paddlers that have previous experience paddling with their dog.
You'll need to have your dog under verbal command with this kayak if you want to keep him or her from jumping off and compromising your stability. That being said, the large open deck makes it easy to climb back onto the kayak if you do happen to capsize.
This kayak measures 10.67 feet long and 38 inches wide. It's easily one of the lightest kayaks on our list with a weight of just 27 pounds and it comes with a folding-back seat, carry bag, pump, and removable fin for better tracking on the water.
The drop stitch deck of this kayak is six inches thick and is constructed with 30-weight PVC material. The Challenger also boasts a screened drain port under the seat that drains any water that accumulates on the deck.
The Advanced Elements Straightedge 2 is obviously designed for two adult paddlers, but the front seat can also be removed to make more room for your dog.
It has a maximum weight capacity of 500 pounds, so even your full-ground Saint Bernard can probably get comfortable in here.
The kayak's dimensions measure 13 feet long and 35 inches wide when inflated, but when deflated it only takes up an area 18 inches wide by 12.75 inches high by 39.5 inches deep. It also weighs just 47 pounds when fully inflated.
It's a versatile design that can be used on calm, cool waters or in wavy conditions.
For the latter, the one-way, self-bailing drain ports keep the cockpit from filling up with water, but these ports can be closed to keep you warm and dry when paddling on cold, but calm, waters.
The Straightedge's construction includes an aluminum frame in the bow and stern that gives the whole design more rigidity. This added rigidity makes it track straighter and perform better over long distances.
The Aire Lynx II Tandem kayak is another super heavy-duty design that will perform well on calm, flat water. But it's also designed to handle the bumps of whitewater floating and is stable enough to handle light surf.
The total length of this kayak measures 12.5 feet long and 39 inches wide for an exceptionally stable design.
The kayak also weighs just 43 pounds and the two-layer construction with welded seams makes it super rigid and durable.
It comes with two adjustable Cheetah seats that can also be removed if you want to add space toward the bow for your pup.
There are a total of three air chambers in this kayak and all of them inflate and seal using Leafield B7 valves.
There are a total of three self-bailing drain holes on the floor of the Lynx II and it also comes with 17 cargo loops that give you convenient places to attach gear and accessories.
It's durable enough to handle river paddling and has a maximum weight capacity of 475 pounds.
The ZZSJ Outdoor Kayak Assault is one of the more affordable kayaks that made our top ten list. But it still offers enough durability and performance to make it a safe bet for casual paddling with your pup.
It comes with two inflatable seats that can be adjusted to your preferred seating arrangement. One of the seats can even be removed if you want to give your dog more space or if you simply want to use it as a solo paddler occasionally.
In the bow and stern of this 10.5-foot kayak, you'll be able to store your extra gear in covered areas to keep things dry if you happen to wind up paddling in light rain. It's made of laminated PVC material with a polyester core for added abrasion and UV resistance.
The ZZSJ kayak also measures 34.6 inches wide and boasts a maximum weight capacity of 350 pounds. It comes with two three-piece collapsible paddles and bright orange color to increase your visibility on the water.
Because of our previous experience kayaking with dogs, we have come to prioritize a kayak that's easy to climb back into over all else. That's exactly why we've chosen the Star Challenger as our pick for the best inflatable kayak for dogs.
When you're just learning to paddle with your pup, the odds that you'll both end up swimming at some point will be very high. Even the most well-trained dogs are going to go through an adjustment period when learning how to kayak.
Keeping this high likelihood of both of you swimming in mind, we know you'll like having a flat kayak that's super easy to climb back onto once you're in the water.
And because of the six-inch height of the deck, it'll also be easier to pull your pup back onto this kayak than with models that have a deeper cockpit.
This kayak is also a multi-purpose solution!
If you have any interest in leaving your pup at home once in a while, this kayak is also an excellent choice for fishing because of the folding-back seat design that gives you an elevated vantage point for viewing fish and making it easier to cast further and more accurately.
So, overall, the beginner-friendly usefulness and versatility of the Star Challenger are the major reasons why we've selected it as our pick for the best inflatable kayak for dogs!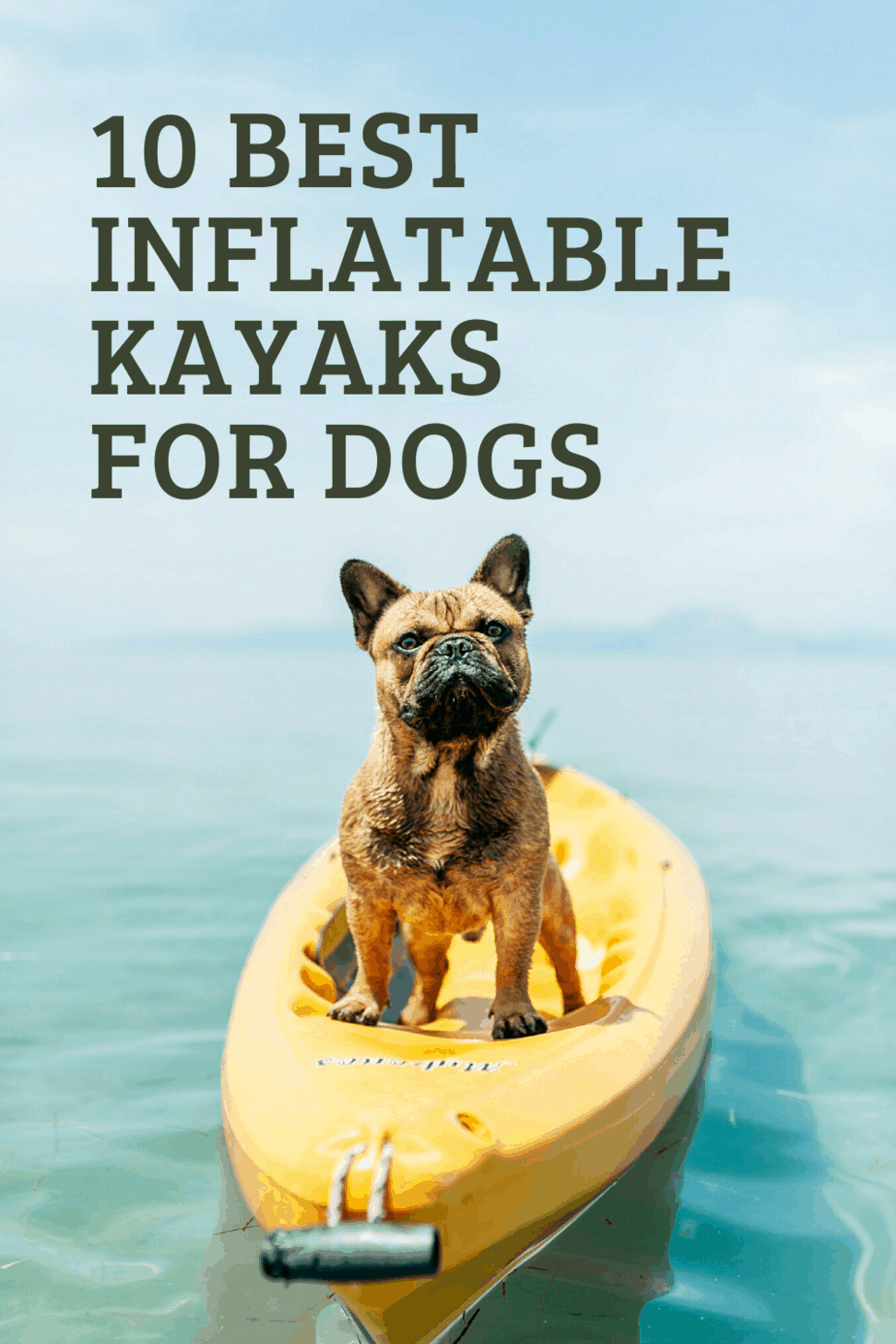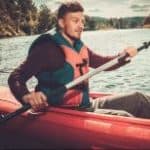 Author: Peter Salisbury
Pete is the Owner of KayakHelp.com. Born and raised in Cleveland, Ohio, he grew up kayaking, fishing, sailing, and partaking in outdoor adventures around the Great Lakes. When he's not out on the water, you can find him skiing in the mountains, reading his favorite books, and spending time with his family.