Summer is our favorite time of year for kayaking! Temperatures are often so warm during the middle part of the day that we almost have to hop into the water to cool off several times throughout our paddling adventures.
But it can sometimes be easy to get lulled into a sense of security when every day is reaching warm, comfortable temperatures and the nights still aren't cooling off that much.
But going out in a kayak without the proper preparation is dangerous at any time of the year.
Knowing what to wear kayaking in summer requires a careful balance of sun protection and breathability. You don't want to wear anything that keeps too much heat in close to your body and you also don't want to overexpose your skin to too much sun.
For beginners, we should simply start by mentioning the old adage: "Cotton Kills!" With any of your summer kayaking attire, you should avoid cotton because it dries super slowly if it gets wet and also doesn't breathe as well as other materials.
Fortunately for you, you've come to the right place for more thorough details on what to wear kayaking in summer. We'll cover some of the dangers of excessive UV exposure and then provide recommendations on 10 items to wear kayaking in summer.
We'll also provide recommendations on how you can better prepare for summer's large temperature swings (depending on where you live) and we'll close with a final thought on how to make the most of your summer kayaking adventures!
Also Read: Kayak Safety Equipment List
Jargon Buster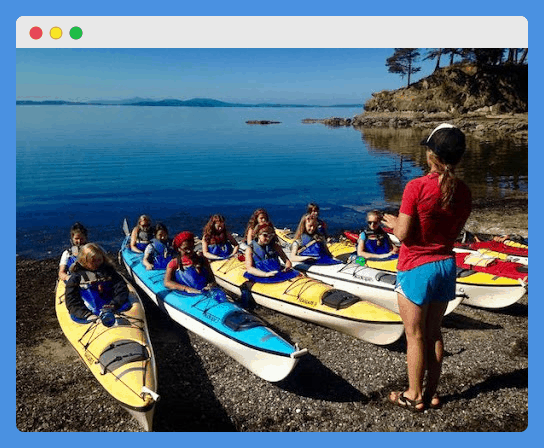 But before we get into all of our recommendations, it's important that you're familiar with a few key terms and abbreviations that you'll see throughout the remainder of this article!
UV
UV is short for 'ultraviolet' and, in this case, we're going to use it to refer to the type of radiation that comes from the sun. When kayaking UV exposure can cause sunburn, fatigue, and other issues.
PFD
PFD stands for 'personal flotation device.' While many of us grew up calling these 'life jackets', the proper kayaking terminology would be PFD!
SPF
SPF stands for 'sun protection factor' and it's a rating that's common to most sunscreens, whether they require liquid or spray-on application. A sunscreen's sun protection factor is a suggestion of how many minutes you should go before applying another layer.
For example, a sunscreen with an SPF rating of 50 is designed to be re-applied every 50 minutes or so. That said, you may need to re-apply more frequently if you go swimming and all of that sunscreen rubs off during the course of your 50-minute intervals.
PPE
PPE stands for 'personal protective equipment'. This is a term that's usually used in many healthcare and first responder circles, but knowing this abbreviation will come in handy as you read through the rest of this article.
The Dangers Of Excessive UV Exposure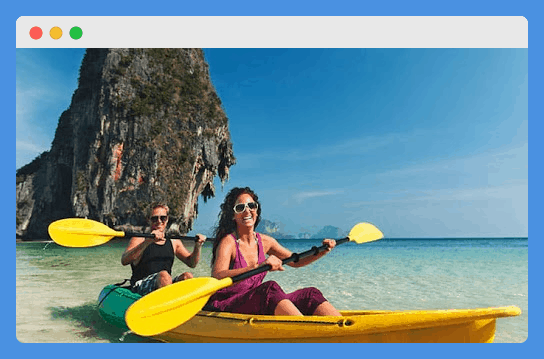 Getting out in the warmth of the sun is one of the main reasons why we kayak in the summer season! But it's also important that we're aware of the negative effects of excessive UV exposure.
Dry, Cracked, Or Wrinkled Skin
This isn't one danger that typically happens overnight, but with many years of lackadaisical skin protection, UV rays can cause your skin to become perpetually dry, cracked, or wrinkled.
The sun's rays are strongest during the hottest part of the day, which is usually between the hours of 10 am and 4 pm. It is during these hours that excessive UV exposure can have the most negative impact on the long-term health of your skin, including increasing your risk of skin cancer.
Sunburn
Sunburn is one of the most uncomfortable short-term effects of excessive UV exposure. Studies have shown that people that have had more "serious" sunburns in the past have an increased risk of developing several types of skin cancers.
The UV rays from the sun are always strongest during the spring and summer months and UV exposure also increases as you get further away from the equator. Taking steps to cover your skin while you're kayaking will greatly reduce the possibility that you get sunburnt during your summer paddles.
Cornea Damage
The reflection of UV rays off the surface of the water can have a lasting impact on the health of your eyes. This is why having a good pair of polarized sunglasses is so important when kayaking during all months of the year.
With excessive exposure to UV rays, the cornea at the front of the eye can become inflamed or burned. This can cause several lasting eye conditions that could impair your vision, including cataracts and pterygium.
What To Wear Kayaking In The Summer
Chaco Men's Mega Z Cloud Sandal, Askew hunter, 11 M US
Columbia Men's Silver Ridge Convertible Pants, 34" x 30", Major
Columbia Men's PFG Bahama™ II Long Sleeve Shirt, Sail, Large
Onyx 122200-505-020-15 MoveVent Dynamic Paddle Sports Life Vest, X-Small/Small, Aqua
Chaco Men's Mega Z Cloud Sandal, Askew hunter, 11 M US
Columbia Men's Silver Ridge Convertible Pants, 34" x 30", Major
Columbia Men's PFG Bahama™ II Long Sleeve Shirt, Sail, Large
Onyx 122200-505-020-15 MoveVent Dynamic Paddle Sports Life Vest, X-Small/Small, Aqua
There's quite a bit to cover when discussing what to wear kayaking in the summer. So to keep things somewhat organized, we're going to start at the feet and work our way up!
Check Price on Amazon
Many novice kayakers make the mistake of wearing regular sandals or going barefoot in their kayak. While you can certainly do this with minimal discomfort, there are a few great reasons to invest in a pair of adventure sandals (or even kayak booties!).
For starters, these sandals typically have a large heel that helps to cushion your foot from the plastic on your kayak.
As you spend more and more time in your kayak, you'll start to realize that setting your bare heels on the plastic of your kayak for multiple hours is far from the most comfortable solution.
Additionally, adventure sandals are always strapped to your feet in case you unexpectedly capsize and need to exit the water on a rocky shoreline. This scenario can be extremely uncomfortably in bare feet and often results in lost items if you're trying to do it in regular sandals.
While Chaco and Teva are two of the most well-known adventure sandal brands out there today, there are a host of others to choose from. Some of our favorites include Luna Sandals and Xero Shoes.
Lastly, a good pair of kayaking booties can come in handy year-round.
We often use ours throughout the summertime if we're going out for a sunset paddle because they keep our feet warmer as the sun sets and the temperature starts to drop.
Check Price on Amazon
The more popular pant choice for beginner kayakers is typically boardshorts. And while you can certainly wear the same shorts for kayaking as you'd wear just hanging out on the beach and sipping Mai-Tais, there are good reasons why you should consider another option.
Guide pants or hiking pants with zip-off legs are our preferred choice for summer kayaking pant wear because it provides the most versatility. You can start with pants on a cooler morning and zip off to shorts as the day heats up.
Or, you can start in shorts on a particularly warm morning and zip the legs back on during the heat of the day to avoid getting sunburnt on your legs.
Since we're talking about it, the tops of the quads are one of the most commonly sunburnt areas for new kayakers during the summer.
This is because your normal boardshorts will slide up a few inches when you're sitting in your kayak. And many of us forget to apply extra sunscreen on an area of our legs that is usually covered by our shorts.
Hiking pants with zip-off legs are the best choice for summer kayaking attire because they're versatile. They also breathe well enough to keep you cool when you're out of the water and they dry relatively quickly if you do happen to go for a swim.
Check Price on Amazon
We know you might like to work on getting that summer tan on your shoulders but, after a while, it's important to cover up to keep from burning. This is why a long-sleeve fishing shirt is our top choice for upper body attire for summer kayaking.
These types of fishing shirts are typically made of polyester or another non-cotton fabric that offers great breathability and the ability to dry quicker than cotton. Many also have mesh panels on the back that keep you cooler on hot days.
A fishing shirt like the Columbia Bahama also allows you to roll up the sleeve and secure them midway up your bicep. This gives you the ability to use it as a long or short sleeve option, depending on your preference.
We love items that can serve multiple purposes and we recognize that not everyone will feel comfortable in a long-sleeve shirt when it's nice and warm outside.
But when the heat of the sun starts to feel uncomfortable on your skin, you'll be glad you can roll your sleeves down and minimize exposure.
Many of these fishing shirts also have their own SPF rating of 30 or more. So they can also help you minimize your use of sunscreen throughout the entire summer.
Check Price on Amazon
If we're being completely honest with you, there's NEVER a good time to kayak without a proper PFD. The vast majority of kayaking incidents that result in really bad outcomes could have been prevented if the kayaker was simply wearing a properly-fitted (and
properly rated
) PFD.
PFDs save lives and it's really as simple as that. But many beginners don't like to wear them during the summer months because they can trap more heat near the body and make it uncomfortable to paddle.
This is where it can be beneficial to make an additional investment up front to make sure you get a PFD that offers good ventilation during the summer months.
Many higher-quality designs have a mesh back that keeps you cooler and also makes it more comfortable to wear while you're sitting in a kayak.
Over the years, we feel confident that you'll come to love the added benefits of always wearing a PFD, such as storing your snacks or fishing tackle in their zippered chest pockets. If you're shopping for a new PFD, be sure to check out our list of the best kayak PFDs!
Check Price on Amazon
Your hands are arguably the body parts that get the most UV exposure while kayaking during the summer.
When you combine that exposure with the fact that they go through a constant process of getting wet and then drying, summer kayaking can often lead to cracked skin or uncomfortable blisters on your hands.
This is precisely why we recommend getting yourself a nice pair of lightweight paddle gloves for summer kayaking. These gloves are thin enough so that they don't make your hands too hot but also thick enough to provide added sun protection.
Most of them also have grippy fabric or padding on the palms that make it easier to hang onto your paddle when it gets wet. This padding can also reduce hand fatigue on longer summer kayaking expeditions.
Paddle gloves are available with or without fingers, depending on what you prefer. Many kayak anglers prefer fingerless gloves because they can maintain the dexterity they need to change their tackle and handle a fish when they reel one in.
If you're relatively new to kayaking, fingerless gloves can also have the benefit of making it easier to do everything associated with kayaking.
This includes opening and closing dry bags, handling your water bottle, opening a granola bar, and anything else that requires more finger dexterity.
Check Price on Amazon
Upon first glance, you might think that a neck gaiter or Buff is an item that's more appropriate for paddling in cooler weather. But we're all about minimizing sun exposure here, and a neck gaiter can also be used to keep you cooler while kayaking during the summer.
Many kayak guides that don't necessarily like having their peripheral vision impaired by a bucket hat will prefer to wear a standard ball cap while paddling.
The problem with this approach is that a ball cap won't provide sun protection for your ears of the back of your neck.
A neck gaiter or Buff is the perfect solution to this issue. It can be worn around the neck until you want to pull it up and over the top of your ball cap to protect your neck and ears from UV exposure.
When it gets really hot outside, you can just pull the neck gaiter off and dip it in the water before putting it back on your neck and over your head. This is a great way to cool down without having to go for a full swim while paddling during the summer.
This also doesn't even mention the fact that a Buff can always be used as a quick face mask if you have to perform any type of emergency first aid care that requires full PPE. In this day and age, an on-the-go face mask is a must!
Check Price on Amazon
Sunglasses are a must when kayaking during any time of the year and if you're going to invest in a nice pair, you better make sure they are polarized.
Even if you're wearing a hat to keep the sun's rays from hitting your eyes directly, they'll often reflect off the surface of the water and can impair your vision if you don't have a quality pair of polarized sunglasses.
Polarized sunglasses have vertical "openings" in the lenses that allow light through. This essentially means that only the light that approaches your eyes vertically can penetrate the lenses and this is why polarization helps to reduce glare.
The lenses in polarized sunglasses stop any light that is reflecting off surfaces and traveling horizontally. The effect is less glare and also less harmful UV rays reaching the cornea of your eyes.
For our money, the Rheos Gear Sunglasses are one of the best options out there for kayaking in summer. They offer polarized nylon optics that provide a clearer view than if you were looking through glass and they also reduce glare from light reflecting off the water.
But the best part of these sunglasses is that they'll float if you accidentally drop them in the water.
Using an ingenious design, these sunglasses actually weigh less than the amount of water they displace when dropped in the water, which may sound like complex science but simply means that you won't lose them to the depths if you drop them!
Check Price on Amazon
Keeping the sun off your face and neck is critical to an enjoyable summer kayaking experience. Even if you prefer to lather up on sunscreen before every paddle, a wide-brimmed hat is the easiest way to reduce UV exposure to your face and neck while paddling.
Most summer paddling locations don't offer all that much in the way of shade to stop and rest in. So a wide-brimmed hat is the best way to manufacture and take your own shade with you everywhere you go.
When choosing one of these hats, you should also look for something that offers a partial-mesh design around the top of the hat itself. This will help ventilate your head and keep you from overheating on the hottest of days.
And if you do go with a wide-brimmed hat, you have to make sure it has a drawstring that allows you to cinch it tight when needed. Otherwise, this type of hat is sure to blow away when the winds pick up.
It should be noted, however, that some experienced kayakers don't like wide-brimmed hats for paddling because they can sometimes impair your peripheral vision while on the water.
This can be troublesome if you're paddling in an area with a lot of boat traffic and you feel that it's important to keep your head on a swivel!
If you're worried about this or you've already had a similar experience with a wide-brimmed hat, consider the alternative ball-cap-plus-neck-gaiter solution that we outlined under heading #6 above!
Check Price on Amazon
This should really go without saying, but we need to mention it anyway. Even if you follow the rest of our recommendations for covering up while summer kayaking, you should still be applying sunscreen to your nose, ears, hands, and feet before every paddle.
Check Price on Amazon
Bug spray is one of those items you really only need to "wear" if you know you'll be paddling in particularly buggy locations. But if you do put on bug spray before your summer paddles, try to choose a more natural, non-DEET solution!
How To Prepare For Temperature Swings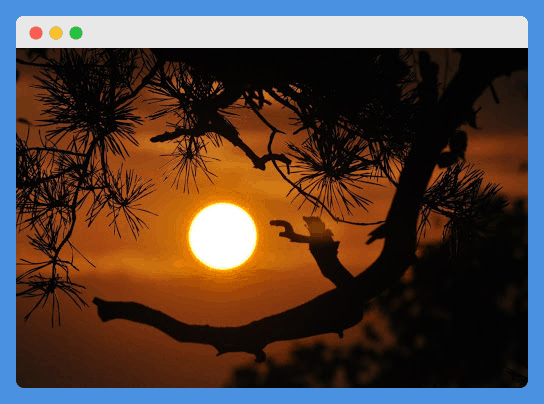 The reality of summer weather is that it often comes with significant daily temperature swings. If you're in the mountains, for example, daytime temperatures might climb into the 90s while evenings still cool off down to the upper 40s.
Depending on where you do most of your summer paddling, it can be essential to prepare for these temperature swings.
If you go out for a sunrise or sunset paddle, for example, you're likely to experience a large temperature swing just during the time you're on the water.
These temperature swings mean you need to bring more layers on your kayak to be prepared and comfortable when the temperature drops (or rises!). One of the best ways to keep your additional layers dry is to get one of the best kayak deck bags you can find.
A nice deck bag will not only help you prepare for summer temperature swings, but it will also give you a safe place to store cooking and sleeping gear when packing your kayak for an overnight camping trip.
As a general rule, we always bring at least one lightweight down jacket or windbreaker on every summer paddle, even if it's during the absolute heat of the day.
If you're going on a longer adventure, we recommend bringing at least one complete set of dry clothes in case you capsize and need to make a change to get dry and warm again.
Final Thoughts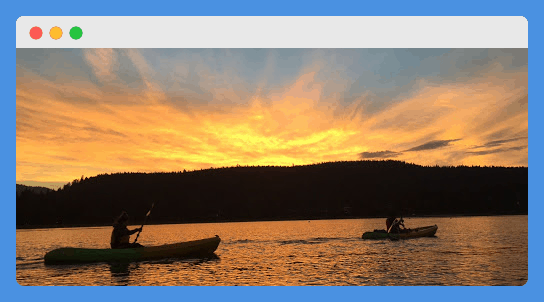 We don't mean to bring up these dangers of UV exposure to scare you away from kayaking in the summer. But if you choose the right things to wear kayaking in summer, you'll be protected and able to really enjoy your experience.
We hope you found these clothing suggestions useful and we wish you the best of luck with all of your summer kayaking adventures!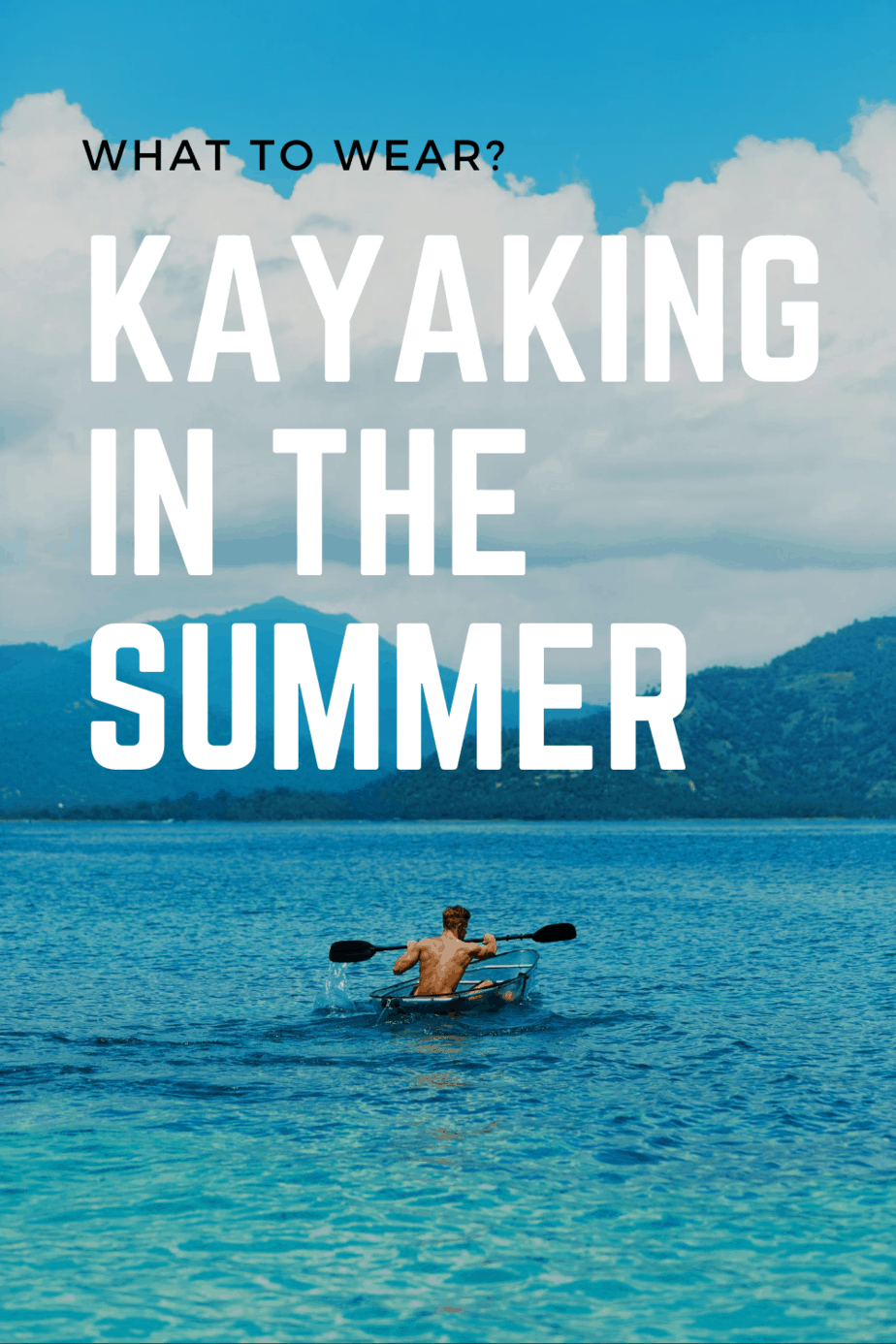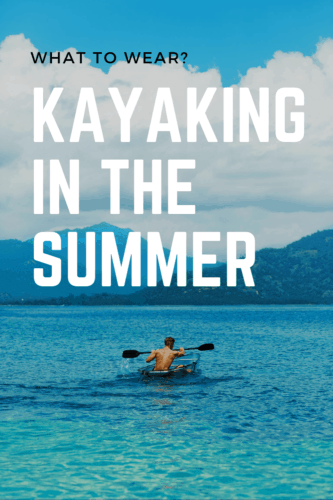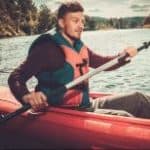 Author: Peter Salisbury
Pete is the Owner of KayakHelp.com. Born and raised in Cleveland, Ohio, he grew up kayaking, fishing, sailing, and partaking in outdoor adventures around the Great Lakes. When he's not out on the water, you can find him skiing in the mountains, reading his favorite books, and spending time with his family.