Wearing a life jacket while kayaking is critical. It will protect your life, especially if you like to venture into higher-class rapids.
Even if you know how to swim, wearing a personal flotation device is necessary. However, finding a comfortable life jacket isn't always easy.
Today, I'll show you the 15 most comfortable life jackets for kayaking. If you have been avoiding wearing a life jacket because you can't find one that feels comfortable, this article is for you.
Why You Need to Wear a Life Jacket When Kayaking?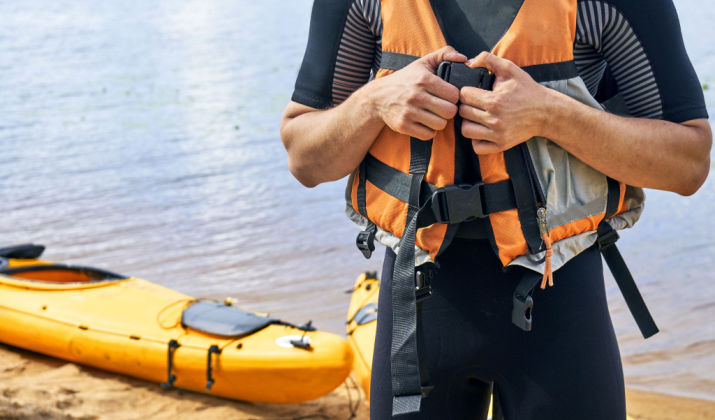 Image Source: Shutterstock
Why do you need a life jacket in the first place? Many people don't bother putting on life jackets, but that's a big mistake that can cost you your life.
Here is why you need to buy a life jacket for kayaking, regardless of how good you can swim and what kind of kayaking you're doing.
It Will Keep You Safe
A life jacket will keep you safe on the water. You may be able to swim, but you never know what the water conditions will be like.
You can get caught in a strong flowing current that makes swimming difficult. Alternatively, you may want to venture further away from the shore, and swimming all the way back to the coast can be too tiring and challenging.
A life jacket will help you stay afloat until people can come to rescue you. It will also allow you to take a break from swimming if you need to swim back to shore.
Protects You From Cold Water Shock
You might wonder why you need a life jacket if you are a good swimmer. The truth is that many people suffer from cold water shock, which can occur if they are suddenly submerged in cold water.
Your body might shut down, and you may be unable to swim. Besides, even if you manage to swim, most people will find themselves no longer able to swim after just 5-30 minutes, depending on how cold the water is.
This is known as "swimming failure." If the water is icy, cold shock can set in and cause death in as little as a few minutes!
Fortunately, you're most likely not kayaking in such cold waters.
When submerged in cold water, blood flow to the limbs is restricted. Hypothermia is a real risk and one of the many dangers of kayaking, but a life jacket can help you stay afloat, even if you can no longer swim.
Many people don't realize the real risk of hypothermia when swimming in cold water. Most people think the water has to be freezing for that to happen, and if the day is relatively warm, there is no real risk.
The truth, however, is that you can develop hypothermia in waters as warm as 70 degrees Fahrenheit.
Offers Greater Flexibility
Not only does a life jacket keep you safe, but it offers you greater flexibility and allows you to try out new things. Without a life jacket, you might be extra cautious and avoid traveling far from the shore or into more dangerous rapids.
You'll be more willing to take new risks and have more fun when you know you have a life jacket to protect you.
Do It for Your Kids
Image Source: Shutterstock
If you are taking kids with you on your trip, a life jacket is even more critical, as it will help keep them safe.
Besides, you want to set a good example for your children. You'll be showing them that complying with the law and taking preventative measures is how you live your life.
It May Be Required by Law
Depending on which state you live in and in which waterway you kayak in, you may have to wear a PFD as per the law. Note that requirements, especially age-related requirements, can vary from one state to another.
Similarly, the penalty for kayaking without a PFD can vary. You may have to pay a fine if you are caught without a life jacket, so it's best to simply wear one.
Sure, it's more comfortable without a life jacket, but is it really worth it not to wear one? At the end of the day, it's your life that's on the line.
It's like wearing a helmet. Of course, it's more fun to ride a motorcycle or bike without a helmet, allowing you to feel the fresh breeze as you ride.
However, if you crash your motorcycle or bicycle while not wearing a helmet, you could end up in the hospital and even die.
If you don't ride motorcycles, think of it as wearing a seatbelt. A seatbelt can be uncomfortable at times, especially if it's a hot, sweltering day, and you're sweating away.
However, nobody thinks twice about wearing their seatbelts. Sometimes, a little discomfort is worth it.
Besides, in this article, you'll find the most comfortable kayaking life jackets that don't restrict your movements or feel bulky. There's definitely no longer any excuse not to wear one.
Check out these other kayaking rules and regulations you should know about. Also, check if you need a license for a kayak in your state.
How to Choose the Right Life Jacket?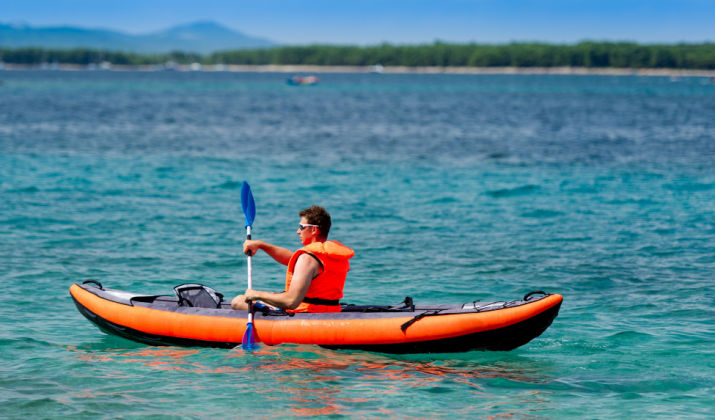 Image Source: Shutterstock
Choosing the correct life jacket isn't always easy. It's crucial to pick a life jacket that can keep you safe and doesn't restrict your movements or bother you while kayaking.
Here are the top things to look for in a life vest.
It's Certified by the US Coast Guard
USCG (United States Coast Guard) certification is an important thing to look for. I'm not saying that life jackets that don't have USCG certification are worthless – many are excellent, and most will save your life.
However, USCG certification ensures that the manufacturer has taken steps to get the life jacket approved by a regulating agency.
Note that other types of certifications may also exist. However, in some places, the law may require a USCG-certified life jacket.
It's Designed for Kayaking
Not all flotation devices are made for kayaking. Some are designed for swimming or other water sports, but they may not be ideal for kayakers who need to do a lot of hand movements.
One feature to look for is wide armholes, allowing for greater mobility. That will enable you to enjoy a broader range of motion while kayaking or canoeing.
Note that if you do extreme kayaking (on higher-class rapids), you'll want a life jacket that offers more buoyancy. That way, you can stay afloat even in raging rapids.
You'll also need to make sure the life jacket has adjustable straps that allow you to maintain a tight fit, so it doesn't come off in intense rapids.
It's Comfortable
Make sure the life jacket is comfortable. If it's too bulky, heavy, or thick, you won't look forward to wearing it.
A comfortable life jacket will be breathable and lightweight. It might feature mesh fabric, for example, to increase airflow.
It Offers UV protection
This isn't a must, but if the life jacket offers UV protection, that's a nice bonus. A UV coating will help protect your skin from sun damage, which is all too common when kayaking on sunny days, as there is often no shade to protect you from the sun's rays.
You should also consider wearing polarized glasses. We have an entire article on what to wear when kayaking in the summer, so check that out too.
Thumbnail
Title
O'Neill Men's Superlite USCG Life Vest,Black/Black/Smoke:White,XL
Onyx 121900-100-004-17 Universal Paddle Vest - Red
Old Town Canoes & Kayaks Solitude Men's Life Jacket (Red, L/XL)
Stohlquist Waterware Fit Adult PFD Life Vest - Coast Guard Approved, Easily Adjustable for Full Mobility, Lightweight Buoyancy Foam, PVC Free | Adult Oversize/XL, Red & Gray
Airhead Wicked Kwik-Dry NeoLite Flex Lift Jacket | US Coast Guard Approved, Designed for Water Sports, Youth & Women's
Most Comfortable Life Jackets for Kayaking
Check Price on Amazon
A #1 bestseller on Amazon, this life jacket is approved by the US Coast Guard and is made of Type III nylon. It's incredibly lightweight, so it won't weigh you down.
It's available in many sizes, although you'll have to check on Amazon for specific size availability. Furthermore, it comes in 14 colors, including:
Black/berry
Black/smoke
Black/lime
And others
With a coated nylon outer shell and four belts with quick-release buckles, it's easy to fasten and release the vest and adjust the fit.
Here is the women's version of this life jacket.
Check Price on Amazon
This life jacket is not only comfortable, but it's great for sun protection in the summer and warmth when kayaking in cold weather. Made of 2.0 mm neoprene that is lightweight, soft, and tear-resistant, this vest offers UPF 50+ protection, preventing UVB and UVA rays from harming your skin.
One of the things that make it great for kayaking is its large holes for your arms, allowing you to paddle quite easily with no restrictions or limitations. With the handy size chart, you'll be able to select the size that fits you best.
With two adjustable belts and a front zipper, the vest comes in several colors, including gray, red, and blue (availability can vary).
Check Price on Amazon
This life jacket comes with an upper back made of foam and a lower back made of mesh, allowing for the perfect combination of breathability and comfort when sitting on seats with tall backrests on kayaks or canoes.
In the big front pocket, you can store some of your equipment. You can use the six adjustable straps to get the perfect snug fit, and it's available in red and aqua blue.
Check Price on Amazon
With a recessed and contoured chest area, this woman's life jacket is designed to make paddling as comfortable as possible. Made of nylon, it features adjustable shoulder straps that allow you to achieve the most optimal comfort fit while paddling for hours.
It also has adjustable waist and side straps, allowing you to achieve a snug fit around your body.
With fleece-lined hand pockets, you can keep your hands warm on cold days, preventing the onset of hypothermia. With a high-back construction that supports your back while sitting on tall seats, the kayak also has an AirComfort breathability system that helps you stay cool on hot days.
If you use an Old Town kayak or canoe, this life jacket will be excellent, as it's designed to be compatible with the seat designs of Old Town boats. However, you can certainly use it on other watercraft from other manufacturers as well.
There are two zippered pockets that allow you to store valuables, and there are also D-ring and cord loop attachment points.
Check Price on Amazon
This life jacket is the men's version of the previous product. Certified by the US Coast Guard and made of Type III nylon, it has all the benefits of the previous product but with a slightly different shape, made for men rather than women.
Whether you're going fishing on your kayak or simply taking a nice float trip upstream, this life jacket allows for comfortable paddling on any type of water.
Check Price on Amazon
With a thin back panel and a non-restrictive cut, this life jacket is designed to offer maximum mobility and flexibility. The foam corners are rounded, and the PFD features box-stitched webbing.
Approved bvy the USCG, this life jacket weighs just 1.6 pounds, so you'll barely feel it, even on hot, sweaty days. With a three-strap design and front buckles that are easy to open and close, the PFD comes in a universal size, which means you don't have to worry too much about which size to buy.
Check Price on Amazon
Sold by Airhead, this life jacket is perfect if you go on adventurous kayaking trips and fall into the water often. Made of quick-dry materials, the fabric is super soft and comfortable, and the overall design is not bulky.
With a front zipper and side release buckles, this PFD offers a comfortable fit while allowing you to stay dry all day. The material is also designed to keep you nice and warm on cold autumn days.
It may run a little small, but the size chart will definitely come in handy when buying the jacket. You can get the jacket in pink, white, or black, and it's available for both adults and teens.
Check Price on Amazon
Available in pink, black, blue, green, and orange (different colors are available for kids and adults), this buoyancy vest will help you keep afloat while kayaking. The bright colors are by design – they're made to help you be seen when you are in danger.
Made with a PVC liner and wear-resistant nylon on the outside, this vest is excellent not only for kayaking but for other water sports activities too.
The inner-liner mesh material and fabrics ensure that the life vest is breathable, soft on the skin, light, and comfortable to use. The zipper is smooth and easy to move up and down, and the adjustable straps and buckles allow you to adjust the fit.
One of the cool features of this buoyancy vest is the quick inflate/deflate tube that you can use to inflate your vest within 10 seconds or less. Once you are done for the day, you can deflate it, making it easier to transport – it folds into the size of a book.
Suitable for people between 80-220 pounds, both adults and kids can use this vest. Note that the product has passed American UL 1177-2011 certification, according to the manufacturer.
Check Price on Amazon
This life jacket features shoulder pads to add comfort in the shoulder area and a lower mesh back to accommodate high back seats. The shoulder straps can also be adjusted, and the vest itself is made of lightweight foam and heavy-duty nylon fabric.
The zip assist loop helps you zip the life jacket, and the jacket is USCG-approved.
Not only is this life jacket super comfortable, but it also focuses on increasing safety. Its attached whistle means you can signal for help without needing to buy a separate whistle, and the jacket is made of SOLAS-grade reflective materials that help you stay visible.
With large armholes and mesh ventilation, this breathable life jacket can be used for all-day paddling without any discomfort. It allows for an extended range of motion while paddling and lots of freedom of movement, according to reviews.
Check Price on Amazon
This purple life vest by O'Brien uses 1.5 mm neoprene. With multiple hinge points and segmented panels on the back and front, it allows for greater freedom of movement.
It also features wide armholes, making it perfect for kayakers who need to move their arms around a lot.
Approved by the Coast Guard, this life jacket has a zippered front and two buckle straps.
Check Price on Amazon
This minimalist life jacket has a different design than the others featured on this list so far. It doesn't have any back or side panels, only front panels, although it has straps on the back and around the waist to secure the life jacket in place.
That makes the jacket super comfortable and breathable. If life jackets make you hot and sweaty, this one might be a good option.
With a manual inflation handle that you can pull to inflate the jacket in just three to five seconds, this jacket is lightweight and easy to transport. It even comes with a whistle, making it easy to be seen and found.
The SOLAS-grade and CE-certified 3M reflectors provide visibility at night as well.
The jacket is made of polyester, nylon, thermoplastic polyurethane, and neoprene. The zippered pocket makes it easy to store your keys and other personal belongings.
Check Price on Amazon
Here's another low-profile life jacket with only front and top panels. With automatic inflation, the life jacket will inflate as soon as you become immersed in water, making it super easy to wear while kayaking.
There is also a manual inflation handle that you just have to pull to inflate the life jacket, providing an extra degree of safety and protection. You can even turn off automatic inflation if you want, turning it into a manual-inflation-only personal flotation device.
Overall, this lightweight life jacket is great if you want the safety of a US Coast Guard approved life jacket but are looking for a PFD that isn't hot or bulky.
Check Price on Amazon
This life jacket is also unique, featuring an even more minimalist profile than the previous ones. It's actually just a belt pack that you can inflate, so it's not technically a jacket.
However, while certified by the US Coast Guard as a Type 5 life jacket, it offers Type 3 performance, helping you stay buoyant on the water but without the heaviness and uncomfortable feeling associated with many Type 3 life jackets.
Using this low-profile life jacket is easy. Simply wrap it around your waist; when fully inflated, it can provide buoyancy of up to 26.5 pounds.
It's designed primarily for stand-up paddleboarding and kayaking. It's best for gentle waters that pose a low risk, though.
Check Price on Amazon
This is a fabulous life jacket that folds into a belt pack but inflates into a Type 3 vest-style life jacket that you can pull over your head. It inflates in just seconds and features a mesh back panel for ultimate comfort.
This life jacket is not only comfortable, but it's easy to pack and transport once you're done.
Check Price on Amazon
Perfect for patriots, this life jacket is available for children, teenagers, and adults. It features open sides that allow for more significant maneuverability and freedom of movement while keeping you cool.
With three adjustable straps and a design that isn't bulky, this USCG-approved life jacket will help you stay safe on the water. The children's version even comes with a crotch strap for extra protection.
The soft material is stain-resistant and offers UV protection.
Conclusion
Choosing the right life jacket is critical, as it will allow you to kayak comfortably while staying safe. Before you select any life jacket, make sure to read reviews and see what previous customers are saying.
If you liked this article, please share it with a friend!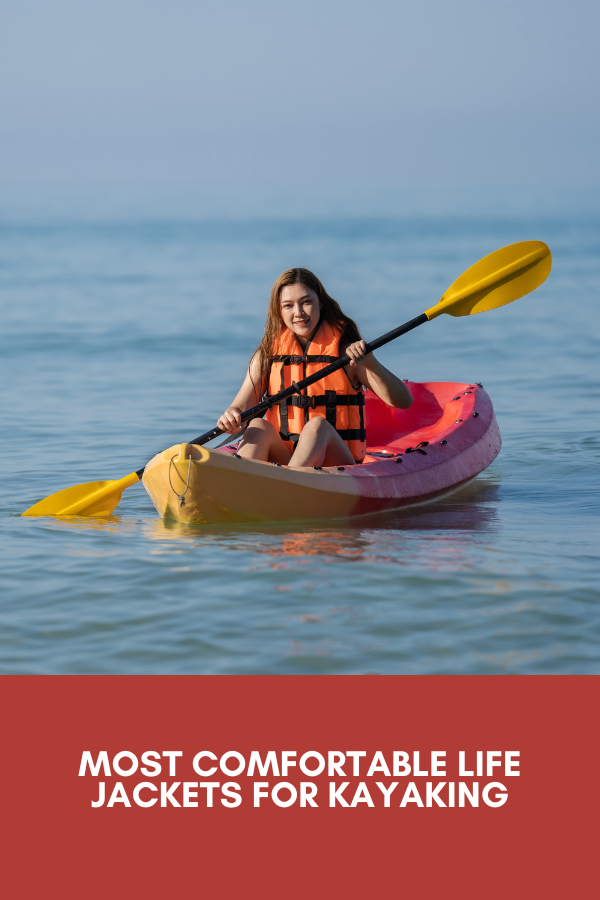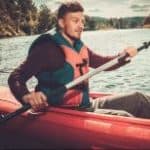 Author: Peter Salisbury
Pete is the Owner of KayakHelp.com. Born and raised in Cleveland, Ohio, he grew up kayaking, fishing, sailing, and partaking in outdoor adventures around the Great Lakes. When he's not out on the water, you can find him skiing in the mountains, reading his favorite books, and spending time with his family.