Florida is well-known for its coastal waterways and inland passages. It's one of the best places in the world to see a wide variety of marine wildlife from the comfort of one of the best recreational kayaks.
But Florida is a pretty big state and the climate (and terrain) can differ quite a bit from north to south and east to west. So it's important to be prepared for what you'll encounter when visiting different regions for a Florida kayaking trip.
There's a lot to see in the Everglade State, so we've compiled a list of the best kayaking places in Florida to help you plan your next trip. We've also provided tips for what to wear, rules to follow, and general kayak safety later on in this article!
Best Kayaking Places In Florida
If you're visiting Florida for a kayaking trip, you should certainly plan some time to visit at least one of the best kayaking places in Florida!
Rainbow Springs State Park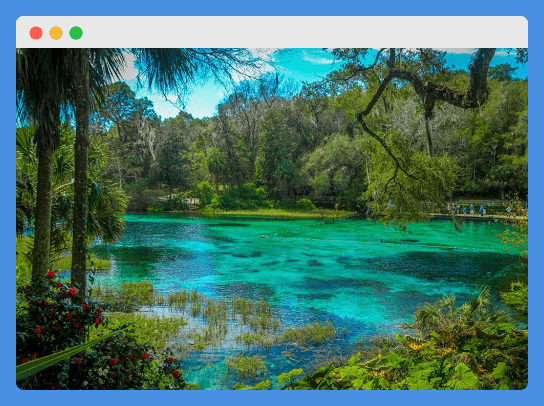 Rainbow Springs State Park is located in the northeast part of Florida and the closest town is Dunnellon. The closest major city is Orlando, which is approximately 1.5 hours to the southwest by car.
While it's now a beautiful state park, this area was once home to mining operations and a privately-owned tourist attraction. This park offers freshwater paddling and there are canoe and kayak rentals right inside the park.
The park does experience very high visitation during the weekends and major holidays. So the best time to go for a quiet, calming paddle is to arrive sometime during the middle of the week!
This park is an aquatic preserve, so visitors are expected to respect the land and keep a safe distance from any wildlife they encounter in the park. In addition to kayaking, the park also offers hiking, bird watching, camping, fishing, and a host of other fun experiences.
Blackwater River State Park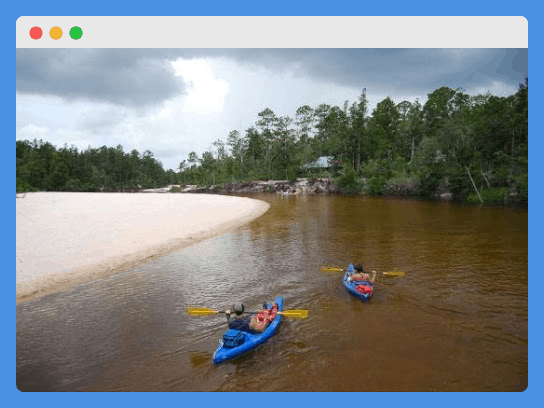 Blackwater River State Park is located in the panhandle of Florida and the closest town is Holt. If you're looking for a nearby major city to fly into, this park is located about one hour northeast of Pensacola, Florida.
If you're looking for a day kayaking adventure, the state park is a great place to start. The Blackwater Canoe Rental company is the closest vendor for renting kayaks or other paddle craft near the park.
But if you're looking for a more adventurous option, the Blackwater River Paddling Trail covers 31 miles of winding river through the Blackwater River National Forest.
The river is one of the most pristine sand-bottom rivers in the world and it has many beaches and sandbars to stop along during your paddle.
If you're interested in tackling a multi-day paddling adventure on the Blackwater River, we recommend further researching maps of the entire paddle trail.
Fortunately, there are also shuttle services available in the area to bring you back to your vehicle once you reach your pull-out destination.
Weeki Wachee Springs State Park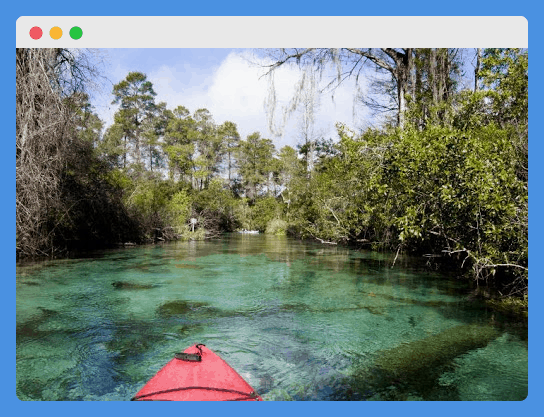 Weeki Wachee Springs State Park is a popular family vacation destination that also offers kayaking on pristine Florida waterways. It's located on Florida's eastern coast near the town of Spring Hill, but the closest major city would be Tampa, which is about an hour south.
You can enjoy freshwater paddling right in the state park and you can rent kayaks there as well. The park is actually home to the deepest freshwater cave system in the country and is also home to an abundant amount of protected wildlife.
Paddling on the Weeki Wachee River is a self-guided experience and guests can have the option to cover as much (or as little) of the 5.5-mile stretch of river in the park as they desire.
Turtles, otters, storks, pelicans, and manatees are just a few examples of wildlife you can spot while paddling here. And while there are alligators in the area, they tend to remain in marshy areas where guests are less likely to paddle.
Suwannee River State Park
Suwannee River State Park is located in the northern part of Florida and the closest town is Live Oak. But if you're looking to access this park by way of a major city, Jacksonville is about 1.5 hours to the east.
The state park actually lies at the intersection of the Suwannee and Withlacoochee rivers.
It has a lot of American history dating back to the Civil War, but the park is now home to a variety of rare and endangered wildlife species.
While there are no rental companies operating within the park, there several rental vendors available nearby. The best place to launch kayaks or canoes in the park is from the boat ramp.
Those of you looking for a multi-day paddling adventure in Florida should also check out the Suwannee River Paddling Trail, which covers a total of 235 scenic miles.
For more information on this trail, check out the Suwannee River Wilderness Trail Paddling Guide.
Silver Springs State Park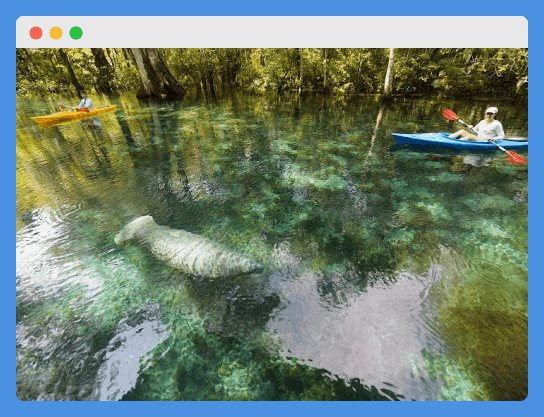 Silver Springs State Park is located in the north-central part of the state right near the town of Silver Springs. It's actually almost halfway between the bigger cities of Gainesville and Orlando, the latter of which is about 1.5 hours to the southeast by car.
The park is actually home to the largest springs in the United States and it attracts many visitors because of their famed glass-bottom boats.
While you can certainly opt to bring your own sit on top kayak, these boats are a fun experience because they offer clear views down to the waters beneath you throughout your paddle.
The park encompasses a total of 4,000 acres and visitors can paddle up to five miles of the Silver River within the park.
The park's well-managed sandhills are also a sight to see if you decide to bring your kayaks onto the shoreline for a brief time during your visit.
The Fort King Paddling Trail is one of the most popular routes followed by kayakers in the park. It covers a stretch of 1.1 miles around Ross Allen Island and many paddlers can cover that distance in one to two hours, but there are many springs to explore along the way!
Great Calusa Blueway Paddling Trail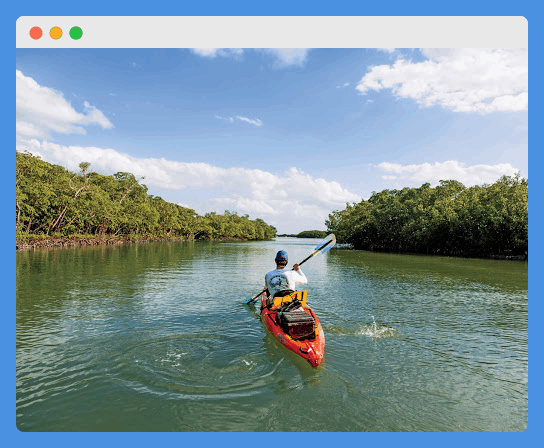 If you're an expert kayaker looking for an exciting new paddler adventure in Florida, the Great Calusa Blueway Paddling Trail covers a total distance of 190 miles in Lee County, Florida.
This stretch of trail will allow you to paddle on both coastal waterways and inland tributaries.
Most paddlers start this trail at the Pine Island Sound and work their way up to Estero Bay.
From there, the trail meanders further up the Caloosahatchee River and its tributaries, but it's fairly well-marked by brown-and-white signage along the length of the trail.
That being said, it's a great idea to start researching this trail by downloading the free maps for all three phases of the trail. From there, it's also a good idea to download the Pine Island Paddlecraft Launch Map to get a better sense of the many locations you can launch your kayaks to start the trail.
This trail offers abundant opportunities to view a variety of wildlife, including herons, seasonal white pelicans, year-round bald eagles, and much more. And, of course, you don't have to tackle the entire 190 miles in one stretch!
What To Wear
The heat and humidity in Florida can really take a toll on your body. So if you're heading out for a kayaking trip in one of the aforementioned locations, make sure you wear the appropriate kayaking attire.
Wide-Brimmed Hat
The Florida sun can wreak havoc on your face, neck, and shoulders if you're out for a long day of kayaking. So wearing a wide-brimmed hat will help you avoid having the skin on your shoulders start peeling after you go through the initial stages of an uncomfortable sunburn.
Because wind is always a possibility when kayaking in Florida, you should make sure to choose a wide-brimmed hat that has a drawstring. This allows you to tighten it down on your head if the wind does come up.
While some experienced kayakers complain about this type of hat impacting their peripheral vision when kayaking, we think this is a small price to pay for a hands-free accessory that keeps the sun off your face, ears, neck, and shoulders.
If you're looking for a wide-brimmed hat for your next Florida kayaking adventure, two of our favorite brands are Quiksilver and Outdoor Research. But you might also find something you like from Columbia, Folouse, or Sloggers.
Neck Gaiter or Buff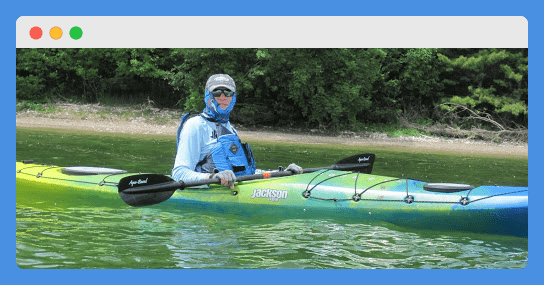 A neck gaiter or Buff is a great way to protect your neck and ears from the harmful rays of the sun while paddling in Florida. If you don't like wearing a wide-brimmed hat, you can pair a neck gaiter with a regular ball cap to keep the sun off of your head.
These gaiters also have the advantage of keeping you cool on warm days. You can always take yours off and soak it in the water next to your kayak before putting it back on to cool you down.
This is a great way to help with temperature regulation in the heat and humidity of Florida. And in today's day and age, you never know when you're going to need an impromptu mask to cover your mouth and nose as well.
We also love neck gaiters and Buffs because of their versatility. If you really need to, you can take them off to wipe up a mess or to help you apply pressure to a wound to stop bleeding if you find yourself in an emergency situation.
Long-Sleeve Fishing Shirt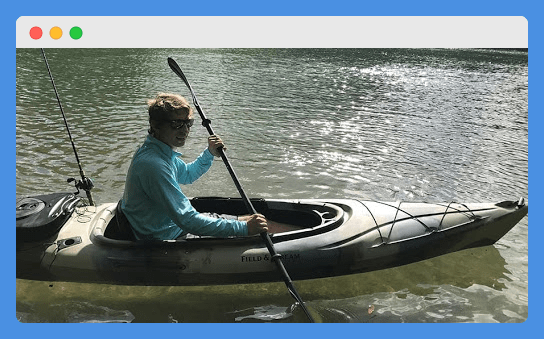 We know you probably love feeling the sun on your bare skin during the summer months.
But the sun's UV rays are most harmful during this time of year and, because of that, it's responsible to limit your skin's exposure if you're going to be kayaking for several hours.
That's why we recommend getting a lightweight, long-sleeved fishing shirt to wear when kayaking. These shirts breathe very well and some even have mesh panels on the pack and under the arms to promote better air ventilation and keep you cooler.
Because they're typically not made of cotton, these shirts dry fast whether they become wet from swimming or just your natural body sweat.
Many of them also give you the ability to roll up the sleeves and secure them at your biceps if you want to wear them as a short-sleeved alternative for part of the day.
If you're looking for one of these long-sleeved fishing shirts, Columbia and HUK are two of our favorite brands. But you might also find something you like from Vapor Apparel, Prethic, or Koofin Gear.
Pants With Zip-Off Legs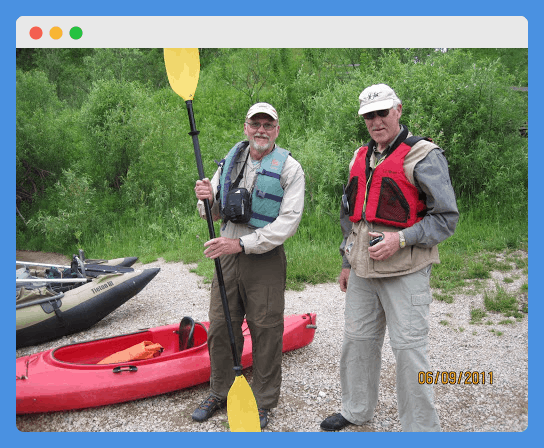 While you might think that paddling in full-length pants sounds hot, we recommend pants with zip-off legs because of their superior versatility.
You can still get away with paddling in boardshorts or bikini bottoms, but there are clear advantages to pants with zip-off legs.
For starters, these pants provide more sun protection than other options. Even if you start the day with them zipped off as shorts, you should always bring the legs in your kayak deck bag in case you want to protect your legs from too much UV exposure.
Additionally, these pants are very lightweight and they breathe well, so you won't have to worry about overheating in them. They also dry rapidly if you happen to want a quick swim to cool off.
Finally, these types of pants usually come with a multitude of cargo pockets. This allows you to bring along snacks and any other small gear or equipment that you want quick and easy access to while you're paddling.
Adventure Sandals
Adventure sandals are a must for a more comfortable kayaking experience. While you can get away with kayaking barefoot or in regular sandals, adventure sandals provide more comfort and safety when you need to get out of your kayak.
Two of our favorite adventure sandal brands are Chaco and Teva. But a few others that are also worth checking out include Keen, Crocs, and Xero Shoes.
These sandals are the best option for protecting your feet when paddling while also keeping you cool. We love them because they provide protection for your feet and toes if you ever have to exit your kayak unexpectedly.
You can always go with a less expensive form of water shoe or closed-toed sandal as well. But another plus of this type of sandal is that you'll be able to rock one of the more unique tan lines around!
A Properly-Fitted PFD!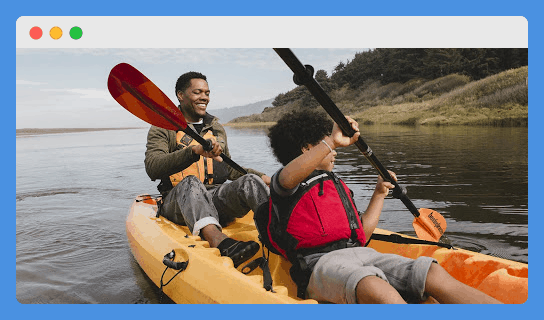 Lastly for this section, we have to mention that you should always wear one of the best PFDs when kayaking in Florida (and anywhere for that matter!). But you also need to make sure your PFD is fitted properly so that it does its job if you go for a swim.
The exact method you should use to fit your PFD will depend on the style of the PFD itself. But, as a general rule, a PFD should provide a minimum of five pounds of flotation for every 100 pounds of body weight.
Fortunately, most PFDs provide 2-3 times more flotation than the absolute minimum for your body weight. But you should look into the proper amount of flotation for a PFD by reading this article.
That being said, every PFD should always be tightened to the point where the shoulder straps aren't able to rise above your ears if you lift up on them.
You can always get a partner to help test the tightness, as this is the best way to simulate what will happen to your PFD when you jump in the water.
Florida Kayaking Rules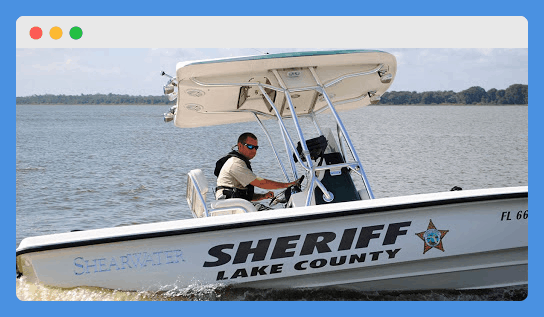 The exact regulations you must follow will obviously depend on the region where you intend to paddle. So it's important to research the regulations in your area before you go kayaking.
Nevertheless, we want to take a few paragraphs here to highlight the most important regulations that are almost universally recognized no matter where you decide to paddle in Florida.
PFDs
All paddle craft and motorized vessels on any waterway in Florida must have at least one PFD onboard for each person.
Visibility
If you're on the water between sunset and sunrise (or during other periods of low visibility), all watercraft must carry a flashlight, lantern, or signal beacon onboard.
Sounding Devices
All watercraft under 16 feet in length must have a way of producing a sound while on the water. This can be as simple as a lifeguard whistle or as large as a foghorn.
Boating Under The Influence (BUI)
Florida has boating under the influence (BUI) laws. The legal limit for a BUI in Florida is 0.08% BAC if you're over 21 and 0.02% if you're under 21.
Operator Licensing
There is no minimum age to operate a kayak in Florida.
Visual Distress Signal (VDS) Law
In Florida, watercraft under 16 feet in length must carry three nighttime VDS if paddling on coastal waterways. Vessels over 16 feet in length must carry three nighttime VDS and three daytime VDS when on coastal waters.
Other Kayaking Tips
So now that you know where to paddle and how to follow Florida's kayaking rules appropriately, let's touch on just a few more basic kayaking tips you can use on your next visit to the best kayaking places in Florida.
Get Dry Bags!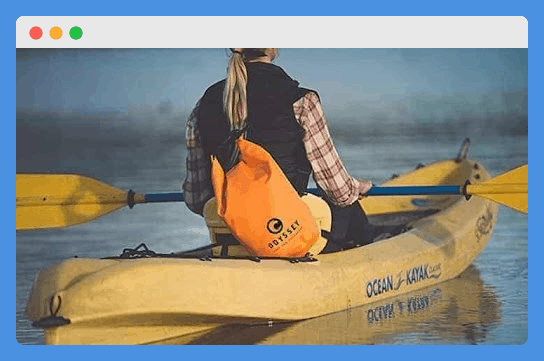 One of the best parts about kayaking in Florida is the opportunity to spot a lot of wildlife that you can't see anywhere else. And the natural tendency is to want to take pictures when you spot something really cool!
This is why you should get dry bags to keep your phone safe and dry until you need to take a photo. Getting dry bags before your trip will also give you a place to keep other gear and backup clothing so that you're more prepared while you're on the water.
Wear Sunscreen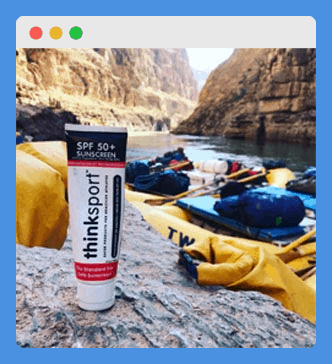 Even if you follow our tips for what to wear while kayaking in Florida to a 'T', wearing sunscreen is still recommended to protect your skin. If possible, look for something with an SPF (sun protection factor) higher than 50.
A sunscreen's SPF simply recommends the maximum amount of time you should wait to reapply after putting the first layer on. If you're looking for an environmentally-friendly sunscreen option, we recommend looking into Blue Lizard Mineral Sunscreen.
Bring Bug Spray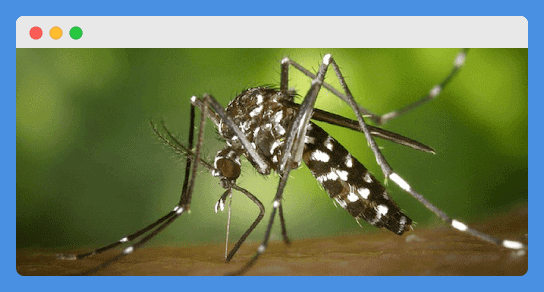 As you might imagine, mosquitoes can be abundant in Florida depending on the season you choose to paddle in.
Spring and early summer are almost always breeding season for mosquitoes, so if you really don't like these guys pestering you, you might plan your Florida kayaking trip for late summer, fall, or even winter.
But no matter when you head down to check out Florida's coastal waterways or inland tributaries, we highly recommend bringing bug spray with you. If you're looking for a more natural solution, we recommend this Deet-Free Herbal Armor from All-Terrain.
Respect The Wildlife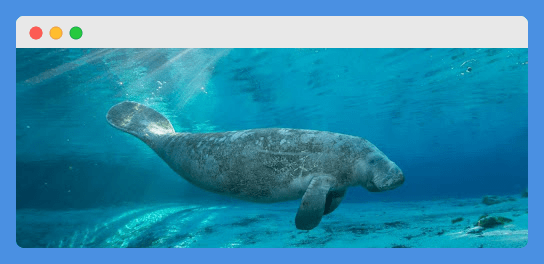 Our last tip for kayaking in Florida is to be respectful of the wildlife you encounter on your trip.
Many of these iconic Florida kayaking destinations are well-known for their abundance of wildlife, but this will only remain the case if visitors respect the native inhabitants of these areas.
This means keeping a safe distance, not feeding any wildlife, and packing out trash from any food, snacks, or water that you bring on your trip.
For more thorough guidelines on being a responsible environmental steward, read through the 7 Leave No Trace Principles set forth by the Center for Outdoor Ethics.
Final Thoughts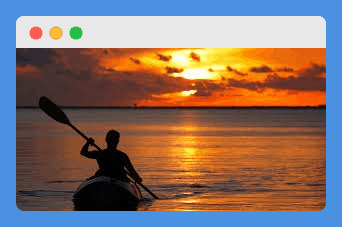 Depending on where you decide to paddle, you shouldn't miss out on the opportunity to catch a sunrise or sunset from the water while you're in Florida!
We hope you've found the information in this article useful and we wish you the best of luck on your next visit to one of the best kayaking places in Florida!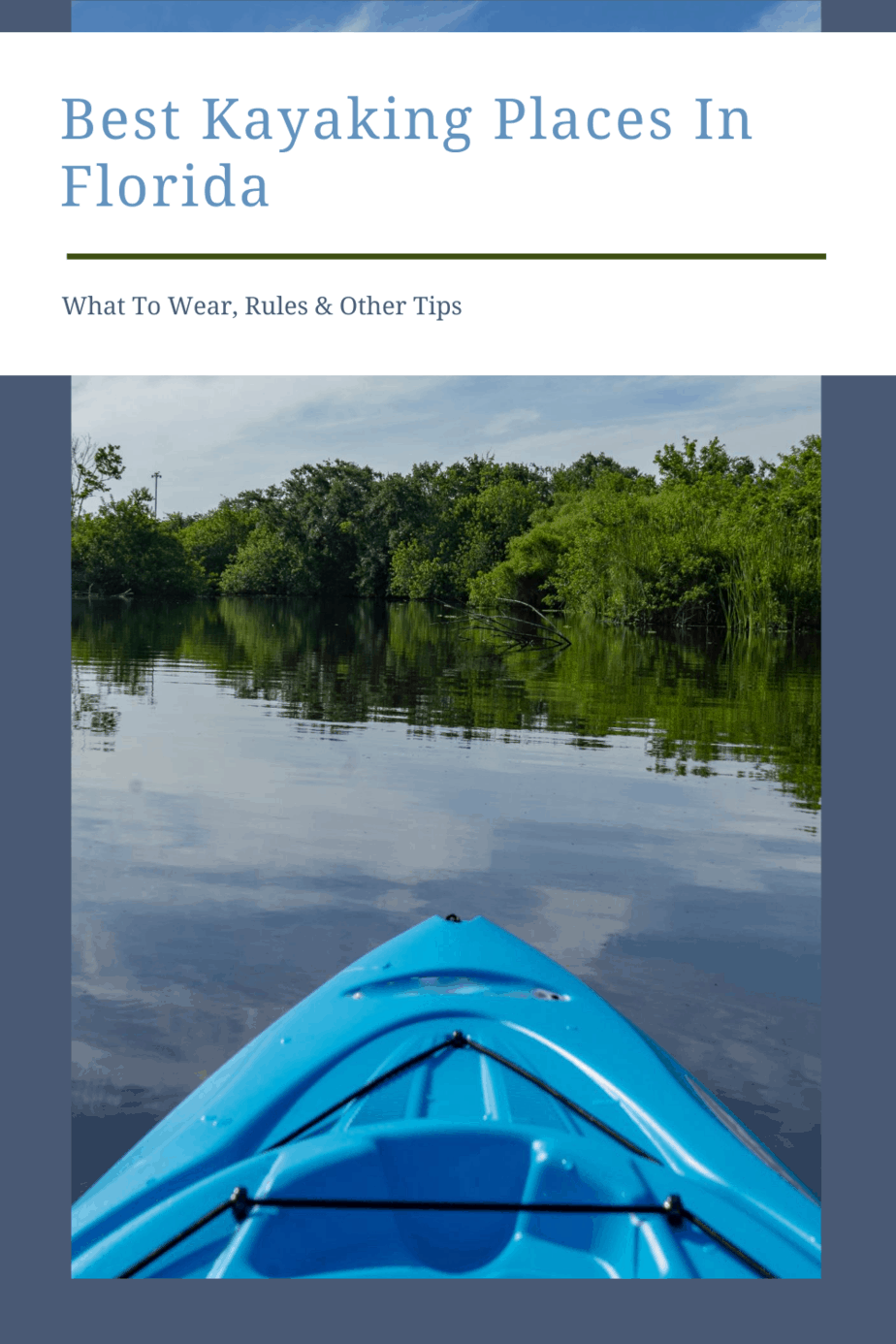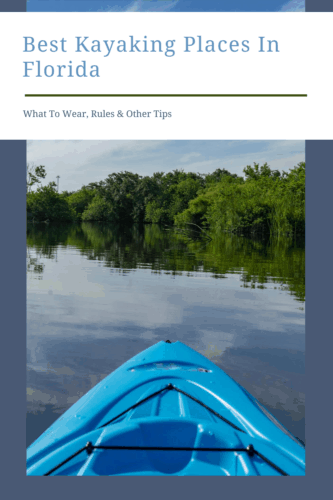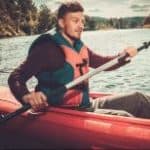 Author: Peter Salisbury
Pete is the Owner of KayakHelp.com. Born and raised in Cleveland, Ohio, he grew up kayaking, fishing, sailing, and partaking in outdoor adventures around the Great Lakes. When he's not out on the water, you can find him skiing in the mountains, reading his favorite books, and spending time with his family.