Not all fishing kayaks are created equal because there are a lot of different environments where anglers search for their prey. The different types of kayaks for fishing are all meant to help anglers in the specific environments that they like to fish.
It is just natural for river fishing kayaks to be designed a little bit differently than ocean fishing kayaks. However, there can be variety within those niches based on cockpit style, hull design, and much more.
So we are going to use our time today to dive deeper into all the variations amongst fishing kayaks. If you are getting ready to invest in a new watercraft for your fishing endeavors, we'll provide some of the best uses for these kayaks under each specific type.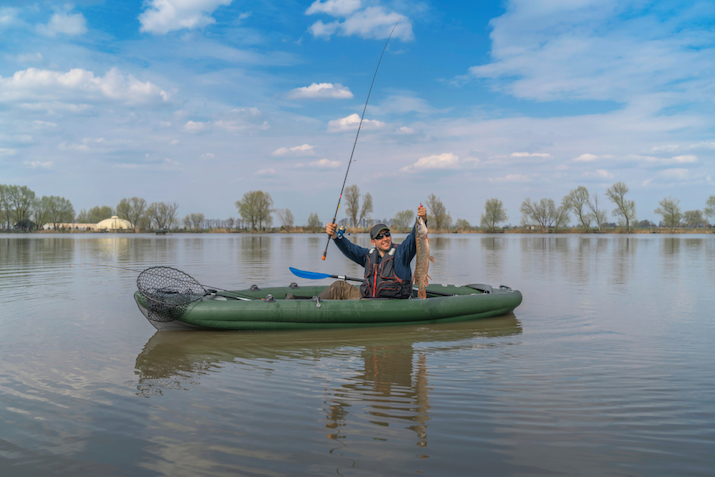 Photo by FedBul via Shutterstock
Different Types of Kayaks For Fishing
Sit-on-top Fishing Kayaks
Fly Fishing Kayaks
Bass Fishing Kayaks
Tandem Fishing Kayaks
Inflatable Fishing Kayaks
Sit-Inside Fishing Kayaks
Standup Fishing Kayaks
Pedal-Driven Fishing Kayaks
Outrigger Fishing Kayaks
Freshwater Fishing Kayaks
Saltwater Fishing Kayaks
Fishing Kayaks with Stern-Mounted Electric Trolling Motors
Fishing Kayaks with Bow-Mounted Electric Trolling Motors
Fishing Kayaks with Center-Mounted Electric Trolling Motors
Fishing Kayaks with Outboard Motors
Types of Kayaks For Fishing
1. Sit-on-top Fishing Kayaks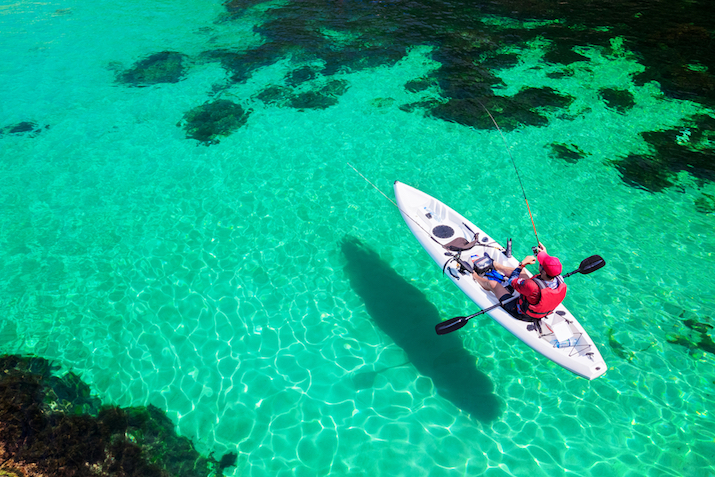 Photo by Kuznetcov_Konstantin via Shutterstock
Sit-on-tops are the most popular type of fishing kayak and they come with a lot of variation. They are great for beginners because they offer a lot of stability and are also easy to climb back into if you go for a swim or fall out accidentally.
You will find sit-on-tops with seats that are sunken into the open cockpit and others with elevated, aluminum-framed seats. The latter tend to be better for taller anglers and also give you a higher vantage point from which to sight fish.
Sit-on-top fishing kayaks also tend to be among the most affordable options out there and they can be versatile for multiple paddlers. So they can be a good choice for families if they are frequently used by individuals of different sizes.
2. Fly Fishing Kayaks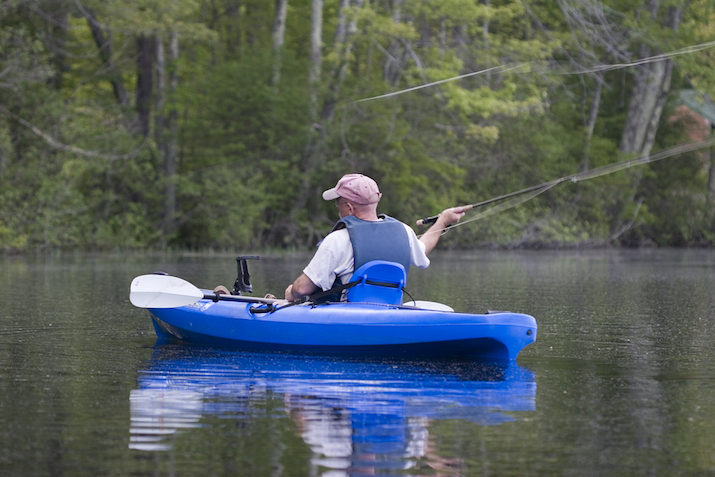 Photo by Gary Boisvert via Shutterstoc
Fly fishing kayaks need to be stable on flat water and also able to handle gently moving rivers. Because of this, they offer a good balance between the stability of a sit-on-top kayak and the maneuverability of the best whitewater kayaks.
These fishing kayaks also tend to be relatively short so that they can fit up smaller creeks and streams. Because many of these waterways can be quite shallow, most fly fishing kayaks have a relatively shallow and flat hull so that you can navigate shallower waters.
You will sometimes find fly fishing kayaks with a wide-open cockpit that is large and stable enough for you to fish from a standing position. Most of them, however, are built for seated paddling and casting.
3. Bass Fishing Kayaks
Photo by David Moreno Hernandez via Shutterstock
Bass fishing kayaks are built to maximize your efforts when fishing for both smallmouth and largemouth bass. They are remarkably stable in varying conditions because you will find bass in so many different types of waterways.
They also prioritize holders for multiple fishing rods because many bass anglers will set up multiple different kinds of tackle. This allows you to experiment with several setups to see what the fish are biting on that day.
It also allows you to avoid sitting for extended periods while you re-string the only rod and reel combination you have on hand. Some of these kayaks even allow you to fish actively while you are trolling a second line behind you.
4. Tandem Fishing Kayaks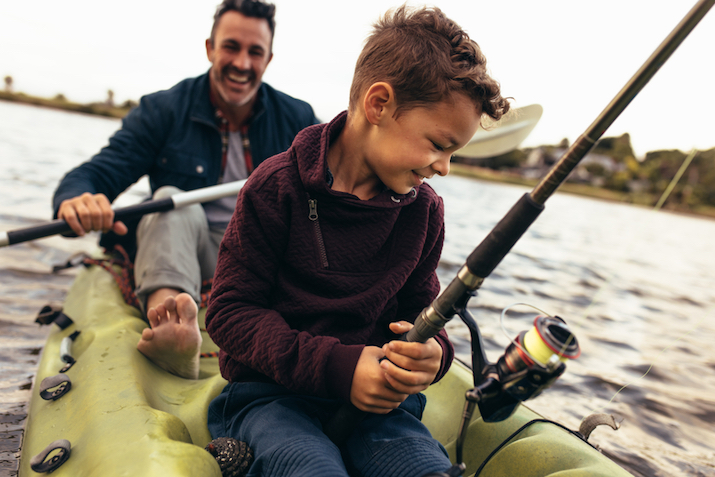 Photo by Jacob Lund via Shutterstock
Tandem fishing kayaks are the best choice for folks that like to head out on the water with a fishing buddy. They offer comfortable seating and plenty of tackle storage space for two paddlers.
Tandem fishing kayaks can also be a great choice for larger paddlers if they can be converted to be paddled efficiently by one person. This can give larger paddlers a more stable kayak with additional storage space.
The only downside to tandems is that they tend to be much heavier than single kayaks because they are simply much bigger. The good news is that you can easily pick up a rolling kayak cart or easy load roof racks to make transporting a tandem kayak much easier.
5. Inflatable Fishing Kayaks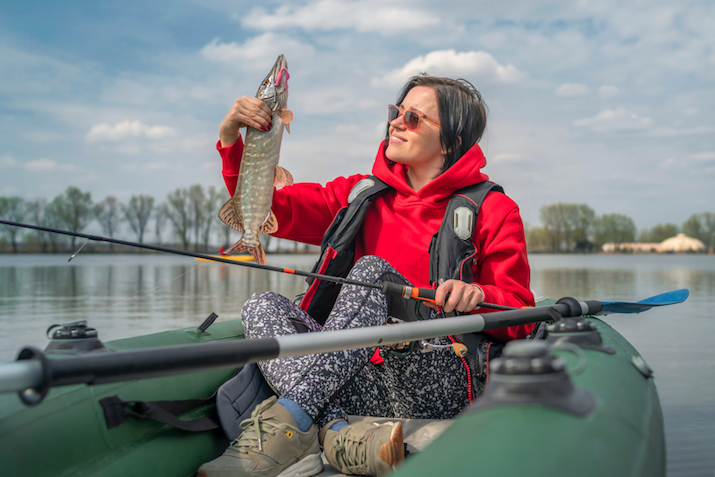 Photo by FedBul via Shutterstock
Inflatable fishing kayaks are great if you do not have a lot of storage space at home for a rotomolded kayak. They are also a nice option for people with smaller sedans and SUVs because they can deflate and fit in your trunk between uses.
These kayaks still boast many of the fishing-specific features that you will find on rigid kayaks. This includes things like fishing rod holders, mesh storage pockets, and enclosed storage compartments.
The best inflatable fishing kayaks on the market feature drop-stitch construction that allows you to inflate them to higher air pressures. This provides a more rigid feel that improves stability and overall performance.
6. Sit-Inside Fishing Kayaks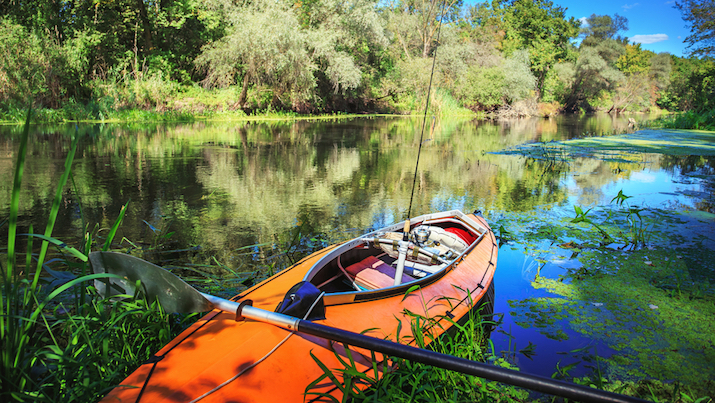 Photo by Feel Good Studio via Shutterstock
Sit-inside fishing kayaks tend to be best for experienced paddlers that know how to self-rescue in a sit-in kayak if they capsize. They can also be useful for places with regular rainfall or rougher waters.
This type of fishing kayak is also useful for anglers that like to tackle multi-day fishing expeditions. They essentially combine the speed and efficiency of the best touring kayaks with the stability and maneuverability of a traditional fishing kayak.
Sit inside models will also boast the most enclosed and watertight storage of any of these models. This allows you to easily store all of your fishing and camping gear and it even makes it possible to convert one storage compartment into a live tankwell to keep fish fresh until you get back to your launching point.
7. Standup Fishing Kayaks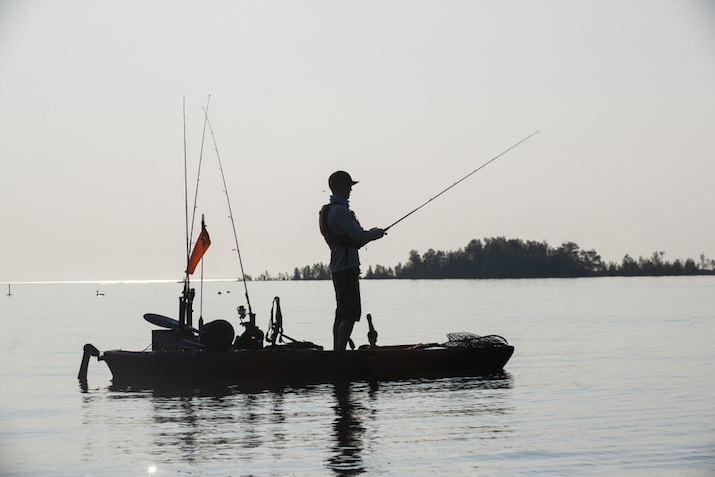 Photo by GROGL via Shutterstock
Standup fishing kayaks are all about stability and most of them achieve this by designing the hull with a pontoon style. They are also known for having flat and wide open cockpits that provide plenty of room for you to stand up comfortably.
These kayaks are also known for having some type of grip tape or foam padding inside the cockpit. This gives the angler a more comfortable surface to stand on and helps you maintain your balance when you hook into a large fish.
Standup fishing kayaks are also known for their aluminum-framed seats that provide an elevated vantage point if you do want to fish from a seated position. Many of them also allow you to remove the seat entirely and replace it with a small kayak cooler for additional storage space for live fish or your favorite fishing beverages (just not at the same time!).
8. Pedal-Driven Fishing Kayaks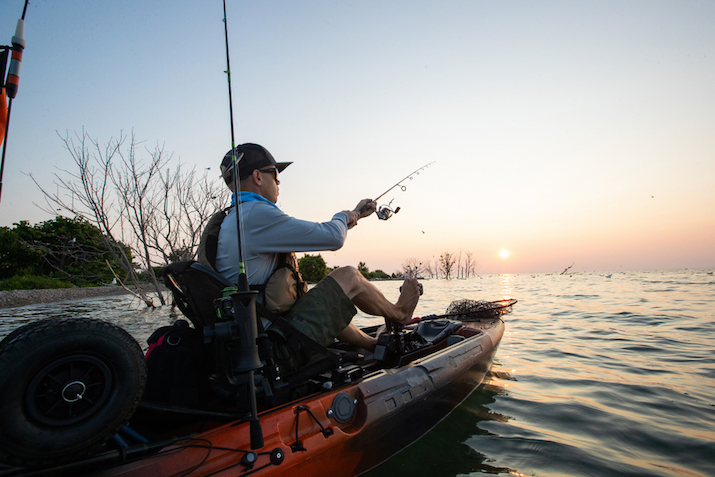 Photo by GROGL via Shutterstock
Many people consider pedal-driven fishing kayaks to be the absolute best type of kayak for fishing. They allow you to use your feet and legs to propel your kayak while keeping your hands free to fish.
Most of these kayaks are also equipped with a retractable rudder mounted at the stern of the kayak. This rudder is controlled by a hand-operated lever that is either mounted inside the cockpit or on one of the gunwales.
Pedal-driven kayaks are also known for elevated, aluminum-framed seats because your hips need to be slightly raised in order to use the pedal-drive system more efficiently. Some allow you to remove the pedal-drive system and replace it with a trolling motor or use the kayak as a traditional sit-on-top.
The main downside of pedal-driven fishing kayaks is that they can become quite expensive with all of their added bells and whistles. If you are interested but want to maintain a minimal budget, check out some of the cheapest pedal kayaks out there.
9. Outrigger Fishing Kayaks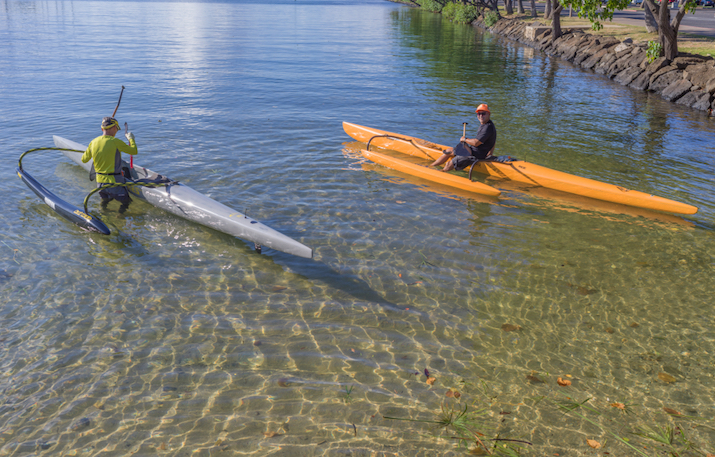 Photo by Theodore Trimmer via Shutterstock
Outrigger fishing kayaks were used in many traditional fishing cultures native to coastal areas. They provide great stability and can also be very fast over long distances, which allowed anglers to chase schools of fish for several miles.
Today, many people actually utilize outriggers more for sport or exercise than they do for fishing. That being said, some people equip their regular fishing kayaks with outriggers or kayak stabilizers to help them handle rougher waters.
This can be particularly beneficial for anglers that are fishing for larger ocean fish species. It can also be useful for taller paddlers with a higher center of gravity or anglers that like to bring their dog along on their fishing trips.
10. Freshwater Fishing Kayaks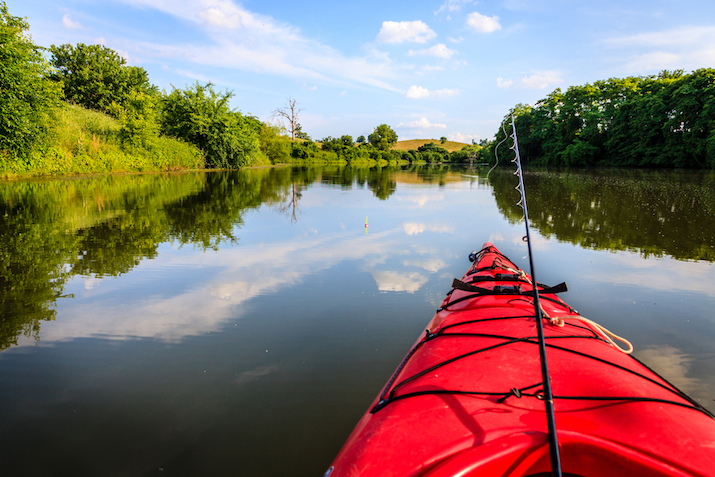 Photo by Alexey Stiop via Shutterstock
Freshwater fishing kayaks are designed for lakes, ponds, slow-moving rivers, shallow streams, and any other form of freshwater. They come in a lot of different shapes and sizes and there is also quite a bit of variation in hull design, cockpit style, and other features.
Freshwater fishing kayaks tend to be slightly more affordable than saltwater fishing kayaks. In part, this is due to the additional considerations that must be included in the latter in order to be more resistant to saltwater environments.
If you do not live or frequently travel to coastal areas to fish, a freshwater fishing kayak is an obvious choice for you. It will make it easier for you to get out and can be adapted to any freshwater environment you want to fish in.
11. Saltwater Fishing Kayaks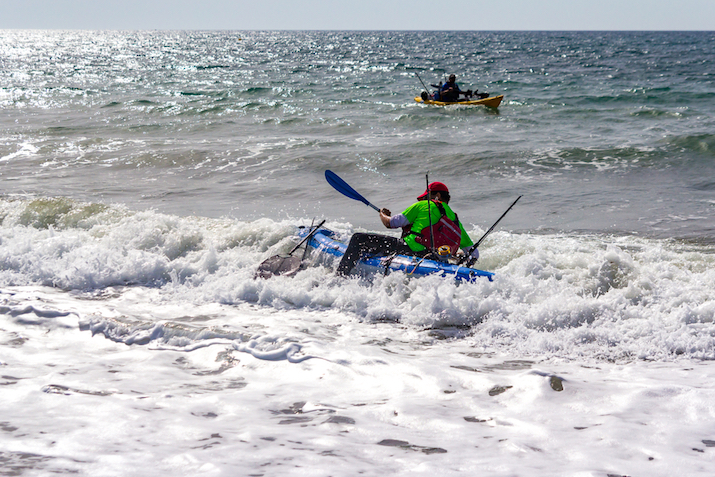 Photo by Robalito via Shutterstock
Saltwater fishing kayaks tend to be more durable and heavy-duty than their freshwater counterparts. Perhaps most importantly, they have to be designed completely with components and hardware that is corrosion-resistant.
This means that manufacturers must practice due diligence to make sure all the rivets, screws, clips, D-rings, and other metal components on their kayaks will not accumulate rust when exposed to a saltwater environment over time.
This added consideration does tend to raise the price of saltwater fishing kayaks (when compared to freshwater models). However, these kayaks also feature other unique design elements that make it easier to handle waves, currents, tides, and other ocean-specific fishing factors.
Many saltwater fishing kayaks also include at least one (if not multiple) kayak bulkhead. This is an important feature for safety because it will improve your kayak's flotation if you capsize and the cockpit fills with water.
12. Fishing Kayaks with Stern-Mounted Electric Trolling Motors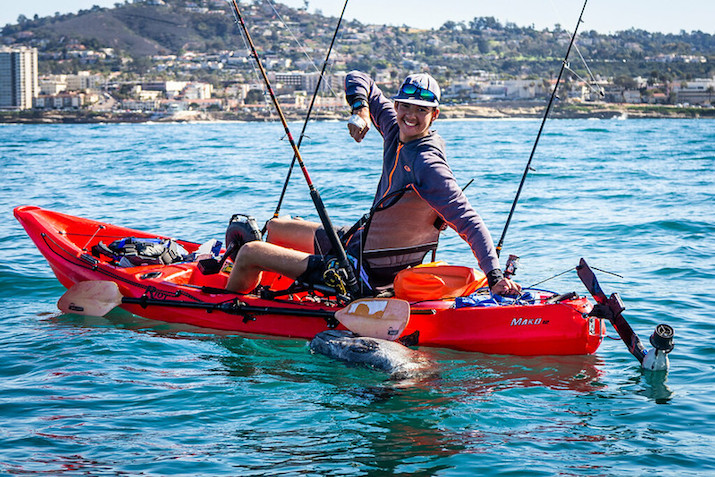 Photo by Bixpy LLC via Flickr
Fishing kayaks that have a trolling motor mounted at the stern are great for anglers that like to cover longer distances without exerting too much extra effort. They are also great for offshore kayak fishing because you don't have to fight waves and currents to get to your preferred fishing grounds.
Having a trolling motor mounted at the stern provides great power and maneuverability for your kayak. The trolling motor simply must provide enough thrust to be able to move the weight of your kayak (plus the weight of your body and all of your fishing gear) efficiently through the water.
Depending on the length of the kayak, a stern-mounted trolling motor can be a little difficult to control. That is why many people equip their kayak with a remote control to dial in thrust and a hand-operated rudder for steering.
13. Fishing Kayaks with Side-Mounted Electric Trolling Motors
Photo by Douglas_M via Flickr
Fishing kayaks that have the trolling motor mounted to the gunwale make it a little easier to control the motor. They also eliminate the need for a remote control button to control thrust and steering.
Some folks still equip these kayaks with a retractable rudder at the stern because the kayak can tend to veer slightly to one direction based on which side of the kayak the trolling motor is mounted on.
Another downside of having the trolling motor mounted on the side of your kayak is that it will often require DIY rigging to hold it in place. This requires a bit of extra mounting time and expertise and it can also restrict the amount of storage space you have in your kayak's rear tankwell.
14. Fishing Kayaks with Center-Mounted Electric Trolling Motors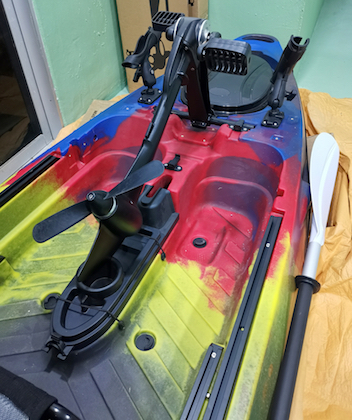 Photo by Izarizhar via Shutterstock
Fishing kayaks with center-mounted trolling motors provide some of the benefits of both of the previous types. You will easily be able to reach and control the motor when seated in your kayak and it will also provide more efficiently thrust because it is mounted closer to the kayak's center of gravity.
Many of these kayaks also allow you to remove the trolling motor and set a center console in its place if you decide not to use it. These kayaks also tend to offer very open cockpit designs that make standup fishing possible when you are not motoring around.
One of the downsides of have a trolling motor mounted in the center of your kayak is that it can get in the way if you have a fish on your line that decides to swim underneath your kayak. It can also cause the bow of your kayak to dip under the water if you don't counterbalance your kayak with an appropriate amount of weight in the stern storage area.
Also, keep in mind that all fishing kayaks with trolling motors will need to have a battery to power them effectively. Even the best trolling motor batteries will need to be sufficiently recharged between uses so that you don't run out of charge while you are out on the water.
15. Fishing Kayaks with Outboard Motors
Photo by Studio MDF via Shutterstock
However rare, fishing kayaks with outboard motors are definitely out there. They will enable you to cover longer distances in shorter amounts of time than fishing kayaks with trolling motors and they also eliminate the need for a trolling motor battery.
Outboard motors, however, require gasoline to run and you will need a backup supply for longer trips. Outboard motors also need to be serviced regularly and generally tend to break down more frequently than electric trolling motors.
Outboard motors also have significantly more thrust than your average trolling motor. This means that they cannot be installed on any old kayak because not all kayak models are built to handle the top speeds that outboard motors can reach.
Final Thoughts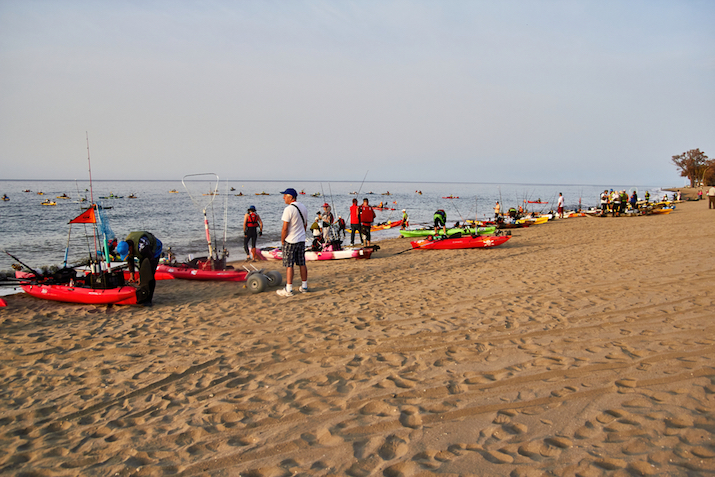 Photo by Robalito via Shutterstock
Nowadays, most people partake in kayak fishing as a form of pure recreation. Back in the day, some of these types of kayak fishing were used in cultures where they relied heavily upon the fish they brought home for sustenance.
We owe a lot of the early innovation in fishing kayak design to many of these early coastal communities that developed kayaks as an absolute necessity. So it may be intriguing to you to learn about the difference between early kayaks and the umiak – another early creation in these native coastal cultures.
Aside from that, we hope you thoroughly enjoy your time on the water with whichever type of fishing kayak you choose. Get out there and bring in a record-breaking catch. Just make sure you take a picture to prove it!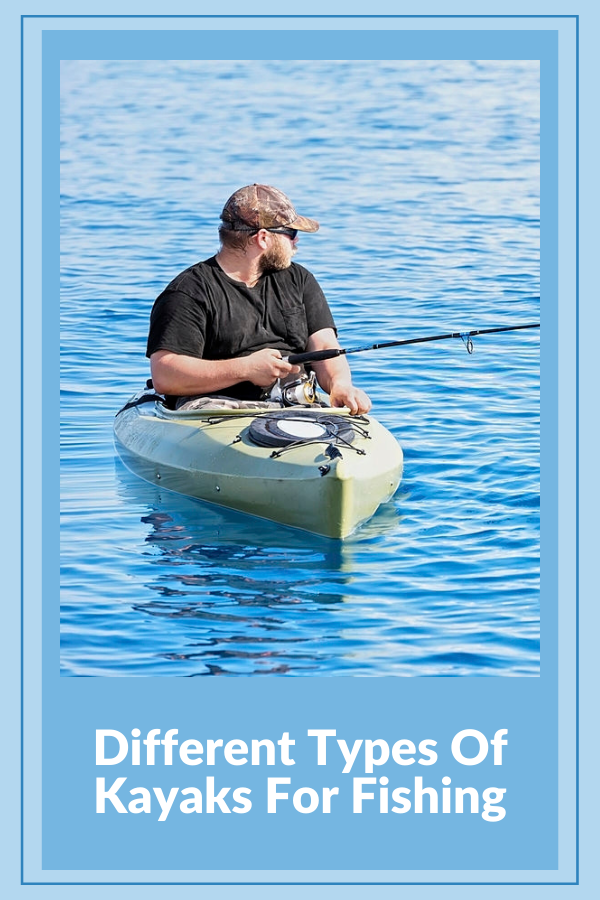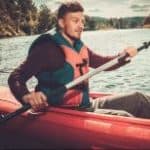 Author: Peter Salisbury
Pete is the Owner of KayakHelp.com. Born and raised in Cleveland, Ohio, he grew up kayaking, fishing, sailing, and partaking in outdoor adventures around the Great Lakes. When he's not out on the water, you can find him skiing in the mountains, reading his favorite books, and spending time with his family.