Comfort is king when you are kayaking and that's why you need a pair of the best kayak shorts. Most of these shorts have one major thing in common: they are not made of cotton.
We feel that it is imperative to begin with a disclaimer that cotton should always be avoided when kayaking. It takes forever to dry and will significantly increase your risk of cold-related illnesses when kayaking.
While there is a lot that you can do to stay dry while kayaking, it is a watersport after all. Getting wet is a near-inevitability and, when you do get splashed or go for an unexpected swim, you will be glad you are wearing quick-drying kayak shorts.
In today's guide, we have picked out 15 kayak shorts and briefly reviewed them for you. We have also provided a brief kayak short buying guide to help you narrow down your options and make a quality choice.
Let's get into some gear talk!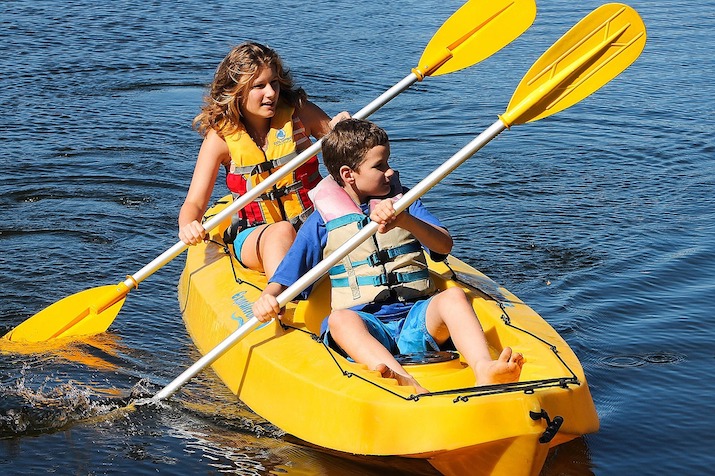 Photo by Nevena Djidara on Pixabay
Best Kayak Shorts
Hurley Women's Dri-Fit Chino 22
Columbia Women's Sandy River
Kanu Surf Women's Breeze Solid Stretch
Columbia Men's Palmerston Peak
Mountain Hardwear Men's Basin Trek
Palmyth Men's Quick-Dry Cargo
Columbia Men's Silver Ridge
Columbia Men's PFG Backcast III
Jessie Kidden Women's Stretch Cargo
Mossy Oak Women's All Outdoor Flex
NRS Men's Guide
NRS Women's Lolo
Magellan Outdoors Pro Men's Angler Hybrid
Magellan Outdoors Pro Women's Angler Technical
Kühl Trekr™ 5.5
Thumbnail
Title
Hurley Men's Dri-Fit Chino 22 Walk Short, Khaki, 32 X 10
Columbia Women's Sandy River Cargo Short Shorts, tusk, Lx6
Kanu Surf Women's Breeze Solid Stretch Boardshort, Black, 2
Columbia Men's Palmerston Peak Short, Waterproof, UV Sun Protection, Black, Medium x 9
Mountain Hardwear Men's Standard Basin Trek Short, Dark Storm, 32
Kayak Short Buying Guide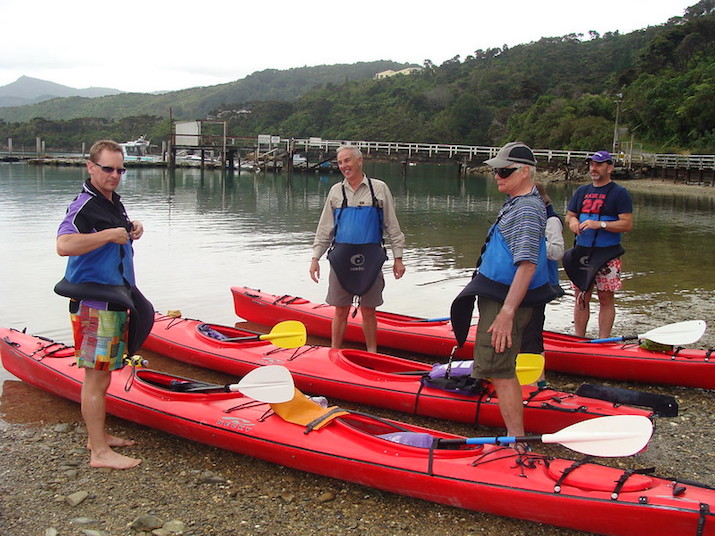 Photo by Marlborough Sounds Adventure Co on Flickr
Buying a quality pair of kayak shorts is largely going to be a matter of fit and personal preference. There are, however, a couple of tips we want to impart before we get into our kayak short reviews.
Inseam Length
You will find that many kayak shorts are advertised according to the length of their inseam measurement. This is measured from the top of your thigh (or crotch seam) to the end of the leg opening.
It is important to pay attention to this measurement because it will tell you how much thigh coverage your kayak shorts will provide. There are pros and cons to longer inseams, as you might imagine.
Longer inseams give you more thigh coverage, which provides added sun protection and will decrease your need to constantly reapply sunscreen to that area. If your inseams are too long, however, it can restrict your movement when getting in and out of your kayak.
Shorter inseams come with reverse issues. They can provide a better range of motion but will make it necessary to reapply sunscreen to your thighs more often (or lay a towel across your lap while kayaking).
Fabric
Aside from avoiding cotton altogether, you will need to choose from a variety of fabrics used to make these kayak shorts. Nylon, polyester, and spandex are arguably the most common fabrics, but different combinations will result in different feels.
In terms of cost, some of the most affordable kayak shorts out there are going to feature 100% nylon fabric. They will provide decent breathability and moisture-wicking qualities, but they may not be the most comfortable of fits.
If you are looking for the most comfortable shorts possible, you will likely enjoy a pair with at least 5% spandex or elastane material. When combined with polyester or nylon, it gives kayak shorts extra stretch and flexibility.
That extra stretch is really vital if you do a lot of moving in and out of your kayak. For instance, if you are looking for shorts for kayak guiding, you will want a pair that provides the highest degree of motion possible.
In terms of water resistance, none of these shorts are 100% waterproof. Instead, they are designed to dry quickly if they do get wet.
That being said, some are finished with a durable water repellent (DWR) layer that provides a higher degree of water resistance than others.
Budget
The last note here is on the price point for kayak shorts. If you want a quality pair that will last, you can expect to pay in the $65 to $120 range.
Kayak Short Reviews
Check Price On Amazon
Material Breakdown:
70% Nylon
24% Polyester
6% Spandex
These are classic trouser shorts with slanted front pockets and welt pockets in the back with button closures. They are machine washable and come in 12 different colors.
The zip-fly and button closure at the front make it easy to use the restroom on a quick beach stop. Belt loops also allow you to obtain a tighter fit without relying on an elastic waistband.
Check Price On Amazon
Material Breakdown:
The nylon fabric in these shorts provides a sun protection factor of 30 to provide both UVA and UVB protection. The inseam is six inches in length and they come with a clip-together belt for waist fit adjustment.
Slanted side pockets provide temporary storage for your phone or to rest your hands when chatting with friends pre-paddle. They also have a small cargo pocket that zips shut for keeping a car key, chapstick, or another small item secure.
In addition to the belt it comes with, the waistband on these shorts is partially elastic. So it provides more comfort and adjustability to help you retain a comfortable fit once the shorts get wet.
Check Price On Amazon
Material Breakdown:
88% Polyester
12% Spandex
These quick-drying kayak shorts provide a little bit of stretch to keep you comfortable when you are moving your kayak around on land. They also provide a UPF 50+ sun protection factor to keep your upper thighs from burning.
With an inseam length of roughly four inches, these shorts are best for short paddles or if you want to get that initial tan layer going for the summer. In total, the shorts are between 14 and 15 inches long.
The microfiber fabric is what allows these shorts to dry so quickly. They adjust and secure with a string waistband and they include two small storage pockets on the sides that secure with Velcro closures.
Check Price On Amazon
Material Breakdown:
These shorts feature Columbia's patented Omni-Shade UV protection. They offer a sun protection factor of 50 while also including an interior mesh brief that eliminates the need to wear an undergarment with them (of course, these briefs can be cut out if you desire).
They also offer an adjustable exterior waistband with a belt closure. They don't, however, have a zip-up fly if you prefer having that feature on your kayak shorts.
Straight hip pockets do better at keeping your phone or other items from sliding out when you sit in your kayak. Plus, these shorts have a zippered pocket on the left leg to give you a secure place to keep items that you definitely do not want falling in the water.
Check Price On Amazon
Material Breakdown:
These nylon kayak shorts have a zipper and button closure to secure the waist. While they don't have an adjustable elastic waistband, they do have belt loops so that you can achieve a tighter fit and keep them up once they get wet.
The fabric on these shorts is finished with a PFC-free (poly-fluorinated chemicals) durable water repellent layer that repels water naturally. It does feature a zippered fly for easy relief without fully unbuttoning and unzipping.
The front pockets are slanted on the hips and the drop-in back pockets provide additional storage. Plus, they also include a single secure zip pocket for key storage.
These kayak shorts boat seat gusset construction as well, which helps to provide the kind of extra mobility you want when you are getting into your kayak from a dock.
Check Price On Amazon
Material Breakdown:
These kayak shorts are made with the owners of the best fishing kayaks in mind. They boast a 10.5-inch inseam length and offer a UPF 50+ sun protection factor.
Functional for freshwater or saltwater kayak fishing, they have a total of seven leg pockets to help you keep your smaller fishing gear handy. All of the pockets are lined with wear-resistant plastic nylon so that you don't have to worry about storing the sharper items from your kayak fishing accessories kit in there.
In addition to providing plenty of sun protection, these kayak shorts are also water repellent. They also wick away sweat efficiently to help keep you cool on hot fishing days.
In the waistband, there is a hidden adjustment point to help you keep them tight without the need for a belt. However, the shorts do have belt loops if you find a waterproof belt that you want to wear with them.
These shorts also have a perforated yoke in the back to provide better breathability. Plus, they designed them with a gusseted crotch to give you maximum mobility when you are trying to fight that record-breaking catch into your kayak.
Check Price On Amazon
Material Breakdown:
You will notice that Columbia has a variety of kayak short options on our list. That is mostly because they make a variety of fits that are among the most affordable options on the market these days.
Their Silver Ridge shorts have a 12-inch inseam length and a partial elastic waist that gives you great adjustability. A gusseted crotch also supplies a superior range of motion when you are moving about in these shorts.
In terms of sun protection, these shorts are rated with a factor of UPF 50. The nylon material is also highly breathable and they do very well when it comes to wicking away moisture on hot and humid paddling days.
These shorts have slanted hip pockets and a leg pocket on the left leg with zip closure. All of these pockets have mesh pocket bags so that water drains out of them quickly if you do go for a swim.
Check Price On Amazon
Material Breakdown:
If you are looking for shorts with ample color options, you will have more than 35 different choices when you are looking at the Backcast III. With Omni-Shade technology, these shorts provide protection from harmful UVA and UVB rays.
The nylon fabric is highly breathable and also wicks sweat and moisture away effectively on hot days. They also dry quickly if you need to hop out of your kayak for a quick swim in the middle of your paddle.
These shorts feature an entirely elastic waistband that makes them easy to pull on and head out for an adventure. The waistband has a drawstring for you to tighten the waist and these shorts have a mesh interior brief for added support.
If they aren't quite the perfect fit, however, they do have a few belt loops to help you keep them secure. You will have plenty of cargo space with two hip pockets, a small side cargo pocket, and a single back pocket with zipper closure.
Check Price On Amazon
Material Breakdown:
Tired of the cargo pockets on your kayak shorts being on the sides and hampering your ability to fit into your narrower kayak cockpit? Then you need to check out these stretch cargo kayak shorts from Jessie Kidden.
The cargo pockets on the legs of these shorts are located directly on the front for easier access and a more comfortable fit when you are seated in your kayak. The spandex fabric used in these shorts also gives them just enough stretch to provide more mobility than 100% nylon kayak shorts.
These shorts offer a 7-inch inseam length and a sun protection factor of 50+. They are also finished with a durable water repellent (DWR) layer to heighten their ability to repel water and dry quickly when they do get wet.
In addition to the cargo pockets on the front of the legs, these shorts have slanted pockets at the hips and two more straight pockets with Velcro closures on the back.
The waistband on these kayak shorts does feature some elastic in the back so that they provide a comfortable fit for a wider variety of body types. They do, however, come with a button closure at the front and a built-in belt for a custom fit.
Check Price On Amazon
Material Breakdown:
92% Polyester
8% Elastane
If you live and paddle in really hot places, these shorts feature advanced moisture-wicking technology that helps to reduce your body surface temperature by up to 30% (compared to other brands). They also boast a six-inch inseam.
The shorts also provide UPF50+ sun protection and are just stretchy enough to provide extra range of motion. They dry quickly if they do get wet and feature a partial elastic waistband for a comfortable fit.
At the front, these shorts fasten with a button and zipper closure. Although it doesn't come with its own built-in belt, it does have belt loops on the waistband if you find that they have issues staying up once they get wet.
In terms of pockets, the two back pockets on these shorts have small holes at the bottom to allow water to drain if you go for a swim. In addition to those pockets, these shorts have slanted front pockets on the hips, a smaller left hip concealment pocket, and another pouch lower down on the left leg.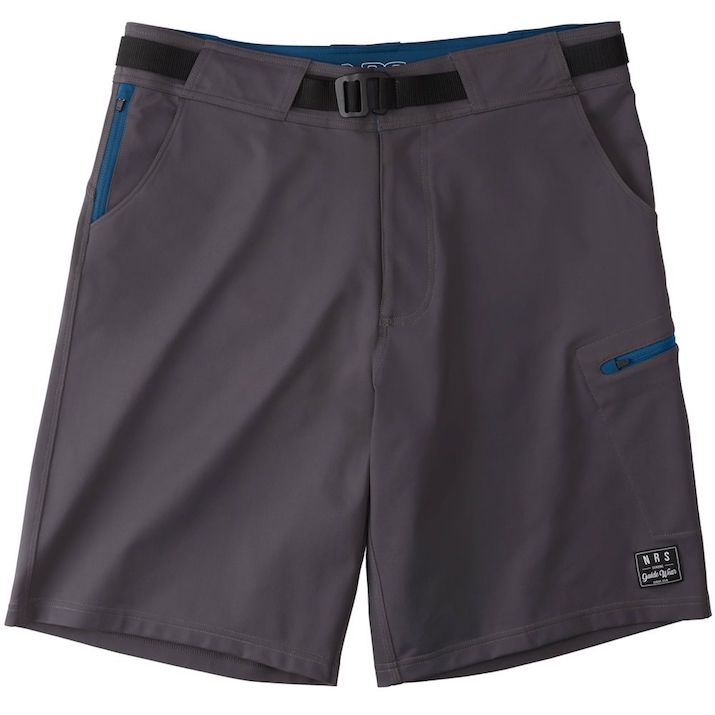 PC Northwest River Supply
Material Breakdown:
89% Nylon
11% Spandex Element
Trusted by kayak guides everywhere, these kayak shorts provide the kind of four-way stretch that you rely on when you are moving kayaks around all day. They also feature a total of five pockets so that you have plenty of spots for all of your gear.
The two standard slanted hip pockets are nothing special, but the other three pockets (rear, cargo, and side stash) can all be secured with zippers for maximum security. The nine-inch inseam on these shorts provides your knees with plenty of room to move without wet shorts annoyingly flapping on them.
These shorts are secured with a zippered fly and waist button. Plus, they come with an adjustable webbed belt to help you keep them secure as they stretch.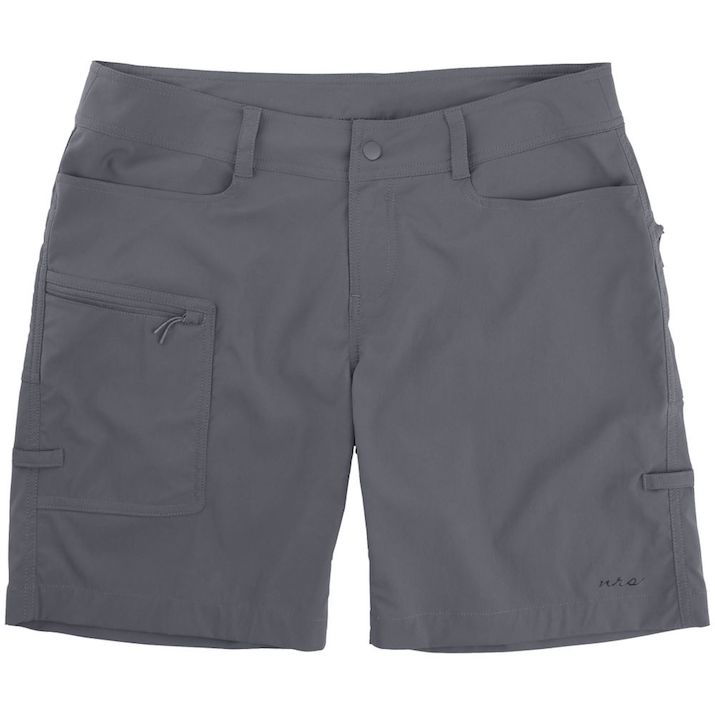 PC Northwest River Supply
Material Breakdown:
95% Recycled Nylon
5% Spandex Blend
NRS does have a women's version of their Guide short, but we figured we would also review another of their awesome kayak short options. The Lolo shorts have an eight-inch inseam and they are more environmentally friendly than the other shorts on our list because they are made with recycled materials.
Both the nylon and spandex fabrics used in these shorts are treated with a durable water repellent (DWR) finish to provide excellent moisture-wicking and abrasion-resistant properties.
One major difference between the Lolo and the Guide short is that the Lolo doesn't come with an adjustable webbing belt. The Lolo does, however, have the same convenient zippered fly with waist button closure.
The Lolo also features the same five-pocket design that you will find on the NRS Women's Guide Short. These extra pockets give you the ability to store smaller items from your printable kayaking checklist on your person instead of in a hard-to-reach storage compartment.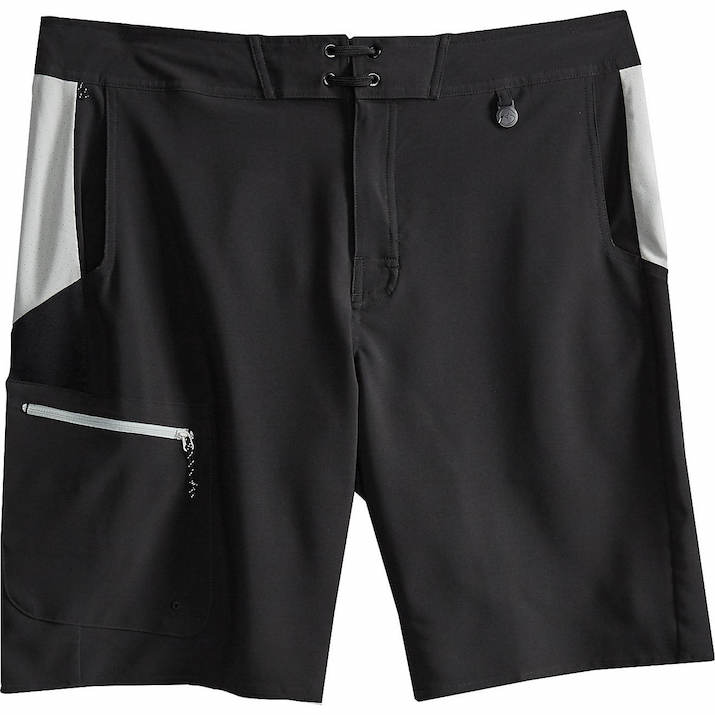 PC Academy Sports and Outdoors
Material Breakdown:
Magellan Outdoors is probably one of my favorite outdoor brands that you can not find everywhere. If you are anywhere throughout the southern United States, however, you are probably within a reasonable distance of an Academy Sports and Outdoors location.
Magellan makes all sorts of useful fishing, hunting, and kayaking gear. Their Pro Series shorts feature a 10-inch inseam and a sun protection factor of 30.
The waistband features a swim trunk-style drawstring for an adjustable fit and the four-way stretch fabric makes it easy to move around comfortably for all-day paddling adventures in these shorts.
PC Academy Sports and Outdoors
Material Breakdown:
90% Polyester
10% Spandex
The fabric used in these shorts is treated with a water-repellent finish that provides excellent moisture-wicking ability. These shorts also feature four-way stretch and UPF treatment for protection from the sun.
A total of five pockets provide plenty of places to keep your smaller kayaking gear. These shorts also include a small section of mesh material below the back waistband to provide added breathability on hot days.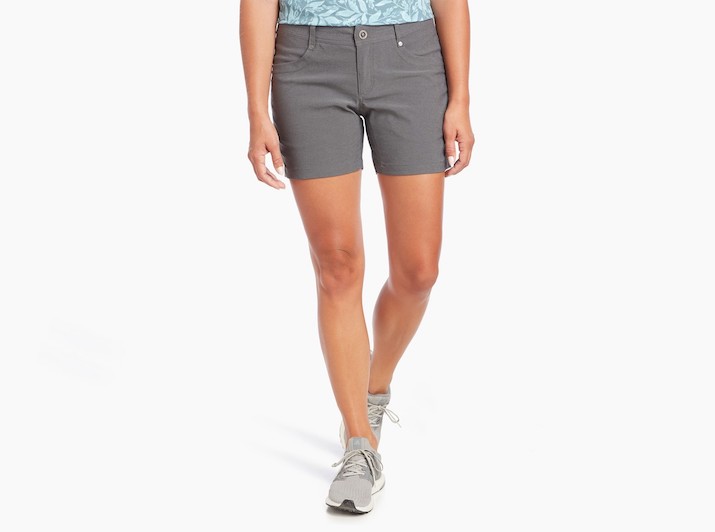 PC Kühl
Material Breakdown:
Kühl's Trekr™ shorts provide a 5.5-inch inseam and a tighter fit so that you don't get your shorts caught when climbing in and out of your kayak. They still, however, offer plenty of stretch to keep you comfortable all day on the water.
The woven fabric in these shorts also features Kühl's patented REKOIL™ technology. This allows them to retain their original shape (and a better long-term fit) even if they get wet and slightly stretched on an intense paddle journey.
Final Thoughts
Photo by Russ on Flickr
If you take a kayaking lesson or sign up for a guided adventure, you may notice that your guide is actually wearing long sleeves and pants (instead of shorts). As the number of hours you spend in your kayak increases, so does the need for added sun protection.
Wearing long layers that are light and breathable is actually a great way to avoid having to reapply sunscreen everywhere but your hands, face, neck, and maybe the tops of your feet.
In fact, I have found that most folks that wear a pair of the best kayak shorts paddling forget to apply a healthy amount of sunscreen to the tops of their thighs. This is one of the most commonly burnt areas for new kayakers.
That being said, I personally like to get some color when I am kayaking (especially after a long winter with relatively little sun exposure on my bare skin). So if you do get a pair of kayak shorts, just make sure you pack sunscreen or use some of these sun protection tips.
We hope you have enjoyed these kayak short reviews and learned a little more about this kayak clothing item. For more information, check out our Ultimate Kayak Clothing Guide!
As always, we wish you the best of luck and the safest of health on all of your upcoming kayak adventures!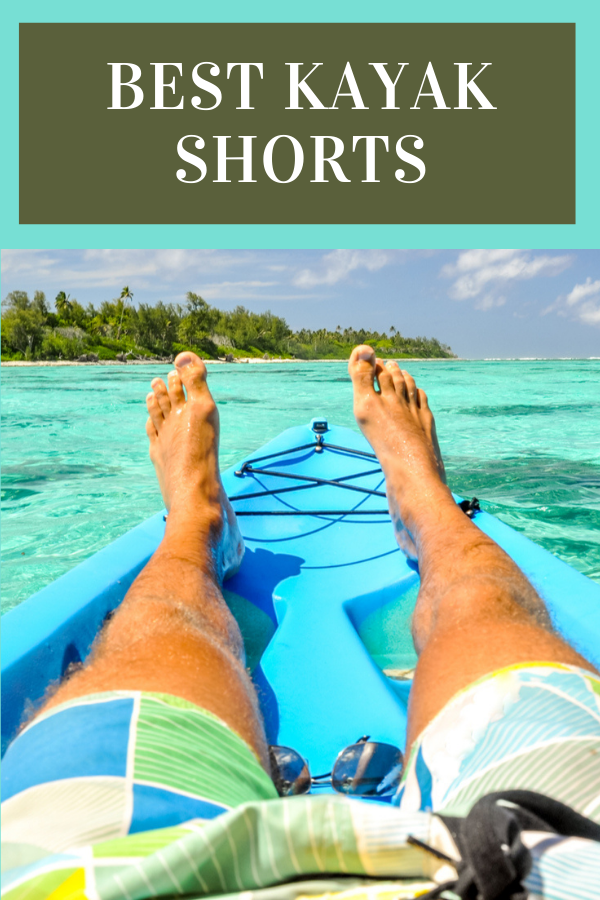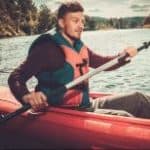 Author: Peter Salisbury
Pete is the Owner of KayakHelp.com. Born and raised in Cleveland, Ohio, he grew up kayaking, fishing, sailing, and partaking in outdoor adventures around the Great Lakes. When he's not out on the water, you can find him skiing in the mountains, reading his favorite books, and spending time with his family.