People get tattoos for many reasons: to commemorate lost loved ones, to rebel against living relatives, or simply to express one of their passions in physical form. If you love kayaking and you're a fan of tattoos, you are going to love this list of the best kayaking tattoo ideas.
Whether you are looking for kayaking tattoo ideas for yourself or you are searching for inspiration for a friend, this list will provide plenty of options for you. It will mainly include tattoo photos, but feel free to design your own kayaking tattoo if you like to sketch.
Also, note that we have come up with our own names for many of these kayaking tattoo ideas. Those names might not necessarily match the name that the owner of the tattoo uses and it might not be something that all tattoo artists will recognize.
So, if you do want to have your tattoo artist recreate one of these on your body, your best bet is to download the photo you want to replicate for easy reference.
Let's check some cool and funky kayaking tattoo ideas!
Photo by fernandoalonsostockfilms via Shutterstock
Best Kayaking Tattoo Ideas
The Kabetogama
The Racer
The Portager
The Pigtail Paddler
The Kayak Angler Silhouette
The Bear-ly Living Kayaker
The Happy Tourer
The Ankle Draw
The Wilderness Explorer
The Angler's Dream
The Unlucky Sea Kayaker
The Boss Babe
The Skull and Cross Paddles
The Tackle-Heavy Paddler
The Old School Whitewater Shredder
The Kayak Compass Rose
The Basic Sit-in Kayak and Paddle
The Tropical Paradise
The Alaskan Angler
The Matching Ankles – Kayak and Paddle
The Recreational Paddler
The Leafscape
The Sunset Paddler
The Cracked Skull and Cross Paddles
The "We Might Be In Trouble"
The Colored Kayak Compass Rose
The Infinity Paddle
The Independence Paddler
The Tribal Female Whitewater Paddler
The Mother-Daughter Matching Kayaks
The Kayakscape
The Commemorative Kayaker
The Simple Ankle Canoe
The Kayak in a Bottle
The Splashy Kayak Compass Rose
The Cabin Camper
The Space Traveler
The Rowboat
The Paddle Fail
The Canoe Tent Camper
The Fisherman
The Canoe Artwork
The Full Back Tribal Paddle
The Diamond Backed Color Canoescape
The Soleil
The Canoe and Cross Paddles
The Diamond Backed Sunsetscape
The Lotus Paddle
The Ironman
The Little Blue Canoe
50 Best Kayaking Tattoo Ideas
1. The Kabetogama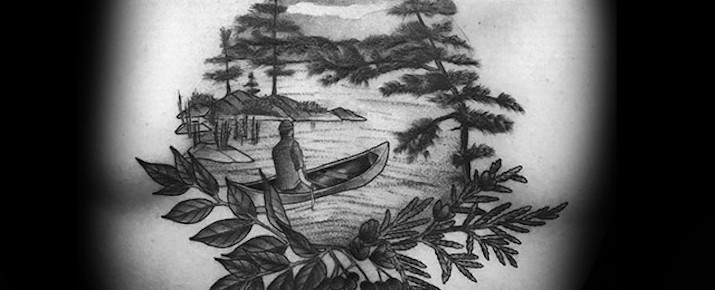 PC Next Luxury
This wilderness scene reminds me of my time exploring Lake Kabetogama in Voyageurs National Park. A serene scene that will remind you and others of the calming and healing nature of a pristine wilderness setting.
2. The Racer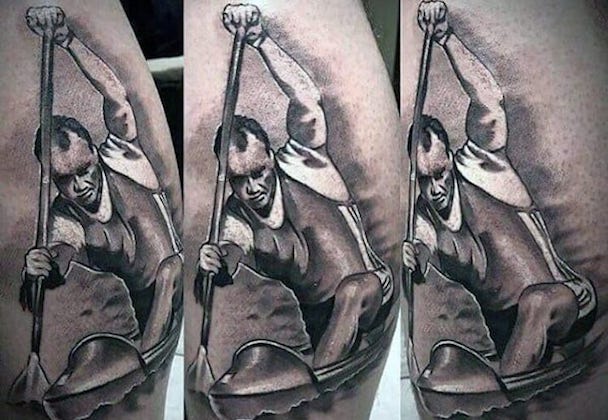 PC Next Luxury
A great selection for kayakers and canoers that are in it for speed and competition. This looks to be inspired by the idea of a neck-and-neck finish when serious bragging rights are on the line.
3. The Portager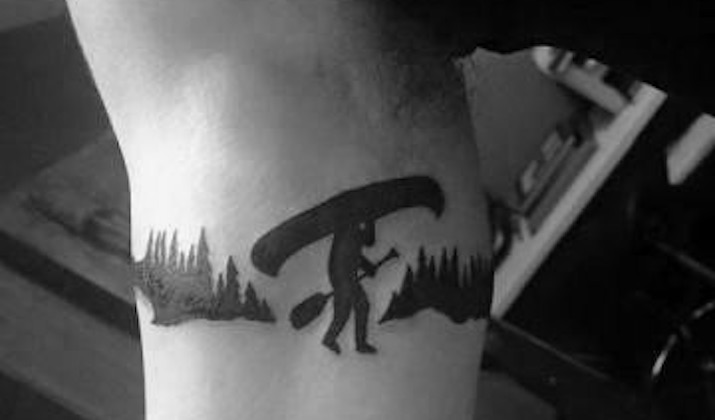 PC Next Luxury
This kayaking tattoo idea will remind you how much you love, or hate, portaging your kayak. There is nothing like exploring several waterways by mastering the art of portaging, as long as your gear isn't too heavy.
4. The Pigtail Paddler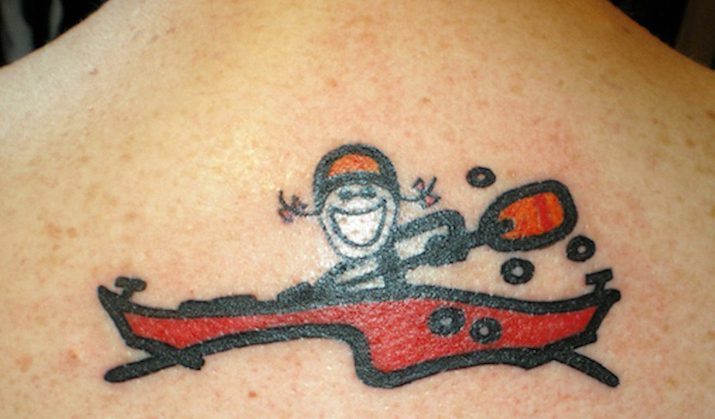 PC Paddling Magazine
Imagine pulling over on the side of a big river and walking a bit downstream to scout some upcoming rapids. Then a wild, pigtail-donning paddler in a red kayak comes down and sends it like a pro–that's what this kayaking tattoo idea reminds me of.
5. The Kayak Angler Silhouette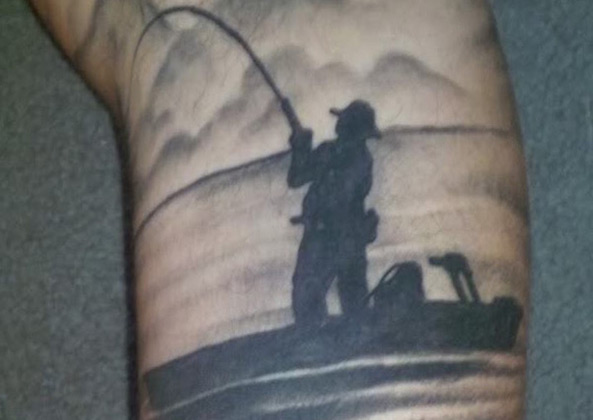 PC Paddling Magazine
Calm days, no wind, and relaxing without a care in the world while you try to bring in your favorite catch. That's the feeling I get when I look at this silhouetted angler who just hooked into what might become dinner.
6. The Bear-ly Living Kayaker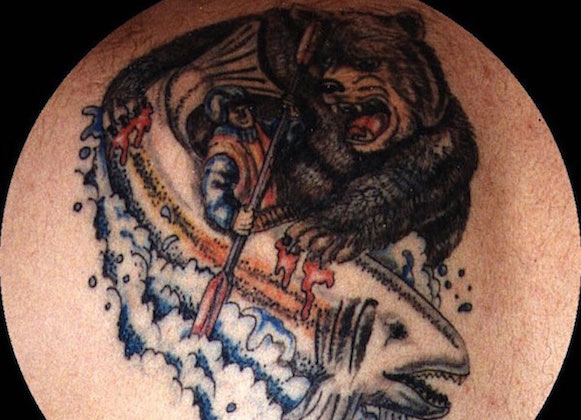 PC Paddling Magazine
The creator of this kayaking tattoo idea clearly had a wildly creative imagination. Not only did he forget to pack away his Snickers bar and is now dealing with a hungry bear, but the fish he is paddling doesn't seem like he will come away from it all unharmed.
7. The Happy Tourer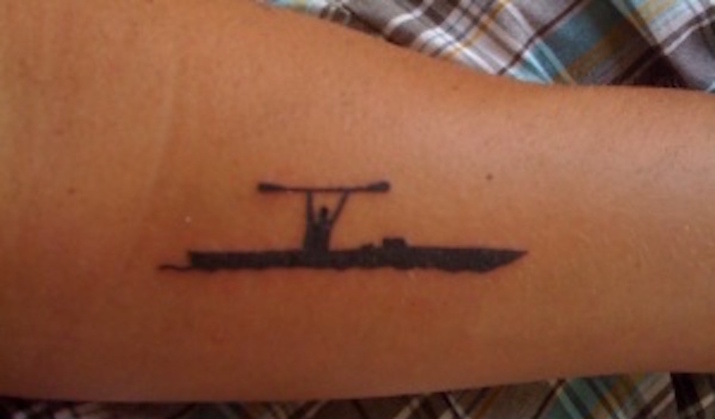 PC Paddling Magazine
It has been three days of paddling 10+ hours each day and camping in colder weather than you planned for when you set out. This image reminds me of the feeling of completing a less-than-ideal journey in your touring kayak and seeing the warmth and comfort of your vehicle at your launch point.
8. The Ankle Draw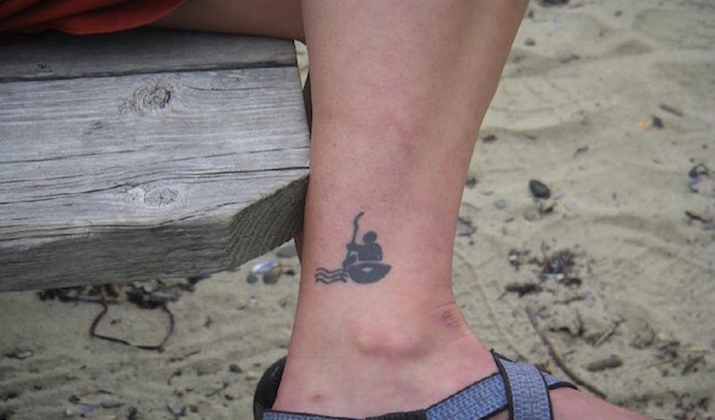 PC Paddling Magazine
This is one of the most low key kayaking tattoo designs on our list if you are looking for a gentle reminder of your love for this sport. If you look closely, however, this kayaker is executing one of the best kayaking strokes to improve your kayaking–the draw stroke.
9. The Wilderness Explorer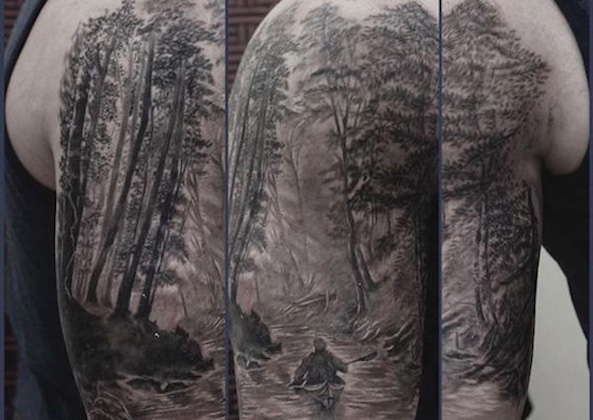 PC Paddling Magazine
From one of the simplest ideas to one of the most sophisticated designs, this one is going to take a talented tattoo artist, and it might require multiple visits to get it all done. Once it's finished, however, it's an awesome reminder of the pure nature that comes with remote kayaking expeditions.
10. The Angler's Dream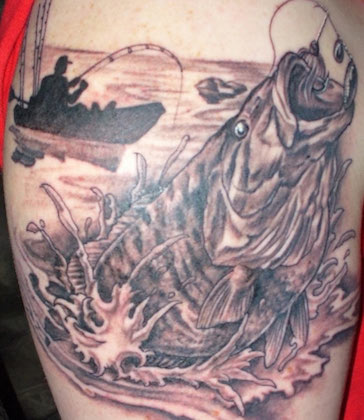 PC Paddling Magazine
You have been on the water for six hours with barely a nibble on your hook and you are just about ready to call it a day–after five more casts. One, two, three, four, five…wham, that's a record-breaking catch to take home for supper–the angler's dream!
11. The Unlucky Sea Kayaker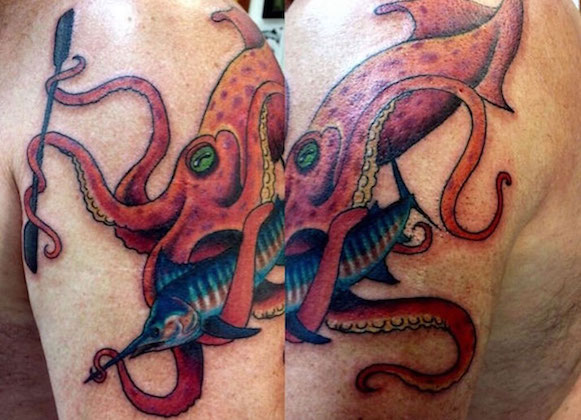 PC Paddling Magazine
The only remnants of this paddler of one of the best ocean fishing kayaks is his paddle and the marlin he almost reeled in. At the end of the day, it is a reminder that the Kraken is a fierce ocean monster that is not to be meddled with.
12. The Boss Babe
PC Paddling Magazine
This is a boss babe sending class IV or V rapids in one of the best whitewater kayaks. It is a great kayaking tattoo idea for ladies that love the thrill and adrenaline of paddling on some of the world's biggest whitewater.
13. The Skull and Cross Paddles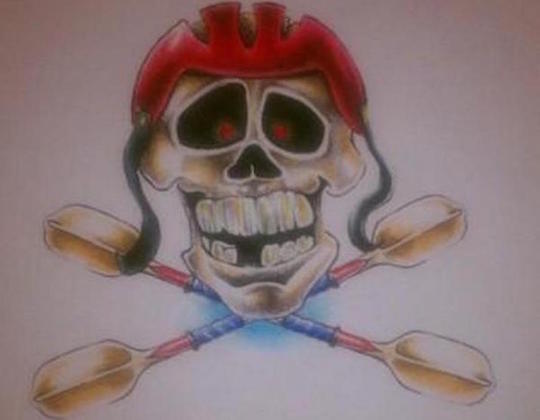 PC Paddling Magazine
This is the ultimate kayaker's take on the traditional skull and crossbones pirate tattoo idea, with a little twist for added safety. It says, "I'm a rebel that loves to take risks in my kayak, but I'm not too cool to wear a kayak helmet, even if I don't buckle it every time."
14. The Tackle-Heavy Paddler
PC Paddling Magazine
This is an excellent kayaking tattoo idea if you are the type of kayaker that likes to bring a minimum of six kayak fishing rods whenever you head out. It's a heavy-on-the-tackle tattoo with a fish for a kayak!
15. The Old School Whitewater Shredder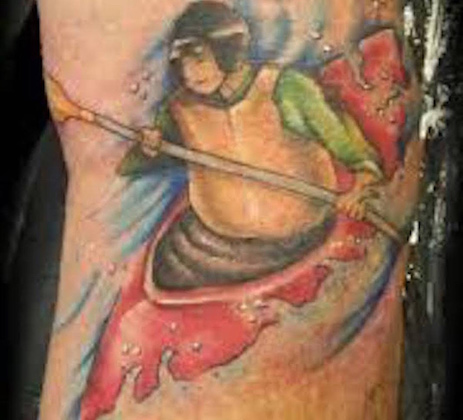 PC Paddling Magazine
The kayak PFD alone is a dead giveaway that this is an old school whitewater paddler. Hey, just because he is old school, however, doesn't mean he isn't sending it and enjoying the heck out of his time on the big river.
16. The Kayak Compass Rose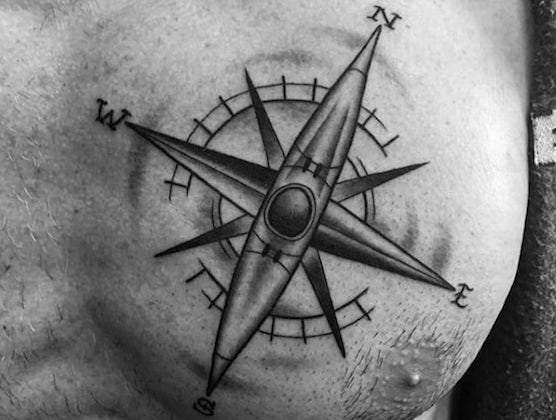 PC Next Luxury
If you are looking for a kayaking tattoo idea for a chest tattoo, this is a pretty cool one because it combines your love for sea kayaks with the importance of knowing your cardinal directions when paddling in less-than-familiar locations.
17. The Basic Sit-in Kayak and Paddle
PC Next Luxury
This is one of the most basic kayaking tattoo ideas on our list, but it will allow you to showcase your love for paddling one of the best sit-in kayaks. It keeps things basic, but still have a nice touch and clean lines.
18. The Tropical Paradise
PC Next Luxury
If you are the type of kayaker that prefers to paddle in places with pristine waters and the chance to use one of the best clear bottom kayaks, this tattoo will remind you of your favorite tropical kayaking paradise.
19. The Alaskan Angler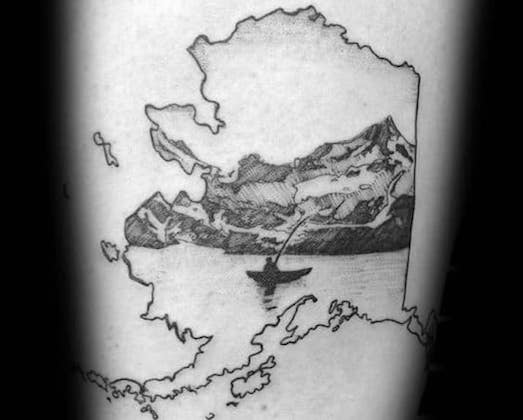 PC Next Luxury
This kayaking tattoo idea is a little specific to either residents of Alaska or those that just have Alaska in their heart. It is a beautiful reminder of some of the pristine lakes for kayaking fishing in the largest state in the US.
20. The Matching Ankles – Kayak and Paddle
PC Next Luxury
This is a matching set of kayaking tattoos designed to be drawn on your opposite ankles. The choice of which ankle gets which image is totally up to you–are you a left or right-handed paddler?
21. The Recreational Paddler
PC Mandy Odum via Pinterest
This kayaking tattoo reminds me of some of the best recreational kayaks on the market. It is a simple design that can easily go on an ankle or a forearm to remind you how relaxing it can be to spend a casual day on the water.
22. The Leafscape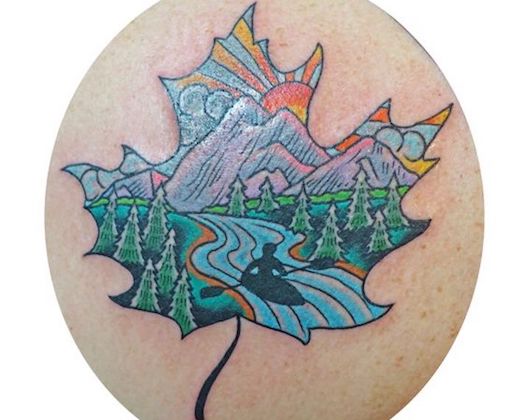 PC Kim Koudret via Pinterest
This beautiful and colorful kayaking tattoo depicts an unreal river scene with mountains and pine trees set in the outline of a leaf–maybe a maple? The color imagery might make this tattoo a little more expensive, but it is sure to be noticed once it is done.
23. The Sunset Paddler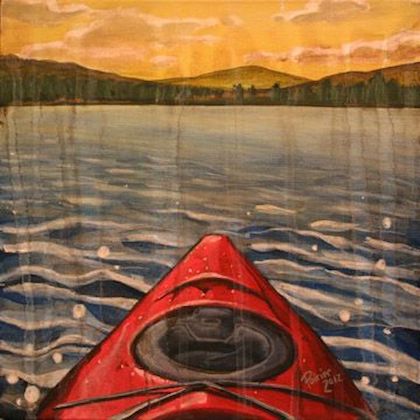 PC Kyle Poirier Kayak via Pinterest
This sunset scene looks like a watercolor painting, but it can be re-created by one of the best tattoo artists. If you are a lover of watching the sun dip below the horizon from the seat of your kayak, this tattoo will remind you to get out and enjoy that scene more often.
24. The Cracked Skull and Cross Paddles
PC Next Luxury
Unlike the safer version of this kayaking tattoo that we mentioned earlier, this kayaker forgot his sea kayak helmet and, as a result, he paid the price with a cracked skull, a lost tooth, and even a broken paddle.
25. The "We Might Be In Trouble"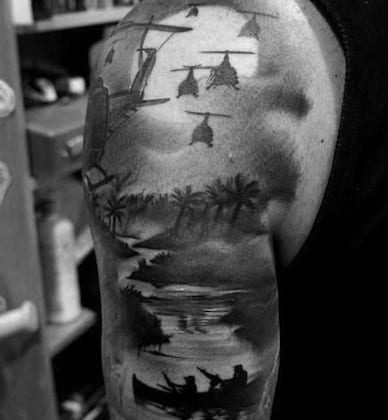 PC Next Luxury
This incredibly complex tattoo idea depicts two men in a tandem kayak with firearms and we aren't quite sure what they have gotten themselves into, but with the number of choppers in the air above them, we can presume it is not anything food.
26. The Colored Kayak Compass Rose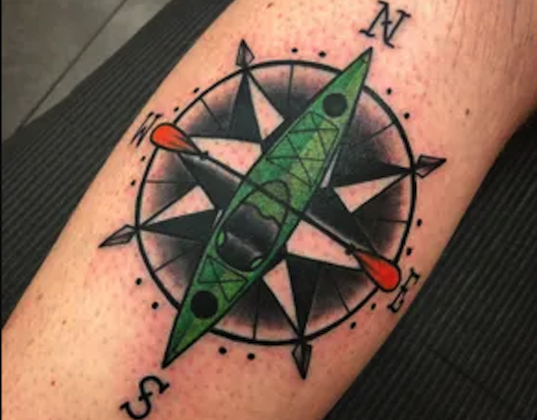 PC Brandon Adams via Tattoodo
This tattoo is a colored variation of the compass rose we mentioned earlier and you will have the freedom to ask for your kayak to be whatever color you prefer. Just make sure your tattoo artist gets the cardinal directions right!
27. The Infinity Paddle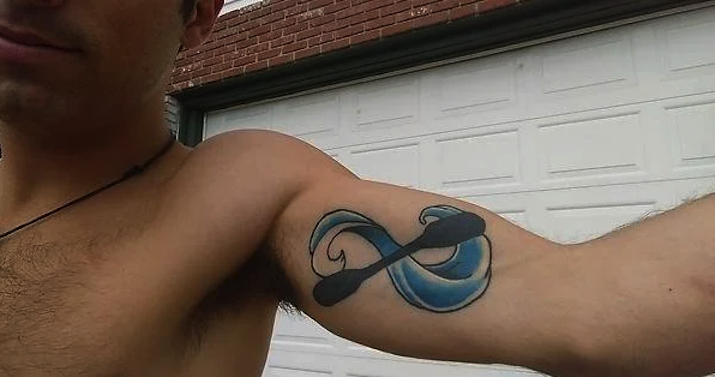 PC r/whitewater via Reddit
This creative idea combined a beautiful swirling wave with the straight lines of a kayak paddle to form an infinity symbol. Whether that signals to you that you'll always be kayaking or you'll forever be linked to the water, this is a cool kayak with lifelong significance.
28. The Independence Paddler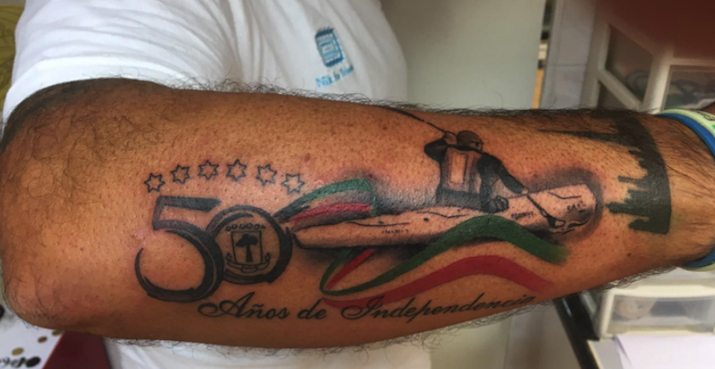 PC Surfcruise via Twitter
This kayaking tattoo looks to be in celebration of a love of kayaking and 50 years of independence (años de independencia). While it might have a leaning towards national pride, it could just be this touring kayaker celebrating his own independence.
29. The Tribal Female Whitewater Paddler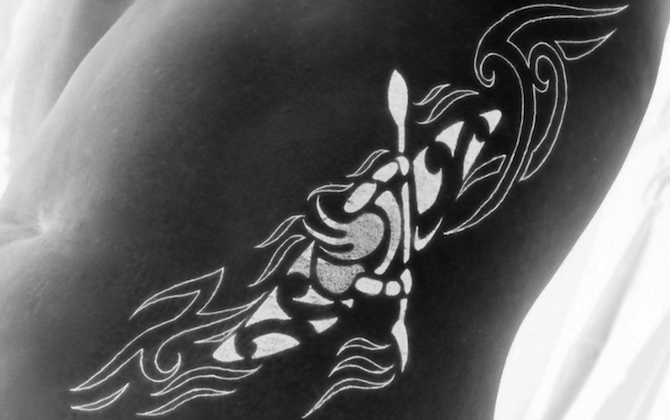 PC Kayak Mom via Salvabrani
This one almost looks like it is glowing in the dark, but it is just a photo filter, I'm pretty sure. Still, it is an awesome depiction of a charging female whitewater paddler with a tribal flare.
30. The Mother-Daughter Matching Kayaks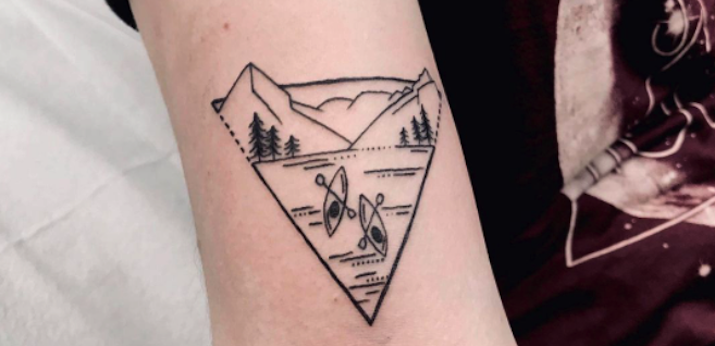 PC aces_n_spades_tattoo via Instagram
While this image only shows one of them, this was part of a set of matching kayak tattoos designed by a mother and daughter. I'm not sure if they just liked the upside-down triangle of if the M created by the mountains and the V created by the triangle signify their initials, but it is a cool design either way.
31. The Kayakscape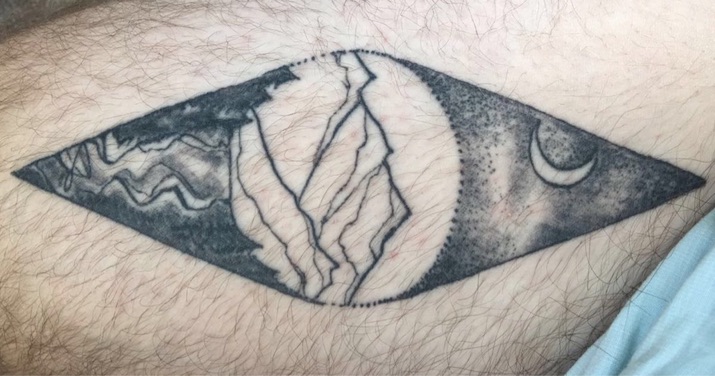 PC Laci Hess via Imgur
This tattoo idea provides you with plenty of flexibility because it uses the general shape of a sit-inside kayak as an outline. From there, you will have the freedom to put a mountainscape in the center with the moon above, flip them around, or get creative to suit your personality.
32. The Commemmorative Kayaker
PC Kristen Steele via Pinterest
This kayak is a beautiful naturescape up top with the bow of a kayak below and the underlining text, "Gone But Not Forgotten." If you look closely, they even included the birth date and passing date of the loved one commemmorated by this tattoo.
33. The Simple Ankle Canoe
PC Léa Gagnon-Labrosse via Instagram
If you want to experiment with a canoeing tattoo but you don't want to spend a whole lot, it is okay to keep it simple. This straightforward canoe shows your love for the sport without taking over a bunch of real estate on your body, and can easily be covered up by a three-quarter length sock if needed.
34. The Kayak in a Bottle
PC Matt Digiacomo
This colorful design reminds me of the days we would spend hours on the beach looking for seashells and hoping to find the proverbial message in a bottle. It's a clever way to depict a beautiful paddling scene within a cool outline.
35. The Splashy Kayak Compass Rose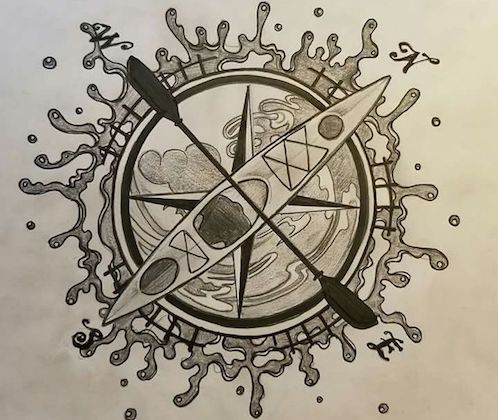 PC Tina Hiter via Pinterest
This is another variation of the kayak compass rose with a more splashy background than the first two. It reminds me a little bit of the artwork I came to associate with the Rugrats cartoon when I was a kid.
36. The Cabin Canoer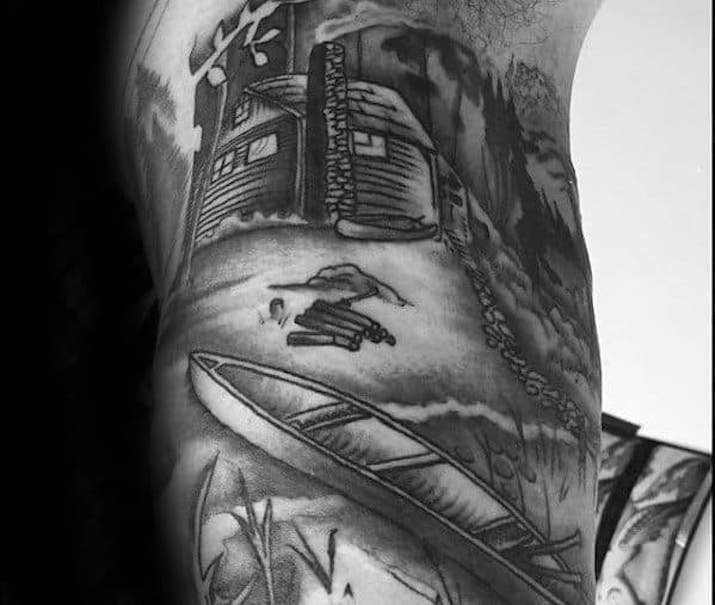 PC Next Luxury
This idea is an ode to loading up your canoe and paddling to your family's remote cabin that can only be accessed by water. Once there, whether you spend your days paddling more or just relaxing, fishing, or journaling, it's up to you.
37. The Space Traveler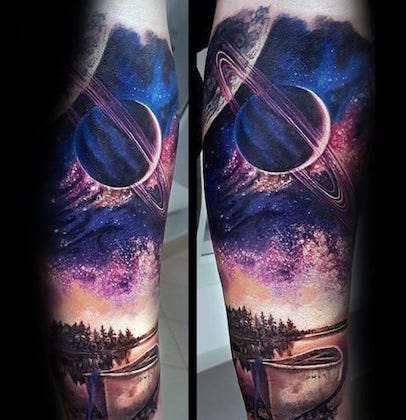 PC Next Luxury
This one will be asking a lot of your tattoo artist, but if he or she can pull it off, you will have an amazing astrological tattoo with your favorite watercraft–the canoe–beached gently underneath.
38. The Rowboat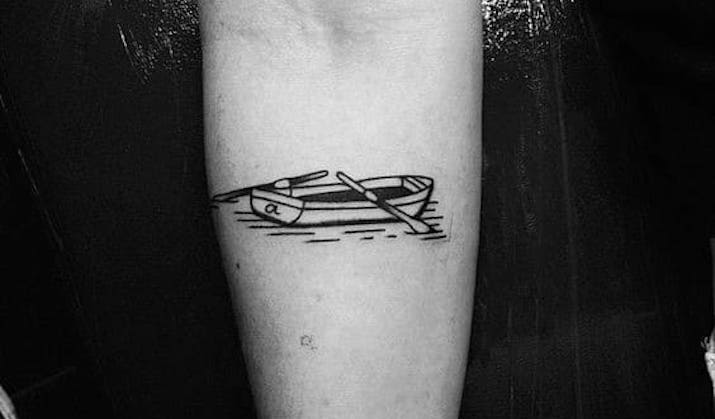 PC Next Luxury
In contrast, this simple rowboat should be an easy ask of even an amateur tattoo artist. The rowboat is one of the simplest but effective boat designs out there, as long as you don't forget the oars!
39. The Paddle Fail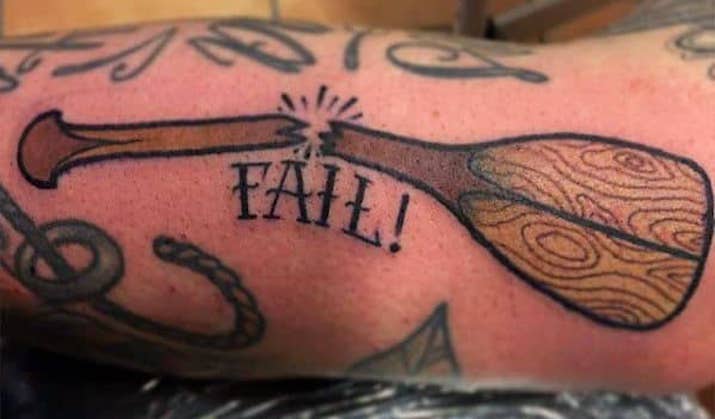 PC Next Luxury
This funny tattoo idea will remind you to be careful when sticking your paddle into shallow, rocky waters. I personally always carry a backup paddle whenever I go out, so that a broken paddle like this one won't slow me down for too long.
40. The Canoe Camper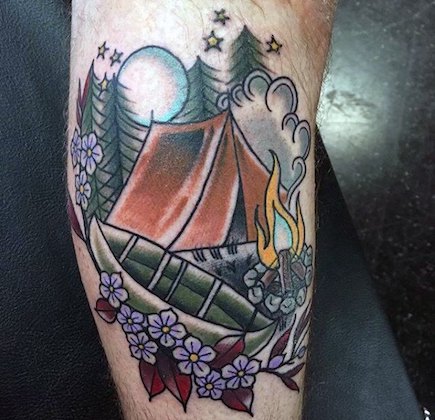 PC Next Luxury
If cabin camping is a little too luxurious for your taste, you might prefer a tattoo idea that commemorates the simplicity of tent camping in prime canoe wilderness areas like the Boundary Waters Canoe and Wilderness Area.
41. The Fisherman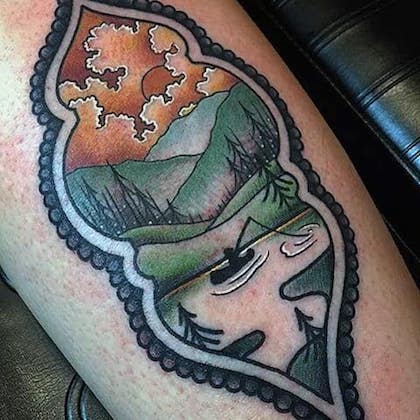 PC Next Luxury
What began as a simple image of a paddler fishing from their watercraft turned into a beautiful landscape set in an almost an hourglass-shaped outline. You can choose to add color to it or go with a black-and-white design if you want to save a little money.
42. The Canoe Artwork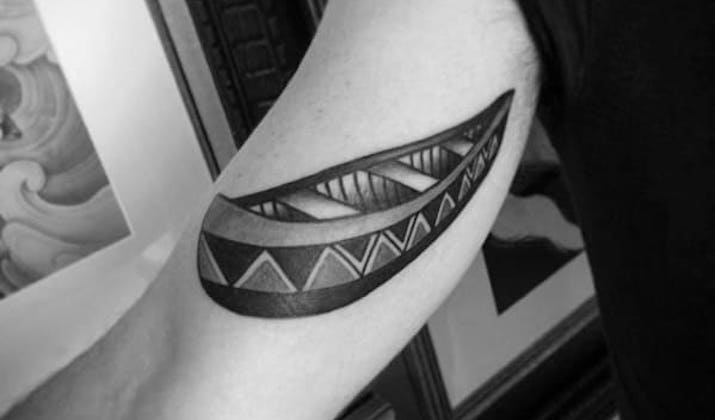 PC Next Luxury
This simple tattoo design is meant to allow you to showcase the artwork on your favorite canoe. So whether you keep it relatively simple like the design above or draw up something a little more complex, it's your chance to get creative.
43. The Full Back Tribal Paddle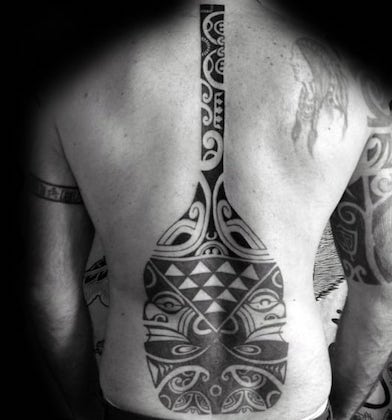 PC Next Luxury
If you are looking for an idea for a full back tattoo, I think this tribal paddle came out pretty awesome. There are several elements to it, like the heads facing opposite direction on either side of the blade or the fact that the area below looks a bit like a butterfly.
44. The Diamond Backed Color Canoescape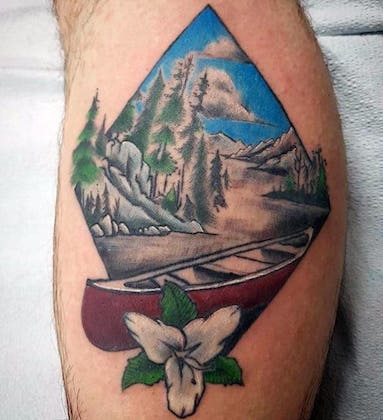 PC Next Luxury
This is another diamond-shaped design that showcases a canoe set in a majestic alpine backdrop. The diamond shape is popular for calf tattoos, which is where this one is actually placed.
45. The Soleil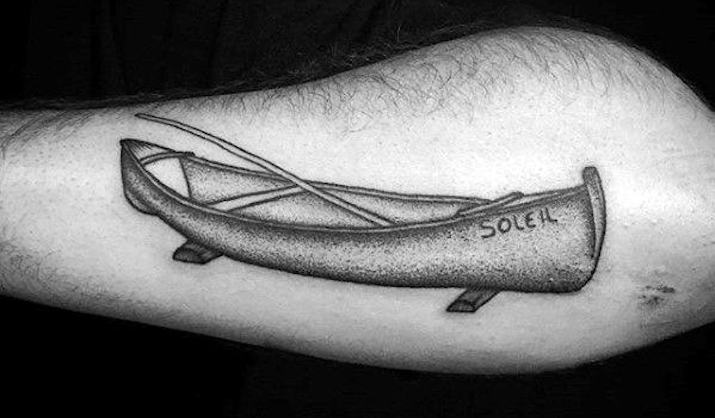 PC Next Luxury
This is a funny tattoo design of a canoe named the Soleil that appears to be dry docked on a pair of blocks out of the water. We're not sure whether it's waiting for repairs or just the next brave souls willing to take it out for a paddle.
46. The Canoe and Cross Paddles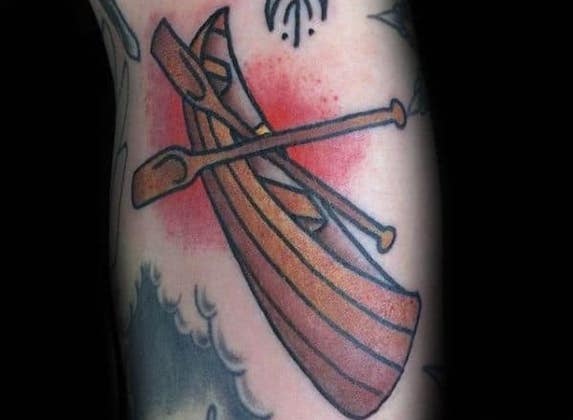 PC Next Luxury
This one evokes some of the same imagery as the skull-centric tattoo designs from above, but it eliminates the skull and makes the canoe the centerpiece of the tattoo. With the crossed paddles, it reminds us that canoeing is always better with a trusted partner.
47. The Diamond Backed Sunset Scape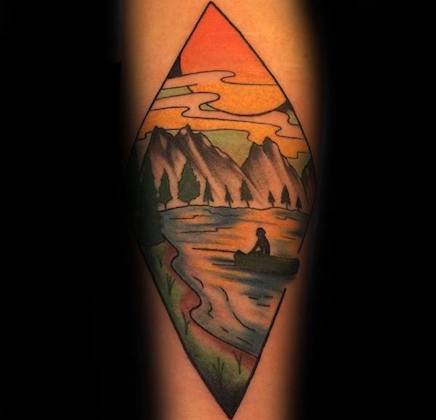 PC Next Luxury
The final diamond-shaped tattoo idea on our list evokes memories of the last time you watched the sun dip below the horizon from the comfort of your canoe or kayak. It's a colorful choice for a colorful individual.
48. The Lotus Paddle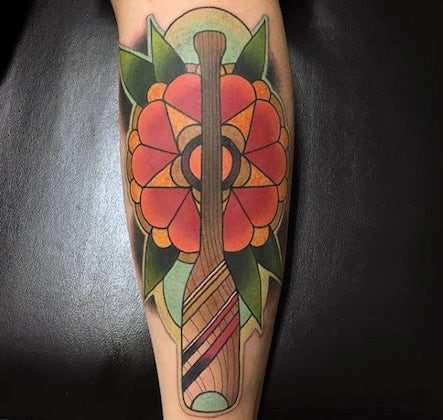 PC Next Luxury
This tattoo idea must have come from a lover of wild nature and canoe paddling. Instead of just the vibrant and mesmerizing image of the lotus by itself, it creates a stunning backdrop for this wooden canoe paddle with a cleverly-striped blade.
49. The Ironman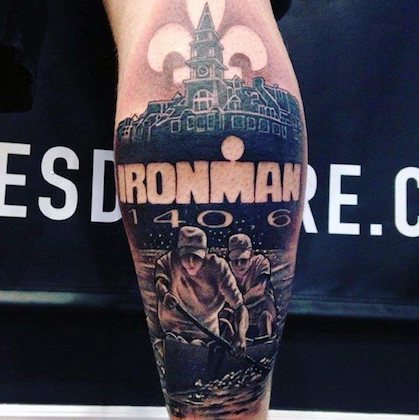 PC Next Luxury
This tattoo commemorates participating in the canoe portion of an Ironman adventure race. Whether they finished in 140th place or they finished in a time of 140.6, we know that race created some lasting memories.
50. The Little Blue Canoe
PC Next Luxury
Many of the ideas on our list were simple, but a lot of those didn't include a whiff of color. So this design gives you a way to keep things simple and affordable while personalizing your canoe to honor your favorite color–if it's blue, that is.
Final Thoughts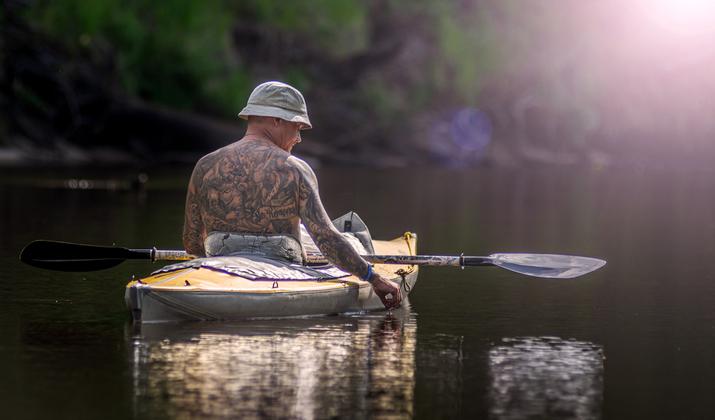 Photo by Fotangel via Shutterstock
The only question remaining is: which kayaking tattoo idea will you choose?!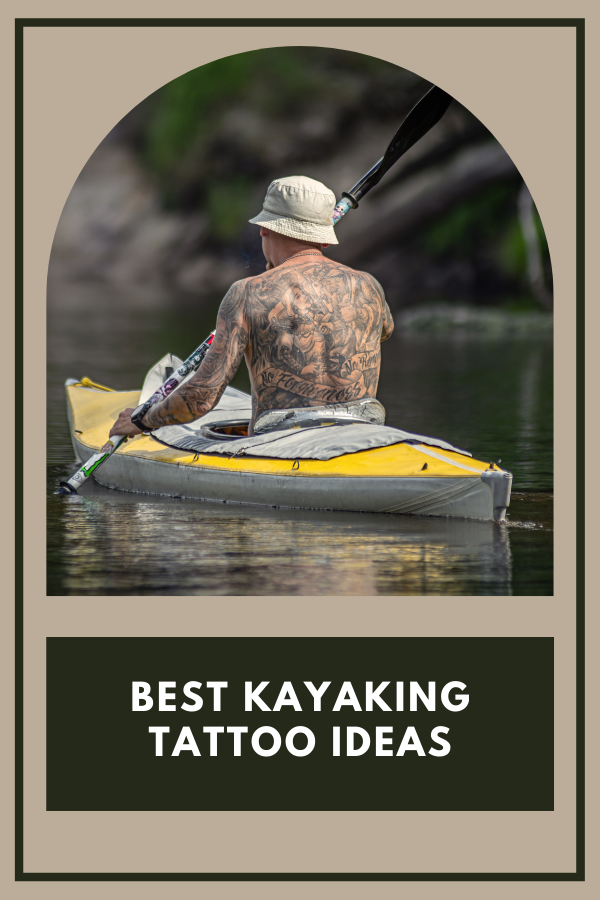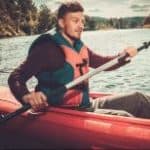 Author: Peter Salisbury
Pete is the Owner of KayakHelp.com. Born and raised in Cleveland, Ohio, he grew up kayaking, fishing, sailing, and partaking in outdoor adventures around the Great Lakes. When he's not out on the water, you can find him skiing in the mountains, reading his favorite books, and spending time with his family.