Lower back pain doesn't have to keep you from enjoying kayaking. Even if your pain is a result of a chronic lower back injury, there are kayaks and kayak seats specifically made for bad lower back pain and injuries.
If you deal with chronic lower back issues and don't want to give up kayaking, you may need to transition to one of the best kayaks for bad lower back pain and chronic injuries.
Many of the best fishing kayaks and cheap pedal kayaks are equipped with the same kind of seat you should look for if you have a bad lower back. So you will see some overlap between these kayaks and those we've mentioned in those reviews.
That said, we will also use this guide to provide tips for correcting your posture to avoid lower back strain. Also, we will suggest strategies that you can use to transport your kayak more easily if you deal with a chronic back injury or pain.
We firmly believe that kayaking is a sport that is accessible to all. So we hope that these adaptations and kayaks help you enjoy our favorite sport if you have a bad lower back!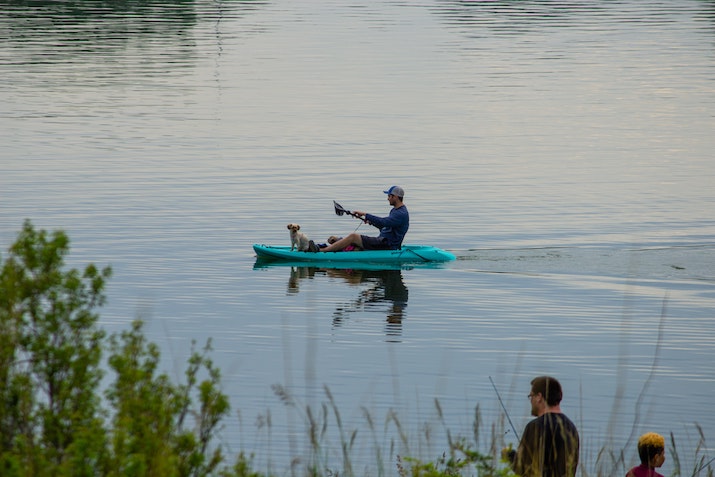 Photo by Jeffrey Hamilton on Unsplash
Best Kayaks For Bad Lower Back
Brooklyn Kayak Company RA220
Brooklyn Kayak Company PK11 Angler
BOTE Deus Aero
Sea Eagle FishSUP 126
BOTE Zeppelin Aero
Brooklyn Kayak Company FK184
Wilderness Systems Recon 120
Ascend 10T
Old Town Topwater 106
Hobie Mirage Lynx
How To Make Kayaking More Comfortable With A Bad Lower Back
Instead of putting together the traditional kayak buying guide that we would insert here before our kayak reviews, we are going to take this opportunity to provide some tips and strategies to make kayaking more comfortable if you deal with lower back pain.
Launch From An ADA-Accessible Dock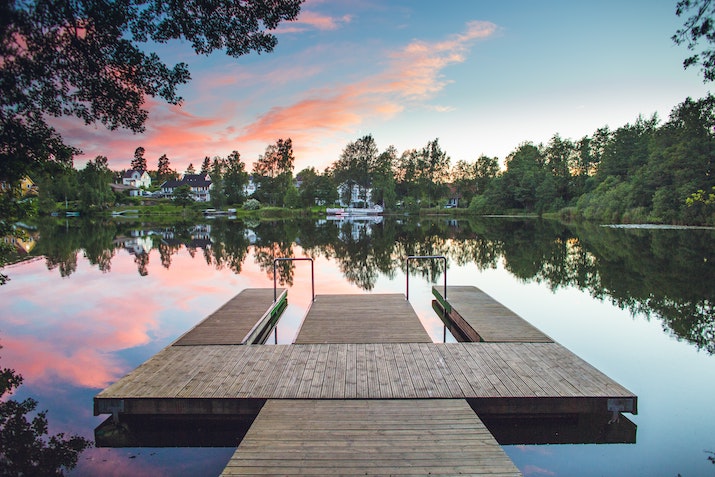 Photo by Angel Luciano on Unsplash
While you may have to do a little research to find one in your area, there are more and more of these becoming available to the public. Part of the reason for that is the push to make kayaking accessible to all.
These docks provide aids to help you get in and out of your kayak without straining your back or arms. After all, simply getting into your kayak without stressing or tweaking your back can be the hardest part for folks with severe and chronic lower back pain.
Maintain Good Posture
Photo by Free-Photos on Pixabay
The more you slump, the less your body will enjoy kayaking. Unfortunately, sitting up straight is a challenge for a lot of us these days because we spend so much of our lives sitting with poor posture.
Straightening your back and engaging your abdominal and oblique muscles will take a lot of the strain off your lower back. You may need to train those muscles and build strength in order to maintain a comfortable posture for an extended period.
For kayakers, the best way to train is to be on the water. The good news is that you can improve your technique and strengthen your muscles every time you paddle.
Take Frequent Breaks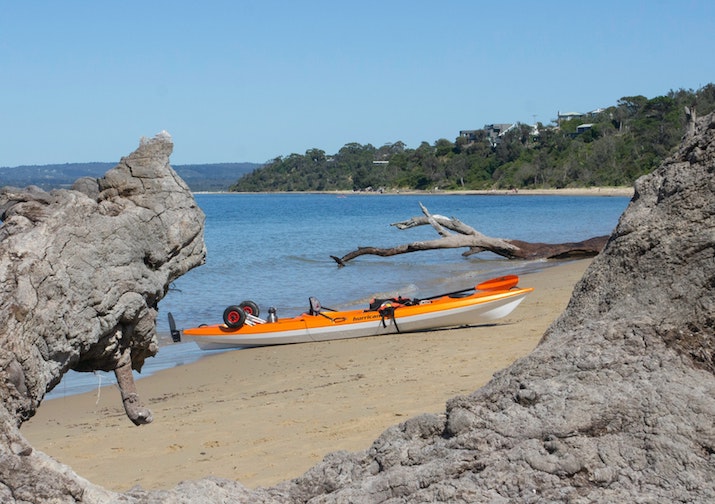 Photo by Geoff Brooks on Unsplash
Another great way to alleviate lower back pain when kayaking is simply to give your back a break on a frequent basis. Pulling over and getting out of your kayak to stretch your back and legs every 30 to 60 minutes is a healthy practice if you are dealing with back pain.
Of course, this will require that you plan your kayaking trips a little further in advance. You will just need to be confident that there will be a safe place for you to land and exit your kayak when your back starts screaming.
Stretch A Lot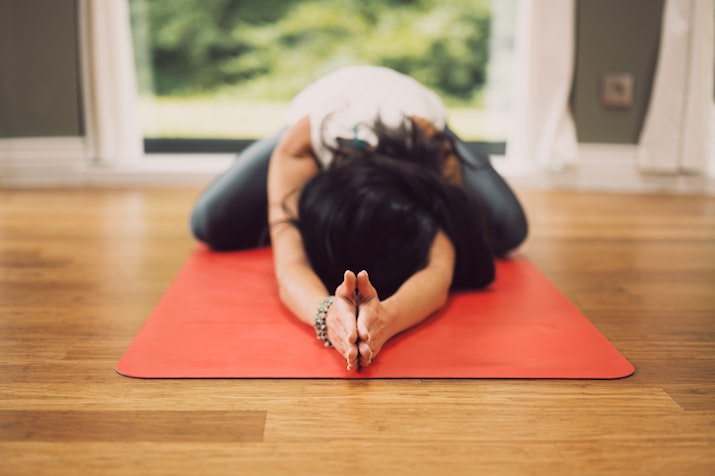 Photo by Conscious Design on Unsplash
A regular stretching routine is a healthy recommendation for anyone with a passion for outdoor recreation. It doesn't matter whether you are a casual hiker or live to paddle one of the best whitewater kayaks.
Every type of outdoor activity requires the use of muscles that need to continue working for you for (hopefully!) a very long time. The more you stretch these muscles, the longer you will probably be able to enjoy your sport of choice.
For kayakers, the most obvious muscles to target in your stretching routine are in your back, shoulders, and arms. Kayaking, however, is honestly a full-body workout.
So you can always benefit from joining a local yoga studio or committing to a regular online yoga practice if you want to enjoy kayaking for many years to come.
Thumbnail
Title
BKC UH-RA220 11.5 Foot Angler Sit On Top Fishing Kayak with Paddles and Upright Chair and Rudder System Included (Camo)
BKC PK11 Angler 10.5-Foot Sit On Top Solo Fishing Kayak w/Instant Reverse Pedal Drive, Hand Control Rudder, Paddle, and Upright Seat (Red)
BOTE Deus Aero Inflatable Kayak Convertible Stand Up Paddle, Board for Adults Kids Family Friendly, Travel Bag Blow Up for Fishing Hunt, Native Citron
Sea Eagle FishSUP 126 Inflatable FishSUP - Swivel Seat Fishing Rig Package
Thumbnail
Title
BKC UH-RA220 11.5 Foot Angler Sit On Top Fishing Kayak with Paddles and Upright Chair and Rudder System Included (Camo)
Thumbnail
Title
BKC PK11 Angler 10.5-Foot Sit On Top Solo Fishing Kayak w/Instant Reverse Pedal Drive, Hand Control Rudder, Paddle, and Upright Seat (Red)
Thumbnail
Title
BOTE Deus Aero Inflatable Kayak Convertible Stand Up Paddle, Board for Adults Kids Family Friendly, Travel Bag Blow Up for Fishing Hunt, Native Citron
Thumbnail
Title
Sea Eagle FishSUP 126 Inflatable FishSUP - Swivel Seat Fishing Rig Package
Reviews of Kayaks for Bad Lower Back
Check Price On Amazon
Length: 11'6"
Width: 34"
Weight: 68 pounds
Weight Capacity: 550 pounds
I chose this kayak for the list (and many of the others) because of the elevated seat that it comes with. This seat raises your hips so that you aren't sitting in such a crunched position while paddling.
The ergonomic seat is still adjustable so that you can tinker with your position as you go. Plus, this kayak is equipped with a pedal-operated rudder which eliminates the need for corrective paddling strokes on one side or the other.
Those corrective strokes can often be the culprit behind slight tweaks in your lower back. With a rudder to help you track straighter, however, you will be able to paddle on both sides of your kayak consistently.
The RA220 is also loaded with fishing accessories if you want to give angling a try in your kayak. Built-in fishing rod holders, waterproof storage areas, and bungee tie-down areas are just a few examples of the features you can take advantage of in this kayak.
Check Price On Amazon
Length: 10'6"
Width: 34"
Weight: 60 pounds
Weight Capacity: 420 pounds
The PK11 Angler is another selection from Brooklyn Kayak Company that offers an elevated kayak seat with mesh netting stretched across an aluminum frame. This design is great for kayakers with bad lower backs and it also breathes really well for warm weather kayaking.
This is also a pedal-driven kayak (that is conveniently among the cheapest pedal kayaks). That means you won't have to deal with the twisting of using a regular kayak paddle to propel this kayak.
Instead, you will be able to use leg power combined with the hand-operated rudder on the gunwale of the kayak. Plus, the pedal drive system can be completely removed if you want to upgrade to a trolling motor setup down the line.
This kayak is also equipped with kayak fishing features like fishing rod holders and an open storage compartment for a kayak fishing tackle box. You will also be able to take advantage of the open, flat cockpit for stand-up kayak fishing if your back allows it!
Check Price On Amazon
Length: 11'
Width: 33"
Weight: 41 pounds
Weight Capacity: 300 pounds
The Deus Aero is just a slightly smaller version of the Zeppelin Aero, but it also offers higher gunwales. This design will be better for folks that want to stay drier when paddling in higher winds or larger waves.
The only thing I don't really like about the high gunwales on the Deus Aero is the idea of getting in and out with lower back pain. If you are getting in and out from a dock, you shouldn't have too much of an issue, but it might be tough for launching and landing from a beach.
That said, this kayak comes with all of the benefits of an inflatable kayak without any of the downsides. It is easy to store and transport but it still performs very well once you get it on the water.
This is largely because it is made with the same technology that has been used in whitewater rafts for years. This technology creates a highly durable kayak that tracks reasonably well in multiple different types of paddling environments.
This is also one of the best kayaks out there for travelers because it comes with its own roller bag. In addition to that, it comes with a center fin, hand pump, foot bar, and repair kit.
Check Price On Amazon
Length: 12'6"
Width: 40"
Weight: 45 pounds
Weight Capacity: 500 pounds
Sticking to the inflatable paddle craft theme, this one is technically labeled as a SUP, but it comes with a swivel seat package that allows you to turn it into a kayak as well. The good news about that is that it can adapt to either stand-up or sit-down paddling.
Just like the last two inflatable kayaks that we detailed, this one inflates up to 12-15 pounds per square inch (PSI). This creates an incredibly rigid feel to provide plenty of stability and tracking ability.
It also comes with a motor mount that can be easily installed at the stern so that you can later install a trolling motor. Plus, there is enough room behind the kayak seat to attach your trolling motor battery without it getting in the way.
One of the best things about this kayak is that it comes with just about everything you need to get right on the water. That includes a SUP paddle, AB30 kayak paddle, backpack carrying case, swivel seat, multi-purpose storage box, manual-select SUP pump, and a repair kit.
Length: 9'
Width: 32"
Weight: 44 pounds
Weight Capacity: 330 pounds
The FK184 is a slightly smaller kayak and it is one of the lightest rigid sit on top kayaks that you will find out there. That is the primary reason that we chose to include this kayak on our list.
While it doesn't have a raised kayak seat as we would recommend for most folks with bad lower back issues, the seat it does have provides extra cushion and is adjustable in multiple ways.
This will help you make micro-adjustments to your position to find the most comfortable spot possible on all-day kayak adventures. Two watertight hatches also offer plenty of storage for full-day kayaking adventures if you find it comfortable enough to do so.
This sit-on-top kayak is probably best suited to smaller paddlers because of its shorter length. Taller paddlers may have an issue getting comfortable in the cockpit, especially with lower back injuries or chronic ailments.
This kayak does, however, include multiple footrest positions, multiple fishing rod holders for kayak angling, and a large rear cargo area that would hold one of the best kayak cooler bags.
Length: 12'6"
Width: 38"
Weight: 41 pounds
Weight Capacity: 600 pounds
The BOTE Zeppelin Aero is the first inflatable kayak on our list and it is also our pick for the best overall kayak for bad lower back injuries and chronic pain (more on that in the final section).
Most inflatable kayaks make you sit super low in the cockpit and don't provide very much lumbar support at all. That is not at all the case with the Zeppelin Aero.
It has an elevated seat that inflates to high pressure so that it retains rigidity throughout your paddles. The rest of the hull and deck of the kayak are also made with a similar design to what you would find with most inflatable whitewater kayaks.
This allows you to inflate the kayak to higher pressures than cheap inflatable kayaks. It also makes it more durable when you bump into rocks or other submerged objects in the water.
This inflatable kayak also comes with its own travel bag, hand pump, repair kit, rac receivers, and Aero paddle seat. You will have to get your own paddle separately, but it does include a kayak fin that provides better tracking ability than most inflatable kayaks.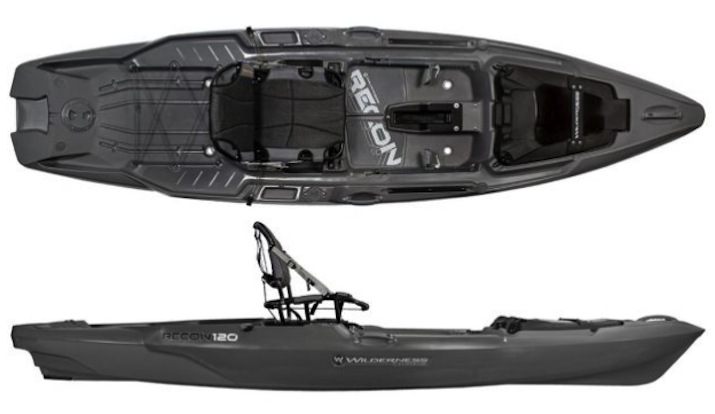 PC Next Adventure
Length: 12'2"
Width: 38"
Weight: 95 pounds
Weight Capacity: 450 pounds
While it doesn't come with one already installed, you can purchase a separate pedal drive system to install in the center of this kayak's cockpit. In combination with its elevated seat, this kayak takes a lot of strain off your lower back.
Wilderness Systems has long been renowned for producing some of the most comfortable kayaks out there. Their recent adaptation of the AirPro ACE seat further improves their seating system and cements their place as an industry leader.
'ACE' stands for Adjustability, Comfort, and Ergonomics. On the plane of adjustability, this seat is adjusted with a one-handed mechanical lever on the side (which is very similar to the manual adjustments on car seats).
This manual lever allows you to change position for paddling, pedaling, fishing, or motoring. For folks with lower back pain, this also gives you plenty of options to find the most comfortable position for your back possible.
This kayak is also equipped with a customizable platform with accessory tracks, tackle box recesses, and midship pockets. You will also be able to take advantage of fishing rod holders and dual rod troughs that can hold up to three fishing rods of a maximum length of 7'6".
The only downside of this kayak is that it has the heaviest base weight of any model on our list. So you should consider using a kayak cart to transport this kayak from your vehicle to the water's edge.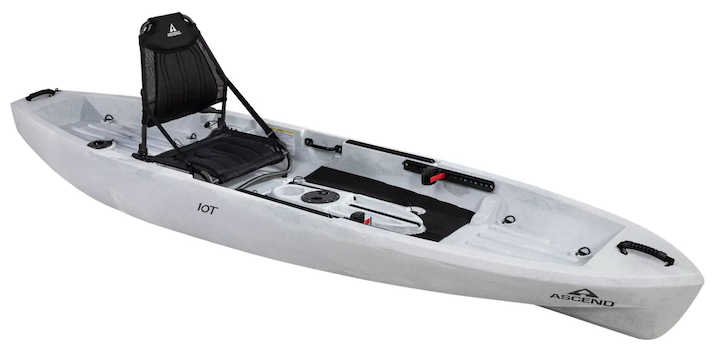 PC Bass Pro Shops
Length: 10'
Width: 30"
Weight: 67 pounds
Weight Capacity: 325 pounds
As you can probably see, the Ascend 10T offers one of the most open cockpit designs that you will find out there. This makes it easier to get settled in the kayak when you are starting your paddle and also make re-entering your kayak in deep water more manageable.
The enhanced seating system on this kayak raises your hips up to take pressure off your lower back. It also gives you the freedom to completely remove the seat and replace it with a kayak cooler or a different seat design.
When you do install the seat, it is held down with friction-lock bungee hold downs that keep it from moving or shifting around. The flat deck inside the kayak also features a non-skid foam mat if you ever want to give stand-up kayak fishing a try.
Speaking of fishing, this kayak is outfitted with two flush-mounted rod holders and rod leash eyelets for attaching a fishing rod leash for added security. There are also two 16" accessory rails on the gunwales and a third 12" accessory rail on the dash flat for attaching a fish finder or other accessories.

PC West Marine
Length: 10'6"
Width: 34.5"
Weight: 73 pounds
Weight Capacity: 440 pounds
The Old Town Topwater 106 is built with an ElementAir™ seating system that can be set in two different positions. The high position is usually better for folks with bad lower back pain, but you can also adjust it down to the lower position if that feels better for you.
Most paddlers use the low seat position for paddling because it reduces your profile to make movement more efficient. The high position is best suited to kayak fishing because it gives you an elevated vantage point to spot fish.
If you don't want to rely on line-of-sight for locating fish, you can also attach a fish finder with Old Town's revolutionary universal transducer mounting system. It also makes it easier to manage your multiple fishing rods and tackle with on-board rod holders and organization options.
That includes pre-mounted gear tracks, a large and open rear tankwell, and a front storage hatch that seals to be watertight. If you get comfortable enough to try stand-up fishing in this kayak, it is built for that as well because the deck has EVA foam pads for superior traction.

PC Hobie
Length: 11'
Width: 36"
Weight: 61 pounds
Weight Capacity: 350 pounds
While they are a bit pricier than some of the other kayaks on our list, Hobie's kayak line offers superior comfort for older paddlers and folks with bad lower back issues.
One reason for this is that their seats are more elevated than many others so that your hips can stay more open once seated in this kayak. They are also an industry leader in pedal kayaks and have been producing them for years.
Pedal kayaks are great for bad lower back pain because they eliminate the twisting and back strain that go with the paddling motion. Instead, you can secure an emergency paddle in the paddle park and use your legs to power your kayak.
The Mirage Lynx features a streamlined hull for a sleek ride with minimal drag. The seat features mono mesh material that is highly breathable while still providing plenty of lumbar support.
During transportation, you won't have to worry as much about damaging the hull of this kayak because it features skid pads for safer rear loading. Plus, you can equip this kayak with a kayak sail or even a Bimini sunshade to keep you more comfortable on long pedaling days.
The BOTE Zeppelin Aero is our pick for the best kayak for bad lower back pain and issues because it offers an elevated and rigid seat that is more like sitting in a low camping chair than sitting in a kayak.
We also chose it over the BOTE Deus Aero because it has a more open cockpit that makes it easier to get in and out of. The fact that it is an inflatable kayak also gives it several advantages over the others on our list.
For one, it is much lighter than most of the other kayaks, which means it will put less strain on your back when you are just getting it down to the water. While it does require you to inflate it every time you want to use it, a high-pressure electric pump will take care of that in less than 10 minutes.
Also, we love this kayak particularly because it is inflatable. Once you are finished kayaking and you deflate it, you will need significantly less space to transport it in your vehicle and store it at your house.
This essentially eliminates the need for a kayak roof rack and outdoor kayak storage at your home. So, overall, it is a comfortable kayak on the water and has a lot of practical benefits off the water as well.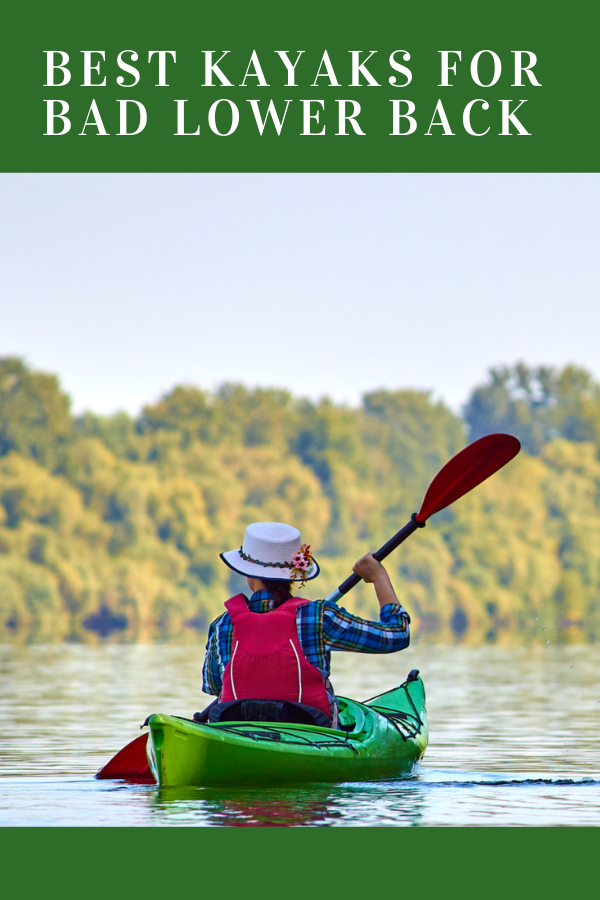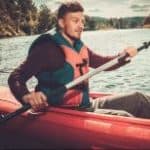 Author: Peter Salisbury
Pete is the Owner of KayakHelp.com. Born and raised in Cleveland, Ohio, he grew up kayaking, fishing, sailing, and partaking in outdoor adventures around the Great Lakes. When he's not out on the water, you can find him skiing in the mountains, reading his favorite books, and spending time with his family.