One might argue that kayaking as a sport can trace its origins to the oceans. Many early cultures paddled small wooden watercraft out past the surf break every day in search of fish.
The word 'kayak' actually roughly translates into 'hunter's boat', so we can see why we get this feeling of stealth as we're paddling over placid waters. Sea kayaks today are a great way to explore tidal estuaries, get within sniffing distance of a receding glacier, and more.
Sea kayaks themselves are much different than their recreational kayaking counterparts. They tend to be longer to give you greater ability to cover long distances and they come almost exclusively in sit inside varieties.
The paddles that go along with these kayaks are made to help you track straighter and generate more of that top-end speed. They're also some of the most lightweight and comfortable-to-handle paddles out there.
In this article, we're going to highlight 10 of the best sea kayak paddles and crown our pick for the leader of the bunch. We'll also provide a comprehensive buying guide to help you narrow down your options and define some of the key jargon pertaining to sea kayak paddles. 
Aqua-Bound Manta Ray Carbon 2-Piece Posi-Lok Kayak Paddle
Werner Paddles Camano Carbon Bent 2pc Standard Kayak Paddle 2017-230cm/Carbon
Aqua-Bound Sting Ray Carbon 2-Piece Snap-Button Kayak Paddle
Aqua-Bound Manta Ray Carbon 2-Piece Posi-Lok Kayak Paddle
Werner Paddles Camano Carbon Bent 2pc Standard Kayak Paddle 2017-230cm/Carbon
Aqua-Bound Sting Ray Carbon 2-Piece Snap-Button Kayak Paddle
Jargon Buster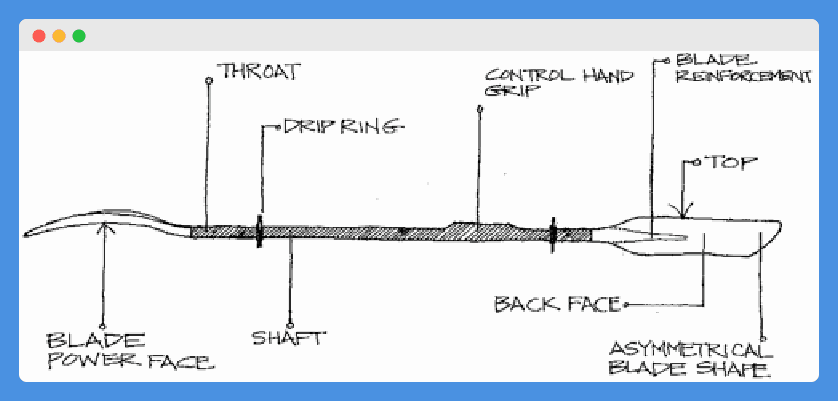 If you're a less-experienced paddler, there's more to your paddle than meets the eye. In this section, we'll define some of the key terms that you'll hear throughout the rest of this article.
Shaft
The shaft is what connects the blades of the paddle on either end. There can be bent shaft or straight shaft kayak paddles.
Blades
The blades are located at either end of the paddle's shaft. The design of the blades is largely what impacts the paddle's performance.
Power Face
The power face of the kayak blade is, as expected, the face that generates power. It is the face of the blade that should be pointing towards you as you're sitting in your kayak.
Back Face
The back face of the blades is opposite the power face. This should be pointing away from you as you're sitting in your kayak.
Angle
Angle refers to the angle of the paddle's shaft in relation to the water. You'll either see paddles fall in the 'high angle' or 'low angle' category.
Dihedral
A dihedral is a ridge that often characterizes the centerline of the power face of the blade. It gives the water a path to flow off of the face of the blade.
Feathering
Feathering refers to the angle of the blades in relation to one another. Some paddlers prefer to alter the angle of their blades in relation to one another in order to achieve a smoother paddling experience.
Yaw
This term refers to the movement of the bow of a kayak from side-to-side in response to each individual paddle stroke. Reducing yaw typically leads to a more efficient paddling experience.
Buying Guide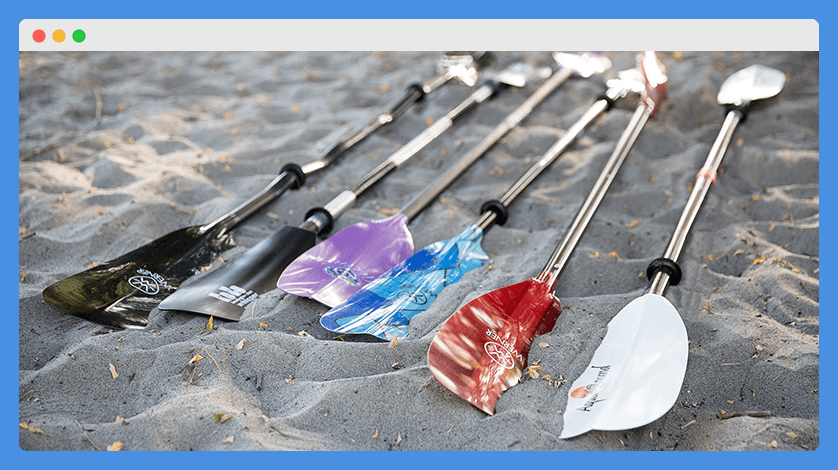 There can be some very minor differences in kayak paddles that create major differences in your paddling experience. In this section, we're going to provide some information on the most important aspects of selecting a sea kayak paddle.
Angle: Low Vs High
Low angle paddling is widely considered to be the most efficient. It keeps the angle of your paddle shaft very low in relation to the water and is the most common technique for sea kayaking because it's great for covering longer distances.
Monitoring your paddling angle requires paying close attention to your top hand through your paddling motion. If your top hand stays around shoulder level, you're using a low angle technique, while a high angle technique would be classified as your top hand consistently coming up to eye level.
High angle paddling is much more common to whitewater kayakers. While it uses more energy, it's also great for generating more power and it's more adaptable to some of the more technical paddle strokes.
Blade Shapes
Low angle kayak blade shapes tend to be longer and narrower. They are meant to enter the water at an angle that's at or close to parallel with the water's surface.
High angle kayak blades are much shorter and wider. These blades are meant to enter the water at an angle that's much closer to perpendicular to the surface of the water.
Most kayak blades these days are going to be asymmetrical in shape, which means they aren't a perfect oval or rectangle. This asymmetrical shape allows power to be more evenly distributed between the top and bottom halves of the blade.
Asymmetry in a kayak blade also reduces fluttering when the blade is removed from the water. And finally, it is a design element that works to keep the blade from twisting when it enters or exits the water.
Blade Size
Most kayak paddle manufacturers list blade size as measured in square inches. Some, however, simply list the dimensions of the paddle's blades, such as 19" by 6.75".
Larger paddlers will often benefit from a paddle with larger blades. But on the other hand, smaller paddlers might have a harder time using their paddle if the blades are too large.
A larger blade allows you to pull more water and, as a result, generate more power. But a larger blade also comes with more resistance, which can result in greater fatigue on longer paddles.
For those most interested in sea kayaking, where you'll most likely be paddling for longer times and distances, a blade size between 550 and 650 square inches will probably suffice just fine.
Bent Shaft vs. Straight Shaft
When it comes to deciding between a bent shaft or straight shaft paddle, it really comes down to ergonomics and your personal technique. Many experienced paddlers swear that a bent shaft creates more efficiency, but there is little hard evidence to back this up.
A bent shaft paddle does, of course, allow you to keep your wrists inline through various different paddle strokes. Over time, you might find that the extra wrist protection is well worth the early discomfort of learning to operate a bent shaft paddle.
Paddle Length
There are three main factors that will determine your paddle length. They are your height, the width of your kayak, and your preferred style of paddling (i.e. high angle or low angle).
The shaft should be long enough to allow each blade to fully enter the water on each paddle stroke. It should also have enough length to avoid hitting against the side of your kayak at the start of each stroke.
A longer paddle allows you to propel your kayak further forward with each stroke. That being said, the tradeoff of that additional ability is that it will cost you more energy to make each stroke.
Longer paddles also make it easier for you to find and maintain an effective cruising speed with minimal effort. You'll also be able to reach your paddle further away from your kayak to exercise a sweep stroke, or to help guide the piece of trash into arm's reach so you can leave your waterway better than you found it!
Shorter paddles will cause you to raise your top hand higher so that the blade enters the water completely. You'll have to get that added elevation with your top hand so that the blade doesn't hit the side of your kayak on every stroke attempt.
The advantage of having to make this technical adjustment is that it will bring the blade closer to the side of the kayak on each stroke. This minimizes the amount of bow movement side-to-side with each stroke.
In most cases, shorter paddles also have a lower swing weight, which means they're easier to reset and ready for the next stroke. This allows you to respond more quickly to feedback on your individual paddle strokes.
Overall, your length choice will depend on your body type and paddle technique. You should be careful to follow the sizing recommendations of your paddle's unique manufacturer to make sure you're getting a paddle that fits you.
Best Sea Kayak Paddle Reviews
Check Price on Amazon
The Werner Shuna is a high angle touring paddle made of carbon and fiberglass. It's a great fit for paddlers of many skill levels because it strikes a great balance between lightweight and super durable.
This paddle boasts a two-piece design and it's available in a number of sizes, including 210 cm, 215 cm, and 220 cm. You'll also be able to choose from a wide range of colors, including translucent amber, Swellz blue, and gradient abyss.
The shaft of this paddle is made of carbon while the blade is made with a transparent fiberglass laminate. This paddle can be feathered up to 60 degrees and can be set for left or right-handed control.
The Werner Shuna sea kayak paddle weighs just 25.5 ounces. It's a great option for paddlers of all skill levels and it's durable enough to withstand the blows of your learning curve.
Check Price on Amazon
The Aqua-Bound Manta Ray is a carbon-reinforced kayak paddle that's hand-built in Wisconsin. It features an ovalized shaft that provides a comfortable grip throughout the length of your paddle.
This is another two-piece kayak paddle that adjusts using a Posi-Lok ferrule. This ferrule allows the paddle to be broken down for easier transportation and storage.
This paddle is available in 10 cm length increments from 210 cm to 250 cm. The 18" x 7.25" blades on this paddle are made with carbon-reinforced, injection-molded nylon that's much stronger than typical plastic blades and delivers 20% more power per paddle stroke.
The Manta Ray weighs a total of 29.44 ounces. The blades can be feathered at 60 degrees or set inline and this kayak paddle features left or right-handed control.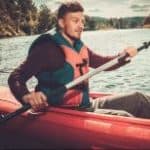 Author: Peter Salisbury
Pete is the Owner of KayakHelp.com. Born and raised in Cleveland, Ohio, he grew up kayaking, fishing, sailing, and partaking in outdoor adventures around the Great Lakes. When he's not out on the water, you can find him skiing in the mountains, reading his favorite books, and spending time with his family.