Using a pedal kayak can make your kayaking sessions easier and a lot more fun. Rather than trying to figure out where to place your paddle so it doesn't get in the way of other activities, you can free up your hands and let your legs do the work.
This gives you more freedom to focus on casting your line, reeling in your catch, taking aim, or capturing images of the gorgeous scenery that's all around you.
However, there are lots of pedal kayaks on the market, and figuring out the best one to buy can be a hassle. Not to worry, I've done all the heavy lifting for you, so in this post, we're going to examine some of the best pedal kayaks available today.
By the end, you should be able to figure out which option is right for you based on your budget, expectations, and needs.
Best Pedal Kayaks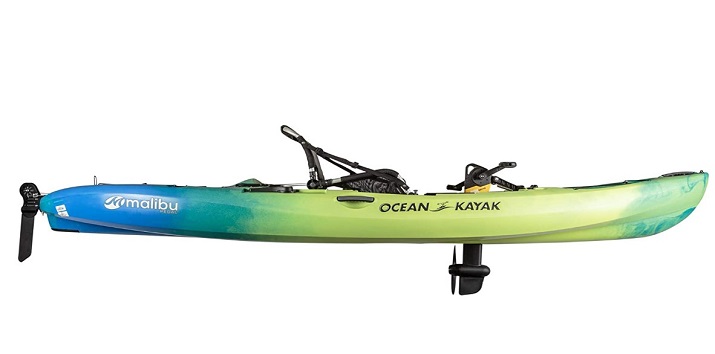 Whether you're going fishing or simply taking a recreational tour of your bucket list kayaking destinations, the Ocean Kayak Malibu Pedal Drive is the perfect companion for the trip.
It features a powerful pedal mechanism that allows the boat to easily glide through the waterfall and still maintain balance if you decide to try fishing standing up.
The Ocean Kayak Malibu comes with elevated seats to give you better visibility as you paddle. There's a hatch underneath the seat as well as storage compartments with a bungee at the stern and bow where you can fit your belongings.
This elegantly designed pedal kayak is made from polyethylene, which provides both structural rigidity and flexibility in how it performs.
The hull area gives you ample room to stretch your legs, while the mesh cover helps you stay dry by providing drainage and ventilation.
You can mount your rod holders and other kayaking and fishing accessories on the gear tracks conveniently situated on the kayak's deck. The kayak also has a transducer mount that you can use to easily install fish finder.
Ocean Malibu Kayak's built-in hand rudder helps expertly control the direction of your boat. The kayak only weighs 44 kg with a weight capacity of 205kg, and it also comes with padded handles to enable you to easily transport it.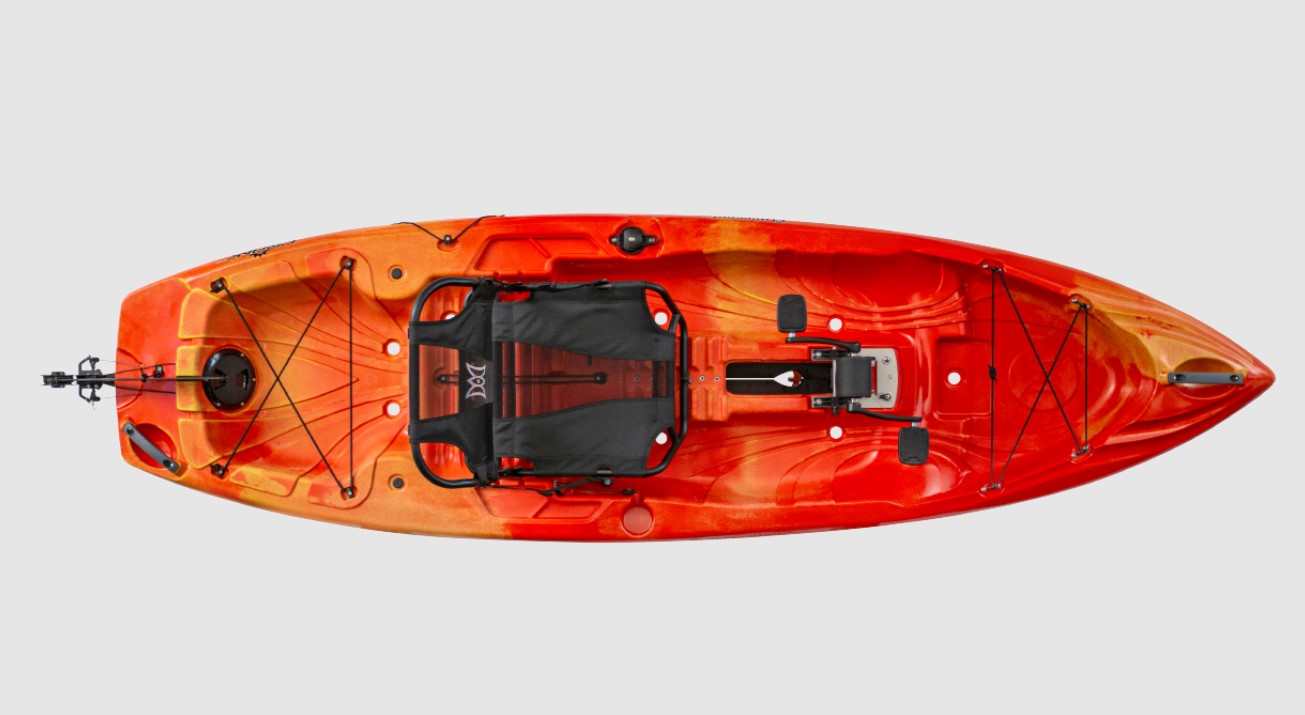 At only 10 inches (304cm) in length, the Perception Crank 10 is one of the best compact pedal kayaks that you can get. Its compact nature makes it easy to pack, transport, unload, and launch in water.
The Crank 10 offers ergonomic seats that provide you with maximum comfort while you're out kayaking. The captain's chair is removable and can be customized to better align with the posture, height, and frame of any paddler.
The pedal drive uses a propeller and functions like a bicycle, so the motion feels more natural while providing sufficient force and impressive speed.
Despite its compact design, the Crank 10 has lots of storage space in the front and rear end where you can keep your kayaking gear. The storage areas come with bungee lashing to help secure your belongings.
The Crank 10 also features two easily accessible solo mount recesses for rigging your accessories, as well as a transducer for depth and fish finders.
Transporting the Crank 10 is easy thanks to the sturdy carry handles on the rear and front, and molded-in carry handles on the sides.
Although the Crank 10 doesn't do well in rough or turbulent waters, it performs excellently in ponds, lakes, calm coastals, and slow-moving waters.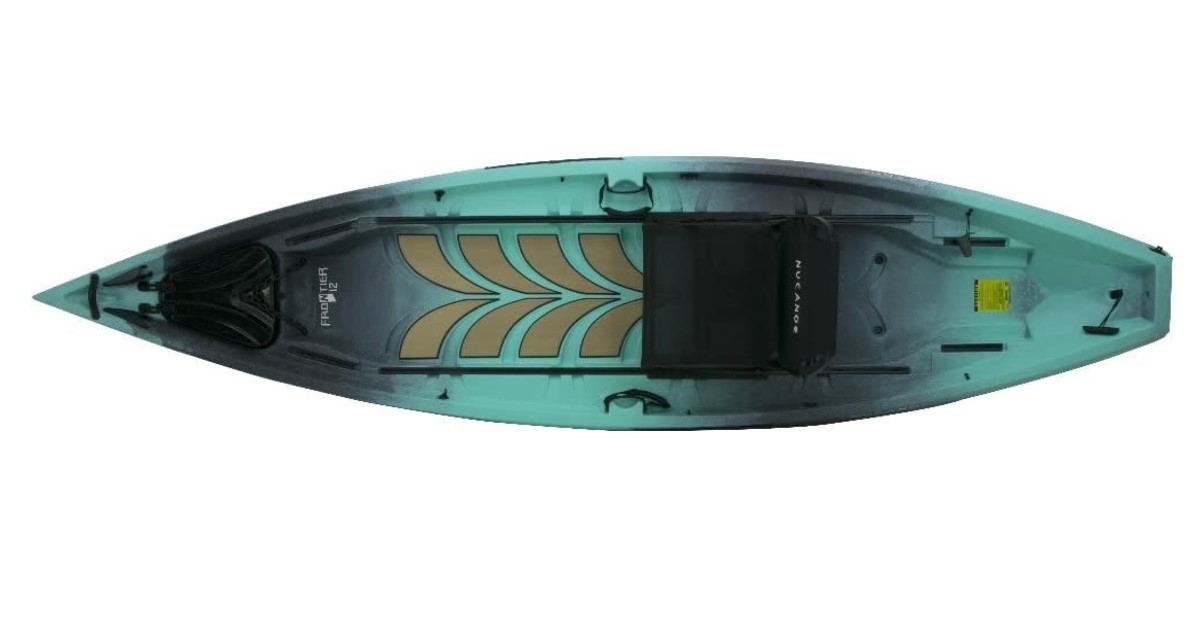 The Frontier 12 pedal kayak is built for serious fly fishers and hunters who want a boat that is incredibly stable and versatile, and won't cramp their style.
Whether you're angling in a river, coastal water, salt water, or hunting your favorite game in the marshes, you can stand up and take your aim confidently on the deck of the Frontier 12.
You don't have to worry about losing your balance and tipping over or about the kayak bobbing sideways. So if you usually wear heavy boots when out on the water or you're a beginner who's anxious about your balance, the Frontier 12 is the perfect watercraft for you.
The Frontier 12 has a customizable design so you can tweak and outfit it to suit your exact requirements. Its 360 fusion adjustable seats offer kayakers maximum comfort.
The Frontier 12 is kitted with lots of features to make your kayaking experience more convenient such as cup holders, bow/stern freedom tracks, rod chamber, ring strap paddle holder, scupper holes, bow/stern handles, and crate space.
This easy-to-paddle kayak is ridiculously lightweight with a hull weight of 77 lbs (35kg). However, it has a weight capacity of up to 650 lbs (295kg) so it can hold two people and plenty of gear and still have room left.
If you want a very durable pedal kayak that won't cost you an arm and leg, you can't do much better than the Frontier 12.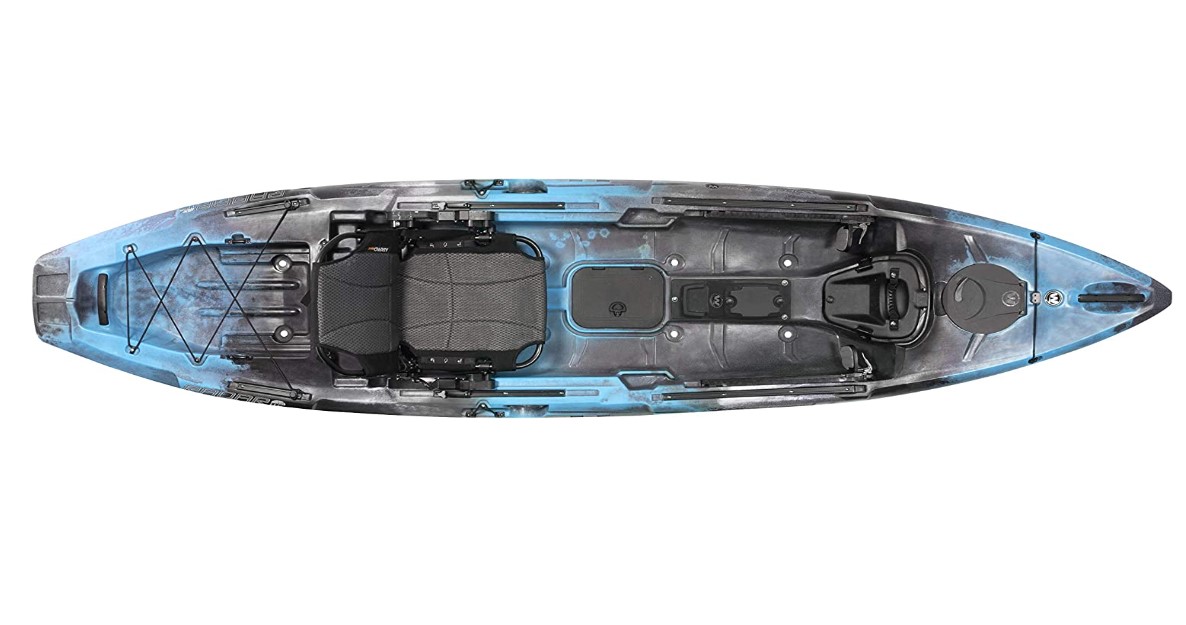 At 11.8 feet (360 cm) and 85 pounds (38.5 kg), the Wilderness Systems Radar 115 straddles the line between being a compact and large boat. It features the Air Pro MAX seat which is beloved for the comfort, visibility, and customizability it offers.
The deck of the Radar 115 comes with rail systems for rigging gear and a dry storage well that allows you to stand easily. With the Flex Pod OS console at the front of the deck, you can easily store a battery and install a transducer.
There's plenty of space for you to carry heavy gear on the Radar 115 as it comes with a 450 lbs (204 kg) weight limit. You get ample storage under the deck and on the stern with bungee lashing.
Radar 115 boasts premium tracks along the sides and stern that you can use to mount your favorite accessories. It also has a pedal prop that can be locked in a zero-draft position when you need to move stealthily through the waters.
You can deploy the Helix PD™️ Pedal Drive or the Helix MD™️ Motor Drive on the Radar 115 for hands-free navigation in any kind of environment.
While Wilderness Systems Radar 115 comes across as a very affordable option, keep in mind that the pedal drive is sold separately.
Purchasing the pedal drive will nearly double the price, but even at that, you will still find the Radar 115 to be less pricey than many other models.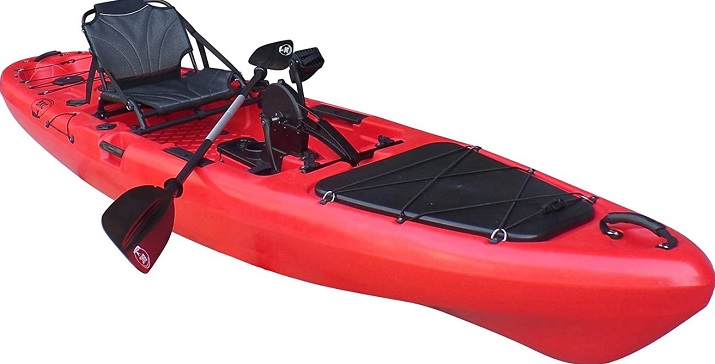 If you're looking for a lightweight pedal kayak for fishing or recreational purposes, the Brooklyn Kayak Company PK13 Angler is one of the best options out there.
Despite being fully rigged and 13 feet tall, the kayak only weighs 80 pounds so you can transport it from one location to another without breaking your back.
The PK13 Angler is constructed with high-density polyethylene and it features a rotational pedal drive with adjustable foot straps and a hand-operated rudder that makes maneuvering and controlling the vessel a breeze.
It has built-in rod holders and a comfortable, elevated aluminum frame seat to provide you with a better vantage point when fishing. The hull of this angling kayak is pretty stable and supports stand-up fishing.
Don't let the lightness of the PK13 Angler fool you into thinking it doesn't offer much by way of storage. The pedal kayak has an impressive weight limit of 550 pounds, with two waterproof hatches and roomy cargo areas to store all your belongings.
In case you want to switch things up, the PK13 Angler includes a paddle and can also be fitted with a trolling motor.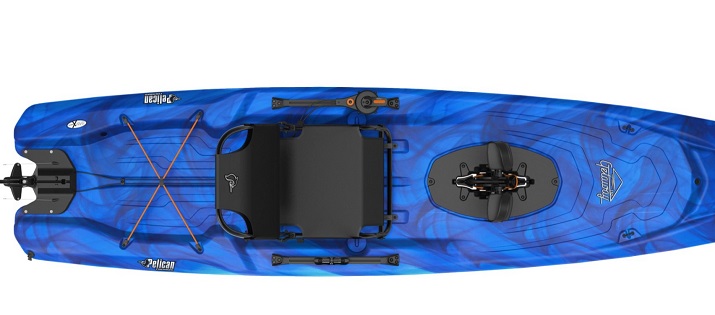 The Getaway 110 HDII from Pelican is a great pedal kayak for people who want to do some recreational kayaking without having to propel the kayak with their hands.
It is fitted with the HyDryve II pedal unit which enables you to efficiently cut through shallow waters or around static objects like plants and rocks.
You will experience maximum comfort in the removable ERGOCAST XP™️ seat that also doubles as a beach or camp chair.
The Getaway 110 HDII comes equipped with bottle holders, rigging tracks, accessory eyelets, a side seat rudder, and a rear storage area with bungee cords. It also has scupper holes for drainage if excess water finds its way into the watercraft.
You will have enough room to pack your gear and food for your kayaking trip and still have some space left. The Getaway 110 HDII weighs 65 pounds at 10.6 feet in length and can hold a weight of up to 300 pounds.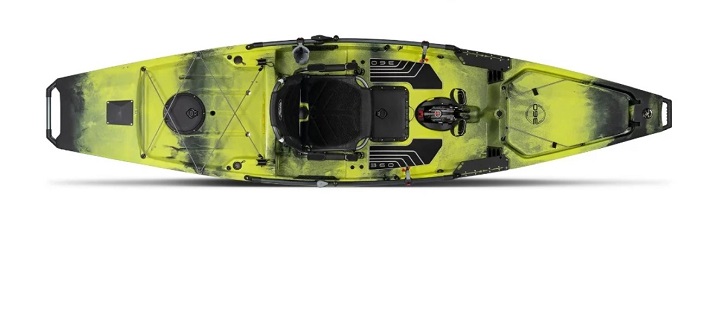 The Hobie Mirage Pro Angler 14 is everything you could want or expect from an advanced pedal kayak designed specifically for angling.
It gives you great performance comfort, stability, and the flexibility to customize certain features to suit your preferences. The ergonomically designed seat offers incredible support for your lumbar to ensure you're comfortable for as long as you spend on the water.
The Pro Angler 14 has a retractable shield that protects the transducer during impacts and optimizes fish-finding performance by enabling it to scan from side to side. You can stand comfortably on this pedal kayak without being nervous about your balance.
The pedal mechanism on the Pro Angler 14 is capable of delivering thrust in every direction. It can also retract on impact, so it's great for making your way through narrow fishing holes.
The Pro Angler 14 weighs 148.5 pounds with a length of 13.8 feet, making it the perfect watercraft for anyone who wants a large high-performance boat.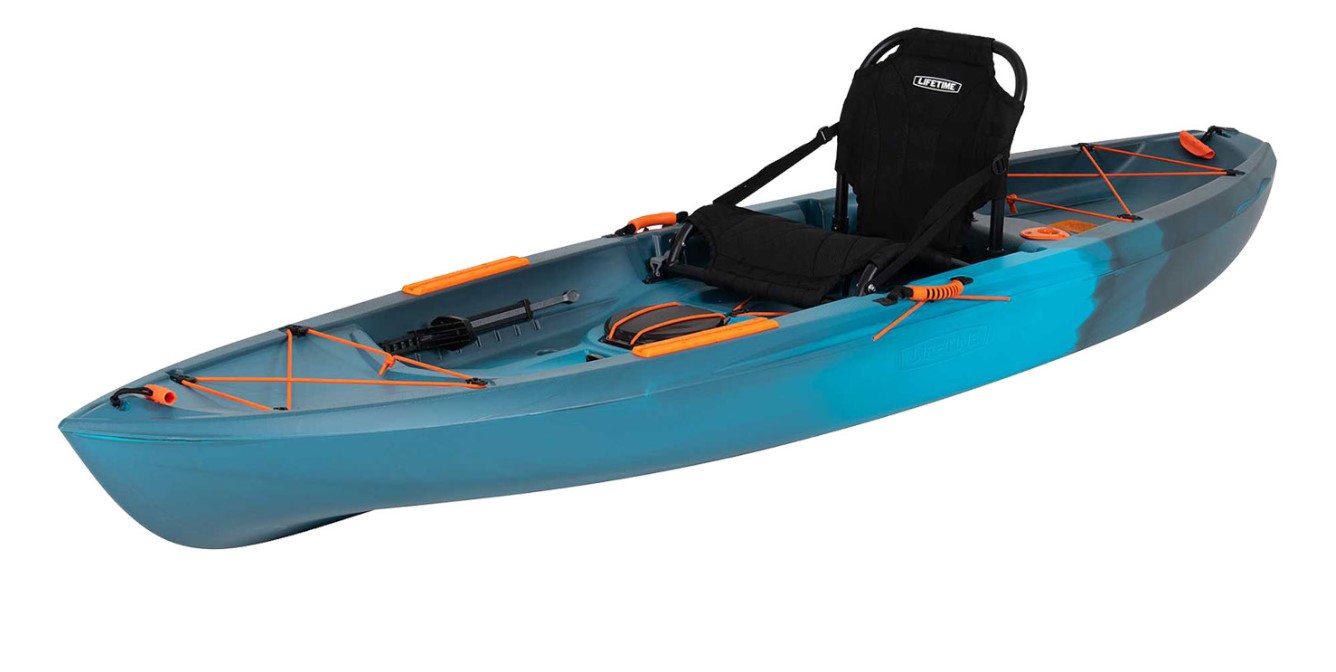 The Lifetime Tamarack Pro 103 is not only one of the best pedal kayaks on the market, it's also one of the cheapest you can find anywhere.
For premium comfort, it features an adjustable framed seat with adjustable footrests to help you optimize your seating position. It has a deep, flat-bottomed hull with tracking channels that provide stability as you weave through the water.
There are integrated rod holders on the Lifetime Tamarack Pro 103, as well as a molded-in ruler for measuring the fish you catch.
Storage space is not something you have to worry about in this kayak because it has a paddle keeper, a storage area beneath the seat, a tank well with bungee cords, and a storage component with a bucket.
The Lifetime Tamarack Pro 103 has t-handles on the front and rear to help you easily load, unload and carry the kayak to and from the water.
Also, you have the option to customize your watercraft with your favourite kayak accessories and gadgets.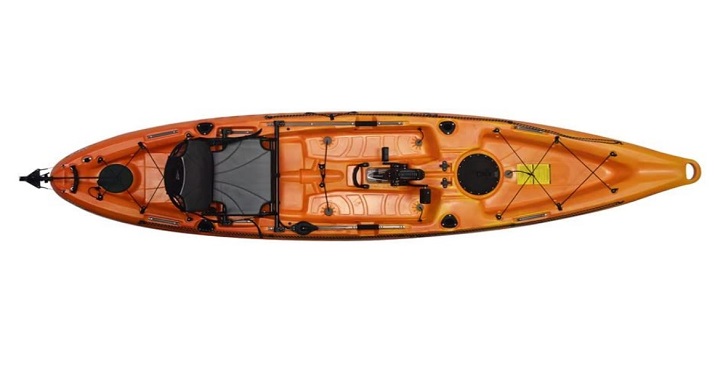 The Riot Kayaks Mako 12 is one of the best pedal kayaks you can buy if you plan to go exploring in flat or big waters. The kayak features an impulse drive pedal system, which the brand claims are the lightest unit you can find on the market.
But that's not all. According to Riot Kayaks the pedal on this model doesn't require owners to carry out any special maintenance after buying it.
The kayak comes with an adjustable comfort seat with a high back to provide adequate lumbar support. It's also made with quick-drying materials, so you won't have to put up with a wet chair for long if the seat ends up getting sprayed with water.
The Mako 12 has built-in rod holders, front and back bungee storage areas for the items you pack for your float trip, and side/front/back carry handles for easily transporting the vessel to and from the water.
One feature that really makes the Riot Kayaks Mako 12 stand out is the moveable rudder steering box which can be positioned on whichever side of the kayak that you prefer.
So if you're left-handed, you won't have to be stuck with a steering box that's on your right, and vice versa.
This easy-to-maneuver lightweight watercraft is one of the best pedal kayaks for anglers who want to channel the dexterity of their hands into catching fish rather than paddling their boat.
The Old Town Topwater 120 PDL measures 12 feet in length and 116 pounds in weight with a maximum load capacity of 500 pounds. It's one of the most spacious fishing kayaks you can find.
It promises paddlers precision handling and rock-solid hull stability with lots of additional features including a rudder control knob, universal transducer mount, and onboard rod and tackles storage.
The Topwater 120 PDL is fitted with the industry-leading PDL™️ drive that allows for instant and efficient forward, reverse, and docking. And if that's not enough for you, the pedal drive is also backed by a 5-year warranty.
The quiet hull makes it easy for you to sneak up on fish and catch them before they can disperse. The seat on the Topwater 120 PDL is comfortable, breathable, and adjustable.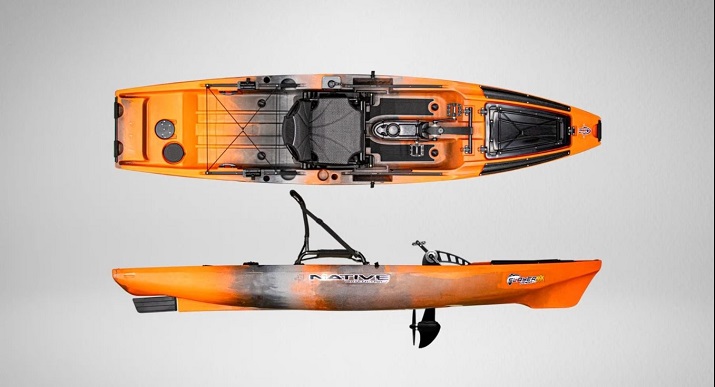 The Native Watercraft Slayer is a stable and lightweight boat that's ideal for all kinds of water environments. Whether you're going on a leisurely fishing trip on a lake or venturing further out to explore the open waters, you'll have an easy time with this watercraft.
Comfort is something the Native Watercraft brand takes seriously and this is evidenced by the Slayer's padded seat.
You can say goodbye to back aches and needing to constantly adjust your seating position because the seat on this kayak will keep you comfortable the entire trip.
What's more, the seat can be adjusted to face any direction, so you can take full advantage of fertile fishing holes and maximize your chances of reeling in something worthwhile.
The Slayer's propel pedal drive system guarantees high speeds of over 5 mph, allowing you to cover more ground in less time. It also offers outstanding balance so you can stand up on the non-slip deck while fishing if you prefer.
Other key features the Slayer offers include battery storage, groove tracks, a built-in transducer mounting plate, a bow hatch area with a bucket, and built-in bow and stern inserts.
The watercraft is only 12.5 feet in length and weighs 94 pounds, and it has a weight capacity of up to 610 pounds. Although the Native Watercraft Slayer is on the expensive side, the performance, quality, and durability of the kayak make the investment worth it.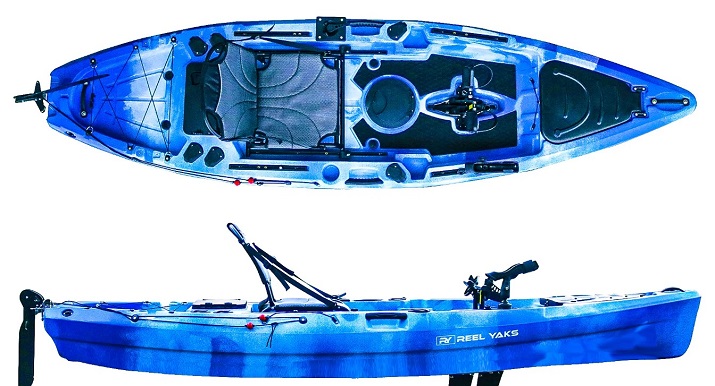 The 11 feet length of the Reel Yaks Pedal Pro 110 makes storing it and maneuvering it through tricky waters an uncomplicated affair.
The kayak weighs 62 pounds only when unloaded, so you should have no trouble loading the kayak onto your car's roof whenever you visit a good kayaking spot.
The Reel Yaks Pedal Pro 119 boasts a 500-pound weight capacity so it can conveniently take all your essential and not-so-essential gear.
People who like to fish standing up will still be able to do that in the Reel Yaks Pedal Pro 110 thanks to its stable platform with anti-slip footpads. The kayak's comfortable chair with adjustable backrest and rails will make your paddling trips more relaxing.
In addition, the Reel Yaks Pedal Pro 110 has a roomy deck with three storage hatches that are secure enough to withstand rough water and weather conditions.
There are six-rod holders, a bottle holder, four track rails for rigging accessories and rod holders, and storage space for a trolling motor battery if you decide to install one.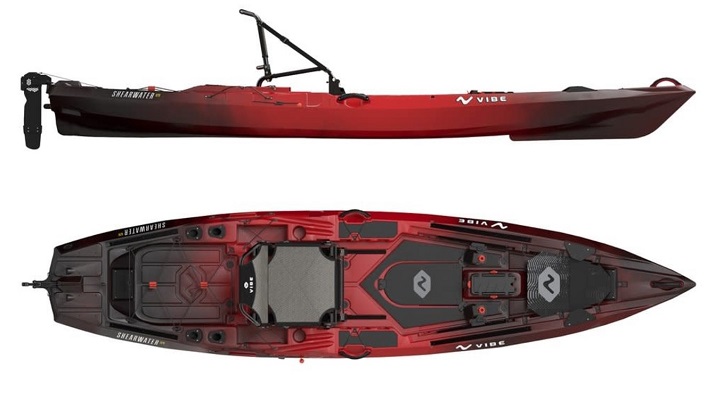 The Vibe Shearwater 125 is a complete pedal kayak for fishing that offers anglers incredible stability, speed, and flexibility to customize the components to suit your requirements.
It's 11.6 feet long and weighs 87 pounds, with a load capacity of up to 425 lbs. Although it's not the roomiest pedal kayak around, it can still fit your essential belongings comfortably.
The Vibe Shearwater 125 is an excellent choice for people who want impressive capabilities and performance in a vessel that's midway between affordable and pricey.
The Vibe's pedal system propels you forward smoothly and allows you to cover more ground faster. Like most of the other pedal kayaks on this list, it offers adjustable seating to help you find the best position for you.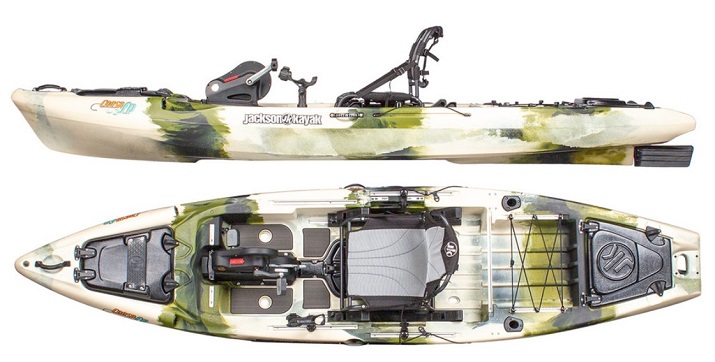 Another pedal kayak that's worth the hype is the Jackson Kayak Coosa FD which features the Coosa HD hull and deck design. The pedal system on this kayak is specially constructed to pull back the propeller into the hull when you're docking at a beach or floating over sunken particles.
The Coosa FD has lots of interesting features that recreational paddlers and kayak fishing enthusiasts can benefit from.
This includes plenty of gear tracks, a deep rear tank well, a bungee-less bow design, integrated rod tip protectors, and huge rear and front compartments with secure latch systems.
The Coosa FD's well-positioned rudder gives you easy access to the hand steering. The padded deck allows you to stand on the kayak comfortably and also acts as a noise-reduction mechanism when you drop things.
On the stern of the Coosa FD, you'll find a four-hole bolt system for mounting accessories like the PowerPoint and trolling motor adaptor.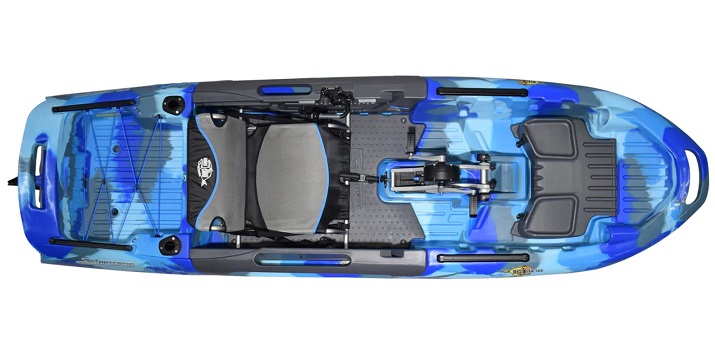 The brand, 3 Waters has established itself as one of the most reliable names in the kayak manufacturing industry. If you're looking for an excellent pedal kayak that won't break the bank, the 3 Waters Big Fish 108 is one of the most affordable options on the market.
The 3 Waters Big Fish 108 is 11 feet in length with a weight limit of 450 pounds. It has a bow storage console, stern gear storage with bungee, a non-slip standing platform, rod tip protectors, and integrated stern, bow, and side carry handles.
The Big Fish 108 features a functional hull design that provides solid stability in all kinds of water conditions. Whether you plan to be sitting or standing, the Big Fish 108 helps you maintain good balance as you cast sights and pedal through big or choppy waters to catch fish.
With the EZ Rider Seat on the Big Fish 108, you can enjoy paddling comfortably all day long. You can adjust the seat configurations so that it's positioned in a low, high, recline, or flip-away position.
This kayak is transducer ready and designed to fit the Pro Fish Pedal Drive to give you an intuitive steering system for a hands-free and stress-free propulsion experience.
Conclusion
A pedal kayak can help you go faster and save you a lot of trouble when you're out on the water, especially if you're prone to experiencing pain in your shoulder, arms, or back.
The pedal kayaks listed above are the most efficient and high-performing products you can get at the moment, and you simply cannot go wrong choosing any of them.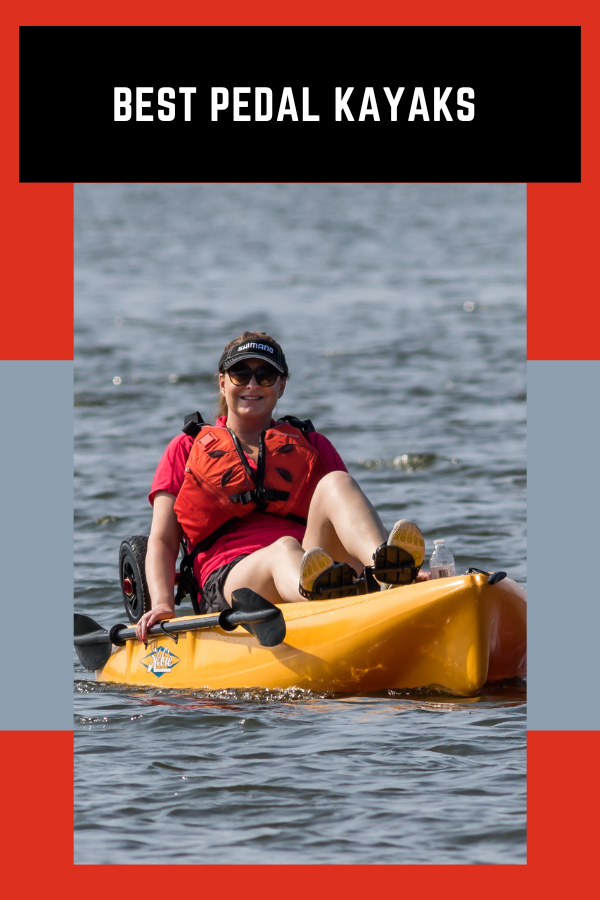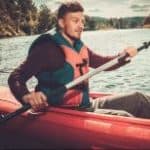 Author: Peter Salisbury
Pete is the Owner of KayakHelp.com. Born and raised in Cleveland, Ohio, he grew up kayaking, fishing, sailing, and partaking in outdoor adventures around the Great Lakes. When he's not out on the water, you can find him skiing in the mountains, reading his favorite books, and spending time with his family.