The best plastic kayaks are a great choice for beginners and even some intermediate paddlers. They offer good durability, are generally available at a very reasonable price, and some even regain their shape very well if accidentally dented.
If you are relatively new to kayaking or only paddling casually, there is no reason you need to look at one of the best wooden kayaks or fiberglass kayaks right now.
Sticking with a plastic kayak will allow you to grow your skills and gain valuable experience without spending too much on one of the most expensive kayaks.
In this article, we are going to review 10 of the best plastic kayaks to give you a healthy number of options to choose from. Our buying guide will also cover the most important things you need to know to narrow down your choices!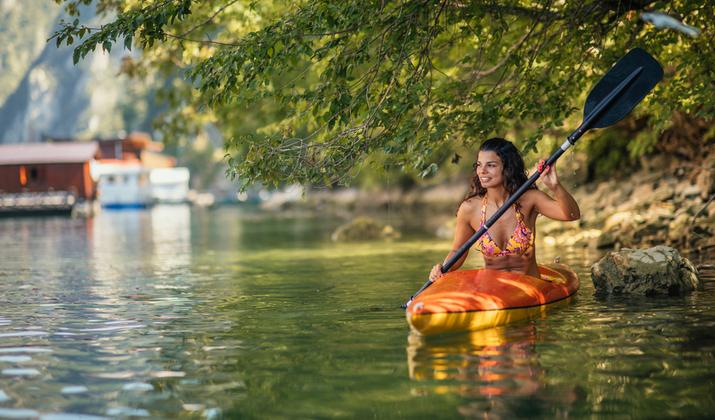 Photo by bbernard via Shutterstock
Best Plastic Kayaks
Pelican Sport Sentinel 100X
Pelican Sport Maxim 100
Pelican Sport Sprint XR
Pelican Sport Basscreek 100XP Angler
Perception Kayaks Flash 9.5
Ocean Kayak Malibu Two
Old Town Vapor 10
Lifetime Pro Angler 118
Lifetime Tioga 120
Lifetime Cruze 100
Jargon Buster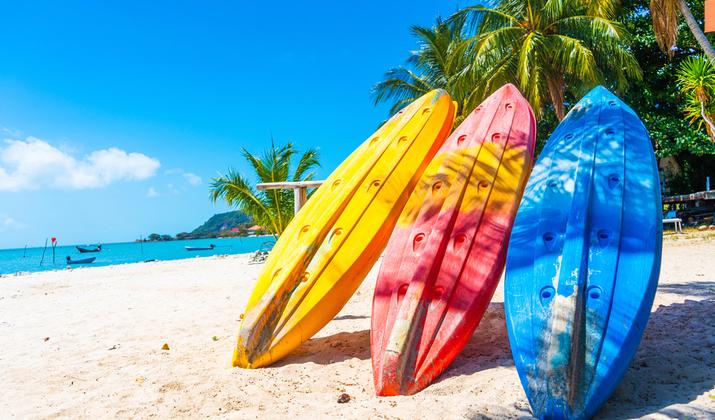 Photo by bbernard via Shutterstock
Plastic kayaks are relatively simple, but there are a few key terms you should be aware of before we dive in.
Polyethylene
When you look at the listed material for most of these kayaks, you will find polyethylene instead of plastic. That said, they are nearly synonymous as polyethylene is actually one of the most common types of plastic used in global manufacturing.
Beam
Beam and width are synonyms. This is just a fancier way for kayakers to refer to the measurement across all types of kayaks at their widest point.
Plastic Kayak Buying Guide
Before we review 10 of the best plastic kayaks on the market today, it is critical that you know how to select the right kayak for you. You can use these buying factors to compare and contrast the kayak models below.
What Size Kayak Do You Need?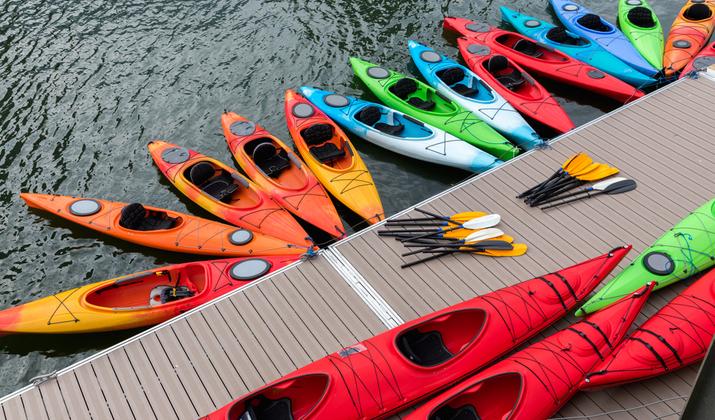 Photo by 2p2play via Shutterstock
Length is a good place to start when you are trying to eliminate certain kayaks. Kayak length is usually associated with the height of the paddler and the amount of storage space you are going to need.
Taller and heavier paddlers should seek longer and wider kayaks while smaller and lighter kayakers are going to be more comfortable in shorter and narrower models.
Length also comes into play when you are considering the types of paddling environments you will spend most of your time in. Narrower creeks and streams will require more compact and nimble kayaks, for example.
If you do most of your paddling on lakes, wide rivers, or coastal bays, you may actually prefer something a little bit longer and wider because it can provide more stability when you encounter wind, waves, and currents.
Should You Choose a Sit-on-Top vs a Sit-inside Kayak?
Photo by Paul Brennan via Shutterstock
The next decision you will need to make is whether a sit-on-top kayak or a sit-in kayak makes more sense for your paddling style. There are pros and cons to both of these common kayak types, so let's address a few here briefly.
Sit-on-tops tend to be better for beginners and casual paddlers because they are more forgiving and easier to get back into if you want to go for a quick swim. Their larger and more open cockpits also make them better for taller and larger paddlers.
The best sit-on-top kayaks for beginners also come equipped with scupper holes that naturally drain any water that gets into the cockpit. While you can use scupper plugs to seal these holes, they are very useful for paddlers that are more likely to capsize as they learn how to paddle.
On the other hand, the best sit-in kayaks are less likely to accumulate water because of their more closed cockpit designs. They are also better for places that get a lot of rain because they are compatible with one of the best kayak spray skirts.
The downsides of a sit-inside kayak include added difficulty with re-entering the kayak in deep water and the need for extra accessories to remove water from the cockpit. If your kayak cockpit isn't covered when you get hit with a rainstorm or capsize unexpectedly, you will need a sponge and bilge pump to bail water.
How Heavy of a Kayak Are You Comfortable With?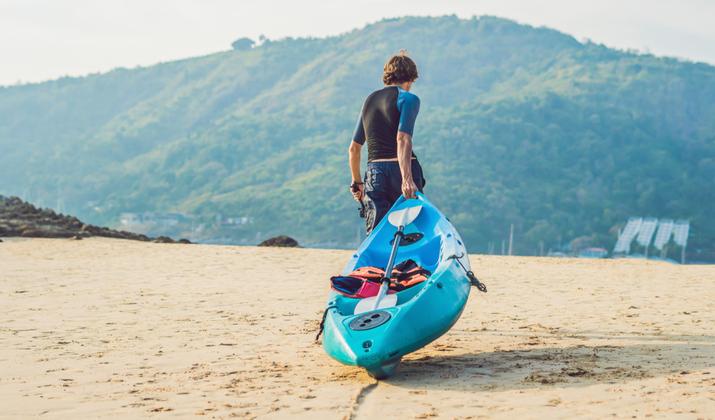 Photo by Elizaveta Galitckaia via Shutterstock
The weight of the kayak you choose will factor into the ease of maneuverability on the water as well as when you are transporting it. If you have a kayak roof rack on your vehicle, you will need to be able to lift your kayak up and onto the roof to load it up.
Larger and heavier kayaks may also require the use of a kayak trolley in order to get it from wherever your park down to the water's edge. Ultimately, only you can determine how heavy of a kayak you are comfortable with, but remember that you don't want to tire yourself out before you even get on the water.
How Much Weight Capacity Do You Need?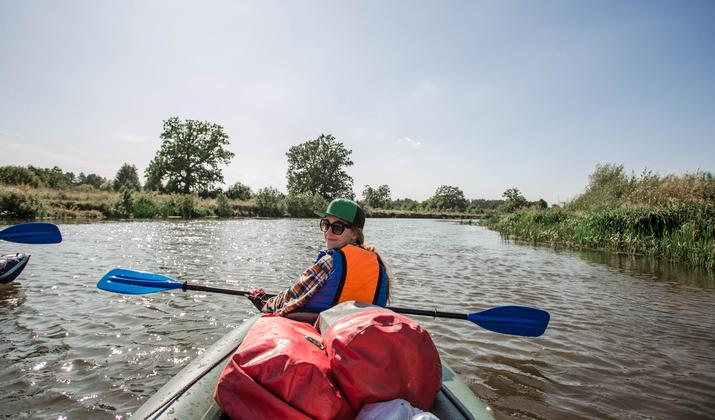 Photo by Ale_Koziura via Shutterstock
You also need to be aware of the carrying capacity of the kayaks you are thinking about buying. It is also important for you to know that a kayak that is rated to hold something like 400 pounds may not actually be designed to be loaded up to that kind of weight.
As a general rule, kayak experts recommend keeping the total weight you load into a kayak below 80 percent of its total capacity. Loading your kayak past this 80 percent threshold won't sink it, but it will significantly reduce its overall performance.
When you are deciding how much weight capacity you need in a kayak, you need to add up your body weight and the combined weight of all your regular kayaking accessories. If you find a kayak that offers a maximum capacity that is at least 20 percent higher than that total weight, you'll be just fine.
What Kind of Kayak Features and Add-Ons Are Important To You?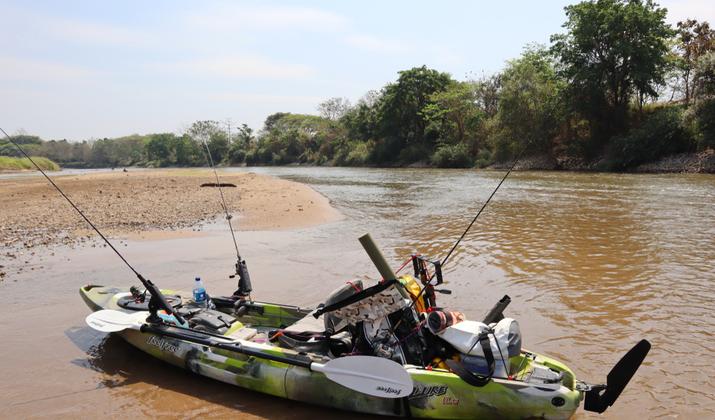 Photo by Aekchai Doungdee via Shutterstock
The last thing you need to think about is the kind of features and add-ons that are important to you. Unfortunately, there aren't too many kayaks out there that are part of package deals that come with all of the gear and accessories you will need.
That being said, there are kayaks on our list below that are designed for varying purposes. That includes some of the best fishing kayaks, recreational kayaks, and tandem kayaks.
The exact features that are most important to you will be a matter of personal preference. Don't hesitate to pull up several of the kayaks below side-by-side in order to really determine which model is best for you.
Thumbnail
Title
Pelican Sentinel 100X EXO Angler Fishing KayakSit-on-Top KayakLightweight one Person Kayak9.6 ft
Pelican - Maxim 100X Recreational Kayak - Sit-in - Lightweight one Person Kayak - 10ft
Pelican - Sprint XR - Sit-in Kayak - Lightweight one Person Kayak - 10.75 ft
Pelican - Basscreek 100XP Fishing Kayak - Sit-On-Top Kayak - Lightweight one Person Kayak - 10 ft,Olive Camo
Lifetime Pro Angler 118 Fishing Kayak, Gator Camo
Plastic Kayak Reviews
Check Price On Amazon
Length: 9'6"
Beam: 30"
Depth: 11"
Weight: 42 pounds
Weight Capacity: 275 pounds
The Pelican Sports Sentinel 100X is a great sit-on-top recreational kayak with Pelican's patented ExoShell removable storage compartment in the stern tankwell. This compartment holds up to 13 liters of gear and keeps sensitive items protected from the elements.
If you need to take the compartment out to install other kayaking accessories in the stern tankwell, you retain that freedom. That makes this kayak versatile enough to handle a small kayak cooler or fishing tackle crate.
The Sentinel 100X is equipped with multiple footrest positions in the cockpit to accommodate paddlers of different heights. The open deck inside the cockpit also includes additional foam padding for added comfort under your heels.
There is a small additional storage area at the bow of the kayak with bungee cord for securing your gear. All Pelican kayaks are made with their patented RAM-X material, which regains its shape better than other kayak materials if accidentally dented.
Check Price On Amazon
Length: 10'
Beam: 28"
Depth: 14"
Weight: 36 pounds
Weight Capacity: 275 pounds
Built with the same triple-layer polyethylene plastic material that is standard for all Pelican Kayaks, the Maxim 100X is lightweight and durable. It is a great sit-inside kayak for smaller paddlers and beginners.
The Maxim 100X is actually one of the lightest plastic kayaks on our list, which makes it the easiest option for loading and unloading without needing one of the best easy-load kayak roof racks.
In terms of storage, this kayak has a sealed storage hatch at the bow and an open storage compartment at the stern. The bow hatch also includes a bungee cord above it and there is mesh netting stretched over the stern compartment for more gear security.
The sit-inside design of the Maxim 100X makes it compatible with a kayak spray skirt, but there is also a storage table at the front of the cockpit when you don't have a skirt attached. This convenient little table is a great place for your water bottle and can also hold small snacks.
Check Price On Amazon
Length: 10'
Beam: 28"
Depth: 14"
Weight: 41 pounds
Weight Capacity: 300 pounds
The Pelican Sport Sprint XR is very similar to the Maxim 100X, but it is slightly heavier and also offers a higher weight capacity. It is also designed with a built-in keel extension that provides better tracking on more long-distance paddle trips.
Another slight design change with the Sprint XR is the deep, V-shaped chine hull. Of the many types of kayak hulls, this shape provides better secondary stability so that you retain more control in choppy and wavy conditions.
A few other benefits of this hull shape include increased responsiveness to shifts in body weight and paddling position and more efficient paddling overall. That increased responsiveness can feel a little unsettling for beginners, so this kayak is really better for intermediate paddlers.
Because the hull design makes this sit-inside Pelican Sport kayak more capable of handling longer paddles, it is also equipped with larger sealed storage hatches.
The stern storage hatch is the larger compartment for overnight kayak camping gear, but there is also a smaller sealed hatch at the front of the cockpit for items that you need quick access to while you are paddling.
Check Price On Amazon
Length: 10'
Beam: 30.6"
Depth: 16"
Weight: 50 pounds
Weight Capacity: 325 pounds
The Basscreek 100XP Angler is one of Pelican Sport's best fishing kayaks under $500. It is built with a flat, multi-chine hull that provides excellent primary stability so that you feel comfortable while you are fishing from a stationary kayak.
The open cockpit design makes it easier for you to prep tackle, bring fish into your kayak, and handle any other tasks that go along with kayak angling. There is a swivel-mounted fishing rod holder in the center of the cockpit as well as two more flush-mounted rod holders behind the kayak seat.
Also in the cockpit, you will be able to enjoy a comfortable padded seat with an adjustable backrest, a center-positioned water bottle holder, and adjustable foot pedals that provide comfort for paddlers of all heights.
At 50 pounds, the Basscreek 100XP Angler is one of Pelican's heavier models, but it is still one of the best lightweight fishing kayaks out there. It also includes a sealed bow storage hatch, an open stern storage compartment, and six accessory eyelets for you to attach your kayak fishing accessories.
Check Price On Amazon
Length: 9'6"
Beam: 28.5"
Depth: 12.5"
Weight: 41 pounds
Weight Capacity: 325 pounds
Transitioning away from the many great plastic kayaks made by Pelican Sport, we move to the Flash 9.5 kayak from Perception Kayaks. This kayak is compact, nimble, and lightweight while still offering a very good maximum weight capacity.
This is a sit-inside kayak with a slightly raised seat design. This helps to eliminate the issue of sitting in an uncomfortable puddle of water if it does accumulate inside the cockpit of your kayak.
On the hull, this kayak is built with dual tracking channels that help to improve its tracking ability. Its short length gives it great maneuverability as well, which makes it a nice choice for paddling on narrower creeks and streams.
There is a small storage hatch at the stern of this kayak and that hatch is sealed with a push-in-place kayak hatch cover. Inside the cockpit, you can take advantage of adjustable foot pedals to maintain proper paddling posture at all times.
Check Price On Amazon
Length: 12'
Beam: 34"
Weight: 57 pounds
Weight Capacity: 425 pounds
The Ocean Kayak Malibu Two is the first and only tandem plastic kayak on our list. It is a very common kayak used by kayak guiding companies to teach beginners the basics of tandem kayak paddling.
One of the benefits of the Malibu Two is removable seat cushions that can be set up in a variety of positions. This kayak includes bow and stern seating areas, as well as an optional third central seat that can either be used for a small child, a furry paddle companion, or paddling this kayak by yourself.
The clip-in seats also make it easier to stack multiple of these kayaks together if you don't have an outdoor kayak storage shed at home. They can also be hung inside your garage to dry between paddling trips.
There isn't a whole lot of storage space on this tandem plastic kayak, but it does boast three straps for securing gear items. At 57 pounds, it is also at the lighter end of the spectrum when compared to many other tandem kayak options.
Check Price On Amazon
Length: 10'
Beam: 28.5"
Depth: 16.75"
Weight: 47 pounds
Weight Capacity: 325 pounds
The Old Town Vapor 10 is another great sit-inside plastic kayak, but it includes a slightly unique rear storage compartment. The storage compartment is open but is built deeper like the sealed storage hatches that typically have a cover over them.
This design gives you the ability to fit a larger amount of gear back there, but it doesn't offer a great way for you to secure that gear. There is no storage area at the bow of this kayak, although you may store some gear in a small dry bag at the front of the cockpit.
On the hull of this kayak, Old Town has included a skid plate that helps to protect it from damage when you have to drag it across rough terrain. That skid plate can be replaced down the road rather than having to weld new plastic onto your kayak's hull or buy a new kayak altogether.
In addition, the Vapor 10 offers a host of great comfort features inside the cockpit. That includes a storage tray for small gear items, a water bottle holder at the front of the kayak seat, and a molded-in paddle rest to keep your kayak paddle secure while you are doing other things with your hands.
Check Price On Amazon
Length: 11'8"
Beam: 32"
Depth: 12.5"
Weight: 85 pounds
Weight Capacity: 375 pounds
The Lifetime Pro Angler 118 is the best plastic kayak on our list for kayak anglers. It is also the longest kayak on our list, which means it has added legroom in the cockpit for taller paddlers.
That cockpit also features an open design with enough flat space for stand-up fishing. While there is no deck padding on this area for added grip and comfort, the combination tunnel hull of this kayak provides excellent stability.
In addition to great primary stability, the Angler 118 is efficient when you are paddlings and cuts aggressively through the water. It tracks well if you are covering longer distances on a multi-day fishing trip as well.
This fishing kayak offers an aluminum-framed mesh seat that breathes well to keep you cool on hot days. It also features a large open stern tankwell that can accommodate a trolling motor battery if you decide to explore how to mount a trolling motor to your kayak down the line.
Check Price On Amazon
Length: 10'
Beam: 31"
Depth: 14"
Weight: 52 pounds
Weight Capacity: 275 pounds
The Lifetime Tamarack Angler kayak is built to handle both recreational paddling and kayak fishing. It is a relatively basic design that is actually best for kayakers that want to explore whether they will enjoy kayak fishing without investing in a super expensive kayak.
This sit-on-top kayak features a central storage hatch that is easily accessible from the kayak seat. There is also a second sealed storage hatch behind the cockpit, which is part of the otherwise open stern storage tankwell.
This kayak can accommodate paddlers of varying heights with its multiple molded-in footrest positions. Interested anglers will also be able to take advantage of the two flush-mounted holders and one swivel-mounted fishing rod holder on this kayak.
Check Price On Amazon
Length: 10'
Beam: 30"
Depth: 12"
Weight: 46 pounds
Weight Capacity: 275 pounds
The Lifetime Cruze 100 is a simple sit-inside plastic kayak that is great for small and medium-sized paddlers. It offers a comfortable seat pad with an adjustable, quick-release seat back and multiple footrest positions inside the cockpit.
There is a single sealed storage hatch at the stern of this kayak, but it includes bungee rigging on the bow and stern decks as well. On the hull, deep channels provide reliable tracking and chine rails add much-needed stability to this kayak.
Check Price On Amazon
Our pick for the best plastic kayak on our list is the Lifetime Pro Angler 118 because it is versatile enough to handle recreational paddling, kayak fishing, and other applications.
While it is stable enough for beginners to handle, it will also allow you plenty of room to grow. As your experience and skills grow, this kayak will grow along with you instead of you having to sell and upgrade.
Because it is slightly heavier than some others, we would recommend getting a kayak cart to use with this kayak. That said, it also gets our top nod because it offers one of the most comfortable kayak seats out there.
The seat can be adjusted to three different positions: low for paddling, high for fishing, and reclined for lounging. This allows you to customize your seating setup for comfort better than any of the other kayaks on our list.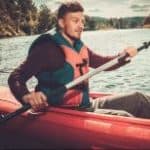 Author: Peter Salisbury
Pete is the Owner of KayakHelp.com. Born and raised in Cleveland, Ohio, he grew up kayaking, fishing, sailing, and partaking in outdoor adventures around the Great Lakes. When he's not out on the water, you can find him skiing in the mountains, reading his favorite books, and spending time with his family.