Learning how to transport a kayak inside an SUV is an option for anyone that doesn't want to bother with a kayak trailer or one of the best kayak roof racks. It makes life a little easier for smaller paddlers and those that don't want to bother with lifting a kayak to get it on top of a vehicle.
While there are plenty of ways to make it easier to load kayaks onto a roof rack, loading a kayak into the back of an SUV can be even easier. The only problem is that you will need to be sure of a few important things to do so safely.
Fortunately, that is exactly what we are going to focus on with this guide. We'll provide insights on the types of kayaks that can be loaded into an SUV and a clear guide for how to transport a kayak inside an SUV safely.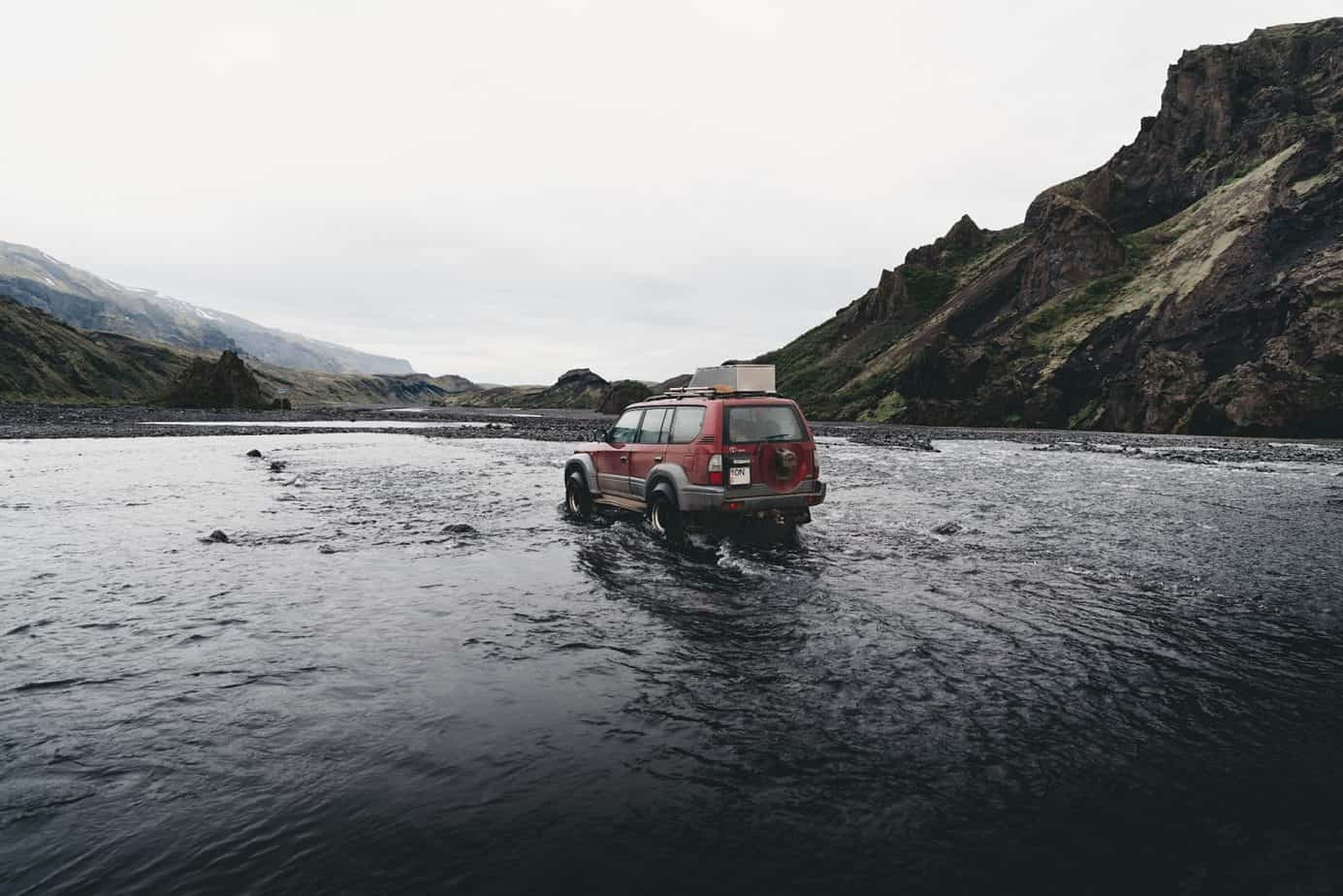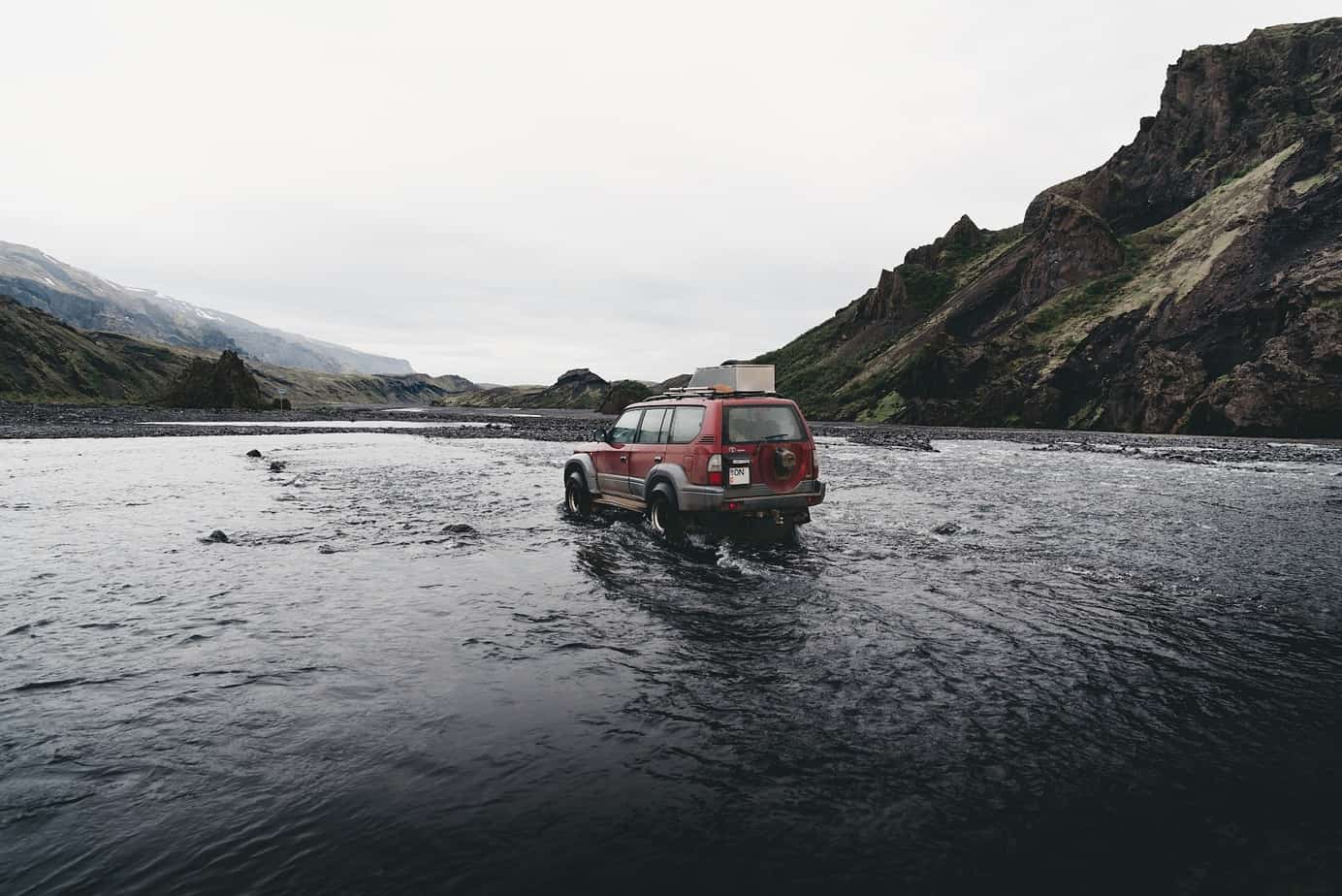 PC Fernando Puente via Unsplash
Let's get to it!
Can You Transport A Kayak Inside An SUV?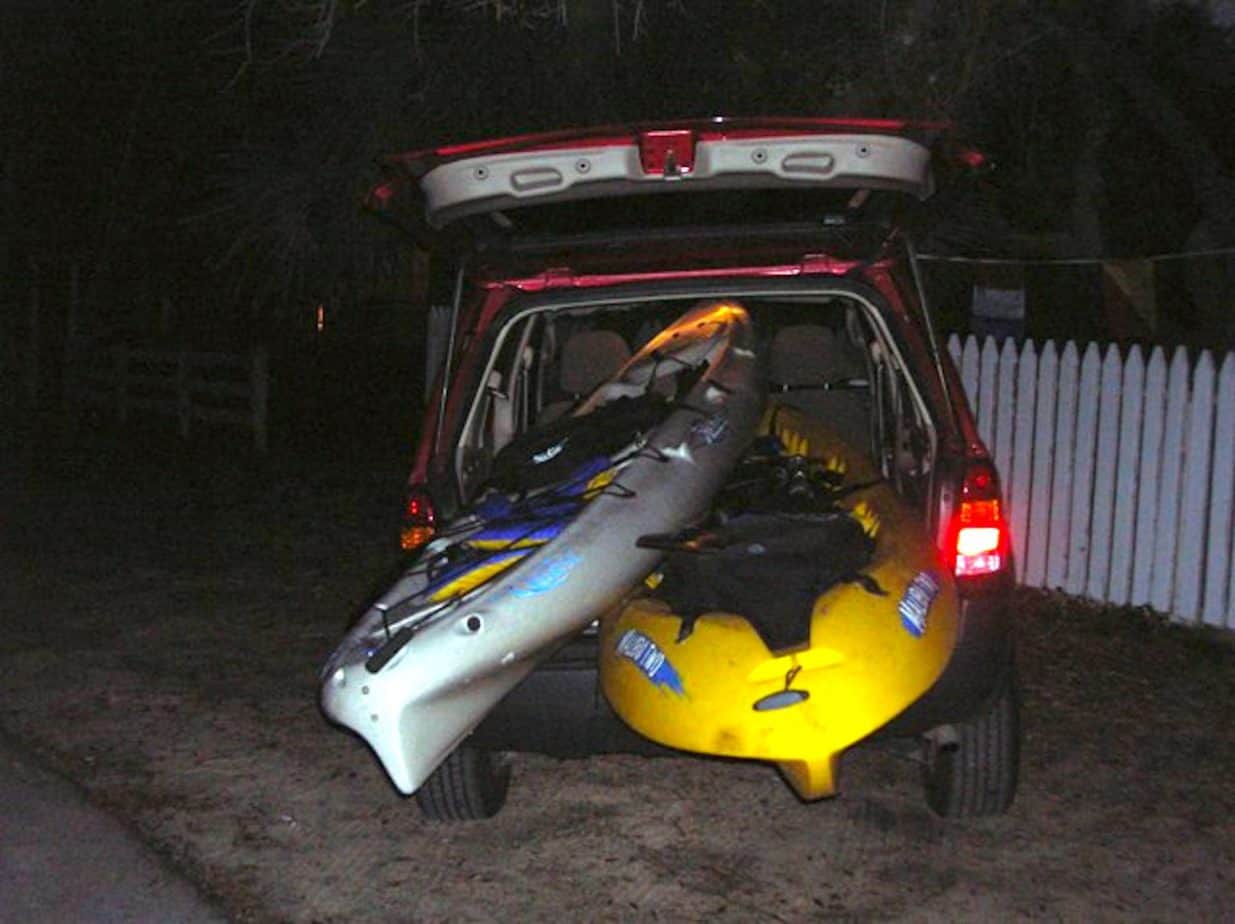 PC Heidi Short via Flickr
Yes, you certainly can! That said, it will really depend on the size of your kayak and the size of your SUV when it comes to how easy it will be.
The best type of kayak to transport inside an SUV is an inflatable kayak or a folding kayak. You won't have to fold the seats down and you'll still have plenty of room for passengers and other kayaking gear.
That being said, smaller kayaks can also be transported in an SUV. If you choose this route, however, you don't want too much of your kayak sticking out of the back of your SUV because that is going to cause more significant safety concerns.
In addition, you will almost always need to fold down the back seats of an SUV in order to safely transport a kayak inside. So, if folding down the rear seats of your SUV is impossible or really difficult, you might look into a kayak trailer instead.
How To Pick The Right Kayak For Your SUV
Depending on the size of your SUV and the type of paddling you like to do, there are several different types of kayaks that may be ideal for your situation. So let's start by discussing each of them here:
Shorter Kayaks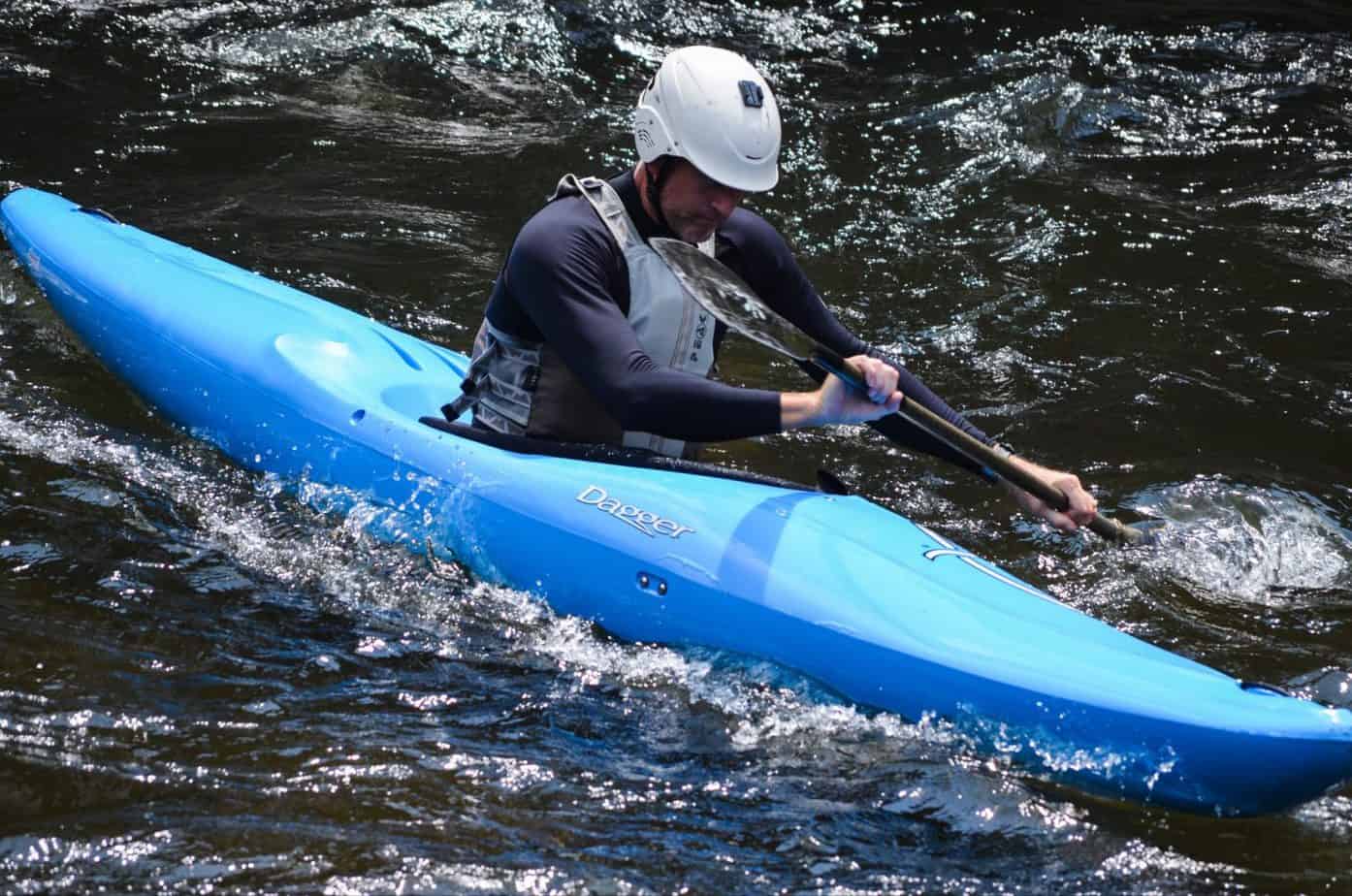 PC Debby Hudson via Unsplash
Shorter rigid kayaks may fit into some SUVs and still allow you to close the back hatch or trunk door. That said, even the shortest kayaks are usually about six feet long, which means you will probably have to fold down the front passenger seat to fit them completely inside your SUV.
This is really only practical if you use your kayak once or twice a month, at an absolute maximum. Also, it really won't work if you are bringing a small kayak to the beach along with your family (or anyone else for that matter).
There simply won't be any room leftover in your SUV for passengers with a small kayak loaded completely inside. Plus, you'll need to consider the amount of space you need for kayaking accessories and essential safety equipment.
Of course, you can certainly consider transporting a shorter kayak inside your SUV while still leaving the back hatch or trunk door open. We'll get more into how to secure a kayak properly when you use this strategy later.
As a general rule of thumb, however, we recommend that at least half of your kayak fits inside your SUV if you are going to transport it with the trunk open. A better recommendation is to ensure that about two-thirds of your kayak fits inside your SUV so that only the remaining third is sticking out.
This will ensure that the majority of the kayak's weight is supported by your vehicle. You will, of course, also have to consider how to secure your kayaking gear if you are going to transport a kayak with the trunk open.
As you can see, this will limit the length of kayak you can transport in your SUV. If, for example, the rear area of your SUV (with the seats folded down) is approximately five feet long, you should only transport a kayak with a maximum length of 10 feet.
Folding Kayaks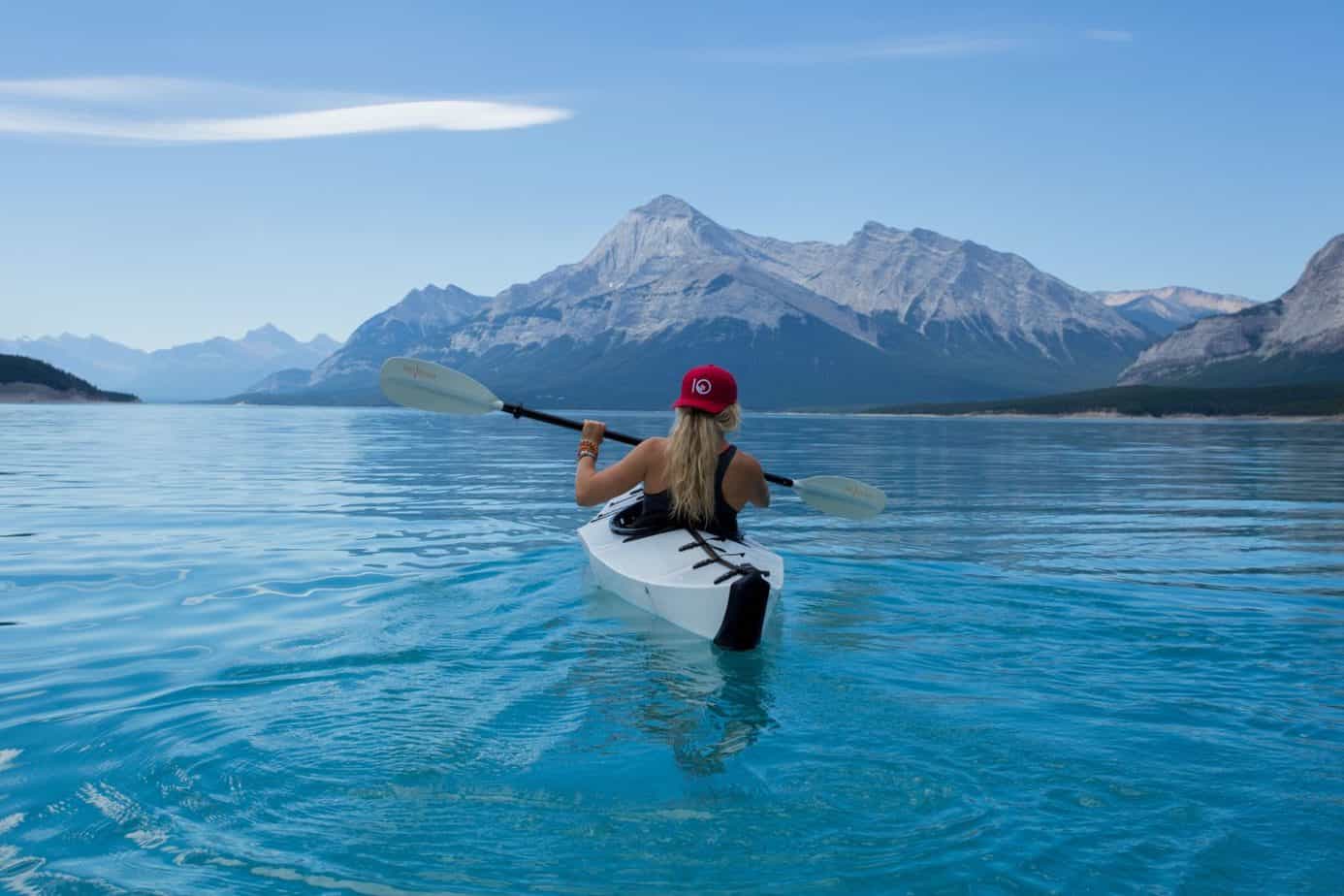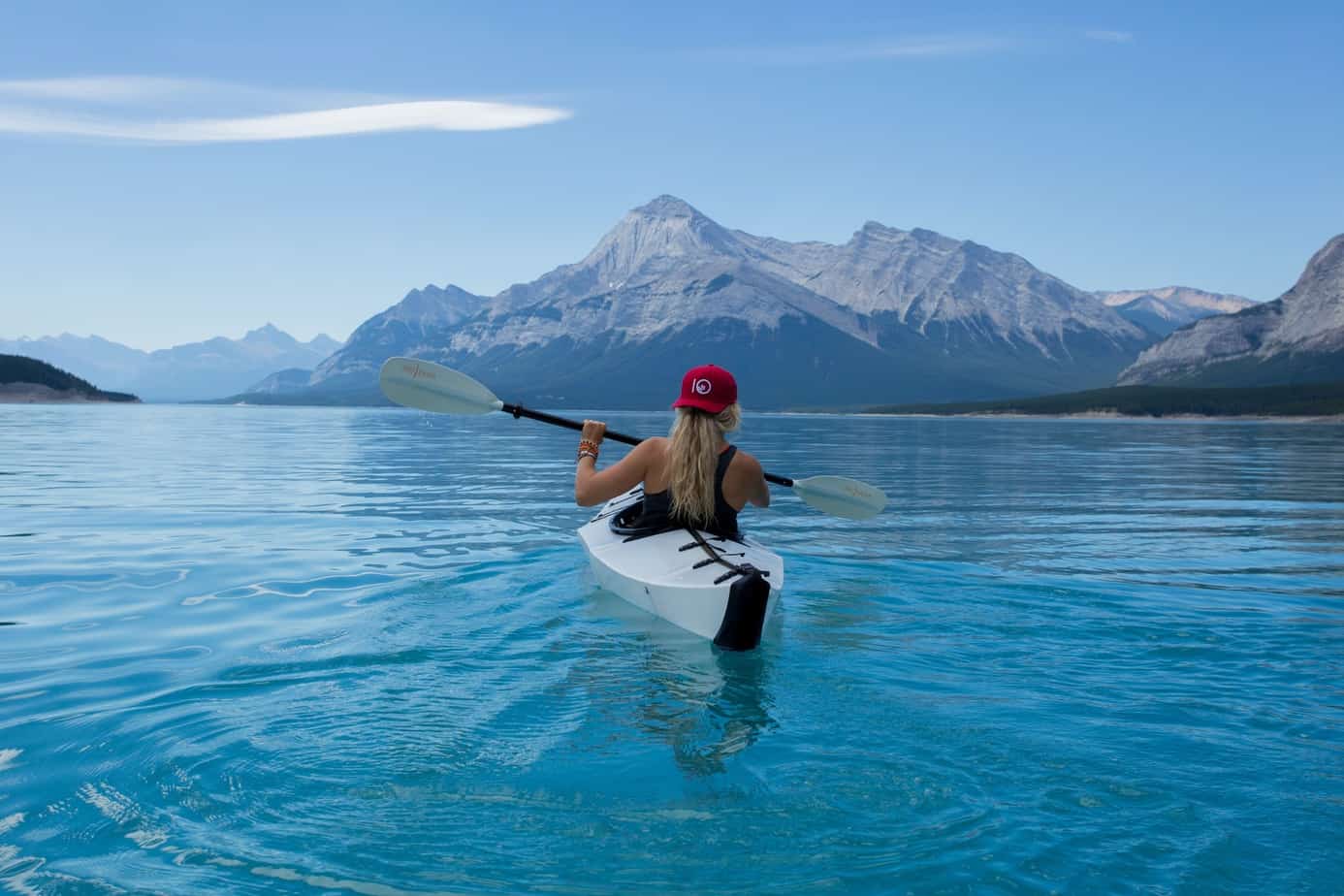 PC Kalen Emsley via Unsplash
The best folding kayaks are a great alternative for owners of SUVs or smaller sedans. They can fold up easily and fit naturally into the trunk of your vehicle until you get to the beach or boat ramp where you will launch.
Plus, you will be able to retain the full seating capacity of your vehicle instead of folding down the back seats. So these kayaks are better for groups or families that don't necessarily want to bother with a roof rack or take multiple vehicles every time you go to the water.
Inflatable Kayaks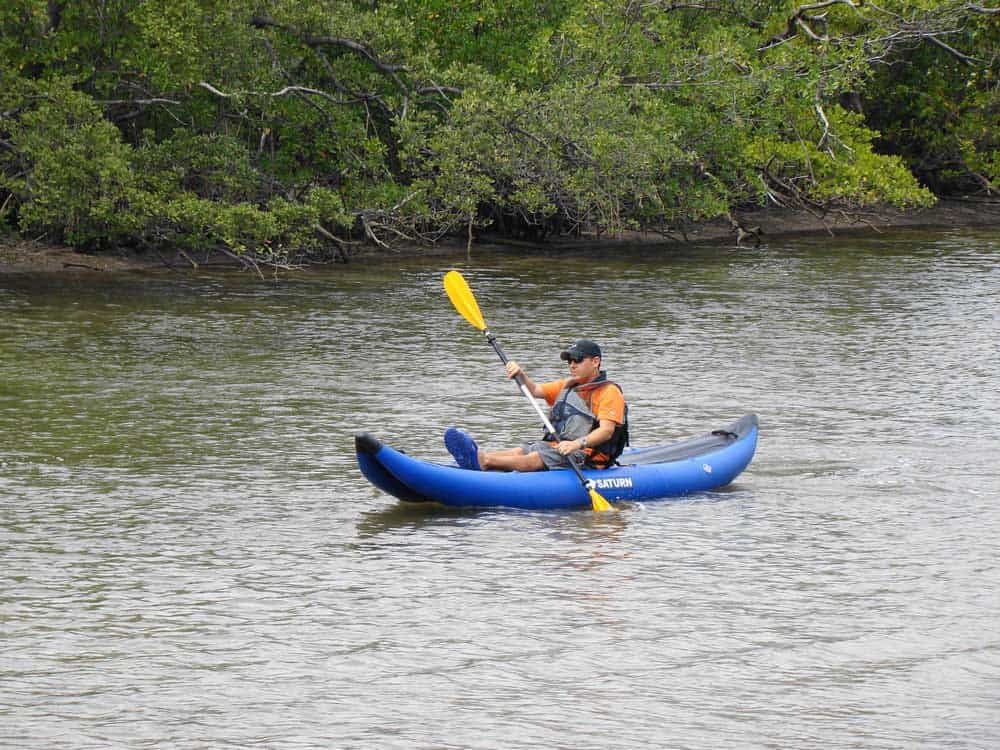 PC BoatsToGo Inflatable Boats via Flickr
The best inflatable kayaks provide the same benefits as folding kayaks. They can be completely deflated into a compact package when you aren't using them so that you can store all of your gear and passengers inside your SUV without folding the seats down.
Inflatable kayaks and folding kayaks also boast similar setup times when you arrive at the water. Just keep in mind that you will need a high-quality electric pump to help you inflate one of these kayaks if you don't want to do it by hand.
A Note On Performance
One of the biggest knocks on folding and inflatable kayaks over the years is that they don't maneuver as well as their rigid counterparts. To be honest, this can be entirely true, but it depends on the exact rigid kayak and folding or inflatable kayak that you are comparing.
As more innovative companies have brought new folding and inflatable kayaks to market, there are now choices that perform similarly (or in some cases better) to a comparable hard-sided kayak.
If you want to maximize storage space in your SUV and you are mainly interested in recreational paddling, the benefits of a folding or inflatable kayak outweigh the cons, in our opinion.
How To Secure A Kayak Inside An SUV
If you do decide to transport a smaller kayak inside an SUV and leave the rear trunk open, it's really important that you secure both your kayak and your rear door properly. So let's talk about how to do that!
Find Anchor Points inside Your SUV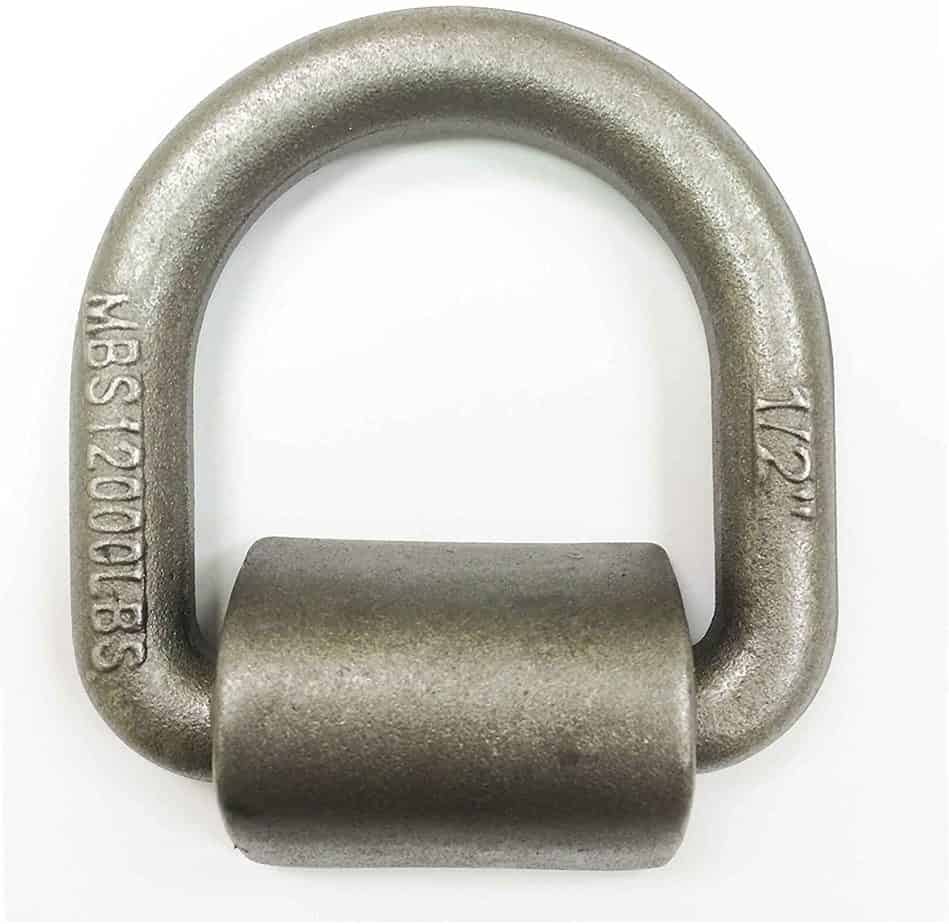 PC Amazon
For starters, you need to find solid points inside your SUV to which you can attach a strap. These points should never be made of plastic and they should be strategically placed so that you can pull the weight of your kayak down and forward.
Ideally, you can find metal D-rings or hooks that are welded into the frame of your SUV's trunk. Most SUVs are equipped with these types of rings for this specific purpose (or for securing other heavy items), so you shouldn't have to search high and low to find them.
The key will be to identify these points before you load your kayak into the trunk of your SUV. That way, you can line up the anchor points on your SUV with the anchor points on your kayak.
For reference, we've included a photo of what the D-rings in your SUV may look like above.
Find Proper Anchor Points on Your Kayak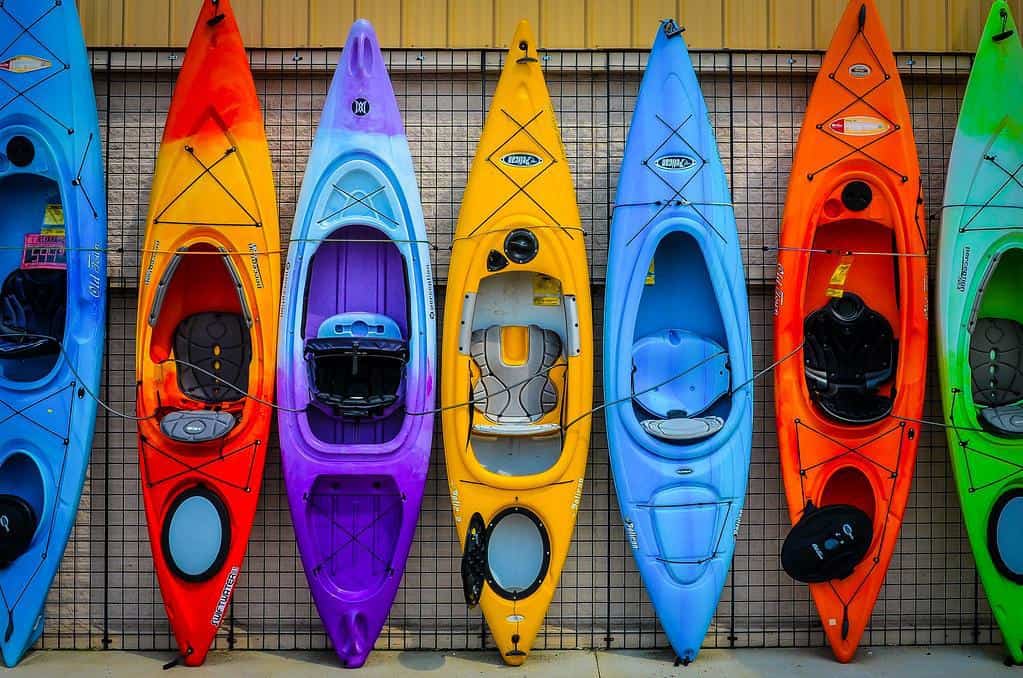 PC Thomas Dwyer via Flickr
Also before you load your kayak in, you may want to identify a couple of anchor points on your kayak as well. Fortunately, these should look very similar to the D-ring anchor tethers you should find inside the trunk of your SUV.
Your main objective will be to tighten the straps you run over the top of your kayak down enough so that it can't shift at all while you are driving. That said, you can also strategically utilize anchor points that are built into the kayak to keep it from sliding forward or backward.
Make sure you consider that your kayak can move in all directions depending on what happens while you're driving. Naturally, the primary concern for many that attempt this technique for the first time is your kayak sliding out the back of your SUV.
It's just as likely, however, for your kayak to slide forward while you are driving if you think about the physics involved. Most of us often brake more quickly than we accelerate, so there's actually an argument that it's more likely for your kayak to slide forward than it is to go the opposite direction.
If you are working with one of the best sit on top kayaks, you can also consider using the scupper holes as anchor points. These are great for strapping your kayak down and keeping it from sliding but, unfortunately, they aren't available on all types of kayaks.
For others, look for those D-rings or other handles that are riveted or bolted into the polyethylene material of the kayak.
Put Seats Down and Load Your Kayak In
Now that you know where you are going to place your straps, go ahead and fold those back seats down and load your kayak in. Do your best to align those anchor points in your trunk to the ones you will use on your kayak so that you can make sure your strap will secure accordingly.
Most people load their kayaks into their trunks face down, but you may find that the opposite (or a slightly angled approach) works best for your vehicle. If, for example, the anchor points you want to use are on top of your kayak, you can certainly place it in face-up.
Use Cam Straps To Keep Kayak From Sliding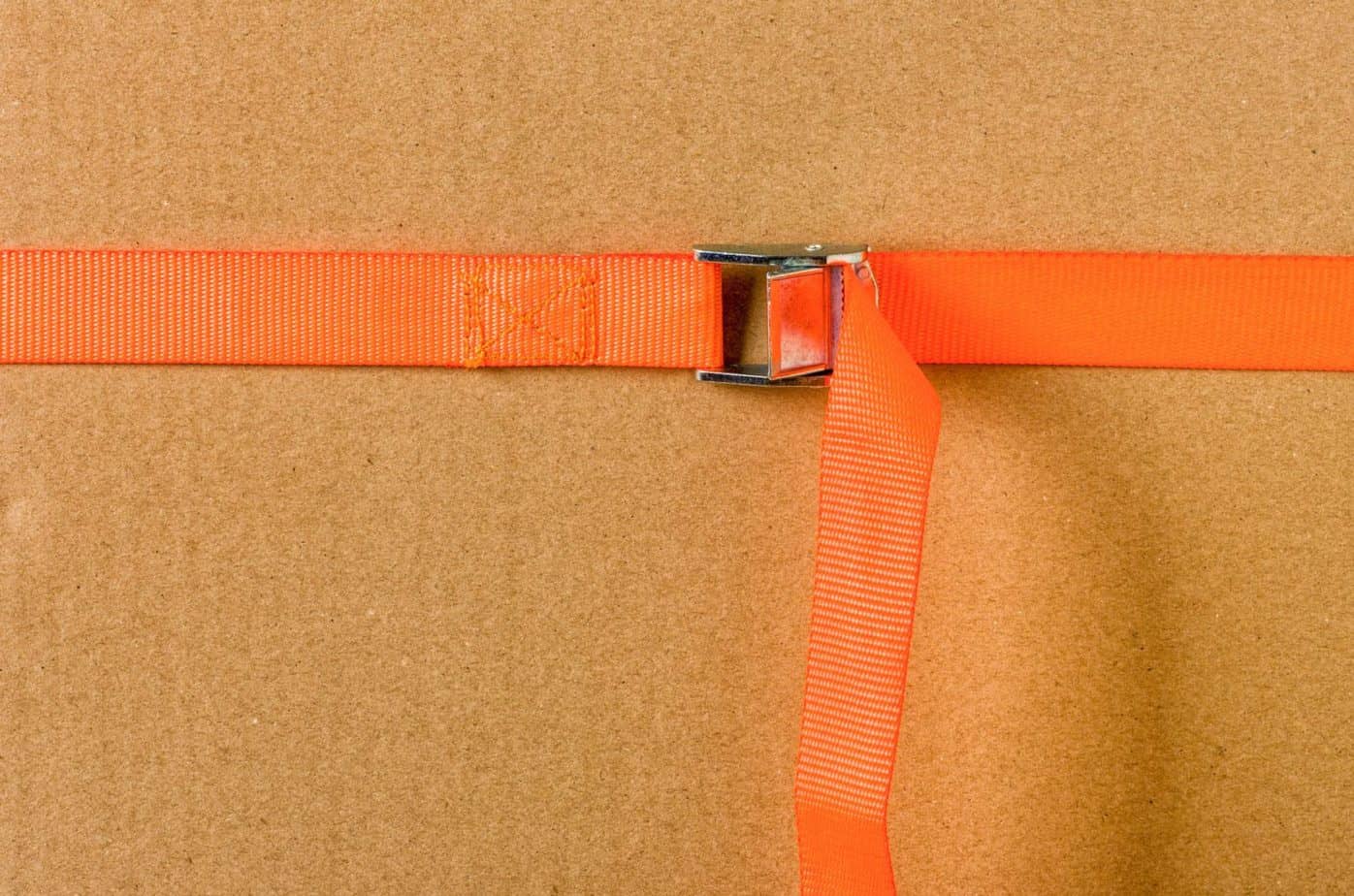 PC Zerbor via Shutterstock
Many people think that ratchet straps are the way to go for securing things to your vehicle, but they really aren't necessary for kayaks. Cam straps are both more affordable and they are much easier to use when securing a kayak down.
When you are setting up your cam straps, be careful to do so in such a way that it makes it easy to tighten them up once you thread the strap through the cam buckle. For instance, it is never ideal to have to push away from your body when tightening down your cam straps.
In addition, learning how to make a daisy chain with any leftover cam strap length is a great way to keep excess from flapping around and getting caught while transporting kayaks. Plus, it'll impress your beginner kayaking friends every time you take them out for a trip!
Check out this quick video on how to make a daisy chain with a cam strap.
Secure Your Rear Hatch/Door
Once you have secured your kayak down and you've tested that it won't move, it's time to close the rear door or hatch on your vehicle as far as it will go until it makes contact with your kayak.
Then, you can use another cam strap to secure the door instead of driving with it completely open. The best anchor points for doing this will be the inside handle on the door itself and the D-shaped latch that usually holds your door in place when it is closed.
Cam straps are great for this because they will naturally allow your door to bounce slightly with the bumps on the road. This actually helps to prevent damage to the door or to the anchor point to which you attach it.
The only additional thing to consider is the point where your door makes contact with your kayak. You may consider using a towel or some sort of thin foam to pad this area to prevent damage to your kayak, so long as you make sure whatever you use won't move and blow away as you are driving.
Alert Other Drivers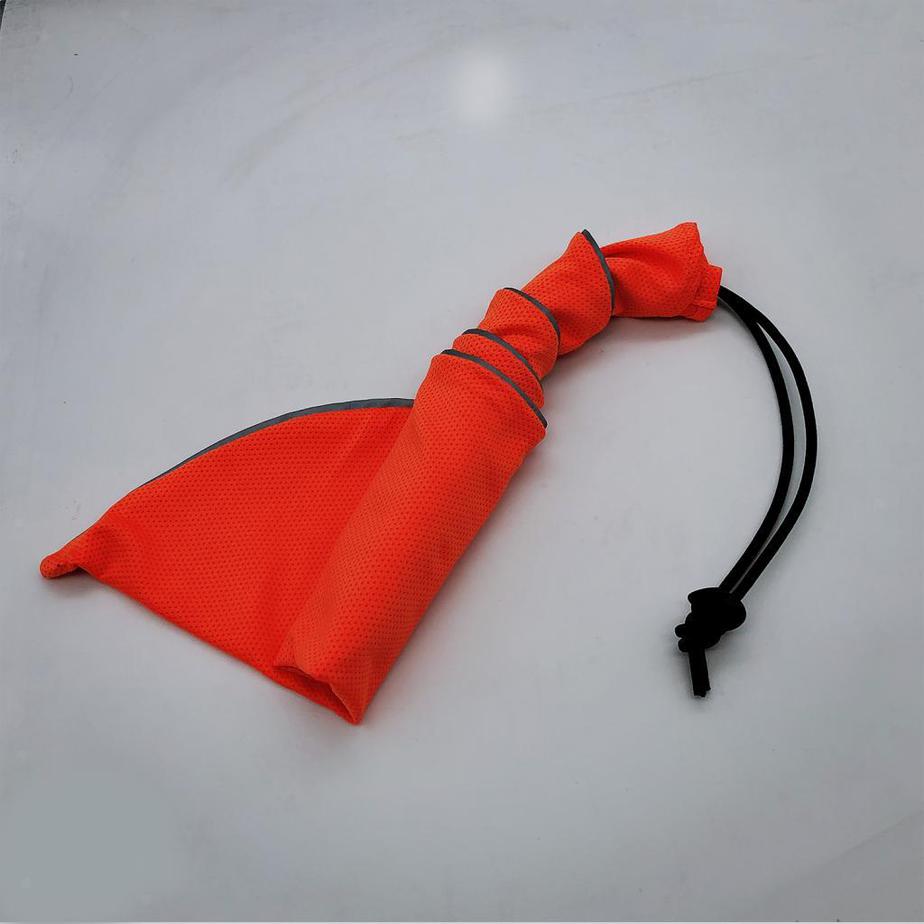 PC eBay
The last thing you should do when transporting a kayak that's sticking out of the back of your SUV is to attach a bright signal flag to alert other drivers. This is actually a technique that should be used whenever you are transporting anything that sticks out past the rear bumper of your vehicle.
While it may not completely prevent other drivers from striking a kayak that's sticking out of your vehicle's hatch, it will help you alert other drivers to its presence. Many states actually legally require that some sort of flag or handkerchief be attached to towing or transported items that stick out behind your vehicle.
So, even if it doesn't prevent an accident, it will help you cover all of your bases from a legal perspective when transporting a kayak inside an SUV.
Is It Legal To Drive With The Trunk Open?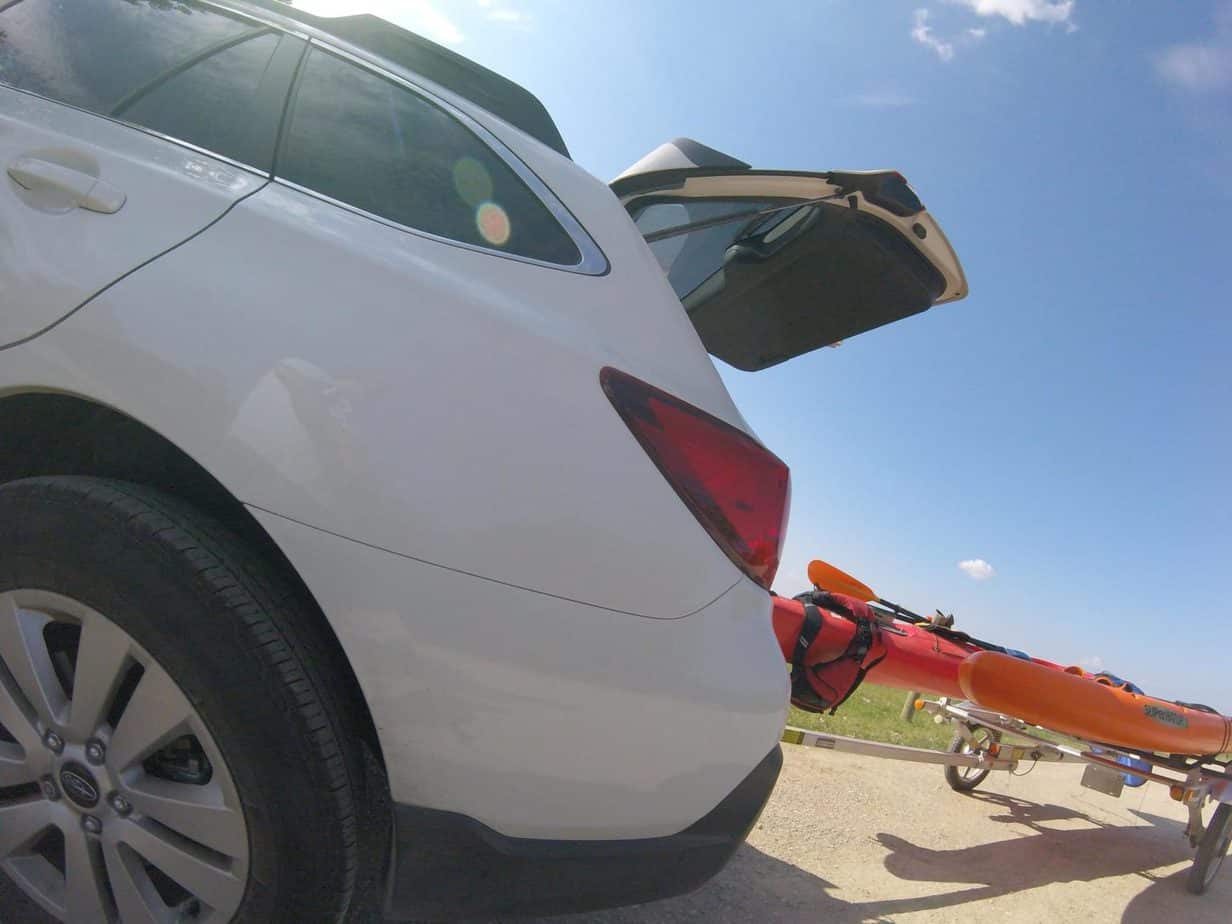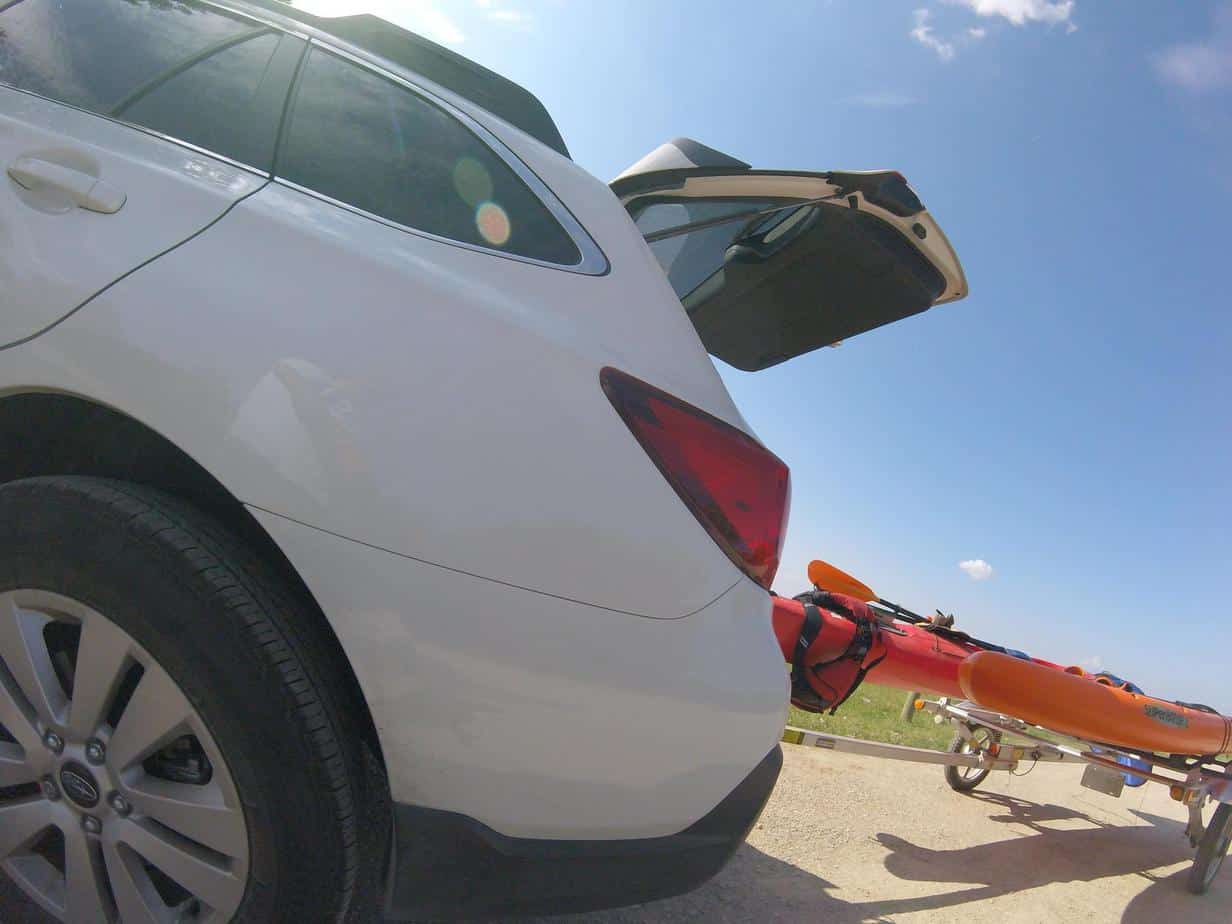 PC Josh Hild via Pexels
If you have been driving long enough, the odds are pretty good that you have seen someone going down the road with their trunk open. While it actually is illegal to drive with your trunk open if you have no purpose, most states allow it if it's clear that you are doing so in order to transport a longer item (like a kayak!).
As a result, you should have no legal issue with this method of kayak transportation as long as you alert other drivers and take the necessary precautions to strap your kayak down securely.
That being said, it doesn't hurt to check the local traffic rules and regulations for your area. These rules can sometimes vary significantly from state to state, so travelers will also need to check in advance of moving into a new state if transporting a kayak in this manner.
For those that live close to state lines, it will be beneficial to know the regulations in both states so that you don't risk getting pulled over as you simply attempt to get your kayak back to its natural habitat – the water!
Final Thoughts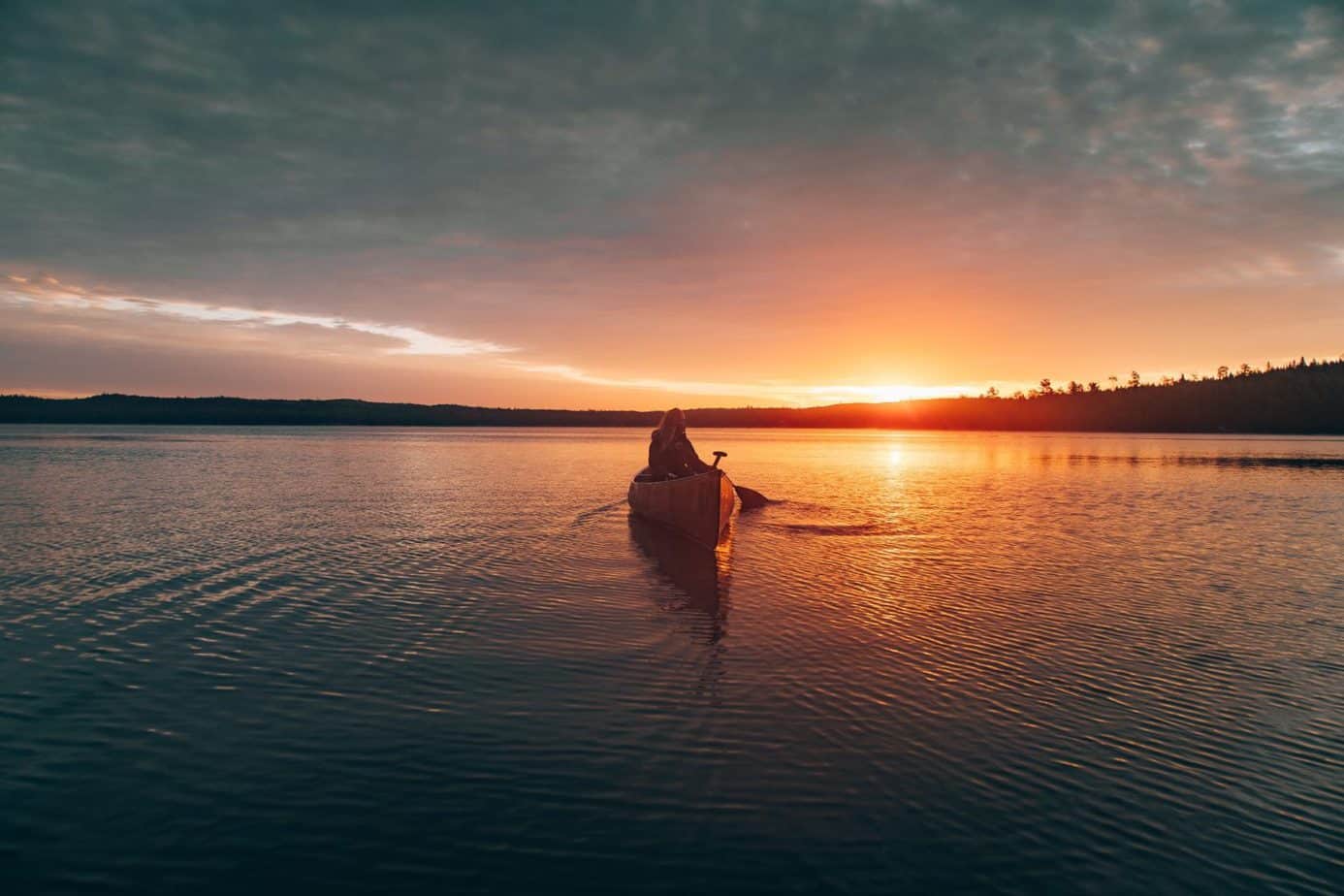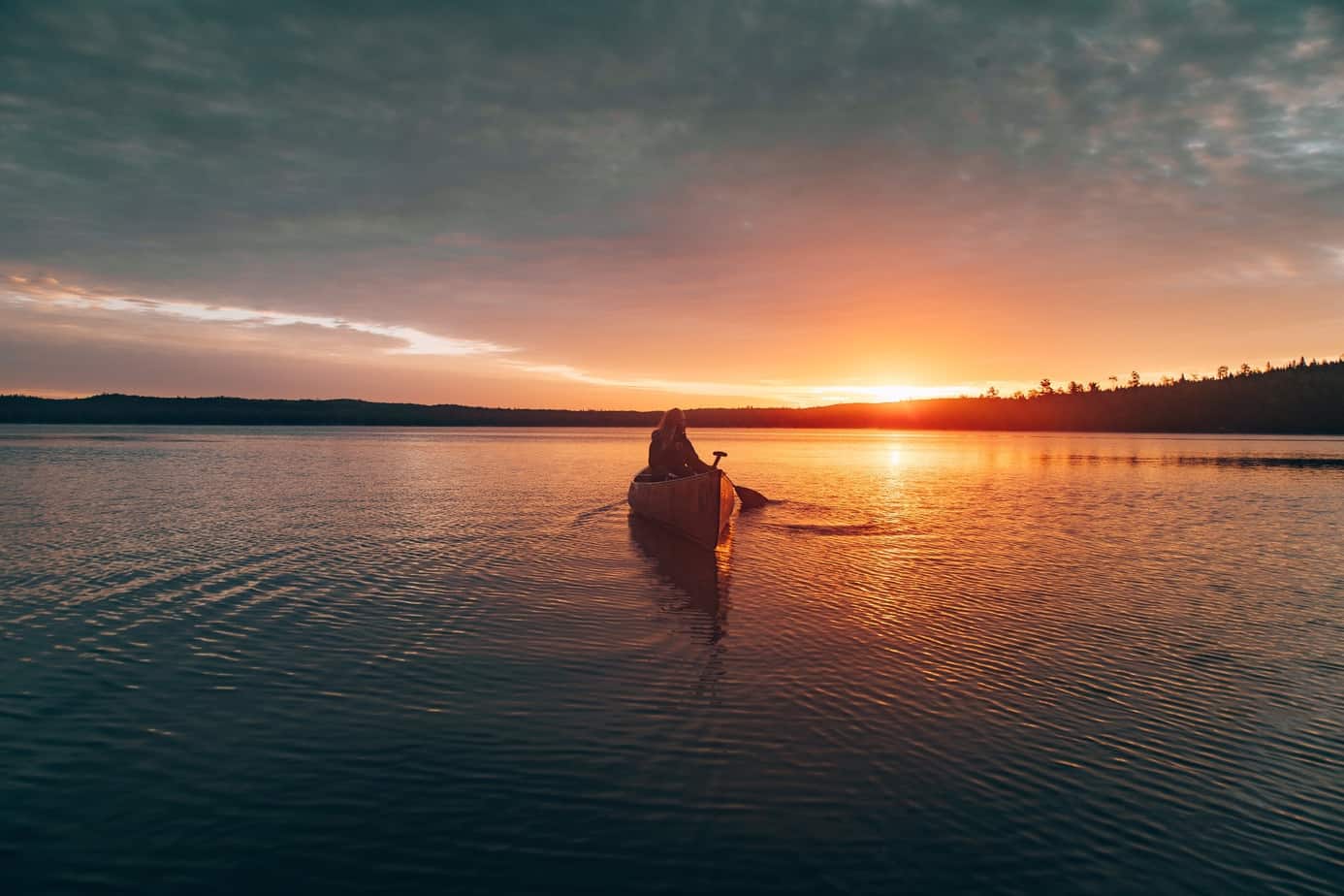 PC Josh Hild via Pexels
As you can see, it is definitely possible to transport a kayak inside an SUV. However, you will be limited to the size and type of kayak that you can fit inside your specific SUV and it may compromise your ability to transport passengers and/or gear at the same time.
That is why you see so many experienced kayakers with multiple racks of different styles on top of their SUVs. The good thing about an SUV is that you don't have to lift your kayak as high as you would if you were loading it onto a truck.
Plus, there are some easy loading kayak rack options that can take some of the weight and make lifting your kayaks onto the roof even easier. So, as far as we're concerned, transporting a kayak inside an SUV is really only best for inflatable and folding kayaks.
While it's possible for shorter kayaks, we wouldn't recommend relying on this solution if you are going to be transporting a kayak more than once or twice a month. As you gain experience, you are going to need an easier and more efficient solution.
We hope you've found the insights and tips in this article useful as you decide on the best transportation solution for your kayak. As always, we welcome any questions and/or comments below and we wish you the best of luck on all of your upcoming kayak adventures!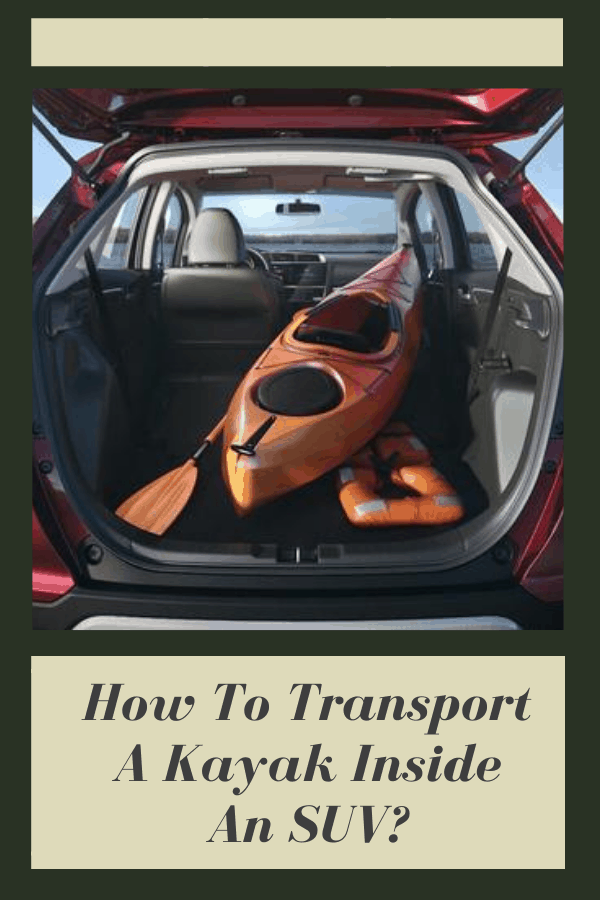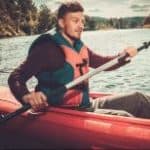 Author: Peter Salisbury
Pete is the Owner of KayakHelp.com. Born and raised in Cleveland, Ohio, he grew up kayaking, fishing, sailing, and partaking in outdoor adventures around the Great Lakes. When he's not out on the water, you can find him skiing in the mountains, reading his favorite books, and spending time with his family.