As a canoeing and kayaking enthusiast, you are probably looking to learn new tricks to improve your paddling and find great places where you can go paddling next. Or maybe you just want to see what other people are getting up to in their paddle crafts.
Reading canoe and kayak magazines can be a great way to accomplish all of these and broaden your views on the watersport you love so much.
In this article, we're going to be sharing some of the best canoe and kayak magazines we've come across so far that are totally worth checking out.
Let's begin.
Best Canoe And Kayak Magazines
On The Water is an international magazine that covers everything that has to do with water activities. If you like kayaking, canoeing, or fishing, and you want to keep up with the latest updates in your field of interest, On The Water has your back.
The magazine has been around for over two decades. It was founded in 1996 in Cape Cod by two friends who loved fishing, boating, and exploring life on the water in New England.
Since then, On The Water has emerged as a lifestyle brand that's constantly redefining what a kayaking and fishing-centric publication can be.
If you're interested in exploring kayaking, canoeing, and fishing opportunities in specific locales, there are editions of On the Water Magazine dedicated to specific regions such as New England, New Jersey, Rhode Island, Massachusetts, and more.
Photo by Dan Hadley
The magazine is rife with reviews and buyers guides for all things kayaks and canoes.
Whether you get your hands on the print edition or you're surfing through the digital version of the magazine, you will find all kinds of salient information and lots of helpful tips to help you buy the best gear or figure out the best kayaking destinations to explore.
On The Water magazine even has sections dedicated to teaching kayak fishing enthusiasts how to make their own lures and how to spot the best rod and reel for saltwater or freshwater angling.
The publication also includes in-depth fishing reports from all across the United States for local residents who want to discover the best spots to go fishing in.
And after you're done reeling in your catch of the day, you can flip through the pages to find mouthwatering recipes to try out.
You can get a yearly print subscription to On The Water Magazine for $25 a year if you're in the United States. The magazine also ships internationally so you don't have to miss out on all the goodness it has to offer even if you live somewhere else in the world.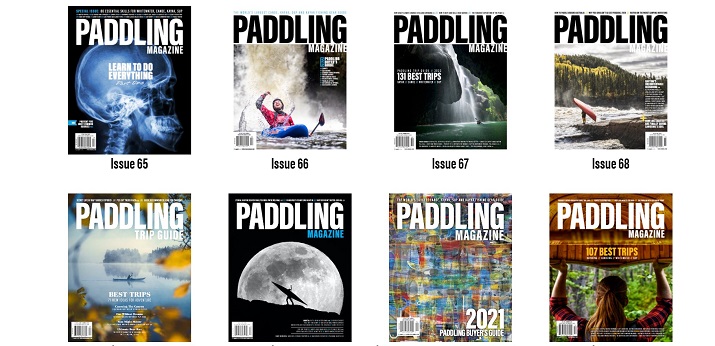 If you're looking for a magazine that provides thorough coverage of watercraft and activities, you would be hard-pressed to find any publication that does it better than Paddling magazine.
Formerly known as Adventure Kayak Magazine, Paddling is on a mission to inspire more people to embrace paddlesports by telling stories of places, people, adventures, events, trends, boats, and all the excitement that paddling can bring.
Paddling magazine is easily one of the most renowned canoe and kayak magazines in the world.
It has something for everyone so even if you want to learn about other paddlesports like rafting, paddleboarding, fishing, and whitewater kayaking, you can use Paddling as a portal into that world.
The publication features everything from paddling tips to kayaking hotspots, and buyer guides to help you find the best kayaks, kayak paddles, canoes, dry bags, PFDs for women or men, and other accessories you need to make the most of your paddling experience.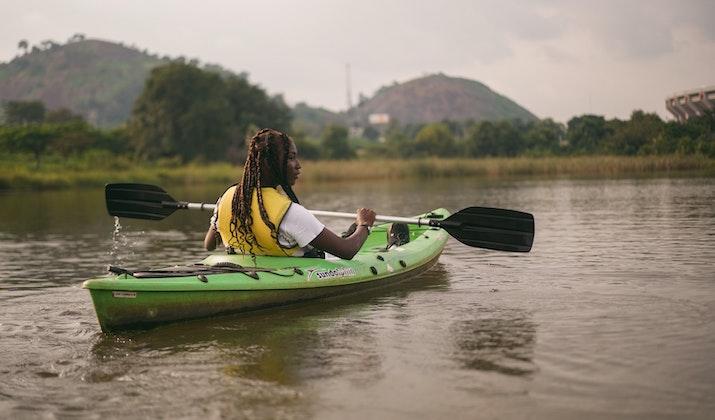 Photo by Oladapo
In addition, Paddling magazine offers in-depth reviews of paddling gear, as well as interesting news and stories from fellow paddlers across the world.
Lovers of DIY will get to enjoy loads of helpful tutorials teaching you how to build your own kayak, customize your canoe, start a campfire, and more.
Beginners are not left out of Paddling magazine's offerings. It has sections where newbies can learn foundational skills like how to self-rescue and stay safe while paddling so they can become expert paddlers.
You will even find tips to help you plan for what to eat during float trips and the best places where you'll find great action and stunning scenery to keep you preoccupied for weeks.
For $19.95 per year, you can have all four seasonal issues of Paddling magazine delivered to your doorstep. The magazine also offers subscriptions for people who live in Canada and other non-U.S. countries.
Additionally, your Paddling magazine subscription will grant you early digital access to all new issues and access to the magazine's digital archives of issues since 2014.
You will also be able to use the Paddling magazine mobile app to catch up on the latest stories both online and offline.
If you're an avid paddler that loves to fish, Fly Fisherman might just be the magazine for you. Although it is primarily a fishing magazine, its pages also contain a lot of kayaking and canoeing content so you get to experience the magic of both worlds.
Fly Fisherman features kayak and gear reviews to help you decide what kayak brands to buy, as well as how-to guides that will teach you all the tricks you need to know to make safe and memorable kayak fishing experiences.
The magazine also offers video content and tutorials in its digital version; so you're not just being told how to do things, you're also shown the process so you can learn the proper techniques and assimilate the information more quickly.
Whether you want to know how to customize your kayak to make it more suitable for fishing or you want to find the most rewarding kayak fishing destinations to visit, Fly Fisherman has an extensive archive of past and current issues that you can consult.
Photo by Harrison Fitts
In addition to tips, how-tos, and reviews, Fly Fisherman also brings you insightful and captivating stories from members of the kayak fishing communities from all over the globe.
You can purchase a copy of Fly Fisherman at Walmart, Barnes & Noble, major book retailers, and your local magazine stand. If you'd like to have a copy delivered to you instead, grab a print subscription to Fly Fisherman for the pocket-friendly sum of $15.
A paid print subscription to this magazine also includes digital access so you can read as many stories and articles as you like from the online version of Fly Fisherman. The magazine is available to readers in the United States, Canada, and other countries.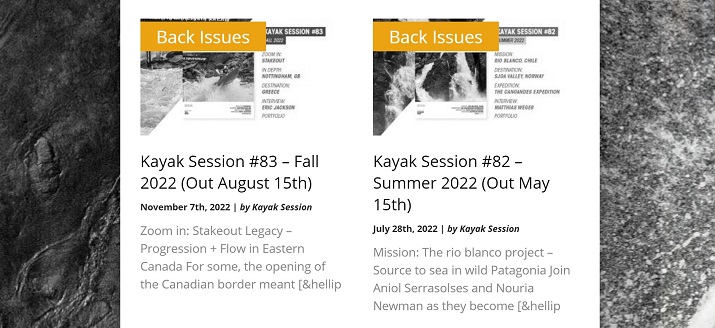 Kayak Session was created for people who love whitewater activities. It covers a host of topics such as whitewater expeditions, kayak sporting events, the best destinations for your next kayaking trip, and more.
If you have a passion for whitewater kayaking, you're going to enjoy leafing through the pages of this magazine and discovering all the amazing adventures and stories it brings you from different corners of the world.
Kayak Session brings you news of the latest happenings in the world of whitewater paddling.
You can witness and learn from the skills of some of the best whitewater kayakers across the globe. Kayak Session Magazine showcases some of the top whitewater runs and the amazing places where they took place to give you something to aspire to and plan towards.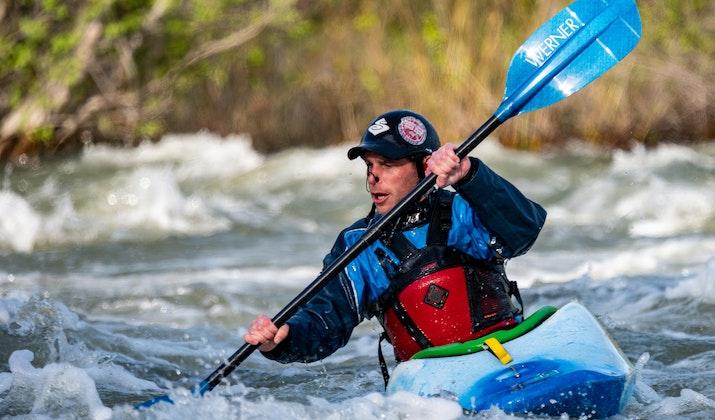 Photo by Brett Sayles
There are sections of the magazines devoted to helping you buy the best whitewater kayaks, gear, and accessories to make your paddling trips a breeze.
Kayak Session also features plenty of how-to articles to help you advance your paddling skills, carry out repairs on your kayak, and execute brilliant maneuvers in tricky waters.
The magazine also features interviews from kayaking experts that are brimming with insights about the sport you love.
Even though Kayak Session mainly tackles whitewater kayaking, lovers of recreational kayaking and kayak fishing can also find articles related to their areas of interest in the magazine.
Kayak Session magazine is available in both print and digital editions. You will get the digital version free when you buy a print subscription or a single issue.
A single print issue of Kayak Session costs $9.47 while an annual print subscription to the magazine starts from $34.99.
The magazine is available to users who live anywhere in the world even if you're located outside of the United States, you can still get your copies shipped to you.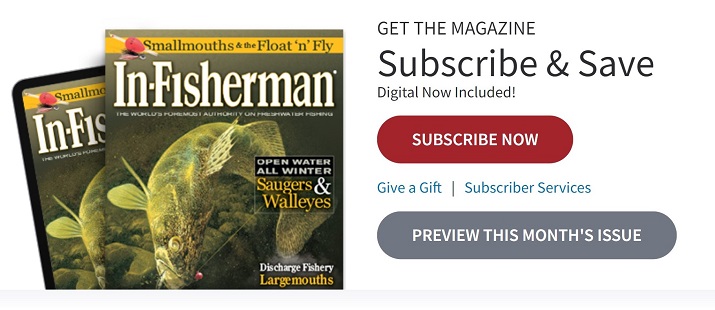 Going by the title, you might think that In-Fisherman doesn't have anything to do with canoes and kayaks. Don't let this first impression fool you because the magazine contains lots of kayak- and canoe-related content.
However, most of the kayaking and canoeing pieces have a fishing angle, making In-Fisherman more suited to people who like to combine paddling and fishing.
People whose interests skew purely towards kayaking or canoeing alone might be better off looking to other canoe and kayak magazines to serve their needs.
Anglers who love to paddle will find an abundance of value-packed information on the subject ranging from where to kayak to catch different species of fish and how to rig their current boat to make it more conducive for fishing trips.
In-Fisherman magazine includes comprehensive kayak and fishing gear reviews, buyer guides, safety tips, beginner guides, and more. You will also find in-depth instructions and demonstrations on how to catch, clean, and cook your favorite types of fish.
For those who are committed to kayak fishing responsibly, In-Fisherman also publishes the latest fishing reports, research, and scientific studies on fish and habitat conservation.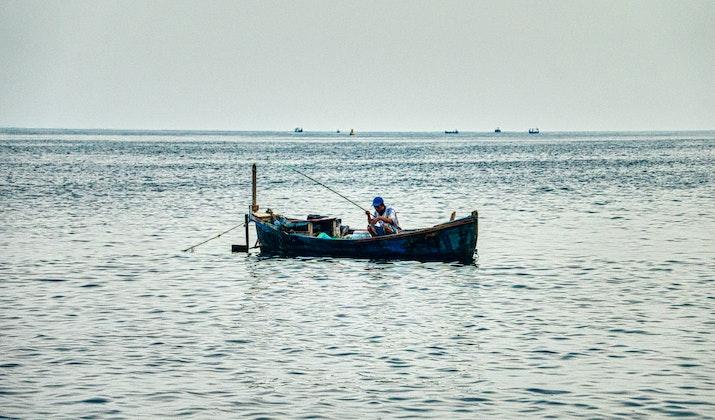 Photo by Tom Fisk
Whether you're an expert kayak angler looking to widen your freshwater fishing experiences or a beginner who wants to learn basic concepts and the best techniques, In-Fisherman has you covered.
All the articles, how-tos, and reviews in In-Fisherman magazine are accompanied by detailed descriptions, photographs, and diagrams to help you clearly understand what is being discussed.
In-Fisherman publishes eight issues annually, one of which is a double issue. You can sign up for a print subscription to the magazine for $15 a year to have each annual issue shipped to you or you can grab copies at your local newsstand.
Your paid print subscription will also include digital access so you can read all the content on the In-Fisherman website as well. The magazine ships everywhere within the U.S., Canada, and many other international countries.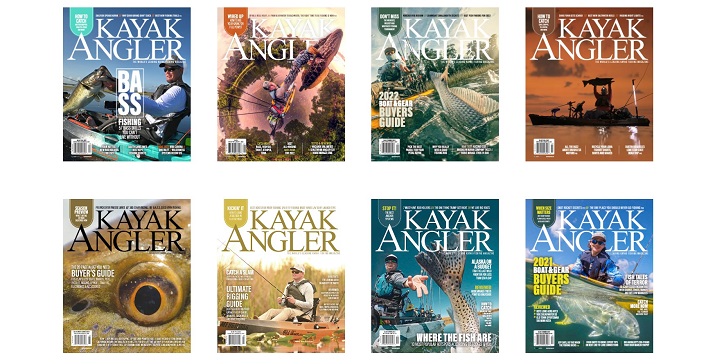 Kayak Angler is one of the leading kayak magazines in the world. It specializes in all things kayaking and fishing from industry news to local fishing reports, kayak reviews, and fishing tactics for freshwater and saltwater species.
The magazine covers a wide area of topics such as fishing hotspots, kayaking skills and tactics, and kayak fishing gear and tackle. Kayak Angler even has a section dedicated to teaching you all the hacks, tricks, guides, and tips you can use to get a lot of kayaking and fishing tasks done by yourself.
Kayak Angler reviews the latest canoe and kayaking gear so you have an honest appraisal of what tools are worth investing in and which ones to leave out of your arsenal.
Regardless of your lifestyle and budget, the magazine can help you find the best paddling tools and accessories for you. Get ready to learn the best paddling strokes and techniques to add more intensity and efficiency to your water expeditions.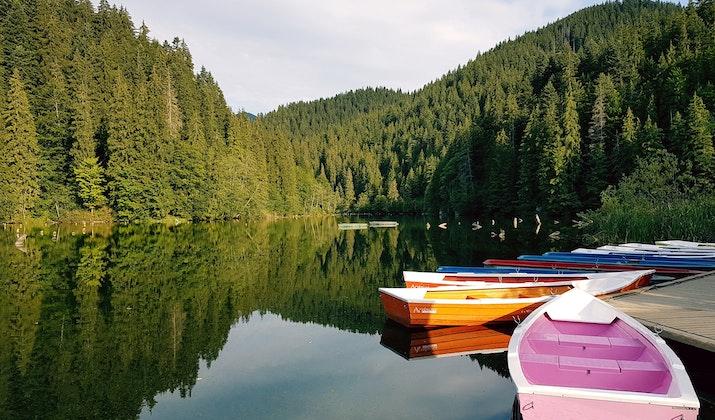 Photo by Cristina Şopandă
Kayak Angler highlights trends, events, news, and stories from paddlers and paddling communities around the globe to inspire your next canoeing or kayaking adventure.
The publication showcases popular and off-the-beaten-path paddling spots that are worth exploring. Fishing enthusiasts will also get expert tips on catching various species of fish, rigging the ultimate kayak, spooling reels, and lighting a kayak for nighttime fishing.
Additionally, Kayak Angler provides comprehensive buyers' guides for different types of watercraft and outdoor gear including canoes, rafts, sit-on-top kayaks, paddleboards, sit-in kayaks, life jackets, paddles, and apparel.
Kayak Angler magazine is available in both print and digital versions. A subscription to the magazine costs $19.99 per year for U.S. readers and gives you four print issues delivered to your door and unfettered digital access via the publication's website or mobile app.
The magazine also ships to other countries but the subscriptions are a bit pricier and will set you back $39.99 annually.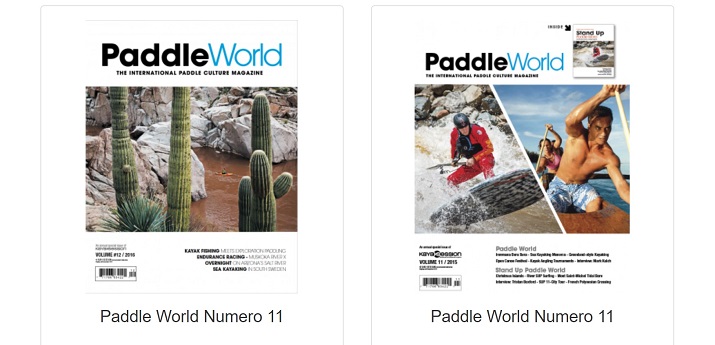 Paddle World is one of the best canoe and kayak magazines out there for anyone interested in paddling as a hobby or sport. It is brought to you by the same company that publishes Kayak Session.
However, unlike its sibling which focuses primarily on whitewater kayaking, Paddle World shines a light on all paddlesports and brings you the best news and updates on paddling travel, culture, and lifestyle.
Paddle World features fascinating stories of canoeing, kayaking, rafting, and stand-up paddleboarding adventures told by some of the best writers in the outdoor niche.
All the stories published in the magazine include remarkable supporting images of paddlers doing what they do best on water.
Paddle World has sections devoted to testing and reviewing all kinds of paddling-related gear so you know where to put your money to derive the most value.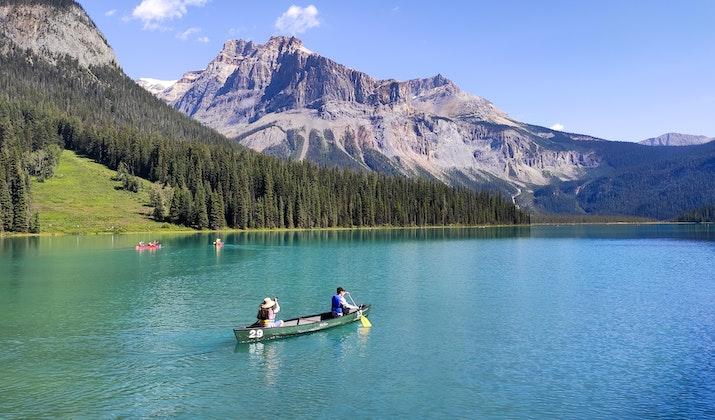 Photo by Oliver Boese
Every issue of Paddle World includes tips and insights from kayak and canoe enthusiasts and experts with tons of experience.
You will find in-depth discussions on the best techniques for everything from paddling to rescue, setting up camp, fixing your craft, and plenty more.
The magazine also covers kayak fishing topics such as boat reviews, guides on how to customize your paddle craft, fishing hotspots where you are sure to score a big catch, and more.
Regardless of your age or skill level, you are sure to pick up new tricks from Paddle World to try out on your next kayaking or canoeing trip.
The magazine offers both print and digital issues. You buy a single print issue of Paddle World for $9.47 or purchase an annual print subscription which also comes with access to digital issues for $34.99.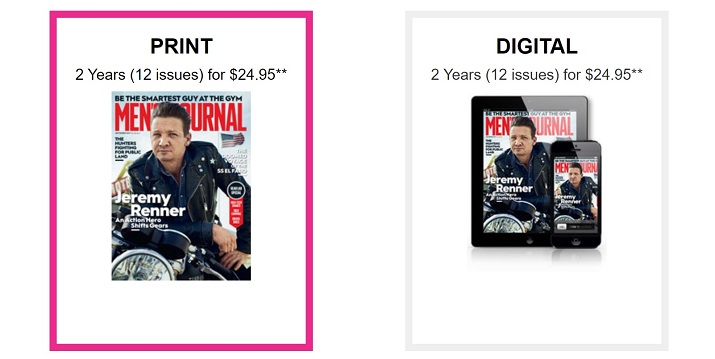 Unlike most of the publications on this list, Men's Journal is not a canoe and kayak-only magazine. It covers a wide range of topics all of which are focused on helping men lead better and fuller lives.
Men's Journal is available in both print and digital versions but regardless of which version you flip through, you will find sections dedicated to style, gear, travel, health & fitness, food & drink, as well as kayaking and canoe topics.
The magazine gives you stories and articles about prime kayaking and canoe destinations across the United States. It also tests different kinds of paddling gear and provides reviews for everything from canoe and kayak brands, to paddles, and waterproof duffels.
No matter what type of paddling you plan on doing, Men's Journal will give you the assurance to purchase the right gear for your needs.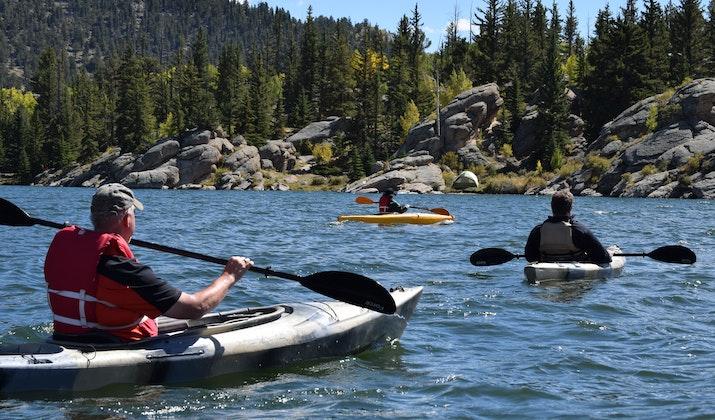 Photo by Spencer Gurley Films
Men's Journal also offers paddling-related guides, suggestions for where to go kayaking or canoeing, and reviews of different paddle trails to inspire your next float trip.
You can learn how to paddle on specific waterways or which waters to avoid if you're a beginner or seek out if you're looking for the thrill of a lifetime.
If you're a man who loves paddling and you're interested in reading about other subjects like tech, grooming, and travel, Men's Journal is a great magazine that masterfully combines all these interests.
Men's Journal publishes issues on a monthly basis. You can get a two-year print subscription to this magazine for just $30.00 or opt for the Kindle version for half the price.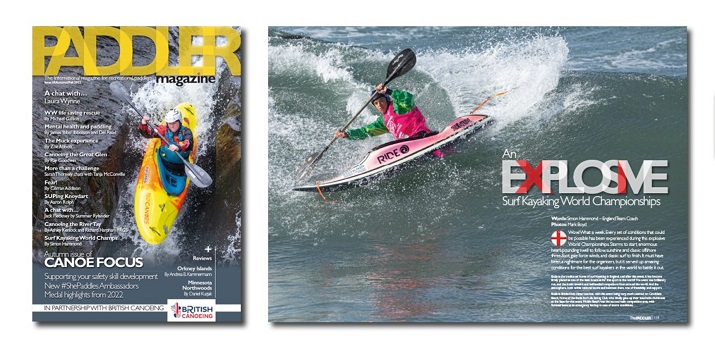 A subscription to Paddler magazine should be a part of your paddling arsenal if your preferred paddle craft is a kayak or a canoe.
It makes for great reading when you're planning your next outdoor water adventure or while you're kayak camping and waiting for your meal to be ready.
Paddler magazine was created for recreational paddlers and it covers everything you need to know about kayaks, canoes, and paddleboards. The magazine brings you the best and latest kayaking stories from the U.K., Europe, and all around the world.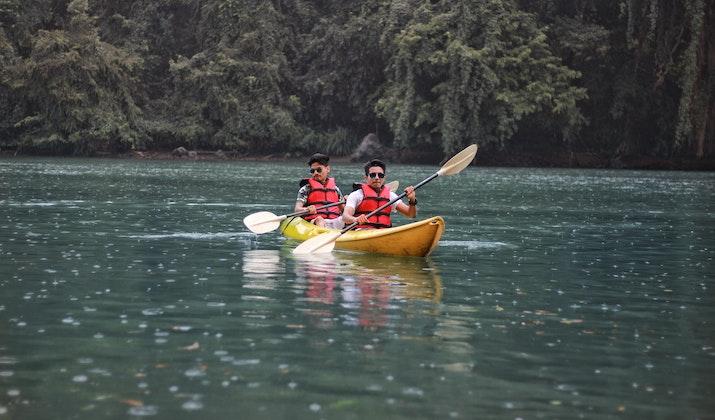 Photo by Shivkumar Sd
Its pages are full of valuable advice on everything kayak- and canoe-related including techniques, gear, safety tips, survival tactics, bucket-list destinations, and much more.
Paddler magazine also features profiles of leading voices in the global paddling community where they get to share their first-hand experience, knowledge, and advice to inspire you.
Paddler magazine is available as a print publication and an electronic magazine and it publishes six issues annually on a bi-monthly basis. For about $37, you can get a print subscription to the magazine.
You can also buy a single issue of Paddler magazine for around $7 and have it shipped to you.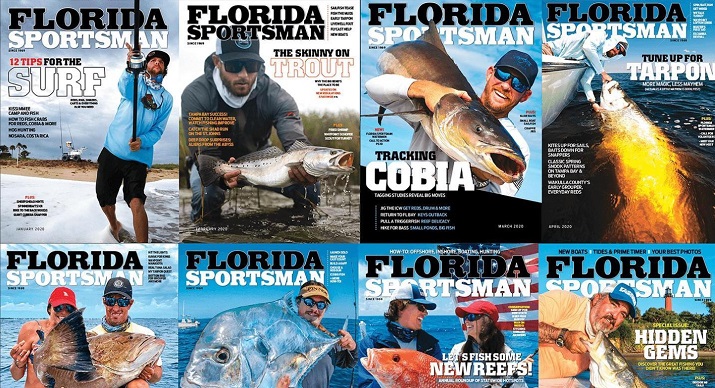 Florida Sportsman is another canoe and kayak magazine that you can check out. The magazine focuses on paddling topics as they relate to fishing, so if you're not interested in unraveling the intricacies of fishing from a kayak or canoe, this might not be the best publication for you.
However, those who love fishing and boating will enjoy Florida Sportsman's wide range of featured stories covering both coastal and inland waterways in the Sunshine State.
The publication offers comprehensive beginner's guides, buyer guides, product testing, and reviews.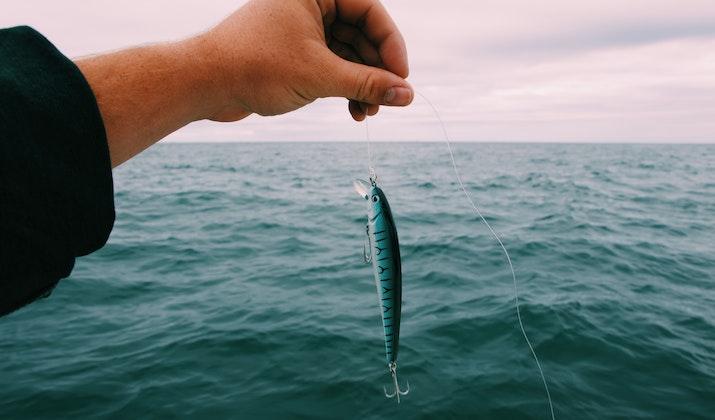 Photo by Maël BALLAND
Within the pages of Florida Sportsman, you will find information about canoe and kayak models, paddles, gear, and other equipment you'll need for a successful fishing expedition.
The magazine also includes fishing reports for the different regions in Florida, as well as tasty recipes to help you cook up the seafood or wild game that you catch while you're out in the water.
Florida Sportsman magazine comes in print and digital versions. You can get a paid print subscription with digital access included for as little as $15 per year.
Conclusion
If you're interested in deepening your knowledge about canoeing and kayaking or just staying updated with what goes on in the paddling world, these magazines are some of the best reads you can get a hold of.
They each have different sections for a variety of topics and stories that will keep you entertained and informed all year long.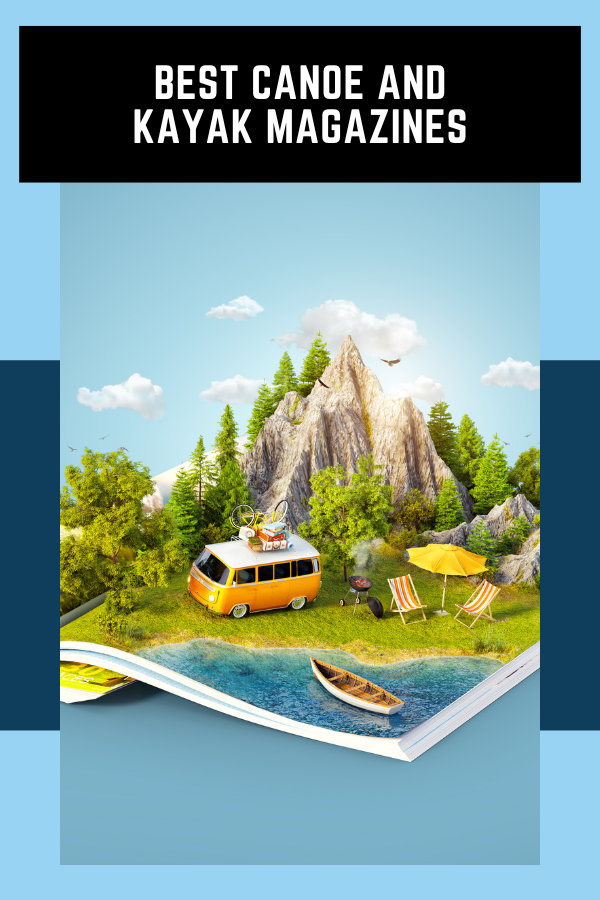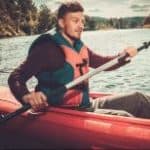 Author: Peter Salisbury
Pete is the Owner of KayakHelp.com. Born and raised in Cleveland, Ohio, he grew up kayaking, fishing, sailing, and partaking in outdoor adventures around the Great Lakes. When he's not out on the water, you can find him skiing in the mountains, reading his favorite books, and spending time with his family.