Loading more than two kayaks onto the roof of any vehicle gets tricky. While using a truck bed for kayak transportation is probably the easiest way to go, the Thule Stacker 830 is a great solution for sedans and SUVs, as well as trucks.
But is Thule Stacker 830 the best three-kayak roof rack?
That is precisely the question we are seeking to answer today. To do so, we will thoroughly review how the Thule Stacker works and what benefits it gives you as a kayak owner.
We will also suggest a few other three-kayak transportation solutions, including a few DIY ideas that require a bit more time (but can save you a little money). So, let's get to assessing how the Stacker really stacks up!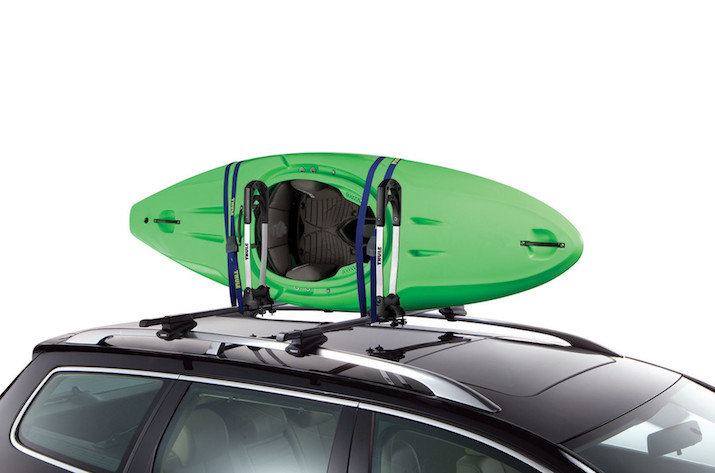 PC Thule
What is the Thule Stacker 830?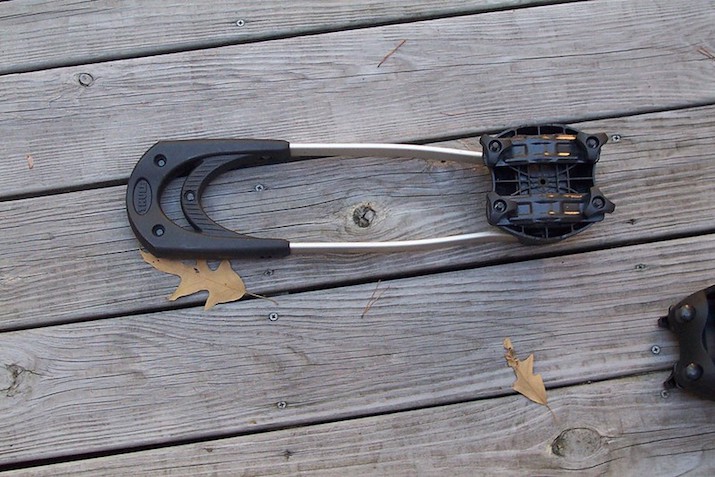 Photo by danhoot on Flickr
The Stacker 830 is a very simple mechanism. It features four bolts that tighten down to attach it to the crossbars on the roof of your vehicle.
Yes, you will need crossbars to make this three-kayak roof rack compatible with your vehicle. The process to attach each stacker will require less than five minutes once you are familiar and they can remain on your roof permanently after that.
That's because the vertical "stacker" arms fold down when you don't need them. This allows you to load other larger objects onto your roof rack as needed and it also reduces wind drag when you aren't actively transporting a kayak.
Technically, the Stacker 830 offers a four-kayak capacity and it can handle kayaks up to 36 inches wide with weights up to 75 pounds. To be clear, the package comes with two "stackers" that attach to the front and rear crossbars on your vehicle, respectively.
Each stacker features steel construction with a scratch-resistant outer coating. They can be installed on round bars, factory racks, or any Thule rack system crossbars.
The Stacker 830 is unfortunately not lockable, but it does come with two 15-foot kayak straps for securing a single kayak. When you want to load multiple kayaks on this rack, you will need a few extra sets of 15-foot NRS straps.
Also Read: Best Kayak Carts, Wheels, & Trolleys
Benefits of the Thule Stacker 830
PC Thule
As you can find elsewhere on our site, there are quite a few other kayak roof racks out there. None, however, offer the capacity that you can enjoy with the Stacker 830.
So, the most obvious benefit of this roof rack is the ability to transport up to four kayaks safely.
Here are a few other fringe benefits you can enjoy with this kayak roof rack:
Easy loading and unloading
Minimal wind resistance when not in use
Quick installation and removal
Lightweight (~7 pounds total)
Resistant to scratches and corrosion
Accommodates larger kayaks
To be clear, we recommend having a loading and unloading partner if you are loading more than one or two kayaks onto the Stacker 830. It is possible to load up to four kayaks safely by yourself, but it is easier and safer with a partner.
What Other 3-Kayak Roof Rack Options Are There?
Aside from the Stacker 830, you do have a few other three-kayak roof rack options to choose from. Let's quickly define and review them before we move on.
Rhino-Rack S520 Nautic Stack Kayak Carrier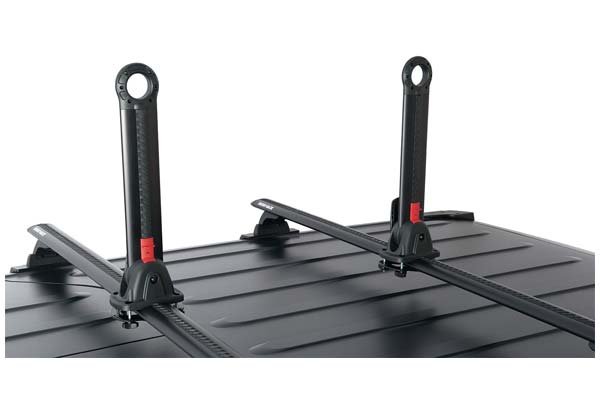 PC Auto Anything
The S520 model is a similar design to the Thule Stacker 830 and it can also hold up to four kayaks at a time. The vertical arms fold back when you aren't using them to decrease wind resistance.
This kayak roof rack comes with two options for quick or permanent installation. Universal clamps are the best solution if you will frequently be installing and removing these stackers on your crossbars.
If you plan to leave them there permanently, however, they also come with two sets of C-channel nuts and bolts for a more permanent fixture.
As opposed to the steel construction of the Stacker 830, this rack is constructed with anodized alloys and a glass-reinforced nylon base.
Yakima BigStack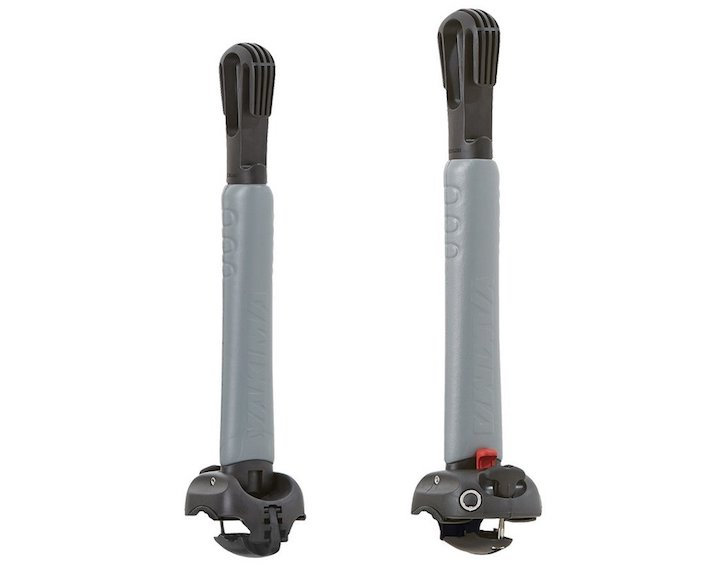 PC Yakima
The Yakima BigStack is the only other pre-manufactured kayak roof rack we could find with the capacity to carry three or more kayaks. It adheres to the crossbars of your vehicle a little differently than the other two options listed here because it only comes with two bolts instead of four.
Still, it is compatible with crossbars with a minimum spread of 24 inches and it works with round, square, aerodynamic, and factory-installed crossbars. It is, however, the best fit for vehicles with aerodynamic crossbars.
Like the Thule Stacker, these stackers feature steel core construction that makes them highly durable and also corrosion-resistant. The BigStack also includes Hullguard™ padding to protect your kayaks from being damaged during transportation.
While the SKS Lock Cores that are compatible with these stacker arms are sold separately, they can easily be integrated to make the stackers lockable if you need added security when transporting kayaks.
This multi-kayak roof rack also comes with heavy-duty straps and bow and stern tie-downs for added security when transporting longer kayaks.
The Double J Rack Adaptation
Photo by Kevin Buehler on Flickr
As you can see from this image, some folks are able to transport three kayaks with a double J rack configuration. The J racks will need to be spaced far enough apart that you have room to slide the third kayak between them.
In this scenario, it is recommended to strap down each kayak individually for maximum security. So, you will need a minimum of six kayak straps to make this solution work safely.
For comparison's sake, that is two more straps than you would need for the Thule Stacker 830 (or the other two stackable racks above). Also, you will need to make sure the length of your crossbars is enough to handle three kayaks safely.
At a minimum, most folks that use this solution have 48-inch crossbars. If you have longer crossbars, you shouldn't have an issue, but things will get tight if your crossbars are any shorter than 48 inches.
Crossbars Only
If needed, I've also seen plenty of people stack up to three kayaks vertically on plain-old straight crossbars. This is definitely the riskiest approach of the options we've outlined, but it is, indeed, a possibility.
The main thing that you will need to do if you try this approach is to load your kayaks from smallest to largest. This may seem counterintuitive, but it will help the kayaks seat together more easily and reduce the chances of them moving around once you tighten your straps down.
Also, you will probably need some longer kayak straps if you are going to try this approach. We'd recommend 20-foot kayak straps to make it all the way over three stacked kayaks and have enough room to double back and tighten.
Also, consider using additional lines to tie the bow and stern of the upper kayak (the longest one) down to the front and rear bumpers of your vehicle, respectively.
DIY 3 Kayak Roof Racks
PC Leucht.com
If you don't like any of these options, you can also consider building your own DIY three-kayak roof rack. As you can see above, one of the simplest ways to do this is to use PVC piping.
There are two main designs that people have used to construct a DIY three-kayak roof rack. We'll call them the T-design and the H-design (for obvious reasons).
H-Design
If you are looking at the front of a vehicle, the arms of this DIY roof rack will extend straight up from the sides of the roof. If you were to extend these lines down to the ground and draw a horizontal line between the two arms, you'd create the H shape.
This design requires two horizontal crossbars that go across the roof of your vehicle and two more crossbars that run parallel to your vehicle to connect these crossbars. Using four PVC T-connectors, you can create a square on top of your vehicle.
The horizontal crossbars should be left open at the ends so that you can insert tie-down straps through the PVC and then run them inside your vehicle to tighten around your entire roof.
From there, the arms that run parallel to your vehicle should each have a T-connector at their center point. These connectors will then hold the vertical arms that will keep your three kayaks in place.
Here are a few tips to help you make this design work on the first try:
Draw a diagram of your design and then label it with appropriate PVC dimensions.
Measure twice, cut once.
Place some sort of padding between your roof and the PVC.
Use ratchet straps to secure the rack to your roof and save your cam-style straps for tying your kayaks down.
Use PVC glue at all connection points to ensure a strong bond.
Give glue 24-48 hours to harden before using this rack.
With this rack, you will need to load your kayak from the rear of your vehicle. So it may also help to get some sort of kayak load assist that straps or suctions to the rear window of your sedan or SUV for easier loading.
T-Design
The T-design also starts with two horizontal crossbars that run perpendicular to your vehicle. Keeping the ends of these crossbars open will allow you to run ratchet straps through them and through the cab to secure the kayaks to your vehicle's roof.
Each crossbar should be equipped with a T-connector at the center point. These connections will hold the vertical arms that will provide security and attachment points for your kayaks.
At the tops of those vertical arms, attach additional T-connectors and align them so that the openings are parallel to your vehicle. These openings will give you a place to run your kayak straps through when loading your kayaks on.
When putting your T-design DIY three-kayak roof rack together, follow the additional tips we mentioned for the H-design rack above for the best results.
Is Thule Stacker 830 The Best 3-Kayak Roof Rack?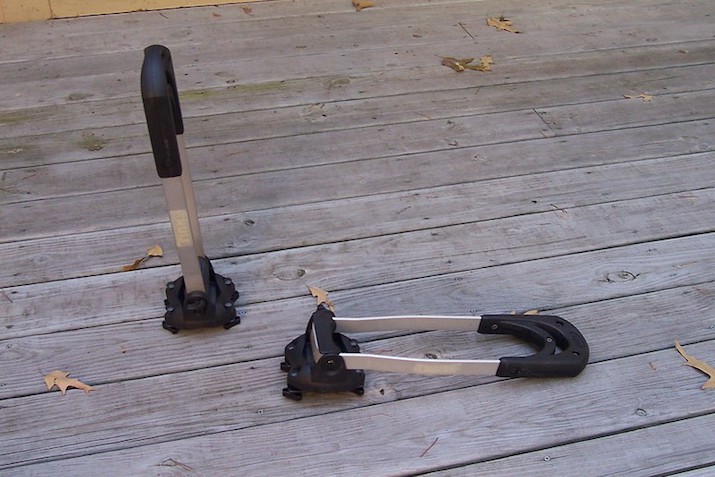 Photo by danhoot on Flickr
The Thule Stacker 830 is certainly one of the top 3 best 3 kayak roof racks on the market today. For us, we have a lot of experience with Thule products and they certainly withstand the test of time.
That reputation alone is enough for us to declare the Thule Stacker 830 as the top pick for the best three-kayak roof rack. However, it compares favorably with the Rhino Rack S520 and Yakima BigStack in terms of price as well.
While the BigStack is the only one of the three that can accommodate a locking mechanism, it is also the most expensive of the three and the locking mechanisms are sold separately.
From my experience loading kayaks onto this style of rack as a kayak guide, I personally like the larger slot at the top of the rack for inserting kayak straps. Once your kayaks are loaded onto the roof, there's nothing worse than realizing you can't easily thread the straps through the stacker arms to secure your kayaks down.
Finally, I would trust the security of my kayaks to a manufactured rack over a DIY roof rack any day. While I enjoy DIY projects and the money I save by doing them, I'd rather trust the safety of my kayaks (especially while I'm doing 60 miles per hour down the highway) to a true professional.
Tips For Using The Thule Stacker 830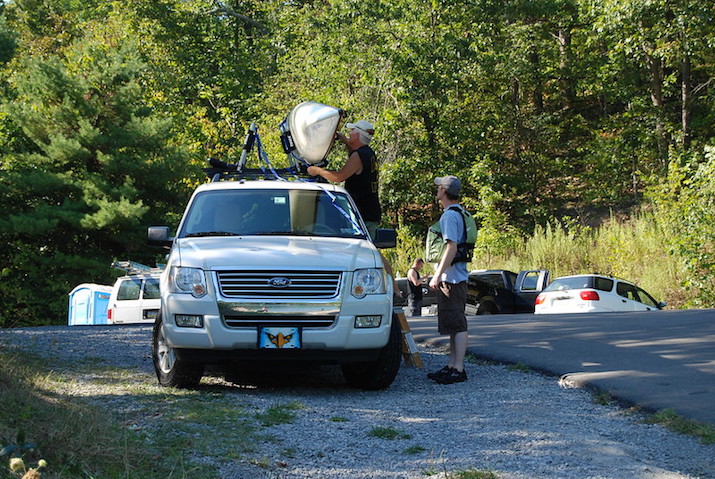 Photo by gb_roberts on Flickr
If you do decide to add the Thule Stacker 830 to your vehicle's crossbars, your kayaks still won't load themselves. Here are a few helpful tips for safely loading 3-4 kayaks on a roof rack.
Set Straps First
Setting your kayak straps in place is always easier before you actually load your kayaks onto the roof of your vehicle. So, set your kayak down and grab your straps before you go any further.
Fortunately, the Stacker 830 has slots at the tops of the vertical arms for threading straps through. If you are going to be loading 3-4 kayaks on this rack, you will need a total of four straps (two for the front and two for the rear).
On the rear stacker arm, thread the straps through and then lie them down the back of your vehicle. For the front arms, thread them through and then lie them down the front windshield.
This will set you up to easily loop the straps over the top of the kayaks and down to your crossbars once your kayaks are loaded on.
Load Small-to-Large
If you have some of the best sit on top kayaks, you will notice that they tend to seat together better when the smaller kayak is on the inside of the larger kayak (obviously when they are lying on their sides).
If you have sit in kayaks, you won't suffer from following this recommendation, but it will make less of a difference in terms of how your kayaks sit once they are on your roof rack.
By placing smaller sit on top kayaks inside larger ones on this style of roof rack, they will nest together and reduce the likelihood of moving around once you tighten your straps down.
Run Straps Under Crossbars
The crossbars on your vehicle are the most secure place to run your straps under after looping them over your kayaks. You should be careful to do this inside the points where your crossbars are attached to your roof.
In other words, you want your straps to run under your crossbars toward the center of the vehicle and just inside the mounting points for your crossbars. This will prevent your straps from slipping off the ends of your crossbars if they shift or loosen while you are driving.
Do Something With Extra Strap Length
If you do pick up a set of those 20-foot kayaks straps to use with the Thule Stacker 830, you will likely have a little bit of extra strap length once you tighten them down. Don't just let this extra length flap away in the breeze!
The more your straps flap in the breeze, the more quickly they will wear down and begin to fray. This fraying is what will ultimately keep you from threading the end of the strap through the cam buckle and render your straps useless (even if the rest of the strap is still in good condition).
So you should be careful to tuck any extra strap length away so that it doesn't flap while you are driving. One of my favorite techniques for getting rid of extra strap length is called the daisy chain.
Check out this video to learn how to create a daisy chain with your extra kayak strap length!
Once you have created your daisy chain, just pull it underneath one of the sections of the strap that is tightened down. This will keep it from flapping and, in the long term, greatly increase the lifespan of your kayak straps.
Final Thoughts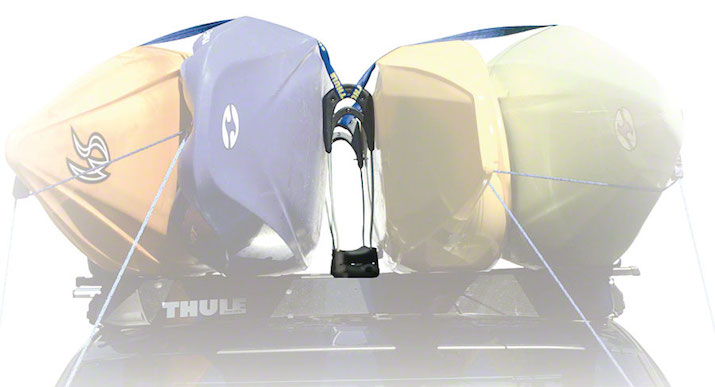 PC Quality Bike Products Inc
In terms of ease and convenience, it is hard to beat the Thule Stacker 830. While it is slightly more expensive than some of the other DIY options out there, it requires almost no installation time.
That means less time fiddling with your kayak roof rack and more time actually paddling! Plus, it won't be too tough for you to install a kayak load assist or an easy load kayak roof rack accessory to further assist you in loading kayaks onto this rack.
If you need to transport three or four kayaks regularly, we really hope you consider adding the Thule Stacker 830 to your setup. As always, we also wish you nothing but the safest and most awesome of kayak adventures during the season to come!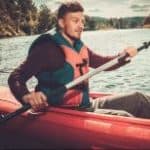 Author: Peter Salisbury
Pete is the Owner of KayakHelp.com. Born and raised in Cleveland, Ohio, he grew up kayaking, fishing, sailing, and partaking in outdoor adventures around the Great Lakes. When he's not out on the water, you can find him skiing in the mountains, reading his favorite books, and spending time with his family.