Kayaking on Lake Union is one of the coolest kayaking experiences in the urban parts of the Pacific Northwest. It offers opportunities to see waterfront homes and houseboats and it's easy to get to whether you live nearby or you're just visiting.
Whether you're just learning how to kayak or you have the skills it takes to pack for a multi-day kayak camping trip, there's something for everyone on Lake Union. It's just that there are some things you need to know if you have never paddled here before.
That includes things like which type of kayak is best for Lake Union, where to launch your kayak, what the weather is like at different times of the year, and so much more. Fortunately, we've put together a complete guide to kayaking on Lake Union for your reading pleasure.
We hope you enjoy this guide and, remember, a good kayaker is a prepared kayaker. So let's get into it!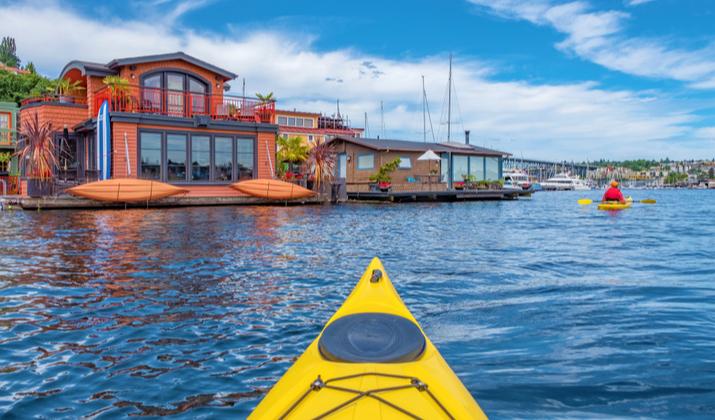 Photo by oksana.perkins via Shutterstock
Where is Lake Union?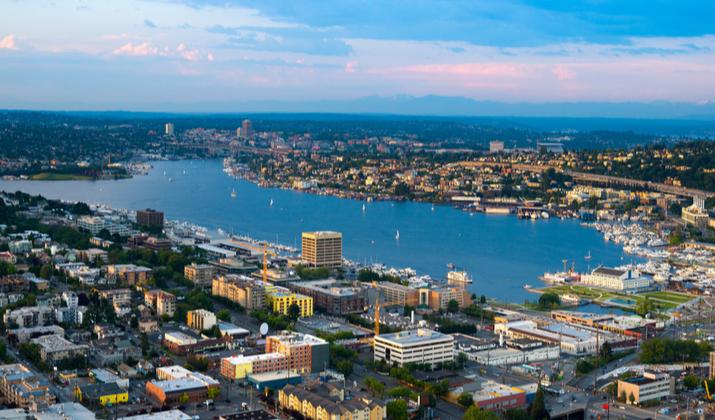 Photo by Jose Luis Stephens via Shutterstock
To begin with, we think it is best to get oriented with the whereabouts of Lake Union and the surrounding area. As you can see from the image above, this lake is nestled right into the city of Seattle, Washington.
If you're looking at the city center on Google Maps, Lake Union lies approximately 2.5 miles to the north, as the crow flies. In terms of driving time, it would take about 10 minutes to get to the lake from downtown Seattle and roughly 25 minutes to get there from Seattle-Tacoma International Airport.
Technically, Lake Union is bordered by the Aurora Bridge at the northwest entry to the Fremont Cut and the Ship Canal Bridge on I-5 at the northeast entry to Portage Bay. Gas Works Park is one of the most popular lakefront parks on the north end of the lake.
At the south end, Lake Union Park is home to the Museum of History & Industry and the Center for Wooden Boats. Another popular attraction on Lake Union's east shore is the Floating Homes Association.
You might recognize this area if you've ever seen the 1993 film Sleepless in Seattle. In the movie, Tom Hanks' character lived in one of these floating homes.
How Big is Lake Union?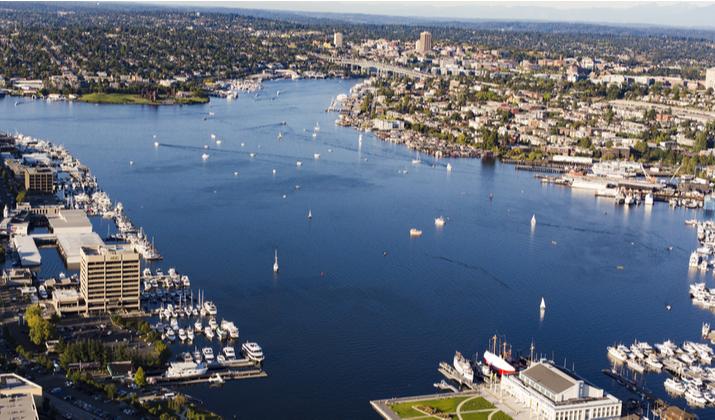 Photo by Cascade Creatives via Shutterstock
The surface area of Lake Union is approximately 580 acres and the lake has roughly 6.5 miles of shoreline. The average depth of the lake is 34 feet and the depth at the deepest point is 50 feet.
The lake's larger catchment area covers approximately 571 square miles and the lake holds about 25 million cubic meters of water volume.
At the lake's northeast "corner", it joins up with Portage Bay, and paddling through Portage Bay and the Montlake Cut would eventually lead you into Union Bay and then onto Lake Washington.
At the lake's northwest "corner", continuing under the Aurora Bridge would bring you through the Fremont Cut into the Lake Washington Ship Canal. If you continue, you would eventually pass through the Ballard (Hiram M. Chittenden) Locks (assuming you time it right) and out into Shilshole Bay.
How Popular is Kayaking on Lake Union?
Photo by oksana.perkins via Shutterstock
Due to the number of parks and lakefront homes on Lake Union, kayaking and paddleboarding are very popular activities on the lake. Competitive rowing is also super popular here and the lake is home to two seaplane bases: Kenmore Air Harbor and Seattle seaplanes.
There are several places to rent kayaks along the lakeshore, which make it super easy for visitors and residents to get out on the water. That includes the Northwest Outdoor Center, the Agua Verde Paddle Club, and Moss Bay.
Where Can I Launch My Kayak on Lake Union?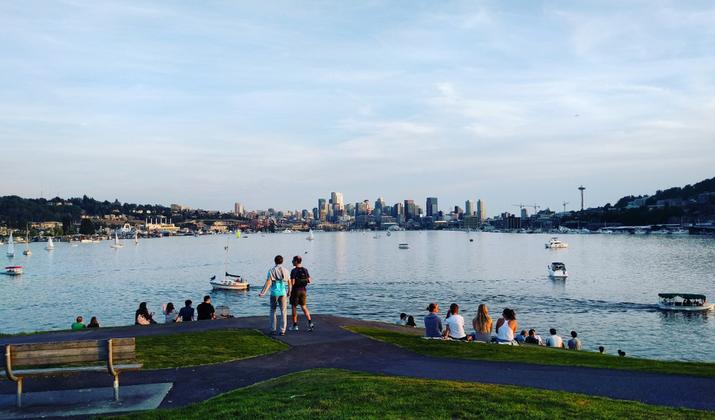 Photo by marty_pb via Shutterstock
If you have your own recreational kayak, you'll need to find the best places to launch your kayak to enjoy a paddle on Lake Union. Fortunately, there are a number of parks and boat ramps around the lake that give you the ability to launch wherever you want to paddle.
Here's a quick list:
Please keep in mind that some of these locations are very small parks with limited vehicle parking. We recommend researching paid versus free parking options around Lake Union before settling on your launch location.
What Are The Best Paddling Routes on Lake Union?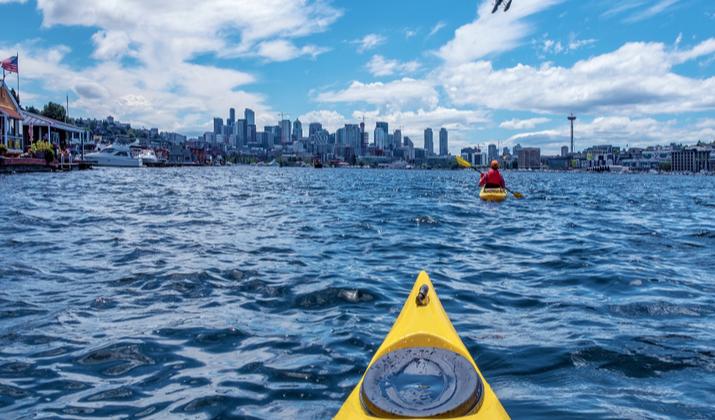 Photo by oksana.perkins via Shutterstock
Because the lake isn't massive, it's feasible to paddle all the way around it in a day. The most common route for shorter paddles, however, goes along the lake's eastern shore because that's where the infamous Seattle floating homes are located.
The wind patterns also tend to come from the north-northwest and blow across the lake. So if you start somewhere at the southeastern end, you can bank on paddling into the wind and then having it at your back on your return trip.
That said, it's always a good idea to check the forecast before your paddle on Lake Union. The wind direction may not be the common theme during your visit and the wind can sometimes shift throughout the day.
While even intermediate paddlers could paddle across the lake without much difficulty, it is recommended that kayakers and paddleboarders remain close to the shore. That's because there is a lot of motorized boat traffic on the lake.
Plus, there are tour boats and seaplanes landing on Lake Union throughout the day. So the safest route for anyone in a human-powered watercraft is to stick close to the shoreline.
What is The Weather on Lake Union?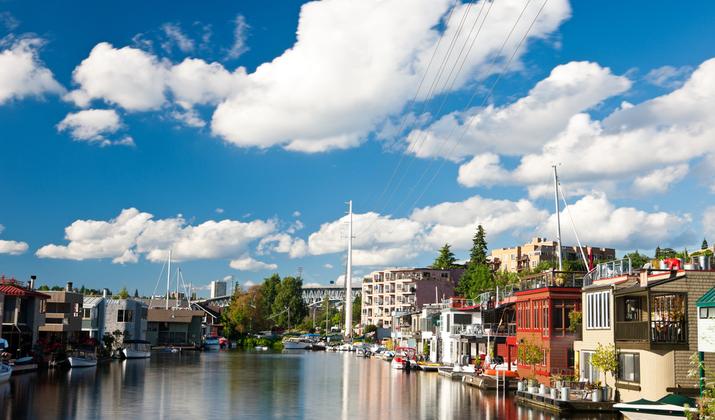 Photo by Hdc Photo via Shutterstock
Most people kayak on Lake Union during the summer, but paddling here is possible year-round if you have the right cold-weather kayak gear. While it always helps to check the weather before your visit, here are some average weather trends on Lake Union throughout the year.
Average Temperatures
From December through March, the average low temperature ranges from 37 to 40 degrees Fahrenheit. The average high temperatures for those months average between 46 and 55 degrees Fahrenheit and each month is likely to receive anywhere from 12 to 14 days of rain, on average.
From April through July, the average low temperature ranges from 43 to 57 degrees Fahrenheit. The average high temperatures for the spring and early summer range from 59 to 74 degrees Fahrenheit and each month averages anywhere from three to 10 days of rain.
From August through November, low temperatures average between 41 and 57 degrees Fahrenheit and average high temperatures range from 51 to 75 degrees Fahrenheit. Each month from late summer through fall receives anywhere from four to 14 days of rain, on average.
Snowfall and Daylight Hours
Snow is also a possibility around Lake Union and it is most likely from November through March. On average, the month of December receives about 2.1 inches of snowfall while the monthly average for January is 1.8 inches.
It's also worth noting the number of daylight hours on Lake Union changes significantly with the seasons. It can go from a maximum of about 16 hours of daylight in June to a minimum of just 8.5 hours of daylight in December.
Wind Speed and Direction
Average wind speeds on Lake Union are actually fairly consistent year-round. The month with the lowest average wind speed is January at six miles per hour and three months are tied with the highest average wind speed at nine miles per hour (March, April, and June).
There are also five months during which the average wind speed is eight miles per hour and the average wind speed for the remaining two months is seven miles per hour. All of these statistics on wind speed are courtesy of Windfinder.
Keep in mind that these wind speeds are averages for the entire month. Seasonal storms can cause wind speeds and gusts to be much higher than these averages if you just happen to visit Lake Union at the wrong time.
You'll also want to check the dominant wind direction during the time of your visit, as it changes considerably throughout the year. While wind primary comes out of the west, west-northwest, or west-southwest during the summer, that pattern shifts to bring much of the winds out of the south or south-southwest during the winter and spring.
What Kind of Kayak is Best for Lake Union?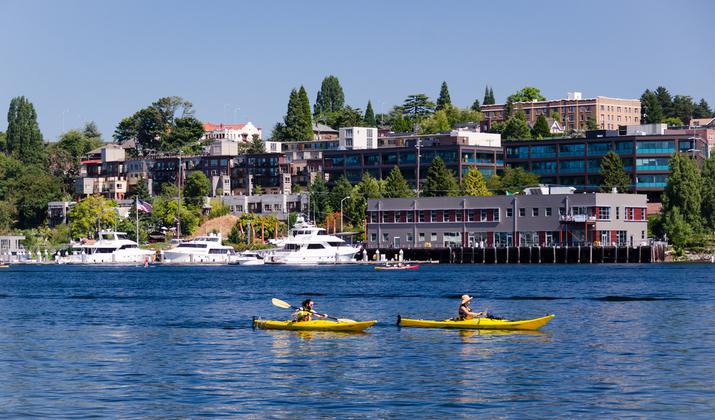 Photo by Amehime via Shutterstock
Most kayakers use sea kayaks or touring kayaks when they are paddling on Lake Union. Wind speeds can get pretty gnarly this far north and the occasional tour boat can cause sizable waves out in the middle of the lake.
More importantly, cooler air temperatures and the high likelihood of rain in the Pacific Northwest necessitate a kayak that is compatible with one of the best kayak spray skirts. This accessory will seal the cockpit of an enclosed kayak to keep warmth in and water out.
Your upper body will still be exposed to the elements, however. That is why it is essential that you pack the right gear when paddling on Lake Union.
What To Pack When Kayaking on Lake Union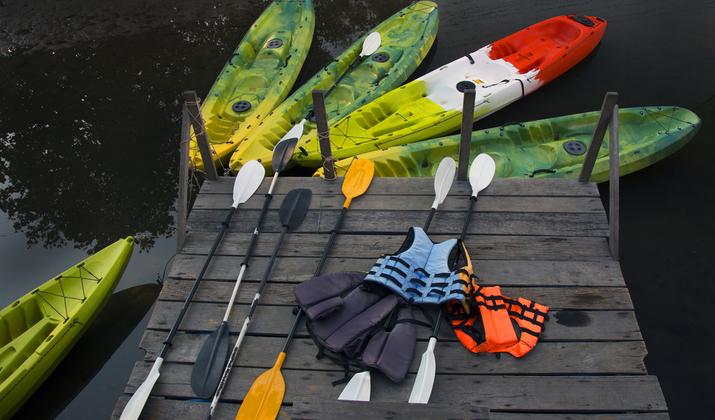 Photo by Suthat Chaithaweesap via Shutterstock
The list of kayaking safety equipment and accessories that you should have for kayaking on Lake Union will change seasonally. What you'll need in the winter won't always make sense for summer paddling, but some items will be on both lists.
To keep things as simple as possible, we're going to provide a quick checklist of all the equipment you should consider packing for a kayaking trip on Lake Union. We'll leave it up to you to use common sense to determine which items should be higher priorities based on the time of year and the weather for your paddle trip.
Personal Flotation Device (PFD)
Paddle (at least one, but having a backup is better)
Water Shoes, Sandals, or Booties
Full-Brimmed Hat
Spray Skirt
Tow Rope
First Aid Kit
Paddle Leash
Wetsuit and/or Drysuit
Pogies
Insulated Hat
Water and Snacks
Waterproof Phone Case
Backup Clothing Layers
Microfiber Towel
Bilge Pump and Sponge
Rain Jacket
Paddle Pants
Multi-tool
Like we said, not all of these items will be necessary if you're paddling on Lake Union in the heart of the summer. If you want to take this list home, check out our printable kayaking checklist.
Are There Any Guided Kayak Adventures on Lake Union?
The good news is that you can definitely sign up for a guided kayak adventure during your trip to Lake Union. Keep in mind that most of these companies operate seasonally and shut down for the colder winter months in the Pacific Northwest.
That being said, here are a few companies that will outfit you, tour you around, teach you new kayaking skills, and share a little about the history of Seattle and its many waterways: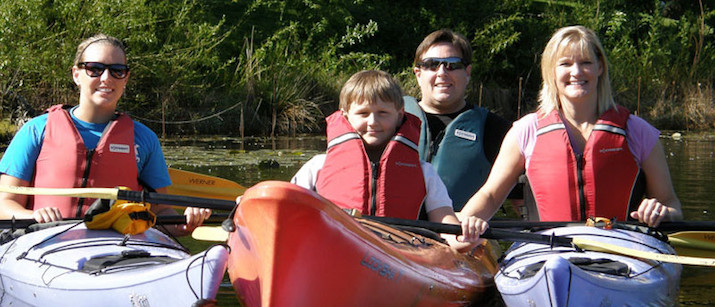 PC Agua Verde Paddle Club
Agua Verde Paddle Club is located at 1307 NE Boat Street and offers guided two-hour kayak tours on Lake Union. No paddling experience is necessary and the best time for tours is in the morning hours when there's less traffic on the lake.
That being said, they are open to accommodating other time slots if an afternoon or evening tour is preferable for your group. Tour prices start at $75 per person and group sizes can range anywhere from two to 12 people.
Group reservations can also be made for parties larger than 12 individuals. According to the company's rules, all paddlers under the age of 18 must be in a tandem kayak along with an adult.
Maybe your group would prefer exploring up the Montlake Cut to the secluded backwaters of the Arboretum. Or maybe you'd like to tour the houseboat communities and shipyards of Lake Union while enjoying the city skyline in the distance.
Whatever itinerary you'd like to build the team at Agua Verde Paddle Club is there to help facilitate your Lake Union paddling experience. Just know that tours must be made at least 72 hours in advance.
Photo by oksana.perkins via Shutterstock
Moss Bay offers tours throughout the spring, summer, and fall seasons on Lake Union. Their adult tours last roughly 2.5 hours and give you a great chance to explore Lake Union and some of the surrounding waterways.
Their guides have experience guiding novice and experienced kayakers and can tailor the experience to your group's needs. Tours include a mini-lesson and a proper kayak adjustment so that you feel comfortable throughout your time on the water.
Prices for the adult tour start at $60 per person and the company requires a minimum of 10 participants to run the tour. Tours must be scheduled a minimum of seven days in advance and a 20 percent deposit will be collected at the time of the reservation.
Moss Bay also offers a kid's kayak tour that starts at $30 per child. This offering has a minimum of 15 participants and the kids will be in tandem kayaks according to size and experience levels.
Moss Bay's website is a great resource for what to bring, where to park, how to check in, and how to prepare for your Lake Union kayak tour.
Photo by Igor Bulgakov via Shutterstock
The Northwest Outdoor Center (NWOC) is one of the premier locations on Lake Union for all things watersports-related. Their Paddle Seattle offerings include Golden Gardens Sunset Tours, Full Moon Paddles, and a Thursday Intro to Standup Paddleboarding class.
In addition to these offerings, NWOC is one of the leaders in the area when it comes to sea kayaking instruction and whitewater classes. They can teach you just the fundamentals of sea kayaking, refresh you on basic rescue techniques, or you can enroll in their five-day total immersion sea kayaking course.
They also offer select multi-day outings and sea kayaking day trips during the summer months. Their website is also a great resource for weather links, ferry schedules, and river and tide information.
Final Thoughts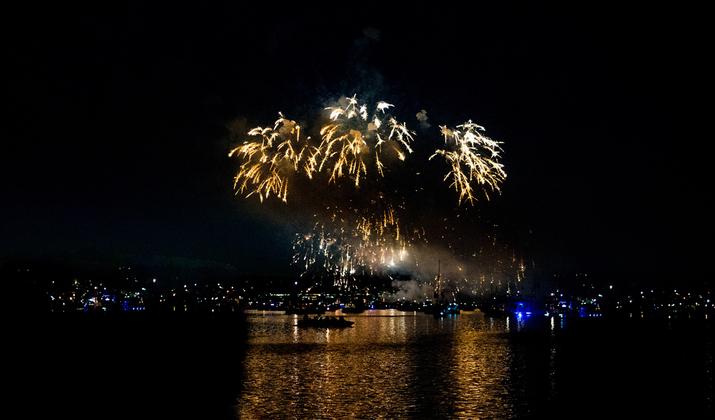 Photo by Dmitry Kovba via Shutterstock
Lake Union is also a breathtaking spot to catch the sunset over the city or enjoy the sights of special events throughout the year.
From man-made fireworks to spectacular sunsets provided by nature, there are reasons to paddle year-round on this gem of the Pacific Northwest.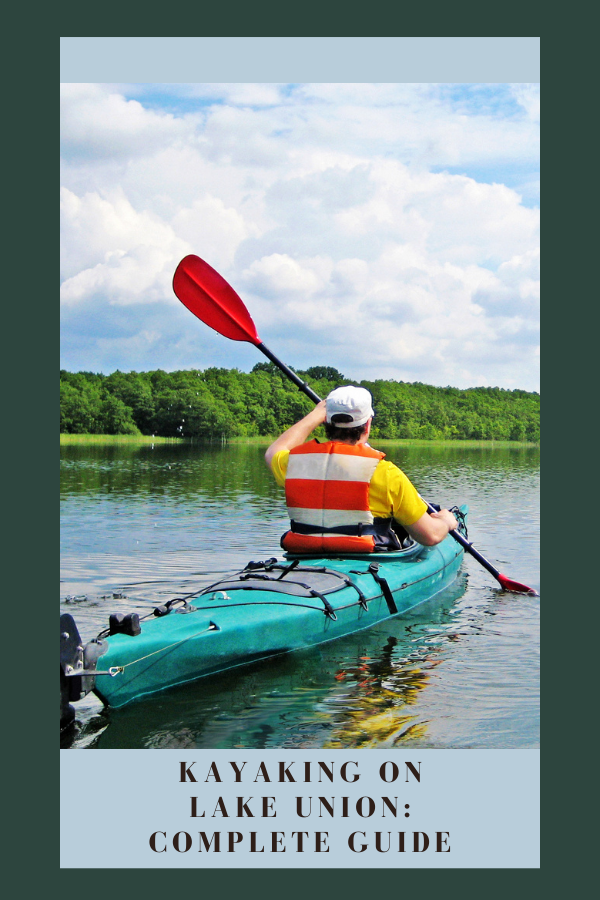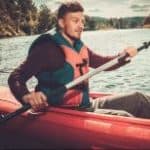 Author: Peter Salisbury
Pete is the Owner of KayakHelp.com. Born and raised in Cleveland, Ohio, he grew up kayaking, fishing, sailing, and partaking in outdoor adventures around the Great Lakes. When he's not out on the water, you can find him skiing in the mountains, reading his favorite books, and spending time with his family.