Kayaking in New York City? It might sound crazy, but don't let the fact that you're living in one of the largest and busiest cities in the world prevent you from going on a kayaking adventure.
Kayaking is possible in New York City – there are many waterways that allow for kayaking. New York City is, after all, located on the Hudson.
What many people don't know is that New York City has a number of free kayaking programs that allow you to go kayaking with no equipment of your own and zero experience!
In addition, if you are looking for a quieter and calmer kayaking experience, there are many places you can go kayaking located not far from the hustle and bustle of the city. Those include parks within the city and in other counties.
With that being said, here is the complete beginner's guide to kayaking in New York City.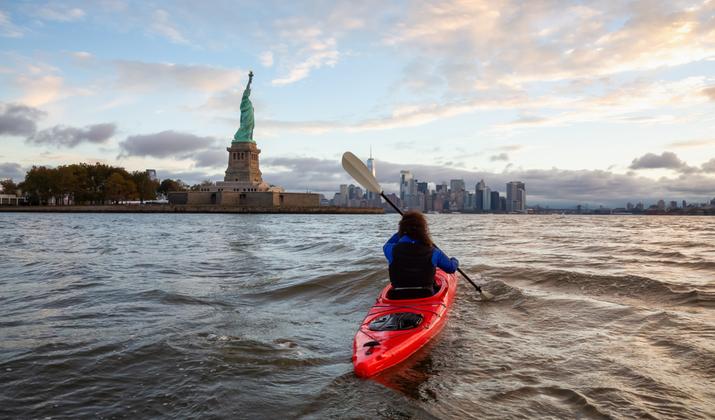 EB Adventure Photography/Shutterstock.com
Free Kayaking Programs & Clubs in NYC
As a beginner, it's crucial to choose a kayaking spot that is easy and doesn't require a high level of kayaking experience. Fortunately, many such sites exist in and around the city.
Following are some excellent spots with free kayaking programs that are open to the public. You can go alone or with a friend.
Brooklyn Bridge Park
Christopher Penler/Shutterstock.com
One of the best places to go kayaking in New York City as a beginner is Brooklyn Bridge Park. The Brooklyn Bridge is one of the most iconic landmarks of New York City, and the park even offers free public kayaking programs.
These free sessions, offered by the Brooklyn Bridge Park Conservancy and the Brooklyn Bridge Park Boathouse, run 2-3 times a week, depending on the season. They run from Pier 2 from June to September.
In addition, the Brooklyn Bridge Park Boathouse runs a family kayaking session every Sunday during the summer and throughout September, making the Brooklyn Bridge Park an excellent place to take the kids for some weekend kayaking fun.
You don't even need your own boat to kayak in Brooklyn Bridge Park. However, if you do have your own boat, you're not excluded – you can launch it from Pier 4.
The cool part about kayaking in Brooklyn Bridge Park is that not only do they provide a kayak for you, but it is entirely free! That makes it a perfect introduction to kayaking for beginners who don't want to commit to purchasing a kayak without trying kayaking out first.
In addition, kayaking areas are divided based on your skill level.
The program offers kayaks, volunteers who will instruct you on how to paddle the kayak (even if you've never done it before), and safety boaters who will be around in case you run into any issues.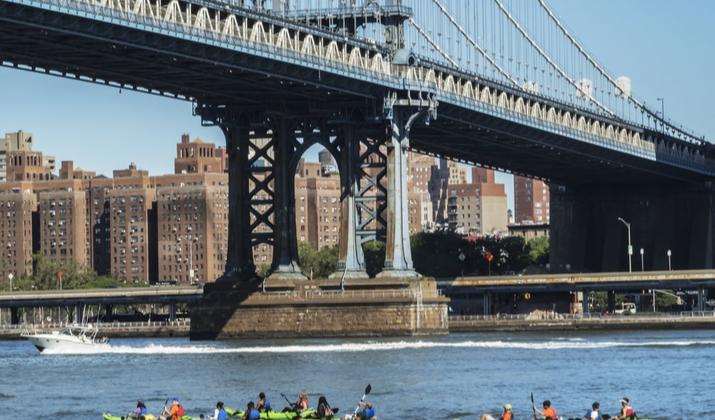 wonderlustpicstravel/Shutterstock.com
Besides, kayaking in Brooklyn Bridge Park allows you to enjoy the water while seeing the fantastic views of the Brooklyn Bridge.
See here for more information and for useful links. Note that you have to register two weeks before the date you want to go kayaking.
Governor's Island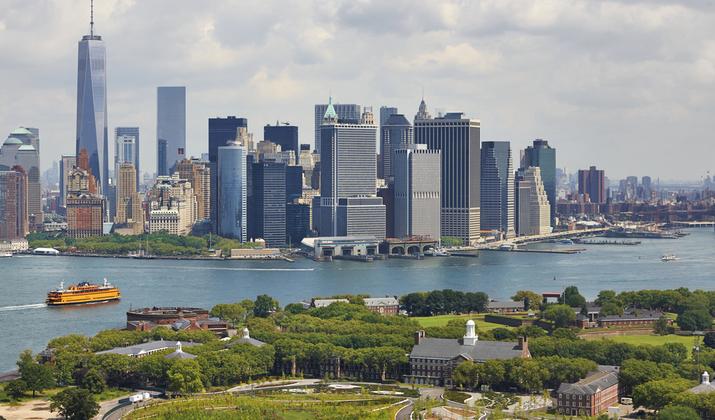 R. de Bruijn_Photography/Shutterstock.com
Another excellent place for beginner kayakers to learn to kayak is Governor's Island in New York City. Here, too, you will not need your own kayak.
Free sit-on-top kayaks are provided at Pier 101 by the Down­town Boathouse. Not only are the kayaks free, but there are staff members who offer kayaking instructions to beginners!
Downtown Boathouse also provides safety equipment. You can feel safe knowing that trained instructors will be around to help you.
One significant difference between kayaking on Governor's Island and in Brooklyn Bridge Park is that no reservations are required (nor accepted) at Governor's Island. Instead, it's walk-ups only, so you can show up without any prior reservation.
The program runs every summer, and there are even lockers so you can store your valuables. There is a time limit, and you will need to sign a waiver – you must also know how to swim.
Read more about the program – which is claimed to be the world's most extensive free kayaking program – here.
Red Hook Boaters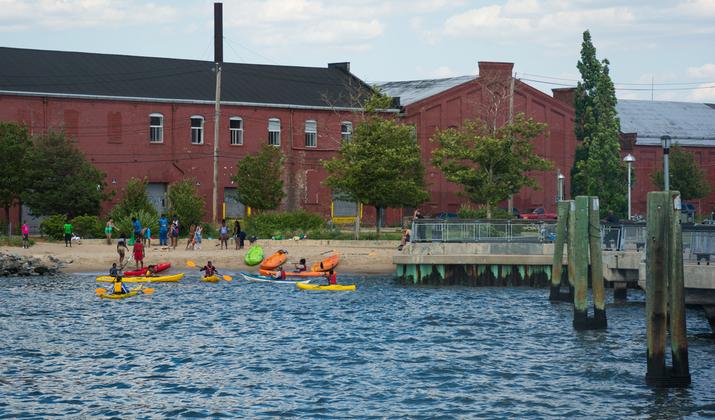 Pri Ma/Shutterstock.com
Red Hook Boaters also offers free kayaking programs at Louis Valentino Jr. Pier Park in the Red Hook area of Brooklyn. It provides kayakers with club kayaks and an approved personal flotation device, and it also provides safety instructions before sending you out.
You can explore the protected cove area of the park at your leisure, but trips are limited to 20 minutes.
While Red Hook Boaters is free, it does ask kayakers to volunteer in its beach cleanup efforts. You will get free gloves and garbage bags, and you should volunteer to help clean up trash from the beach.
In addition, Red Hook Boaters run more extended kayaking tours for its volunteers a few times a year, taking them to places like the Brooklyn Bridge, the Gowanus Canal, and Governor's Island.
You can learn more about the program on the website.
Kayak Staten Island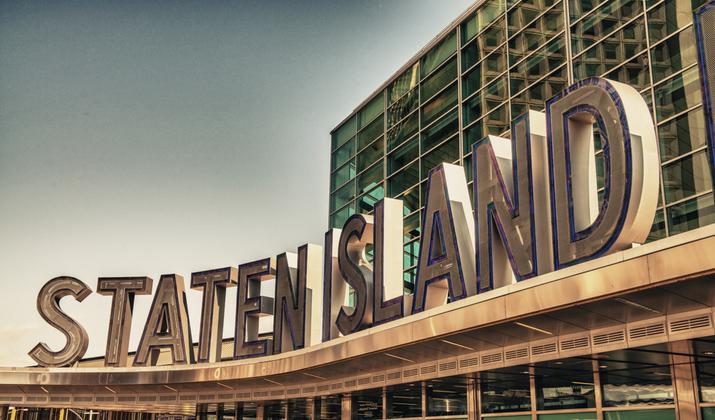 pisaphotography/Shutterstock.com
If you want to get out of Manhattan and Brooklyn, you can also go kayaking on Staten Island. Free kayak sessions and family learn-to-kayak events sponsored by Councilman Joe Borelli occur on various occasions throughout the summer.
There are free walk-up kayaking events that require no prior registration at Conference House Park. You will get a free kayak, paddle, and safety gear, although each kayaker is limited to 20-minute trips.
There are also group tours, limited to 12 participants per tour, taking place at Stapleton. Again, you will be provided with all the necessary equipment.
As for the family learn-to-kayak events, you may have to register in advance with Joe Borelli's office.
The schedule is based on tide predictions. For an updated schedule for this year and for more information about the program in general, check out KayakStatenIsland.org.
Hudson River Park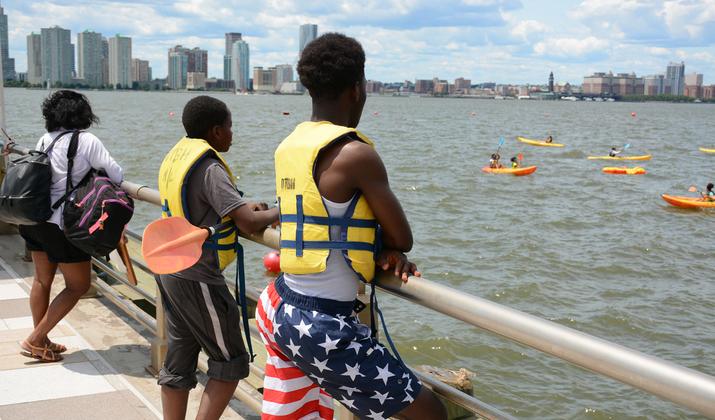 photravel_ru/Shutterstock.com
You can also take part in free kayaking sessions at Pier 96 at Hudson River Park. Run by Manhattan Community Boathouse, it takes place every Saturday and Sunday.
Unlike many of the other programs, it has a more extended running schedule, running from the springtime (May) to late autumn (October).
Manhattan Community Boathouse will provide you with a kayak, paddle, and life jacket. Depending on whether you're going alone or with a friend, the kayak will be for either one or two people.
If there are other people waiting in line, you're supposed to come back after 20 minutes of paddling around the protected cove.
Unfortunately, while there are lockers provided, there are no public restrooms. However, there is a public restroom at DeWitt Clinton Park, which is not too far away.
You don't have to pay anything to go kayaking, nor do you have to make a reservation in advance. However, if you want, you can make a reservation up to two weeks in advance, which will guarantee you a spot – it can get full sometimes.
You can also become a member for a $20/year fee, which allows you to vote for the board of directors, but it's not a requirement.
For more information, visit Manhattan Community Boathouse.
North Brooklyn Boat Club
North Brooklyn Boat Club has started offering a North Brooklyn Community Boathouse Public Paddle that allows people to partake in kayaking and canoeing activities for free.
Depending on the event, canoes or sit-on-top kayaks might be offered, so make sure to check out the schedule here for updates. Kayaking and canoeing are two separate things – learn the difference.
Long Island City Community Boathouse
Long Island City Community Boathouse doesn't have a regular schedule, but it does hold public kayaking events from time to time, so check the calendar to see if anything is coming up soon.
Unlike many other organizations on this list, Long Island City Community Boathouse does allow dogs on some of the kayak excursions it organizes – but only on some. You can even get a flotation device for your dog.
On most of the short trips, it also doesn't require you to have any experience, but it does recommend that you have some kayaking experience on the longer trips it organizes.
Sometimes, Long Island City Community Boathouse also offers kayak training lessons for beginners.
For more information, check out the website.
Inwood Canoe Club
Last on our list is Inwood Canoe Club, located in the quiet Manhattan neighborhood of Inwood.
Every summer, the club offers a weekly public paddling program to help people get acquainted with New York City's waterways and learn how to paddle.
The club provides all the necessary equipment, and you don't need any paddling experience to join (although you do need to know how to swim).
Places To Go Kayaking By Yourself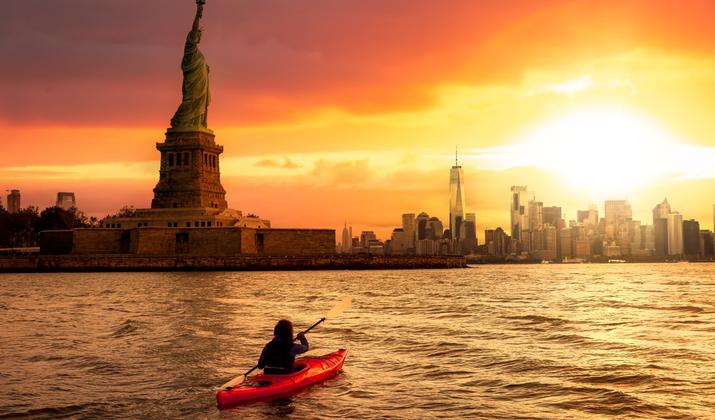 EB Adventure Photography/Shutterstock.com
Going to a free kayaking event organized by one of the boathouses and nonprofits mentioned above is a great way to get introduced to the world of kayaking. However, the kind of experience you can get with those free events is somewhat limited.
Most of the time, you can only go on specific days and to particular locations. You are also usually limited to trips of just 15-20 minutes.
Once you've participated in a free kayaking event or two, you might want to venture out on your own and go kayaking by yourself. Let's explore some excellent, beginner-friendly kayaking spots around NYC.
Check Out Manhattan Kayak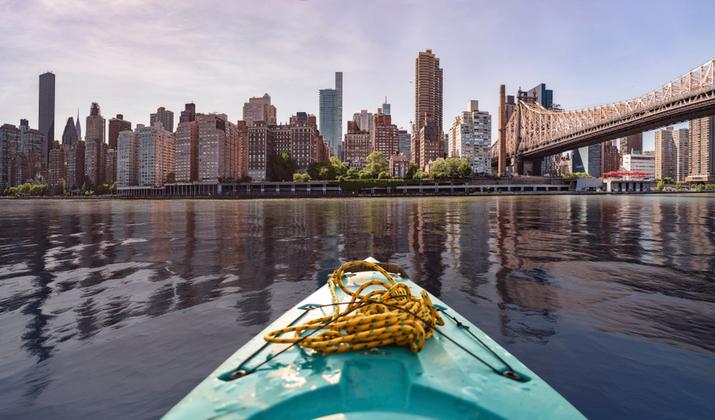 phoelixDE/Shutterstock.com
Manhattan Kayak offers guided tours on the Hudson, allowing you to view New York City in all of its glory. You can also go on non-guided tours in the coves.
You will need to take the four-lesson introductory course to go on the longer trips, as experience is required for those waters. You will learn how to use a touring kayak, which is a lot harder to manage than a simple sit-on-top kayak.
If you already have experience, you don't need to take the lessons. However, you will need to pass an assessment to prove you have the skills necessary to undertake the trips – some trips are up to 33 miles long.
Flushing Meadows Corona Park
This park has a kayak and canoe launch, but you will need a permit to operate a kayak in the waterways. Flushing Bay is an awesome, quiet spot to do some gentle kayaking.
You can download the permit application here.
If you don't have your own kayak, you can rent one from Wheel Fun Rentals, located on Meadows Lake.
Marine Park
You can also go kayaking in Marine Park at Salt Marsh Nature Center. There is a dock from which you can launch your own kayak to go kayaking in Gerritsen Inlet, but you will need a permit, which you can apply for here.
You can also rent a kayak from Wheel Fun Rentals.
Wheel Fun Rentals actually has a few locations in New York City, including:
Bensonhurst Park
FDR Boardwalk
Lakeside Prospect Park
I suggest you check out their locations here – scroll down to the New York section.
Harriman State Park
John A. Anderson/Shutterstock.com
If you are a beginner kayaker who wants to venture upstate and kayak by yourself, I recommend starting with Harriman State Park. It's not too far from NYC, and it has plenty of easy kayaking options suitable for beginners.
Different kayaking options at the park include:
Lake Welch
Lake Sebago
Beaver Pond Campground
Tiorati Circle
Breakneck Pond
Island Pond
You will have to pay for a seasonal pass.
You can find some good resources about kayaking in the park here. Check out the official site as well.
Tips for Beginner Kayakers in New York City
It's normal to be nervous before going on your first kayaking trip. Keep these tips in mind to make things easier for you.
Start With One of the Free Programs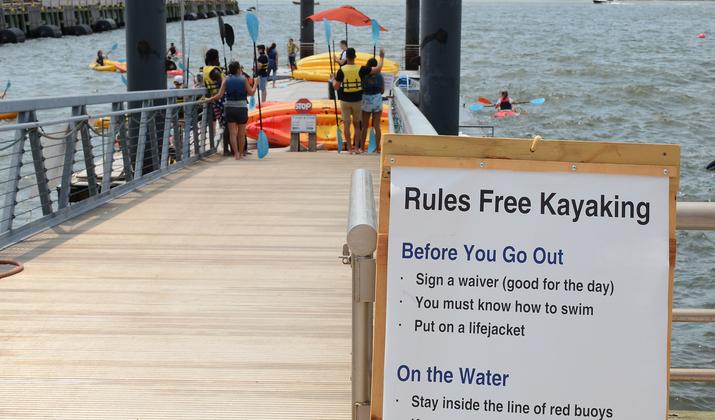 photravel_ru/Shutterstock.com
I strongly recommend starting with one of the complimentary kayaking events mentioned above. It will allow you to go kayaking in a structured environment, with trained safety professionals on hand to watch out for you and show you how to go kayaking.
Besides, it's free, and it doesn't require you to purchase any equipment. The event organizers will also make sure to cancel the event if the weather makes the waters unsafe.
Once you get a feel for what kayaking is like, you'll be able to move on to more advanced waters.
Learn How to Swim
Most free kayaking events don't require you to have any kayaking experience, but you usually do need to know how to swim. Remember, there is a chance that you can get wet or even fall into the water (the risk of dropping in is pretty low, as the waters these events use tend to be very mild and calm).
Knowing how to swim will also make you feel a lot less nervous about going kayaking. It's still possible to kayak without knowing how to swim, though.
Even if you know how to swim, you must wear a life jacket. The free events usually provide you with a certified flotation device, and they make wearing it mandatory.
Take Some Kayaking Lessons
Starting out on accessible waters with one of the free programs is cool, but if you want to get better at kayaking, I recommend getting some private lessons or joining a group lesson. Manhattan Kayak offers classes, as I already mentioned, but you can also find private teachers or other agencies.
There's a lot of skill that goes into kayaking, especially if you are using a more advanced vessel.
Get the Right Kayak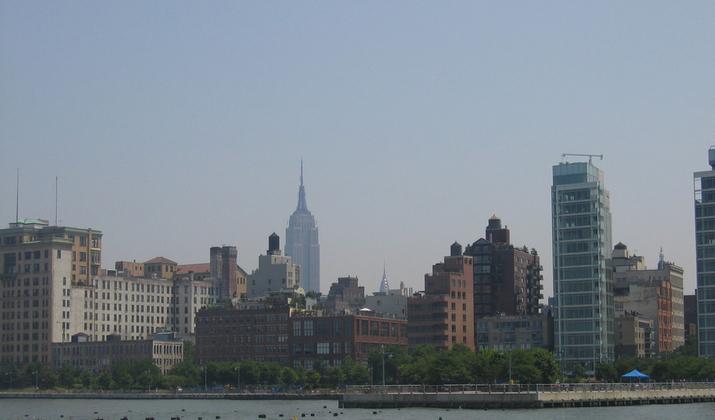 Stephanie Lupoli/Shutterstock.com
If you plan on kayaking with your own kayak, buy one that's suitable for beginners. Sit-on-top kayaks are popular for a reason – they're easy to maneuver.
You can always upgrade to another kayak later. Check out our guide to buying a kayak as a beginner.
You should also buy some other essential equipment, like a life jacket and a paddle.
Even if you go kayaking at an event that provides you with all of the equipment, I recommend buying a dry bag to store your personal items. Not all of the programs offer lockers, and you're going to need a way to keep your personal belongings safe and dry.
Check the Weather
Finally, always check the weather before heading out. Kayaking in NYC is highly seasonal, and the late spring to early fall is the best time of the year to kayak.
If you're going kayaking by yourself, check the tide charts as well.
Wrapping It Up
If you liked our guide to kayaking in NYC, share it with a friend!
Also, if you're located in Long Island and away from all the action, don't worry – check out our kayaking in Long Island guide.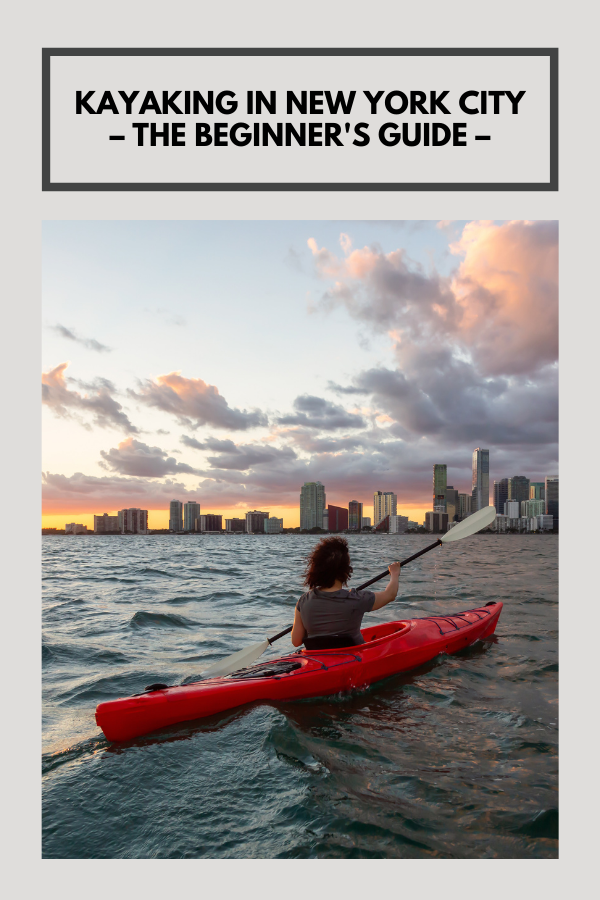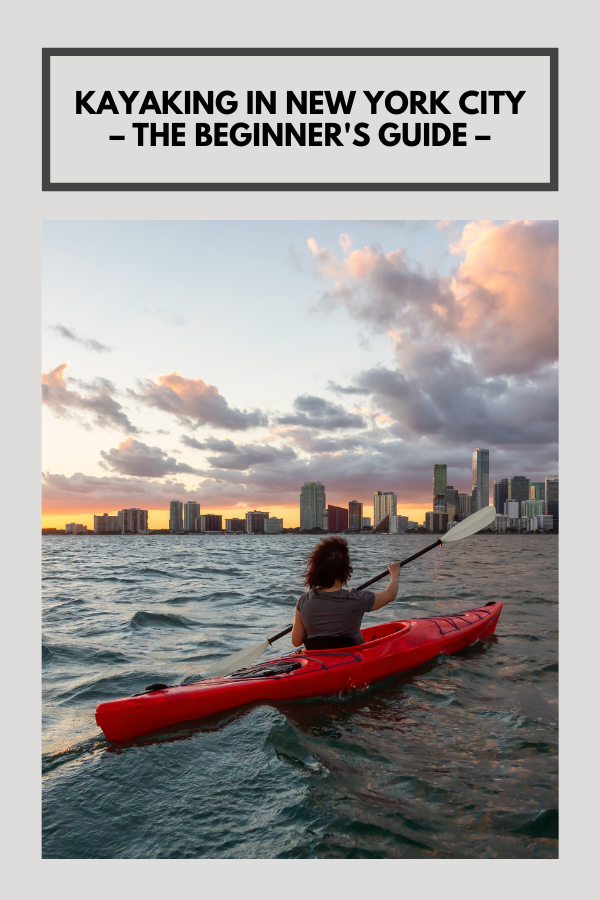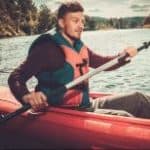 Author: Peter Salisbury
Pete is the Owner of KayakHelp.com. Born and raised in Cleveland, Ohio, he grew up kayaking, fishing, sailing, and partaking in outdoor adventures around the Great Lakes. When he's not out on the water, you can find him skiing in the mountains, reading his favorite books, and spending time with his family.