For many skiers and snowboarders, heading to a ski resort's back bowls is the highlight of their trip. The thought of riding untracked powder on seemingly endless terrain is seen as the holy grail, especially when the conditions are perfect.
Vail, Colorado, is well known for its epic backcountry skiing and snowboarding. It has some incredible back bowls ideal for experienced powder hunters and those with less experience to take full advantage of.
Vail is an extensive ski resort measuring an incredible 7,000 acres. The architecture has been inspired by European ski resorts, giving it a charm that you won't find anywhere else in the United States.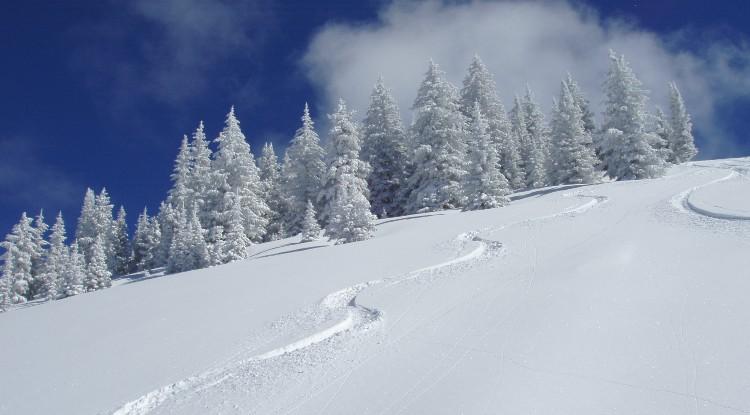 Image by Cindy McEnery from Shutterstock
When it comes to skiable terrain, skiers and snowboarders are treated to 5,289 acres, giving them plenty to explore during a trip to Vail. This is just one of the reasons why Vail is regarded as America's number one ski resort.
In this Vail back bowl guide to skiing, you will learn about the best back bowls to go to, and we will give you lots of tips for enjoying skiing and snowboarding in them.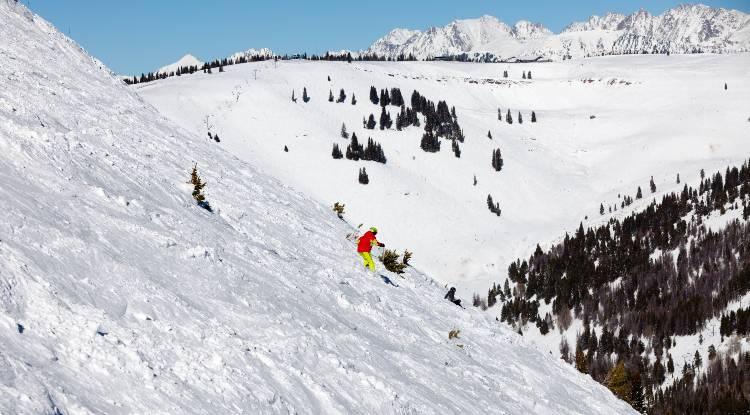 Image by alexfe from Shutterstock
What Are Vail's Back Bowls?
Vail's Back Bowls are a massive attraction for many skiers and snowboarders. They love the seemingly endless opportunities to shred the incredible powder filling these bowls every winter.
The back bowls in Vail cover over 3,017 acres of terrain. This is larger than the total skiable terrain of some resorts. Therefore, you know you will have plenty to explore during your trip.
There are seven back bowls in Vail. These are called Game Creek, Sun Down, Sun Up, Tea Cup, China, Siberia, and Mongolia (Inner and Outer).
When you head to the bowls on a good weather day and the snow is fresh, you can easily have one of the best days of your life on the mountain.
However, your visibility can be compromised when the sky is cloudy and the light is flat. This is made worse by the fact that there are no trees on the higher parts of the mountain. Therefore, you must be incredibly careful or stick to the groomers.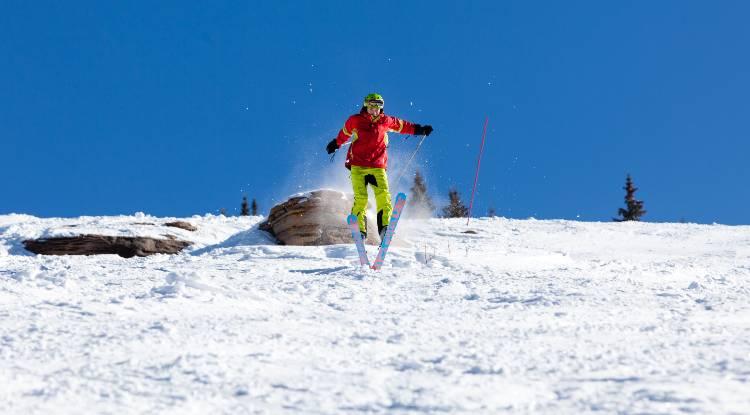 Image by alexfe from Shutterstock
These incredible snowy areas are now historic and iconic, putting them on many skiers or snowboarders' bucket lists.
A visit to Vail will uncover that most of the skiable terrain within the bowls is ideal for skiers and snowboarders who love ungroomed trails. This starkly contrasts with the well-kept slopes on the mountain's front side.
Dipping into Vail's back bowls gives you access to untamed wide and vast spaces.
Although Vail's back bowls are varied, providing opportunities for various skill levels, you must be mindful of where you go. If you get a little too ambitious for your ability, you can end up somewhere beyond your skill level.
With this in mind, when you enter Vail's back bowls, it's best to have a plan and know where you are going.
What To Expect In Vail's Back Bowls?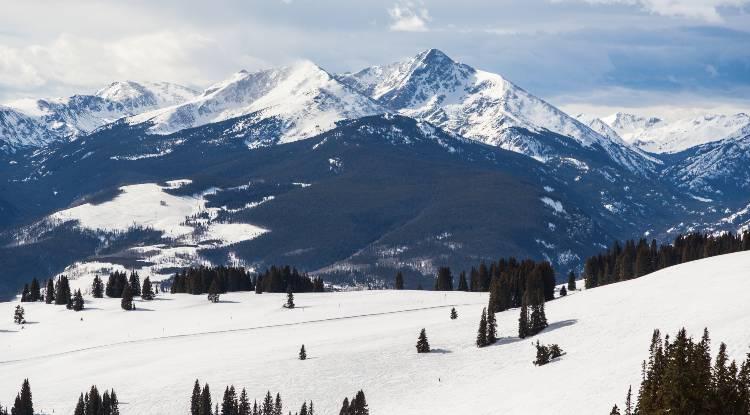 Image by Neil Podoll from Shutterstock
The back bowls of Vail, Colorado, offer world-class skiing and snowboarding for experts. But if you are less experienced or haven't yet mastered the art of riding powder, you are better off sticking to the groomed slopes on the front side of the mountain.
If you are not that experienced, looking over Vail's landscape and back bowls, you would be forgiven for feeling intimidated. However, Vail is actually pretty accommodating for those who are ready to experience back bowls for the first time.
Blue Sky Basin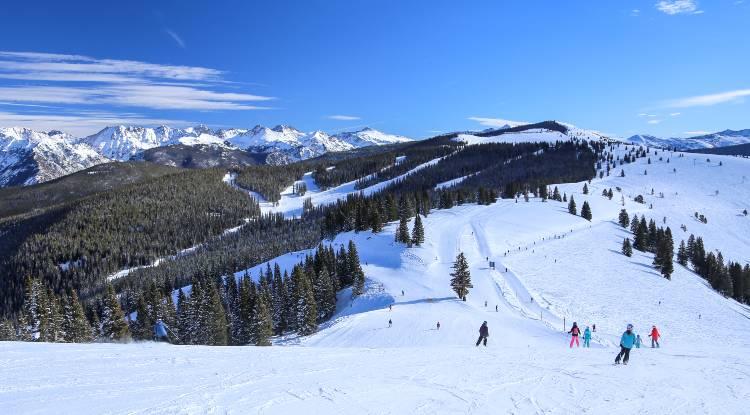 Image by Steve Boice from Shutterstock
Blue Sky Basin is a great back bowl to head to for a group with differing abilities. The more advanced skiers and snowboarders can head to the trees out of Hornsilver; the less experienced in the group can take the more accessible routes down Grand Review.
You get to Blue Sky Basin from the Mountain Top chair. It is super easy to access, as you just need to cruise along a catwalk until you reach the Blue Sky Basin Skyline Express Chair.
This easy blue run is called Sleepytime Road and is as mellow as its name suggests. But, Blue Sky Basin gives you the authentic backcountry skiing experience.
Your views are not interrupted by big ugly ski lift stations. The ones you can see are enclosed within buildings, so they don't ruin your views of the stunning mountain range.
The most accessible run in the Blue Sky Basin is called Cloud 9. This blue run is super easy, and most of it is a mellow road, so you can cruise down at your leisure.
However, if you are looking for some speed, charge down Steep & Deep. This super-fast run takes you down to Pete's Express Chairlift. In fact, both Cloud 9 and Steep & Deep finish at Pete's Express Chairlift, so you can split into two groups and catch up with each other at the bottom.
To get back to the front side of Vail, you need to catch the Tea Cup Chair. This is the only way back, so it can get pretty busy in the afternoons. Therefore, try to catch it before 2:30 to avoid long lift lines.
If you like to ski tree runs (and who doesn't?) Blue Sky Basin has some great ones on both sides of the Skyline Express ski lift. You can also enjoy 645 acres of glades and meadows interspersed with short steep sections to keep you on your toes.
One of the great things about Blue Sky Basin is that it faces north. This means that it doesn't get much direct sun, preserving the snow quality.
China Bowl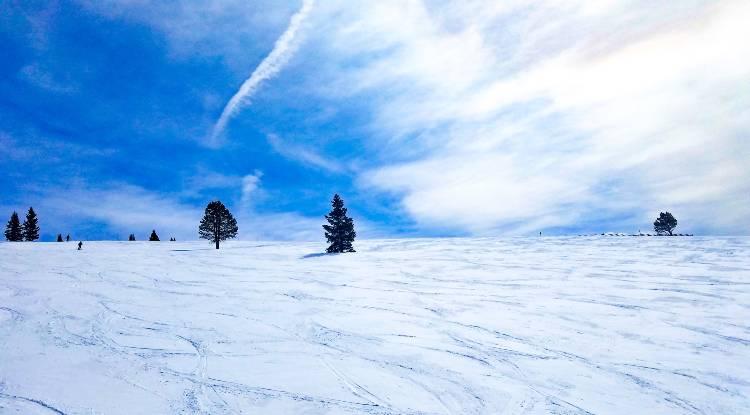 Image by starlyw from Shutterstock
China Bowl gets its name from its limestone headwall, resembling the Great Wall Of China that you can see from the top of the Orient Express chairlift.
China Bowl was opened to skiers in 1988 along with Tea Cup, Siberia, and Mongolia Bowls. This marked the point that increased Vail's skiable terrain by over 200%.
China Bowl is Vail's tamest bowl, and you can expect wide-open powder fields and glades.
The main route is a blue run known as "Poppy Fields." It has a consistent gradient that is pretty mellow, making it approachable and easy to pick your way down.
This run goes right down the center of the bowl and is groomed every day. Many novices use Poppy Fields as an ideal introduction to skiing in back bowls.
The views from the top are breathtaking, and it perfectly links to the Blue Sky Basin at the bottom.
You will love the black diamond called "Genghis Khan" if you are an advanced skier or snowboarder. This steep and wide slope is an absolute dream on a powder day and is considered to be among Vail's most epic runs.
To the east of China Bowl is Shangri-La, an ideal spot to head to on a powder day. The gladed terrain has an intermediate pitch, so you can enjoy and practice your powder turns.
Sun Up And Sun Down Bowls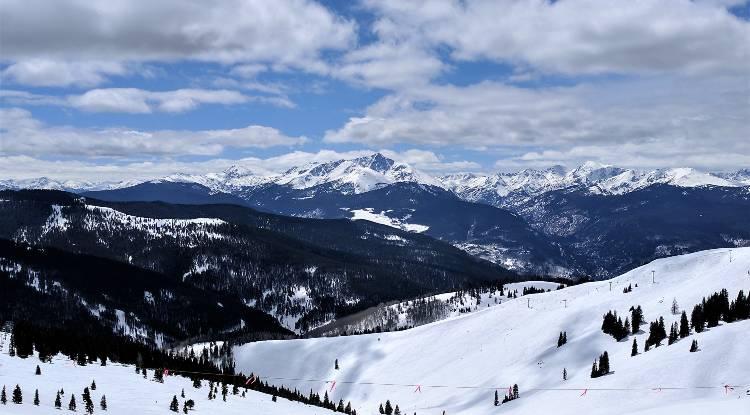 Image by Rob Patrick Thomas from Shutterstock
If you manage to visit Vail when it gets a fresh coating of snow, you can have some incredible runs in the Sun Up and Sun Down Bowls.
You can access these bowls via the road out of China Bowl to the west from the Outer Mongolia drag lift. But, if you want the best snow, you need to get up early and catch the first lift up the mountain.
If you can get straight out after an early breakfast, you will be able to ride the powder before it gets tracked out. Getting up there early is especially important during the weekends, as it can get busy, and everyone will have the same idea.
Out of the two bowls, the Sun Down Bowl is the best one. The snow stays fresher for longer here, as people new to Vail find accessing it a little confusing.
You can still get fresh powder a few days after a snowfall in Sun Down Bowl. The areas around the trees take longer to get tracked out, so don't worry too much if you can't make fresh tracks on the day the powder arrives.
It is worth watching the daily grooming reports when you get to Vail. This is because the resort intermittently grooms the runs in the Sun Up and Sun Down Bowls first thing in the morning.
Therefore, these bowls offer a different experience throughout your stay. Sometimes you will get untouched powder, but other days, the faces are like groomed black runs.
You will love "Forever" in Sun Down Bowl if you feel confident. This is one of Vail's signature runs in its back bowls. It is an iconic run named by a Vail local named Pepi, who was the first to ski it in 1961.
The story goes that when Pepi had to hike out of the bowl, he said, "By God, that's a super slope! But it takes forever to climb out!" Hence the name. Luckily, you don't have to hike out anymore, as it is serviced by a ski lift.
If you get intimidated by Forever and want to call it a day, you can get off the slope via the Silk Road or Sleeptime catwalks. But the great thing is that you get to at least see the iconic run and its surrounding landscape.
Game Creek Bowl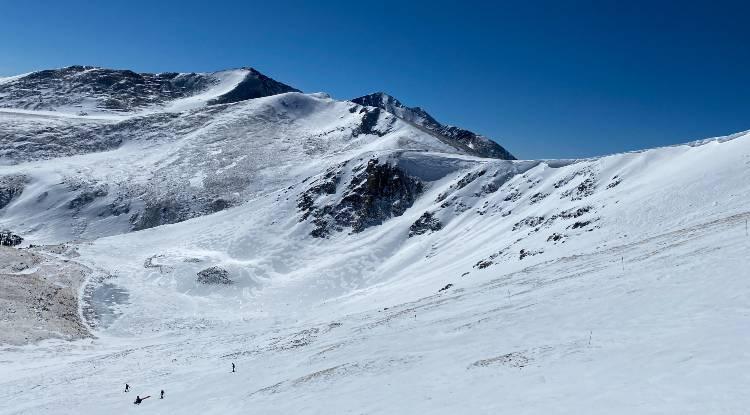 Image by FashionStock.com from Shutterstock
Of all of Vail's back bowls, Game Creek is the easiest to get to. Once you get there, you have over 200 acres to play with that are suitable for all levels.
Here, you can enjoy anything from wide, flowy green runs to gladed terrain suitable for advanced skiers and snowboarders. You can get to Game Creek Bowl by jumping on Gondola One and then Chair 3. Alternatively, ski the Game Trail to Chair 7.
The green run in Game Creek Bowl is called "Lost Boy," a favorite of locals and visitors. It has a mellow gradient but is wide enough for skiers and snowboarders to make big beautiful carves.
If you want to take on a blue run that is a little more challenging than you may be used to, head for "Dealer's Choice." You can get some serious speed when this slope is groomed, but it becomes a challenging mogul field when ungroomed.
Experienced skiers and snowboarders in Game Creek Bowl love Ouzo. This super steep and wide run is excellent for big carve turns.
But Ouzo is at its best first thing in the morning, especially on a powder day. You can stay on the marked slope or head to the glade on the right-hand side to hunt for pockets of untouched powder.
Tea Cup Bowl
Image by Alex_Wolfe from Shutterstock
Tea Cup Bowl is not as well known as some of the other bowls in Vail, probably because it is one of the smallest ones. This means it is less crowded, and you have a better chance of claiming fresh tracks on a powder day.
When there is a fresh dump of snow, one of the favorite runs in Tea Cup Bowl is "Morning Thunder." This is lots of fun, but make sure you keep an eye out for the small cliff and band of rocks close to the bottom.
You can get some lovely turns from the bottom of Morning Thunder after dropping into Marmot Basin. This area has a fun gully to play in before you get on the Sleepytime Catwalk to the Tea Cup Express chairlift.
Inner And Outer Mongolia Bowls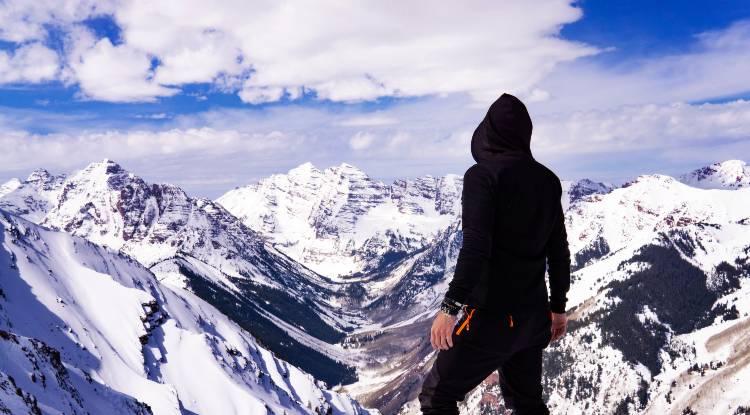 Image by Joshua Woroniecki from Shutterstock
If you are in Vail and want a true adventure, you need to head to the Inner and Outer Mongolia bowls. Get the drag lift to Vail's eastern closure as early in the day as possible for a potentially deserted powder run.
The terrain around here is pretty mellow, and you can often be the only person there. Probably because you have to put in some effort to get there.
Making an effort to get to the Inner and Outer Mongolia Bowls is worth it. You get to experience rolling terrain with a feeling of exclusivity, which is rare in a famous ski resort such as Vail.
You should only head to this area of Vail's ski area if you are an advanced skier or snowboarder. The terrain is variable and not groomed, but it can give you access to some of the best powder available in the whole ski area.
You will love the Inner and Outer Mongolia Bowls if you prefer to get away from the crowds in the resort. Heading this way is a great way to earn your turns.
You need to remember to keep your speed up at the bottom, as you need momentum to get along the relatively flat catwalk.
Siberia Bowl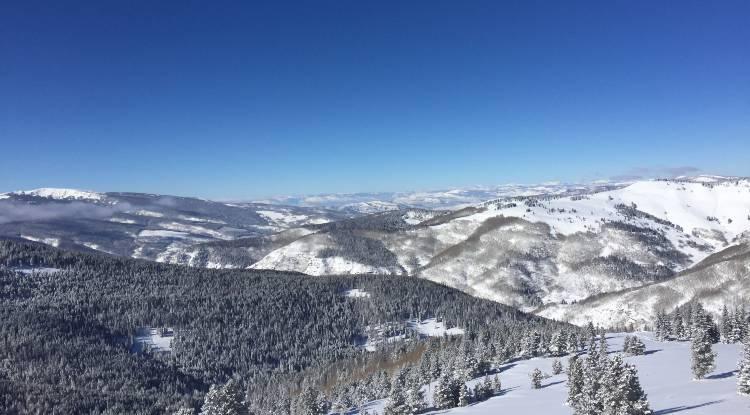 Image by Alex_Wolfe from Shutterstock
Siberia Bowl is linked to Inner Mongolia and Outer Mongolia and is the access point of Vail's most isolated back bowl area. It is the steepest of the three bowls, but the gradient gets more mellow when you venture into the Mongolian Bowls.
When you get to Siberia Bowl, you can enjoy a couple of steep runs known as Red Square and Rasputin's Revenge. But you will need to bring your A-game due to the bowl's intimidating steepness.
The Best Of Vail's Back Bowls For Less Experienced Skiers And Snowboarders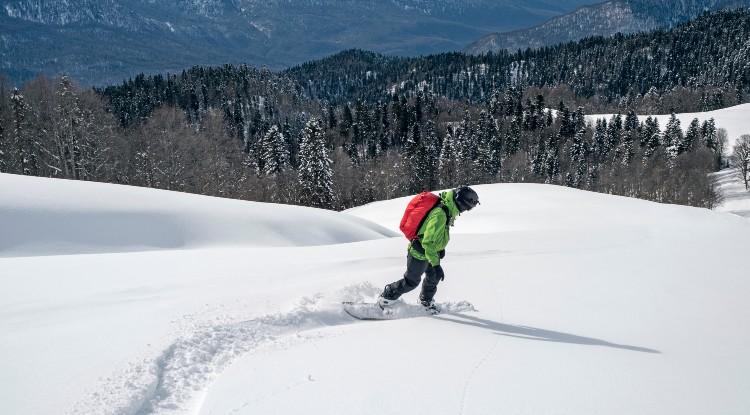 Image by Lilkin from Shutterstock
Vail's Back Bowls have earned a reputation for being the domain of expert skiers and snowboarders. However, if you are an adventurous intermediate, you can enjoy some of the back bowls' more mellow runs.
You will enjoy the bowls more with modern and appropriate ski and snowboard equipment. So, if your stuff is a little dated, you may want to rent something more up-to-date.
China Bowl has some lovely mellow runs, ideal for intermediates to enjoy. For example, Poppy Fields and Chopsticks are gentle enough to ride without feeling intimidated.
Another run intermediates should look for on the trail map is "The Slot." This is a black diamond, but it could be one that takes your skiing or snowboarding to the next level.
Following The Sun To Make The Most Of Vail's Back Bowls
Image by foodstck from Shutterstock
Vail's Back Bowls are predominantly south-facing, so they get a lot of exposure to the sun. This has its advantages and disadvantages.
One of the advantages of a south-facing aspect is that during the times between snow storms, the bowls have soft snow. This means you don't get much ice, and you can enjoy your turns.
Most locals like to start their day of skiing bowls on the east-facing slopes. This is because the morning sun warms the snow, making it nice and soft.
If you visit Vail in the springtime, watch the way the sun moves across the sky. When you follow the sun, you can enjoy the perfect softness, especially the west wall of the China Bowl. But you need to be careful, as a slip into the shade can cause you to have to cope with challenging lumpy crud.
Another bonus of starting your day on the east-facing slopes is that the wind blows from east to west. This means that the east-facing slopes collect more snow during a storm.
When other slopes are collecting inches of snow, these east-facing slopes regularly collect feet of snow overnight.
Towards the end of the day, you will find that the west-facing slopes have the softest snow. Therefore, you can enjoy the best snow conditions throughout the day by following the sun.
Do Your Homework Before Skiing Vail's Back Bowls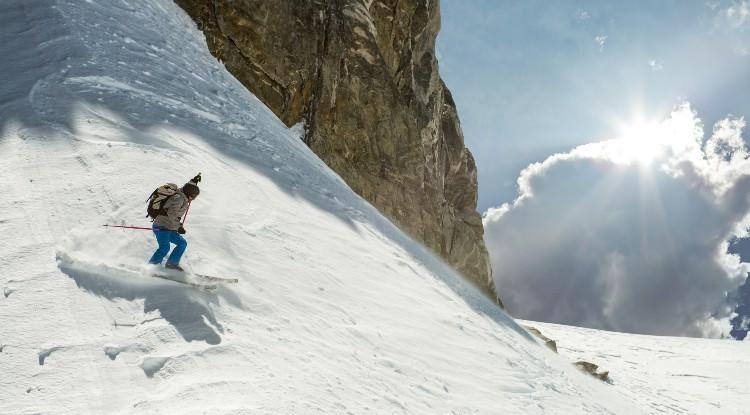 Image by ZoneCreative from Shutterstock
To fully enjoy what Vail's Back Bowls have to offer, you need to be prepared. The thing with the bowls is that they each have their own microclimate.
This means that the long-range snow forecast may not be accurate or correct for the back bowls. Therefore, the best thing to do is look at the Vail Pass weather updates in the evenings.
Looking at the weather updates will give you a good idea of how you should start the following day if you have Vail's back bowls in your sights.
If it looks like you will get a significant snowfall overnight, you should head for Chair 5 as soon as you can in the morning. This is the lift that is open first, so if you get to the front of the line, you can claim the first tracks.
However, if you get up late and miss the first lift, avoid Chair 5. Instead, head to Chair 17, which will allow you to get ahead of all the crowds.
You need to pay attention to the historical snow reports. By seeing if it snowed recently, or was windy, you can get an idea of what the snow conditions are like.
You can also find out if any of the back bowls have been closed recently. If a back bowl has been closed but is due to open the following morning, you can be sure that the snow conditions are going to be great.
Whatever your tactics for getting the most out of Vail's back bowls, you need to get to the lift by 8:30 am. Any later than that, you will miss the opportunity to be the first to take advantage of the epic powder.
Final Thoughts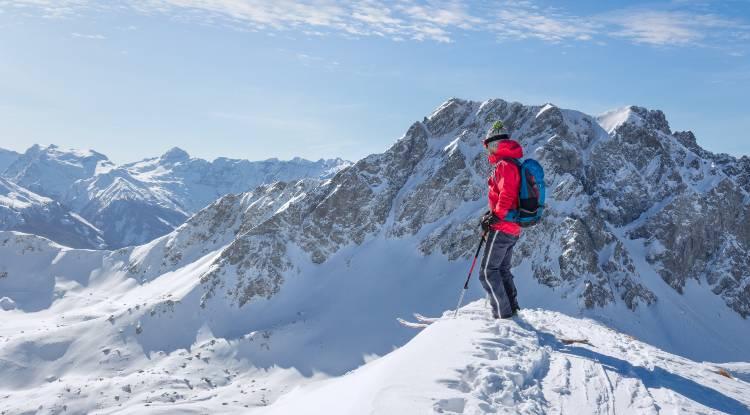 Image by mRGB from Shutterstock
As you can see, Vail's Back Bowls provide many world-class skiing and snowboarding opportunities.
The great thing about them is that there is something for most abilities. In addition to this, groups with varying skill levels can enjoy them together.
If your skills and fitness are up to it, you can pick a route that will take you through all of Vail's Back Bowls by lunchtime.
Once you've experienced them all, you can head to any of Vail's excellent food spots that are easy to get to from the back bowls.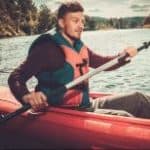 Author: Peter Salisbury
Pete is the Owner of KayakHelp.com. Born and raised in Cleveland, Ohio, he grew up kayaking, fishing, sailing, and partaking in outdoor adventures around the Great Lakes. When he's not out on the water, you can find him skiing in the mountains, reading his favorite books, and spending time with his family.