You may be familiar with Long Island as home to the Hamptons and a famous iced tea, but did you know it is one of the best kayaking destinations in America? If you didn't, you will learn how to plan a successful trip there by the end of this article.
This guide will teach you where Long Island is, the best season to make the trip, the best lakes and rivers for kayaking, and the right kayaks to use. It also covers where to rent a kayak and companies offering guided kayaking tours.
Whether you're a newbie or pro, you will have everything you need to know to plan a memorable and exciting trip to Long Island with friends and family.
Let's get started!
Photo by Wikimedia
Where is Long Island?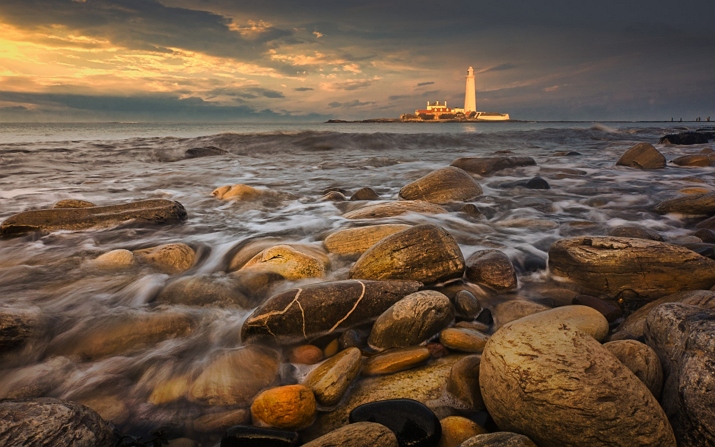 Photo by Ray Bilcliff
Let's quickly refresh our memory of where Long Island is. The famous island is an expansive area located in the southeastern region of New York.
It stretches 100 miles eastward from the Tri-state area into the Atlantic Ocean and is home to four counties, including Brooklyn and Queens. This makes it the largest island in the connected United States, with a diverse population of over eight million residents.
Over the years, this population has included personalities like Billy Joel, Theodore Roosevelt, The Vanderbilts, and the celebrity psychic medium, Theresa Caputo of Long Island Medium. The island is also home to the Belmont Stakes, Nassau Coliseum, and Oheka Castle, the second-largest private home in the US.
Beyond its people and real estate, Long Island is also renowned for its geography. It has over 500 lakes and ponds, secluded forests, and miles of pristine beaches. They are spread across the flat and sandy ground in the south and hilly and rocky ground in the north.
The highest natural point on the island is Jayne's Hill, with an elevation of 400. feet above sea level. The flat topography and access to several bodies of water are part of why Long Island is an ideal location for kayaking.
That includes Carmans River, a 10-mile river that starts from Cathedral Pines County Park and empties into Great South Bay. It entirely consists of groundwater, and its first eight miles is freshwater, while the rest is an estuary.
Between this abundance of easily accessible water bodies, lovely beaches, and historical and cultural attractions, it's no wonder that Long Island attracts about nine million people annually.
What is the Best Time of Year for Kayaking on Long Island?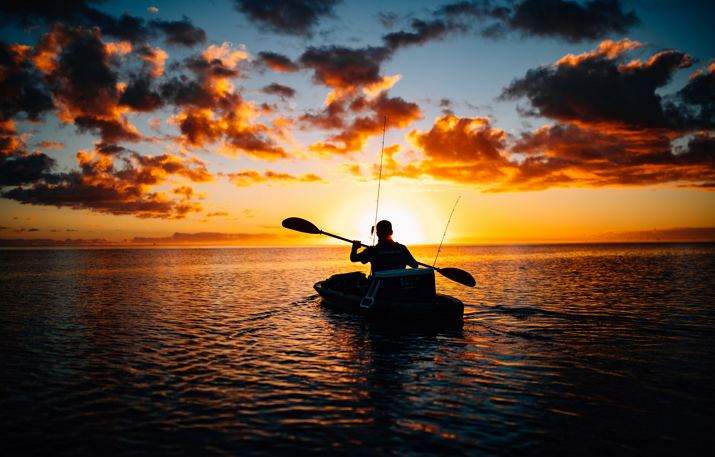 Photo by Kal Visuals
Whether you're simply looking for a relaxing afternoon or want to experience some adventure, there are plenty of places on Long Island where you can take advantage of the water year-round.
However, as a beginner, the best time of the year to visit Long Island for a kayaking trip is in the summer, from early July to August. This is because Long Island has a warm climate, which perfectly suits kayaking for newbies.
Wind direction and speed are the most important weather conditions for a great time on the water. Both are low to moderate in the summer, and the warm temperature means you don't need a wetsuit.
However, you may need to pack sunscreen as part of what to wear. The temperature can reach as high as 81°F and rarely drops below 65°F.
That said, if you were hoping to avoid the summer rush of tourists, spring works too. Starting from late April, winter is receding, and the temperature has risen above 51°F, the sweet range where paddling becomes more enjoyable.
Fall also works. The weather conditions are not as perfect as in the summer, but they are still decent. From late August to late October, the Long Island heat is declining, and the water temperature is cool but not cold.
In all, the weather varies across the island, and the relevant conditions, whenever you choose to visit, depend on where you're trying to paddle.
Hence, we recommend checking a weather tracking service like MarineWeather, LocalConditions, and other resources for updated weather information. Also, seeing is believing. Feel free to consult live webcams around Long Island for adequate planning.
What is the Best Type of Kayak for Kayaking on Long Island?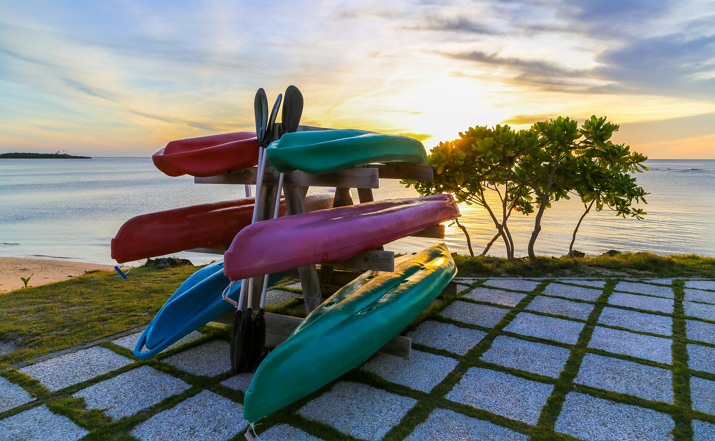 Photo by Sabel Blanco
Kayaks come in different shapes and forms, but every one of them suits you as a beginner. Stability and safety are the most critical qualities to look out for in a kayak. It must also be easy to handle on lakes and slow rivers.
There are mainly two types of kayaks to choose from sit-on and sit-in kayaks. The former is ideal if you want to get wet while paddling and feel the warm water. Sit-in kayaks are better if you need secondary stability or want to paddle with less effort.
Based on this, the best type of kayak on Long Island is a touring kayak or recreational kayak. If you feel confident in your paddling skills, a sea kayak is also an excellent choice.
If you're merely looking to fish and wish to converse your energy, you will need a fishing kayak with foot pedals.
Ultimately, the right choice depends on your body size and personal preferences. That's why we recommend trusting the rental company to help you make the best decision for you.
Where Should You Go Kayaking on Long Island?
There's no shortage of places to go kayaking on Long Island. The area is surrounded by water, and several smaller water bodies bisect the dry land.
As a beginner, we recommend sticking with the lakes and rivers. They are safer and easier to navigate. Here's a brief overview of some of the most popular and attractive ones to paddle.
Captree State Park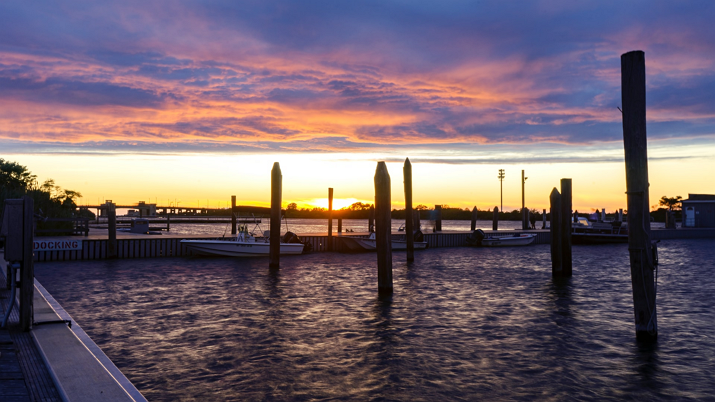 Photo by Vincent Branciforti
Captree State Park is the foremost fishing destination on Long Island. It is also a great place to launch a kayak into the Green South Bay, a 45-mile-long lagoon with a maximum depth of 20 feet and an average depth of 4 feet 3 inches.
It borders Long Island and Fire Island, and the park is only 48 miles from Manhattan, in case you feel the sudden urge to take a break from city life.
Paddlers launch from the overlook parking field and can paddle the entire length of the bay. Captree is an area with strong currents, and it's advisable to check tide tables before going into the water. So make sure you have a tour guide or are in the company of others.
When you're ready to rest, Captree offers other attractions like fishing boats for saltwater fishing, scuba diving, and a full-service restaurant that serves tasty chili dogs.
Lake Montauk
Lake Montauk is one of the most popular kayaking spots on Long Island. Much of that comes from its well-maintained, serene, and gorgeous-looking white sandy beaches.
But the major attraction is the access to the Long Island Sound, a tidal estuary that spans 110 miles with varying depths between 65 and 230 feet.
The Sound is a quiet paddling area and an excellent location to watch the sunset. Paddlers who also enjoy fishing will also find Lake Montauk rewarding. It contains oceanic and estuarine species, including blackfish, striped sea robin, and four-spot flounder.
Paddlers who are also bird watchers will enjoy paddling across the Sound's shores. It is home to diverse songbirds, shore birds, and dozens of migratory birds.
Aside from nature watching, paddling along Lake Montauk also offers a lovely view of the surrounding affluent residential area. It is a captivating scene for special occasions.
South Oyster Bay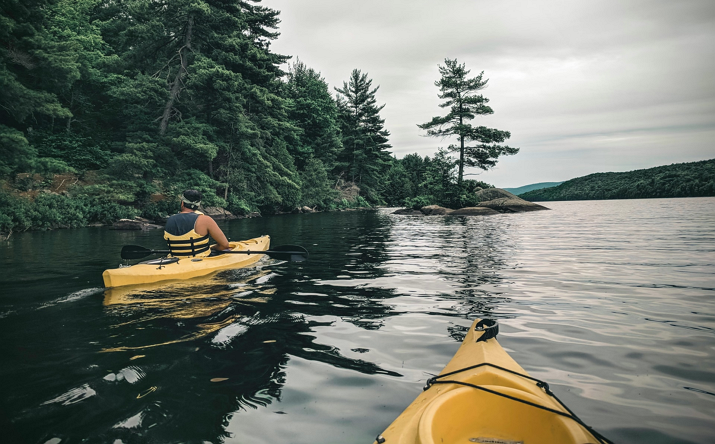 Photo by Ali Kazal
Oyster Bay is a family-friendly kayaking location renowned for its eclectic personalities. It is also the only town on Long Island that extends from the North Shore to the South Shore.
A significant portion of the kayaking happens on South Oyster Bay, a natural harbor three miles wide and 15 miles long. The harbor connects with the Great South Bay in the east with inlets into the Atlantic Ocean.
The water is calm, and you can rent small boats and take sailing courses when you want a break from paddling.
At Oyster Bay, kids can visit summer marine exploration programs provided by the non-profit organization, The WaterFront Center.
Fire Island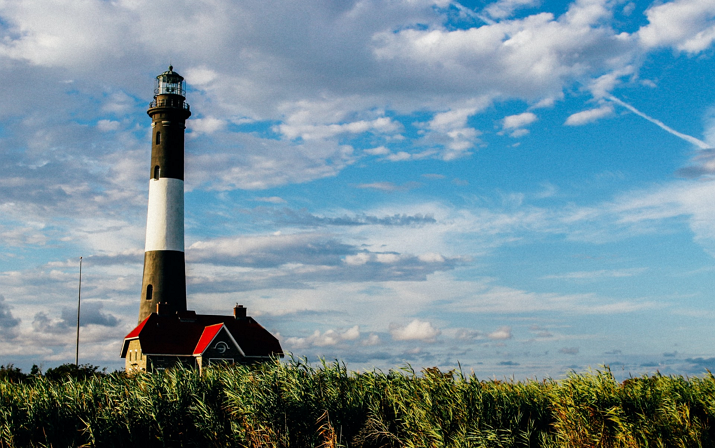 Photo by Patrick Tomasso
If you're visiting Long Island for a summer vacation, exploring the famous Fire Island is most likely part of your itinerary. Fortunately, it is also a great area to explore the Great South Bay lagoon.
The island is part of the outer barrier islands of Long Island. There are several associated islands to explore while you're out paddling, although some of them are private.
The practical way for some great paddling on Fire Island is to launch from Robert Moses State Park or Smith Point County Park.
But it's the beaches on Fire Island that truly make it a destination. The 32-mile-long barrier island is home to many of the best beaches in the entire state of New York.
While paddling around the bay, you can hop out and bathe in the sun on the beach before returning to any of the rental apartments on the island.
Belmont Lake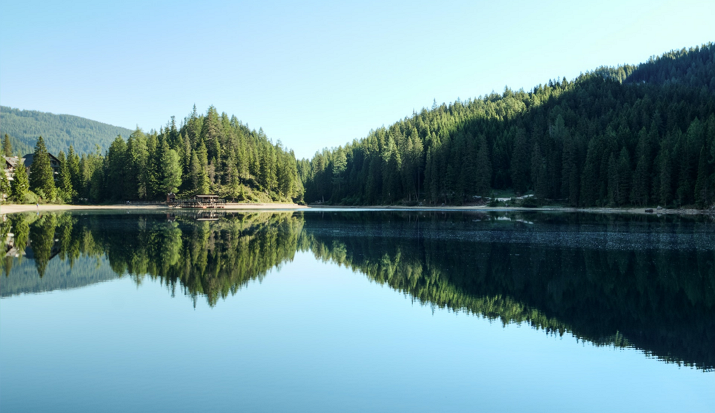 Photo by eberhard grossgasteiger
Beginners who are reluctant to venture into the open waters of the bays will find Belmont Lake a gratifying place to stretch their paddling muscles. It is a shallow 29-acre lake with a maximum depth of four feet.
Attached to the lake is a wetland complex home to several marine species. Paddlers who fish can enjoy springtime trout and summer bass fishing. Belmont's ecosystem also has migratory waterfowl populations.
The water here is calm, and the surroundings are peaceful. However, paddlers are only allowed to launch from the boat dock while it's open, and wakeboards and paddle boards are not allowed.
When you step out of the water, Belmont Lake State Park offers enjoyable activities like trail walking, biking, and cross-country skiing.
Stony Brook Harbor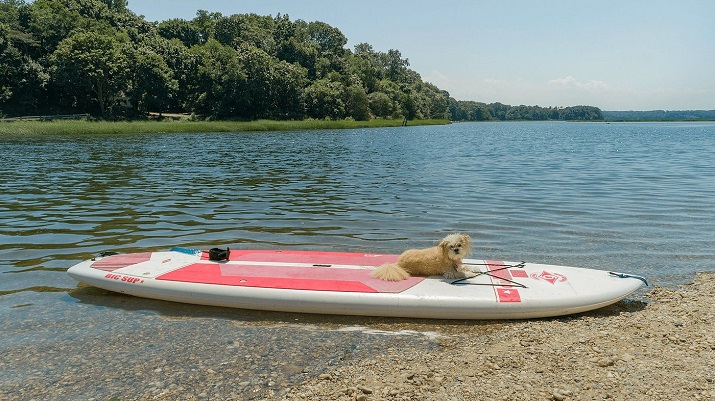 Photo by Nick B
This is one of the best launch sites for kayaking on Long Island that's also a hidden gem. Created by the interconnected bodies of water at the hamlet's edge, Stony Brook Harbor is big open water to kayak in.
It's especially great for beginners because the water is calm and easy to navigate. Paddlers can take a leisurely ride to Long Beach, with plenty of scenic spots to park and rest. The sunset view alone from Stony Brook Harbor is particularly worth a trip.
Paddlers who want excitement can ride the east current to the west, although we recommend doing so with total caution or with a tour guide.
Stony Brook Harbor is also a wetland habitat for colonial waterbirds, fish, and horseshoe crabs. After enjoying a ride to Long Beach, you can do some fishing and swim. And if you're hungry or need to freshen up, there's a refreshment stand and restrooms.
Nissequogue River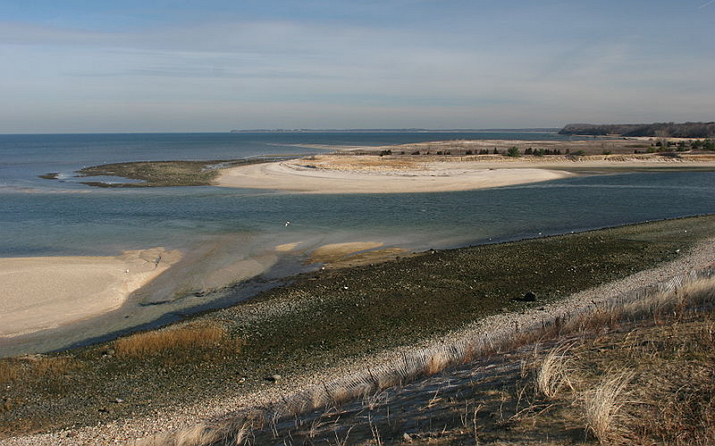 Photo by Wikimedia
On its own, the Nissequogue River is impressive. At an average of 42.2 cubic feet per second, it has the most discharge of freshwater rivers on Long Island. That rapid flow is an advantage for kayakers, who can leisurely navigate the entire 8.3-mile long river to its mouth at Long Island Sound.
You can take a round trip on the river back to the launch site at the St. Johnland Road entrance at Nissequogue River State Park.
However, you can only do this within a limited window: four hours before or after a high tide. When planning your visit, make sure to check the tide forecast. Because of that, the best time for kayaking here is in the spring through fall.
You can bring your kayak to the Nissequogue River, but kayaks and canoes are available to rent.
Heckscher State Park
The park is an idyllic spot for group and family picnics. It is a suitable park if you're looking to experience plenty of physical activity. The large fields are used for games like lacrosse, soccer, and field sports.
Most interestingly for kayakers, it is at the eastern end of the Southern State Parkway. The waterfront park has an access site for paddlers to launch into the north side of the Great South Bay and navigate to the lower Connetquot River.
The route is visually fascinating too. Paddlers will see a variety of birds, whitetail deer, and other wildlife while navigating the river.
Back at the park, you can get a majestic view of South Bay with Fire Island as the backdrop. And if you wish to stay and enjoy the scene overnight, you can rent any of the newly built cottages at the park. Each one accommodates two to six people.
Other Locations
There are plenty more launch sites and water bodies to choose from. That's part of why Long Island is an excellent destination for kayaking. Here's a quick round of other spots you can research further when planning your trip.
Lakes
Hempstead
Wildwood
Ronkonkoma
Rivers
Peconic River
Forge River
Quinebaug River
Guide or Rental Companies
As a beginner, you don't necessarily have to own a kayak to explore the beauty of Long Island. You will find a few companies to rent from whichever entry point you choose. And if you need a guided tour, here are some companies to consider.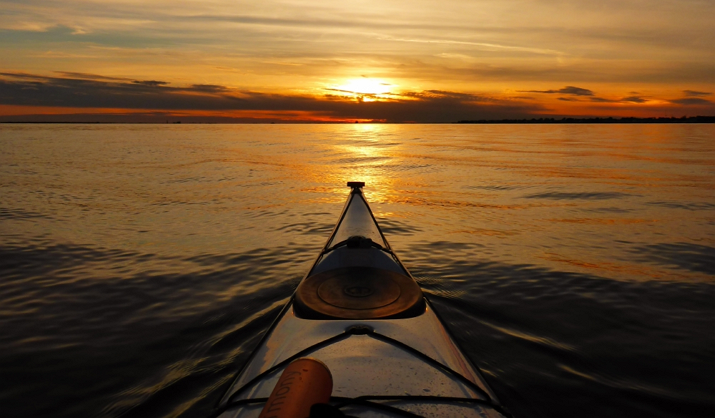 Photo by Dinghy Shop
The Dinghy Shop is a family-run one-stop shop for all your kayaking needs. They offer rentals of touring, recreational, fishing kayaks, and paddleboards. If you're looking to upgrade your ride, they rent sailboats too.
You can reserve a kayak tour with The Dinghy Shop online or buy one as a gift for a loved one. Couples and families can also enjoy their twilight tour that starts at 6 pm. But you should know it only applies to 16 years old and older.
Amagansett Beach & Bicycle is the place to rent kayaks and paddleboards around Lake Montauk. They have different kayaks available for singles and couples with flexible pricing. You can rent a kayak for a half or full day.
Their two-hour tour covers the calm waters of Accabonac Harbor, and no prior kayaking experience is necessary, making it a convenient location for beginners.
Amagansett Beach & Bicycle also offers corporate outings for companies who want to take staff on an adventure. If you're organizing for your team, just make sure there are enough snacks for everyone.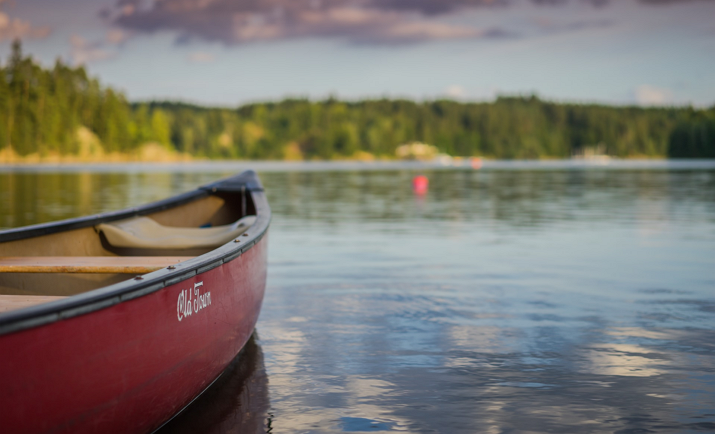 Photo by Michael Niessl
Paumanok Tours offers guided tours across six locations. This includes a three-hour ride across the Setauket Harbor, a three-hour tour of the Carmans River, and a mega four-hour tour of the Peconic River.
Paumanok Tours' offerings are available for single and double kayaks, and you can schedule a private tour through the rest of the island via their website.
Also among its services is a tour of the Three Village area. It's a three-hour tour of Setauket Harbor and its role in George Washington's spy ring.
Young kayakers who are attracted to Fire Island's fame will be amply served by Long Island SUP. The rental company offers destination tours on different types of kayaks and paddleboards.
They also organize parties for children, teenagers, and young adults. Whether it's a Sip and SUP, Sweet 16, or bachelorette party, Long Island SUP's got you.
The company has highly trained instructors for beginners. They will help you work on your stroke and improve your kayaking skills.
And suppose you've got a special destination in mind. In that case, Long Island SUP offers pickup and delivery to all parts of Fire Island.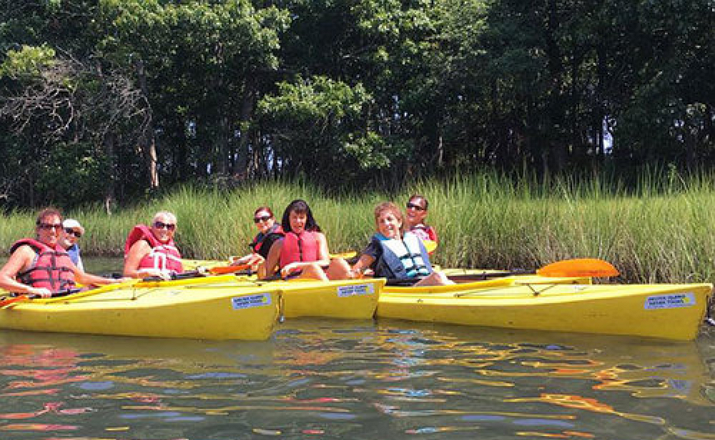 Photo by Kayak Shelter Island
Kayak Shelter Island is a dog-friendly rental company you can use when you want to hit the waters with your pet friend. Naturally, you should know how to kayak with a dog to avoid damaging the rental equipment.
Rental options include single and tandem kayaks, available at hourly rates and all day. Kayak Shelter Island's guided tour is available for adults and children.
They also offer a full exploration of the Coecles Harbor Marine Water Trail. It starts from Bums Road Town Landing and ends at Fan Creek if you are craving an adventure.
If you want to explore the hidden gem of Stony Brook Harbor, Stony Brook Harbor Kayak & Paddleboard has all you need. Especially if you're looking to spend extended time in this secluded area.
Aside from an array of kayaks to choose from, they also offer paddleboard fitness and yoga classes. You can schedule guided tours to historic locations in the area like Gristmill and Hercules Pavilion.
The rental company is open to customers all day, and the team caters to travel groups of all sizes. You can book your place online, and they offer a full-season membership for extra perks.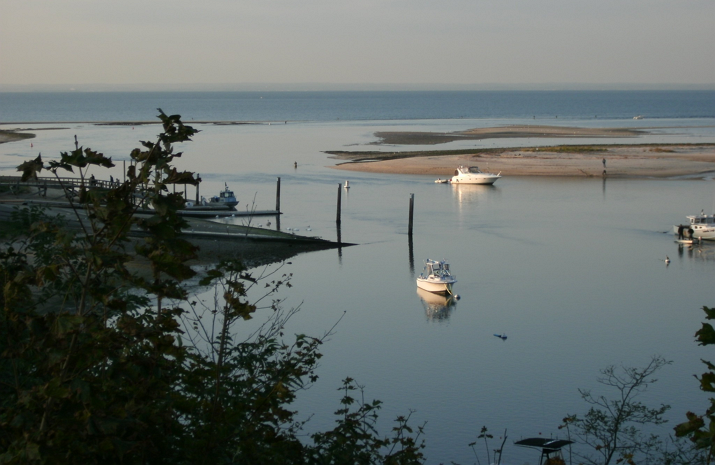 Photo by Doug Kerr
For an enjoyable and guided trip through five and a half miles of the Nissequogue River, Nissequogue River Canoe & Kayak Rentals is who to call. They also offer trips across the Peconic River and most of Long Island's waterways.
There aren't a lot of requirements for renting or going on tour with this company. Just bring your camera to take Instagram-worthy photos during the two-hour-long one-way trip across the river.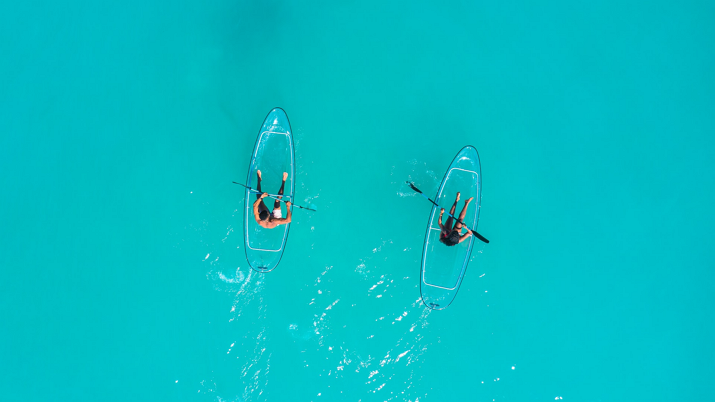 Photo by Hugh Whyte
Are you looking to turn your kayaking trip into a beach party? Then Beachside Valet might be the rental company for you.
The company has locations across several major spots across Long Island. You can find them in Jones Beach Park, Rockaway Beach, Robert Moses, and Heckscher State Park for a family-friendly way to explore the Great South Bay.
You can reserve diverse types of kayaks, including clear kayaks if you feel like seeing what's underneath your kayak.
Final Thoughts
That's our beginner's guide to kayaking on Long Island. We hope we've given you a few ideas to think about for your trip, and above all, had a pleasant time reading.
Whenever you visit, have a swell time exploring this prime kayaking destination.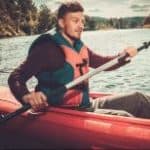 Author: Peter Salisbury
Pete is the Owner of KayakHelp.com. Born and raised in Cleveland, Ohio, he grew up kayaking, fishing, sailing, and partaking in outdoor adventures around the Great Lakes. When he's not out on the water, you can find him skiing in the mountains, reading his favorite books, and spending time with his family.