Colorado is full of excellent ski resorts suitable for experts and beginners alike. It is home to some of the highest ski lifts in North America too.
With the incredible variety of ski terrain available to its visitors, it should be no surprise to you that there are some leg-burning runs that seemingly go on forever.
In this article, we will highlight the 13 longest ski runs in Colorado, starting with the longest. After this post, you will know where to go to check them off your list.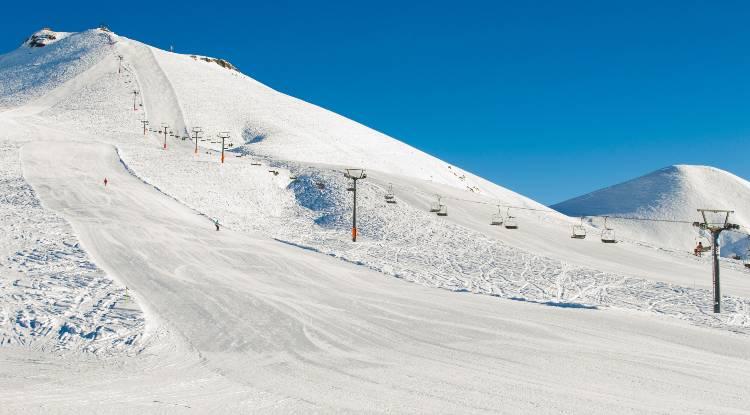 Image by ra66 from Shutterstock
Longest Ski Runs In Colorado
1. Snowmass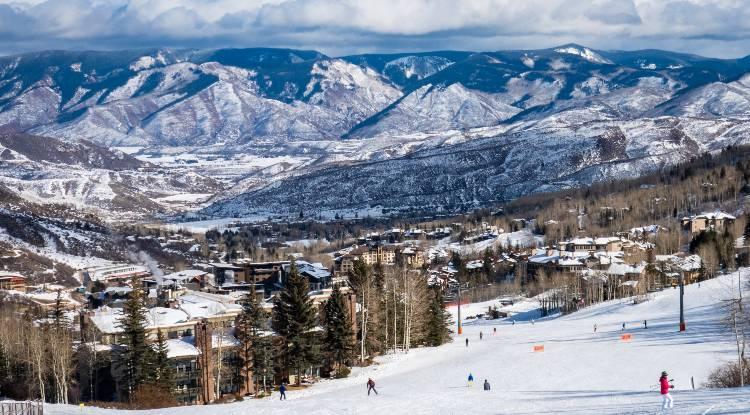 Image by David A Litman from Shutterstock
The Snowmass Ski Resort is regarded as one of Colorado's finest. It has an incredibly large ski area that offers a wide variety of terrain to suit all levels of skier and snowboarder.
It is also a very convenient ski resort, as much of the accommodation is ski-in-ski-out.
Even though Snowmass is a special place to ski, it should not be dismissed as a standalone ski resort. It is part of the Aspen Snowmass ski area, which includes Aspen Mountain, Buttermilk, and Aspen Highlands.
Snowmass is the largest of the four areas, thanks to 3,339 acres of skiable terrain. The area boasts 98 runs, and its longest is the "Long Shot."
Long Shot is 5.3 miles long and has the longest vertical descent in the country at 4,406 feet. If you fancy giving this run a go, be prepared to hike for a few minutes to get to the start from the Elk Camp chairlift.
Once you get going, you can expect to pick your way through trees before snaking your way down this perfect blue run. Towards the bottom, you pass some ski-in-ski-out lodgings before reaching a couple of restaurants to rest your legs. Alternatively, get on the Two Creeks chairlift for another go.
2. Telluride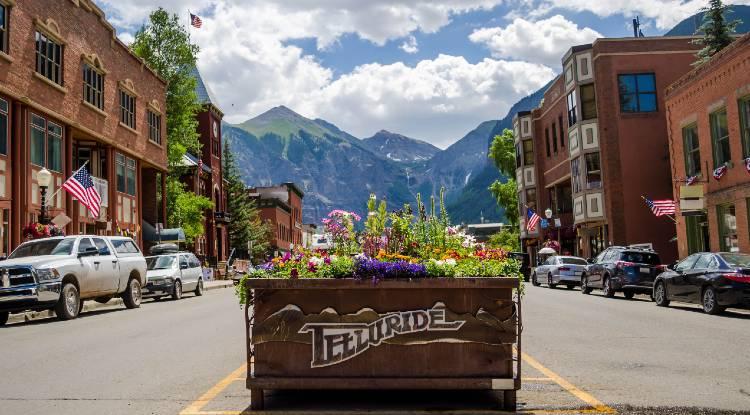 Image by Danica Chang from Shutterstock
Telluride is the definition of paradise for skiers and snowboarders. It is a historic mining town where its locals have replaced gun powder for powder snow.
The town has a unique charm that can only come from a place with such history. It has a relaxed atmosphere and is well developed with modern amenities.
Telluride used to be regarded as Colorado's best-kept secret, but its incredible ambiance and ski slopes couldn't stay hidden forever.
Its ski area covers 2,000 acres, serviced by 17 lifts, two of which are high-speed gondolas. You can experience 3,845 feet of vertical drop at Telluride, and the longest run, known as Galloping Goose, is 4.6 miles long.
Galloping Goose is a blue square rated slope that shouldn't be too much of a problem for beginner skiers and snowboarders.
The great thing about Galloping Goose is that it is pretty quiet, as it is a low-traffic area. Therefore, you can blast all the way down or take your time while taking in the views of the magnificent Palmyra Peak.
3. Breckenridge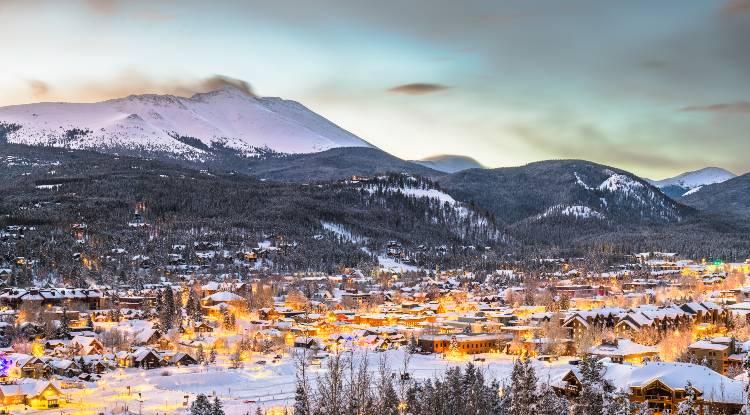 Image by Sean Pavone from Shutterstock
Breckenridge strikes a balance between a laid-back atmosphere and a world-class ski resort. You cannot help but be impressed by how polished Breckenridge is, from the delightful surroundings to the perfectly manicured slopes and excellent infrastructure.
Many regard Breckenridge as Colorado's best ski town, rather than it being a purpose-built ski resort. It maintains its Western charm thanks to its character and friendly locals.
But you will continue to be impressed as you head into the mountains. The ski area covers 2,908 acres of terrain over several peaks. The 34 excellent ski lifts service 187 slopes, so there is plenty to keep you occupied.
The longest ski run in Breckenridge is a run named 4 O'clock. It provides 3.5 miles of fun starting on Peak 8, but it isn't for novice skiers and snowboarders.
4 O'clock is graded as a single black diamond, which is designated for expert skiers. However, the middle part of the run is a blue, and it mellows out to a green at the bottom.
If you are an intermediate and feeling a little adventurous, you may want to give it a try. 4 O'clock has it all and is a must-do slope while you're visiting Breckenridge.
You can access this run from the Colorado Superchair. But you can extend it by catching the six-person chairlift or T-bar to the very top.
4 O'Clock is at its best early in the day but is still in good condition for most of the afternoon. However, if you visit on a peak week, it gets pretty busy at the end of the day, as it is a popular route to the town and parking lots.
4. Keystone
Image by Kreative Photography from Shutterstock
Keystone Ski Resort is a top-rated resort in Colorado. It has a lot going for it, including a large ski area with an up-to-date ski lift system, a bustling village, and night skiing.
Many visitors to Keystone come here for its family-friendly atmosphere, enhanced by a plethora of kids' activities and attractions.
The ski area is massive, as it covers 3,148 acres that are fast and easy to get to from the base area. Keystone offers 3,128 feet of vertical drop, which is enough for most skiers and snowboarders.
Keystone's longest ski run is 3.5 miles long and is called "Schoolmarm." Despite its length, Schoolmarm is an excellent slope for beginners that starts at the summit of Dercum Mountain.
This long and challenging beginner run takes you to the Mountain House base area, where you will have earned a rest. But it is worth pausing at the top before you set off to take in the best views in the resort.
Taking in Schoolmarm is great fun and ideal for progression. This is because there are several runs that veer off, allowing you to mix it up and incorporate easy blue runs when you feel like you are ready.
5. Aspen Highlands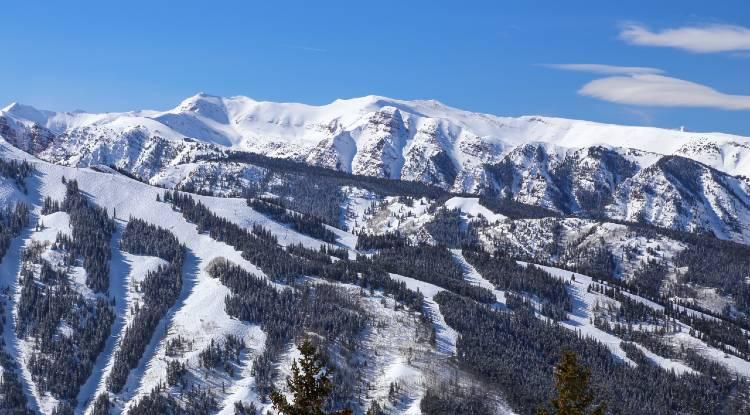 Image by Steve Boice from Shutterstock
Aspen Highlands is a long and skinny ski resort, making it similar to Aspen Mountain. Its mellow slopes along the ridges are lovely, with some great slopes suitable for intermediate skiers and snowboarders.
The skiable terrain covers 1,040 acres and consists of 144 slopes. If you like to hunt for powder, head to the Highland Bowl, where you will find endless opportunities for fresh tracks when the snow conditions allow it.
The central part of the mountain sees some technical double-diamond black runs branching off from the ridge that do a great job of keeping advanced skiers and snowboarders entertained.
Lower down the mountain, you will find an abundance of blue runs crisscrossing each other, with some fun black and double-diamond blacks to keep it interesting.
Aspen Highlands' longest run is a thigh-burning 3.5 miles long and pretty varied all the way down. To get to it from the main gondola, head right on to 1 & 2 Leaf, which is a blue square rated run, ideal for warming your legs up.
Then head right on to Walsh's for some mixed moguls before skating to Lud's Lane onto Gentlemen's ridge and Jackpot. Jackpot is one of the most challenging runs in Aspen Highlands, so be prepared to work hard.
Once you have done the hard part, whiz around Kleenex Corner and take Tower Ten Road past Little Nell to the 1A side of the mountain. Here you will get on the Norway Slope on the left side of the mountain.
All these slopes combined create the longest run in Aspen Highlands and will have you grinning from ear to ear by the time you get to the bottom.
6. Aspen Buttermilk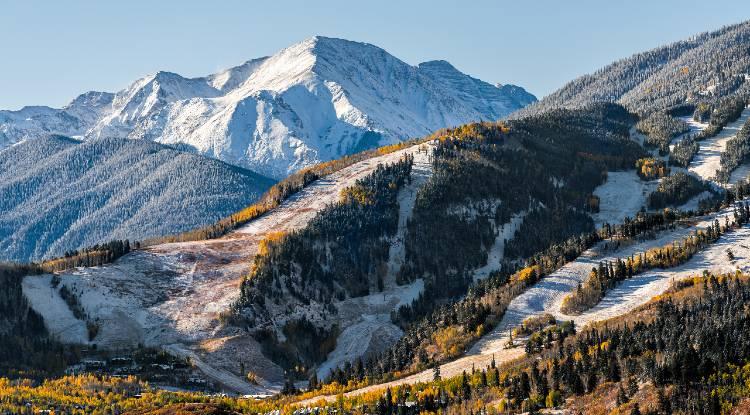 Image by Kristi Blokhin from Shutterstock
Due to the size of the Aspen Snowmass area, it should be no surprise that it is home to some of the longest ski runs in Colorado.
Aspen Buttermilk is a small ski resort, but it is well-renowned for being the ideal place for beginners and families. It gets its reputation from its slopes with mellow gradients, ideal for cruising.
Aside from a few weekends, visitors to Buttermilk enjoy quiet slopes and non-existent lift lines. However, even with its beginner-friendly reputation, it is iconic for its snow parks and for hosting the Winter X Games.
Aspen Buttermilk's longest run is known as Homestead Road. It measures 3.5 miles long and is an easy green that winds between some runs suitable for intermediates.
Its location allows you to complete top to bottom runs or use it to give your legs a rest from the more challenging runs around it. For this reason, Homestead Road is ideal for progression, but its unintimidating nature makes it perfect for honing basic skills and practicing your turns.
7. Steamboat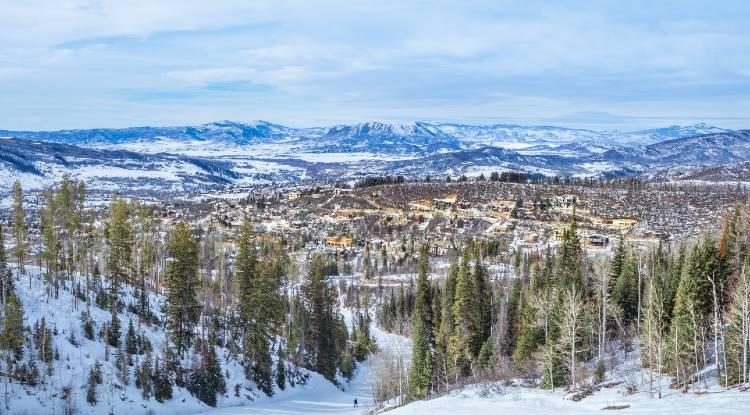 Image by LanaG from Shutterstock
Steamboat is a stunning ski resort that prides itself on providing something for everyone. The extensive ski terrain offers lots of variety, but visitors love its light and fluffy snow, dubbed "Champagne Powder."
With its excellent snow conditions and superb terrain, Steamboat has given up a considerable number of Winter Olympians, which has given it the nickname "Ski Town USA."
Steamboat has a colorful western heritage and atmosphere, which is enhanced by its local cowboys, horses, and ranches.
Steamboat's 2,965 acres of ski terrain make it Colorado's fifth largest ski resort. It has 169 marked slopes scattered over six mountains and 3,668 feet of vertical drop.
The expansive area provides a whole host of terrain with different aspects for all abilities. The slopes are serviced by 18 lifts, including six high-speed chairlifts and a gondola.
Steamboat's ski area sits under the treeline, making the runs picturesque. Advanced skiers love heading to the glades, especially on a powder day.
You can expect lots of tree-lined runs and an excellent snow park with a superpipe.
Steamboat's longest run is called "Why Not?" and is three miles of fun starting at the top of the main gondola. This green run twists its way through the trees, all the way to the bottom of the mountain.
Why Not? crosses lots of expert runs, so you can add lots of variation to it once you have skied it a couple of times. The other benefit of this run is that you can use it as an easy way down if you have decided that you have overreached yourself on the more advanced runs on the mountain.
8. Eldora Mountain Ski Resort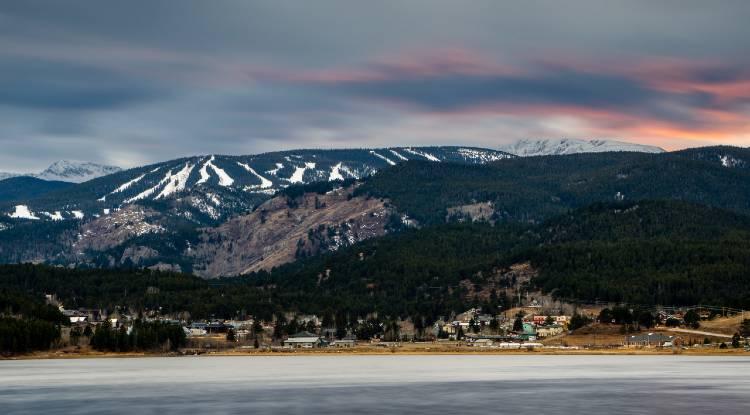 Image by Brian Wolski from Shutterstock
Eldora Mountain Ski Resort is located 21 miles from the city of Boulder and is one of the few ski resorts on the eastern side of the continental divide.
Eldora's skiable terrain spans 680 acres and has a vertical drop of 1,240 feet. Along with its four snow parks, Eldora is renowned for its challenging steep slopes and technical black diamonds.
However, there are some excellently groomed slopes suitable for beginners and intermediate skiers and snowboarders. In total, Eldora Mountain Ski Resort has 53 runs, accessed by seven ski lifts, including two quads, a detachable chairlift, one triple, and three doubles.
Every winter, Eldora gets a coating of about 300 inches of snow. At the same time, its snowmaking facilities cover 100% of its slopes, providing excellent snow conditions for as long as possible.
Eldora Mountain Ski Resort's longest run is three miles long. This black diamond run is called "Muleshoe" and is accessed from the top of the Corona lift via the blue run called Wayback.
The top part isn't that challenging, as it is more of a wide green run that morphs into a blue. However, about halfway down Muleshoe, things get interesting when it becomes a strenuous, occasionally icy black diamond.
Muleshoe is a must-ski for advanced skiers as it is super fun and gets very fast towards the bottom.
9. Beaver Creek
Image by jweller from Shutterstock
Beaver Creek defines what a luxury ski resort should be, as its outstanding and over-the-top service leaves you feeling like pampered royalty.
It is a super easy place to spend time, too, as its escalators take you to the slopes and plaza without you needing to stomp around in your ski boots.
You are also treated to slopeside valets who store your equipment and warm your boots while taking care of your every need. Even with all this white-glove treatment, visitors are more impressed by the ski area.
The 2,082 acres doesn't make Beaver Creek the largest ski area in Colorado, but the 167 slopes serviced by 24 lifts are enough for most people.
You get 3,340 feet of vertical drop from the top to Beaver Creek Village. However, you can't do it all in one continuous run.
Visitors to Beaver Creek love the well-looked after slopes that are suitable for beginner and intermediate skiers and snowboarders. But they are also ideal for cruisy days when you don't want to go hardcore.
This is enhanced by continuous grooming, so you can get fresh corduroy all day. If you want something more technical, you won't be disappointed as there is some excellent steep terrain below the treeline.
Beaver Creek's longest run is 2.75 miles long and known as "Centennial." Centennial was the venue of the 1989 World Championship downhill course and remains a prominent attraction to this day.
Centennial starts at the top of the Cinch Express lift at 11,440 feet and gives you a vertical drop of 3,340 feet following the chairlift along the spine of the mountain.
If you can time it right to ski Centennial after it has been groomed, you will get an incredible experience, blasting all the way to the base village.
10. Sunlight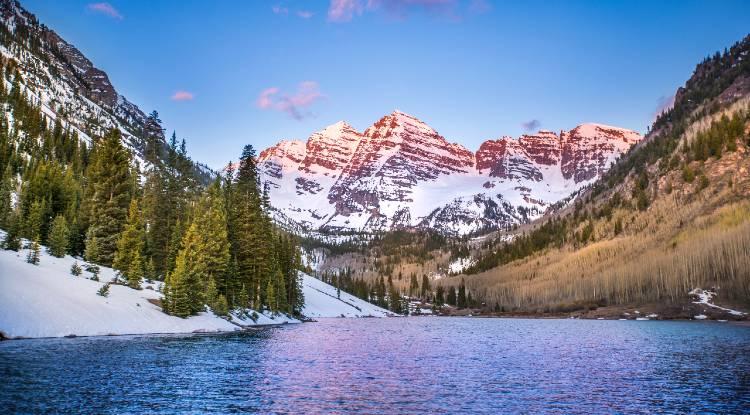 Image by Earth Trotter Photography from Shutterstock
Sunlight is a little different from some of the other ski resorts in Colorado. You can get a full day of skiing but at a fraction of the cost of the more prominent resorts.
The resort prides itself on its accessibility, from its free parking to its non-existent lift lines. The fact that Sunlight doesn't get crowded means that when it snows, you can still have fresh powder days later.
The ski area has 67 marked ski slopes, and they all bring you directly back to the lodge, which has an excellent grill to refuel yourself after a day on the mountain.
"Ute" Sunlight's longest ski slope is 2.5 miles long and ideal for beginners. It is one of a pair of rolling green groomed runs that swoop from the top all the way to the bottom of the mountain.
The great thing about Ute is that beginners can get a sense of achievement from completing a top to bottom run while taking in the epic views surrounding the mountain.
11. Ski Cooper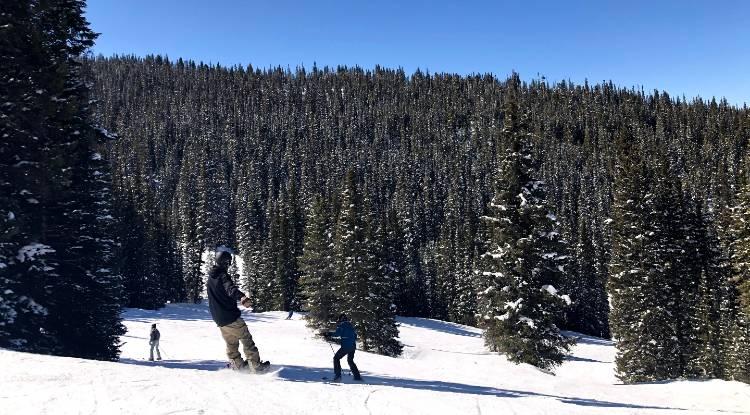 Image by Colleen R Schloss from Shutterstock
Ski Cooper is popular with families of skiers visiting Colorado. It is a small ski resort that prides itself on affordability and beginner terrain.
To get to Ski Cooper from Denver, you need to drive past big-name resorts such as Copper Mountain, Vail, and Keystone. This means that this small family-friendly ski resort is an excellent place to ski without crowds.
Here you can enjoy easy parking and non-existent lift lines, so you can get on the mountain quickly.
Ski Cooper is previously known as Cooper Hill Ski Area and is one of Colorado's oldest ski resorts. It started off as a training ground for the U.S Army.
The whole ski area only measures 400 acres and has 41 slopes. It is this small size that makes it appealing to families and beginners.
You can expect some great, wide-open terrain, ideal for beginners and intermediates. The longest run at Ski Cooper is called Trail's End and is 1.4 miles long.
Trail's end is an incredibly easy blue run. It has a gentle gradient all the way down and is lined by trees. Some sections open out so you can practice your wide turns while you admire the scenery below you.
12. Purgatory Ski Resort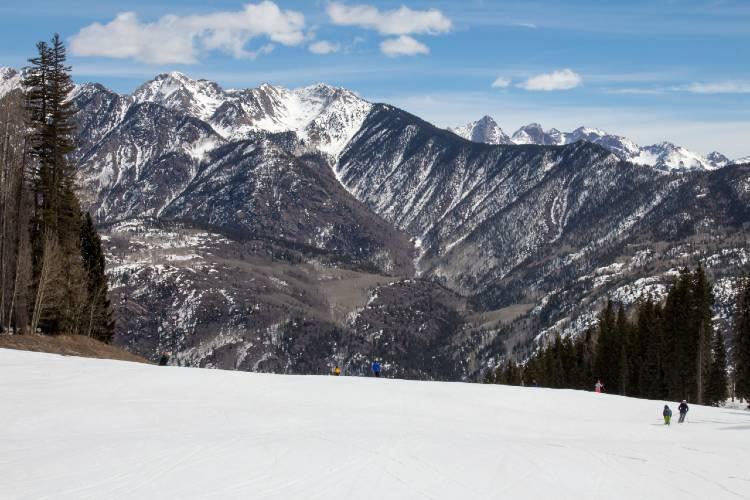 Image by Kara Grubis from Shutterstock
Purgatory Ski Resort is deceptively large, thanks to its 105 slopes packed into 1,605 acres, serviced by 11 lifts. Most of the slopes are geared towards beginners and intermediate skiers and snowboarders, but strong intermediates will love it the most.
Many of the groomed slopes feature rollers, banks, undulations, and terraces, adding variety to every run you do. Watch out for the signs indicating that jumping is not permitted, but you can play to your heart's content everywhere else.
Purgatory Ski Resort's longest run is 1.3 miles long and runs from the top of the Hermosa Park Express Lift, all the way back to the bottom. Known as the Zinfandel, this long blue run cuts through the trees, creating a pleasant experience, with a few opportunities to cut in and out of the trees on a powder day.
13. Monarch Mountain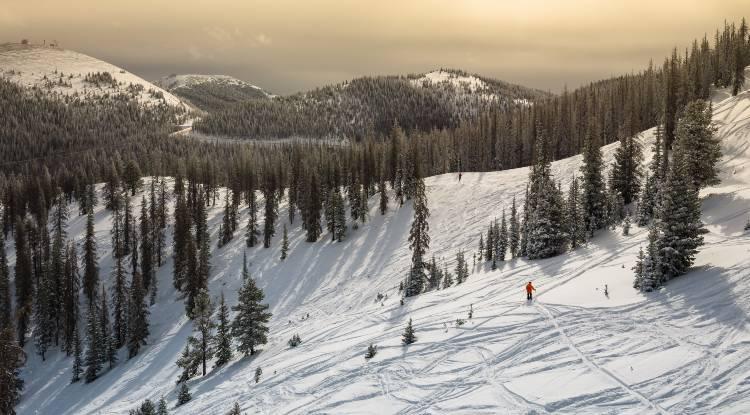 Image by S.Evig from Shutterstock
Monarch Mountain opened in 1939, making it one of Colorado's oldest ski areas. The ski resort is located near the town of Salida, and it gets a coating of 350 inches of snow every winter.
Monarch Mountain has a wide variety of terrain suitable for kids and adults alike. The area has some excellent backcountry skiing and snowboarding through trees and in the bowls, some of which you have to hike.
The ski area has a total of 63 groomed slopes, offering plenty of options for skiers and snowboarders of all levels.
Monarch Mountain's longest run measures one mile long. This remarkable run is a mix of cruisy tree-lined trails and more open sections.
The whole run has a gentle gradient, making it perfect for beginners. It is long enough for skiers and snowboarders who are working on their skills to get lots of practice.
Another advantage of the run is that it takes you to the lodge for a well-earned rest and refreshments before heading back up.
Final Thoughts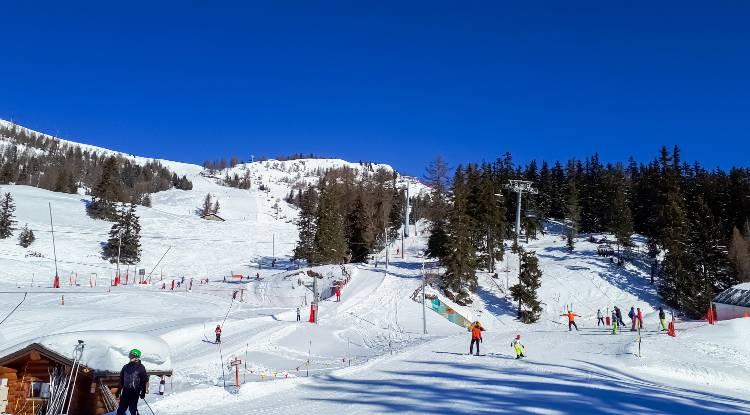 Image by Andrus Ciprian from Shutterstock
With Colorado's abundance of ski resorts, you can expect a wide variety of experiences on and off the mountain. You can find something to suit your budget, ability, and style.
If you like cruisy runs on slopes with mellow gradients, there is something for you. Likewise, if you prefer to hunt for steep and deep powder, you have plenty of options.
But one thing is for sure. Colorado has lots of long runs to give your legs a workout. Whether you ski them in one go, use them to practice your techniques, or take your time, the choice is yours!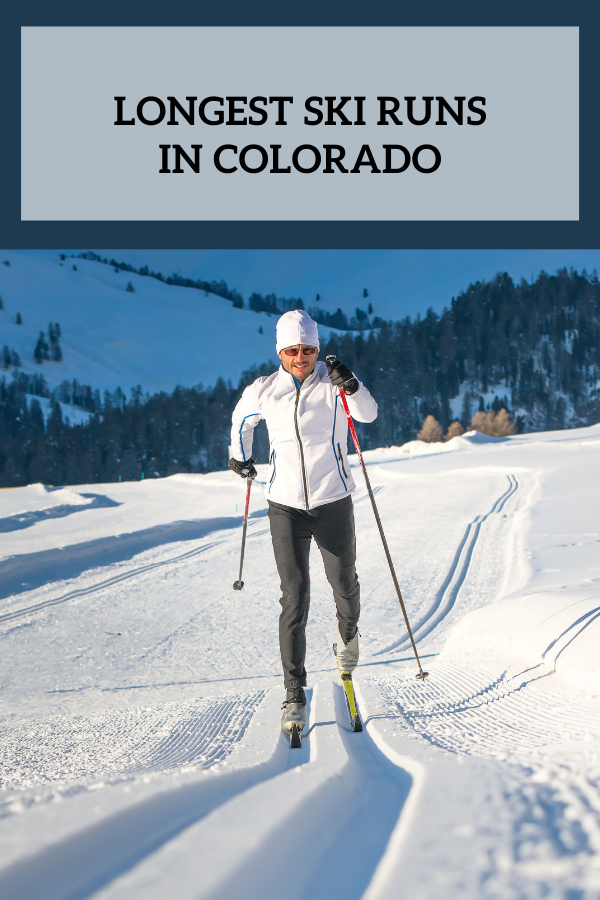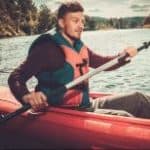 Author: Peter Salisbury
Pete is the Owner of KayakHelp.com. Born and raised in Cleveland, Ohio, he grew up kayaking, fishing, sailing, and partaking in outdoor adventures around the Great Lakes. When he's not out on the water, you can find him skiing in the mountains, reading his favorite books, and spending time with his family.