The most expensive fishing boats are on a whole new level when compared to the most expensive bass boats or the most expensive ski boats. Some of these boats cost as much, if not more than, a lakefront villa in a place like Lake Tahoe.
If you have the means to obtain one, however, you will truly be fishing in the lap of luxury. Because of their larger size, most of these fishing boats are meant for offshore fishing, but they may also fit in some Intracoastal waterways or protected coastal bays.
Prepare to envision warm days on the deck of these extravagant boats while we review the 10 most expensive fishing boats we could find. Even if you aren't ready to buy one right now, who says you can't dream, right?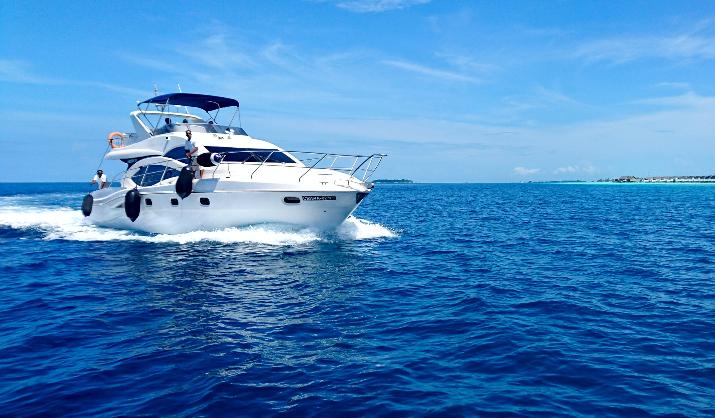 Photo by Alina Kacharho via Unsplash
Most Expensive Fishing Boats
HCB Center Console Yachts Suenos
HCB Center Console Yachts Speciale
HCB Center Console Yachts Estrella
HCB Center Console Yachts Lujo
Boston Whaler 420 Outrage
Scout Boats 530 LXF
Bayliss Boatworks 90' Reel Wheels II
Bertram Yachts 61 Convertible
Hatteras Yachts M90 Panacera
Gamefisherman 46' Walkaround
Most Expensive Fishing Boats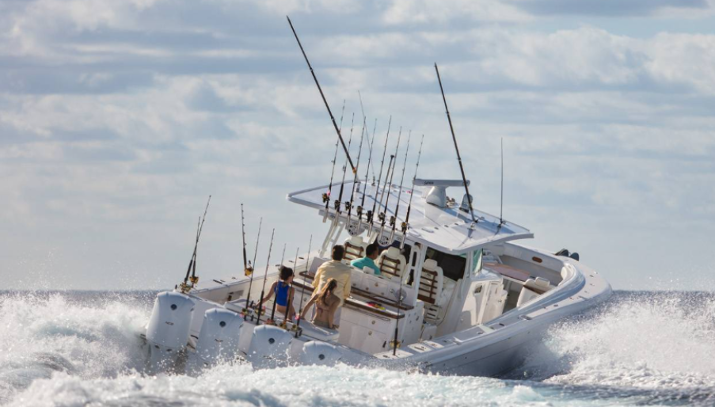 PC HCB Center Console Yachts
Fishing Boat Specifications
Length: 52'11"
Beam: 13'
Weight: 31,500 pounds
Horsepower Rating: No Maximum
Fuel Capacity: 1,000 standard
Livewell Capacity: Two at 60 gallons each
Draft with Engines Up: 32"
Draft with Engines Down: 44"
The Suenos yacht is truly a thing of dreams. It is a center console yacht with plenty of horsepower and a dual-purpose bow that can either accommodate passengers or active anglers.
The bow can either be set up as a large lounge pad for sun tanning or it can be set up with a forward-facing lounger or wrap-around bow seats and a table. All of the seat cushions can also be removed to create a more open fishing platform at the front of this fishing boat.
It also holds 60 gallons of fresh water for long days on the water, which is in addition to the two larger livewells onboard. Speaking of long days, this fishing yacht is also set up for overnight adventures with its luxurious protected cabin.
The cabin is equipped with a queen-sized berth, a full galley kitchen, a separate shower and head compartment, and plenty of storage for sleeping gear, clothing, and other accessories.
Whether you need to escape the wind on a chilly afternoon or relax in an air-conditioned space for a few hours on a hot and humid day, the cabin has you covered for multi-day outings.
At the helm, the captain will love all of the tools at his or her disposal to aid in staying aware of the surroundings on the water. The helm is modeled after today's most technologically advanced automobiles, which helps to ease your learning curve.
The helm also helps the captain stay aware of the status of the engines and all onboard systems. It features charts and navigation, a generator made by Sea KeeperⓇ, and a boisterous stereo system.
At the stern, you will find four Yamaha 350 engines that provide plenty of horsepower to move this longer fishing boat. In spite of its length, the Suenos fishing yacht still only requires a bridge clearance of just 11 feet, which allows you to handle more inland waterways with greater ease.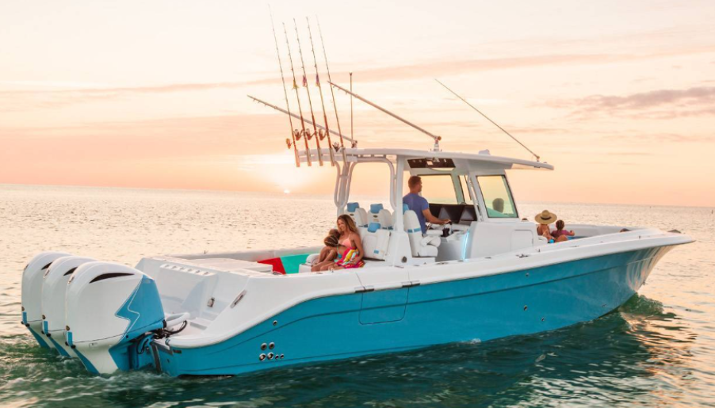 PC HCB Center Console Yachts
Fishing Boat Specifications
Length: 38'11"
Beam: 11'6"
Weight: 19,000 pounds
Horsepower Rating: 1400 Maximum
Fuel Capacity: 525 gallons
Livewell Capacity: Two at 40 gallons each
Draft with Engines Up: 24"
Draft with Engines Down: 40"
Although the Speciale from HCB Center Console Yachts is one of the smaller fishing yachts on our list, it is far from one of the worst pontoon boats to avoid. It is a super family-friendly option and is also considerably lighter than HCB's other models.
It still features many luxury amenities that both serious and amateur anglers will love. That starts with a rear-facing lounge that can be adapted into a tackle station at a moment's notice and allows this fishing yacht to work for serious or casual days on the water.
Just like the Suenos fishing boat, the bow can either be set up for fishing or lounging. All of the seat cushions are removable, you can lay flat for a large lounge pad, or you can set up the table for cocktail hour.
At the helm, the captain will enjoy a panoramic view that makes it both stunning and safer to operate this fishing yacht. Three comfortable seats at the helm also allow for multiple co-captains to enjoy the view or scout fishing spots.
Like all of the models from HCB Yachts, the helm station has an automotive feel with a clean finish and non-glaring glass that is essential on super sunny days. Down below, the cabin offers a large berth towards the bow, a full walk-in head, and ample storage space for personal effects or safety equipment.
The Speciale also only requires 10 feet of bridge clearance in coastal waterways and contains a 47-gallon freshwater tank onboard. It is equipped with three Yamaha 350 engines to provide ample horsepower as well.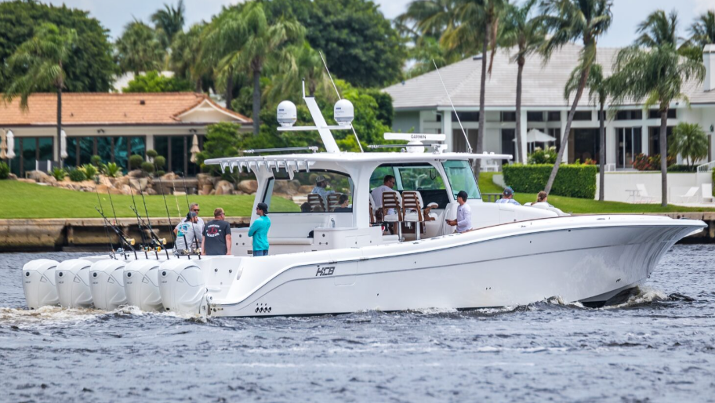 PC HCB Center Console Yachts
Fishing Boat Specifications
Length: 65'
Beam: 16'
Weight: 65,000 pounds
Horsepower Rating: No Maximum
Fuel Capacity: 1,500 gallons
Livewell Capacity: Two at 80 gallons each
Draft with Engines Up: 36"
Draft with Engines Down: 48"
The Estrella is the largest fishing boat that HCB Center Console Yachts currently makes for public sale. It is a monster yacht made for multi-day fishing excursions or hosting luxurious gatherings with your family and friends.
It is actually the world's largest center console yacht, but some folks are calling it the "first-ever Mega Center Console Yacht™" instead. With a 1,500-gallon fuel capacity and a 120-gallon freshwater tank onboard, you can stay out for days at a time.
The Estrella can either be powered by five Yamaha 425 engines or six Mercury 450 outboard engines and has no maximum horsepower rating. These engine configurations have led HCB to claim that this lengthy yacht is "easier to control than competitor's twenty-five-foot models."
Because of its massive size, this is one of the only fishing boats out there with a fully enclosed, walk-in machine room. This keeps all of your essential equipment easy to work on and out of the elements when you need to do so.
At the helm, a total of five comfy chairs means you can argue with multiple backseat drivers, but it also means you have more eyes when spotting fish or weather patterns in the distance. Just like the other HCB Yachts, it boasts a technologically advanced but easy-to-use control station at the helm for system monitoring, navigation, and more.
From the five helm seats, you will enjoy a beautiful view over the bow as well as in all directions. With a total of three Garmin screens set in front of the seats, nobody will have to crane to see contours or navigation information.
The helm also converts to a 10-person dining area with a five-person sleigh seat opposite the five separate helm seats. This creates a beautiful open-air dining space while still offering the protection of the hardtop.
Inside, it offers the largest cabin of any center console fishing yacht, which has enough seating space for up to five people. The sleeping areas are separated into a large stateroom and a convertible settee, while there is also a spacious bathroom with a separate walk-in shower.
The aft section of this boat is where all the fishing action will happen because it is designed with a mezzanine-style seating area with nearly limitless configurations. The bow, on the other hand, is designed with a European-style seating area and lounge that is best for tanning on hot summer days.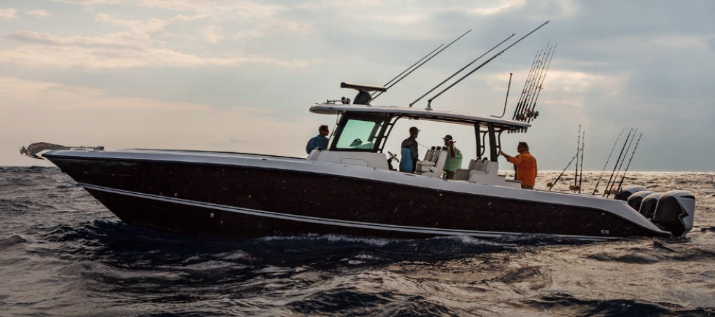 PC HCB Center Console Yachts
Fishing Boat Specifications
Length: 41'7"
Beam: 12'2"
Weight: 24,000 pounds
Horsepower Rating: No Maximum
Fuel Capacity: 614 gallons with extra 130-gallon option available
Livewell Capacity: Two at 45 gallons each
Draft with Engines Up: 24"
Draft with Engines Down: 34"
The Lujo is arguably the most versatile vessel that HCB Yachts designs and manufactures. It works for cruising, provides plenty of features for serious anglers, and is also used frequently for scuba diving adventures.
It has been one of their most trusted fishing boats for years, but it has recently undergone a few new innovations. For starters, the improved hull design now provides a softer ride while also improving the boat's performance in choppy waves.
In addition, you now have the option of adding the additional fuel capacity so that you can go further and fish longer with the Lujo at your fingertips. Speaking of fingertips, the helm station has also been redesigned to include the same plush, comfortable seats found in the Suenos and other models.
In terms of horsepower, this expensive fishing yacht can either be equipped with four Mercury 450 engines or four Yamaha 425 engines, but there is no maximum horsepower rating for this vessel.
The Lujo is the only quad-powered fishing yacht in its class and it also boasts a redesigned cabin that is the largest ever in the 42' category. The cabin includes a galley, an enclosed head and shower, solid wood cabinetry, a refrigerator, plenty of seating, and an abundance of storage space.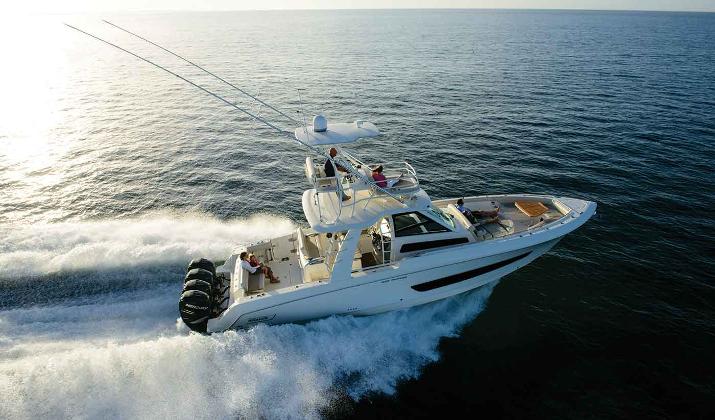 PC Boston Whaler
Fishing Boat Specifications
Length: 42'6"
Beam: 13'
Weight: 29,500 pounds
Horsepower Rating: 1,800 Maximum
Livewell Capacity: 40 gallons
Draft: 31"
Transom Height: 30"
The Boston Whaler 420 Outrage is their flagship fishing boat and their revised Anniversary Edition includes new features that all serious and amateur anglers will enjoy. This fishing boat offers one of the most expansive bow areas you will find and there is plenty of seating for your family gatherings or larger fishing trips.
The deck features five transom-mounted rod holders and three more under the gunnel. Anglers will also be able to take advantage of 14 drink holders spread throughout the deck and cockpit so that your hydrating beverage is always close by.
The helm boasts a large area for mounting all of your electronic accessories and it can accommodate up to three separate displays measuring 15 inches each. There is also a comfortable footrest molded right into the console that flips down into a standing platform as needed.
Inside the cabin, this fishing boat boasts a 12,000-BTU air conditioning unit, a 28-inch flat-screen HDTV, 12-volt USB charging ports on the port and starboard sides, and digital vessel control that helps you monitor systems and control DC circuits.
Also, the cabin features a convertible pull-out settee and a convertible double berth that comes with a filler cushion, a fitted sheet, a comforter, and two regular-sized pillowcases (pillows not included).
In the galley, you will be able to reheat quick meals in the microwave, store up to 1.7-cubic feet of perishable goods in the combination refrigerator/freezer, and store all of your dishes in the pull-out drawer below the sink or the cabinet above.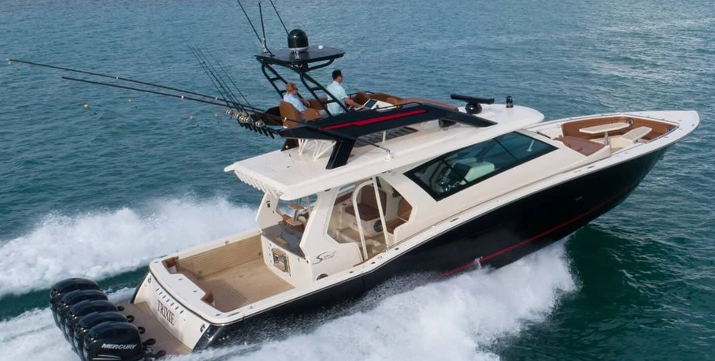 PC Scout Boats
Fishing Boat Specifications
Length: 53'5"
Beam: 14'3"
Weight: 31,500 pounds
Horsepower Rating: 2,250 Maximum
Livewell Capacity: Two at 30 gallons each
Draft: 31"
The 530 LXF fishing yacht from Scout Boats is their flagship design and it has recently been reinvented to include a flybridge superstructure. It is also unique in that it is manufactured with carbon epoxy construction, which is on the leading edge in terms of fishing boat innovation and performance.
The major advantage of carbon epoxy construction is the lightweight nature of this material. While your average fishing boat will typically weigh about 4.2 pounds per square foot, Scout's most revolutionary designs weigh roughly 1.7 pounds per square foot.
As you might imagine, this allows Scout Boats to construct larger boats without them being weighty behemoths. It also makes their boats up to five times stiffer than most traditional expensive fishing boats.
When you are anchored, the 530 LXF is integrated with a Sea Keeper Gyro Stabilization System designed to be used when you leave the helm. Flipping it up will make your boat feel like you are walking around on solid ground instead of rocking with the waves of the open ocean.
For longer trips, you will enjoy the 875-gallon fuel tank, 100-gallon freshwater tank, and 40-gallon grey and black water tanks. Multiple five or four-engine configurations are also available for this fishing boat.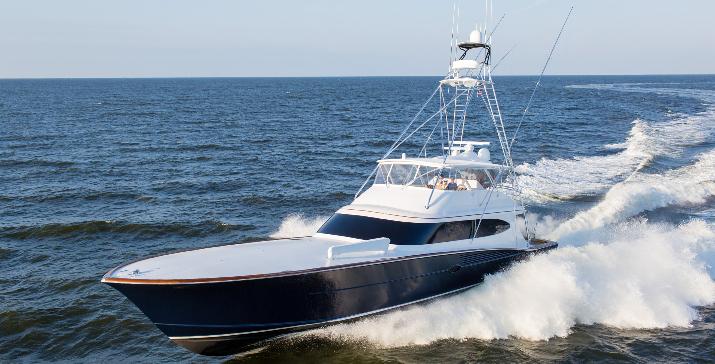 PC Bayliss Boatworks
Fishing Boat Specifications
Length: 90'
Beam: 22'6"
Weight: 31,500 pounds
Horsepower Rating: Twin Engines at 2,600 HP each
Holding Tank Capacity: 300 gallons
Draft: 5'10"
Everything about the Reel Wheels II was designed for fishing and diving first and foremost, but a 90-foot boat also has plenty of room for lounging, sleeping, and other activities. This is a multi-family fishing boat made for long-distance trips.
It boasts five staterooms and six heads while offering a 4,000-gallon fuel capacity and a 500-gallon freshwater capacity. Two Northern Lights generators rated at 38 kilowatts each also supply plenty of onboard power for lengthy outings.
At the helm, the center console includes three comfortable chairs as well as wraparound forward seating. Do your best to find the hidden Pullman bunks on this fishing boat, but you will have a hard time missing the beautiful teak and marble finish work throughout.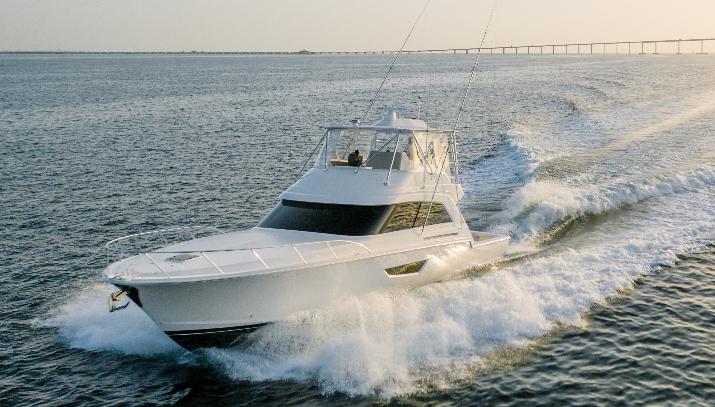 PC Bertram Yachts
Fishing Boat Specifications
Length: 61'1"
Beam: 18'3"
Weight: 88,000 pounds
Horsepower Rating: Twin Engines at 1,925 HP each
Holding Tank Capacity: 103 gallons
Draft: 5'
The 61 Convertible fishing boat from Bertram Yachts is all about providing you with ample comfort for offshore fishing. This boat is at home in open water and is also well-equipped for all of your sportfishing needs.
Starting with your private quarters, the stateroom in this fishing boat stretches the full width of the boat and provides a roomy berth to help you get your rest after a full day at the helm or the fishing deck.
In the salon, there is plenty of room to host company, but it might be hard to keep everyone focused on the topic of conversation with 360-degree windows that provide stunning views in every direction.
The helm has plenty of room for a co-captain (or two) to help with navigation, weather spotting, or just enjoying the views. The rear deck is where your fishing action will take place, and there's a comfortable lounge for anyone who wants to watch or who just needs a break.
There are actually a couple of different arrangements available if you were to choose the 61 Convertible fishing boat from Bertram Yachts. You can either choose the arrangement with the standard queen stateroom or another option with a split-bunk stateroom if you need more separated sleeping quarters.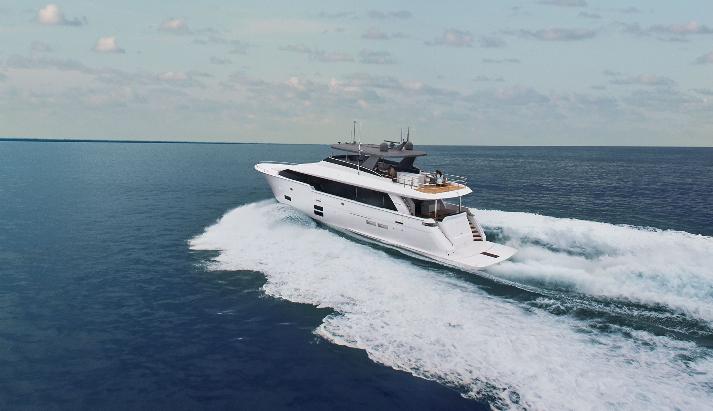 PC Hatteras Yachts
Fishing Boat Specifications
Length: 91'9"
Beam: 22'6"
Weight: 230,000 pounds
Horsepower Rating: Twin Engines at 1,622 HP each
Holding Tank Capacity: 420 gallons
Draft: 6'2"
Just when you thought a 90-foot fishing boat was mind-blowing, the folks at Hatteras Yachts had to go and upstage Bayliss Boatworks by a full one-foot, nine inches. The M90 Panacera is one of the largest and most expensive fishing boats you will find in the world.
The 22'6" beam on this fishing boat allows it to include four interior staterooms, a modular bar on the aft deck, a sweeping staircase leading to the bridge, and plenty of lounge space on the bow and side decks.
The M90 can hold up to 820 gallons of fresh water in addition to its 420-gallon waste holding capacity, which makes it ideal for extended fishing pursuits. It can also hold a maximum of 3,285 gallons of fuel to get you from destination to destination.
There are twin diesel generators on board with a maximum rating of 40 kilowatts each to supply all of your power needs. This is a luxury fishing boat at its finest, with plenty of room for lounging, fishing off the upper deck, or casting from the rear swim platform.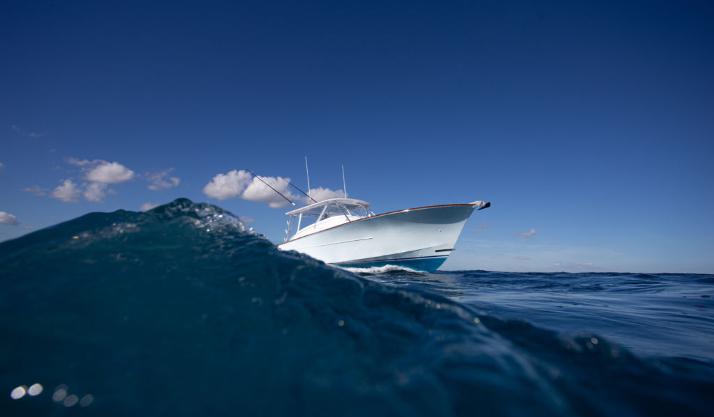 PC Gamefisherman
Fishing Boat Specifications
Length: 46'
Beam: 15'9"
Weight: 35,000 pounds
Horsepower Rating: 2,000 Maximum (with multiple power options)
Freshwater Capacity: 90 gallons
Draft with Engines Up: 38"
Gamefisherman is definitely not one of the worst boat brands to avoid (otherwise we wouldn't have included the 46' Walkaround!). They offer several different fishing boat designs, but the Walkaround is their newest addition.
The 46-foot Walkaround isn't Gamefisherman's largest model, but it still boasts a 600-gallon fuel capacity for long-range trips. It also provides the user with three separate options in terms of your optimal engine configuration.
This fishing yacht can either be equipped with twin Cummins QSM11 engines at 715 horsepower each, twin Volvo D12 engines at 725 horsepower each, twin MAN I-6 engines at 800 horsepower each, or twin Volvo D13 engines at 1,000 horsepower each.
Final Thoughts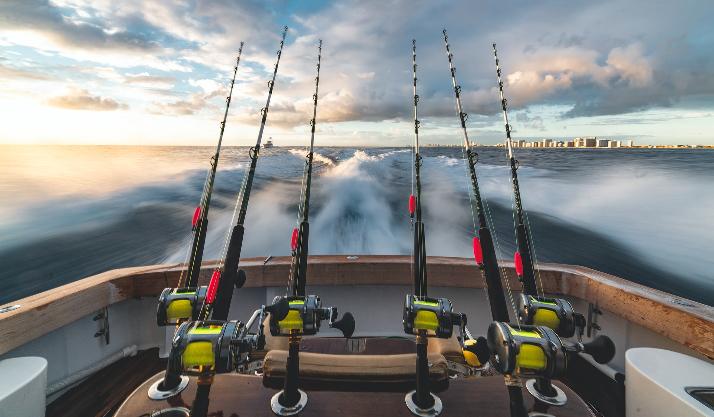 Photo by Stephen Momot via Unsplash
If you would love one of the most expensive fishing boats but aren't quite ready to make the jump, we recommend checking out your options from the best water skiing boat brands. While these brands specialize in ski boats, some of them offer fishing-specific models as well.
As always, we hope that you have enjoyed this collection of fishing boats and have a better idea of what fishing luxury looks like after perusing it. We wish you the best of luck on all of your upcoming boating and fishing adventures!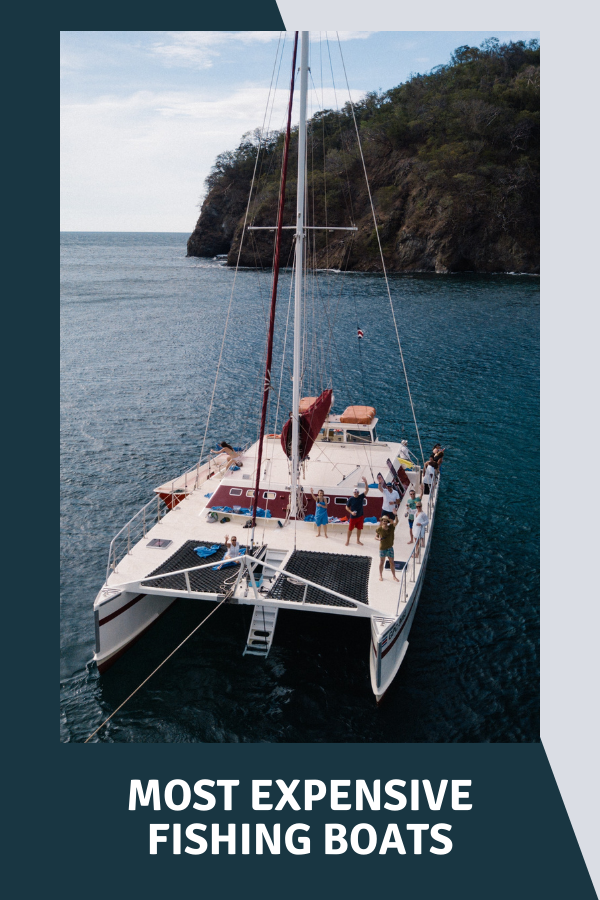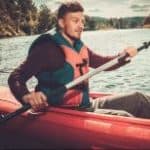 Author: Peter Salisbury
Pete is the Owner of KayakHelp.com. Born and raised in Cleveland, Ohio, he grew up kayaking, fishing, sailing, and partaking in outdoor adventures around the Great Lakes. When he's not out on the water, you can find him skiing in the mountains, reading his favorite books, and spending time with his family.