Ski boots are not known for being cheap items of footwear. But the sky's the limit when you have an unlimited budget. The thing is, you need to look closely at the features high-end ski boots have before you buy.
Some of the most expensive ski boots are priced based on the engineering and features the manufacturer has put into them. In comparison, others base their prices on how the ski boots look or if they have collaborated with a luxury brand as a marketing gimmick.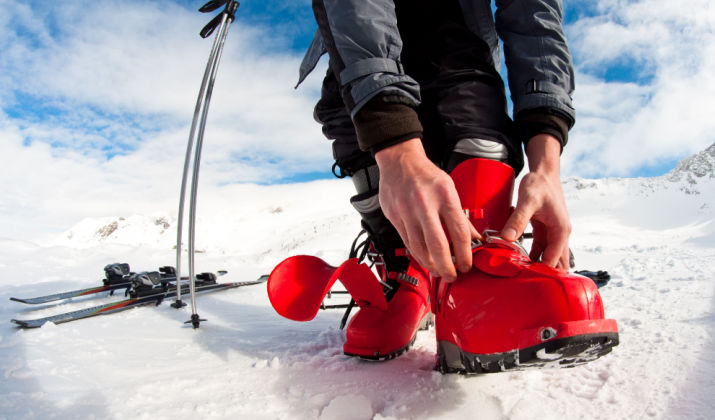 Image Source: Shutterstock
In this article, we will highlight some of the most expensive ski boots you can buy and give you some tips on buying ski boots.
Most Expensive Ski Boots
Check Price on Amazon
The Rossignol Alltrack Elite 120 W is a women's all-mountain freeride ski boot. It is ideal for short excursions into the backcountry and day-long sessions on the resort's groomers.
It uses a traditional Dual Core polyether shell that gives you a well-damped but snappy feel, giving you plenty of control of the ski. This ski boot also has a Dual Core polyolefin cuff to reduce weight.
Women who ski with the Rossignol Alltrack Elite 120W ski boots like that they are compatible with tech bindings. They are also easy to walk in as they have GripWalk soles, ideal for hikes into the backcountry.
The fit of the Alltrack Elite 120 W is quite wide for its width category and has a slightly longer toebox. This makes them quite roomy, which is welcome when you're hiking or touring in search of fresh lines.
If you have high arches, these boots are a good option. This is thanks to the rounded shape over the top of your feet and extra space in the instep.
Like other Rossignol ski boots, the Alltrack Elite 120 W has well-contoured ankle pockets. This feature strikes a great balance between comfort and performance. But if you have particularly narrow feet, they may be too roomy for you at the heel.
The Rossignol Alltrack Elite 120 W are great alpine ski boots. However, if you're an advanced skier or a little heavier than average, you may feel the flex rating of 120 is a little softer than expected. Still, they give you a progressive flex and just enough cushioning for the shins.
These women's ski boots offer lots of stability and control, so you can hold an edge at high speed. That said, they are best suited to hard chargers spending most of their day on groomed slopes.
Check Price on Amazon
The Dalbello Lupo Factory Alpine Touring Ski Boot is a feature-rich ski boot designed for skiers looking for the best freeride lines under their own steam.
It has a wide range of technological features, including the Intuition-built I.D. Max Hike liner, which allows you to unlock the power and potential of this incredible ski boot.
This ski boot is for advanced skiers who are serious about their mountain time. This is because you don't just slip into it, secure the buckles and go. Getting into the Dalbello Lupo Factory Alpine Touring Ski Boot takes quite a bit of effort.
First, you slip on the Intuition-built I.D. Max Hike liner and lace it up. Then you put your foot with the liner into the three-piece shell, taking care not to let the buckles and straps interfere with it.
Once you have the boot on your foot, you'll notice that it has quite a narrow fit with lots of room around the toes. But you will have to wear them for a while before the liner molds to your feet in order to get the most out of them.
If you have chunky calves and wide feet, you'd be better off looking for an alternative pair of ski boots. These are best suited to narrow feet and slim legs.
The Dalbello Lupo Factory Alpine Touring Ski Boot has a flex rating of 130, so they are pretty stiff. This, combined with the high cuff, makes them better for aggressive skiers with a lot of height and power behind them.
When it comes to performance, the carbon upper cuff and lightweight Grilamid shell ensure that your inputs are transmitted to the snow with precision.
These ski boots have a removable external tongue to make skinning into the backcountry more comfortable. This means you need to carry the tongue in your backpack ready for your descent.
They also have rockered GripWalk soles, so you should have plenty of grip when hiking in the snow with your skis over your shoulder. You'll also like the waterproof gusset that keeps the snow out while you are touring with the tongue removed.
Check Price on Amazon
The Tecnica Zero G Tour Pro is a men's backcountry, and lightweight freeride ski boot. It is also a very effective ski touring boot thanks to the lightweight Grilamid plastic lower outer shell and hybrid cuff.
Inside the Tecnica Zero G Tour Pro, you'll find a laced liner, but don't let this fool you. It doesn't compromise performance at all. Therefore, it's an excellent choice for someone who wants to hit the backcountry, ski groomers, and tour the best powder spots.
These ski boots have a narrow to medium fit, thanks to their 99mm last. Therefore, most people can expect a glove-like fit, as the liners perfectly wrap around the curves of your feet.
You'll notice that the liners have a soft feel when you initially slide your feet in, but they are firm enough to keep your feet secure. This is a refreshing change, as some thermal liners can feel too spongy.
The Tecnica Zero G Tour Pro ski boots do what the manufacturers say they will. You can ski powder, cope with crud, and carve up groomed slopes.
They work well with narrow and fat skis, so you can use them with pretty much any skis in your quiver. They also work great when skinning, thanks to the range of motion.
Check Price on Amazon
The Rossignol Hi-Speed 130 HV GW is a high-end all-mountain ski boot with a wide fit. It strikes an excellent balance between performance and comfort, making it one of the best wide ski boots you can buy.
Rossignol has developed the Hi-Speed to be lighter and more reactive than previous versions. You can also buy it in three different widths to suit your foot size.
As this boot is in the wide category, you can expect more room when you compare it to the medium version. But Rossignol has taken care to not make it so wide that you lose all control.
The shell works well with the liner to hold your heel in place while supporting your leg below the calf for excellent control. This means that your inputs are translated into the ski very well.
The Rossignol Hi-Speed 130 HV GW sets itself apart from other 130 flex wide ski boots. Other models don't cope as well with power and stability or feel as quick as the Hi-Speed. Therefore, you get excellent edge control and precision turning.
On top of all this, the Rossignol Hi-Speed 130 HV GW is easy to get on and adjust. You can fine-tune the lateral movement in the cuffs, the forward lean, and the flex.
Check Price on Amazon
The K2 Dispatch Pro looks super cool, but you will also be impressed with the way this ski boot fits around your foot. K2 has used an anatomical fit map to suit the average foot and lower leg.
As part of the design update, K2 has given the Dispatch Pro a hardened shell that improves the transmission and precision of your inputs. This gives you a more responsive experience while enhancing the boot's hike mode.
The only thing you may not like about the K2 Dispatch Pro is the Boa Tourfit liner. Some people find it a little restrictive while getting in and out of the boot.
Even with the tricky entry and exit, the K2 Dispatch Pro are excellent touring and backcountry ski boots. They have a tall cuff and progressive flex, providing good leverage in all directions.
The shell and cuff are made from Pebax, which gives the boots a sharp but damp feel when you tip your skis onto an edge. You'll also like how easy the hike mode is to engage and disengage. But it also gives you an excellent range of motion when you are hiking uphill.
Tips For Buying Ski Boots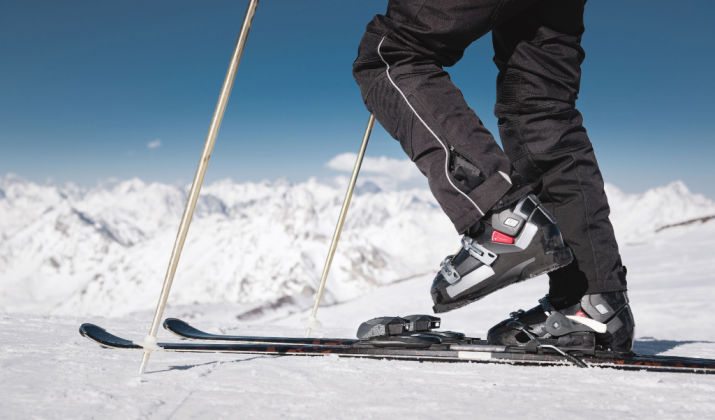 Image Source: Shutterstock
There are many different ski boots on the market, so how do you choose the right pair? In this section, we'll give you essential tips for buying ski boots at any price.
1. Ensure Your Ski Boots Fit Correctly
Most ski boots are sized using the Mondopoint sizing method. Mondopoint sizing is an international standard indicating the length and width of the ski boot in millimeters or centimeters.
Ski boot brands are consistent with their mondopoint sizing throughout their various models. However, the mondopoint sizes differ slightly between brands, so you must cross-reference your foot measurements with the ski boot manufacturer's sizing chart.
The other measurement you need to know about is the ski boot's "last." The last is the ski boot's internal width at its widest part, where the ball of your foot will go.
The last is also known as the foot bed width and is usually between 97 and 106 mm. You need to choose a ski boot with a last that suits your foot width, without it being too tight or too loose.
If performance and responsiveness are at the top of your priority list, you should choose a ski boot with a last that is a little tighter. However, this may affect how comfortable your ski boots are after wearing them for some time.
2. Know Your Ski Boot Liners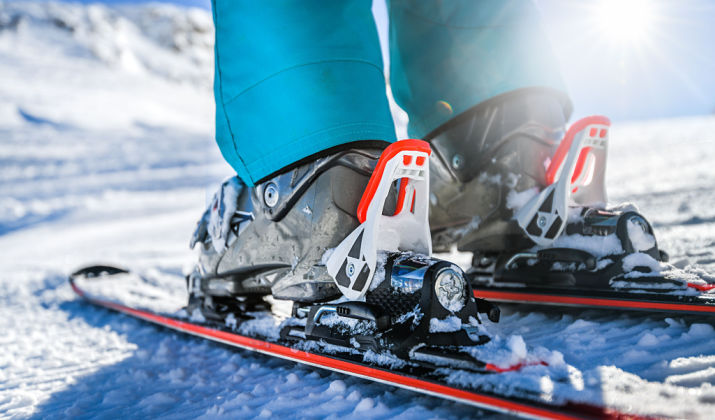 Image Source: Shutterstock
All ski boots come with an internal liner. Most of the time, liners are made from a heat-moldable material. But the most expensive ski boots have liners that are more moldable, so they form to the shape of your feet better.
Some ski boot liners have extra insulation around the toes for added warmth. Which is welcome on freezing cold days., especially if you have poor circulation.
Here are the main types of ski boot liners you should know about:
Non-moldable
These ski boot liners are less malleable and offer a reasonable amount of stability and padding. With continued use over time, the pressure from your body weight and your movement will cause the liner to slightly form your foot shape.
Thermoformable
These liners use the heat emitting from your feet to give you a custom fit. You'll notice an improvement in comfort and control after a couple of days of skiing.
Custom moldable
You'll get custom moldable liners in expensive ski boots. These give you a custom fit by using artificial heat while you stand in the boots.
Custom moldable liners are the best option for the ultimate in all-day comfort and control. You can mold your liners at home; however, it would be best if you visited a ski boot-fitting specialist to do it properly.
3. Know Your Ski Boots Will Pack-out
Over time, the foam liner will become compressed. This means that when you first try a new pair of ski boots on, they will feel tighter compared to a few weeks down the line.
This is something you should consider, as you're buying ski boots that will feel comfortable on the mountain, not in the shop. Therefore, the boots should feel a little too snug but not so tight that you lose feeling in your toes or get pins and needles.
Like all footwear, it will take some time for your new ski boots to break in. So, expect an element of discomfort or tightness in the early days.
4. Buy Boots Suitable For Your Ability And Skiing Style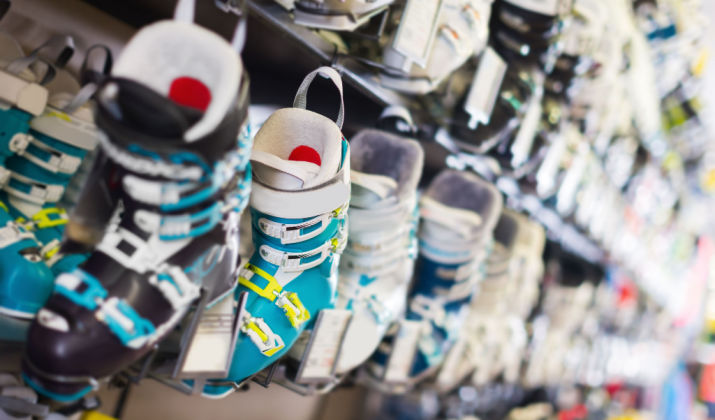 Image Source: Shutterstock
You'll notice that in the examples of ski boots above, we mention the boots' flex ratings. This is a ski boot characteristic that's extremely important to consider before you buy.
One of the things you need to realize with flex ratings is that it is a little subjective. For example, you may have two pairs of ski boots from different brands with the same flex rating, but one will be stiffer than the other.
With this in mind, buying ski boots in a shop is more advantageous than buying them online. If you buy online, you need to ensure that there are detailed reviews that you can trust, especially when you buy expensive ones.
If you're unsure about flex ratings, it's best to try on several pairs of ski boots in a shop. This gives you a chance to determine what suits your feet.
The stiffness of ski boots is rated using numbers on the flex index. Ski boots with high numbers are stiffer, while low numbers indicate softer ski boots.
How stiff your ski boots are depends on your skiing style and ability. Here's a guide to help you determine the best flex rating for your ability:
Soft flex
Soft ski boots usually have a rating of 85 and under for men and 75 and under for women. Ski boots at this flex rating are very comfortable and are great for beginner skiers. They are also suitable for experienced skiers who want comfort and don't ski challenging terrain.
The problem with soft ski boots is that they reduce the amount of control you have over your skis. So if you plan to progress quickly, it's best to choose ski boots with a slightly higher flex rating so you can use them for longer.
Medium Flex
The medium range goes from around 90 to 110 for men and 80 to 95 for women. If you're an intermediate skier, you'll like this mid-level of flex, as the boots will be responsive and more stable at higher speeds while still being comfortable.
Medium flex ski boots are suitable for those comfortable with skiing blue runs and black runs that aren't too challenging. They will help you progress onto steeper slopes and skiing powder.
Stiff flex
Men's ski boots with a flex rating over 115 are considered to be stiff, and the rating for women's stiff ski boots is above 100. These ski boots are incredibly responsive and best suited to experienced skiers who like to aggressively ski steep and challenging terrain.
Stiff ski boots are the most expensive ski boots due to the environment they are used in. They also have additional features, such as shock absorption. The materials have different densities around the boot to promote efficient energy transfer.
Super-stiff ski boots, like the ones used for racing, are incredibly uncomfortable. This is because the extra rigidity needed for precision and responsiveness is unsuitable for everyday use.
Stand up and lean forward to check the flex rating of ski boots in the shop. This will give you a good idea of how stiff they are, but be aware that softer boots will feel more flexible in the warmth than on the snowy mountain.
5. Look For Features That Are Valuable To You
Image Source: Shutterstock
Modern ski boots are packed with features that raise their prices. There's no point in spending the extra money on features you'll never use.
For example, if you never intend to tour into the backcountry, don't spend the extra on touring boots. Instead, put your money into extra comfort or features that will make your ski boots easier to live with.
A great feature that you should look into is "walk mode." Walk mode is designed to make hiking for powder easier; however, it is also great when you're simply walking to and from the lifts or hanging around the après bars. Don't forget to go back to ski mode when it's time to ski.
Another feature you may want your ski boots to have is "flex adjustment." Some higher-end ski boots have a switch that allows you to tweak their stiffness.
Flex adjustment means you can make your boots more suitable for what you're doing. For example, you can make the boots stiffer if you want to ski aggressively or go freeriding. Alternatively, you can soften them up for more casual skiing.
6. Don't Buy Ski Boots Based On Looks Or Marketing Gimmicks
When looking at a shop wall covered in ski boots, your eyes are drawn to the coolest-looking ones. The problem with this is that they may not be suitable for you.
It can be hard, but you need to forget how good the ski boots look and prioritize the fit, flex, and features over aesthetics. This becomes more challenging when the manufacturer has teamed up with another brand.
Ski boots that are the product of brand collaborations are generally more expensive. That doesn't mean they are no good, but you could be paying extra just because the boot has a Ferrari badge on the side.
7. Visit A Professional Boot Fitter
Image Source: Shutterstock
We briefly mentioned boot fitters earlier, but these guys are your best bet for finding the ideal pair of ski boots. They will take your ability, skiing style, foot shape, and foot size into account and select the best ski boots for you.
The best ski boot fitters won't usually need to do anything other than heat-mold the liners for you. This is because they have knowledge of what boots are suitable for you.
If the boots could be better for you, a boot fitter will make adjustments to the liners to fine-tune the fit. They will also advise you on how to get the most out of them.
Final Thoughts
You get what you pay for, but there are a few things that hike the price of ski boots up unnecessarily.
There's no point buying the most expensive ski boots if they don't fit you properly, give you the control you need, or are uncomfortable.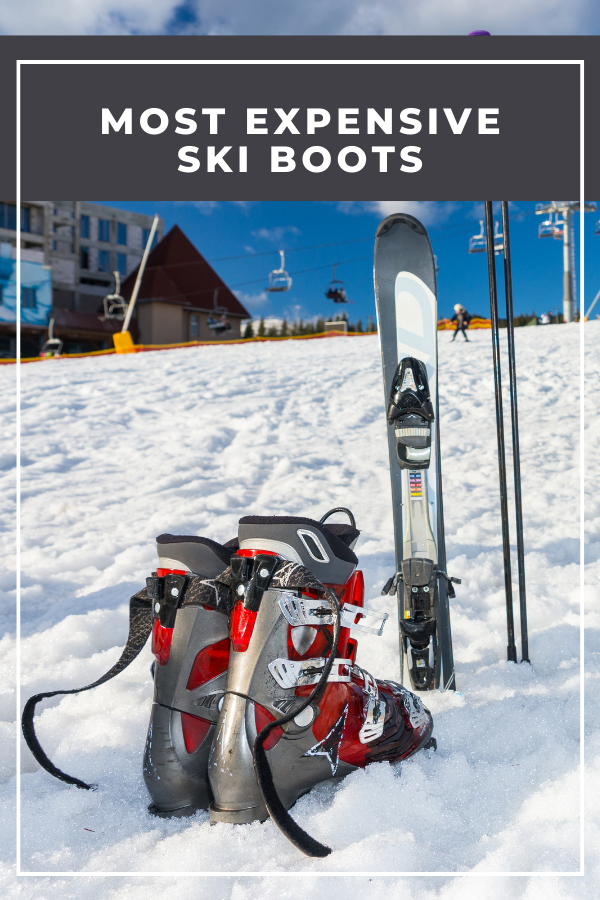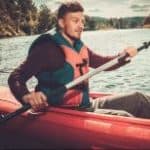 Author: Peter Salisbury
Pete is the Owner of KayakHelp.com. Born and raised in Cleveland, Ohio, he grew up kayaking, fishing, sailing, and partaking in outdoor adventures around the Great Lakes. When he's not out on the water, you can find him skiing in the mountains, reading his favorite books, and spending time with his family.