Pelican Sport is widely known for its lightweight, durable kayak models.
Their patented kayak molding process allows them to construct some of the only kayaks on the market that can be bent back into place if they become dented.
But there are many different Pelican kayak models to choose from if you're just starting out.
That's why this Pelican Mustang 100X kayak review is going to focus on one of their beginner-friendly kayak fishing kayaks.
We'll begin by providing a brief overview of this kayak before we dive deeper into its features and specifications.
We'll also provide a suggestion for who this particular kayak might be best for before providing a few Pelican alternatives that you might also consider!
Pelican Mustang 100X Kayak Review Overview

The Pelican Mustang 100X is a sit-inside kayak designed for a single paddler.
It is made primarily for kayak fishing on lakes, ponds, and slow-moving rivers, but it's also a reasonable choice for recreational paddling on these same types of waterways.
This kayak is available in four different color schemes and features a combination hull that offers a great balance of primary and secondary stability.
It also tracks quite well if you need to cover some distance in this kayak.
The Pelican Difference

All of Pelican's kayaks are made with a proprietary material that is exclusive to Pelican products.
It is a multi-layered polyethylene material that provides excellent impact resistance and is renowned for its ability to regain its original shape after violent impacts.
In fact, some of Pelican's quality control tests involve hitting the side of their kayaks with a large hammer and running them over with an F-150 (see the video below).
Not many other manufacturers put their kayaks through these kinds of tests before going to market.
Check out this video for a more complete explanation of how Pelican's proprietary material is made!
Pelican Mustang 100X Kayak Specifications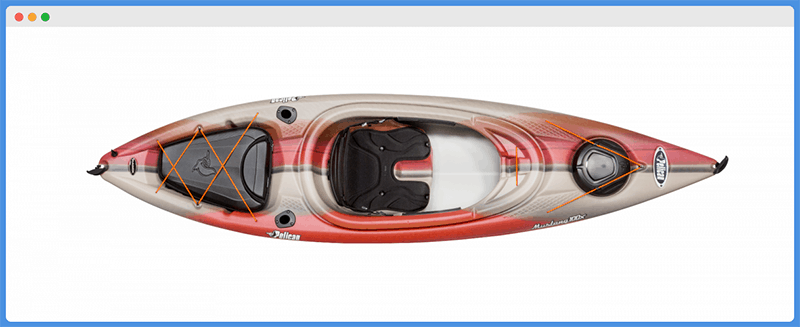 Length: 10 feet (305 cm)
Width: 29 inches (74 cm)
Height: 14 inches (35.6 cm)
Weight: 39 pounds (18 kg)
Weight Capacity: 300 pounds (136 kg)
Cockpit Width: 25 inches (63.5 cm)
Cockpit Length: 47 inches (119 cm)
Seating Capacity: 1
Pelican Mustang 100X Kayak Features Explained
In this section, we're going to dive into all of the excellent features of the Pelican Mustang 100X kayak.
We'll also explain how some of these features translate to the kayak's stability and performance on the water.
Twin-Arched Multi-Chine Hull

The above photo provides a brief summary of some of Pelican's most popular hull types.
The one we're most concerned with is pictured right in the middle and it's labeled as the twin-arched, multi-chine hull.
This hull style provides great stability whether the kayak is moving or standing still.
This balance of primary and secondary stability is one of the reasons why it's a great choice for beginner kayak anglers.
The multi-chine hull also tracks really well when you need to relocate your kayak.
Unlike a kayak with a flatter hull, you won't find that your paddle strokes are turning your kayak too far in one direction or the other, which constantly causes you to feel like you need to over-correct.
This hull design is specifically meant for beginners because it eases the learning curve.
It'll make it easier to achieve a rapid mastery of the kayak and get comfortable with the actions required of you to maneuver it.
It also provides great versatility as you gain more experience and master new kayaking skills.
This kayak would even be useful for a short overnight kayak camping trip once you feel comfortable with that kind of trip.
EXOPOD Removable Storage Compartment
The EXOPOD removable storage compartment in the stern of this kayak provides you with a versatile storage solution.
If you want to use the stern section of your kayak for dry storage, the removable pod is completely sealed.
If you want to remove the pod to use the stern tankwell for other kayak fishing gear, you'll retain that option.
Some examples of the kinds of gear you could replace the pod with include a kayak fishing crate, tackle box, or one of the best kayak cooler bags.
When you are using the pod, however, it offers a total of 17 liters of storage capacity for your dry goods or fishing supplies.
It also includes bungee rigging that crisscrosses the rear tankwell and allows you to attach other gear on top of the pod that you don't mind getting a little wet.
ERGOFORM™ Backrest

As you begin to spend longer and longer days out on the water, you'll probably begin to find that you like to adjust your seating position several times throughout the day.
Retaining your ability to make micro-adjustments to your position is critical for all the best kayak seats.
The bottom of the seat is also padded so that you're not sitting directly on hard plastic all day.
The benefit of the backrest on this kayak is that you can simply fold it down and it will stay out of the way when you're transporting it.
Flush Mount Fishing Rod Holders

Now to get to one of the fishing-specific features of this kayak.
It comes equipped with two flush-mounted rod holders that are located right behind the kayak seat.
These rod holders allow you to bring multiple rod and reel combinations on the water so that you can change your fishing style throughout the day.
They will save you time that you'd otherwise spend rigging up a heavier line or new tackle.
These rod holders are also slightly angled backward and out away from the gunwales of the kayak.
This angled position will allow you to keep two lines in the water for trolling purposes as you relocate your kayak to a new fishing hole.
Storage Hatch with Bungee Cord

In addition to the innovative design of the stern storage area, there's another small storage hatch at the bow of this kayak.
It's also secured with a latching hatch to provide dry storage for smaller gear items or day supplies.
This bow hatch is more easily accessible from the cockpit of the kayak, which makes it a better solution for storing items that you want access to while you're sitting in your kayak.
Plus, it includes its own section of bungee cord for securing kayaking sandals or other gear that can get wet while you're paddling.
Knee Pads

As you gain more kayaking experience, you'll learn that the most ergonomic and efficient kayak paddling position actually involves a slight knee bend.
But the problem with some sit-inside kayaks is that bending your knees causes them to rub uncomfortably against the underside of the cockpit.
This is especially a problem for taller paddlers that will need to bend their knees more to fit comfortably inside a smaller kayak.
But Pelican thought of your knee comfort by including knee pads in strategically positioned locations on the edges of the cockpit.
These pads will keep the tops of your knees or thighs from rubbing or banging directly against the polyethylene material the kayak is made from.
Ultimately, they will allow you to enjoy a much more comfortable paddling experience.
Molded-In Footrests
In conjunction with the backrest, padded seat, and knee pads, the molded-in footrests in the cockpit of this kayak are the final feature designed for your comfort while you're paddling this kayak.
These footrests offer multiple positions to accommodate paddlers of varying heights.
Many sit-inside kayaks feature adjustable foot braces that must be repositioned manually every time a new kayaker enters the cockpit.
But molded-in footrests will save you the time and hassle of having to reposition the adjustable foot braces.
You'll simply be able to find the position that works best for you and you'll be on your way.
The only downside to this style of footrest is that it may somewhat limit the number of people that can find a comfortable position when using this kayak, which is why we highlight it as being best for small and medium-sized paddlers.
Multiple Carrying Handles

The Mustang 100X features toggle-style carrying handles at the bow and stern of the kayak.
These handles will be useful when you're carrying this kayak on land with your paddle partner helping you out.
But they also allow you to drag the kayak (either from the bow or stern) over short distances on sandy beaches or other friendly surfaces.
If you need to carry this kayak as a single paddler, you can also use the edges of the cockpit to carry the kayak from a central position.
If you have an exceptionally long distance to carry your kayak in order to put it in the water (and you don't have a paddle partner or helpful bystander to lend a hand), we'd recommend getting a rolling kayak cart for safer and easier transportation.
Or you can learn how to build your own DIY PVC kayak cart!
Smartphone Holder

In today's world, almost all of us are walking around with waterproof smartphones in our pockets.
While we firmly believe that kayaking should sometimes be a way for you to disconnect from technology and connect with the natural world, we know you'll often want to capture your experience.
That's why Pelican equipped the Mustang kayak with a smartphone holder at the front of the cockpit.
This holder is a small indent that fits most of today's common smartphones and includes a small section of bungee cord to keep your phone securely in place.
The position of the smartphone holder will allow you to capture hands-free videos or still images of yourself or the surrounding scenery while you're kayaking.
But we still recommend finding one of the best waterproof smartphone cases for your phone if you plan to bring it kayaking.
While we know that your smartphone might be waterproof on its own, it probably isn't sink-proof unless you've made some modifications.
These cases allow you to seal your phone along with a small amount of air so that it will float if it falls overboard.
Drain Plug

The Pelican Mustang Kayak is made of two sheets of polyethylene material that are thermally welded together at the center part of the kayak.
This means that the interior of the kayak acts as a large pocket of air that provides flotation for the entire vessel.
While this pocket is completely sealed when you buy the kayak, there's a small chance that heavy use and weather degradation can cause small leaks to develop over time.
That's why all of the best recreational kayaks include drain plugs.
The drain plug is an essential feature of emptying any water out of that air pocket inside your kayak.
If you notice that your kayak is sitting much lower in the water than usual, that's a classic sign that you may need to empty some water using your drain plug.
Bottle Holder
You should really never be heading out for a kayaking trip without a healthy supply of fresh, clean drinking water on board.
But you want to keep your water bottle easily accessible throughout the day instead of storing it in the bow or stern storage compartments.
What better place to store your water bottle than right in front of the seat in the cockpit? That's exactly where Pelican placed the small, curved water bottle holder in the Mustang 100X kayak.
Paddle Rest

Finally, it's important that you have a secure place to set your kayak paddle down when you're fishing, taking a swig of water, or grabbing snacks or supplies from one of the storage areas on your kayak.
While many sit-inside kayakers get comfortable with sliding their paddle into the cockpit of their kayak when they want their hands free, that can be a bit uncomfortable in a smaller kayak.
It will be impossible if you have a small dry bag or lunch box stored in the cockpit of your kayak.
That's why Pelican includes two small notches in the rim of the cockpit on the Mustang kayak.
These notches will keep your paddle secure while your hands are free to attend to other pressing matters.
Who Is It Best For?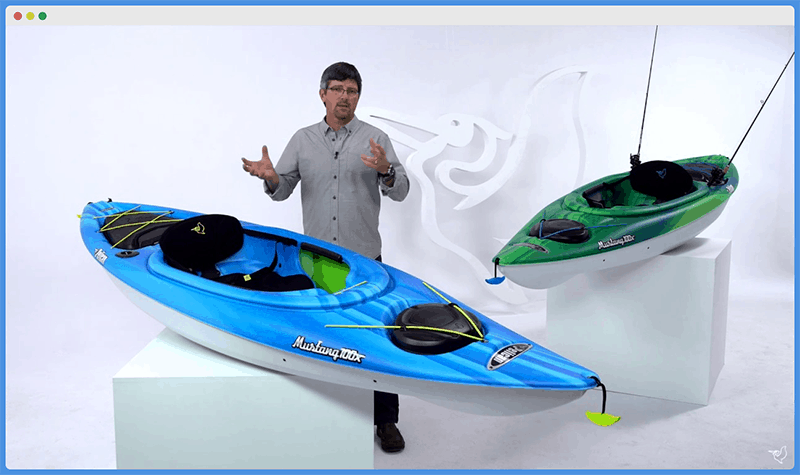 In our opinion, the Pelican Mustang 100X kayak is best for beginner and intermediate kayakers who are interested in exploring the possibilities of fishing on their favorite nearby waterways.
While this kayak isn't loaded down with the many features of some of the best fishing kayaks out there, it will help you get started without having to invest in a much more expensive model.
This kayak is also a great choice for older kids or teens that are ready for their own kayak.
Whether your kids just need their own personal watercraft for recreational paddling or you want to bring them along on your kayak fishing trips, the Mustang 100X will meet your needs.
Plus, this kayak is also a great option for smaller and lighter paddlers because of its compact size and lightweight design.
This also means that it's easier to move around off the water, load onto your kayak roof rack, and get into your home's indoor kayak storage space.
Pelican Kayak Alternatives
Check Price on Amazon
This Pelican kayak is available at a similar price point, size, and weight as the Mustang 100X.
But it doesn't include the removable EXOPOD storage compartment and it features a deeper, V-shaped hull that makes it better suited to recreational paddling or kayak touring.
Check Price on Amazon
The Argo 100XR is a slightly more expensive kayak model that's also designed for kayak fishing.
Compared to the Mustang 100X, it features a larger stern storage compartment and an aluminum-framed seat with a mesh backing that's better suited for hot and humid paddling climates.
Final Thoughts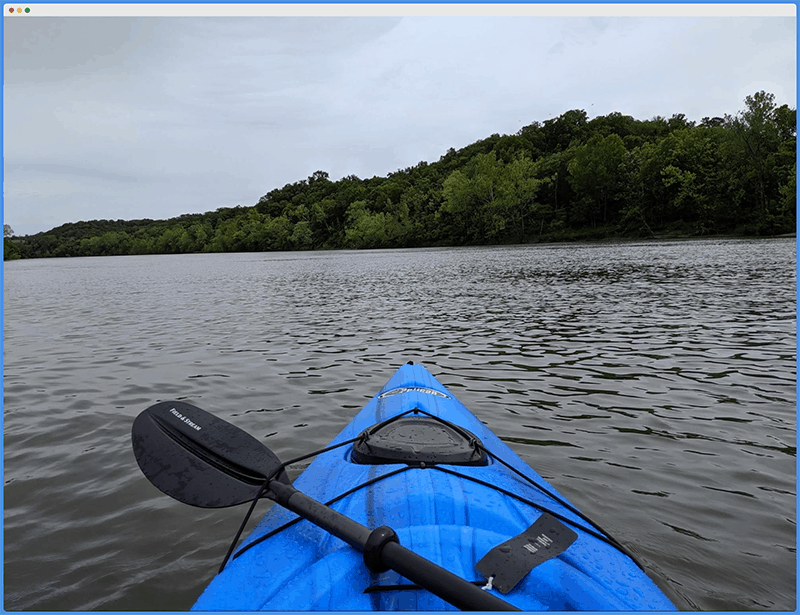 Pelican kayaks provide an incredibly affordable option for those that are new to kayaking.
But they are also a great choice if you have a little kayaking experience but you're looking to buy your first personal watercraft.
In spite of the proprietary technology that makes these kayaks impact-resistance and durable, they are among the cheapest kayaks on the market. But their reasonable price tags don't reflect poor manufacturing quality.
All in all, we'd recommend Pelican kayaks for beginner to intermediate paddlers.
This particular model is a great choice if you're just dipping your toes (or should we say hooks?!) into the world of kayak fishing.
As always, we hope you've found the reviews and insights in this guide useful for expanding your kayaking knowledge, and we wish you only the best on your upcoming kayak buying and paddling adventures!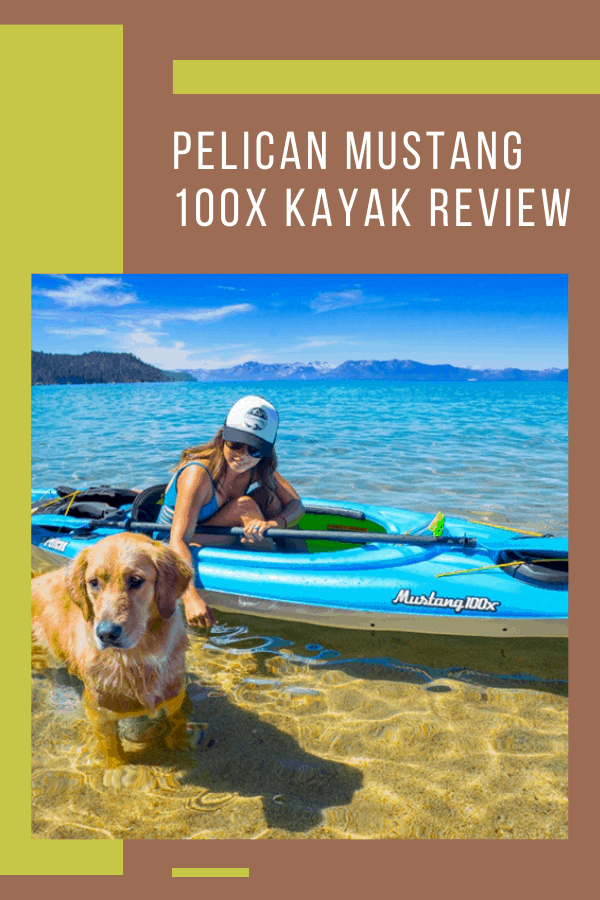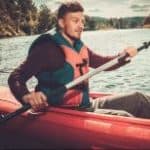 Author: Peter Salisbury
Pete is the Owner of KayakHelp.com. Born and raised in Cleveland, Ohio, he grew up kayaking, fishing, sailing, and partaking in outdoor adventures around the Great Lakes. When he's not out on the water, you can find him skiing in the mountains, reading his favorite books, and spending time with his family.