There are lots of benefits to choosing a pedal-driven kayak for fishing applications. While you can always get an upper body workout by paddling normally, these kayaks allow you to propel your kayak forward while keeping your hands free to fish or handle bait and tackle.
There are plenty of pedal-driven kayaks on the market these days and many of them cost a pretty penny. That means you'll really want to do your homework to make sure the kayak you choose will be a good investment for years to come.
That's why we're going to take some time today to review the Pelican Catch 130 HD kayak. We'll review the general specifications and technical features of this fishing kayak while also providing information on Pelican's warranty policy and manufacturing process.
So let's quit dancing around and get to it!
Pelican Catch 130 HD Overview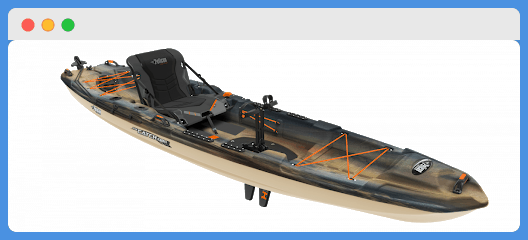 The Pelican Catch 130 Hydryve Kayak is a pedal-driven, single-person kayak. It boasts many of the useful features that you'll find on the best river fishing kayaks on the market today, but it keeps your base weight lower than with many other models.
One of the reasons for the lighter weight of this kayak is Pelican's patented RAM-X™ PREMIUM material. This material consists of an incredibly durable, high-molecular-density polyethylene with a top layer of resin that provides extra rigidity without adding a bunch of weight.
The lightweight construction of this kayak makes it much easier to transport than many other bulky fishing kayaks. In fact, you may even be able to move it on your own without needing the aid of one of the best kayak carts, wheels, or trolleys.
Furthermore, Pelican's patented material is well-known for its ability to rebound if it's bent or dented. These kayaks are one of the few with enough material flexibility to pop dings back into place if you accidentally hit a rock or other unforeseen object hiding just under the water's surface.
If you prefer to view a more comprehensive video overview of the Pelican Catch 130 Hydryve kayak, check it out below!
Kayak Specifications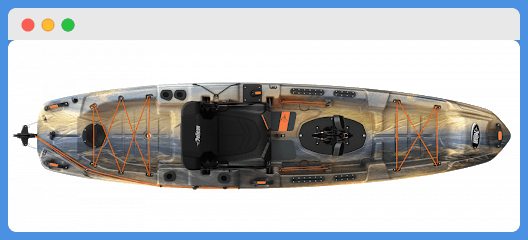 One of the easiest ways to compare a kayak to the competition is to have a consolidated list of the kayak's exact specifications. So here are the general specifications for the Pelican Catch 130 Hydryve Kayak:
Length: 12'6" (381 cm)
Width: 34" (86 cm)
Height: 15" (38 cm)
Weight: 78 pounds (35 kg)
Weight Capacity: 425 pounds (193 kg)
Seating Capacity: 1
Pelican Catch 130 HD Kayak Features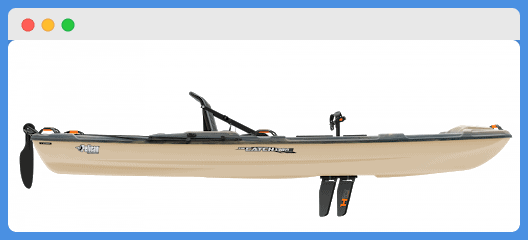 As you can probably see from the image above, this kayak boasts several features that you won't find on even the best fly fishing kayaks. In this section, we'll provide a comprehensive list of those features and also give you some info on their benefits.
HYDRYVE Pedal System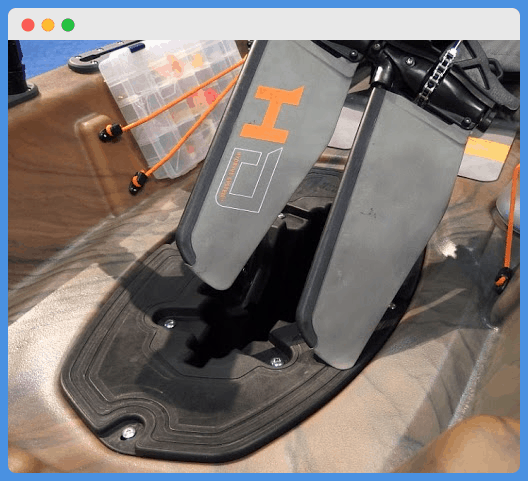 Pelican's HYDRYVE Pedal System is designed to keep your hands free while you continue to move your kayak around. The system fits into an independent housing unit, which allows you to remove it if you're paddling in super shallow water and you don't want to damage the pedal fins.
That independent housing also helps to prevent damage to the hull of your kayak if you do hit a fin on a rock, tree, or you just run aground. Instead of transferring that impact to the entire hull of your kayak, the impact and corresponding vibrations will be contained to the pedal-drive system only.
Furthermore, independent housing helps to prevent damage related to applying too much torque to the pedal-drive system. This system doesn't require a whole bunch of excessive force to get your kayak going, but if you do apply too much torque to the system, any resulting damage will be contained within and help to avoid damage to the entire hull of your kayak.
Another benefit of this design is that you'll easily be able to replace the pedal-drive system if it is damaged. This will help you avoid the expensive cost of replacing the entire kayak when you only need a new pedal drive.
The HYDRYVE system features adjustable pedals and foot straps so that it can accommodate paddlers of many different heights and foot sizes. The footrests are also double-sided and padded so that you don't have to constantly readjust their position and you can paddle barefoot or in your favorite pair of sandals for kayaking.
This system is also capable of aiding your kayak in a reverse direction if you choose. But you will have to remove and reverse the system in order to do so, but Pelican has made that process simple and quick to help you get out of a bind without further compounding the issue.
Finally, it should be noted that the housing around the pedal drive system is not 100% watertight. In essence, it functions just like a normal scupper hole and allows any water that enters the cockpit of your kayak from above to drain out without allowing too much water in from underneath your kayak.
Tunnel-Shaped Hull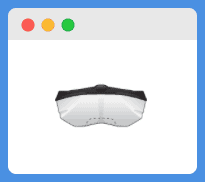 The tunnel-shaped hull on the bottom of the Catch 130 kayak is consistent with the hull design that you'll find on many of the best fishing kayaks. This shape provides an excellent balance of both primary and secondary stability.
The balance between primary and secondary stability is so important for a fishing kayak. Primary stability is what makes this kayak super stable when it's standing still (and you're fishing from a standing position).
Secondary stability is what keeps this kayak from capsizing when it's leaned over on its edge. This is a scenario that's certainly possible when you hook into a record-breaking bass that's not going to be reeled in without a fight.
Rudder Control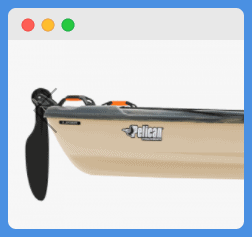 Rudder control is super important to a fishing kayak as well. Think about fighting a large ocean fish for an hour or so without being able to have hands-free control of the direction in which your kayak is pointing.
Not only will rudder control help you keep your kayak tracking straighter, but it can also help you avoid capsizing in that scenario. Even when you're not actively reeling in a catch, rudder control can be super helpful for making your way home if heavy winds kick up when you're on the water.
The great thing about the way that the rudder on this kayak is designed is that it can be flipped up when you're launching and landing. This helps to avoid damage to the fin and also allows you to flip it up if you're chasing fish into very shallow water.
Ergocast™ G2 Dual Position Seating System™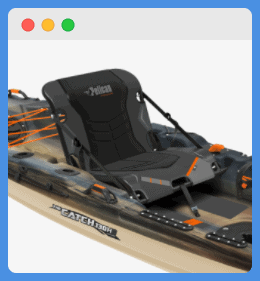 The Ergocast™ Dual Position Seating System™ on the Catch 130 is also one of its best features. It's going to go a long way towards allowing you to enjoy long days on the water without getting sore, stiff, and uncomfortable.
The seat has two positions and it can easily be changed to suit your preferences. The seated position offers an elevated vantage point for viewing the waters around you to locate fish and avoid any obstacles in your way.
The seat itself features a padded mesh material that provides a comfortable surface to sit on but also breathes well enough to keep you from overheating on especially hot summer days. The aluminum frame around which the mesh is stretched provides a lightweight but strong structure for the seat.
If you want to fish from a standing position, the seat can also flip down and then lifts backward to open up the cockpit. That's what also gives you access to standing on the carpeted section of the kayak's cockpit.
Additionally, a pocket on the back of the seat allows you to add another cushion if you need additional lumbar support. But that pocket can also be used to store extra fishing gear if you don't need it for back support.
Straps on the bottom of the seat allow you to adjust the firmness of the chair bottom itself. So, whether you prefer a very soft seat or you like something a little more rigid, the G2 seating system can adapt to your preference.
Finally, there's also a convenient pocket with a security strap located on the front of the seat. This pocket is the perfect space to store your fishing pliers, line cutters, fishing gloves, or any other accessory that you want to keep close at hand.
Flush Mount Fishing Rod Holders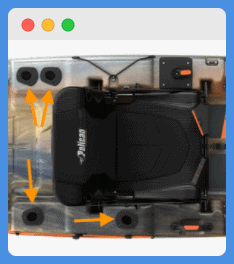 This kayak is also equipped with a total of four flush-mounted fishing rod holders that allow you to keep multiple rod and reel combinations at the ready. This will help you spend most of your time on the water actually fishing instead of re-rigging a single fishing rod.
Most experienced kayak anglers have a few different setups that they prepare onshore before launching their kayak. Depending on the time of year and the type of fish you're after, you can set up multiple lines of different tests and with different baits or lures.
If you're new to kayak fishing, it really pays to study up on what the fish in your area are biting at different times of the year and if you're now sure what kind of setup to look for, you should check out our guide on how to select the right rod and reel for kayak fishing.
Rigging Tracks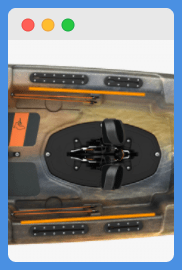 If four flush-mounted fishing rod holders aren't enough for you, then you'll also have two sections of rigging tracks to which you can attach a swivel-mounted rod holder. Something like this swivel mount from Pelican would be ideal for spinning and baitcasting.
These rigging tracks also allow you to attach a number of different kayak fishing accessories to the gunwales of your kayak. One of the best kayaking fish finders would be the obvious first choice, but there are a large number of accessories that you can attach to these universal rigging tracks.
If you're interested in offshore kayak fishing, for example, a marine GPS system is a great accessory to attach to these rigging tracks. And if you're looking for more ideas, check out our full kayak fishing accessories kit.
Angler Ruler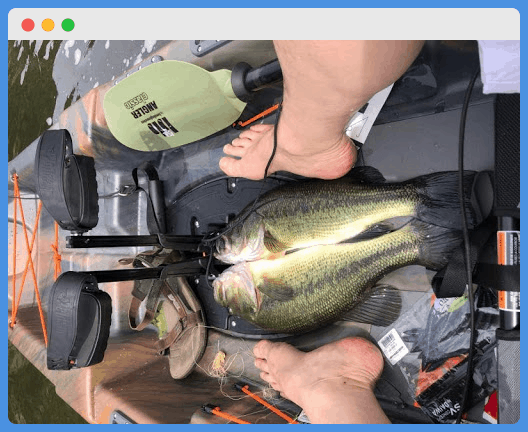 As you're probably starting to realize, kayak fishing comes with a lot of additional accessories that can make the angler more successful (and make your time on the water more enjoyable!). But if you choose your kayak wisely, it might even eliminate an accessory or two that you'd otherwise need to buy.
The angler ruler that's built into the cockpit on the Catch 130 HYDRYVE kayak is a great example of one of these accessories. It allows you to quickly measure your catch without having to retrieve your standalone ruler from your tackle box or the pocket on the back of your kayak seat.
If you're just fishing for sport, this ruler will help you confirm that record-breaking catch that you'll be happy to tell your friends about when you get off the water. But if you're planning on bringing fish home, it can also help you make sure that you adhere to any minimum fish length regulations on the waterways in your area.
Bow and Stern Tankwells with Bungee Rigging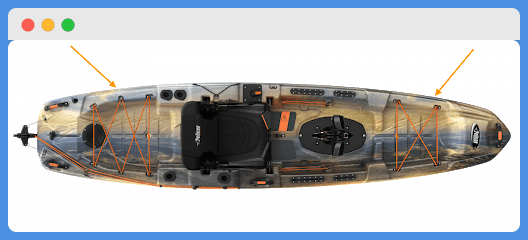 As we mentioned earlier, every experienced kayaker winds up loading their kayak down with a bunch of fishing gear and accessories. That's where these bow and stern tankwells come into play.
The stern tankwell is especially useful for a kayak cooler or a fishing tackle box because of its larger size. But the bow tankwell on this kayak is also quite sizeable for storing larger gear items.
The bungee rigging on both of these tankwells will help you secure all of your gear to avoid losing anything while you're on the water. If you happen to get surprised by something and your kayak capsizes, you'll want all of your gear firmly strapped into these tankwells to avoid losing any expensive fishing equipment.
In addition, some anglers eventually explore attaching a trolling motor to their kayak so that they can get around more quickly. If you ever attempt to replace the pedal-drive system on this kayak with a trolling motor, these tankwells will be the perfect place to store and secure the deep-cycle marine battery that you'll use to power that motor.
Day Hatch With Storage Bag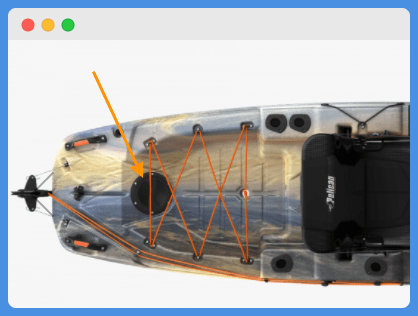 At the stern of the kayak, an eight-inch day hatch gives you a sealed, watertight storage space for more sensitive electronics or gear items that you want to absolutely keep dry for the day. While it's located a little far from the cockpit for our liking, it's still an important feature for dry storage.
This hatch also comes with a storage bag that makes it much easier to load and unload. The bag can be removed and packed before being placed back into the hatch and sealed in place for the day.
Anti-Slip Carpet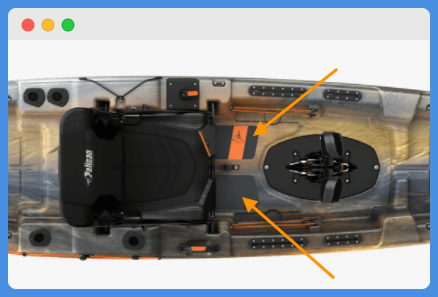 As you gain kayak angling experience, you'll probably start running into other anglers that are standing up to fish from their kayak. Standing up will give you more ability to cast further and direct your cast to the desired location.
But many kayaks aren't necessarily made for stability and safety if you stand up in them. While the hull design and width of this kayak take care of the stability factor, this anti-slip carpet is designed with your safety in mind.
It gives you a non-slip surface to stand on while you're concentrating on fishing. You'll simply need to fold the kayak seat down and then flip it back to have access to standing on the full length of this anti-slip carpet in the kayak's cockpit.
Bottle Holder With Bungee Cord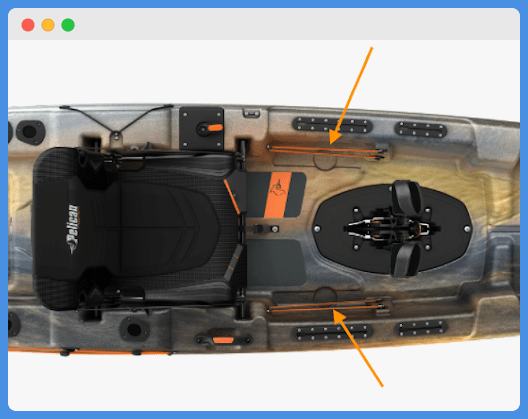 Hydration is key when you're talking about spending multiple hours chasing fish at your local fishing hole. That's why we love that this kayak comes with two separate bottle holders and that both of them offer bungee cord to keep your bottles in place if anything unexpected tips your kayak over!
Warranty Information
Pelican's products are backed by a limited lifetime warranty that covers repairs or replacements of the kayak's hull due to poor quality in materials or workmanship. This warranty extends for the lifetime of the kayak.
Any accessories that come pre-assembled on any Pelican kayak are also guaranteed for one year from the date of purchase.
Who Is It Best For?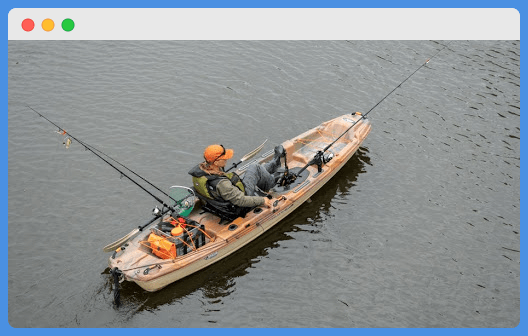 The Pelican Catch 130 HD kayak is a great choice for smaller, experienced kayak anglers. Its lighter weight makes it easier for smaller anglers to move around, but it doesn't compromise on any of the features that you'll find with larger, bulkier fishing kayaks.
If you're looking to upgrade your fishing kayak to a model that allows you to propel your kayak forward while keeping your hands free, the Catch 130 is also one of the most affordable pedal-driven kayaks on the market.
Final Thoughts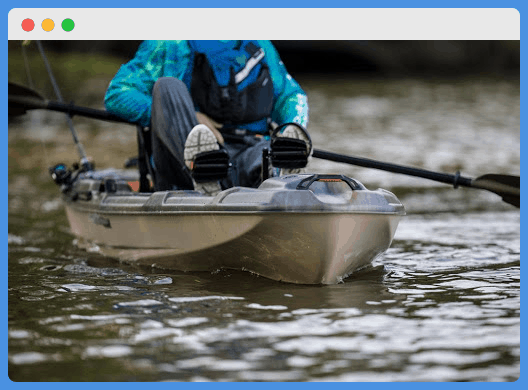 We hope you've enjoyed this Pelican Catch 130 HD review and that you've learned whether or not this kayak would be a great fit for your kayak fishing needs. As always, we wish you the best (and safest!) of luck on all your upcoming kayak adventures!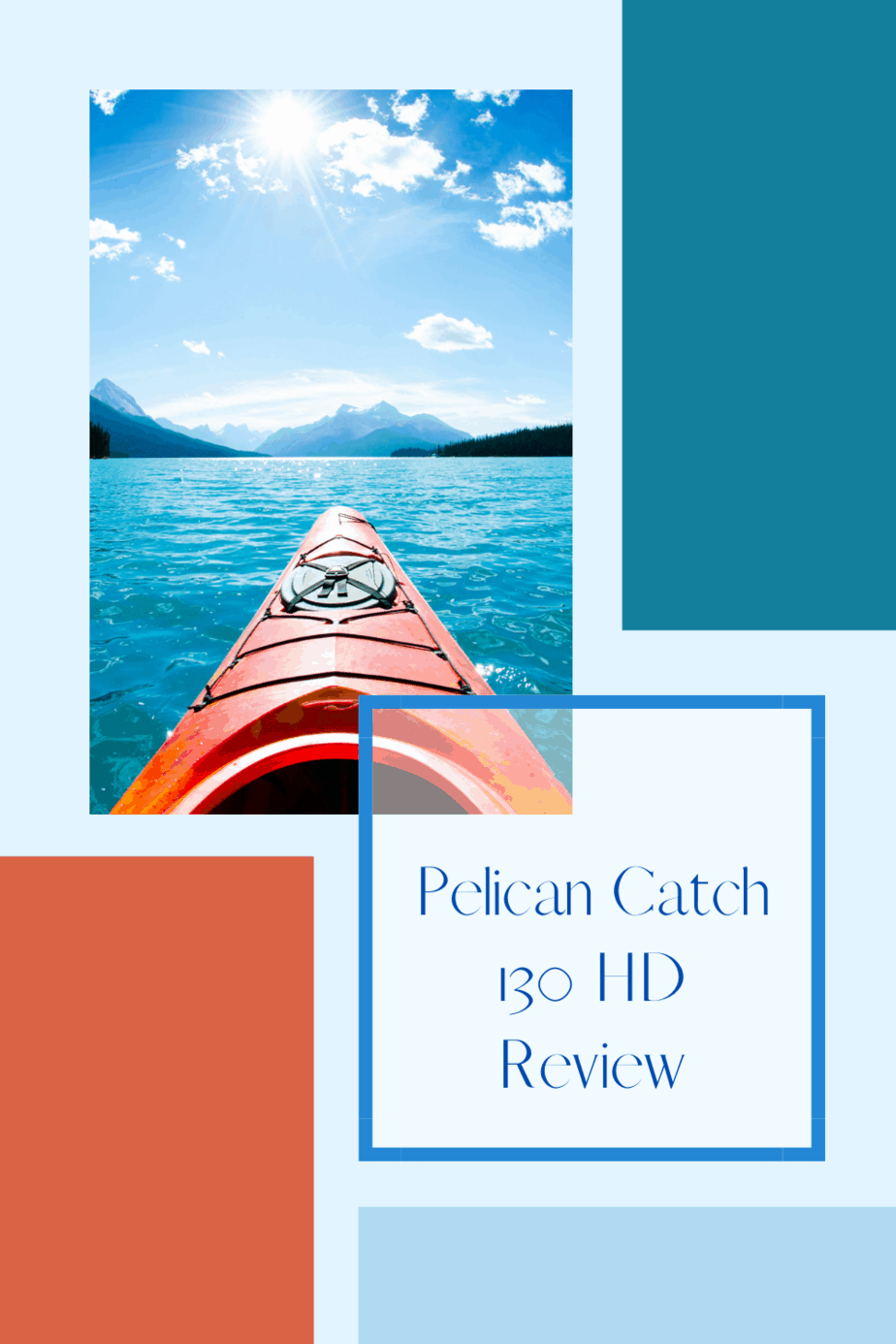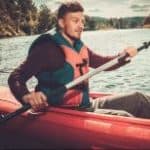 Author: Peter Salisbury
Pete is the Owner of KayakHelp.com. Born and raised in Cleveland, Ohio, he grew up kayaking, fishing, sailing, and partaking in outdoor adventures around the Great Lakes. When he's not out on the water, you can find him skiing in the mountains, reading his favorite books, and spending time with his family.