You might be thinking that a kayak is just a kayak. When you get down to it, most of them look the same and they all go in the water so they are all great, right?
The answer is no. All kayaks are not created equal.
Some kayak brands are better than others because they use higher quality materials, more advanced construction technologies, unique design elements, and even offer lots of features right out the gate.
These differences are what separates high-end kayak brands from basic kayak brands and they can affect how a kayak performs in water and the level of safety the boat offers.
Kayaks from high-end brands are built to last a very long time so you won't have to keep spending money to repair or replace them.
They also come with multi-year warranties because the companies that make them are confident in the durability of their products.
High-end kayak brands do not joke with their reputation so they are more likely to assume responsibility for any manufacturing defects that can jeopardize customer satisfaction and sully their good name.
However, with dozens of kayaking brands on the market, figuring out which brands are top-of-the-line and deserving of your money can be challenging.
To help stave off confusion and save you precious time, we've put together a list of the best high-end kayak brands worth patronizing.
Best High-End Kayak Brands to Buy From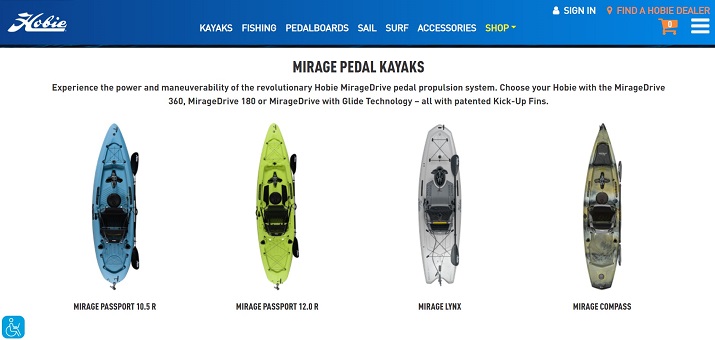 Hobie was born in 1950 in Hobie Alter's parent's garage when he conceived the idea to combine his love for watersports and woodworking.
He began creating and selling surfboards to his friends and other surfers in the community.
After a couple of years of revolutionalizing the surfing industry with his invention of polyurethane foam surfboards and becoming a full-fledged business, Hobie began playing around with boat designs in the late 1960s.
The company and its founder masterminded the creation of lightweight, easy-to-sail boats known as the Hobie Cat.
Kayaks were a natural next stop for the brand and by 1997, Hobie redefined how kayaks were made by introducing the MirageDrive pedal-propulsion system.
This technology allowed paddlers to operate their kayaks using their feet, leaving their hands free to cast reels and fish.
Decades later, Hobie remains one of the most popular and most respected fishing kayak brands in the world.
Hobie has a nice range of kayak series built for yakkers who love to fish in style. This includes the Mirage Passport, Mirage Outback, Mirage ITrekk, and Mirage Pro Angler.
Hobie's kayaks are designed to withstand a wide range of water environments while ensuring comfort, stability, speed, and easy maneuvers.
The brand's kayaks are built to last and they come with two to three-year warranties.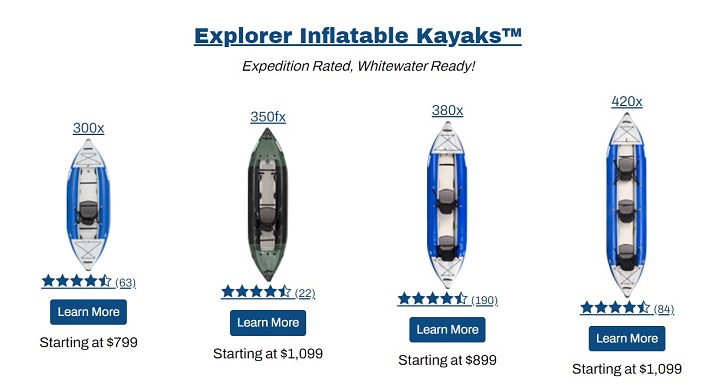 Sea Eagle is an elite manufacturer of inflatable kayaks for paddlers who want to enjoy the full kayaking experience with none of the stress involved in lugging around a traditional plastic kayak.
The company has been in business since 1968 so it's one of the most trusted kayaking brands around.
Sea Eagle takes great pride in thinking up innovative designs and challenging the limits of what inflatable paddle crafts can do.
Sea Eagle Kayaks are made using drop stitch technology which enables them to be inflated to 10 PSI, which is almost three times higher than the capabilities of most inflatable kayak models.
The brand's kayaks are designed to track, handle, perform, and move as fast as their hard-shelled counterparts without compromising on safety and stability.
Depending on where you plan to go paddling, Sea Eagle offers kayak models that can take on thrilling whitewater expeditions, ocean tours, river fishing trips, and leisurely floats on lakes and bays.
Prices for Sea Eagle Kayaks start as low as $199 for the sports series and go up to $1499 or higher for premium models like the RazorLite series.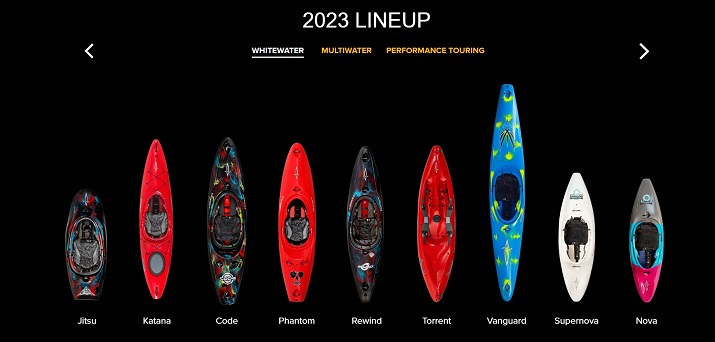 If you're looking for high-end kayak brands designing highly-efficient boats for whitewater, Dagger is as good as it gets.
Dagger's hardshell kayaks are made with the highest levels of quality from design to on-the-water performance.
Regardless of your skill level or whether you're planning a lazy float down the river or a multi-day expedition, you can count on Dagger's kayaks to offer you the performance you need.
The beauty of Dagger kayaks is that they are made to tackle all kinds of waters from the mountains to the seas.
So you don't have to worry about buying a different type of kayak for each specific waterbody.
Whether you buy one of Dagger's whitewater kayaks, performance touring kayaks, or multiwater kayak series, you can explore various waterways with minimal risk.
What's more, all Dagger kayak models—with the exception of whitewater kayaks purchased after January 2018—come with five-year warranties, while kayaks purchased before that date have three-year warranties.
This shows you how much confidence and pride the company has in the quality and durability of its kayaks.
Old Town has been in the business of making boats for over 100 years.
It has endured for this long and remains a favorite amongst paddlers worldwide because it is dedicated to crafting sturdy watercrafts that can withstand the ravages of time.
The brand started out by manufacturing tripping canoes before adding kayaks to its product offerings.
Since then, Old Town has diversified its kayak lineup to include high-end recreational kayaks for exploring slow-moving waters and touring kayaks for cutting through waves with ease.
Old Town also offers angling kayaks for a premium fishing experience, as well as solo and tandem kayaks for when you want to go alone or bring a loved one to keep you company.
If you're more comfortable with a sit-on-top than a sit-in model and vice versa, Old Town has plenty of options in both categories to suit your preferences and meet your needs.
Old Town kayaks are backed by limited lifetime warranties. Depending on the level of features and functionality that you want, you can cop an Old Town kayak for as low as $499 or as high as $4,849.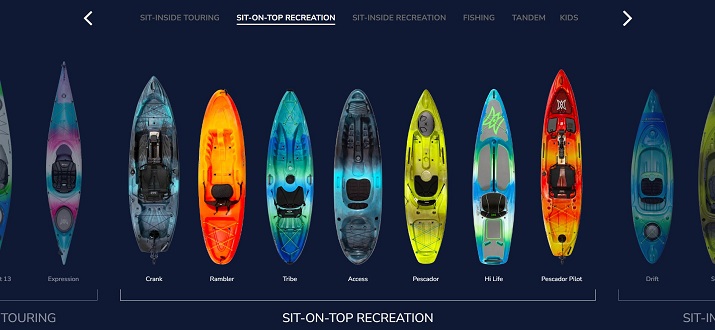 Arguably the most popular kayak brand in the world, Perception Kayaks has spent over four decades introducing people to the amazing adventure we call paddling.
Perception Kayaks was the first brand to create rotomolded kayaks and since then it has continued to manufacture quality kayaks that provide the utmost safety, durability, and versatility without compromising comfort and stability.
Every Perception kayak is designed, molded, and hand-assembled in Greenville, South Carolina.
Perception Kayaks are built to be easy to paddle regardless of the paddler's experience levels.
Perception Kayaks offers a wide range of sit-in and sit-on-top kayaks of varying models and sizes.
If you're looking for a recreational boat, you can choose from Perception's Crank, Pescador, and Rambler series.
For a more responsive boat that's equipped to run rivers and navigate coastal waters, Perception has long touring kayaks like the Carolina, Essence, and Expression series.
Perception Kayaks has pedal-powered crafts for the experienced angler such as the Outlaw, Showdown, and Pescador Pro.
It also boasts specially designed yaks for multiple paddlers, smaller users, women, and children like the Rambler Tandem, Tribute, and Prodigy series.
Additionally, the brand has both budget and premium options so regardless of your price preferences, you'll surely find a Perception kayak that's perfect for your first or next float trip.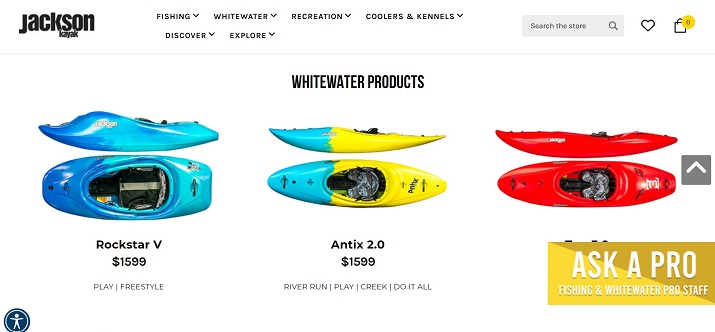 Named after Eric Jackson, the company's co-founder and a three-time world championship winner and Olympic kayaker, Jackson Kayak is synonymous with excellence.
The brand's kayaks have racked up all kinds of recognition and title wins in the world of competitive kayaking including downriver creek races and freestyle world championships.
Jackson Kayak rose to prominence on the back of its whitewater kayak models which are renowned for their innovative build and design and impeccable quality.
You can run rivers and cut through rapids and obstacles with ease in Jackson Kayak's Rockstar V, Gnarvana, Zen 3.0, and Karma Traverse 10 series.
Jackson Kayak also makes yaks for everyday people who just want to ensure a leisurely trip on calm or slow-moving waters.
The brand's Riviera model is a great example of a beginner-friendly kayak that promotes comfort and balance.
In 2010, the brand added a range of fishing kayaks to its portfolio.
Since then, it has cemented its place as a manufacturer of high-end angling kayaks by releasing new and improved designs of pedal-driven crafts and traditional paddle kayaks.
Jackson Kayaks are typically sold at mid-range prices so you can find options that cost between $700 – $2000. However, some kayaks in the brand's fishing range cost over $4000.
If price is not an issue, Stellar Kayaks is one of the best high-end kayak brands you can buy.
While most kayak manufacturers use polyethylene or polyurethane plastic for their constructions, Stellar Kayak is one of the few that uses advanced composites like fiberglass in its kayak design.
This already puts it above most of the players in the industry because, in terms of quality, fiberglass is a superior material to plastic.
Fiberglass is also stronger and lighter so you can expect your Stellar Kayak to last longer and move through water more easily than traditional kayaks.
Another feature that sets Stellar Kayaks apart from other brands is the combined 60 years of experience in composite boat building that its design team brings to the table.
More than just a company of boat lovers; the Stellar Kayak team has extensive backgrounds in composite engineering and design, naval architecture, and computer modeling and design.
So you can rest assured that all of the brand's kayak offerings have been exhaustively researched and tested to guarantee stability, comfort, and efficiency.
Although Stellar Kayaks offers recreational and sit-on-top kayaks, it specializes in designing world-class racing and touring kayaks.
Unlike most kayak brands, Stellar Kayaks provides height guides and tells you the specific user size its kayaks are intended for.
Since fiberglass is more expensive to manufacture, Stellar Kayaks' offerings are quite pricey and can cost between $2700 to $7800.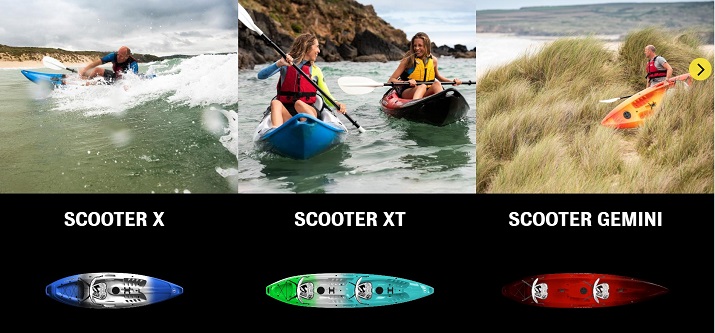 Another high-end kayak brand that's worth looking into if you're in the market for a sturdy kayak with a stylish look and versatile performance is Wave Sport.
Wave Sport specializes in designing and manufacturing recreational-style sea kayaks for touring, freestyling, and running rapids.
The brand gives you the option of getting a sit-on-top or a sit-inside model depending on your preferences.
Whether you prefer exploring flat water and slow-moving waters or you feel most at home when you're out on the open sea, Wave Sport has a kayak for every body of water,
Wave Sports kayaks deliver smooth rides, easy maneuverability, and great directional stability regardless of your paddling abilities.
Furthermore, when shopping for a kayak, the brand tells you the exact paddler weight that each kayak is built to accommodate.
This way, you don't have to worry about accidentally buying a kayak that you can't comfortably fit in.
Despite the quality and durability of the brand's kayaks, most models cost less than $1000 so they're pretty affordable.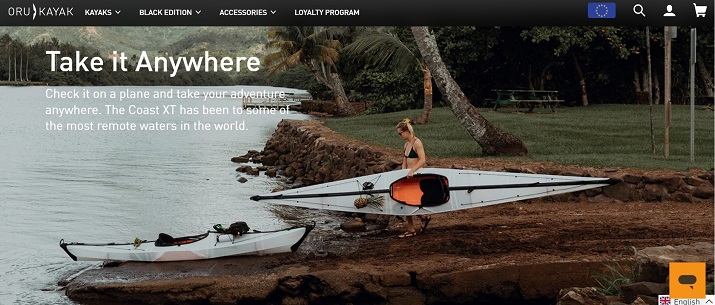 Home to some of the most innovative, portable kayaks in the world, Oru Kayak is one of the best high-end kayak brands you can invest in.
The brand's kayaks are inspired by Japanese origami so they are designed to be foldable without sacrificing their structural integrity, performance, or durability.
Despite their sleek and simple appearance, Oru kayaks are capable of withstanding rough water and weather conditions.
Whether you want a lightweight recreational kayak for lakes, inlets, bays, and flatwater or an efficient touring kayak for long excursions on the sea, Oru Kayak has plenty of options to suit your style.
The brand also offers a tandem kayak model that can be converted to a solo kayak when necessary, giving you the best of both worlds.
Oru Kayak uses durable 5mm double-layered and custom-extruded corrugated high-tech polypropylene for its kayak construction.
As a result, its kayaks last for a long time and are highly resistant to punctures and abrasions.
Oru's offerings only weigh about 20 lbs which makes it very easy and convenient to transport your kayak from place to place.
When folded down, an Oru kayak is about the size of a slender suitcase, making it compact enough to be carried on your hand or back.
Oru Kayak prices range from $600 to $2200 so they are relatively pocket-friendly and accessible to everyone.
Check out Oru kayaks vs Tucktec here.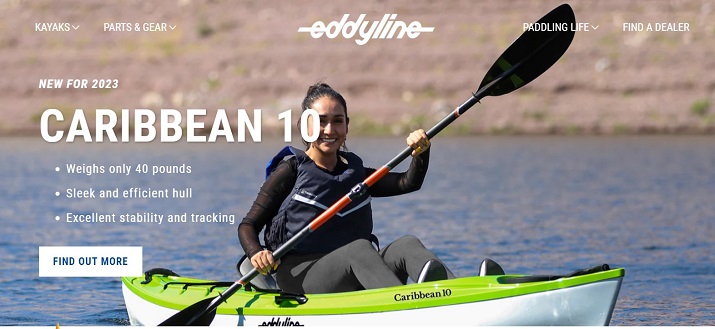 Since Eddyline opened its doors in 1971, it has built an unshakable reputation as one of the best high-end kayak brands in the world.
Led by founder, Tom Derrer, Eddyline has pioneered the usage of vacuum bags and advanced lamination in the commercial construction of premium touring kayaks.
These technologies are what enable Eddyline to design lightweight kayaks of the highest quality that can serve multiple purposes from open water expeditions to recreational paddling, and fishing.
Eddyline uses high-performance thermoplastic known as Carbonlite to manufacture its kayaks.
It is this material that gives the hard glossy finish, UV resistance, and dimensional stability that Eddyline kayaks are known and beloved for,
In line with its founding mission, Eddyline continues to find new ways to improve its kayak designs to maximize efficiency and paddler comfort.
The brand has introduced several innovative features to kayak construction including flush hatches, spring-loaded rudders, H-channel seams, flexible bulkheads, and four-way adjustable backrests.
The price of Eddyline kayaks ranges from $1400 – $3500, so they are relatively affordable. Also, Eddyline kayaks are covered by three-year warranties for any defects in workmanship or materials.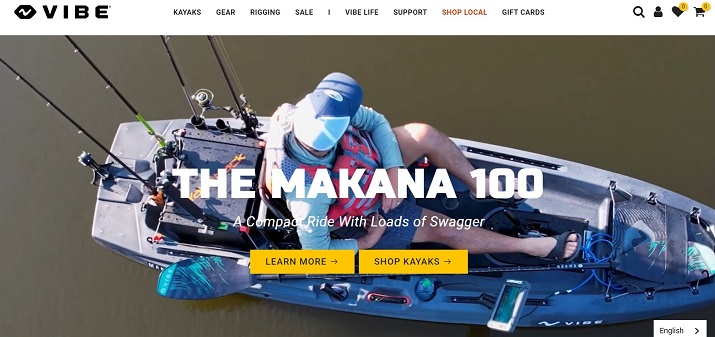 When Vibe Kayaks began operations in 2013, it had one goal—to design a first-of-its-kind fishing kayak that could fit the needs and budget of every angler.
Years later, the brand has stayed true to its mission and helped paddlers of varying skill levels embrace the freedom and adventure that the outdoors has to offer.
Vibe Kayaks' fishing crafts deliver superior balance whether you're seated or standing and in all kinds of water and wind conditions.
They also come with plenty of room to hold your gear on kayak camping trips.
With Vibe Kayaks, you're not just getting a boat that's fast, durable, and comfortable, you're also getting one that looks great and is highly customizable.
You can use the gear tracks that come with all Vibe kayak models to install any kayaking accessories you want including rods, camera mounts, fish finders, and more.
Vibe Kayak designs both solo and tandem kayaks, all of which range between $799 – $1699, so buying one won't leave a gaping hole in your pockets.
Final Words
The kayak you choose will influence the experience you have on the water.
t can be the difference between being frustrated or uncomfortable for the duration of your trip and having a swell time that leaves you looking forward to your next adventure.
Not every kayak from every brand will serve you well.
Picking a brand that offers high-end kayaks that meets your needs will save you a lot of stress and allow you to fully experience the fun of paddling.
The kayak brands above are some of the very best in the business and you can't go wrong investing in any one of them.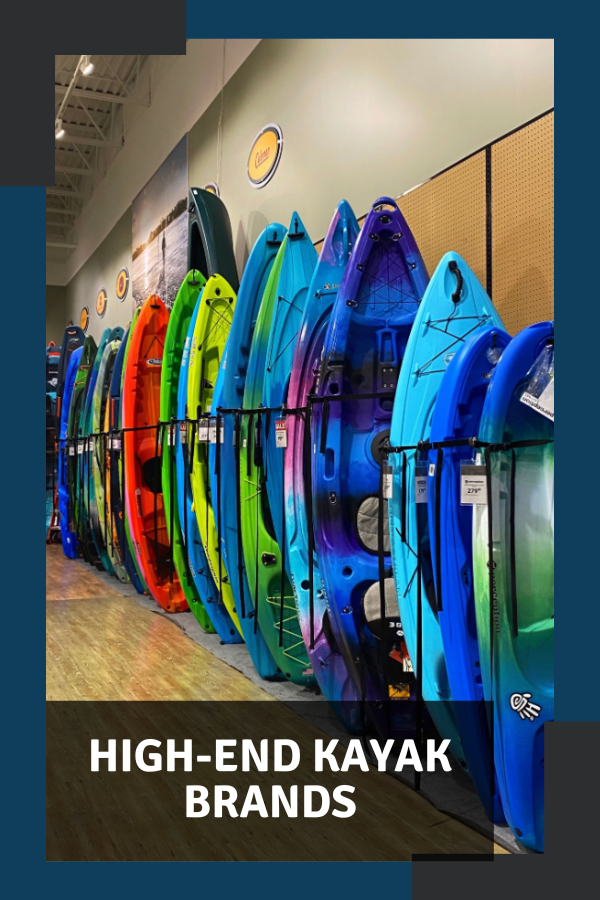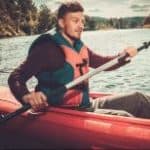 Author: Peter Salisbury
Pete is the Owner of KayakHelp.com. Born and raised in Cleveland, Ohio, he grew up kayaking, fishing, sailing, and partaking in outdoor adventures around the Great Lakes. When he's not out on the water, you can find him skiing in the mountains, reading his favorite books, and spending time with his family.