Sea kayaks come in many different shapes and sizes, but they all make it easier to get out and explore the coastal waterways near you. Today, we are going to take a closer look at some of the best sea kayaks in Australia.
On a continent with roughly 16,000 miles of shoreline, there is absolutely no shortage of places to take your sea kayak. That being said, you have to be confident in your vessel and your paddling skills before heading out into the open ocean.
Even protected bays are subject to things like tides and ocean currents. These environmental factors require more preparation than you might need if you were just paddling one of the best recreational kayaks on a calm lake.
Thankfully, the best sea kayaks are specifically made to handle rougher waters, waves, and other things you're likely to find in the ocean. So let's kick back and dive deeper into the best sea kayaks in Australia.
Photo by Peter Stuckings via Shutterstock
Best Sea Kayaks in Australia
Sevylor Tahiti Plus
Bay Sports Speedy Touring Kayak
Advanced Elements Lagoon 1
Bay Sports Nereus 3-Person Family Kayak
Bay Sports KXone Slider 375 Superlite Inflatable Kayak
Bay Sports Pedal Pro Fish XL
Bay Sports Hug Double Touring Kayak
Bay Sports Expedition Zero Touring Kayak
Bay Sports Quest 518 Superlite
Mirage Sea Kayaks 532
Sea Kayak Buying Guide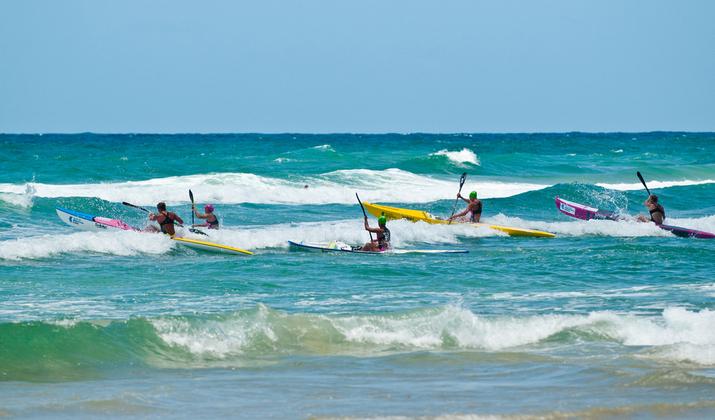 Photo by Claudio Bertoloni via Shutterstock
Before you go purchasing a new sea kayak, there are several important points to consider. You will ultimately prioritize these factors according to your personal preferences, but here are a few things to think about when comparing different sea kayak models.
Kayak Style
Kayaks that are designed for ocean paddling come in a variety of styles. You will find sit-on-top kayaks that are better for bay paddling, shorter sit-in kayaks that are suitable for light touring, long touring kayaks that are designed for extended expeditions, and even shorter surfing kayaks.
Ultimately, your kayak choice should start with an analysis of the specific environments you intend on paddling in the most. You can also look at some crossover kayaks that are ocean-capable if you know you'll sometimes seek open ocean and be content with bay paddling at other times.
Among your options below, you'll also have the chance to choose between inflatable kayaks and rigid (also known as rotomolded) kayaks. If you're a casual paddler that only intends to head out on protected bays for short paddles, an inflatable might work well for you.
Inflatables are also useful if you don't have a way to transport a kayak on your vehicle or if you lack a kayak storage rack at home. If you're intending on open ocean paddling or longer trips, however, we encourage you to stick to a rigid kayak for added safety and durability.
Number of Paddlers
You should also consider whether you'll mostly be heading out alone or with a partner. Typically, you can find inflatable models that can convert for one or two paddlers, but this is rarely the case with rigid kayaks.
Most of the kayaks on this list (aside a few) are intended for a single paddler. So if you already know you're looking for something for you and your partner to paddle together, check out some of the best tandem kayaks on the market.
Primary Activity
Next, consider what your primary activity will be when you are spending time out on the water. Do you like to fish from your kayak or are you simply heading out for a recreational paddle for a few hours?
There are also folks that use kayaking as one of their main forms of exercise and like to push their cardiovascular limits. Aside from that, some of you might want a kayak that you can pack for camping trips to more remote stretches of Australia's coastline.
Consider what you will mostly be using your kayak for so that you make sure it has the features to accommodate your needs. For example, enclosed storage space is important for kayak campers that need to keep some gear dry, but open storage is better for anglers that need quick access to all of their fishing equipment.
Weight and Weight Capacity
The final considerations we will touch on have to do with the weight of the kayak itself and how much cargo it is rated to handle safely. For starters, a kayak's weight is going to come into play both on and off the water.
Most kayakers actually spend just as much time dealing with their kayak off the water as they do on it. So it is important that your kayak isn't so heavy that it makes simply getting it to the water's edge a huge hassle.
Of course, you can always invest in one of the best kayak carts for rough terrain to make on-land transportation of your kayak a little bit easier. That being said, selecting a kayak with a lower base weight will generally allow you to load in more gear and supplies without exceeding its weight capacity.
On that note, all kayaks have an advertised maximum weight capacity that you shouldn't exceed. You will need to account for your own body weight, the weight of any additional passengers, and the weight of your cargo when calculating whether or not you're going to exceed your kayak's weight limit.
Also, it is generally accepted that staying below about 80% of your kayak's advertised weight capacity is a good idea. If you exceed 80%, your kayak isn't going to sink immediately, but it will sit lower in the water, be slower, and also it will be more sluggish to respond to your paddle strokes if you need to maneuver quickly.
Thumbnail
Title
Sevylor Tahiti Plus Kayak, Inflatable Canoe for 2/3 Persons, Inflatable Boat, Paddle Boat with Robust PVC Outer Shell, Straps for Fastening Luggage, Bar Construction for High Stability on The Water
Advanced Elements Lagoon 1 Person Inflatable Kayak,Orange/Gray
Thumbnail
Title
Sevylor Tahiti Plus Kayak, Inflatable Canoe for 2/3 Persons, Inflatable Boat, Paddle Boat with Robust PVC Outer Shell, Straps for Fastening Luggage, Bar Construction for High Stability on The Water
Reviews of the Best Sea Kayaks in Australia
Check Price on Amazon
Sea Kayak Specifications
Length: 361 centimeters
Width: 90 centimeters
Weight: 11.7 kilograms
Weight Capacity: 200 kilograms
The Sevylor Tahiti Plus is actually capable of holding two adults and one smaller passenger, whether that's a child or a furry friend. It is ideally suited to paddling on calm saltwater bays or protected inland waterways due to its inflatable nature.
Because it is inflatable, however, it can be packed down to very small dimensions for easier transportation and storage. It also comes with a backpack-style carrying bag that means it will be much more comfortable to walk this kayak down to the water before inflating it.
The kayak's PVC construction includes three separate internal chambers that help to provide continued buoyancy if one chamber is compromised. The bottom of this kayak is compatible with a Sevylor-designed skeg system to improve its tracking ability, but that skeg is sold separately.
When you arrive at your paddling destination, this kayak can be inflated and ready to go in roughly ten minutes. The three seats it comes with can also be removed and repositioned as needed, which means this kayak can handle as many as three passengers and as few as one.
Check Price on Amazon
Sea Kayak Specifications
Length: 336 centimeters
Width: 74 centimeters
Weight: 23 kilograms
Weight Capacity: 155 kilograms
The Speedy is true to its name and it's also a nice sit-on-top design for casual ocean paddling. It'll be best suited to protected waterways, but it's stable enough to get out and through light surf on days with minimal winds.
This kayak boasts molded-in carry handles that reduce the chances of breaking and having to replace the more traditional toggle-style handles. It also has an efficiently-designed hull to help you glide through the water with ease.
The Speedy is best for beginner-to-intermediate paddlers that want to mostly explore quick paddles on calm waters. However, there is enough storage space on this kayak to handle longer paddles up to about five kilometers in length.
Check Price on Amazon
Sea Kayak Specifications
Length: 254 centimeters
Width: 86.3 centimeters
Weight: 10.4 kilograms
Weight Capacity: 113 kilograms
Advanced Elements is one of the leading brands in the inflatable kayak industry and their Lagoon model is a suitable choice for casual bay paddling. It's a little small for the open ocean, but it has the benefit of being one of the lightest models on our list.
That means it'll be easy to transport when you can't park right next to your launch location and it also packs down to store inside the trunk of smaller sedans and SUVs. When you do want to use it, however, it doesn't take much more than ten minutes to inflate.
Unlike most inflatable kayaks, this design includes rigid panels that provide extra structure and improve the overall performance of the Lagoon 1. The outside is also covered with a thicker material that improves the stiffness of the kayak and also provides more abrasion protection when you pull up onto a rocky beach.
Check Price on Amazon
Sea Kayak Specifications
Length: 370 centimeters
Width: 86 centimeters
Weight: 31 kilograms
Weight Capacity: 250 kilograms
The Nereus from Bay Sports is sort of the rigid version of the Sevylor Tahiti kayak we began this list with. It can handle two adults and one smaller passenger (dog or human), but this model has a slightly higher maximum weight capacity.
It is also equipped for casual ocean fishing if you and your paddling partners are interested in that. There are swivel-mounted fishing rod holders at the front and center of the kayak and additional flush-mounted rod holders at the stern.
All three of the kayak seats are completely adjustable so that you can find a comfortable position throughout a long day of paddling. Plus, the seats can be removed if you're only going out with one other partner or you're using this as a solo fishing kayak.
Check Price on Amazon
Sea Kayak Specifications
Length: 384 centimeters
Width: 78 centimeters
Weight: 14.2 kilograms
Weight Capacity: 175 kilograms
The KXone Slider 375 is the last inflatable sea kayak on our list, but this design is far more performance-oriented than the previous two. It's still incredibly lightweight, but the longer and skinnier design is meant to paddle longer distances with less overall energy expenditure.
It is designed for just a single paddler and provides a healthy amount of covered storage space at the bow and stern. It's also built with the same drop-stitch technology that is used today in many of the best inflatable paddle boards for beginners.
In the cockpit, you'll enjoy a comfortably padded and adjustable seat as well as a padded footrest that's not always common to inflatable designs. The cockpit also includes a water drainage channel in case you capsize or any water splashes into your kayak.
Check Price on Amazon
Sea Kayak Specifications
Length: 398 centimeters
Width: 85 centimeters
Weight: 33.5 kilograms
Weight Capacity: 250 kilograms
If you want to do some ocean fishing in bays, harbors, and other protected waterways, the Pedal Pro Fish XL is one of the best options on this list. You can propel it with your feet and legs so that your hands stay free to cast and reel in your next biggest catch.
This fishing kayak is also equipped with a stern rudder system that you control by hand from the comfort of the cockpit. This allows you to steer the kayak as you pedal it with your feet and it means that a traditional kayak paddle is almost unnecessary (although we recommend bringing one along for safety purposes).
There's even a fish finder transducer built right into the hull of this kayak and it also features a total of six track rails running from the bow to the stern. These rails are perfect for attaching a variety of accessories, such as a kayak GPS unit, GoPro camera, or portable depth finder.
Another awesome feature of the Pedal Pro is its luxury stadium-style seat with added length and width for supreme comfort. The seat even sits on tracks so that it can slide forward or backward depending on how much legroom you need.
Check Price on Amazon
Sea Kayak Specifications
Length: 520 centimeters
Width: 70 centimeters
Weight: 36.5 kilograms
Weight Capacity: 280 kilograms
If you and your partner are looking for a seaworthy kayak that you can paddle together, the Hug Double is an excellent choice. This touring kayak is also suitable for longer paddles if you're ready to explore extended kayak camping trips.
Because it's a slightly longer and skinnier kayak, this model is best for intermediate-to-advanced paddlers. It is equipped with two separate cockpit compartments that are each compatible with a kayak spray skirt if you're paddling in adverse weather.
At the stern, there is a drop-down rudder that is controlled by foot pedals in the rear cockpit compartment. This sit-inside kayak also boasts a total of three enclosed storage compartments that provide plenty of waterproof storage for your sea kayaking essentials.
In addition to those compartments, bungee rigging and deck lines allow you to secure additional items like deck bags on top of the kayak. It is even designed to be paddled by a single paddler in the rear compartment if your partner bails on you one day!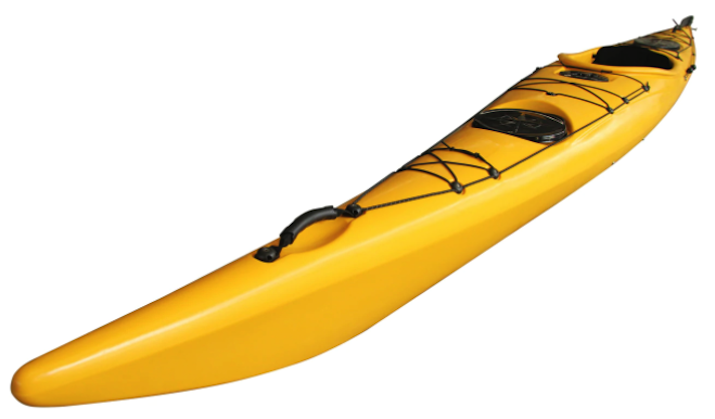 Sea Kayak Specifications
Length: 485 centimeters
Width: 56 centimeters
Weight: 27.6 kilograms
Weight Capacity: 150 kilograms
Now we are starting to get into the world of slightly more expensive sea kayaks, but the Expedition Zero is definitely worth a look if you are an advanced paddler. It's the kind of kayak you'd need for open ocean adventures and extended journeys.
The smart-track rudder system on this kayak has recently been upgraded to include a foil blade that mimics the design principles of airplanes and some of the world's fastest sailboats. The design minimizes turbulence and improves your kayak's overall speed.
The kayak's comfortable cockpit is suitable for paddlers up to 6'4" tall and there are a total of three storage hatches for keeping your gear dry. Knee braces inside the cockpit provide additional comfort and support and this kayak even comes with a dedicated plastic touring paddle.
Stainless steel hardware throughout means this model is ready for saltwater environments and reflective perimeter lines make you more visible when paddling in low lighting conditions. It is also equipped with smart drainage channels on the hull to shed water naturally throughout the day.

Sea Kayak Specifications
Length: 518 centimeters
Width: 61 centimeters
Weight: 27.5 kilograms
Weight Capacity: 158 kilograms
If you're willing to spend a little more to get one of Bay Sports' lightest sea touring kayak, the Quest 518 Superlite features ABS thermoformed plastic construction that makes it as much as 30% lighter than traditional polyethylene kayaks of this size.
The Quest is also equipped with a flex seating system that provides adjustability for paddlers of varying heights. The seat slides up to 10 centimeters forward or backward to adjust for how much legroom you need.
There are two traditional storage hatches with push-on waterproof lids at the bow and stern of this kayak. Just in front of the cockpit, there is a third storage hatch for smaller items that you'll need during the day and this hatch features a rigid, screw-tight lid for added security.
The Quest 518 also boasts Bay Sports' upgraded hybrid foil blade rear rudder, a stainless steel loop at the rear for securing a cable lock when leaving the kayak unattended, a triple-thick padded seat for comfort, and much more.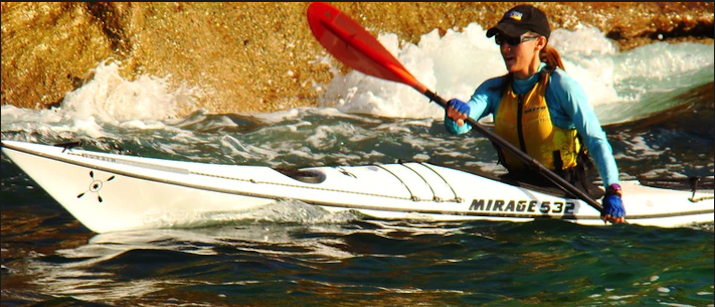 Sea Kayak Specifications
Length: 530 centimeters
Width: 56 centimeters
Weight: 15.9 to 24 kilograms
Weight Capacity: 80 to 90 kilograms
The Mirage 532 is a great all-around sea kayak for small to medium-sized paddlers and it is also easily maneuverable for paddlers with beginner to advanced skills. There are a variety of different versions of this kayak, depending on exactly what you're looking for.
The builds available for this kayak include carbon, kevlar, fiberglass, and feather lite designs. At 15.9 kilograms, the feather lite version is one of the most lightweight sea kayaks that you'll find out there.
All of these designs, however, share some similar features. They are all suitable for everything from casual touring to multi-day expeditions and they all boast a shallow V-shaped hull that increases initial stability.
The Mirage 532 also includes three separate storage hatches with different volumes: a 70-liter rear hatch, a 50-liter front hatch, and a 25-liter day hatch. Finally, this touring sea kayak includes a pedal and integrated rudder system that is easy to operate and provides excellent control on the water.
Check Price on Amazon
The Speedy Touring kayak is our pick for the best sea kayak in Australia because it is arguably one of the most versatile options on our list. It also happens to be available at a very reasonable price compared to some of the other rigid kayaks we've detailed above.
The Speedy offers an excellent balance of speed and stability. It's a kayak you can grow into and use for years to come without feeling like it can't handle your needs as your skills grow.
The main reason we'd opt for a rigid kayak over an inflatable model is due to overall durability. That being said, if you don't have room to store a full-length kayak at your house or you can't transport one on a kayak roof rack, then our runner up selection is the KXone Slider 375 Superlite Inflatable kayak.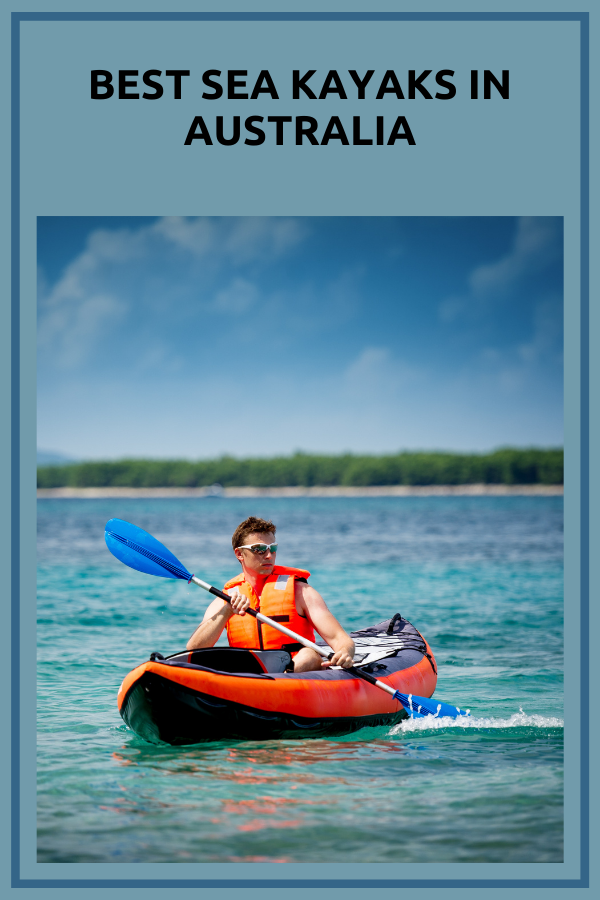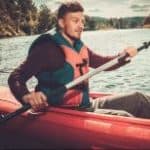 Author: Peter Salisbury
Pete is the Owner of KayakHelp.com. Born and raised in Cleveland, Ohio, he grew up kayaking, fishing, sailing, and partaking in outdoor adventures around the Great Lakes. When he's not out on the water, you can find him skiing in the mountains, reading his favorite books, and spending time with his family.