If you are not a Portland native, chances are you've never heard of Sauvie Island and all the wonderful pleasures and adventures it has to offer. Beyond its scenic views and stunning array of wildlife, Sauvie Island also happens to be an excellent kayaking destination.
In this guide, I'm going to walk you through everything you need to know about going kayaking on the magnificent Sauvie Island.
You are going to learn the best time to visit, what lakes and rivers offer the best kayaking experience, the appropriate types of kayaks to use when paddling in the area, and where you can rent a kayak or find companies to take you on a guided kayaking tour of Sauvie Island.
Armed with this information, you should be able to plan and schedule an amazing kayaking trip to Sauvie Island that you won't forget.
Let's begin!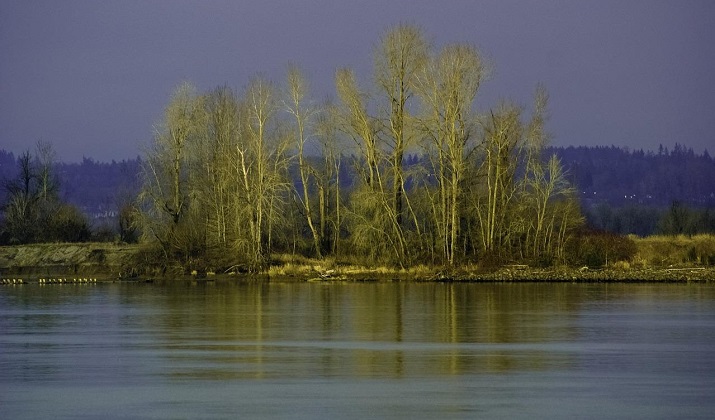 Photo by Joan Greenman
Where is Sauvie Island?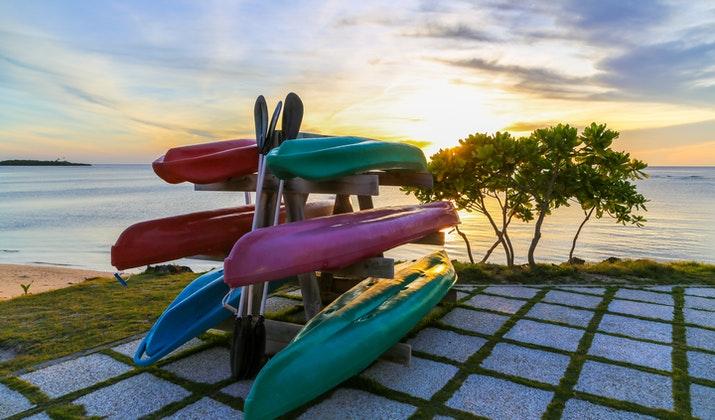 Photo by Sabel Blanco
This precious gift of nature is situated near the city of Vancouver in Northern Oregon, in the northwestern part of the United States. Sauvie Island, also known as Wapato Island, is a 26,000-square acre natural island that is beloved for its agricultural, culinary, and wildlife offerings.
The Manhattan-sized island is the largest island along the Columbia River basin and one of the largest river islands in the nation. It sits 10 miles northwest of downtown Portland, at the point where the Columbia River and the Willamette River meet.
Most of Sauvie Island is concentrated in Multnomah County, but the northern third of the island lies in Columbia County. A vast section of the island—about 12,000 acres of land—has been set apart and preserved as the Sauvie Island Wildlife Area.
Sauvie Island is a haven for outdoor enthusiasts with splendid paddling opportunities, gorgeous sandy beaches, many scenic cycling routes, and delightful trails for running and hiking.
The island is home to an enormous wildlife population and over 200 bird species including ospreys, beavers, waterfowl, raptors, northern flicker woodpeckers, great blue herons, black-capped chickadees, and bald and golden eagles.
You can expect to catch sightings of Sauvie Island's resident animals as you paddle across any of its rivers and lakes.
The island also houses many peaceful, traffic-free, and beautiful water features—including Sturgeon Lake, the largest lake in the area—that make it ideal for casual paddling.
And if that isn't enough action for you, Sauvie Island has many amazing historical landmarks that you can explore during or after your water adventures.
What is the Best Time of Year For Kayaking on Sauvie Island?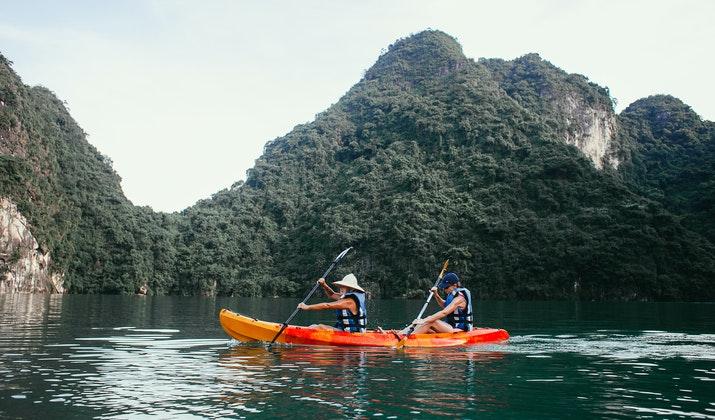 Photo by Rachel Claire
Sauvie Island is one of those destinations where kayaking can be enjoyed all year round. Most of the island is accessible at all times of the year, except for portions of the Sauvie Island Wildlife Area which are typically closed off from October to April to protect the waterfowl.
However, if this is your first kayaking trip, you are still new to the kayaking experience, or you want to schedule your trip for when the weather is most favorable, plan to go on sunny days.
The summer season is the best time of year to visit Sauvie Island for a kayaking trip. Summer in the area typically starts around June and runs well into September and during this time you can expect the days to be comfortably warm with low humidity.
The temperature can climb up to 78°F or 25°C. It is uncommon to have rainfall during Sauvie Island summers and the evenings stretch out longer than usual, with the sun not setting until 9 pm on some days, specifically in June and July.
If you are planning a summertime kayaking trip to Sauvie Island, be sure to pack sunscreen and outfits that are suited to warm weather like shorts, t-shirts, and sandals.
Don't forget to bring along a light jacket to protect you from the chill in the air when the cooler evenings come around and you are still out exploring.
For those who can't make it during the summer or those who want to extend their trip, you can still go paddling on the island during spring or winter and have a super enjoyable time.
You just have to be properly dressed for the cold weather because your regular clothes are not going to cut it.
You might also want to invest in a dry suit or wet suit, or a combination of both to keep you protected on cooler days. A dry suit helps keep your body dry by keeping water out if you get submerged.
On the other hand, a wet suit stores water in between the suit and your body, which heats up and helps keep you warm in cold water.
What is the Best Type of Kayak for Kayaking on Sauvie Island?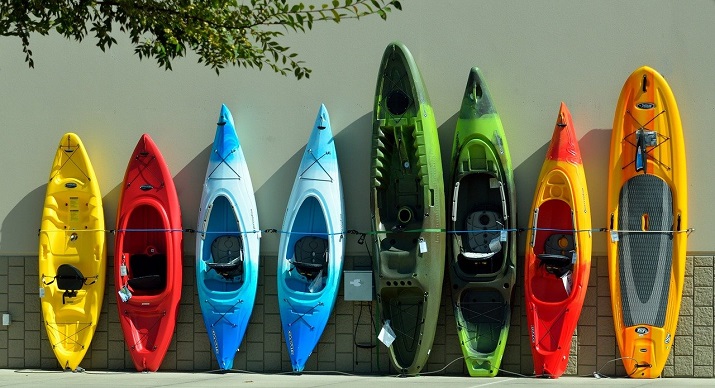 Photo by Paul Brennan
There are different kinds of kayaks and the one you choose can impact your kayaking experience for better or worse. The two main types of kayaks you will have to pick from are sit-on-top kayaks and sit-in kayaks.
Sit-on-top kayaks are mostly recreational kayaks and are ideal for lakes, smooth-flowing rivers, and warm coastal waters.
They are easy to get on and off of and allow you to interact with the water more closely while paddling so you can expect to get wet while using one of these.
Sit-in kayaks are available in recreational, touring, and day touring models and are great for paddling in cold waters or during cool weather because they prevent you from getting wet.
They provide better stability, more efficient paddling, and are easier to maneuver than their sit-in counterparts, which makes them ideal when paddling rough waters or longer destinations.
For kayaking on Sauvie Island, the best type of kayaks to use are recreational kayaks or touring kayaks.
If your main purpose for going out on the water is to fish or do some wildlife watching, you will be better off with a pedal-powered kayak to free up your hands to hold a fishing rod, binoculars, or camera.
At the end of the day, picking a kayak comes down to your preferences and body size. So if you are not sure which kayak model is right for you, we recommend leaving the decision up to the rental company as they possess the expertise to assess your needs and suggest the best option.
Where Should You Go Kayaking on Sauvie Island?
Sauvie Island is teeming with lots of natural riches that kayakers will get a kick out of exploring—from large waterways to small inlets and shallow bodies of water that cater to all types of paddlers, including beginners.
However, it's usually best to limit your paddling to rivers and lakes as they are less risky to wade through. Here are some of the most exciting and popular waterways in Sauvie Island where you can enjoy kayaking to your heart's content.
1. Sturgeon Lake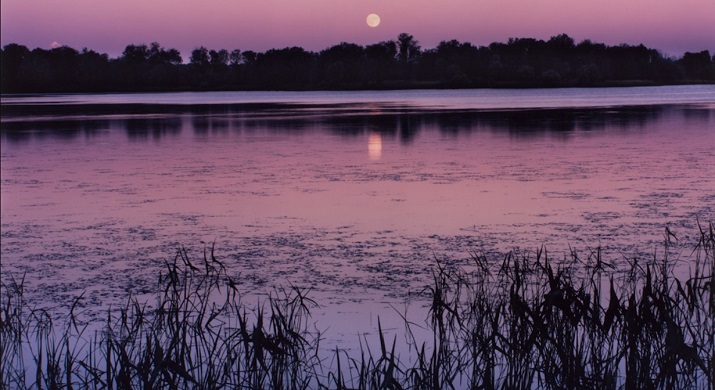 Photo by Ron Cronin
Sturgeon Lake is the largest lake on the fluvial island and it is located right in the middle of Sauvie Island. The lake is surrounded by gorgeous towering mountains—Mount Adams, Mount St. Helens, and Mount Hood—that you can easily spot from various points.
The lake is shallow and mud-bottomed with no significant currents, and motorboats are not particularly fond of it. On the rare occasion that a motor boat sails through the lake, it is mandated to stay within the 5-10 mph speed limit.
This makes Sturgeon Lake a quiet and relaxing spot to paddle and observe wildlife. You may be able to observe different varieties of birds including falcons, ospreys, bald eagles, and blue herons, as well as jumping fish, beavers, river otters, turtles, and more.
You don't have to worry about the tides if you go kayaking on Sturgeon Lake when the water is high. But if you're making the trip in the late summer when the water is lower, you will need to avoid low tides as it can easily lead to you ending up stranded in mud flats close to the shore.
If you are keen on catching the best sites while you are out on the lake, make sure you speak to a local and pick up a map of the lake before heading to the Sturgeon Lake boat launch so you don't miss anything.
2. Cunningham Slough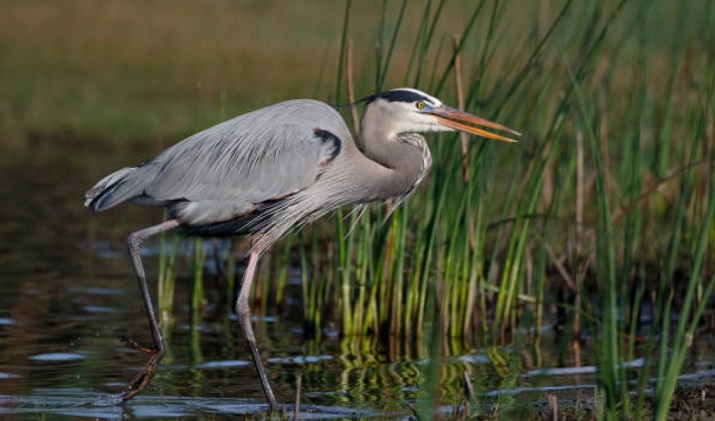 Photo by Brian Lasenby
The Cunningham Slough is a slow-moving waterway stretched across four miles that makes for easy kayaking.
It is located on the northern brink of Sauvie Island just across the Multnomah Channel, in the interior of a thick cottonwood forest, and accessible from the entrance of Scappoose Bay.
The muddy banks of the slough are paved with drooping ash trees and turtles sunbathing on logs. You can find launch facilities at the public boat ramp on Scappoose Bay or the Gilbert River.
Prepare for an epic paddling experience that will move you away from civilization and take you through a remote bayou that is practically inaccessible from land.
The winding waterway is off the beaten path, which makes for a peaceful kayaking experience that almost feels like a tropical holiday.
It is also one of the best places on the island to catch sightings of songbirds, raptors, herons, golden eagles, red-tailed hawks, and dozens of migrating birds, as well as coyotes, black-tailed deer, beavers, and other wildlife.
Due to the rise and fall of water levels, Cunningham Slough is only accessible for kayaking from April to July when the water levels are higher. So if you plan to paddle this waterway, be sure to schedule your trip during this period.
3. Scappoose Bay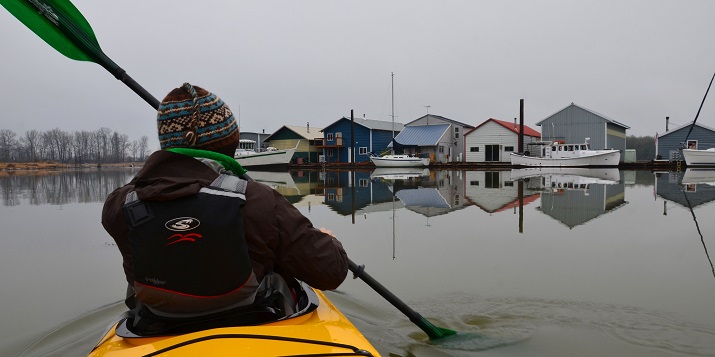 Photo by Brian Jenks
If you are looking for a place to go kayaking in Sauvie Island that offers a few challenges and loads of fun, Scappoose Bay is where you need to go. It is a protected area that lies on the Multnomah Channel, near the northern end of the island.
Scappoose Bay is a tranquil waterway that is dotted with wetlands, sloughs, coves, inlets, tide channels, and little pockets of water that you can explore off the main trail. The bay's marina has a dedicated dock for paddle boarders and kayakers where you can launch from.
High water levels present an opportunity to paddle across a flooded forest while being serenaded by the sounds of countless birds such as woodpeckers, cormorants, and bald eagles.
You are also guaranteed to encounter all kinds of reptiles, amphibians, waterfowl, and other wildlife that call the bay home.
Scappoose Bay is a mecca for gunkholers with a complex web of unnamed creeks, marshes, rivers, tributaries, and lakes for you to meander in a delightful journey of discovery.
The bay is deep at high tide, shallow when the tides are low, with an abundant supply of steelhead and salmon so you can enjoy fishing while you kayak.
As you float down Scappoose Bay, you can take in sights of old farmhouses, logging palings, shades of overhanging trees, and seemingly endless rows of native wapato plants. Be sure to carry enough float trip food, snacks, and water to stave off hunger during the trip.
4. Multnomah Channel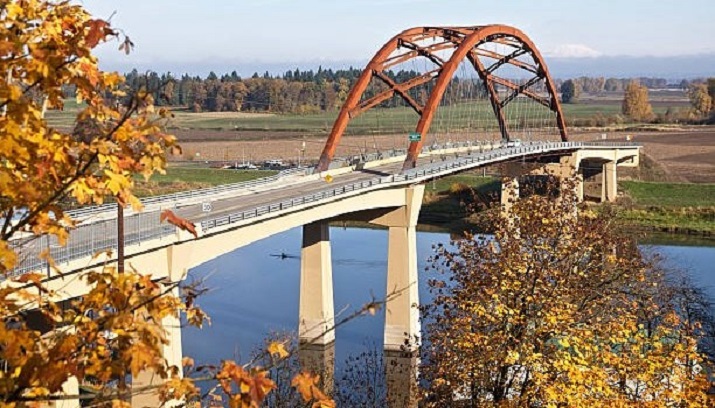 Photo by GarysFRP
The Multnomah Channel is a 21.5-mile-long tributary along the northwestern shore of Sauvie Island. The downstream end of the channel feeds the Oregon side of the Columbia River in Multnomah County.
The channel's head flows from the Willamette River where it branches off to merge with the Columbia River in Columbia County, near the city of St. Helens. From the southeastern half of the channel, you can see the imposing Tualatin Mountains cutting through the horizon to announce their presence.
The vastness and stillness of the Multnomah Channel waterway make it an ideal destination for kayaking. However, it is one of the busier paddling locations on Sauvie Island so you might have to put up with sailboats, barges, and power boats along the route.
The great thing about kayaking in Multnomah County is that you can easily connect to other waterways in the region and make your trip even more exciting. Beyond kayaking, the channel provides many recreational opportunities including birdwatching and fishing.
If you dangle your hook in the water, you can catch sturgeon, shad, walleye, Chinook salmon, brown bullhead catfish, and other small fishes that you can save for dinner or release back into the water.
The Multnomah Channel is affected by tidal action, so the currents can get really strong especially when the water level is high so you need to be mindful of that. Or better still, go with a trained tour guide who can help you deftly navigate the currents.
5. Steelman Lake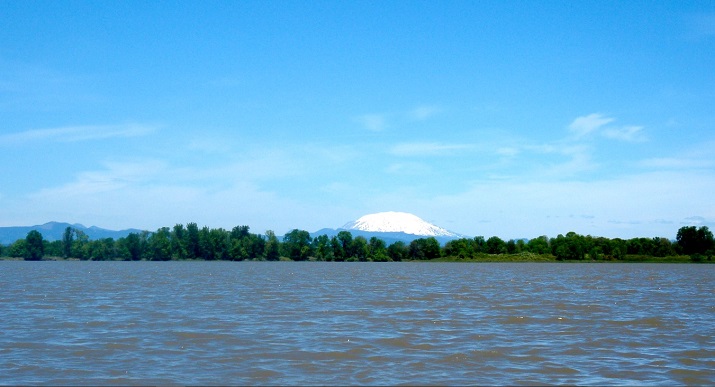 Photo by Pdxpaddling
Steelman Lake is another perfect family-friendly location for anyone looking to go on a water adventure while visiting Sauvie Island. The beautiful, shallow lake has murky brown waters and a mud bottom that's clean enough to swim in if you feel like taking a dip.
The lake is dotted with white oak trees that are native to Oregon and able to live up to 500 years. It is also home to a rich avifauna featuring kingfishers, owls, kestrels, bald eagles, blue herons, peregrine falcons, golden eagles, and red tail hawks, as well as myriad fishes and sea animals.
So if you are a lover of wildlife, make sure you take your kayaking binoculars with you and keep your eyes open while floating down the lake. Steelman Lake offers a launch area where you can begin your paddling and enjoy excellent views.
When the water levels are high, the lake has a wetlands area that is open to exploration. The lake also has a channel ending in a small dike that you can explore on its own or use to gain access to Sturgeon Lake.
6. Gilbert River
Photo by Nikki Chapman
Located within the Sauvie Island Wildlife Area, Gilbert River offers a protectehttps://www.flickr.com/photos/132973942@N05/d area that is ideal for water-based activities like kayaking and paddleboarding.
The river is one mile away from the Multnomah Channel boat ramp and two miles downstream from the J.J Collins Marine Park on Coon Island.
The Gilbert River drains from Sturgeon Lake so if you still want to do more exploring after kayaking across the length of the river, it is the perfect gateway to the lake's larger waterway.
The scenic spot offers transitory moorage, picnic areas, and public restrooms, which you can take advantage of at any point during your floating trip.
The 14-mile-long river connects a web of smaller lakes across the island, including Steelman, Gay, McNary, and Round, all of which are open to exploration.
The Gilbert River makes for a pleasant kayaking experience for novice and expert paddlers alike, with lots of picturesque views to make the trip even more memorable.
Other Locations
The options suggested above do not exhaust the list of viable kayaking spots on Sauvie Island. There are other less popular and less-traveled paddling areas in the region that you can research ahead of your trip and check out when you get to the island.
Lakes
Mud Lake
Crane Lake
Round Lake
Guide or Rental Companies for Kayaking on Sauvie Island?
If it is your first time kayaking, it may not make sense to buy a kayak right away so you will need to rent one. Even if you own a kayak, carrying it along with you might not be convenient, so renting will be a favorable alternative.
Luckily, you can always find kayak rental companies at various locations on Sauvie Island. There are also a bunch of companies that offer guided tours so you need not venture out in strange waters all on your own.
Here are some of them.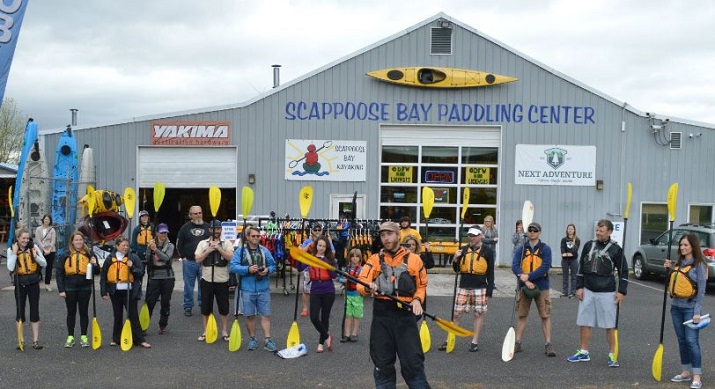 Photo by Scappoose Bay Center
The Scappoose Bay Paddling Center is only a 25-mile drive to the North of Portland on Highway 30 and it offers kayak and boat rentals that cater to paddlers of all experience levels.
Whether you want to rent a canoe, kayak, or stand-up paddleboard, you can find the perfect option for you here. The center also offers kayaking, kayak fishing, and stand-up paddleboarding classes with ACA-certified instructors and paddling tours of various parts of Sauvie Island.
The center is open for business from 9 am to 6/7 pm every day of the week. You can make a reservation for any classes via their website or phone number.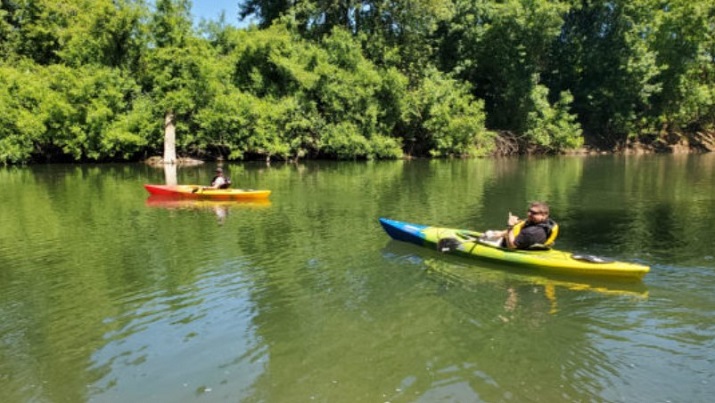 Photo by Alder Creek
Alder Creek Kayak & Canoe is a rental company that supplies kayaks, rafts, canoes, and stand-up paddleboards for rent so you can tour Sauvie Island—launching from Ridgefield—without having to spend huge bucks to buy one.
It also provides these items for sale and offers lessons to those who want to learn watersports like kayaking, rafting, canoeing, and paddleboarding. The company can help you store your boats or carry out all kinds of minor repairs on your boats and gaskets.
Photo by AWL
Adventures Without Limits is an outdoor recreation company founded in 1995. The company's goal is to make outdoor recreational activities fun and accessible all year long to people of all ages, skill levels, and backgrounds.
To this end, it specializes in providing kayaking, hiking, rafting, backpacking, rock climbing, cross-country skiing, and snowshoeing gear and clothing for rent.
Adventures Without Limits can supply you with everything you need to safely embark on a kayaking trip to Sauvie Island and its environs.
The company also offers kayak touring trips with highly trained instructors. It is an equal opportunity recreation provider, which means it caters to everyone, including people with special needs. So there's no reason for a disability to stop you from experiencing the pleasures of kayaking.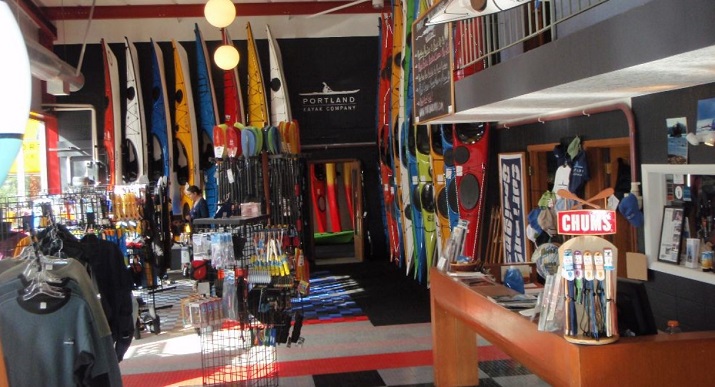 Photo by Portland Kayak Company
If you are looking for a place to get well-maintained kayaks and paddling gear for rent or sale for your water adventure on Sauvie Island, Portland Kayak Company is one of the best companies out there.
Regardless of your preferences, you are bound to find all the accessories and equipment you need to paddle with ease and without risk. In addition to rental services, the company provides kayak classes and guided kayak trips for beginners to experienced kayakers.
Final Thoughts
There you have it—the complete beginner's guide to kayaking in Sauvie Island. Hopefully, we have answered all the core questions you have about planning a float trip to the island and given you a lot of ideas to work with.
So what are you waiting for? Start planning your next adventure right away.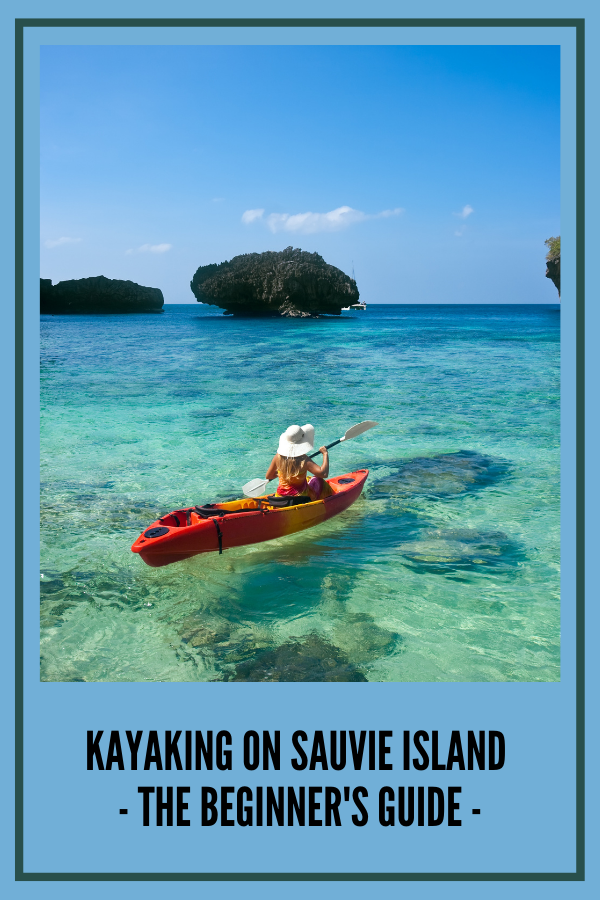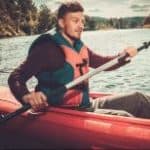 Author: Peter Salisbury
Pete is the Owner of KayakHelp.com. Born and raised in Cleveland, Ohio, he grew up kayaking, fishing, sailing, and partaking in outdoor adventures around the Great Lakes. When he's not out on the water, you can find him skiing in the mountains, reading his favorite books, and spending time with his family.