Are you looking for a place to buy camping gear for your upcoming adventure? We've got you covered.
Camping and kayaking make a great combination, and in this article, we will be listing the 20 best places to buy camping gear online.
The best camping gear websites include Camping World, Campmor, REI, Amazon, Walmart, and Bass Pro Shops. There are also rental options available, such as Outdoors Geek.
Whether you are looking for tents, fishing gear, electronics, or anything else you might need on your next kayaking trip, continue reading. We will discuss more about these websites below.
Before you get started, check out our list of the most essential camping gear you need.
Best Camping Gear Websites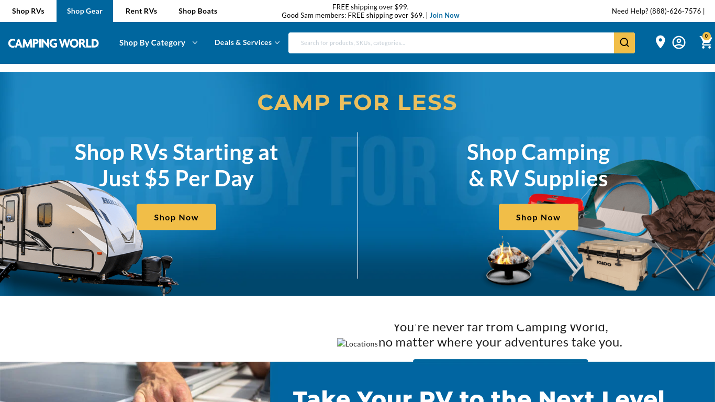 Camping World is your one-stop-shop for all things camping, from kitchenware to tents to cots to anything else you might need on your camping trip. The categories are neatly organized on the front page, and they include:
Camping tents and canopies
Lanterns and flashlights
Tables
Camp tools
Wagons and carts
Outdoor electrical
And much more
As a kayaker, you may want to check out the boating and watersports section. There, you can find boat and kayak motor parts, seats, boat covers and tops, marine electronics and GPS navigation products, and over 22,000 other products.
The site offers a 90-day return policy, with refunds usually delivered to your original payment method.
As part of the Good Sam Club, a Good Sam membership offers special benefits when shopping on Camping World, including exclusive discounts, free shipping on orders over $69, and an extended return policy, as well as benefits at other shops like Overton.
Membership prices start at $29 for one year and go up to $79 for three years – which comes with a $30 merchandise credit. See updated pricing here.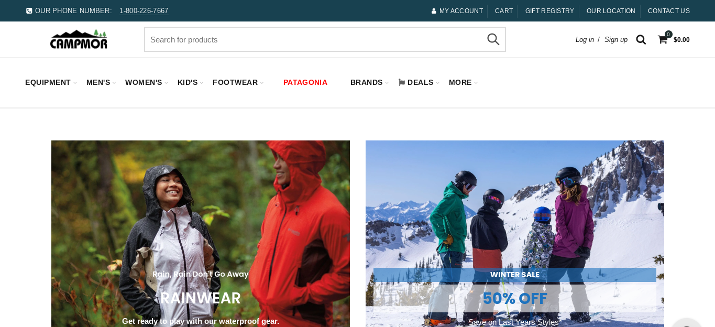 Campmor is a camping and recreational equipment retailer founded in Bogota, New Jersey, in 1978. It currently is located in Paramus, New Jersey, but it also has an online store where you can buy all of your required camping gear.
You can purchase backpacks to carry your stuff, kitchen equipment to cook while you're on the go, electronic devices to make your camping trip more easy, and navigational equipment, maps, and more.
The website also sells clothing, footwear, and accessories, such as headwear, for men, women, and children.
Regardless of which brand you are a fan of, you can find it on Campmor. They carry brand names such as Patagonia, Columbia, Brooks, Sorel, Yeti, Ground Zero, and various other well-known and not-so-well known brands.
It's been in business for over 40 years and reliably delivers quality service to the community and its online customers. It offers a generous 90-day return policy and free shipping on all orders above $49.
The website also accepts various payment methods, including PayPal, Amazon Pay (allowing you to use your Amazon account to pay on third-party sites like this one), credit card, and more. It also allows you to pay over time with Affirm financing.
Also Read: Kayaking Safety Equipment List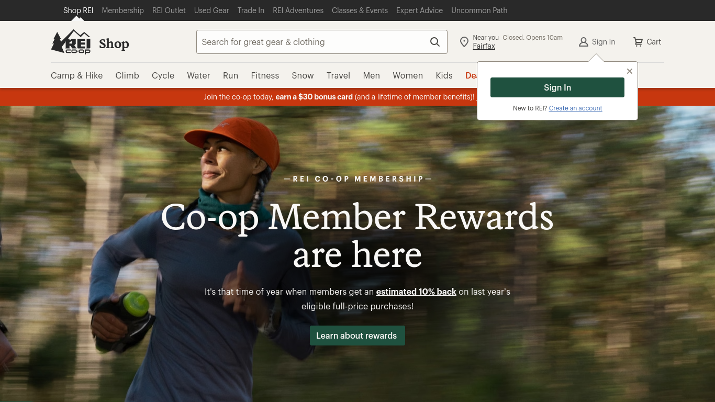 REI is an ecommerce shop dedicated to hiking and camping equipment. However, it also sells all other types of sporting equipment, so if you enjoy cycling, for example, you can also purchase stuff from there.
In the camping section, you will find a wide range of essential and not-so-essential products, from backpacks to solar chargers to kitchen equipment to water bottles to hammocks and sleeping pads. You will also find bear protection items, camp bathroom equipment, first aid products, and more.
For the kayaker, the "Water" category will be interesting as well. Products featured in that category include:
Kayaks
Rash Guards
Canoes and canoe paddles
River tubes
And various other water sport items
There are also categories for general sports and yoga wear, cycling products, running products, and even snow sports (such as skiing and snowboarding). There are also sections for clothing and accessories, such as sunglasses, boots, hats, boxers, jackets, and more.
In addition to purchasing items online, you can enter your zip code to find out which products are available in-store at a store near you.
If you regularly purchase camping and sporting gear, you may want to consider a REI membership, which sells for a one-time fee of just $30 and allows you to earn around 10% cashback on your purchases.
The good news is that when you buy this membership (which you can do when placing an eligible $50 order), you will get a bonus $30 credit that you can use on a future order, so the membership will basically cost you nothing.
You can also get special discounts – a current promotion for REI members is 40% off on the REI Co-op Swiftland run collection, subject to availability.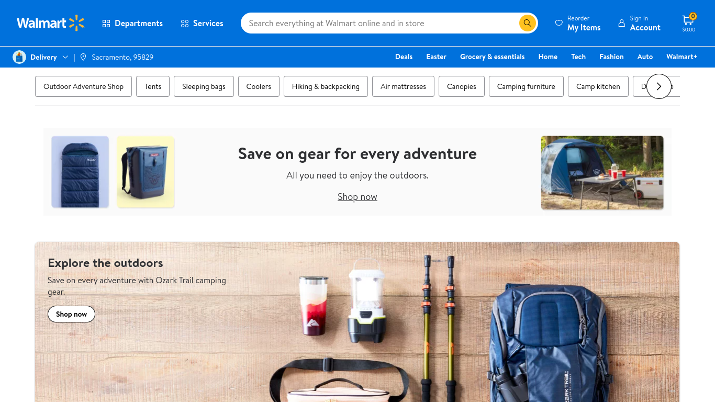 Walmart is one of those megastores offering an excellent array of camping products. You can purchase sleeping bags, gas cookers, air mattresses, backpacks, shelters, coolers, and a lot more.
Featured brands include Decathlon, Coleman, Igloo, Ozark Trail, and various others.
Walmart offers both shipping and pickup at a local Walmart superstore, subject to availability. Most products come with a 90-day return policy – you can either ship it back or return it to a nearby Walmart location to process your refund.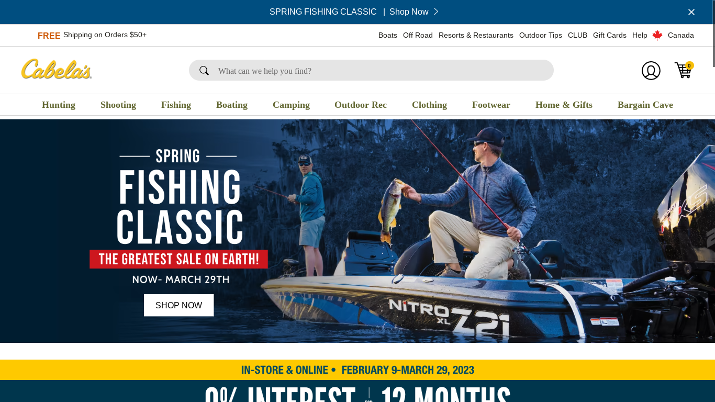 Cabela's camping selection is great. You can purchase tents, lighting, sleeping gear, camp kitchen items, packs, game and food processing, and more, such as metal detecting products.
In the boating category, you can find motor accessories, trailers, boat covers, fishing kayaks, canoes, and lots of other equipment kayakers might be interested in. There are also sections for hunting, shooting, and fishing, so if you love outdoor recreational activities, Cabela's is the place to go.
Make sure to check out the Bargain Cave section for special discounts and sales.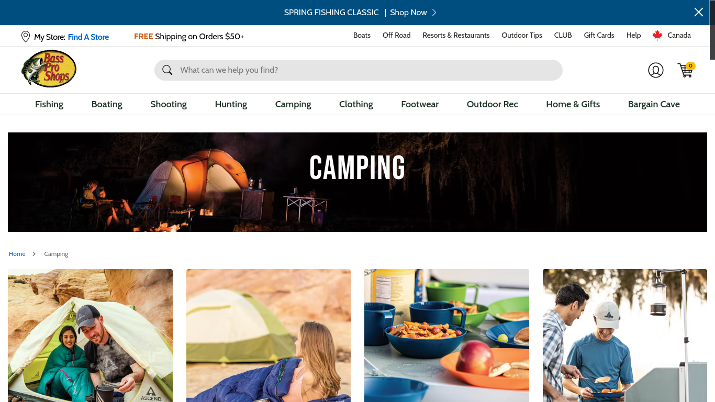 Another excellent website for shopping for camping gear is Bass Pro Shops. Despite Bass Pro Shops purchase Cabela's, the two sites remain separate.
On Bass Pro Shop, you can purchase all kinds of camping gear, ranging from tents to backpacks to survival and first aid products.
With free shipping on orders above $50 and a discount available to military members, Bass Pro Shops is wholly American.
It offers a 60-day return policy, but you can also return items after 60 days, although they must be inspected first to ensure they are still good quality. Since Bass Pro Shop's purchased Cabela's, you can now return items you got from Bass Pro Shops to Cabela's and vice versa, giving you even more flexibility.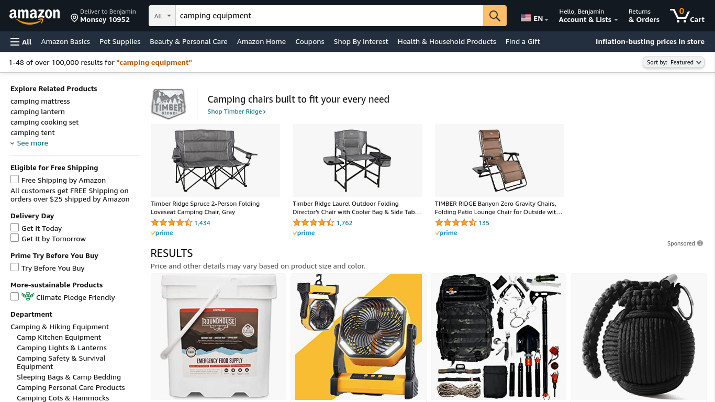 Amazon is also a great marketplace for buying camping gear. Head to the Camping Equipment section to find products such as portable power banks, sleeping bags, camping bedding, lights and lanterns, and other things.
Some items are sold by Amazon.com, while many others are sold by third party sellers on the Amazon marketplace. Shipping from Amazon warehouses is generally pretty quick, with free two-day or one-day shipping available on many products if you are an Amazon Prime member.
A free trial membership of Amazon Prime is available at no cost, so you can sign up for a trial, purchase a whole bunch of camping gear, and enjoy free shipping before canceling. Items will either be bundled together or come in separate deliveries, depending on where they are being shipped from.
Renewed and used products are available as well, allowing you to save some money. There will often be multiple sellers selling a specific product, allowing you to get the best price and the fastest shipping.
Returns are easy on Amazon as well. You'll be able to select from multiple return options, such as printing a shipping label and dropping the item at your nearest UPS box or even arranging a pickup from your doorstep, depending on availability.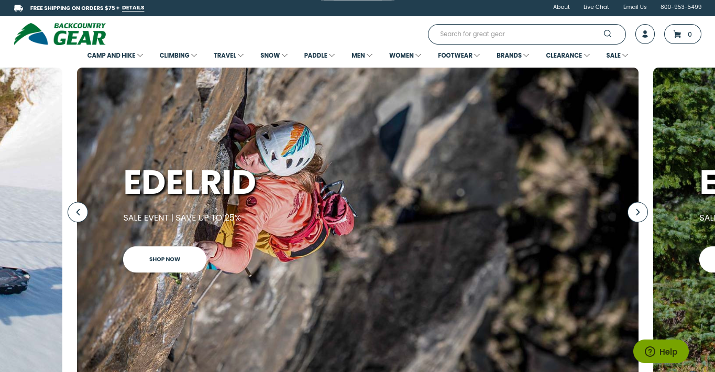 Backcountry Gear has an excellent selection of outdoor and camping products. Head to the Camp & Hike category, where you will find tarps, tents, sleeping bags, camp stoves, dog camping gear, trekking poles, compasses, GPS systems, bug nets and repellent, and various other accessories.
Other categories include climbing gear, snow sporting equipment, paddles, footwear, and more. You can also shop by brand or for items on clearance sale.
Payment methods accepted on the site include credit and debit cards, PayPal, checks, and money orders. Most items are eligible for a return and refund within 60 days, with some exceptions – for example, no items smelling of cigarette smoke will be accepted.
Free economy shipping via UPS Ground, UPS Surepost, USPS First Class, or USPS Priority is available for all orders above $75. This is available within the contiguous US only.
Other shipping options are available as well, but international shipping is not offered. For orders above $300, a signature upon delivery may be required.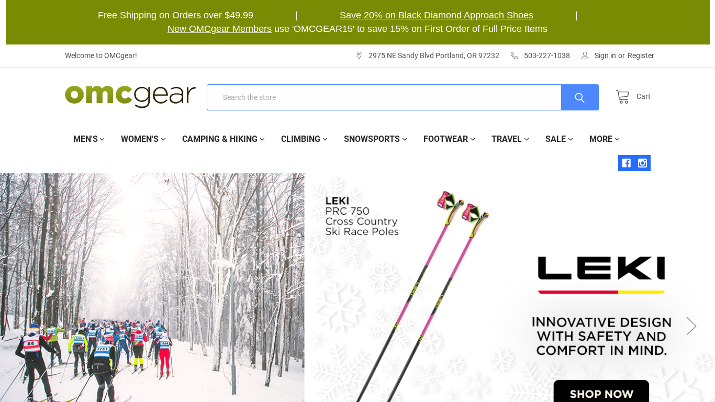 OMC is short for Oregon Mountain Community, and it's an excellent site for purchasing camping gear online. Tents, gloves, backpacks, child carriers, pillows, and foam sleeping pads are just some of the products available for purchase on OMCGear.
If you're into snowsports, you'll love the selection of snowsports products, such as snow saws, shovels, helmets, skiing equipment, and more.
Rock climbing and mountaineering equipment is available as well for those who love those sports.
If you order more than $49.99 worth of products, your order will be eligible for free shipping.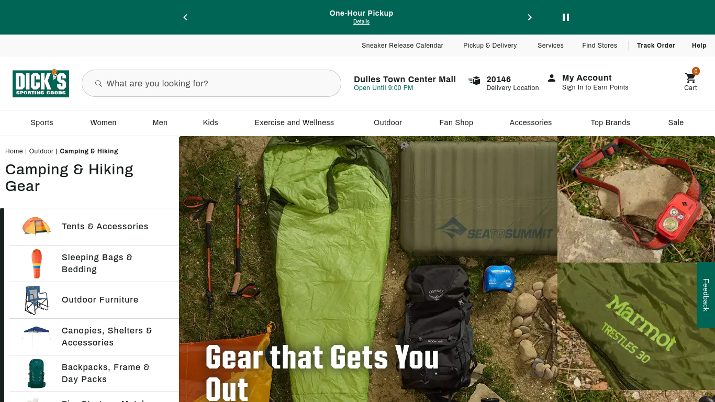 DICK's Sporting Goods is one of the most iconic names in the US when it comes to sports equipment and wear, and it's no different when it comes to camping equipment.
In the Camping and Hiking section, you can find products such as tents, sleeping bags, coolers, fire starters, flashlights, canopies, outdoor furniture, and a lot more.
Regardless of where you plan on going camping, I'm sure you can find suitable equipment and gear. You can also check out the website's helpful blog posts that offer tips and advice on how to choose the best camping gear for your needs.
With a price-match guarantee, you can be sure you are getting the best price on your camping gear, and free shipping is available as well, subject to minimums.
There is no minimum purchase required when you select the ship-to-store option – subject to product availability, you can have an item shipped to your local DICK's store and pick it up from there.
One of the best parts about shopping on DICK's' online is that you can take advantage of same-day shipping on orders placed before 2PM. Of course, it depends on regional availability, but if it's available, you will get your item before 7PM the same day.
Curbside pickup is also an option – just pull up outside a nearby DICK's store, and staff will bring the item to your car.
Another option is pickup at a nearby store, which is available within just one hour!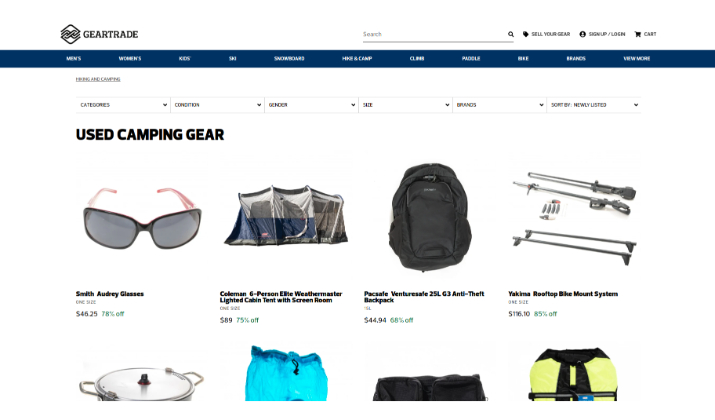 Geartrade is a great site if you are looking for deals and discounts on camping gear. It allows people to sign up and sell their used products – as a customer, you can find awesome deals on lightly-used camping and hiking gear.
It's pretty common to find items at 50 to 80 percent off the original price, so if you don't mind buying used items, check it out.
Product availability depends on what sellers have at the moment, but you can usually find items such as backpacks, sunglasses, watches, and products like canoe carts.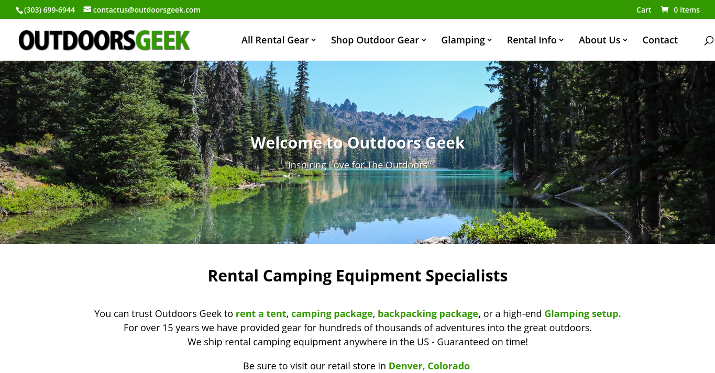 Outdoors Geek is another fabulous place for buying gently used camping gear or renting it. It has a physical store in Denver but also provides shipping across the US.
Outdoors Geek has a rental program, which allows you to rent camping gear, including tents, furniture, packs, bear canisters, and a lot more. Renting gear as opposed to buying it allows you to save quite a bit of money, and it might be the best option if you are on a budget and don't go on camping trips very often.
The website promises that if the gear is not delivered to you at least one day before your scheduled trip is supposed to start, the rental will be entirely free.
Prices are very reasonable – for example, camp chairs rent starting from just $6 for up to three days. Just select your desired rental dates – the longer you rent, the cheaper it will be.
Rental periods are available for up to 28 days. While the beach chair costs $6 for three days, it costs just $15 for 22–28 days.
For more information on how the rentals work, I suggest checking out the FAQs page.
Outdoors Geek retires its rental products when they are still in excellent condition and lightly used, selling them for up to 60 percent off.
Coleman is a brand well-known for its quality. It offers a wide range of camping products, such as tents, canopies, coolers, lighting, grills, and camp furniture.
Check out its camping checklist to make sure you have all the gear you need before you set out on your trip.
Standard shipping is available for free on orders above $50; otherwise, it costs just $6.95. Three-day, two-day, and overnight shipping is also available.
eBay also offers a nice selection of products for camping enthusiasts. Available categories include hiking backpacks, outdoor sleeping gear, camping cooking supplies, and a lot more!
Items sold on eBay are sold by third party sellers, and one of the best things about eBay is that you can often negotiate on the sales price. Auctions may also be available, allowing you to take advantage and buy items at low prices.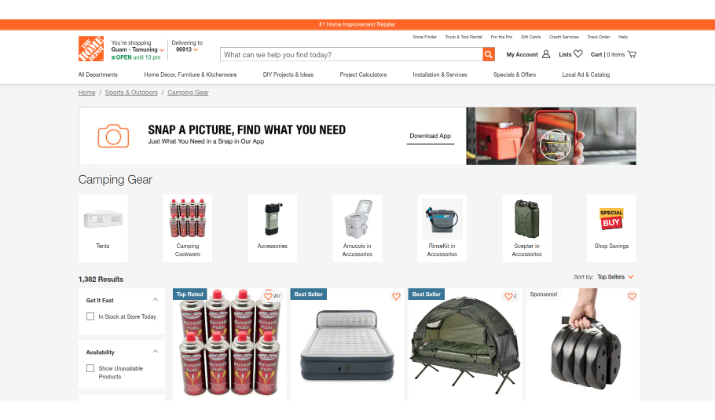 Did you know that Home Depot has an entire section for camping gear? Tents, tent stakes, sleeping bags, air mattresses, gas canisters, camping chairs, and even camping sinks are just some of the products available.
Free shipping as well as free pickup at a nearby store might be available. Enter your zip code to see which products are available at your store.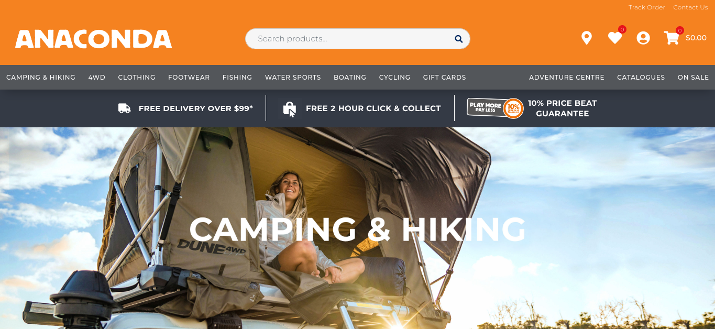 Tents, first aid equipment, mosquito repellent, swags, outdoor camping furniture, and camping packs are just some of the products available at Anaconda. There is plenty of cooking and barbecue equipment available as well.
The site also has helpful buying guides for camping and hiking such as the camp toilets and showers buying guide.
Free shipping is available on orders above $99, and two-hour pickup might also be available depending on availability.
The site also offers a price match guarantee. If you find a better price on an item it stocks, it will beat that price by 10 percent.
Target is known for its excellent prices. You can find camp chairs for less than $40, coolers for under $50, and shelters for less than one hundred bucks.
If you don't have a Target store near you, shipping is available. It is free for orders above $35 or if you are a RedCard holder.
Same-day delivery may also be available, depending on your location and which products are in stock at your nearest store. In-store pickup or curbside pickup is yet another option, available in as little as two hours.
Place your order, and staff at your nearest Target store will pack it for you. You will get a notification when the order is ready for pickup.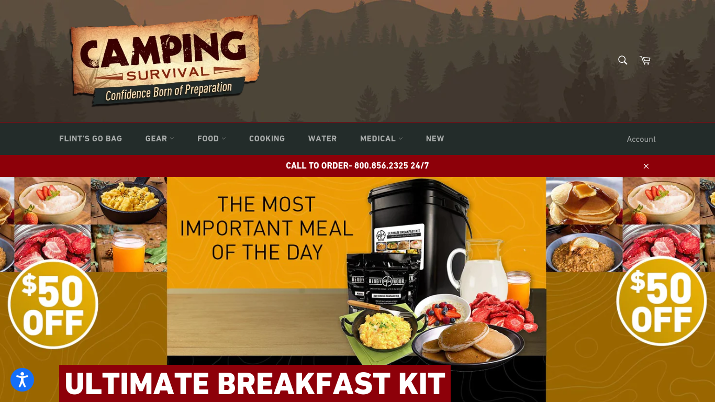 Camping Survival is a survivalist and camping gear website marketed towards people who are interested in survivalism. Survivalists are people who prepare for emergencies, such as nuclear war or some other sort of catastrophe, and focus on buying food stock and other items that will help them survive in the wild.
Therefore, this website is a great place to find camping gear that will help you survive for a long time.
You can buy emergency water banks, lanterns, food ration bars, a four-week emergency food supply, a camper's knife that comes complete with a fork and spoon, a tactical fire starting kit, and other survivalist items.
Water purification filters, folding cooking stoves, first aid kits, and potassium iodide anti-radiation tablets are just some of the other survivalist products you can purchase on Camping Survival.
The site's blog also features useful tips, such as natural painkillers that you can take when disaster strikes and a list of 10 ways to start a fire when you don't have matches or a lighter.
If you order more than $79 worth of items, shipping is free.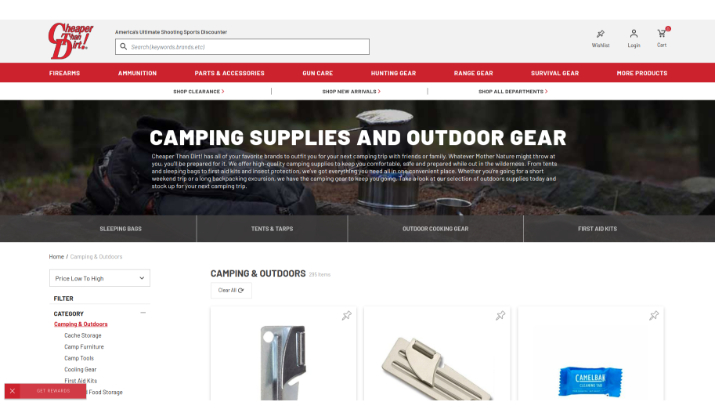 Cheaper Than Dirt is a great website if you are looking for affordable camping gear. Heaters, hand warmers, hiking poles, insect repellent, camping furniture, and tents are all available for purchase.
It carries products from brands like Allen, Arctic Ice, Hawk, Frogg Toggs, and others. You can also filter by price to ensure you are getting the best deals.
While Cheaper Than Dirt carries plenty of camping and hiking products, it seems to focus mostly on shooting and hunting equipment. You can buy gun parts for popular guns, ammunition, hunting gear, survivalist gear, and a lot more!
If you enjoy hunting, it's a great website.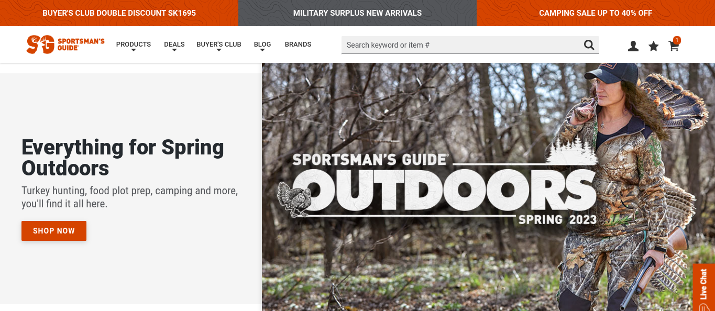 The final entry on our list is Sportsman's Guide, which carries a selection of different camping equipment, such as backpacks, cooking equipment, survivalist gear, knives, tools, tents, and more.
If you are a regular camper and need new gear often, you might want to sign up for the Sportsman's Guide Buyer's Club. as a member of the club, you will get free standard shipping on orders above $49 and special deals only available to club members.
The free standard shipping applies to ammunition orders as well.
Furthermore, you will get access to the split payments program, which will allow you to pay for your items over four payments on orders over $150 – without any interest!
If you apply for the Sportsman's Guide Buyer's Club Rewards Visa Credit Card, you will get 2.5% off every purchase as well.
Conclusion
There you have it – 20 of the best sites to buy camping gear. Many of these sites offer exclusive club membership options, allowing you to access additional discounts, cashback, and more.
I suggest checking out those that offer free shipping, so you can save some money.
If you are on a strict budget, you may also want to look into renting camping equipment or buying used products, and I have given you options for both of them as well.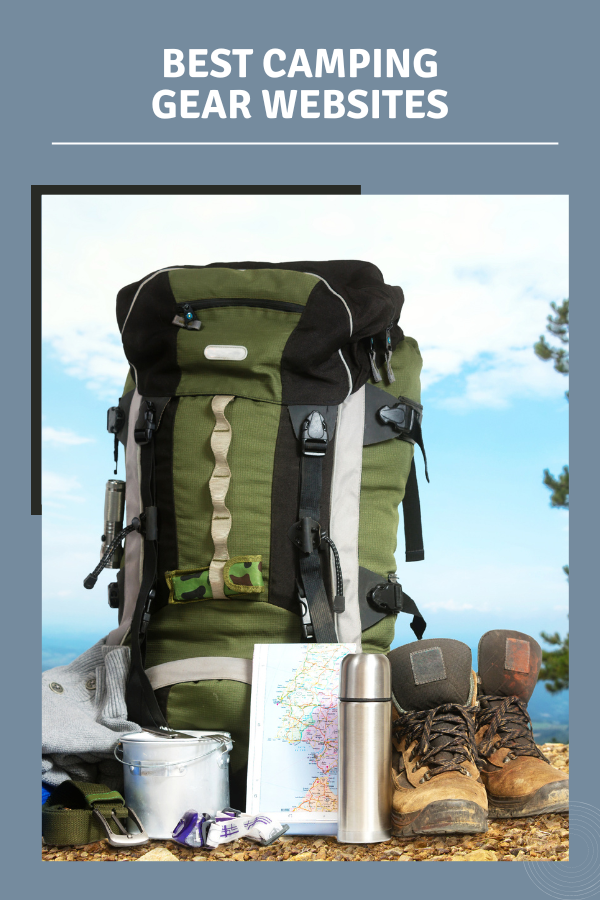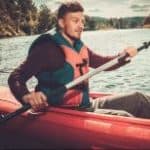 Author: Peter Salisbury
Pete is the Owner of KayakHelp.com. Born and raised in Cleveland, Ohio, he grew up kayaking, fishing, sailing, and partaking in outdoor adventures around the Great Lakes. When he's not out on the water, you can find him skiing in the mountains, reading his favorite books, and spending time with his family.