Not all boats are meant to go back and forth between freshwater and saltwater. In fact, most places nowadays have strict regulations that make such transitions very difficult for boat owners.
We do think this is a good thing to prevent the transfer of invasive aquatic species to environments that they would decimate. For the saltwater anglers out there, it means you'll need to hone in on one of the best saltwater fishing boats.
If you are one of the lucky few that have a larger budget, we also recommend checking out this collection of the most expensive fishing boats. In this guide, however, we are going to turn our attention towards the best saltwater fishing boats with reasonable price tags.
That's not saying these boats are cheap and we definitely haven't included any models from the worst boat brands out there. Our goal for this article is simply to provide high-quality boats for saltwater fishing that are accessible to more folks.
So let's get right to it without any further delay!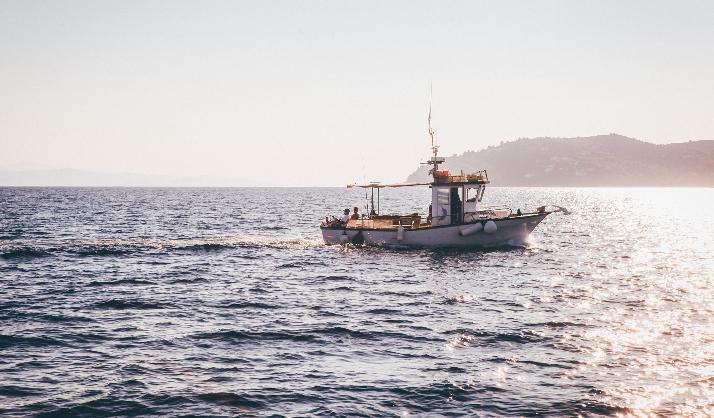 Photo by Nick Karvounis via Unsplash
Best Saltwater Fishing Boats
Cobia 280 CC
Everglades Boats 45 CC
Grady-White Boats Canyon 456
Grady-White Boats 251 Coastal Explorer
Boston Whaler 270 Dauntless
Boston Whaler 405 Conquest
Maritime Boats 250 Voyager
Northcoast Boats 280 CC
Invincible Boats 36' Open Fisherman
Jupiter Marine 41 SB
Pursuit DC 326
Regulator 28
Robalo R230
Sea Born FX22 Bay
Southport 30 FE
Best Saltwater Fishing Boat Reviews
PC Cobia Boats
Quick Boat Specifications
Length: 27'7"
Beam: 9'8"
Draft: 22"
Weight: 6,610 pounds
Fuel Capacity: 189 gallons
Maximum Horsepower: 500
The first boat on our list is the Cobia 280 CC and this boat is loaded with advanced angling features. At the helm, an integrated tackle station with upgrade seating provides comfort for fishing and navigating.
This boat also features a self-bailing cockpit and two insulated fishboxes in the cockpit. Both of these boxes offer a maximum capacity of 47 gallons and they also boast macerated overboard drains.
In terms of rod storage, the Cobia 280 CC boasts gunnel rod holders on the starboard side and additional rod storage under the gunnels. Speaking of the gunnels, there are also five heavy-duty cleats on this boat to make it easy to pull up and tie up to a dock.
While this boat is great for taking your boys out for a much-needed fishing retreat, it also has a number of family-friendly features. The forward table, for example, electronically flushes right into the floor to turn the bow area into a spacious sun lounge.
It also offers a fully recessed bow rail that gives you something to hang onto when moving about in choppy waters. There's also a 62-quart insulated cooler in the console and a spacious head complete with a towel bar, toilet paper holder, and mirror.
These are all just a few of our favorite standard features in the 280 CC. If you want to make any upgrades, you'll be able to add things like faux teak decking, a powder-coated hardtop, a Garmin 12-inch touchscreen with Sonar, and much more.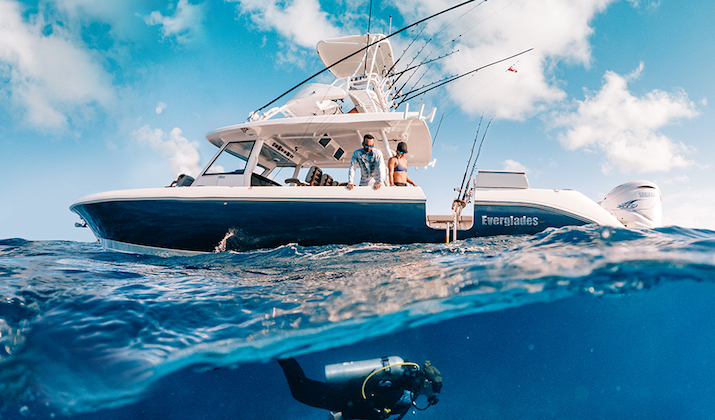 PC Everglades Boats
Quick Boat Specifications
Length: 47'2"
Beam: 13'3"
Hull Draft: 35"
Draft with Engine Down: 50"
Weight: 28,000 pounds
Fuel Capacity: 683 gallons
Maximum Horsepower: 1,800
The next saltwater fishing boat on our list is one of the largest models we've included, which makes it best suited to extended fishing trips. With a nearly 700-gallon fuel capacity and an extra-large fish-fighting space, you'll be able to stay out longer and chase bigger fish.
The 455CC is the longest and widest flagship model in the history of Everglades Boats and it also features their largest command center ever. Other Everglades firsts include in-floor fish boxes on the port and starboard sides and the second row of Garmin monitors for passengers.
You'll also enjoy a standalone head with a separate shower, port and starboard dive/utility doors, and a completely redesigned upper station. This is one of Everglades' most technologically advanced boats from bow to stern.
They actually worked directly with Garmin's Advanced Electronics Engineers to integrate that technology into the boat's central nervous system. This boat's recessed pocket transducer is mounted right to the hull and offers excellent deep-water capability.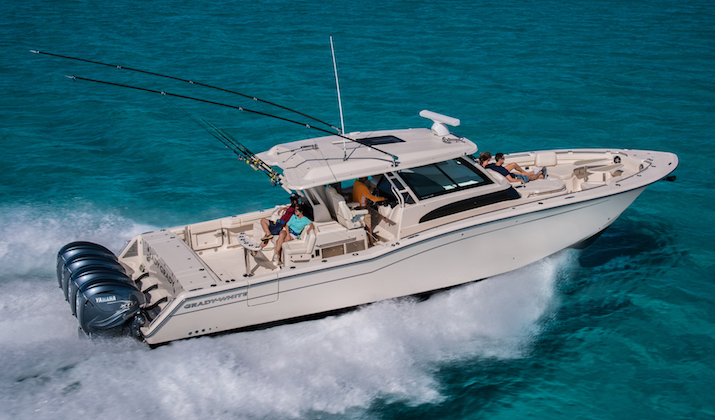 PC Grady-White Boats
Quick Boat Specifications
Length: 45'
Beam: 14'
Hull Draft: 30"
Weight (without engines): 24,500 pounds
Fuel Capacity: 616 gallons
Maximum Horsepower: 1,700
If you're looking for power, size, and style, look no further than Grady-White's Canyon 456 center console saltwater fishing boat. It's dubbed as "the largest unsinkable boat of its kind" and it is an incredibly spacious and sophisticated fishing boat.
This boat is built on Grady's patented Sea V²Ⓡ hull, which has received the top marks for performance and ride in every J.D. Power and Associated Marine Study that has been done to date.
Part of the reason for that performance is the fact that this boat boasts four Yamaha 425 four-stroke engines at the stern. These engines give it a top speed of 58 miles per hour at 6,000 rpm and an optimal cruising speed of 30.1 mph at 3,500 rpm.
When you drop anchor and start fishing, you will be able to take advantage of a spacious casting platform, a total of 10 rod holders, a SeakeeperⓇ 6 gyroscopic stabilization system, and a self-bailing cockpit with a high-volume scupper system.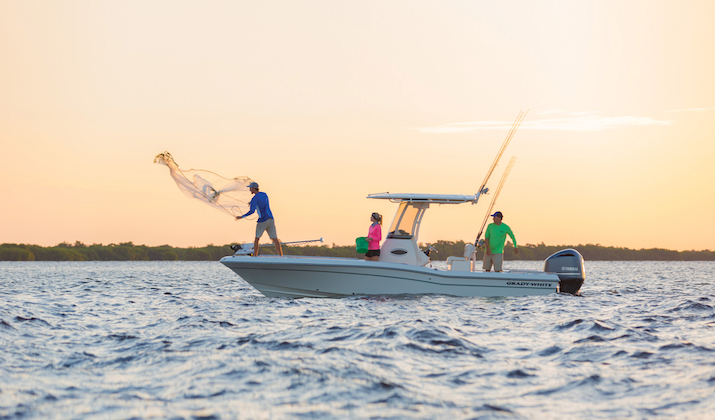 PC Grady-White Boats
Quick Boat Specifications
Length: 24'7"
Beam: 8'6"
Hull Draft: 14"
Weight (without engines): 3,715 pounds
Fuel Capacity: 78 gallons
Maximum Horsepower: 300
If you're looking for something a little more compact from Grady-White Boats, check out the 251 Coastal Explorer. This boat is ideal for inshore and bay fishing, but just because it's smaller than the Canyon 456 doesn't offer a great platform for saltwater fishing.
It's got fishing platforms at the bow and stern and a 25-gallon livewell to keep your fish fresh until you get back to the marina. It also features built-in fishing rod storage and a deluxe lean bar that comes with lockable storage.
If you need to cool off with a quick swim, you can also rinse off with the refreshed freshwater shower in the cockpit. Another luxury feature that you'll enjoy is the flush mount electronics area at the helm.
This boat comes with plenty of standard features that will upgrade your saltwater fishing trips, but there are several optional upgrades you should also consider. A few of our favorites include four additional horizontal rod storage areas, a trolling motor pre-rigged on a swivel mounting bracket, and an upgraded bow table package.
PC Boston Whaler
Quick Boat Specifications
Length: 27'10"
Beam: 9'
Hull Draft: 17"
Weight: 6,949 pounds
Fuel Capacity: 152 gallons
Maximum Horsepower: 600
Boston Whaler is probably one of the most recognizable fishing boat brands on our list, which is just one of the reasons why we've included two different saltwater fishing boats from them. The first is the 270 Dauntless, which offers unrivaled versatility.
While it's primarily made for saltwater fishing, this boat can be equipped with an optional swim platform for diving or swimming. It can also be outfitted with an optional hardtop that includes integrated fishing rod holders and/or a deluxe leaning post with flip-up thigh-rise bolsters.
The cockpit of the 270 Dauntless is equipped with a self-bailing sole and this boat also features a full-width casting platform at the stern. For your convenience, there are a total of 12 drink holders strategically placed throughout the deck and cockpit of this fishing boat.
The console features a portable head with a pump-out feature and a stainless steel steering wheel with a urethane grip. In terms of power, you'll enjoy plenty of get-up with the 350 L6 DTS Black Black Mercury Verado engine on this boat.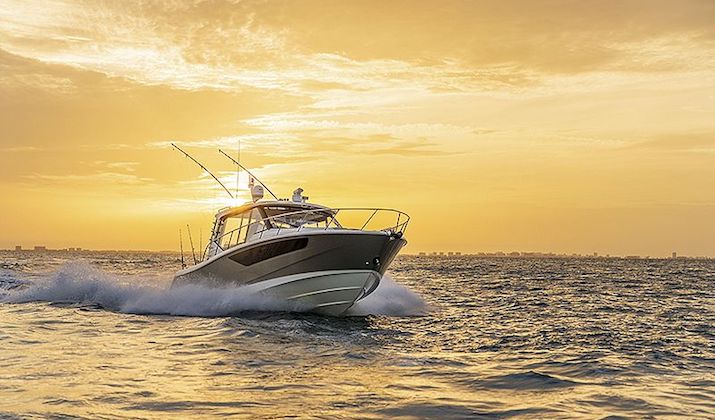 PC Boston Whaler
Quick Boat Specifications
Length: 41'4"
Beam: 13'6"
Hull Draft: 30"
Weight: 30,360 pounds
Fuel Capacity: 620 gallons
Maximum Horsepower: 1,881
We already told you about our affection for Boston Whaler, but the 405 Conquest is truly a work of art. It starts with a robust and spacious bow lounge area and finishes with four 300 V8 DTS Black Mercury Verado engines, but there's plenty to like in between.
This is one of the few boats on our list that offers a cabin with a full master stateroom and two guest sleeping quarters. The cabin also boasts an enclosed head with a separate shower and a full galley.
It's also great for experienced anglers because the transom prep area can be customized for a variety of fishing or entertainment purposes. Near the transom door, there's also a freshwater shower with both hot and cold water for rinsing.
The 405 Conquest also includes a helm station with plenty of advanced electronics, such as a Raymarine Axiom XL 16-inch touchscreen with GPS, fishfinder, and chart plotter. It also features a port and starboard defogger system and a 16,000-BTU A/C unit with two helm vents.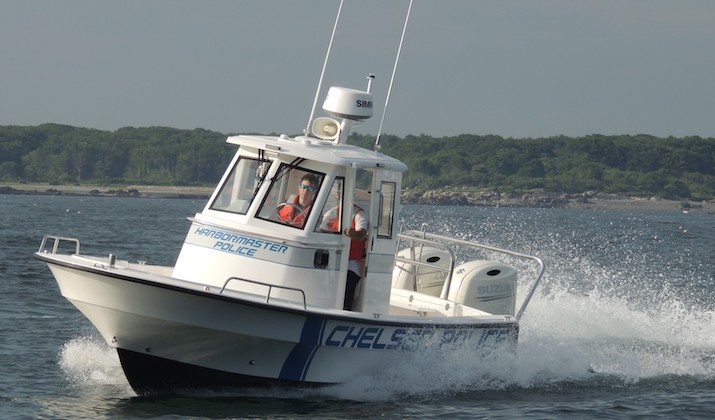 PC Maritime Boats
Quick Boat Specifications
Length: 25'8"
Beam: 8'6"
Hull Draft: 14"
Weight (without engine): 3,650 pounds
Fuel Capacity: 120 gallons
Maximum Horsepower: 350
There are several really good reasons why the 250 Voyager from Maritime Boats is a popular choice for marine law enforcement departments. It can be powered by single or twin outboard engines and features an enclosed helm with full protection from the elements.
This boat is built with the same closed-cell foam flotation that is common to any saltwater fishing boat that is labeled as unsinkable nowadays. It's also built with a warped vee hull and a self-bailing, non-skid deck.
In terms of fishing features, it's equipped with a full-width transom with a fishbox that includes an overboard drain. It also offers a rod storage compartment under the gunnel that can fit up to eight fishing rod setups.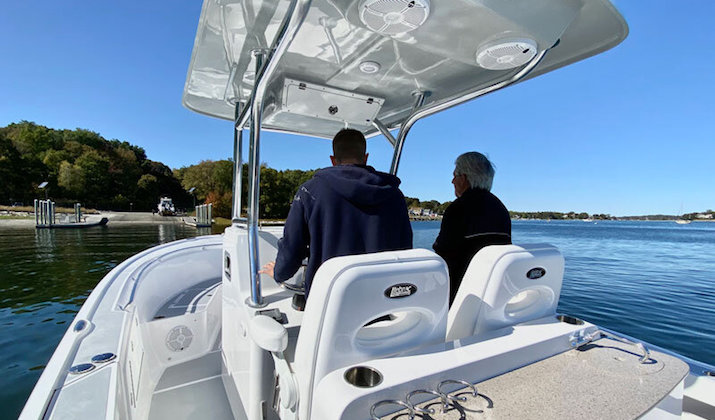 PC Northcoast Boats
Quick Boat Specifications
Length: 28'
Beam: 9'1"
Hull Draft: 17"
Weight: 7,617 pounds
Fuel Capacity: 182 gallons
Maximum Horsepower: 600
The Northcoast 280 Center Console fishing boat is built for expert offshore anglers and it's got plenty of features to love. That begins with a 24-degree deadrise that gives you plenty of control in rough conditions and continues with a roomy head that boats plenty of storage space for bags, fishing rods, and extra gear.
Speaking of that head compartment, it offers a lockable door and a Sea/Land head with a 29-gallon holding tank that features a macerate and Y-valve for freshwater flushing. Speaking of that, the 38-gallon freshwater wash-down system is essential for keeping the head clean.
At the helm, the captain will enjoy a full windshield and an EDSON SS steering wheel with a knob. The helm also features a new leaning post with an integrated fold-a-way footrest, a Blue livewell, tackle boxes, and more.
If you're looking for a versatile boat that can also handle family adventures, you can upgrade the 280 to include plush seating and a variety of safety features, such as a hydraulic steering system, a self-bailing cockpit with two scuppers, and RUPP Top Gun outriggers.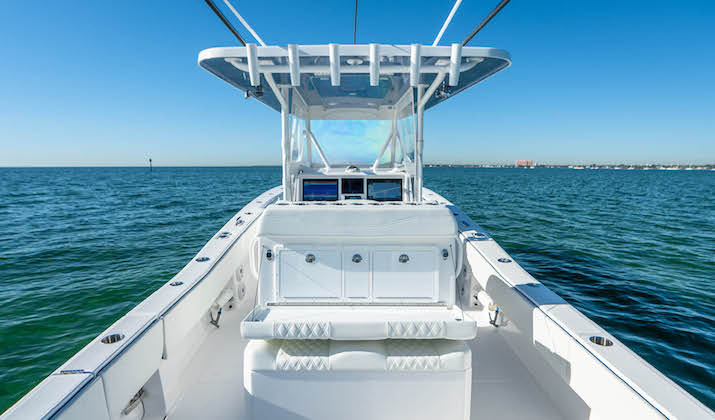 PC Invincible Boats
Quick Boat Specifications
Length: 36'8"
Beam: 10'
Weight: 9,200 pounds
Fuel Capacity: 475 gallons
Maximum Horsepower: 1,350
The 36' Open Fisherman from Invincible Boats is built for 360-degree walk-around fishability and it has a large enough fuel capacity to give it a whopping range of more than 525 nautical miles.
There are livewells above and below the single-level deck on this fishing boat and it also includes a high-speed pickup that fills the livewells in minutes. The deluxe console features a fully-lined interior room that gives this fishing boat a full-sized head.
There are several other standard features, but the Invincible 36 is also about customization. You'll be able to take your pick of five different engine configurations along with a custom top, fishing accessories, seating choices, and a variety of enhancement and convenience options.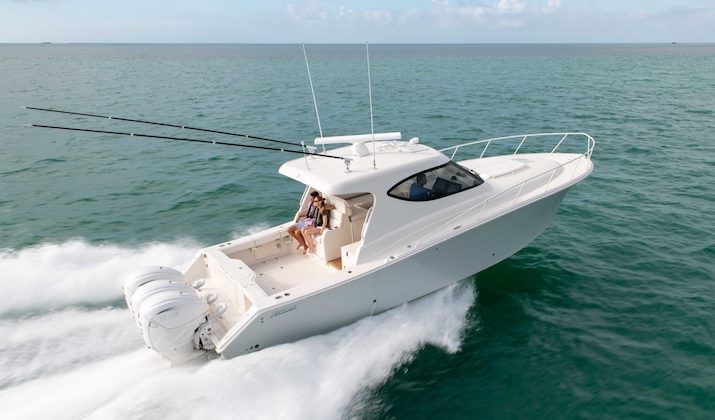 PC Jupiter Marine
Quick Boat Specifications
Length: 40'3"
Beam: 12'8"
Hull Draft: 25"
Draft with Engines Down: 40"
Weight: 24,260 pounds
Fuel Capacity: 475 gallons
Maximum Horsepower: 1,200
The 41 SB saltwater fishing boat is the flagship model that headlines Jupiter Marine's flagship fleet. It's got an enclosed bridge to keep you protected from inclement weather and the bridge is also climate-controlled so you can escape the heat and humidity on summer days.
It combines some of the best features of ocean yachts and sportfishing vessels to deliver both performance and luxury. With enough space to sleep up to five passengers, it's also well equipped for extended saltwater fishing excursions.
Some of the Jupiter's most unique features include mezzanine seating with underneath storage, dockside freshwater and cable inlets, two 90-gallon fishboxes with macerator drains, and an integrated fiberglass engine mounting bracket and dive platform.
This premier saltwater fishing boat is also equipped with a diesel generator with a 40-gallon fuel tank, a self-bailing cockpit, a 50-amp dockside power inlet with a 25-foot power cord, and an insulated top-loading combination refrigerator and freezer.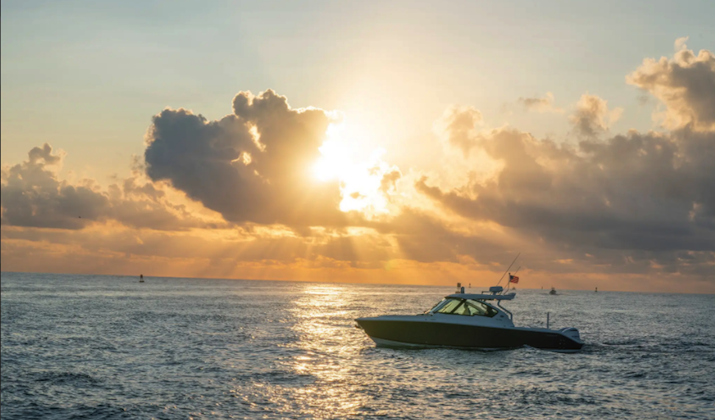 PC Pursuit Boats
Quick Boat Specifications
Length: 34'6"
Beam: 10'10"
Hull Draft: 24"
Draft with Engines Down: 35"
Weight: 12,900 pounds
Fuel Capacity: 300 gallons
Maximum Horsepower: 600
The DC 326 is the latest addition to the impressive collection of dual console fishing vessels offered by Pursuit Boats. The helm is the boat's center point and it offers an integrated fiberglass hardtop with a tempered glass windshield for driver protection.
The helm includes a starboard hull side door for quick access to the deck and ample storage for fishing equipment or safety essentials. On the port side, passengers can enjoy a wrap-around lounge as well as forward bow and foldaway cockpit seating.
Your fishing buddies will enjoy plenty of rod holders and recirculating livewells to keep your fish fresh until you return to the marina. They'll also like the port and starboard insulated fishboxes with diaphragm pumps and overboard discharge.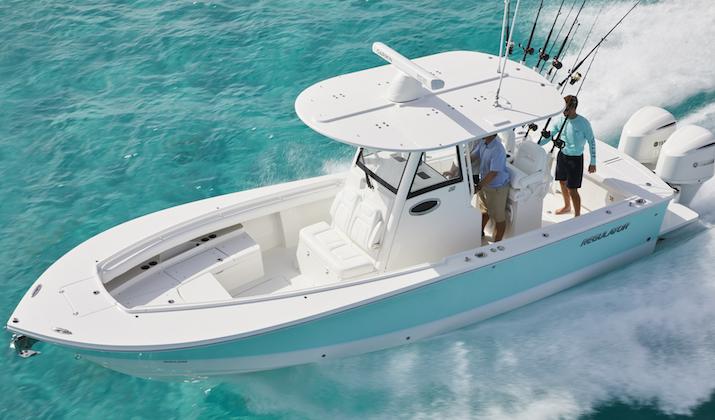 PC Regulator Marine
Quick Boat Specifications
Length: 32'6"
Beam: 9'5"
Hull Draft: 23"
Draft with Engines Down: 35"
Weight: 9,480 pounds
Fuel Capacity: 219 gallons
Maximum Horsepower: 600
You won't be able to wait to mount up with the Regulator 28 and get out to enjoy rugged offshore fishing adventures. The unique Lou Codega-designed hull and its sharp bow entry provide the unique appearance of this fishing boat at first glance.
The center console design of this fishing boat provides walk-around fishability and it's got plenty of power due to the twin Twin Yamaha F300 four-stroke engines at the stern. There's also a 25-gallon transom livewell and an additional 124-quart transom fish box or optional livewell.
In terms of comfort, convenience, and fishing features, you'll have a number of customization options with this boat. That includes adding a removable watersports tow bar, a forward sunshade, a freshwater engine flush in the cockpit, and much more.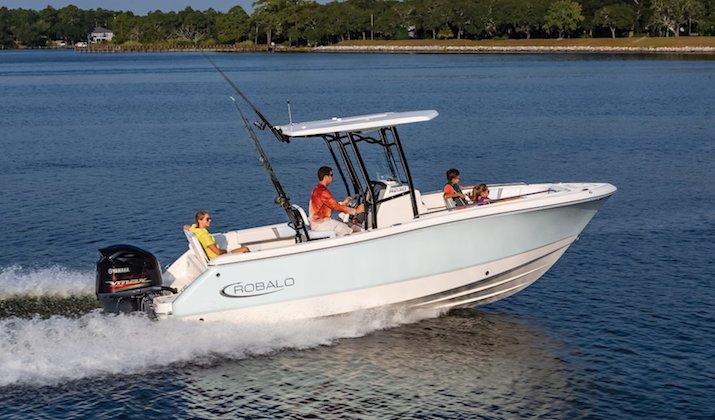 PC Robalo Boats
Quick Boat Specifications
Length: 23'
Beam: 8'6"
Hull Draft: 19"
Weight: 4,400 pounds
Fuel Capacity: 90 gallons
Maximum Horsepower: 250
The Robalo R230 is one of the sleekest and most compact saltwater fishing boats on our list, but it's definitely not devoid of fishing-specific features. It provides boaters with easy access to batteries and all onboard electrical systems.
It's also equipped with non-skid surfaces and stainless steel handles throughout for added safety when you are moving about. The premium helm features a colored gelcoat that is designed to reduce glare and convenient access to your stereo controls, a 12-volt power receptacle, and much more.
At the bow, your passengers will be able to enjoy plenty of comfortable seating and you can upgrade to enjoy removable bow backrests for more luxurious sunbathing. When it's time to fish, however, you'll love the dedicated anchor locker and non-skid deck at the bow.
PC Sea Born Boats
Quick Boat Specifications
Length: 21'9"
Beam: 8'6"
Hull Draft: 13"
Weight: 2,000 pounds
Fuel Capacity: 50 gallons
Maximum Horsepower: 250
This is one of the most affordable and stylish bay fishing boats on our list and it is also super lightweight and compact. The Sea Born FX22 Bay is ideal for expert bay anglers because it boasts a tournament-style deck with dual high-capacity recirculating livewells.
There are two different deck plans to choose from with this boat and the first offers two full-sized, rear-folding jump seats. If you want to upgrade, you can choose to remove those seats to take advantage of the tournament deck plan.
Its best standard features include a trolling motor harness & plug, an insulated Sea FreezeⓇ cooler, an SS60 thru-hull transducer, and a Bluetooth-enabled marine stereo with all-weather speakers.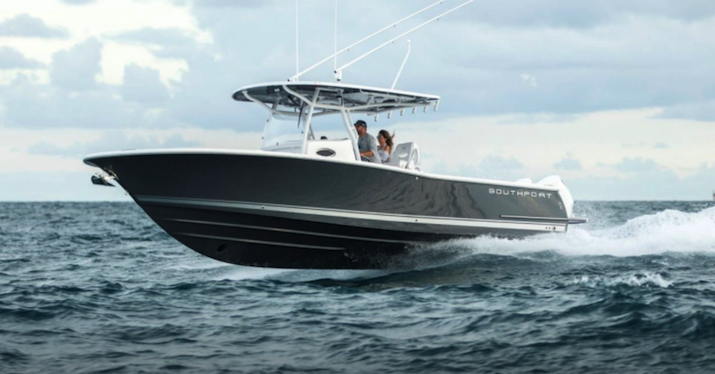 PC Southport Boats
Quick Boat Specifications
Length: 30'
Beam: 10'6"
Hull Draft: 20"
Weight: 7,800 pounds
Fuel Capacity: 232 gallons
Maximum Horsepower: 700
The Southport 30FE may be the last fishing boat on our list, but it's certainly no slouch. With a mid-sized center console design, it offers excellent offshore fishing versatility and plenty of comforts when you need them.
The insulated transom fishbox is one of the newest upgrades to the 30 FE, which adds to the classic in-deck fishboxes this boat already offers. Plus, optional cold plates can not only keep your catch of the day fresh, but they can also be used for drinks, appetizers, and anything else you need to keep cool.
Final Thoughts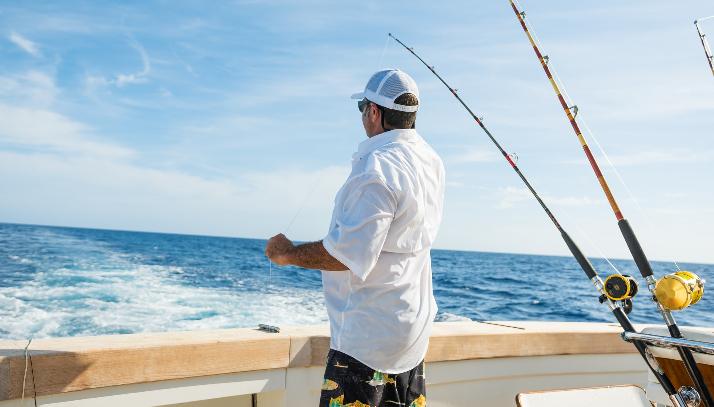 Photo by Antonia Scant via Unsplash
One of the best saltwater fishing boats isn't the only thing aspiring anglers need to be. So check out our recommendations for essential fishing accessories and our ultimate kayak fishing clothing guide.
If quiet and seclusion are what you're looking for, you might enjoy learning how to customize a kayak for fishing. Or if you don't already have a kayak, check out 12 of the most stable fishing kayaks available right now.
As always, we wish all of our readers the best of outdoor adventures and if you have any experience with these saltwater fishing boats, we would love to hear from you!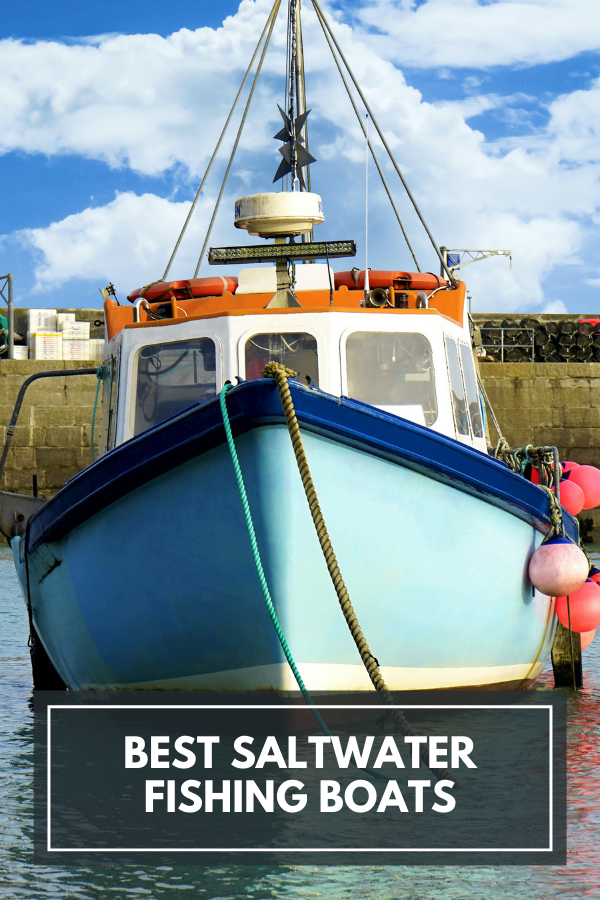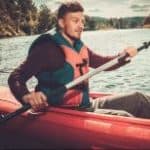 Author: Peter Salisbury
Pete is the Owner of KayakHelp.com. Born and raised in Cleveland, Ohio, he grew up kayaking, fishing, sailing, and partaking in outdoor adventures around the Great Lakes. When he's not out on the water, you can find him skiing in the mountains, reading his favorite books, and spending time with his family.