Figuring out what gear to take on a kayak camping trip can be overwhelming. You can spend hours pondering over it and still end up bringing items you have no use for or forgetting stuff you really need to survive and be comfortable in the wilderness.
To help you avoid this stress completely, I've put together a complete list of all the gear that will serve you well on your trip.
Whether you have some experience with kayak camping or you are planning your first adventure, this guide will help you figure out what you need to pack to make the most of the outdoor experience.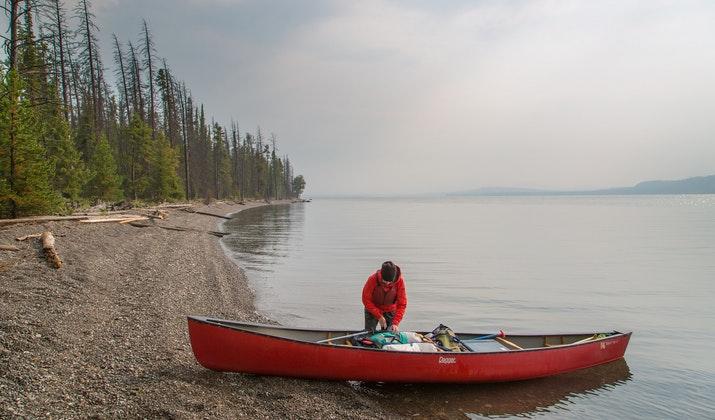 Image source: Pexels
Essential Kayak Camping Gear
There are some essential items that you need to make your kayak camping trip possible. They include:
1. Kayak
Obviously you can't go kayak camping without a kayak, but you also can't go with just any kind of kayak. Since you're going to be taking a bunch of supplies with you, you will need to rent or buy a kayak that's spacious enough to store the rest of your camping gear.
Touring kayaks are the best option for long-distance kayaking and they have plenty of space to accommodate you and your cargo. They are also more comfortable than traditional or recreational kayaks.
2. Emergency kayak paddle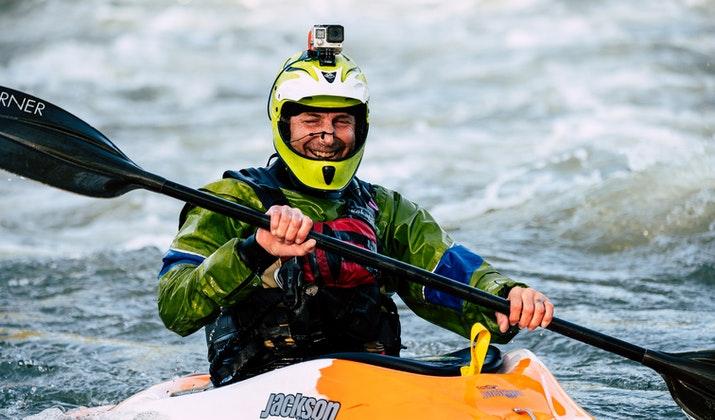 Image source: Pexels
It's always a good idea to pack an extra kayak paddle in case something happens and you lose the main paddle. It doesn't matter how long you plan to spend camping, don't test fate by thinking you probably won't need one.
It's better to be safe than sorry because being paddleless in the middle of a creek or lake can quickly turn into a life-threatening situation.
3. Bilge pump
It's not unusual for water to make its way into your kayak even when there are no currents and the sky is clear. A bilge pump will help you get rid of the excess water quickly, and allow you to remain comfortable and safe for as long as you are out on the water.
4. Dry pack/bags
Dry bags are one of the most important items on your kayak camping gear list because they help keep essentials like your food, wallet, gadgets, clothes, and electronics from getting wet.
They come in different shapes, styles, and sizes, making them ideal for storing all kinds of things. It makes sense to buy a variety of them for different situations.
5. Sleeping pad and pillow
The great thing about sleeping pads is they are easy to inflate, fold up, and pack away. They keep you insulated from the ground and any insects that could be creeping around.
Some sleeping pad models come with built-in pillows for extra comfort. But if you don't have or can't find one of those, you can always buy a separate inflatable pillow or create a makeshift camping pillow.
6. Waterproof headlamp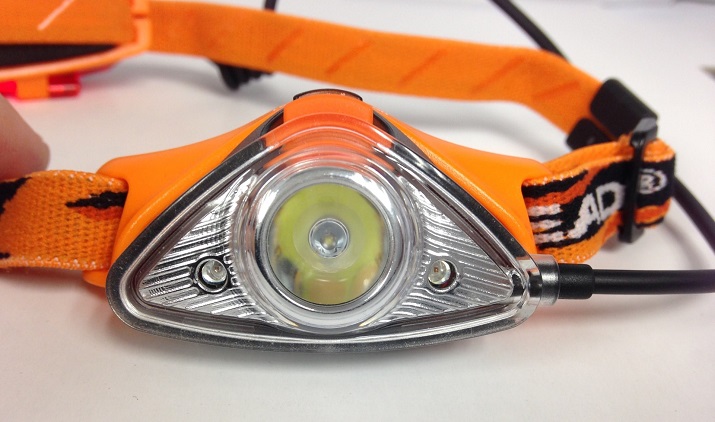 Image source: Unsplash
You don't want to be out on the water or go staggering around your campground in the dark. A head torch will enable you to keep the party going even after the night creeps in.
What's more, it frees up your hands to engage in other kayaking or camping activities.
7. Camp chair
After a long, fulfilling day of paddling, nothing beats reclining in a camp chair, basking in all the beauty and quiet around you. When shopping for camp chairs, you want to prioritize durability, comfort, and convenience first and foremost.
8. Spray skirt
If you intend on using a sit-in kayak during your trip and you want to stop water from getting into your cockpit, you have to add a spray skirt to your list of camping gear. This way, even if your kayak capsizes or water washes over your cockpit, it will keep the water out.
9. Sleeping bag
Camping is a lot of fun, but sleeping on the cold, hard ground is not. This is where sleeping bags come in.
They can keep you warm and cozy as you reacquaint yourself with mother nature. I recommend packing a waterproof sleeping bag so you don't have to worry about catching a cold or dealing with the discomfort of sleeping on a wet surface.
10. Multi-purpose tent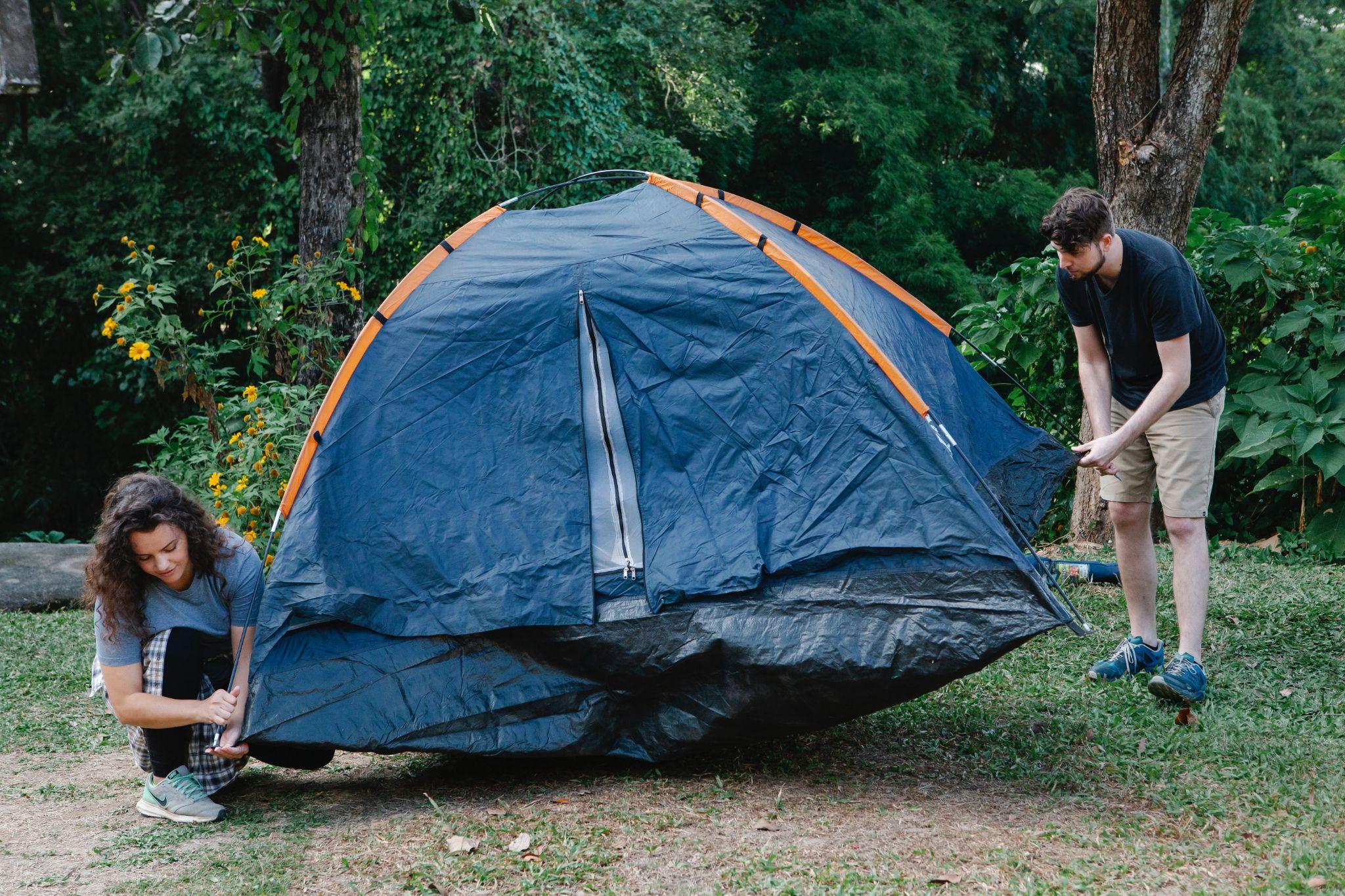 Image source: Pexels
A tent provides temporary shelter against the forces of nature when camping. I recommend going with a lightweight tent that's easy to set up with good ventilation and ample room for housing you and your gear.
Make sure you set up your tent the moment you reach your campsite, so you don't have to do it in the dark.
11. Repair kit
Having a repair kit on board your kayak will prevent you from getting stranded if something unfortunate occurs and your kayak gets damaged. You can easily fix scratches, dents, holes, and any kind of damage that isn't severe.
Some key items your kayak repair kit should have include bungee cords, sealant, duct/repair tape, static deck line, baling wire, multi-tools, and replacement rudder parts.
Kayak Camping Safety Gear
Your kayak camping packing list isn't complete without safety gear. If something goes wrong while you are having the time of your life in the wild, you are going to need all the help and protection you can get.
1. Personal flotation device (PFD)
Image source: Pexels
It is highly recommended—and even mandated by law in many states— that you wear a PFD or lifejacket when you go kayaking, so don't neglect to pack one. Your PFD can save you from becoming another drowning casualty if your kayak capsizes in turbulent waters.
2. Paddling knife
Any experienced kayaker will tell you that a paddling knife is a very useful tool to bring along with you on your kayaking trip. Why? Because you might find yourself in a situation where it's necessary to cut yourself away from your kayak to avoid injury.
3. GPS, maps, compass
It's a good idea to use your phone's GPS or a GPS device to track and share your location. But if your devices die or you lose them in the water, having a boring old compass and paper map of the area will help you find your bearings.
Whether you are exploring the waterways or your campgrounds, with their help, you won't wind up lost.
4. Whistle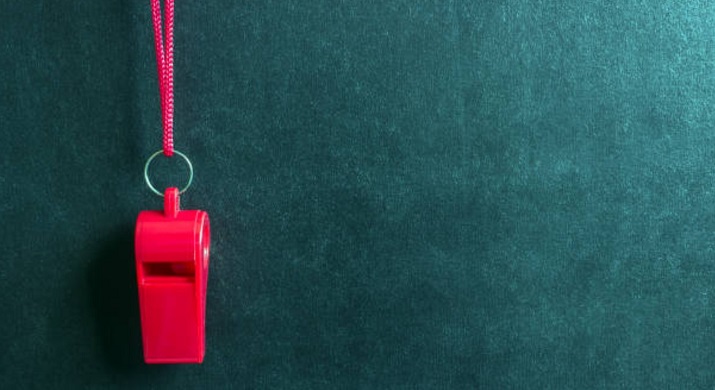 Image source: iStock
If you lose your way or get into danger during your kayak camping adventure, a whistle will allow you to call for attention or give people a sense of your direction. This way you won't have to lose your voice or wear yourself out screaming.
5. Bear spray
I am sure getting mauled by a bear is not on your camping itinerary. Make sure you always pack bear spray if you are venturing into bear territory.
Bear sprays release copious amounts of concentrated gases in a matter of seconds to deter a bear from attacking you.
6. First aid kit
Another essential camping safety gear that you need to pack for your kayaking trip is a first aid kit. A kit typically contains various over-the-counter medications, topical creams, antiseptic wipes, bandages, gauze, and scissors, all of which can be useful for treating allergies, pain, inflammation, and small wounds.
7. Two-way radios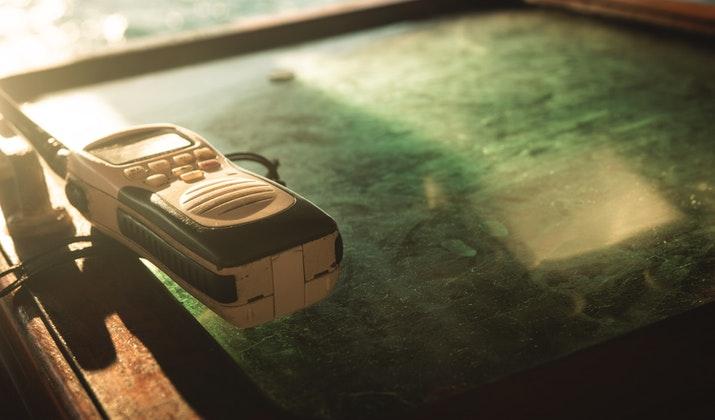 Image source: Pexels
If you are going kayak camping as part of a group, it's a good idea for everyone in the group to bring along two-way radios like walkie-talkies. This will allow you to stay in touch with one another when the group gets separated while in a remote location without cell service.
8. Emergency beacons
You might not be able to find phone service while exploring some backcountry areas. Emergency communication devices are a more reliable option in emergencies where there is a need to call for help.
They can send out distress signals that will enable search and rescue teams to find you quickly.
9. Cable lock and anti-theft mesh
While most kayakers don't have their belongings stolen when camping in secluded areas, it's still better to take precautions. A cable lock will help you secure your kayak so it doesn't get stolen, leaving you without a means of getting back to civilization.
An anti-theft mesh will safeguard your supplies at your campsite if you decide to go on long walks away from the site.
Kayak Camping Clothing Gear
Clothing is one of the most important pieces of gear that you need to prepare for a kayak camping trip. The clothes you choose to bring along on your paddling adventure will depend on the season, climate, and terrain of the area you are visiting.
You will also have to factor in the kind of physical activities you plan to engage in and the level of protection and comfort you want. Here are some essential clothing items to add to your packing list:
1. Waterproof duffel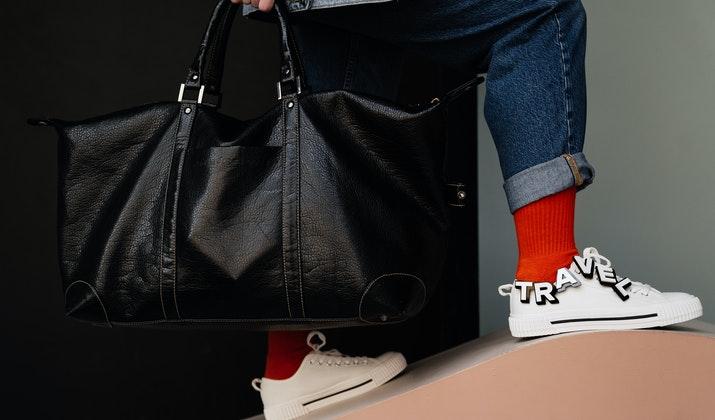 Image source: Pexels
I am guessing you don't want your clothes, food, supplies, and other essentials to get ruined by coming in contact with water. To prevent this, you need to add a waterproof duffel to your kayak camping gear list.
You can easily stuff your valuables and other dry materials into the duffel to keep them protected in or around water.
2. Swimwear
Nothing beats an early morning or late evening swim while you are out kayaking or camping. If you plan to go frolicking in the water during your trip, make sure to pack something you can comfortably swim in.
Don't forget to check the water temperature for the area before you go dunking your body in it.
3. Raincoat
Image source: Pexels
When you are paddling across the water, there's a chance that you might run into an unexpected rain storm so you need to be prepared for the heavenly showers. Packing rain-resistant clothing like a raincoat, rain jacket, and pants will help you stay active and keep you dry during the downpour.
4. Underwear
Unless you are happy going commando for the duration of your float trip, underwear is a must-have piece of clothing. Pack enough pairs to carry you through every day and help you maintain good personal hygiene for as long as your outdoor adventure lasts.
5. Rash guard
The beauty of a rash guard is that it protects your skin against particles in the water that might cause irritation. It's also fast drying so you can get wet to your heart's content without needing to change into dry clothes in between activities.
6. Water shoes or sandals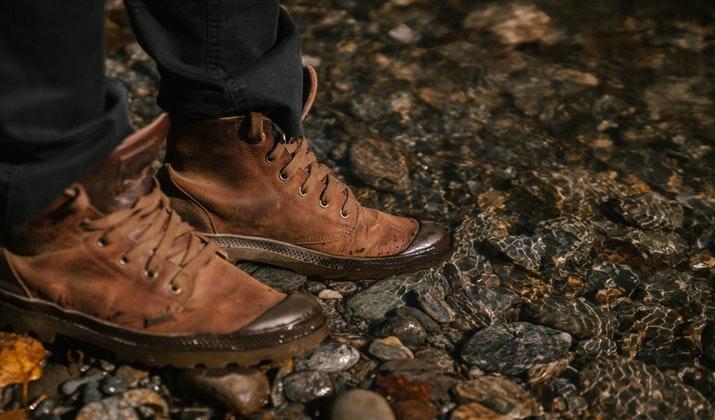 Image source: Pexels
The perfect footwear for kayaking and camping is whatever you feel most comfortable in. But it's best to also factor in utility by picking shoes that can function both in and out of water.
They should be able to keep your feet dry in the cockpit and protect your feet from getting cut or slipping on sticks and rocks.
7. Dry suit or wet suit
A dry suit insulates your body from water and cold by preventing them from reaching the surface of your skin. A wet suit has a layer of warm water between your skin and the outer surface that keeps your body warm when you get wet.
The decision to pack a dry or wet suit will depend on the water temperature in your kayaking destination. Wearing a wetsuit or drysuit is highly recommended for water temperatures below 60°F or combined air and water temperature below 120°F.
8. Kayak gloves
Paddling is a pretty intense workout, not just for your body, but for your hands too. If you don't want to end up with sore, cold, and blistered hands, invest in a good pair of paddling gloves.
It's also wise to bring along a pair of work gloves if you plan to do camp chores like building, picking, and processing firewood, etc.
9. Synthetic or wool socks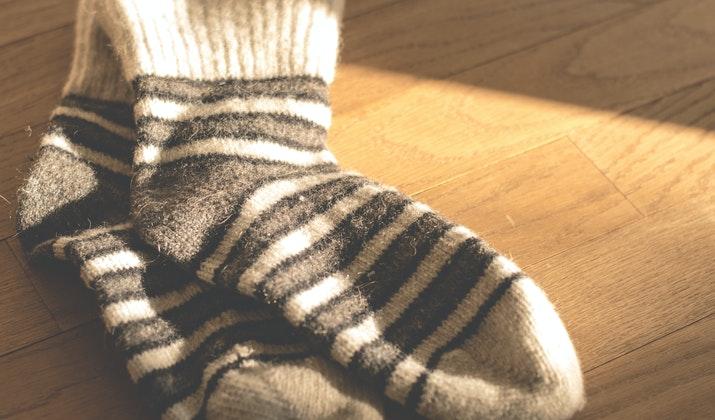 Image source: Pexels
Be sure to pack at least two pairs of synthetic or wool socks as part of your kayak camping gear. Synthetic socks will give your feet some warmth when you're in the water, while wool socks will keep you warm and comfortable when sleeping, going on hikes, or lounging around the camp.
10. Weather-appropriate clothing
Dress for the weather so you can have maximum fun without worrying about your body or health. If you are going kayaking in the winter, pack jackets, long pants, and lots of layers to insulate you from the cold.
In earlier seasons, you can probably get away with wearing regular clothes like t-shirts and shorts.
Kayak Camp Cooking Gear
Assuming you haven't only brought foods that can be eaten dry or in their natural state, you will have to do a bit of camp cooking. Here is some kayak camp kitchen gear that should be included in your packing list.
1. Food
When camping, some people prefer to eat fresh foods, vegetables, and fruits, while others are happy to feed on dried goods. The kind of float trip food you bring is entirely up to your discretion.
Just make sure to secure your food items in dry bags and separate the wet/fresh goods from your dry products.
2. Stove and fuel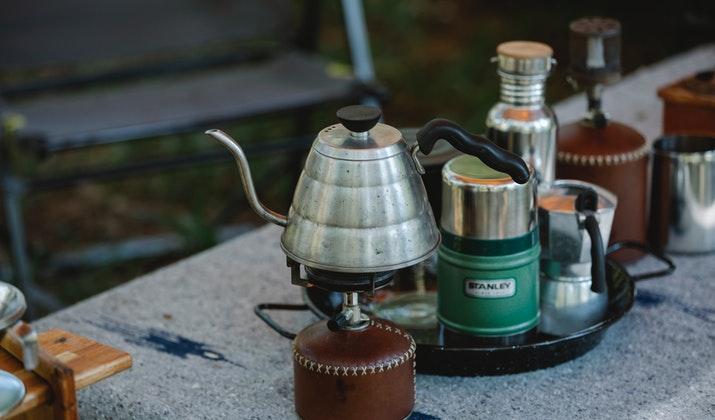 Image source: Pexels
Although building a fire and cooking over it lends an air of authenticity to camping, it might be difficult to find firewood around your campsite. It's also easier to start forest fires that way.
Camp stoves are a safer and more convenient option you can use to get your meals ready on time, so go ahead and add them to your list. Don't forget to check the type of fuel that your stove uses and bring some along with you.
3. Mug, bowl, and utensils
Unless you intend to eat your food with your hands or straight out of whatever container you brought them in, you are going to need a bowl, mug, spoon, fork, knife, pot, and a long cooking spoon. You can even borrow the items right out of your kitchen if you don't want to buy camp-specific utensils.
4. Water bottle
It's best to opt for collapsible water bottles because they won't take up any space in your bags when they are empty. Make sure to stash bottles of water in easily accessible spots in your kayak.
Drinking water at regular intervals will allow you to stay refreshed and energetic throughout your kayaking trip.
5. Trash bags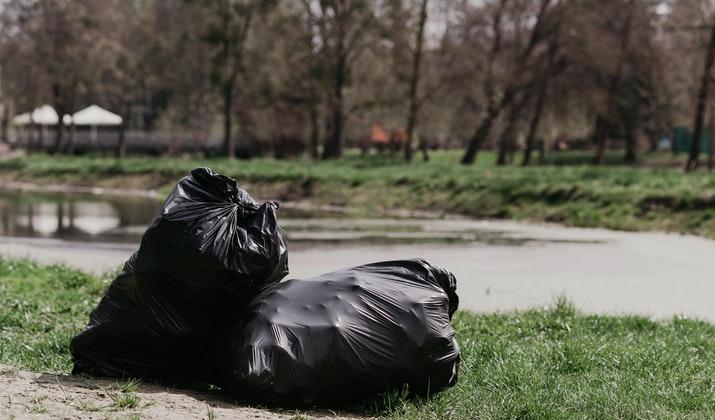 Image source: Pexels
Remember that there's never an excuse to litter. Kayak camping is a chance for you to reconnect with nature, not pollute it.
Try to leave no trace of your presence by tidying up after yourself and safely discarding empty cans, wrappers, and items you no longer need into garbage bags so bring a couple of trash bags along. Don't forget to take the trash bags with you when you are ready to leave the campsite.
6. Water filter
Always assume that any water you find in nature is contaminated to some degree, no matter how pure the source may appear to be. To purify the water and make it safe for drinking and cooking, you are going to need a water filter so don't forget to add it to your list.
7. Can opener
You don't want to be out in the middle of nowhere and realize that you have nothing on hand to open the cans or bottles you brought with you. Pack an opener, a corkscrew, or any other tool that you might require based on the food and drink items you plan on taking on your kayaking trip.
8. Collapsible sink
This item is useful for doing the dishes, tidying up after a meal, or carrying water and dishes from one point to another. It helps you make less of a mess and preserve the general cleanliness of your campground.
9. Dish kit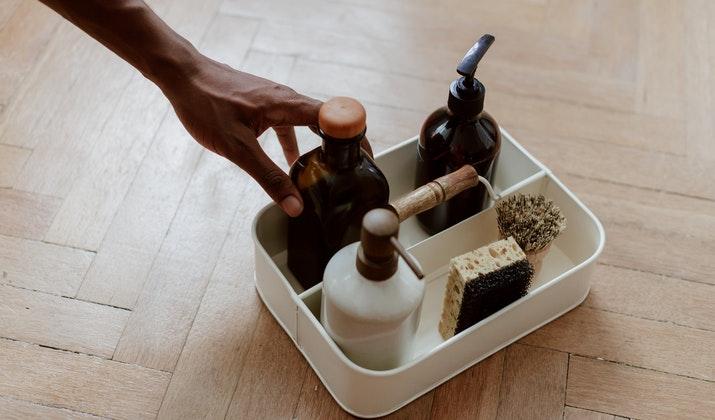 Image source: Pexels
Your dish kit should contain soap, dish cloth or sponge, and steel wool for scrubbing tough stains or bits of burnt food from your pots. Make sure the dish soap you choose is the biodegradable kind as it won't harm the ecosystem in the area.
10. Lighter/matches/fire starter
Whether you prefer using matches, lighters, or rubbing two sticks together to make a fire for cooking or boiling water, don't forget to bring some fire-starting tools.
Otherwise, you will end up going hungry and returning to the mainland sooner than you planned.
Personal Kayak Camping Gear
Here are some essential personal care items, as well as additional belongings you might want to pack for your paddling trip:
1. Sunscreen and lip balm
Whether it's summertime or a cloudy day with the potential for rainfall, being out in the sun without sun protection can cause painful sunburns that might force you to cut your trip short.
Never forget to include sunscreen in your kayak camping gear. Choose a product with a high SPF—30 to 50—and reapply every three hours for maximum protection.
2. Bug spray
You are definitely going to encounter flying insects and creepy crawlers around your campsite. Spraying your tent area with insect repellent will help keep the bugs at bay.
3. Toiletries/Hygiene kit
Be sure to pack all the items you need to take care of your personal hygiene on your float trip. I'm talking about your toothpaste, floss, toothbrush, toilet paper, wet wipes, hand sanitizer, SPF lip balm, tampons, sanitary pads, and towels.
You will also need a trowel to dig a hole for your bathroom needs or a poop kit if the regulations of the place you visit require you to pack and take your waste with you when you leave.
4. Cell phone and power bank
Image source: Pexels
Although this is not a necessity, you might still want to bring your phone with you so you can still stay in touch with the outside world—assuming there's cell service. Since there is no electricity in the great outdoors, you will need a power bank to charge your devices.
5. Sunglasses and hat
Sunglasses and hats, used separately or together, can help protect your eyes and face from the sun's harsh rays so consider adding them to your gear.
6. Float trip plan
Make sure you create a plan that shows the route you want to paddle through, where you intend to set up your camp, and your expected return date and time. Leave a copy with a friend and another in your car or hotel room on the mainland.
7. Fishing gear
Image source: Pexels
If you plan to do some fishing during your trip, you will need to bring along your rod, bait, and other necessary accessories.
8. Camera and binoculars
Cameras and binoculars are important kayak camping gear if you want to go birdwatching or take some pictures of the scenes you encounter during your trip.
9. ID and a small amount of cash
In case of an emergency, your ID will enable people to identify you and reach out to your loved ones if necessary. The cash will come in handy if you run into a place where you can buy ice cream, beer, or snacks while you are out paddling.
Conclusion
Preparing to go kayak camping can seem daunting, especially if it's a first-of-a-kind trip for you, but this list should make it a lot easier.
Follow these guidelines and you'll be having a fun, smooth-sailing campout by water in no time.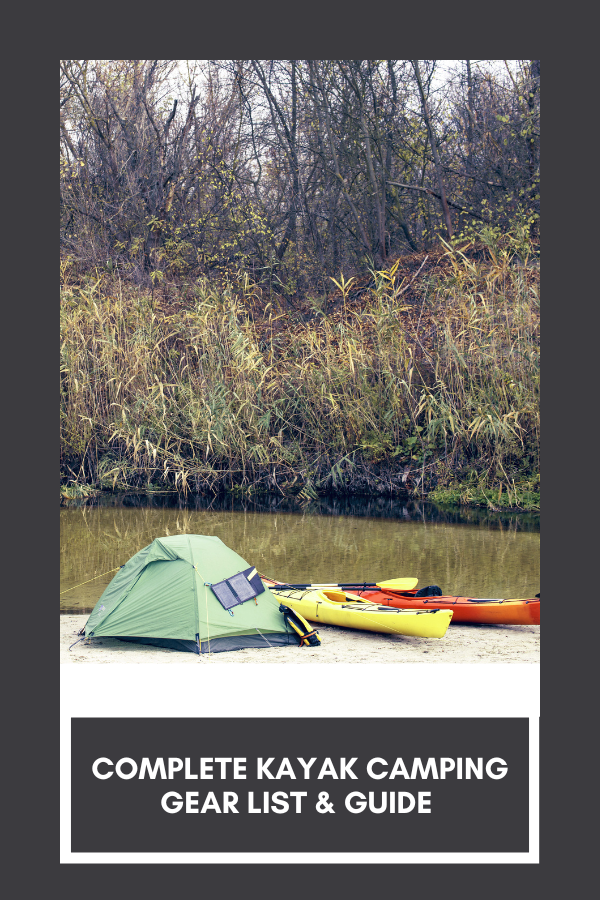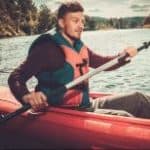 Author: Peter Salisbury
Pete is the Owner of KayakHelp.com. Born and raised in Cleveland, Ohio, he grew up kayaking, fishing, sailing, and partaking in outdoor adventures around the Great Lakes. When he's not out on the water, you can find him skiing in the mountains, reading his favorite books, and spending time with his family.