When you're traveling or planning an outdoor activity, you probably want to take your phone, laptop, powerbank, clothes, food, sleeping bag, first aid kit, and other belongings.
The last thing you want is for these items to get wet and ruined while you're having fun and exploring the great outdoors. You need a way to protect your belongings from dust, dirt, water, and unreliable weather. This is where dry bags come in.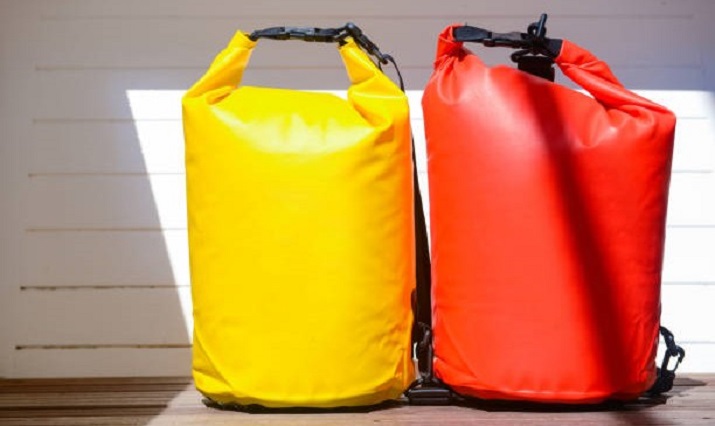 Photo by MosayMay
As you twist and turn in the water, try to reel in the gifts of the season while sitting in your kayak, or paddle from campsite to campsite on multi-day kayaking tours, dry bags will ensure your necessities remain dry the entire time.
Dry bags come in different shapes and sizes and even serve different functions, so figuring out which one to invest in can be a harrowing task. This article is going to walk you through the best dry bags for kayaking around to help you find the perfect bag for your next adventure.
Thumbnail
Title
Earth Pak Waterproof Dry Bag - Roll Top Waterproof Backpack Sack Keeps Gear Dry for Kayaking, Beach, Rafting, Boating, Hiking, Camping and Fishing with Waterproof Phone Case
AquaQuest Mariner Backpack - Waterproof Lightweight Dry Bag - 30 Liter - Black
SealLine Baja Dry Bag, Olive, 20-Liter
Osprey Discontinued Osprey UltraLight 20 Dry Sack, Tropic Teal, One Size
Chaos Ready Waterproof Dry Bag Backpack | Marine Dry Bag For Kayaking, Fishing, Hiking, Camping for Men and Women | Heavy Duty Travel Backpack For Fishing or Boat Stuff | Padded Shoulder Straps | 20l Capacity
Thumbnail
Title
Earth Pak Waterproof Dry Bag - Roll Top Waterproof Backpack Sack Keeps Gear Dry for Kayaking, Beach, Rafting, Boating, Hiking, Camping and Fishing with Waterproof Phone Case
Thumbnail
Title
AquaQuest Mariner Backpack - Waterproof Lightweight Dry Bag - 30 Liter - Black
Thumbnail
Title
Osprey Discontinued Osprey UltraLight 20 Dry Sack, Tropic Teal, One Size
Best Dry Bags For Kayaking
Check Price on Amazon
Although Earth Pak is a relatively new outdoor gear brand in the market, it has managed to rise to the top and become widely loved by offering quality products at accessible prices.
The company's waterproof dry bags are designed to be durable and offer protection in all kinds of weather. Earth Pak Dry Bag is made using 500D PVC materials with welded seams to keep wetness out. It comes with padded and adjustable shoulder straps that make it suitable for different body types and easy to carry your gear from place to place.
This dry bag from Earth Pak has colorful minimalist designs that would appeal to people who still want to look stylish while kayaking, canoeing, or hiking. It's also available in different sizes: 10L, 20L, 30L, 40L, and 55L.
Check Price on Amazon
If you're looking for a dry bag that also doubles as a backpack, this lightweight option from Aqua Quest fits the bill perfectly. It comes with shoulder straps so you can rock it on your back, as well as duffel handles on the side for those who prefer to carry their bags in their hands.
The Aqua Quest Mariner features a roll-top design that makes it easy to get into the bag and search for the items you need even while on the go. Made with durable RipStop fabric, double water-repellent coatings, and thermoplastic polyurethane, the Mariner bag is fully waterproof.
It will stay dry in any amount of rainfall and protect your belongings from dirt, snow, sand, and dust. The bag will even float if it ends up in a body of water, so you don't need to worry about your gear getting submerged if something happens while you're out having fun paddling or kayak fishing.
AquaQuest Mariner dry bags have 10L, 20L, and 30L options to choose from, so you can pack light or heavy depending on your needs.
Check Price on Amazon
Whether you're going exploring on land or water, SealLine's Baja Dry Bags are guaranteed to offer your gear full protection from the elements. They are built with an easy-to-use Dryseal™️ roll-top closure that completely seals the bag to keep water and other unwanted substances out.
Baja Dry Bags are made with super durable scrim-reinforced vinyl materials and radio frequency welded seams that prevent them from ripping or leaking. The bags are waterproof, so they'll keep your stored items safe from soakings and heavy downpours.
To help you secure your bags to a luggage rack or the inside of a kayak or raft and keep them from falling out or off, Baja Dry Bags come with a D-ring attached. Contrary to what you'd expect of versatile dry bags with such great quality, the Baja bag range has some of the lowest prices you'd find.
Check Price on Amazon
One of the best dry bags for kayaking that you can invest in is the Osprey Ultralight Drysack. True to its name, the Drysack is incredibly lightweight, making it easy to pack and carry around.
Despite the thin materials used in making the Osprey Ultralight Drysack, it doesn't compromise on quality and won't rip or tear easily. Although the Ultralight Drysack isn't built to be submerged in water, its water-repellent fabric will thoroughly protect your belongings from splashes.
This high-capacity dry bag might not have all the bells and whistles that often accompany other options, but it gets the job done. And more importantly, it doesn't cost an arm and a leg. Osprey's Ultralight Drysack is the perfect companion when packing for a float trip as well as a backpacking or camping adventure. It's available in 1L, 3L, 6L, 12L, 20L, and 30L sizes.
Check Price on Amazon
Want an all-in-one dry bag that's big enough to carry all the items you need, but not so big that it takes up too much space or becomes unwieldy? With a 22L capacity, the Chaos Ready Waterproof Backpack might just be the best dry bag for you.
This backpack has padded shoulder straps to help you maintain comfort as you go exploring. It also has high-frequency welded seams that make the bag super tough and ensure that no water droplets get into your dry stuff.
There are plenty of pockets in the Chaos Ready Waterproof backpack where you can keep items you want within reach like water bottles, passports, and cameras.
Whether you're going kayak camping, rafting, fishing, snowboarding, or just enjoying a leisurely day at the beach, the Chaos Ready Backpack will stay strapped to your back and keep your gear dry as you get drenched. Don't worry if the bag ends up falling into the water, it will float.
Check Price on Amazon
Whether you're going on a short trip out of town, a day-long hiking trip, or a multi-day trip to your favorite kayaking destination, Marchway's Waterproof Dry Bag will keep your small, big, and precious belongings protected and dry.
Made with high-quality materials like 500D tarpaulin, welded seams, and buckles, this kayaking dry bag is designed to float on water, withstand any adventure, and resist rips, tears, punctures, and abrasions. The roll-down top seal offers watertight protection in any situation where the bag is not completely submerged.
Marchway's Waterproof Dry Bag also provides protection against sand, snow, mud, and dust. Its fabric and smooth surface allow it to be easily wiped clean. The dry bag comes with a removable and adjustable cross-body shoulder strap and two backpack-style straps. It's available in many catchy colors and in 5L, 10L, 20L, 30L, and 40L capacities so you can pack light or heavy depending on the occasion.
Check Price on Amazon
Protect your clothes, phones, documents, camera, and dry food from dirt, dust, sand, and water with the NRS Bill's Bag Dry Bag. Although this brand belongs on the high-end shelf, it's still fairly affordable and worth every cent on its price tag.
Bill's Bag Dry Bag has a roll-top design with a sternum strap and removable shoulder straps to provide optimal comfort and convenience when carrying the bag. This dry bag is ideal for people who are going kayaking, on multi-day outdoor trips, or when you're packing for multiple people but don't want too much baggage.
It's available in a single size, a whopping 65L, so it can fit everything from your gadgets to your clothes and sleeping bag. Bill's Bag Dry Bag is made with high-strength polyester to withstand all kinds of environments and weather. The bag is completely waterproof so your gear will stay dry even in a storm. It's also available in four solid and attractive colors – blue, red, yellow, and black.
Check Price on Amazon
The Mustang Survival Bluewater Roll-Top is one of the best dry bags you can buy whether you're going kayaking, hiking, surfing, or water skiing. It features taped seams, welded construction, and tear-resistant fabric built with ripstop nylon and coated with thermoplastic polyurethane.
This dry bag's cube-shaped design prevents it from taking up too much space or rolling around when loaded on any type of kayak or watercraft. The Mustang Survival Bluewater Bag also comes in handy on land for those who prefer going hiking, mountaineering, or camping.
When it comes to keeping your items dry, The BlueWater Roll-Top Dry Bag will hold down the fort in all kinds of water contact and weather situations. You can find this bag in different sizes including 5L, 20L, 15L, 20L, and 35L volumes. On the price front, the Bluewater Roll-Top Dry Bag is a steal for the kind of quality it's offering. It's easily one of the cheapest options on the market.
Check Price on Amazon
You don't have to spend a lot of money to get a good dry bag that's durable and effective. The Seattle Sports Glacier Dry Bag is proof of that. This transparent dry bag features side protection and tough wrap tear and abrasion-resistant bottom made with 20oz clear vinyl.
It has radio frequency welded seams that give it extra strength and helps it last longer. The three-roll top closure design of the Glacier Dry Bag helps lock in air and ensure your precious items don't come in contact with any kind of wetness.
Also, the bag gives you extra visibility, so you can quickly locate items in your bag at a glance without having to rummage through it blindly. If you need to lash or tie down your dry bag to keep it in place, don't worry, the Glacier Dry Bag comes with a D ring for secure attachment.
Check Price on Amazon
Built to withstand harsh conditions, the Outdoor Products 3-Pack Dry Sack is the best dry bag for people on a tight budget. It basically gives you three dry bags for a price that's less than what most brands charge for a single bag.
This all-purpose lightweight dry bag can go from kayaking to camping, rainy weather to scorching temperatures, and adventure to traveling without getting compromised. Each bag is built using soft rip-stop fabric and a water-resistant roll-top closure that compresses your cargo and helps you save space.
The Outdoor Products 3-Pack Dry Sack includes 2L, 4L, and 10L sizes in one package, allowing you to safeguard and organize your gear, valuables, and other belongings efficiently. Although this kayaking dry bag isn't designed to float or be fully submerged in water, it will hold up just fine against normal wetness and mild or brief soakings during your water adventures.
Check Price on Amazon
If you want to protect your belongings while going on exciting adventures, Piscifun's Dry Bag is up to the task. This inexpensive waterproof dry bag can serve multiple functions and is comfortable to carry around thanks to its adjustable shoulder straps.
The bag is crafted with 500D PVC material with sturdy roll-top closure and welded seams for added protection. It comes with an outer mesh pocket where you can keep items that can survive getting wet like water bottles and raincoats.
The Piscifun Dry Bag floats on water when you roll and buckle it so if there's not enough space on your craft, you can toss it overboard and let it drift along beside you as you kayak, fish, or ski. A sealed IPX8-rated waterproof and touch-friendly phone case is also included in the Piscifun Dry Bag, and it's suitable for phones with a 6.5-inch screen size.
Check Price on Amazon
Embark on your favorite adventure whenever wherever with the Acrodo Dry Bag and put an end to worrying about keeping your belongings protected along the way. Come rain or dust, tempestuous waters or rocky terrain, the brand's lightweight dry backpack will help your items stay dry and undamaged.
The great thing about Acrodo dry bags is that they're extremely versatile and functional. If one bag isn't enough for the items you want to pack, you can use two bags and clip them together using the side buckles to create a double backpack that's easy to carry.
Acrodo's waterproof dry bags are available in transparent versions that are ideal for hot temperatures and in solid colors that function well when you go kayaking in cold weather or warmer conditions. If you don't want to risk losing your luggage if your bag falls into the water, you just have to leave some room for air in your dry bag and it will stay afloat.
Check Price on Amazon
YETI Panga Waterproof Bag screams quality, sophistication, and durability. They're a great investment for anyone looking for a dry bag that can hold a lot of gear and be used for years without needing to be changed. The Panga series comes in 50L, 75L, and 100L sizes.
It has different tie-down points attached to the sides to help you easily rig up your gear and hold everything in place as you go about your outdoor activities. You can carry your Panga dry bag as a duffel or in backpack style. Thanks to an outer shell made of thick TPU lamination and high-density nylon, the Panga dry bag offers 100% dry protection so all your items will stay bone-dry even in heavy rainfall or if the bag gets submerged in water.
It's also resistant to abrasions and punctures, which means you don't have to worry about your bag growing holes or getting worn out while you're climbing rocks or camping in rough terrain.
Check Price on Amazon
This budget-friendly dry bag from Overboard is a favorite amongst adventure lovers because of its lightness and versatility. The bag allows you to conveniently carry a lot of gear on your raft, fishing, or recreational kayak, and even on your shoulders when you're spending time on land.
The colorful designs of the Overland Waterproof Dry Flat Bag make it both an elegant and functional choice. It's built using ripstop nylon fabric with electronically welded seams and a roll-top closure to provide watertight storage. Included in the bag is a removable and adjustable shoulder strap that you can use to carry your bag crossbody style.
Overland's Waterproof Dry Flat Bag gives you different sizes to choose from with the lowest having a 5L volume and the highest at 30L. The bag is designed to float so you don't have to be alarmed if it falls or gets dropped in the water while you're out.
Check Price on Amazon
This sturdy Drysåk from the Swedish brand, Skog Å Kust is one of the best dry bags you can buy at a reasonable price. It is crafted using heavy-duty 500D PVC and coated with polyurethane to keep the elements out and ensure your items are clean and dry.
Skog Å Kust's Drysåk comes with an outer pocket where you can store small items – ID, maps, cash, keys, and more – that you want to be able to easily reach without having to rummage through your bag. The pocket's zipper is not waterproof so if you're storing dry items there, be sure to wrap them in a small nylon case first so they won't get wet.
It also has an adjustable shoulder strap that you can attach whenever you want to carry your bag on your back or clip it to your kayak or boat. In addition to being budget-friendly and long-lasting, the Drysåk has a reflective trim built into the pocket zipper to help you stay visible at night.
This feature also helps you find and rescue your bag if it falls overboard or gets lost in low-light conditions. The Drysåk is available in 5L, 10L, and 20L sizes to meet different packing needs.
Check Price on Amazon
Looking for an inexpensive and versatile dry bag that can go from adventure to adventure without ripping or leaking? The Unigear Dry Bag is worth every penny you spend on it. Whether you're packing light or heavy, this dry bag has various sizes ranging from 2L to 40L that can fit your items and keep them dry and clean no matter what you get up to.
The Unigear Dry Bag is made with lightweight 500D waterproof PVC fabric that completely prevents water from seeping in. It is constructed with strong buckles and handles that can withstand frequent use. The bag's welded seams prevent it from tearing, leaking, or wearing out irrespective of the intensity of your activities. Each Unigear Dry Bag includes a waterproof, dustproof, and snowproof phone case to offer your device extra protection.
Check Price on Amazon
The Heeta Waterproof Dry Bag is an affordable and tastefully designed option that's suitable for all kinds of outdoor activities. The dry bag uses seamless technology and wear-resistant material to keep your valuables bone dry and unharmed as you engage in watersports or go exploring on land.
Heeta's Waterproof Dry Bag comes with adjustable handles and shoulder straps, giving you the freedom to carry it over your back or hold it in your hands. This multi-functional dry bag is built with transparent material, allowing you to locate your items easily and even view messages on your phone without having to ransack the bag.
Another reason to love the Heeta Waterproof Dry Bag is the free waterproof touch-friendly phone case with crystal clear windows that comes with it. You can get this dry bag in five different sizes: 5L, 10L, 20L, 30L, and 40L.
Wrapping Up
The importance of having a dry bag cannot be overstated. It can be the difference between comfort, peace of mind, and a ruined trip that ends with you having to replace damaged valuables.
The dry bags listed above are the best of the best in the market right now and will help guide you on the right path when shopping for the right waterproof dry bag for your needs.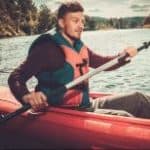 Author: Peter Salisbury
Pete is the Owner of KayakHelp.com. Born and raised in Cleveland, Ohio, he grew up kayaking, fishing, sailing, and partaking in outdoor adventures around the Great Lakes. When he's not out on the water, you can find him skiing in the mountains, reading his favorite books, and spending time with his family.