If you are an aspiring kayak angler, you need to have your setup just right if you want to maximize your chances for success. Learning how to customize a kayak for fishing is an essential part of becoming a better fisherman.
The exact way you customize your kayak for fishing will be largely dependent on your personal preferences. Whether you cast right or left-handed, what kinds of fish species you are hunting for, and several other factors will dictate your kayak customization choices.
In this guide, we will cover the most important things to consider when you are customizing your lightweight fishing kayak. We will also offer some DIY kayak modification tips that can help you save a little money when customizing your kayak for fishing trips.
Photo by Anusorn ThaiLand via Shutterstock
Why Customize A Kayak For Fishing?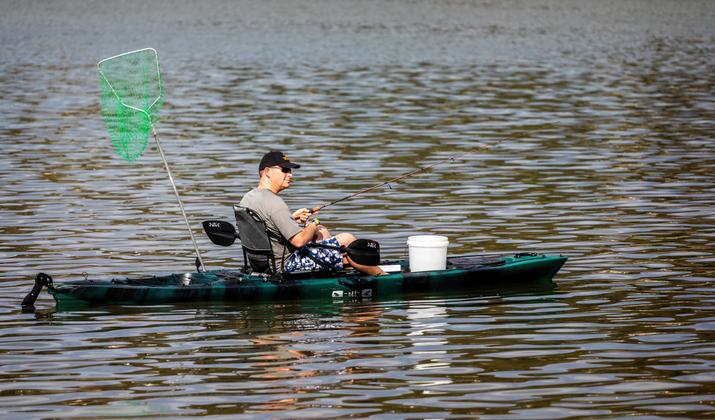 Photo by Nigel Jarvis via Shutterstock
The most obvious reason to customize your fishing kayak is to have everything exactly where you want it. Aside from that, you can save a little money by installing DIY kayak accessories instead of paying top dollar for manufactured parts.
It will also help you stay organized so that you are getting caught up in gear or lines when you are fighting to reel in a large fish. While many folks may prefer to buy a ready-made fishing kayak, you can definitely get creative and customize a more affordable kayak instead.
How to Customize A Kayak For Fishing?
When you are wondering where to start to create the perfect fishing kayak, you can use these tips as a guideline.
Add Gear Tracks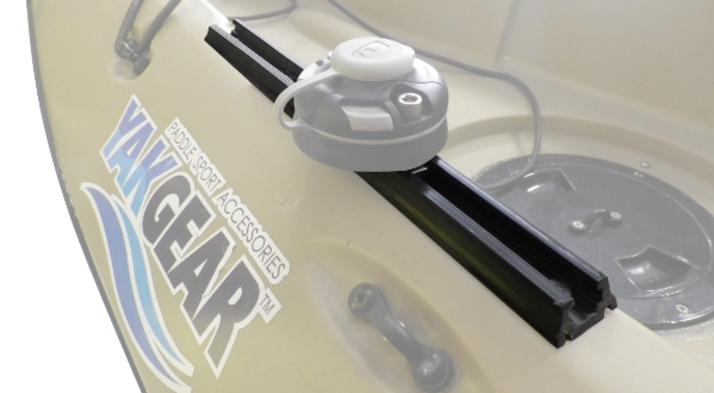 PC YakGear
Gear tracks are the most logical place to start when it comes to kayak customization. They are easy to screw right onto the gunwales of your kayak and will allow you to attach a nearly unlimited number of kayak accessories.
These tracks typically come with the hardware you will need to install them quickly and correctly. While some anglers have explored DIY gear tracks, we recommend finding a ready-made model because they are relatively affordable and allow you to get on with adding more glamorous accessories to your fishing kayak.
Attach a Fishfinder and Kayak GPS Unit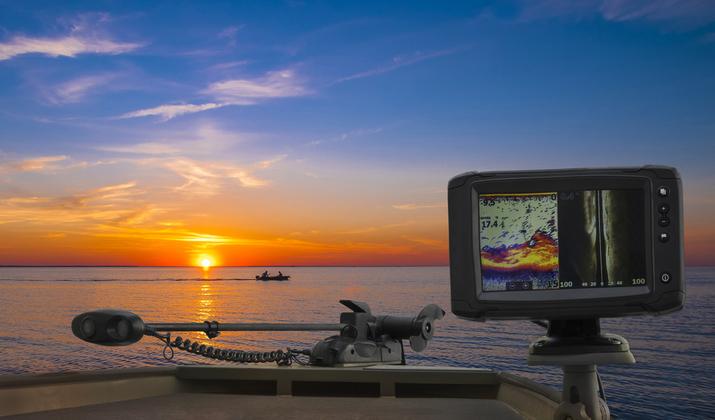 Photo by FedBul via Shutterstock
Once gear tracks are in place, it is time to add one of the best kayak fish finders or kayak GPS units. These accessories help you gather critical data about where you are fishing and navigate on long-distance fishing trips.
The best-case scenario is finding a model that actually offers both fish finding and navigation capabilities. Plus, a GPS unit that tunes into local radio channels is great for getting weather alerts that will help you make navigation decisions.
Install a Kayak Flag and Kayak Light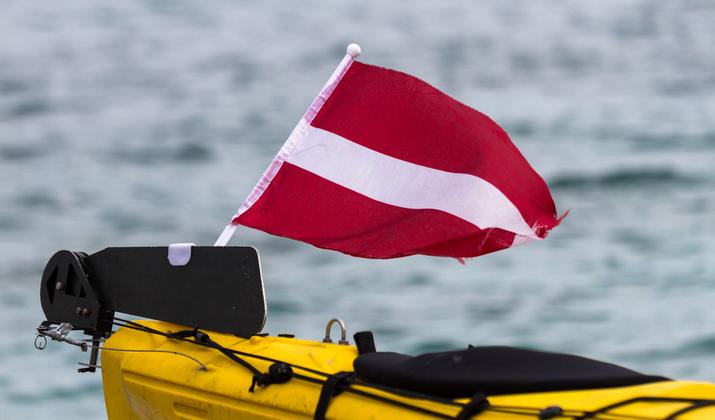 Photo by Greens and Blues via Shutterstock
The best kayak flags and kayak lights are all about increasing your visibility on the water. This is especially important for anglers that like to go out at dawn or dusk, but it is also recommended any time weather conditions cause low visibility.
Whether it is due to a lack of light or dense fog, kayaking in low visibility increases your odds of being accidentally struck by another boater. Customize your kayak with these accessories to increase your safety in these scenarios.
Place Deck Padding in the Cockpit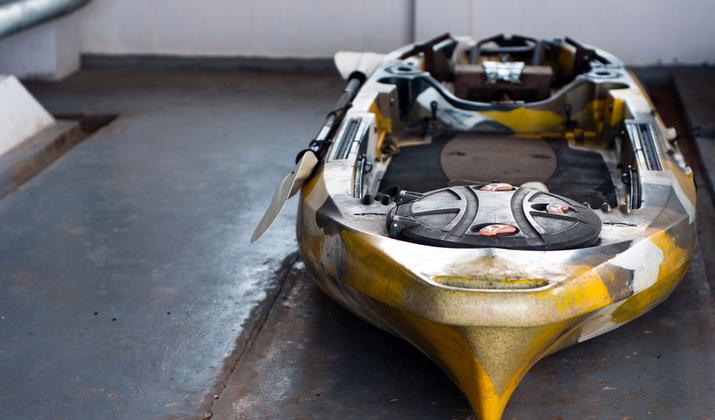 Photo by Shopasit Wannathong via Shutterstock
If your fishing kayak has a relatively flat and open cockpit, you may be able to fish from a standing position as well as when you are seated. In this case, adding deck padding is a great way to make your kayak more comfortable and add much-needed grip when you are standing.
Most anglers choose to add deck padding that is made of EVA foam because it is comfortable and also dries relatively quickly. This is the same kind of padding used on the top of many of the best two-person paddleboards.
In truth, you can use any type of soft and comfortable material to add padding to your kayak's cockpit. EVA foam is just popular because it dries fast and reduces the likelihood of mold or mildew growing inside your kayak.
If the material you choose takes a long time to dry, you are more likely to find some sort of fungal growth over time. This will lead to replacing the padding more frequently than if you chose a quick-drying material.
Equip Your Kayak with an Anchor Trolley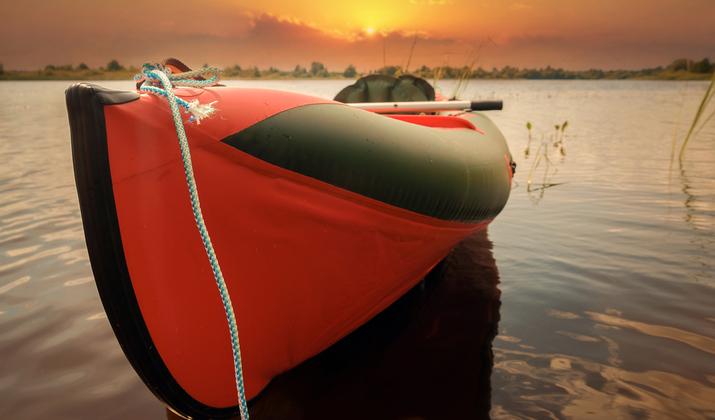 Photo by alexeisido via Shutterstock
An anchor trolley is also important for kayakers that spend a lot of time on the ocean or on moving rivers. They are less common for lake anglers, but they can still be useful for combating windy conditions.
These trolleys will allow you to drop one of the best kayak anchors once you reach a fishing hole that you want to spend a little time at. They will help to keep your kayak in place so that you can secure your kayak paddle in a paddle park and free up your hands for casting and other tasks.
Most anchor trolleys run along the length of your kayak, which allows you to pivot your kayak to fish in multiple directions. Dropping an anchor off the bow or stern can make it a little harder to reposition your kayak, but it is still a viable option for a DIY kayak anchor trolley.
Mount a Camera on the Bow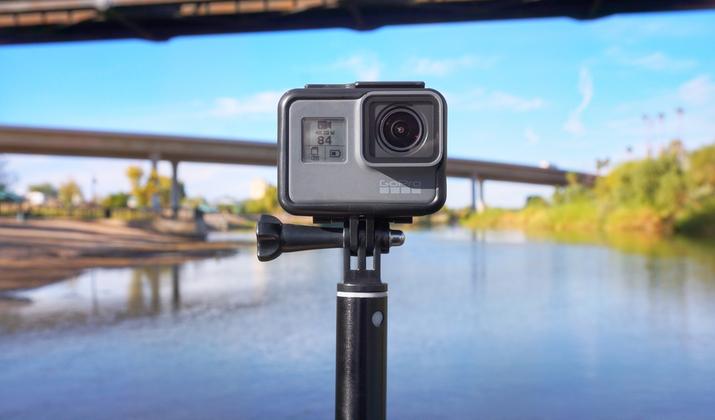 Photo by Enrique Alcala via Shutterstock
Another must when you are customizing your fishing kayak is to mount a waterproof camera on the bow to record video and still images. After all, you need a way to capture evidence of your record-breaking catches to people actually believe your fishing stories.
GoPro is obviously one of the most popular sports camera brands out there, but you can also check out models from companies like Sony, DJI, and Insta360. They all offer different mounting options to help you secure their cameras to your kayak.
One thing that you need to look for in a waterproof action camera for kayak fishing is the ability to operate the camera remotely. Ideally, you can find a camera that comes with a smartphone app that you can download to your phone.
That way, you will be able to start videos remotely without awkwardly climbing up to the bow of your kayak. This is important when your hands are already full with a fishing rod that has a large fish on the end of the line.
Secure a Kayak Crate in the Rear Tankwell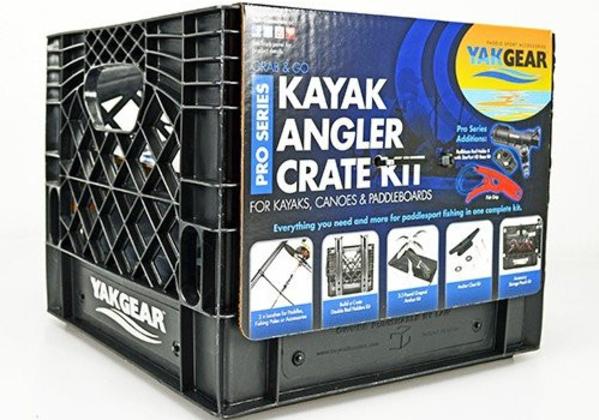 Photo by Beyond The Outdoors via Flickr
Most experienced anglers will add one of the best kayak tackle crates to their fishing kayak. These crates help to optimize your tackle storage and also allow you to mount additional fishing rod holders if you need them.
There are many different kayak crate sizes and designs out there, but they are all meant to be secured in the rear storage area of your sit-on-top fishing kayak. Ideally, you can put one right behind your kayak seat so that you can easily reach all of your tackle as needed.
If you can't quite find a kayak crate that you like online or in a paddling store near you, you can also consider making your own. Check out some of these kayak milk crate ideas for creating your own kayak tackle crate.
Upgrade Your Kayak Seat
Photo by Lyons Lens Photography via Shutterstock
Upgrading your kayak seat is one of the best things you can do to increase the overall comfort of your fishing kayak. You may need to do a little more research into the best kayak seats in order to pick the right model, but it is time well spent.
In our opinion, most kayak anglers prefer a kayak seat that can be adjusted to multiple different positions. This allows you to enjoy an elevated vantage point when fishing, a more aerodynamic position when paddling, and a reclined position when lounging.
Because many anglers also spend several hours at a time out in direct sunlight, it is important for them to have a mesh-backed kayak seat. This is going to offer the best breathability possible in order to keep you cool on especially hot and humid fishing days.
If you are looking for a kayak seat that can serve multiple purposes, check out the best kayak cooler seats. These seats provide a comfortable place to sit while also adding more insulated storage space for drinks or perishable food items.
Some anglers also choose to remove the seat from their kayak entirely and install a small kayak cooler instead. This is popular for owners of the best stand-up fishing kayaks with motors because they spend most of their time fishing from a standing position and it further increases your cold storage capacity.
Add Kayak Stabilizers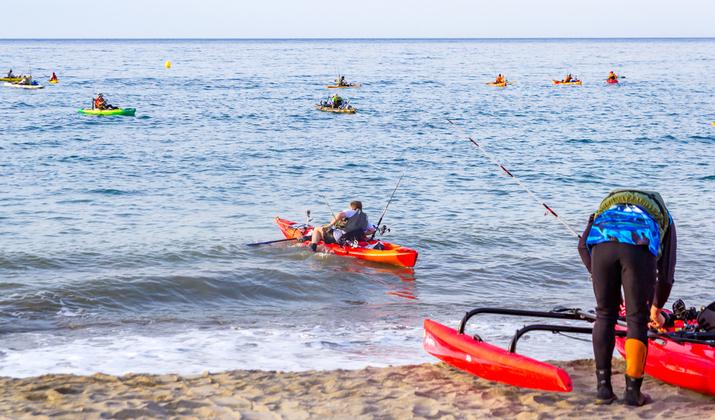 Photo by Robalito via Shutterstock
Adding kayak stabilizers is also a great customization choice if you frequently fish in rough waters. It is also popular to help improve the stability of narrower kayaks and works well for taller and larger paddlers.
There are plenty of options out there for ready-made kayak stabilizers that are easy to attach to your kayak. If you are looking to save a little money, however, you should consider making your own DIY kayak stabilizers.
Kayak stabilizers and outriggers essentially serve the same purpose. They both place additional flotation buoys off the gunwales of your kayak to significantly reduce the likelihood of your kayak capsizing.
This can be especially helpful for those of you interested in ocean kayak fishing for larger fish that are going to fight harder. Your success, in many ways, in bringing in that fish will depend on your ability to remain upright and inside your kayak.
Stabilizers are also great for anglers that like to bring a trusted furry companion along once in a while. Some creative kayakers have even constructed a deck or platform between one stabilizer and the gunwale of their kayak to give their dog a more comfortable place to lounge while they fish.
Mount a Trolling Motor and Battery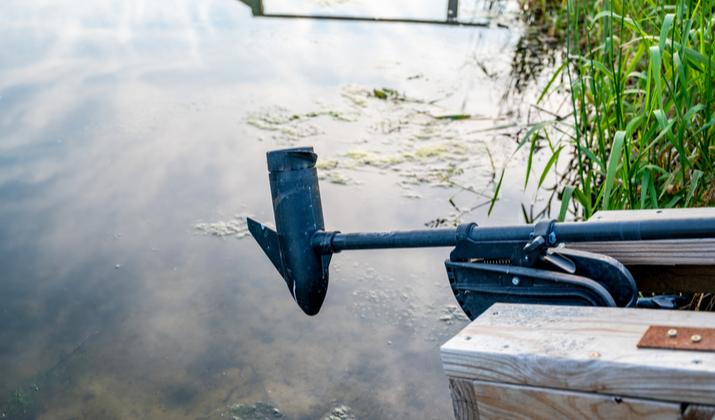 Photo by Lost_in_the_Midwest via Shutterstock
If you are tired of using a paddle to move between fishing holes, you can mount your own trolling motor to several different locations on your kayak. You will also need to mount a deep-cycle marine trolling battery to power that motor.
You can always buy a trolling motor mount that is compatible with your kayak, but this is a great opportunity for a DIY kayak customization project. Check out our full article on how to make a trolling motor mount for a kayak.
When you undertake this kind of project, you will have the choice of installing your trolling motor at the bow, stern, or off one side of your kayak. Many smaller fishing kayaks aren't great for mounting a trolling motor at the bow because there is not enough space up there to securely mount the battery.
So most anglers choose to customize their fishing kayaks with either a stern-mounted or a gunwale-mounted trolling motor. Mounting a motor on the side of your kayak is going to be the easiest when it comes to operating that motor while you are seated inside your kayak.
While going with a stern-mounted approach can free up storage space just behind your kayak seat for other gear, you may require a remote-operated trolling motor if you cannot reach back to easily operate the controls.
Upgrade with a Rudder or Skeg Kit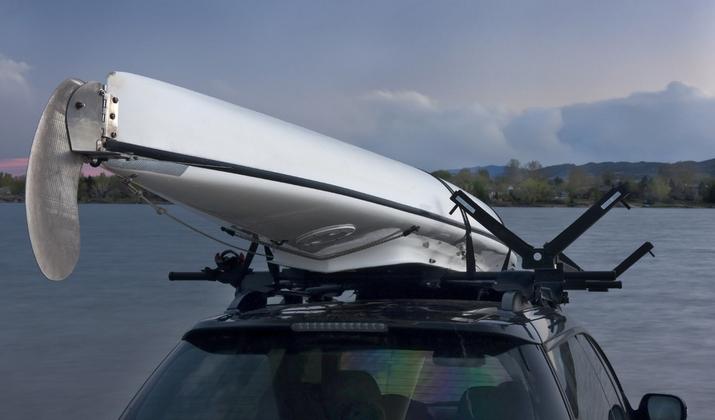 Photo by marekuliasz via Shutterstock
Not all fishing kayaks will allow you to install an aftermarket rudder or skeg kit, but it is a great way to improve the tracking of your kayak if yours does. A skeg extends below the hull of your kayak to keep it straighter while a rudder drops down from the stern and can be used for active kayak steering.
This kayak accessory is very common on the best sea kayaks because it minimizes the need for corrective paddle strokes over long distances. It is also helpful for ocean kayakers who often encounter strong winds or powerful ocean currents.
The stern of your kayak will need to be manufactured to accept a rudder or skeg kit if you want to add one. That usually means having one or two screw holes and drillable channels where you can insert the rudder steering lines.
If your kayak is not equipped with these features, we do not recommend installing an aftermarket rudder or skeg. If it is, however, check out the quick video for some additional tips on how to install a kayak rudder.
Install Additional Fishing Rod Holders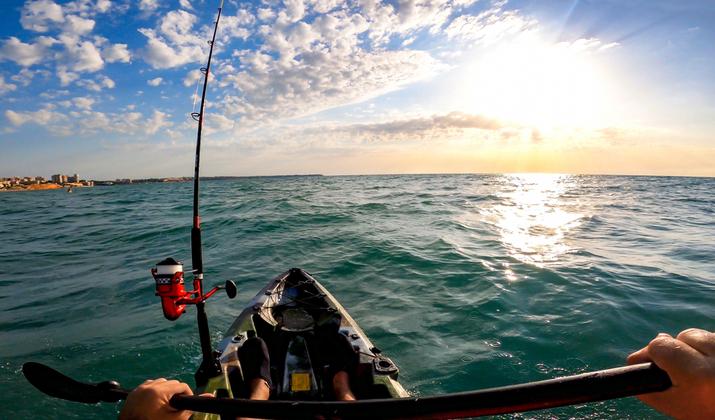 Photo by David Moreno Hernandez via Shutterstock
Adding more storage for additional fishing rods is also a great method of customizing your fishing kayak. It will allow you to keep multiple rods with different baits already strung so that you can switch back and forth seamlessly.
For many anglers, it is also common to have rods that are designed for different fish. Plus, you can set up these rods with varying fishing line tests depending on the size of the fish you are going after.
Instead of bobbing around in your kayak changing bait or re-stringing line, mount a few flush-mounted or swivel rod holders so you can keep a few different setups ready as you need them.
Flush-mounted rod holders are going to be your best bet if you just need to keep extra rods handy. If you want to be able to have one line trolling behind your kayak while actively casting with a second rod, however, you may want to add another swivel-mounted rod holder.
Also, keep in mind that fishing rod holders can be useful for holding other fishing gear besides just extra rods. They can be a great place to insert things like a fishing net or fish ruler to keep them out of the way until you need them.
Add an Insulated Cooler Bag for Fish Storage
Photo by beto_junior via Shutterstock
If you aren't fishing in a location that only allows catch-and-release fishing, you may consider bringing a few of your best catches home at the end of the day. That will require that you either have a livewell or a kayak cooler bag designed for storing fish.
Turning one of your kayak's enclosed storage compartments into a livewell is definitely an option. It just requires that you add insulation inside the compartment, but you will lose that storage space for other kayak fishing accessories in the process.
You must also consider that storing fish inside one of the compartments of your kayak can make that compartment difficult to clean down the line (even with the best kayak cleaners). If you decide to customize your kayak again and start using that compartment for regular gear storage, don't be surprised if whatever you put in there smells a little fishy after a while.
This is why we recommend getting a cooler bag that is designed to fit in the rear storage area of your kayak. It can be removed easily and many of these bags come with dishwasher-safe removable liners that make them super easy to clean.
Tips For Customizing a Fishing Kayak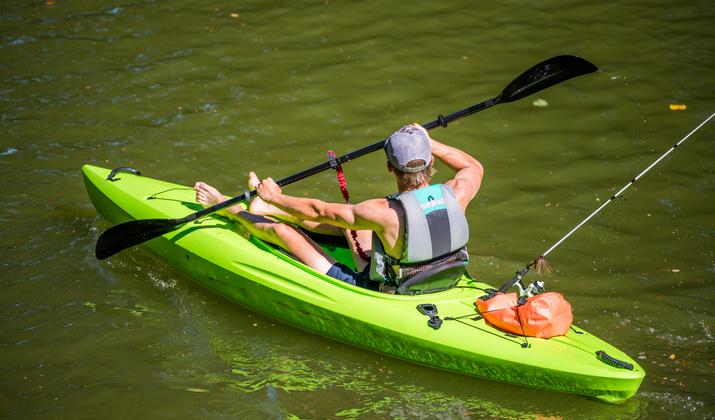 Photo by Vitpho via Shutterstock
Regardless of how many customization options you choose from the list above, there are some general kayak customization ideas you should be aware of. Use these tips to make sure you don't compromise the buoyancy of your kayak while customizing it.
Do Research Before Drilling
Drilling into the deck of your kayak is a popular method for attaching or installing new kayak fishing equipment. If you don't do this carefully, however, you can compromise the overall buoyancy of your kayak.
You are, after all, putting holes in the body of your kayak that could allow water into areas where it is not supposed to be. That doesn't mean you can't drill into your kayak, but you need to make sure you do it carefully so that your kayak keeps working once you are done.
The good news is that most of the kayaks used for fishing are of the sit-on-top variety. That means they don't have bulkheads that can be compromised if you do not drill into them properly.
That being said, one of the most important parts of drilling into a kayak to install new kayak fishing accessories comes down to the type of hardware and fitting you use when you actually install the accessory, which we will cover in the next section.
Use Proper Hardware and Fittings to Attach Accessories
You will also need to make sure you use the right hardware and fittings when you are attaching different accessories. The right fittings will essentially seal the deck of your kayak once again so that water cannot get inside the hull of your kayak.
Neoprene rubber washers are commonly used for any accessories that will be bolted or screwed into your kayak. Trifold rivets are also common for adding bungee cord or new toggle-style handles to your fishing kayak.
For a more comprehensive overview of the many fittings you could use on a kayak, check out the video below!
Use Glue For Lightweight Accessories
If you are adding things like deck padding or a camera mount, you can get away with using one of the best glues for kayak outfitting instead of drilling or screwing into your kayak. This will make installing lightweight accessories quicker and easier.
Kayak glue can also be used in partnership with bolts or screws. This is a good idea for anchor trolleys, swivel-mounted fishing rod holders, and other gear items that need to hold up to a higher degree of stress.
Final Thoughts
Photo by Robert F. Leahy via Shutterstock
If you would like to see a visual example of these kayak fishing customization tips, check out the video below!
https://www.youtube.com/watch?v=wK6tTgUm-fo
As you gain more angling experience, your customization preferences will likely change. Don't hesitate to keep researching new customization ideas and strategies to help you maximize the effectiveness of one of the most stable fishing kayaks.
We hope that you have enjoyed the tips we have outlined in this article today. As always, we want to conclude by wishing you the best of luck on all your upcoming kayak fishing adventures!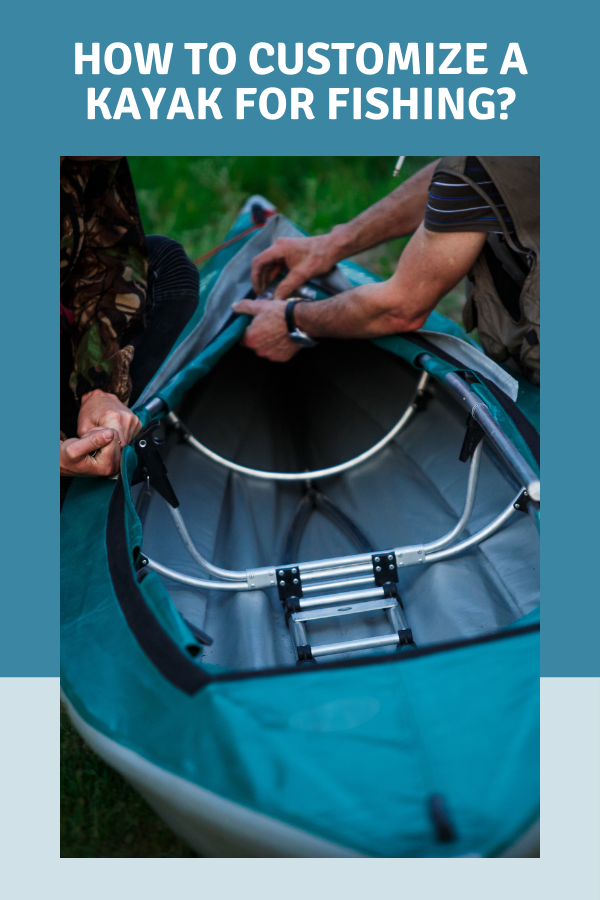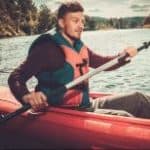 Author: Peter Salisbury
Pete is the Owner of KayakHelp.com. Born and raised in Cleveland, Ohio, he grew up kayaking, fishing, sailing, and partaking in outdoor adventures around the Great Lakes. When he's not out on the water, you can find him skiing in the mountains, reading his favorite books, and spending time with his family.