Hoodoo Sports is a popular supplier of fishing kayaks, pedal kayaks, and more. Its kayaks are made of high-quality materials yet are sold at an affordable price.
Based in Texas and founded in 2019, the company aims to provide high-quality kayaks for those on a mid-range budget.
There are kayaks ranging from less than $600 to $1,500+ (prices are subject to change). Regardless of your budget, you can find a kayak that meets your needs from Hoodoo Sports.
The short version: The best Hoodoo kayaks are those from the Tempest, Impulse, and Element lines. The pedal kayaks, in particular, offer great value for money.
Let's take a closer look at the best Hoodoo kayaks available.
Best Hoodoo Kayaks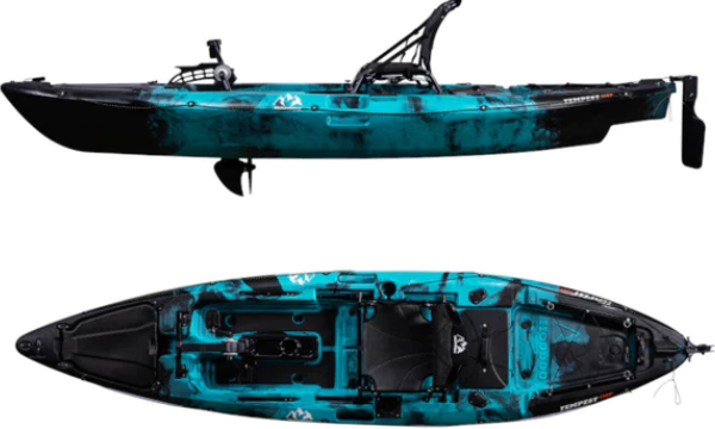 This kayak is one of Hoodoo Sport's top-selling products.
The 120 means that the kayak is 12 feet long, and the "P" means that the kayak uses a pedal drive.
The pedal drive allows you to navigate and maneuver the kayak with your feet. Not only does it free up your hands for fishing, but it also reduces exhaustion by requiring less physical exertion compared to paddling your kayak.
Despite having a weight capacity of 450 pounds, this kayak only weighs 85 pounds, and that's including the pedal drive.
Made of high-quality and durable rotomolded polyethylene, this kayak comes with Hoodoo's Blade Rudder, meaning you don't have to buy a separate rudder.
You can easily control the Blade Rudder with the accompanying hand controls.
Although it's a pedal drive system, don't worry. The kayak comes with a paddle as well, in case you want to paddle; you won't have to buy it separately.
The pedal drive system is removable if you wish to paddle the kayak and reduce its overall weight.
There is a hatch in the front for storage. This hatch is easily accessible from the seat, making it perfect for storing your fishing tackle.
Also, there are side handles that make it easy to transport the kayak. These handles are actually molded into the kayak to ensure they don't come off.
The kayak is 33 inches wide and comes in several colors, including Blue Lagoon, Gray Mist, Marine Reef, and Purple Haze.
Hoodoo has partnered with Affirm and Shop Pay to offer monthly installment plans on all of its products, making them affordable regardless of your budget.
You can apply to either or both Affirm and Shop Pay to see if you qualify. The monthly installment plans typically incur interest, but if you pay over three months instead of 12 or 18 months, for example, the overall interest will be pretty low.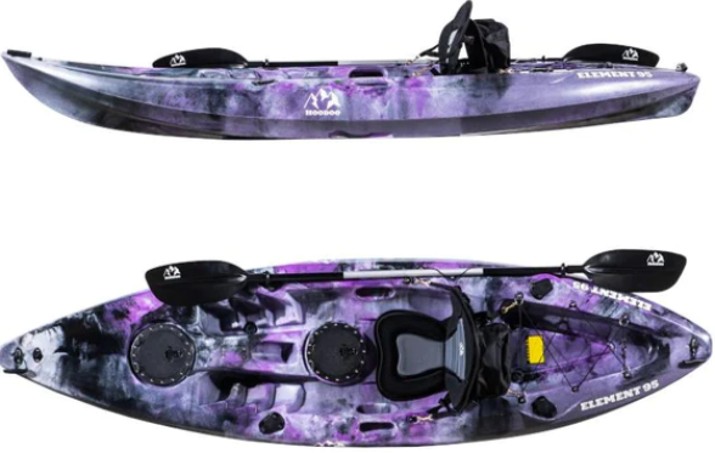 The Hoodoo Element 95 is a great budget sit on top kayak. It weighs a measly 45 pounds, making it easy to transport, and it's perfect for kayakers at all levels of experience.
It has a length of 9.5 feet and a width of 2.5 feet. Despite its small size, it has a weight capacity of 300 pounds, enough for you and your gear.
It's meant for recreational kayaking, but it's perfect for all kinds of waters. It doesn't come with a pedal drive, but it does come with a paddle (and a paddle keeper).
There are two areas for storage. One is located all the way at the front of the kayak, while the other is located right in front of the seat, allowing for easy access while kayaking.
The storage areas have bag inserts to help keep your things dry while kayaking.
The rear and front handles allow you to carry this kayak with ease, and the rod holders allow you to free up your hands while fishing.
While a recreational kayak, the rod holders and storage wells make it perfect for kayak fishing as well.
Available colors include Blue Lagoon, Purple Haze, and Red Storm.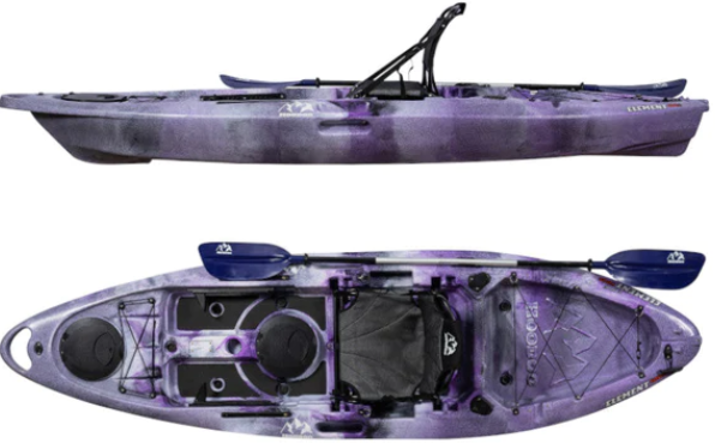 This 10-foot sit on top kayak is the perfect blend of affordability, great design, and performance. It has a weight capacity of 350 pounds, which is an improvement on the prior version of the Element 100S, while weighing only 65 pounds itself.
While the kayak doesn't come with a rudder, it does allow you to mount a flip-down blade rudder on the stern.
Another cool feature is the paddle clip that mounts on the hull, allowing you to easily store your paddle when not in use. Rod holders are included with your kayak as well.
There are two storage hatches, including one right in front of the seat. In addition, there is a storage area in the back, where you can tie down a cooler or other gear.
The seat is comfortable and features a sturdy aluminum frame. Meanwhile, there are comfy footrests that help you manage your balance and stay comfortable during long trips.
When you want to carry the kayak, the handles on the front and rear will be useful. Available colors include Molten Lava and Marine Reef.
Overall, it's a great budget kayak that offers excellent value for money, and you can pay in installments over time if you qualify.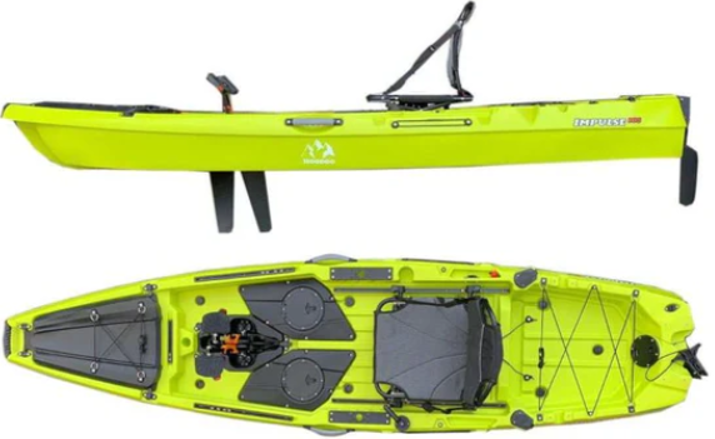 If you are looking for a dual-drive pedal kayak, check out the Hoodoo Impulse 105. It comes with a removable pedal drive, which itself comes in one of two options: You can get it with a propeller or a fin.
In addition, the kayak comes with a tracking fin. Of course, the kayak also comes with a paddle, like other Hoodoo Kayaks, and it also features three gear tracks.
One cool thing about this kayak is its seat, which can be adjusted in multiple directions and in height. It is comfortable as well.
The paddle keeper and four rod holders add convenience during kayaking, while the four plastic handles add convenience during transport.
There are also multiple storage areas, including two small circular hatches right in front of the adjustable seat. You can use one of those hatches for tackle and the other for other equipment or gear.
Sand Storm and Radiant Citrus are some of the interesting colors available for this kayak, which measures 10.5 feet in length and 31.5 inches in width. With a weight capacity of 398 pounds, it's more than enough for all that gear you will be storing in the ample storage space.
It does come with a rudder system as well. The only thing it doesn't come with is a life jacket.
While the kayaks we have looked at so far are single kayaks, Hoodoo does sell tandem kayaks as well, perfect for kayaking with your partner or buddy.
The tandem kayaks sold by Hoodoo are denoted by a T at the end of the model name, such as this Hoodoo Tempest 130T. As you may have already figured out, the kayak is 13 feet in length, making it a good choice if you're looking for a somewhat longer kayak.
Choosing between longer and shorter kayaks can sometimes be a difficult decision.
Generally, beginners tend to opt for shorter kayaks, usually less than 12 feet long. Long kayaks tend to be less stable, but it also depends on the width, and this kayak is three feet wide.
Check out our guide to the pros and cons of short vs long kayaks. Either way, since this is a tandem kayak, its length is quite standard.
The kayak weighs 100 pounds but has a weight capacity of 550 pounds, enough for two people and plenty of extra gear. It comes with two seats and two paddles for the both of you, and both of the seats are fully adjustable for your comfort.
Scupper plugs and a drain plug are included, as are fishing rod holders to add the ability of fishing in this kayak.
There is plenty of storage space as well. The two rectangular hatches in front of each seat provide personal storage space that is easily accessible for you and your buddy.
Meanwhile, the unique design of the hull adds extra stability and improves performance for tandem kayaking.
It comes in four colors, including Molten Lava, Marine Reef, Gray Mist, and Blue Lagoon.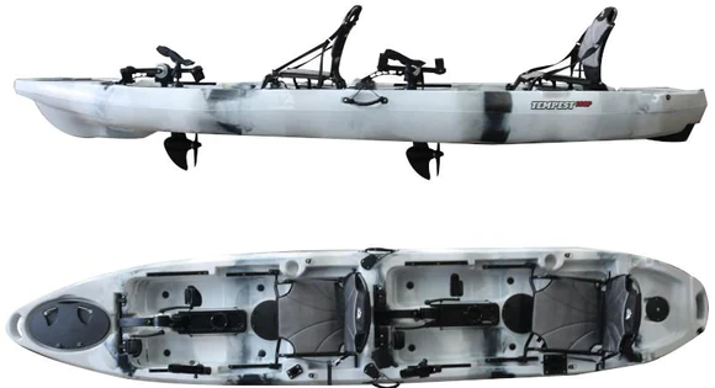 So far, we've included both pedal and tandem kayaks, but we haven't yet included a tandem pedal kayak. This kayak is just that: a tandem kayak for two people but with pedal drives.
Yes, you read that right: pedal drives, plural. There is a pedal drive for each of the seats.
The presence of two pedal drives means that this kayak can go incredibly fast on the water. Of course, there are two paddles as well.
The pedal drives support instant reverse, allowing you to maneuver the kayak forward and backward at your will.
Despite the length of this kayak (14 feet) and the two pedal drives, it's not that heavy, weighing just 105 pounds. It has a weight capacity of 550 pounds.
The pedal drives come with covers that include cupholders for your convenience. That can help you stay hydrated on the water.
There are three rod holders and multiple dry storage areas. In addition to the two small storage hatches in front of each seat, there is a larger storage hatch in the front of the kayak as well as an area where you can tie down more gear in the back.
It's a bit pricey, but it's well worth the cost. In addition, you can pay over time, making it affordable for those who don't have a lot saved up and don't want to use a credit card to pay the full price upfront.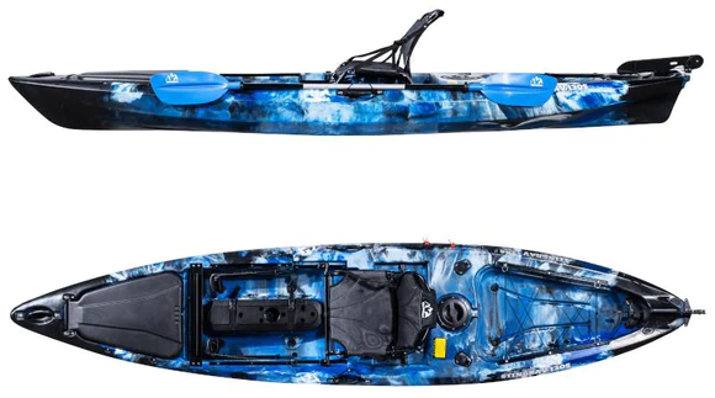 While most Hoodoo kayaks are essentially multipurpose and can be used for fishing, the Stingray 130S is especially optimized for anglers. It has dry storage in front and a large tie-down storage area in the back for your cooler, tackle box, fishing gear, or other equipment.
The stadium-style seat, which features an aluminum frame, is incredibly comfortable and sturdy. At the same time, the adjustable foot rests ensure you remain as cozy as possible while using this kayak.
The kayak also comes with mounting rails to mount your accessories as well as a center console, things that many Hoodoo kayaks do not offer.
There are rod holders and a paddle keeper for convenience. The design also adds to your stability while fishing, and the rudder system helps you stay on course.
It's surprisingly affordable as well.
The Voyager 100P is designed, according to Hoodoo, for exploring. It has a unique and sleek design that I just love.
It comes with a pedal drive system that allows you to reverse instantly, for ultra maneuverability. The bottom rudder system helps you stay on course.
While meant for exploring, it's also perfect for fishing. The three flush-mounted rod holders help you keep your fishing rods in place, but what really gives the kayak an extra touch is the standing deck platform.
The standing deck allows you to fish while standing, with a foam mat on the bottom to help you maintain your stability while doing so.
There are also two accessory mounting rails and two mounting platforms, allowing you to mount your gear.
It is just over 10 feet long and is 34 inches wide, making it incredibly stable. Also, it has plenty of storage, including a large front hatch, a small hatch in the back of the seat, and a tie-down storage area.
Finally, a nice plus is that it weighs less than 70 pounds.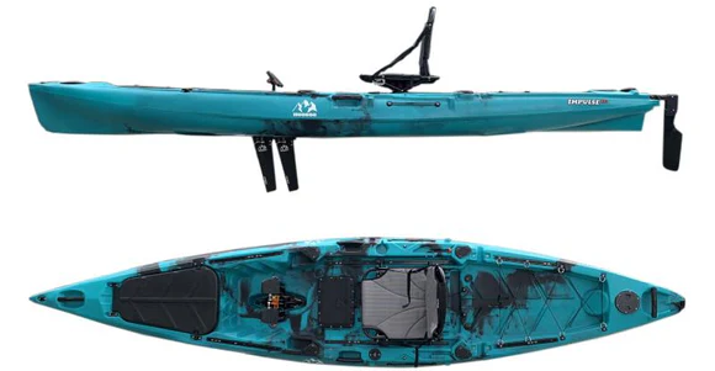 Next up, we have this sleek kayak from Hoodoo Sports. The removable pedal drive system features a fin drive, and the seat is fully adjustable in all directions and in terms of height.
With three gear tracks and multiple dry storage areas, it's perfect for fishing or recreational kayaking. There are also four rod holders built into the kayak and a paddle keeper for the included kayak.
It has a length of 13.6 feet, a width of 34 inches, a hull weight of 101 pounds, and a weight capacity of 398 pounds.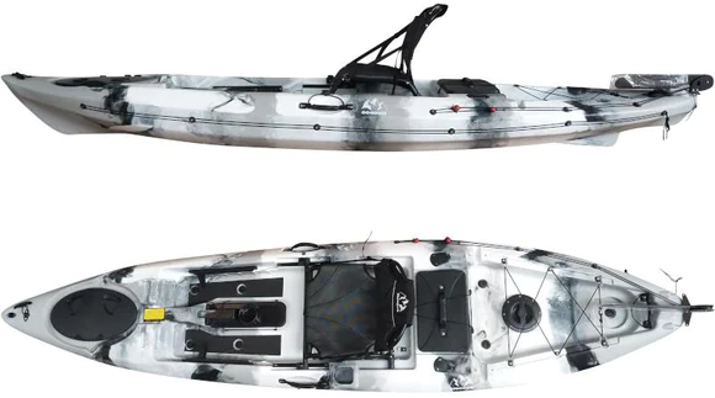 This Hoodoo Tempest 120 is a hybrid kayak, designed for both angling and recreation. The hydro-dynamic design of the hull lets you glide and cut through the water, and there is a tracking fin to help you maintain direction.
There is also a rudder system that comes with the boat. You can control the rudder with your feet, making it incredibly convenient to use this kayak.
While optional, the kayak does support a pedal drive, which you can attach to the vessel through a special hatch. There are dry storage hatches, including a large oval one in the front, and a tie-down storage area in the back.
The kayak is 12 feet long and 33 inches wide, weighing 62 pounds and with a weight capacity of 350 pounds. It comes with anchor trolleys, a paddle keeper, scupper plugs, a paddle, and more.
If you are looking for a bit of flexibility, this is a great choice.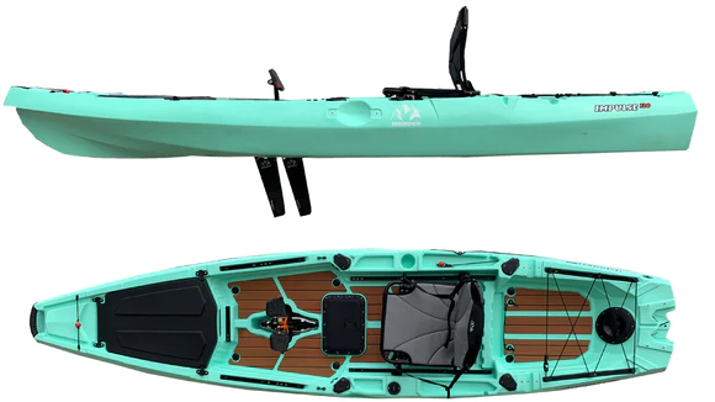 This pedal drive kayak comes in two versions: There is the single direction fin drive and the bidirectional prop pedal drive.
The pedal drive system is removable, so you can always take it off if you prefer not to use it on any trip. Instead, you can paddle with the included paddle.
Either way, you can choose from several stunning colors, such as Limited Edition Seafoam, Limetreuse, and Sand Storm.
You can adjust the height or direction of the seat, with an aluminum frame to help keep the seat sturdy. Three gear tracks are also included.
At 12 feet long and 35 inches wide, this kayak has a weight capacity of 440 pounds.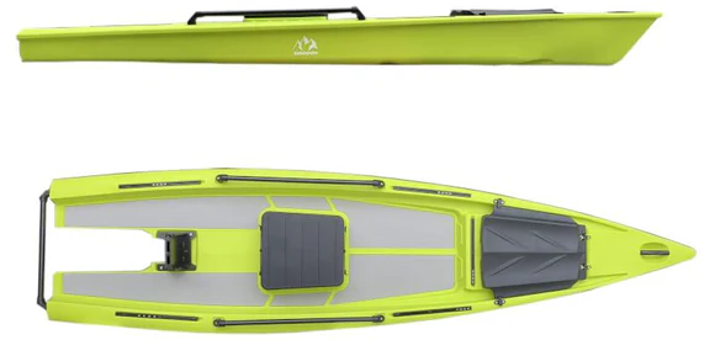 If you are looking for something different, consider the Hero 130 Microskiff. It gives you the mobility of a kayak but is stable for fishing, just like a fishing boat.
Also, it can be loaded with an outboard motor, which you can purchase as a package together with the skiff, with a 6 HP motor.
Alternatively, you can purchase the skiff by itself, without the motor, at a much lower price.
It kind of looks like a kayak, but it has a unique design. It features a non-slip deck for fishing stability, and it comes with five gear tracks and two rails.
There is plenty of storage, and the boat itself weighs just 100 pounds (not including the motor), making transport easy. The back handle also makes it easy to carry it.
Conclusion
Hoodoo has plenty of great kayaks, including tandem kayaks, fishing kayaks, and recreational kayaks. A lot of people go for the pedal kayaks, though, which Hoodoo offers at excellent prices compared to other companies.
You may also be able to find cheaper deals on Amazon as opposed to on the official site, but make sure to read reviews before buying.
Also, check out the other gear Hoodoo sells on its site, like coolers, gear boxes, kayak carts, and kayak replacement parts.
Author: sudeep goyal