Ascend is one of the most popular kayak-manufacturing brands in the industry.
Chances are you've come across one of its boats while enjoying time on the water or while shopping for your first or next kayak.
You might have even heard great things about this line of kayaks and you're wondering whether the brand is for real or just another overhyped kayak range.
The last thing you want is to spend your hard-earned money on a kayak that you end up regretting.
In this guide, we're going to do an in-depth Ascend Kayak review to see if the brand is a hit or a miss.
We're going to answer all the questions you may have about Ascend kayaks, break down their features, and explore the different models available today.
Let's begin!
About Ascend Kayak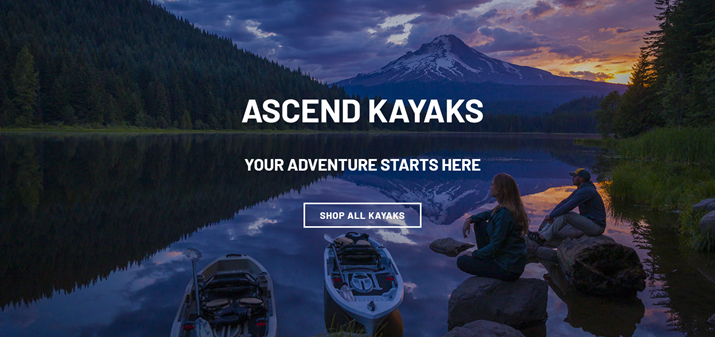 Ascend Kayaks is considered one of the top-ranking kayak brands in the market. The brand has been in business since 2010 and has built a reputation in the paddling community for producing stellar, dependable boats.
Ascend's kayaks are certified by the National Marine Manufacturers Association (NMMA).
This certification indicates that the brand's kayaks meet or exceed the stringent safety and quality standards set by the American Boat & Yacht Council and the U.S. Coast Guard.
It is one of only two kayak manufacturing brands to hold this distinction; Hobie is the other brand. This goes to show that Ascend Kayaks are of excellent quality and offer the highest level of safety you can expect from a boat.
You can find Ascend Kayaks in almost all Bass Pro Shops and Cabela's retail outlets across North America.
The brand's products are also sold at reputable independent sporting goods stores and boat dealers across the nation. And on online retail websites like Amazon and Walmart.
Who Manufactures Ascend Kayaks?
Ascend Kayaks are created in-house by the White River Marine Group, the boating division of the renowned retailer of outdoor gear and apparel, Bass Pro Shops.
Although the Ascend Kayak brand has only been in existence since 2010, the WRMG company has decades of experience exploring waterways and designing and producing boats.
The company prides itself on developing all of its designs internally, leveraging its team's paddling knowledge and expertise to produce kayaks that paddlers will love.
Where Are Ascend Kayaks Made?
Ascend Kayaks are manufactured locally in the USA in the small city of Lebanon, Missouri.
The company behind the brand, White River Marine Group is also headquartered in the state of Missouri, but it operates out of the city of Springfield.
What Kind of Kayaks Does Ascend Make?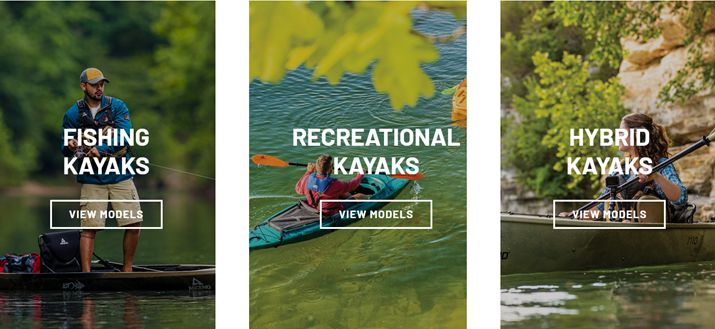 As you may have guessed or seen while shopping, Ascend makes different types of kayaks. Like most brands, it has a special naming convention that it uses to categorize its kayaks.
So before I dive into the review proper, I'm going to walk you through the different Ascend Kayak models out there and the letters the brand uses to represent them in the kayak name.
1. X – Extreme Kayaks
Ascend Kayaks with an X in the name mean that the kayak model in question includes a built-in Ascend Yak Power system, pre-rigged for bow and stern-mount trolling motors.
2. T – Sit on top Kayaks
Ascend uses a T to designate its sit on top kayak models. These kayaks are designed with wide, stable beams to improve your paddling and fishing experience.
You can comfortably paddle them while standing up or use the propulsion systems to drive them, freeing up your hands to focus on casting and reeling.
3. R – Recreational Kayaks
If you're looking for a beginner-friendly kayak or a 'yak that will help you expertly navigate calm or sheltered waters, Ascend has a nice range of recreational boats to choose from.
These kayaks are built for leisurely float trips. They're easy to use and they allow you to have as much fun as you want on the water.
4. H – Hybrid Kayaks
Ascend hybrid kayak models deliver all the benefits of a sit in and sit on top kayak and canoe in one boat. They have roomy, open cockpits with high sides and provide impressive stability and more storage space for your gear and catch.
Ascend hybrid kayaks are ideal for anglers, hunters, adventurers, and anyone looking for a boat that handles well in any environment.
5. FS – Free Standing Fishing Kayaks
Ascend fishing kayaks are designed for anglers who prefer standing while fishing to sitting down. These fishing models offer next-level stability, increased storage capacity, and a customizable seating system.
They're fitted with rod holders and mounting points for installing trolling motors, fish finders, and your favorite fishing accessories.
6. D – Deluxe Kayaks
The Deluxe kayak range from Ascend features recreational sit in kayaks that cater to the needs of all kayakers, regardless of their skill level. This Ascend kayak model boasts an updated, removable seating system for maximum comfort.
It supports easier entry and exit, better cargo management, and more freedom of movement on the water.
Ascend Kayak Review
Materials and Design
Rating – 5/5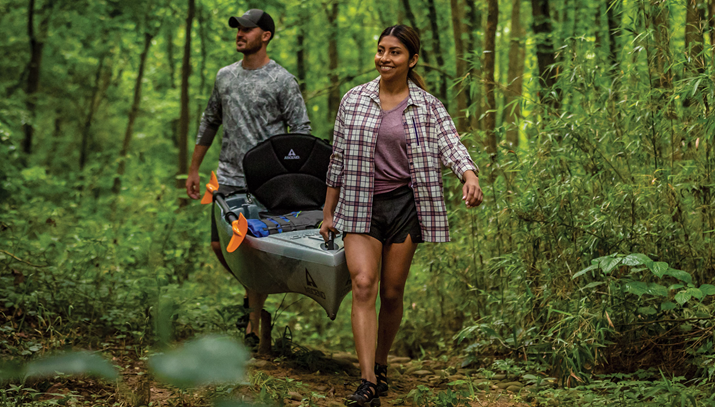 Ascend Kayaks are made using AQUATUF, a proprietary form of marine-grade, high-density polyethylene material. The brand utilizes the rotomolding technique in its kayak construction.
Instead of creating the hull and deck parts of the kayak separately and fusing them together, Ascend kayaks are made in one piece from a single mold. As a result, they tend to be tougher than other kayaks that have multiple parts joined to fashion the whole boat.
This means that the brand's kayaks can withstand drops, falls, and other mishaps that might occur during transportation or regular use.
It won't shatter or come apart at the seams like kayaks made using fiberglass or thermoforming construction. Ascend's hardshell kayaks will also resist punctures and tears to which inflatable kayaks are susceptible.
Another advantage of investing in rotomolded plastic kayaks from Ascend is that they're cheaper than kayaks of the same performance level and quality made using composite materials or thermoformed methods.
Versatility
Rating – 3/5
Whether you want a sit inside or a sit on top kayak or you're looking for a kayak that can go from lakes and streams to the open ocean, Ascend has several options to suit your needs.
The brand has various kayak models that are built to serve specific and multiple purposes depending on your paddling plans and thirst for adventure.
If you want a nice entry-level kayak that you can take fishing or travel with from point A to B as smoothly as possible, you can't go wrong with an Ascend kayak.
Durability
Rating – 5/5
Plastic kayaks are the toughest 'yaks on the market and they're the only type of kayaks that Ascend makes.
Ascend kayaks' sturdy construction enables them to remain unfazed in the face of collisions and contact with sharp or abrasive objects.
They can survive being dragged along rocky or sandy beaches to get to the water when you can't find someone to lend you a hand to carry it.
However, there's still a chance of causing permanent damage to the kayak if the impact of a drop or collision is too forceful. Or if you overtighten the straps when tying it to the roof of your car, causing the kayak to warp.
The toughness of Ascend kayaks makes them long-lasting. You can expect to own your Ascend Kayak for many years and still get great performance out of it as long as you treat it with care.
Try to store and transport your kayak properly and avoid getting it all scratched up whenever possible because excessive wear and tear can cause it to drag.
Stability
Rating – 5/5
Most Ascend Kayaks, particularly the fishing and sit on top models are exceptionally stable. You can easily stand up on them without worrying about slipping or losing your balance thanks to their hull designs and the non-stick mats installed on the deck.
Ascend's recreational kayaks also boast impressive stability when paddled in serene, slow-moving waters. However, if you take them out in rough conditions, there's the possibility of the kayak flipping over, the same as any kayak from a different brand.
If you're a beginner or a relatively inexperienced paddler, I recommend sticking to calm, protected waters in your Ascend Kayak.
Don't venture out into open water or rougher terrain until you get used to the feel of the kayak and are comfortable in it.
Portability
Rating – 3/5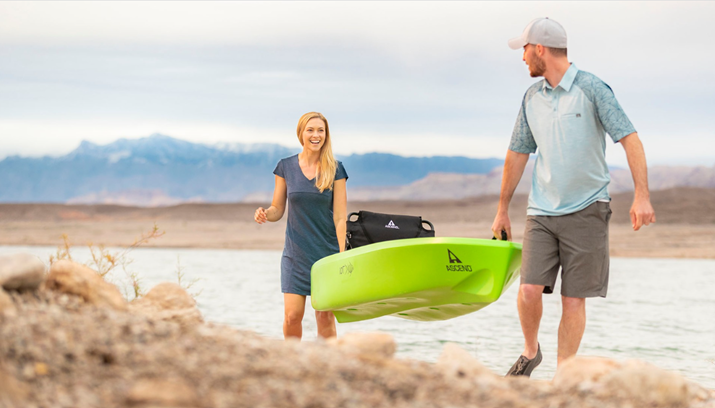 Portability is relative and dependent on the type of boat you opt for. For instance, high-performance plastic kayaks tend to weigh on the heavy side because of all the features, accessories, and large storage space they come with.
The smallest recreational kayak in Ascend's lineup weighs 50 lbs while the brand's largest fishing kayak weighs 125 lbs.
If you choose to buy one of its recreational kayaks or lightweight hybrid kayaks, you should be able to load and carry the kayak on your own.
However, be prepared to enlist help during loading and portaging for the heavier fishing kayaks. Or better still, purchase a lift-assist kayak rack, as well as a kayak cart or trolley to enable you to manage the process on your own.
This way you won't have to rely on other people whenever you want to go kayaking.
Speed
Rating – 3/5
Ascend kayaks are not designed for racing and they don't move as fast as you may desire. Despite the streamlined hulls of their fishing and recreational kayaks, you'll probably find similar kayaks from other brands that can get you to where you want to go faster.
If you're paddling alone, speed shouldn't be too much of an issue. But you'll probably notice the difference when paddling with a group because you'll have to paddle harder to maintain the same pace as your fellow travelers.
Consider investing in a similarly-priced speedier kayak if your priority is to cover longer distances in as little time as possible.
Comfort
Rating – 5/5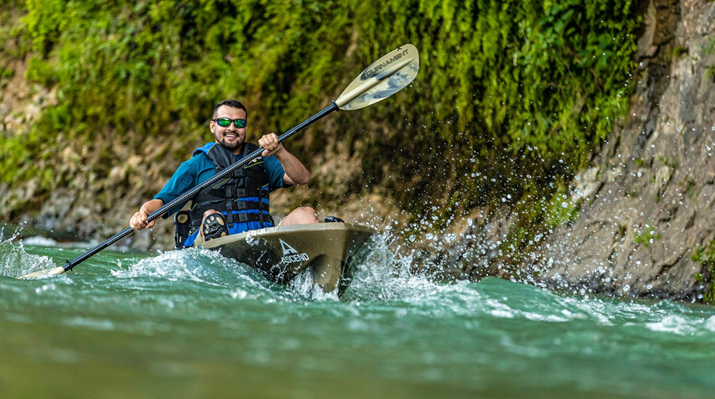 It can be really annoying when you have to cut a float trip short due to discomfort. Luckily, this is not an experience you'll have to endure with Ascend Kayak.
The brand's sit-inside kayaks feature roomy cockpits that make entering and exiting the kayak a breeze. I particularly love how much thought Ascend put into the design of its kayak seats; they're ergonomic, adjustable, and removable.
You can spend hours on the water at a stretch without your back hurting or your thighs cramping.
Depending on your frame and preference, you can modify the position of the seat to make yourself feel more relaxed. When you get to your kayaking destination, you can remove the seat and use it as a camp or lounge chair on land.
This saves you the trouble of having to pack an extra one and take up precious cargo space that could be used to pack equipment or food to eat on your paddling trip.
Additionally, Ascend kayaks feature adjustable foot braces that give you better control over your paddling strokes and boat, while helping to maximize comfort.
Storage Space
Rating – 5/5
The maximum load capacity of recreational kayaks from Ascend range from 225 – 300 lbs. This makes them suitable for small to average-sized paddlers who are only interested in hours-long paddling trips that require them to pack little to no gear.
There are storage trays where you can keep small items you want within reach and a cup holder for storing your drinks.
Ascend's recreational kayaks also feature a large multi-purpose sternwell with mesh cover or a watertight deck plate storage area, depending on the model.
Bow storage compartments with mesh covers, open cockpit, drink holders, large sternwells, bungee cords for tying down additional baggage, and saddlebags make up the storage options for Ascend hybrid kayaks.
With a load capacity of 400 – 450 lbs, these hybrid models can conveniently hold a lot of gear. This makes them the perfect companion for multi-day camping trips and touring expeditions.
Paddlers who want even more space will be happy to know that the weight capacity for Ascend fishing kayaks goes up to 550 lbs. So you'll have ample space to fit all your gear, fishing equipment, catch of the day, and stick have room to spare.
Pricing
Rating – 5/5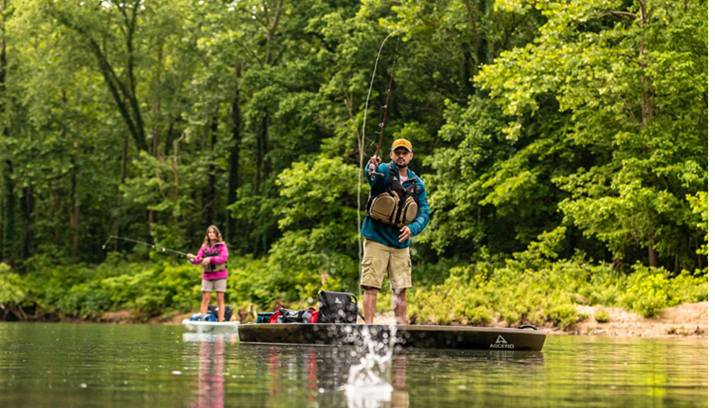 One of the main selling points that gives Ascend kayaks an edge over its competitors is the cost-effectiveness of its boats. The brand offers budget-friendly kayak options that don't compromise on quality or performance.
You can get a capable recreational kayak from Ascend for less than $500. The company's hybrid kayaks will cost you between $750 – $850. The price for an Ascend fishing kayak starts at $500 and goes up to $1,100.
Warranty Information
Rating – 5/5
Any kayak you buy from Ascend is backed by a three-year limited warranty covering defects in the materials and workmanship.
That is, of course, as long as these defects do not arise from neglect, misuse, accidents, normal wear and tear, improper storage, maintenance, or transportation.
Ascend Kayak Models
Ascend Kayak has several kayak models to pick from based on your needs, preferences, and paddling intent.
Here's an overview of the kayak offerings from this company and the core features of each one.
General Specifications
Length: 9′ 10″
Width: 29″
Weight: 50 lbs
Load Capacity: 300 lbs
This Deluxe sit-in kayak designed for recreational use features a custom tunnel hull design which provides improved tracking, stability, and paddling ease. It handles well in most environmental conditions but performs best in slow-moving and tranquil waters.
The D10 is the cheapest kayak that Ascend makes. The kayak's large, open cockpit makes it easy to enter and exit and allows you to move freely on the water.
It comes with a bunch of handy accessories including a cozy seat, paddle holders, flexible foot braces, and a decent amount of storage space including bungee rigging.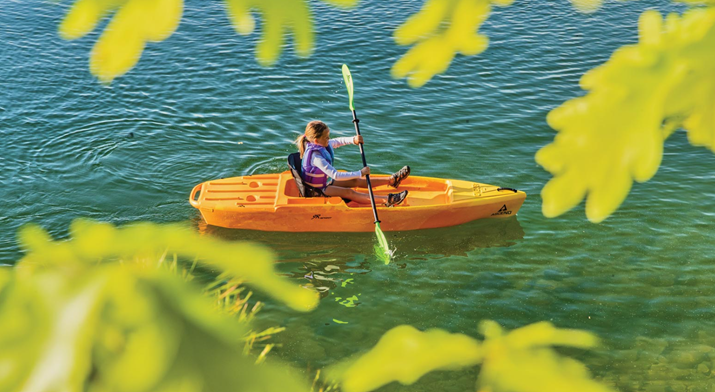 General Specifications
Length: 9′
Width: 31″
Weight: 52 lbs
Load Capacity: 225 lbs
If you're in the market for a sturdy recreational kayak that you can sit on rather than sit in, the Ascend 9R Sport might be the boat for you.
What makes this kayak attractive is its small frame and the fact that it has all the essential features you need in an entry-level kayak.
You should have no trouble lifting and transporting the Ascend 9R Sport without assistance. Once you're out on the water, you can expect this kayak to respond and glide easily.
The kayak is perfect for short trips on flat and calm water. It has an adjustable seating system, a quick-rest paddle holder, built-in drink holders and storage trays, and strategically placed automatic scupper drains.
The only downside of the Ascend 9R Sport is that it may not be suitable for heavier paddlers and it cannot hold a lot of gear.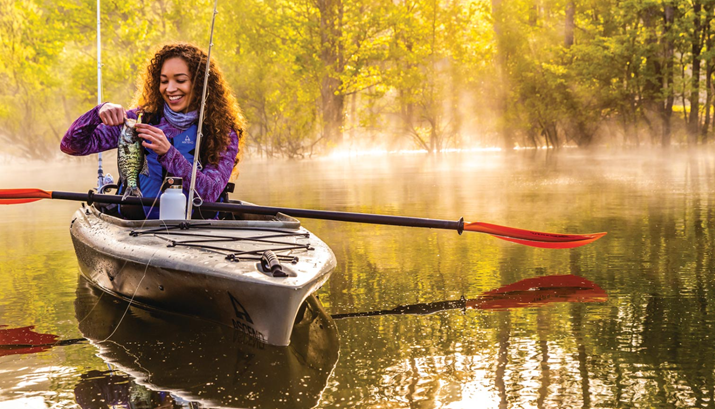 General Specifications
Length: 10′
Width: 30″
Weight: 57 lbs
Load Capacity: 325 lbs
Designed for serious anglers who want to get the most out of their paddling and fishing adventures, the Ascend FS10 is a performance-oriented boat.
The kayak delivers superior stability, maneuverability, and tracking thanks to its advanced V-style hull construction with an extended keel and performance rocker.
It enables you to move freely to cast, fight, and retrieve fish. The kayak's ergonomic steel frame seats ensure that you stay warm and comfortable no matter how long you spend on the water.
Installing rail systems for mounting your favorite accessories is straightforward with the FS10's molded landing flats. Storage compartments abound on this kayak, so you'll have adequate room to store both small items and cargo with substantial weight.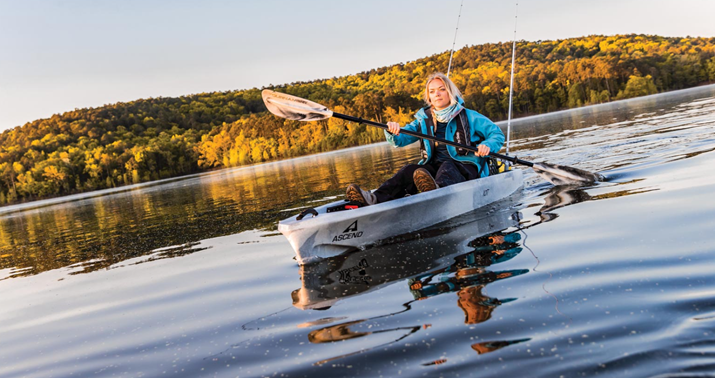 General Specifications
Length: 10'
Width: 31"
Weight: 67 lbs
Load Capacity: 325 lbs
Want a kayak that you can comfortably stand on and fish from without risking toppling over? The Ascend 10T is a sit-on kayak that Doubles as a stable platform
The kayak's open-style construction gives you the freedom to customize your accessories to your liking while optimizing your storage options. It features removable ergonomic seats, adjustable foot braces, three rail systems, and watertight compartments to keep your belongings safe and dry.
To give you even more of an advantage and enhance your paddling experience, the FS10 gives you flush-mounted rod holders, steel D-rings, scupper drains with plugs, and grip handles for easier portage.
General Specifications
Length: 12'
Width: 31"
Weight: 77 lbs
Load Capacity: 350 lbs
The Ascend 12T is a fishing kayak with elevating seating and a standing platform that delivers enhanced mobility and sharpens your ability to sight fish and cast reels.
What gives the 12T an edge over other alternatives is that it costs two to three times less than the normal price for fishing kayaks of this style, size, and capabilities.
This kayak has a tunnel-shaped hull which means it is wider and offers greater stability and tracking than other hull designs.
The kayak's non-skid cushioned flooring provides better support and balance, allowing you to comfortably stand on the deck to fish or hunt.
It comes with generous dry and wet storage options, mounting rails for customizing accessories, and a deluxe adjustable seating system that can be removed.
The 12T is ideal for sheltered coastal waterways and slow-moving rivers or lakes.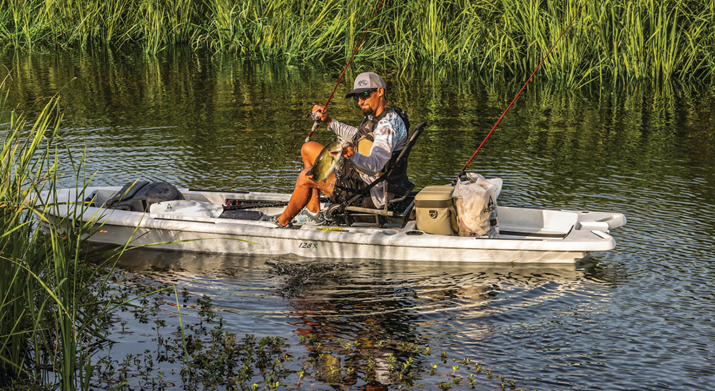 General Specifications
Length: 12′ 8″
Width: 34″
Weight: 96
Load Capacity: 450
There's a lot to love about the 128X Ascend kayak. For starters, it comes with the brand's trademark Yak Power system, which you can use to power accessories such as your fish finder, phone charger, lighting rig, GPS, and more.
It offers extensive storage opportunities for carrying a huge amount of cargo and gear. This kayak's upgraded sitting system with a high-back seat and adjustable foot braces leaves no room for discomfort.
Cushioned flooring provides a stable non-skid platform for standing and casting. The 128X includes four accessory-mounting rails, 8 scupper drains and plugs, and dual rod holders with rod-leash eyelets.
It's an exceptional fishing kayak built for paddlers who want to take their angling game to the next level.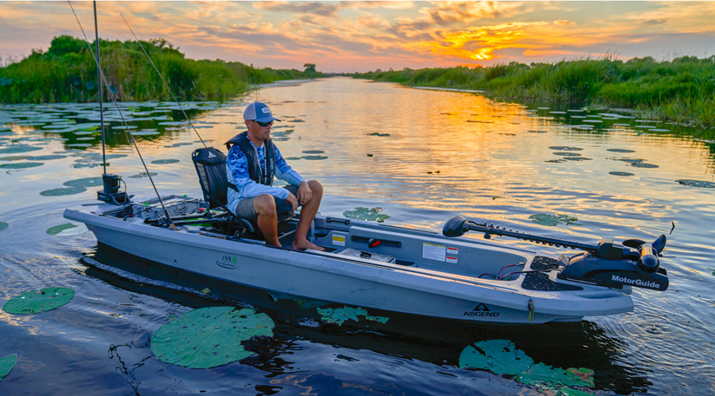 General Specifications
Length: 13′
Width: 36.5″
Weight: 125 lbs
Load Capacity: 550 lbs
The 133X is a high-end fishing kayak that's big enough to fit every item you might need or consider bringing along on a kayak camping trip.
It has abundant storage room in the bow and stern with bungee, a storage tray under the seat, and a central hatch where you can stow away all your gear.
This kayak's custom-crafted catamaran-style hull buoys its tracking abilities, stability, and performance in all conditions.
The super-wide beam combined with non-slip floor mats on the deck area allows you to engage in activities like fishing and bird watching while standing up.
To maximize comfort, the 133X features a mesh Deluxe seat which improves airflow and cools you when paddling on hot days.
If the Ascend 133X has any downsides it is its massive size which can make loading, unloading, and carrying the kayak quite a chore.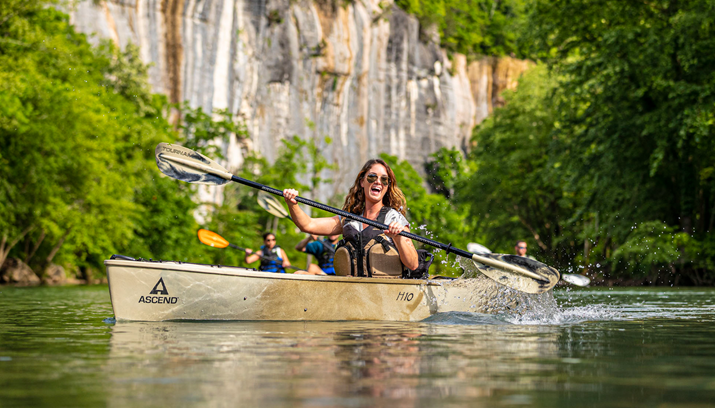 General Specifications
Length: 10′
Width: 31″
Weight: 55 lbs
Load Capacity: 400 lbs
This nimble "jack-of-all-trades" kayak is a versatile watercraft that can go from fishing trips and overnight tours to short leisurely excursions without breaking a sweat.
Ascend's H10 model offers great secondary stability and formidable tracking when you're on the move.
The kayak's keel design enables it to perform quick and controlled maneuvers in tight waters, effortlessly glide through backwaters, and break apart currents easily. Plentiful options for storing your load are distributed all over this kayak.
With the H10 Hybrid, you can choose to stand or sit in the cockpit. The roomy opening means you never have to think twice about how to enter or exit your kayak.
The H10 also has lots of great features for an enhanced paddling and fishing experience including adjustable seats, rod holders, accessory rails, and drink holders.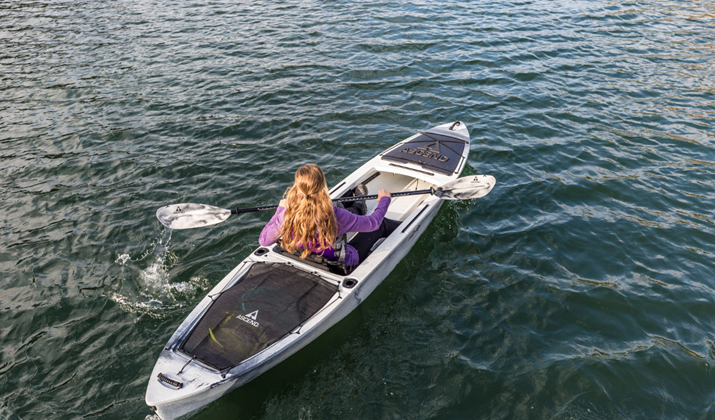 General Specifications
Length: 12′
Width: 32″
Weight: 76 lbs
Load Capacity: 450 lbs
The H12 Hybrid is basically an updated version of the H10 Hybrid kayak. It has all of the same features except that it's longer, with a wider beam, and an extra 50 lbs of storage capacity.
Like its sibling, it supports standing up in the cockpit and gives you several options for installing and optimizing accessories to align with your style and preferences.
It has flush-mounted rod holders, an expanded sternwell, bow storage compartments with bungee and hatch, and a removable seating system.
Final Verdict: Is the Ascend Kayak Worth It?
Ascend kayaks are a great option for anyone who wants a reliable, safe, stable boat of excellent quality that won't cost them an arm and a leg.
The brand has put a lot of thought and work into creating kayaks that beginners and experts alike will find easy to paddle.
In my assessment, Ascend is up there with the most durable, performance-driven, and spacious kayaks in the market.
You certainly can go wrong investing in an Ascend Kayak whether you choose to buy a fishing, hybrid, or recreational model.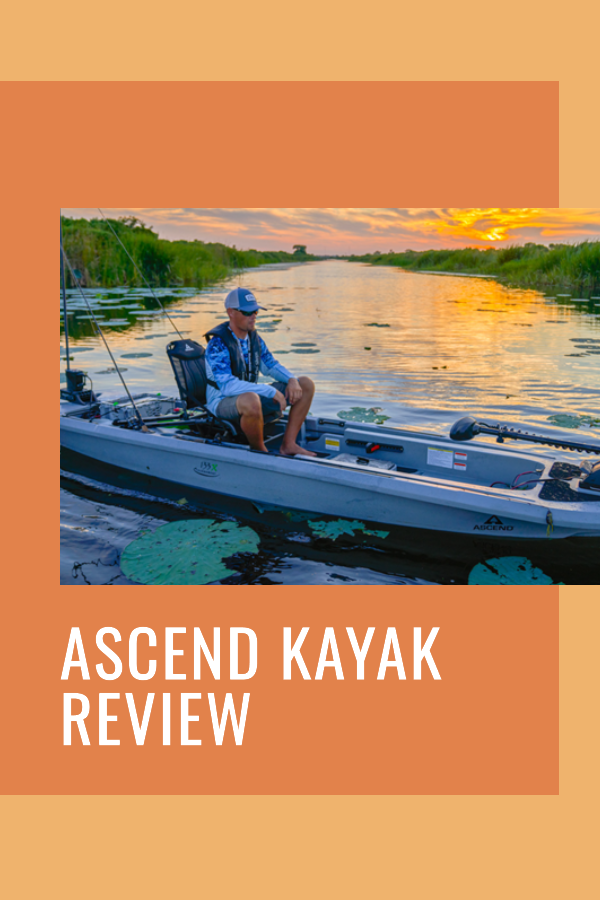 Author: sudeep goyal