Whether you are on the hunt for your first kayak ever or you feel like your old kayak no longer suits you, Walmart has tons of quality kayaks you can purchase.
From sit-on-top kayaks to sit-in kayaks, Walmart sells kayaks online and in-store.
Today, I will be showing you the best Walmart kayaks your money can buy.
Let's get into it.
Best Walmart Kayaks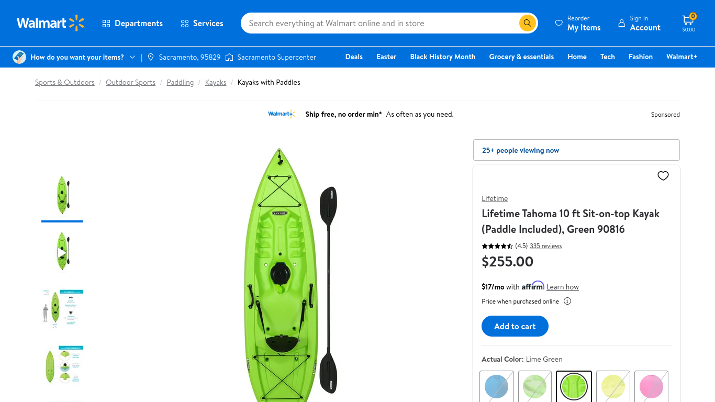 This Lifetime Tahoma sit-on-top kayak is 10 feet long (see what size kayak you need) and comes with a paddle included, so you don't have to buy one separately, saving you a bit of money and hassle. With excellent performance, it is still good for beginners, with chine rails to provide stability.
There are also t-handles on the front and back, providing an easy way to get the kayak in and out of the water.
The center hatch has plenty of storage space, but there are also bungees on the front and rear so you can tie down your extra gear.
The kayak is made of impact-resistant high-density polyethylene (a common kayak material) with UV coating, protecting your kayak from sun damage.
It is also pretty comfortable, with an adjustable, quick-release back seat that will help reduce back pain and multiple footrest positions, allowing you to sit comfortably regardless of your leg length.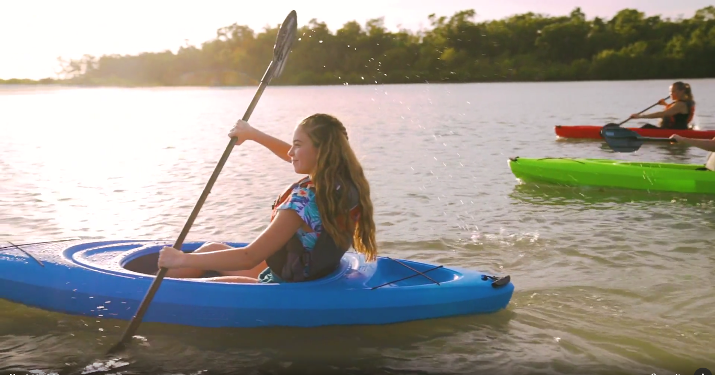 Some of the features that improve its performance include the flat bottom hull, which increases stability, and the sharp bow, which helps improve speed and tracking.
There is a paddle holder that allows you to secure your paddle to the kayak. With a weight capacity of 275 pounds, it's available in green color.
Other colors, subject to stock availability, include neon yellow, regular green, pink, purple, and others.
Sold and shipped by Walmart, this kayak comes with a 90-day money-back guarantee. Shipping times vary based on your location, and it may also be available for pickup at a nearby Walmart store.
Interesting Comparison: Pelican vs Lifetime Kayak – Which Is Better?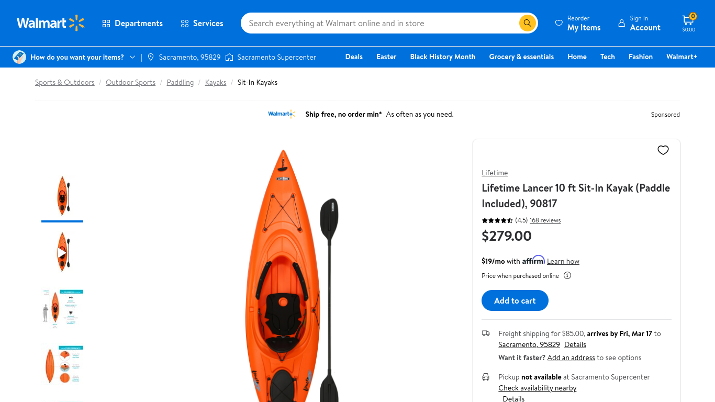 This Lifetime kayak is a sit-in kayak, and it also comes with an included paddle. Made of polyethylene, it is lightweight and easy to maneuver and get in and out of the water.
With a bright orange color, it is easy to spot. With the ledge lock paddle keeper, you can secure your paddle to the kayak.
It comes with a foldable seat with a seat pad to help you stay comfortable while sitting on the kayak. Furthermore, the adjustable back seat will help your back stay comfortable even on long trips.
The deep hull channels help with straight paddling, while the flat bottom hull increases stability.
Its oval hatch provides plenty of storage, and there are also front and rear cord straps that you can use to secure loose items. With a weight of just 48 pounds, this lightweight and easy-to-transport kayak supports a maximum weight limit of 275 pounds.
The five-year limited warranty will increase your confidence about your purchase.
Also Read: Canoe vs Tandem Kayak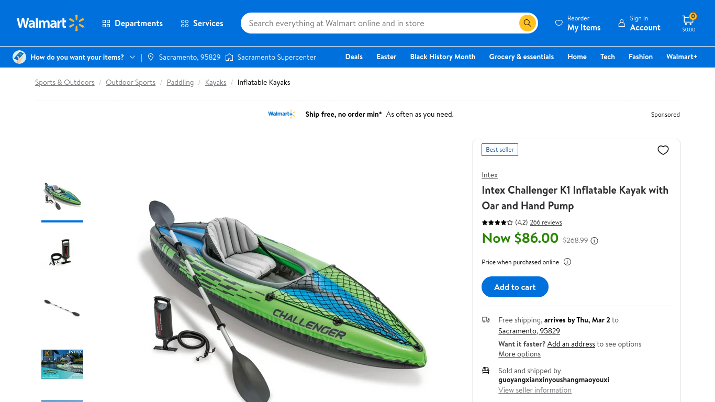 This inflatable kayak is affordable and an excellent option if you want an easy-to-transport kayak that won't break the bank. The bright green and sporty graphics make it look really good; it's perfect for solo kayakers, as it fits one person.
Made with rugged vinyl, this kayak comes with an oar and a hand pump, allowing you to quickly inflate the kayak as needed. It also comes with a kit for repairing it when it gets damaged without having to buy a new one.
The air chambers help ensure buoyancy. For added comfort, there is an adjustable seat with comfortable padding, which you can also remove entirely, and grab handles for stability.
It has a weight capacity of 220 pounds, which is more than enough for one person and some gear.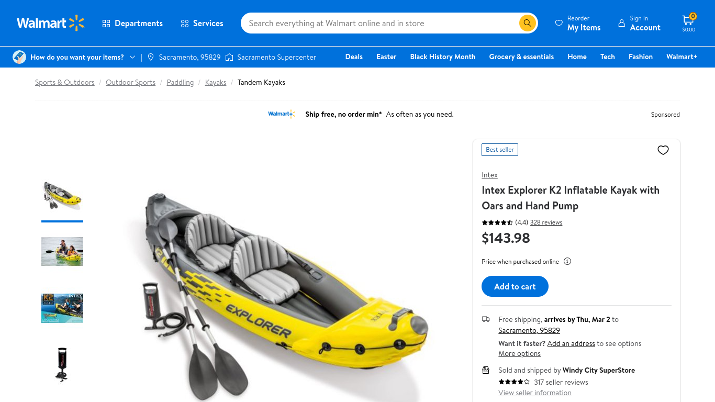 This kayak is very similar to the previous one, but it is designed for two people instead of one. It comes with bright yellow colors and a weight capacity of 400 pounds, enough for two people and some gear.
The removable skeg helps provide directional movement, and it comes with two paddles (for two people) and a hand pump that allows you to quickly inflate the kayak and get onto the water.
Both of the inflatable seats come with backrests and can be removed.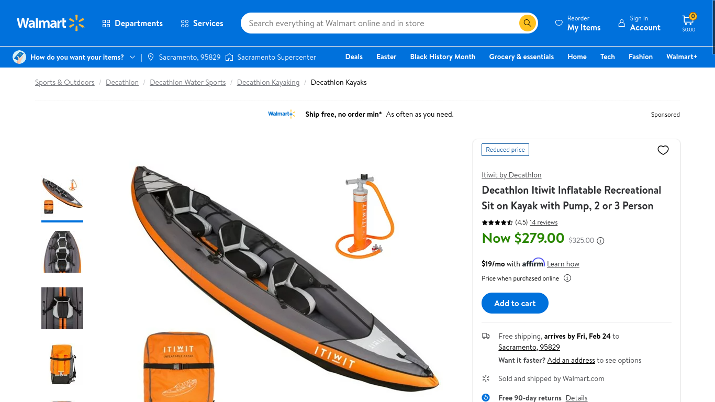 What if you need an inflatable kayak that can fit three people? This Itiwit kayak from Decathlon is a great choice, with a weight capacity of 505 pounds (despite only weighing 37.5 pounds itself).
It comes with two shoulder straps, making it easy to transport the kayak. It also deflates in just five minutes and only takes around 10 minutes to inflate – once deflated, it is very easy to carry around.
It comes with a carrier bag to put the kayak in when not in use. It also comes with a hand pump.
The double layer ripstop structure prevents punctures and ensures a long lifespan. The kayak is best for beginners who are going on half day trips, though.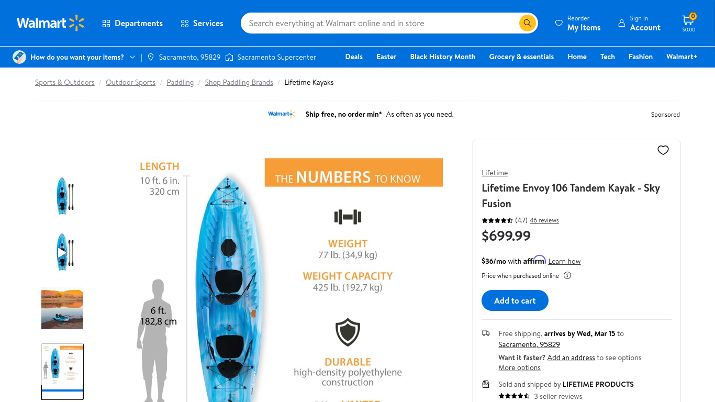 Are you looking for a traditional, non-inflatable tandem kayak to go kayaking with your friend or partner?
The Lifetime Envoy tandem kayak is great for ocean kayaking as well as kayaking in lakes and rivers. The sit-on-top kayak is perfect for two people, although it is definitely possible to use it for a solo kayak trip as well.
If you want to go on a solo trip, you can adjust the backrest to the center and get going! The storage hatch and bungee lacing help provide a way to keep your gear in place.
The HDPE construction means the kayak is durable and long-lasting, with a hull design that is designed for ultimate stability.
The weight capacity of 425 pounds is enough for two people and plenty more than enough for one person, even if you have lots of camping gear with you. The sky-blue color makes this kayak pretty beautiful and aesthetically pleasing as well.
With a five-year limited warranty, you can purchase this kayak with peace of mind.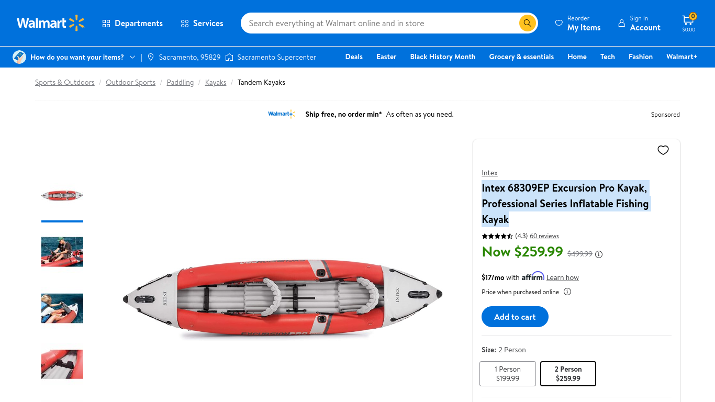 If you are looking for a fishing kayak from Walmart, this kayak is an excellent choice. It is available as a one-person kayak or a two-person kayak.
With a polyester core, this tough kayak can withstand high impacts and is abrasion-resistant, and it won't lose its color even when it contact with oil, petrol, or saltwater.
Thus, it's great for kayaking not only in lakes but also in the ocean. The strong PVC can also withstand contact with all kinds of chemical agents, and the three-ply construction means it is puncture-resistant as well.
The spring-loaded valves help in inflation and deflation, and there are handles that make the kayak easy to carry when inflated.
There are built-in footrests and adjustable seats, as well as fishing rod holders on either side. It has a maximum weight capacity of around 397 pounds.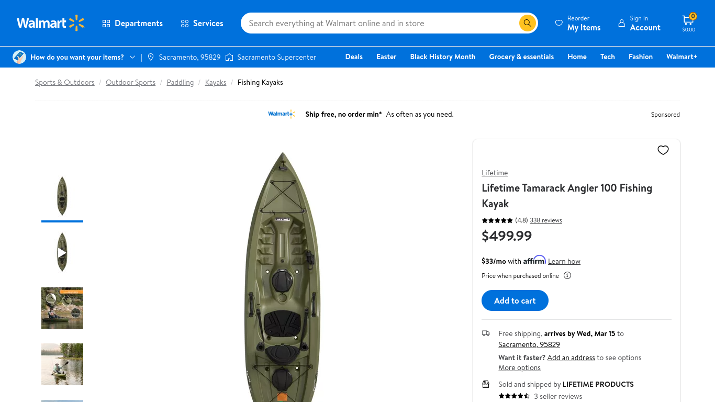 If you are looking for a non-inflatable fishing kayak, this Lifetime kayak is a great choice. It is a bit more expensive, but it is made of high-quality polyethylene that comes with UV protection to prevent cracking or fading due to UV damage.
The hull design helps improve stability, speed, and tracking. There are chine rails as well for stability, and the adjustable footrests ensure you can get the most comfortable position for your legs.
The padded backseat helps you stay comfortable, and there are storage hatches where you can put your fishing gear.
Made for one person, it comes in a green color.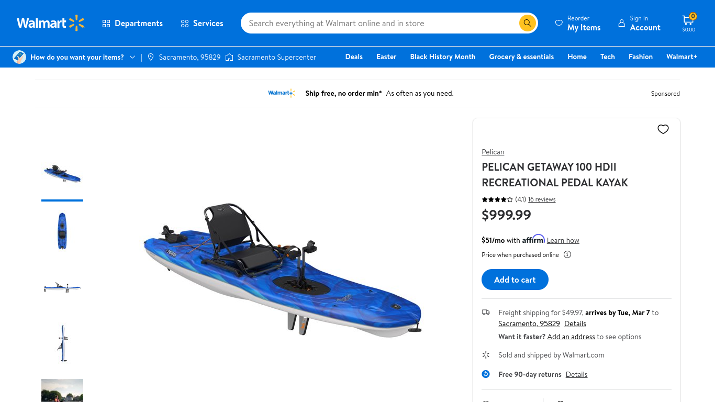 Is kayaking very tiresome for you? One way to make kayaking easier and reduce energy expenditure, allowing you to go on longer trips without tiring yourself out and getting exhausted, is using a pedal kayak.
A pedal kayak allows you to use the power of your legs to pedal and move your kayak. It's also great for hot weather, as it reduces the chances of getting heatstroke.
This Pelican pedal kayak comes with a HyDryve II pedal system that makes it easy to maneuver around aquatic plants and other obstacles as well as in shallow water. It also comes with a rudder that you can control from your seat, helping you control your direction.
With a tunnel hull ensuring stability, you won't have any issues getting in and out of the kayak.
The kayak is very comfortable to sit in, as it features a ERGOCAST XP™ seat, which you can even remove and use as a beach chair when you are not paddling the kayak. The two bottle holders ensure you can remain hydrated on those long trips, and there are accessory eyelets as well.
The stern storage platform with bungee cords provides an easy way to store your gear and accessories, and there are two rigging tracks on the handles.
Made with high-density polyethylene, the kayak is extremely durable but also lightweight, as less material is needed to manufacture it. It weighs just 65 pounds!
Nevertheless, it has a weight capacity of 300 pounds.
You can feel safe while on this kayak, as it is designed with your safety in mind. It meets ABYC standards (ABYC stands for American Boat and Yacht Council, a nonprofit organization founded in 1954 that sets guidelines for boats and yachts).
It also comes with scupper holes, which were designed to help water drain out of your kayak. You won't have to worry about sinking.
Not only that, but the kayak comes with a lifetime limited warranty from Pelican International against defects in the workmanship or materials.
Also Read: Pelican Kayak Review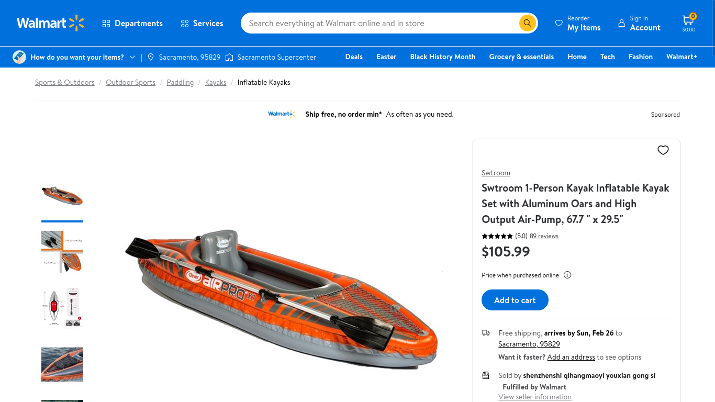 This inflatable kayak is awesome for solo kayakers! It is very affordable as well, so it's one of the most cost-effective kayaks you can buy as a beginner, allowing you to save money for a second kayak a few months down the line.
It has two removable fins to provide directional stability, and it has three air chambers, allowing you to stay afloat even if other chambers get punctured. The kayak is hard to puncture anyway, with a tarpaulin bottom.
There Is also a repair patch kit that comes with the kayak just in case it does get punctured, allowing you to repair the kayak and get back on the water quickly, with no delay.
The high-pressure spring-loaded valves mean that the kayak is easy to inflate and deflate. The kayak comes with a foot pump, meaning it is easy to inflate the kayak without tiring yourself.
It also comes with a lightweight aluminum oar, two detachable fishing rod holders (meaning the kayak is good for fishing trips as well), a detachable and adjustable GoPro mount, and a detachable mounting bracket for your other accessories.
The kayak is nimble, lightweight, and glides on the water, offering a very pleasurable experience.
It has storage space in the bow for storing your gear, with rings for tying it down.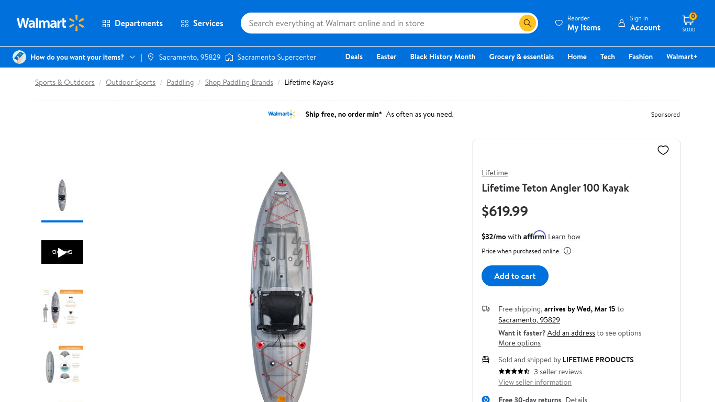 This is a great kayak for intermediate kayakers. It has an adjustable frame seating system for extra comfort and a hull that was designed to increase stability and improve tracking.
Offering excellent speed and agility, this kayak has two luggage-style handles that make it easy to transport. The self-bailing scupper holes help you stay safe on the water, while the two flush mount rod holders make it perfect for fishing kayak trips as well.
With a five-year limited warranty from Lifetime, you can feel comfortable purchasing this kayak.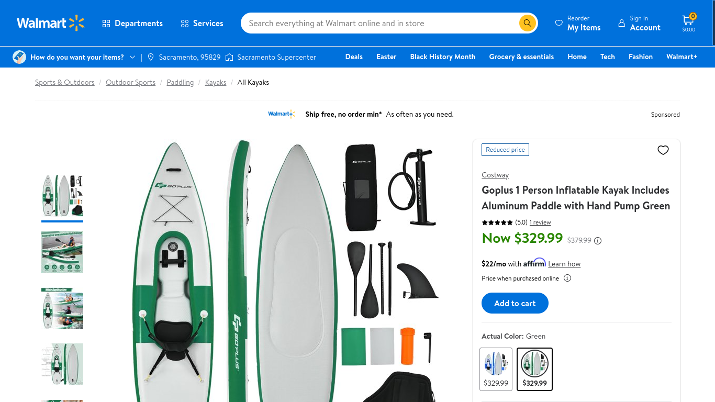 I really like the design of this kayak. The green and white colors are beautiful (it also comes in blue and white if you prefer that), and it's perfect for kayakers of all levels, from beginners who want to kayak on gentle rivers to professionals looking for a kayak to practice for water sport competitions.
It has a movable spin for directional stability and comfortable seats with backrests. The adjustable foot pedal assists you with maneuvering the kayak, and there is a fast inflation and deflation valve.
The waterproof bag that comes with the kayak helps you keep it safe. At the same time, there are two carrying handles that make it easy to carry the kayak when it is inflated.
The kayak does come with an easy-to-use pump. All in all, it is a great multipurpose kayak made of high quality materials for a great price.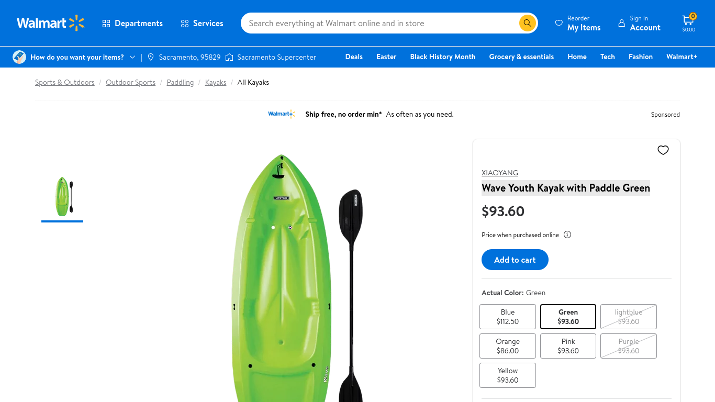 Are you looking for a kayak for your teenager or child? Walmart has plenty of amazing youth kayaks.
Youth kayaks are usually characterized by having bright colors and being of a smaller size to fit youngsters.
This bright youth kayak has a molded paddle cradle – the paddle comes included with your purchase. It has a twin fin design to assist with tracking.
There are modeled finger handles on both sides to help your child stabilize themselves. Furthermore, the kayak comes with multiple footrest positions, allowing your child to continue using the kayak as they grow.
The self-bailing scupper holes help keep your child safe. At the same time, the kayak is recommended for children over the age of five and only with parental supervision – the bright colors help you spot your child on the water.
It comes in several colors, subject to availability. Green, orange, and yellow are some of the colors currently available.
This is another excellent kayak for kids. It is six feet long and has a weight capacity of100, pounds.
It comes with a kid's paddle and safety flag that helps your child stay visible, but the bright color assists with that as well. It is made of AM-X™ impact-resistant material. The scupper holes at bottom are self-bailing and help keep water out of your child's kayak.
It weighs just 20 pounds and has a small place suitable for a child. It is stable and designed to be easy for your child to get in and out of the kayak without tipping it over.
There is also a molded seat with a backrest to ensure comfort, as well as a bottle holder that ensures your child can stay hydrated. There are also footrests where they can place their feet.
All in all, if you are looking for a solo kayak for your young child, this is one of the best choices you can make.
What to Know When Shopping for Kayaks on Walmart
If you never shopped on Walmart before, here are some tips to keep in mind to ensure a smooth and hassle-free purchasing experience.
Enter Your Exact Address
Shipping can vary. Some kayaks might come in a day or two, while other kayaks might take several weeks.
Generally, you can expect inflatable kayaks to come quicker, but it does depend on the seller and your location. If you get Walmart+, you may be able to get free next-day shipping, but it might not apply to the specific kayak you are buying.
However, you can get a free 30-day trial of Walmart+.
Enter your exact address for updated shipping options.
Another thing you should check for is if pickup is available. Some kayaks may be available for pickup at a nearby Walmart store – you can still pay for and purchase the kayak online and then pick it up in person.
That may be faster than shipping.
Check Out With Affirm
Most of the kayaks on this list are pretty affordable. At the same time, some kayaks can be expensive.
If you don't want to pay the full price for the kayak upfront, consider checking out with Affirm. Walmart has partnered with Affirm to offer customers the option to pay over time using payment plans.
For example, instead of paying everything upfront, you may be able to pay month by month, without any additional fees or interest charges.
Check Reviews
Not all of the kayaks on Walmart will have many reviews or any reviews at all. However, some of them will have plenty of reviews, so make sure to check them before purchasing the product.
If people are complaining about things such as low-quality materials that deteriorate quickly, consider looking for a different kayak instead.
Check the Return Policy and the Seller
One thing to know about shopping on Walmart is that some items are sold by third-party sellers while others are sold and shipped by Walmart itself. The latter ones are the best, as you can be sure you will enjoy a quality experience.
Furthermore, return policies can vary. While Walmart may offer a 90-day return policy, third-party sellers on the marketplace might not be as generous, as some may only offer a 30-day return policy, for example.
There are also items sold by third-party sellers but fulfilled by Walmart.
If you are buying a kayak from a third-party seller, make sure to click on View Seller Information on the product page. That will give you more information about the seller – you will be able to see reviews (if there are any), the seller location, contact information, and more.
Conclusion
There are many other awesome kayaks on Walmart. However, if you can't find the kayak you are looking for on Walmart (Walmart may not carry the specific brand you're looking for, for example), check out our list of the best places to buy kayaks.
Our guide on the best time of the year to buy kayaks is also an interesting read.
If you liked this article, make sure to share it with a friend!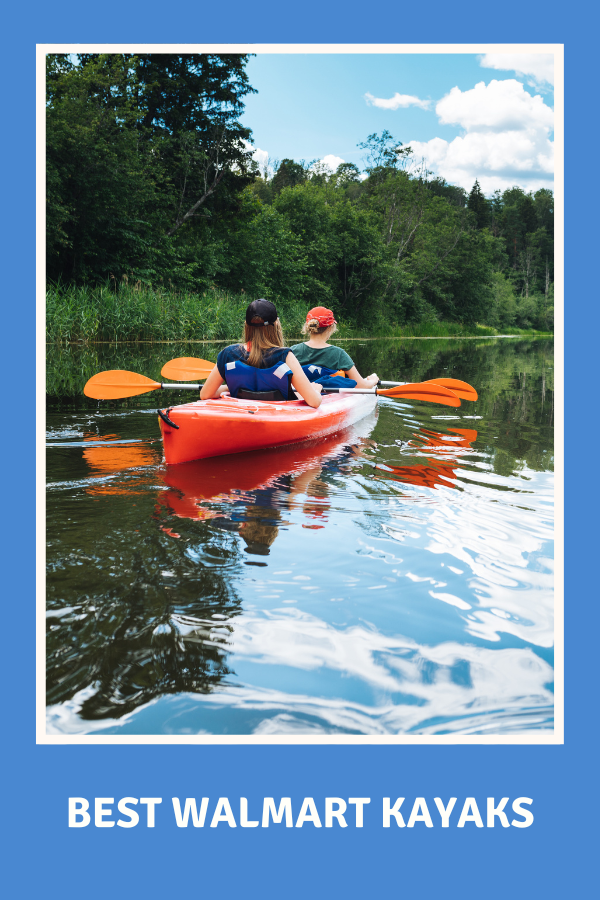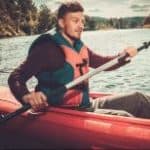 Author: Peter Salisbury
Pete is the Owner of KayakHelp.com. Born and raised in Cleveland, Ohio, he grew up kayaking, fishing, sailing, and partaking in outdoor adventures around the Great Lakes. When he's not out on the water, you can find him skiing in the mountains, reading his favorite books, and spending time with his family.