Many visitors to any of the states around the Great Lakes probably first think about paddling on the lakes themselves. The best rivers to kayak in Michigan, however, can offer some spectacular scenery and less-crowded paddling.
Michigan is an incredibly diverse state and it has tons of water flowing through it. In addition to having nearly 3,300 miles of shoreline, Michigan is blessed with plenty of great rivers for your kayaking pleasure.
Some of these rivers will, of course, require one of the best whitewater kayaks (or inflatable whitewater kayaks) and the expertise to run whitewater safely and effectively. Others offer calmer waters that can easily be paddled in a recreational sit-on-top kayak.
While we certainly have plenty of ideas about how to choose the right kind of kayak for your skills and preferences, we are going to use this guide to focus on highlighting the 15 best rivers to kayak in Michigan!
For the record, many of the longer paddles on Michigan rivers will require brief circumventions of small dams. So you may want to make yourself familiar with the art of portaging before you continue!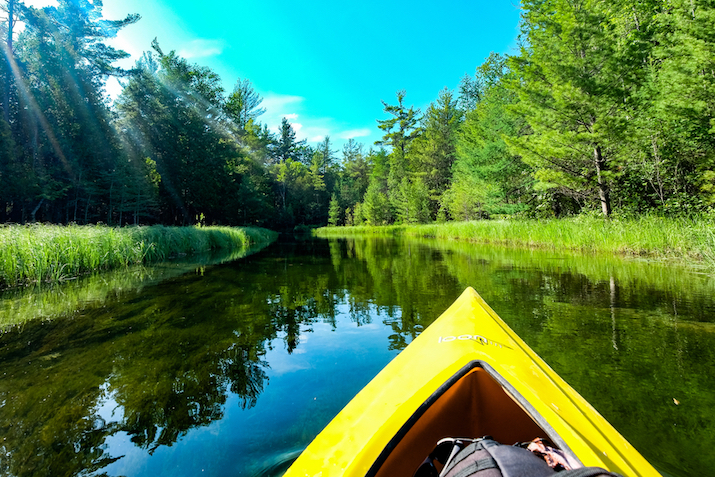 Photo by backpacker 79 via Shutterstock
Best Rivers To Kayak in Michigan
Huron River
Big Manistee River
Two Hearted River
Platte River
Grand River
Au Sable River
Pine River
Crystal River
Rifle River
Jordan River
Sturgeon River
Thornapple River
Rogue River
Boardman River
Manistique River
Reviews of Rivers To Kayak in Michigan
1. Huron River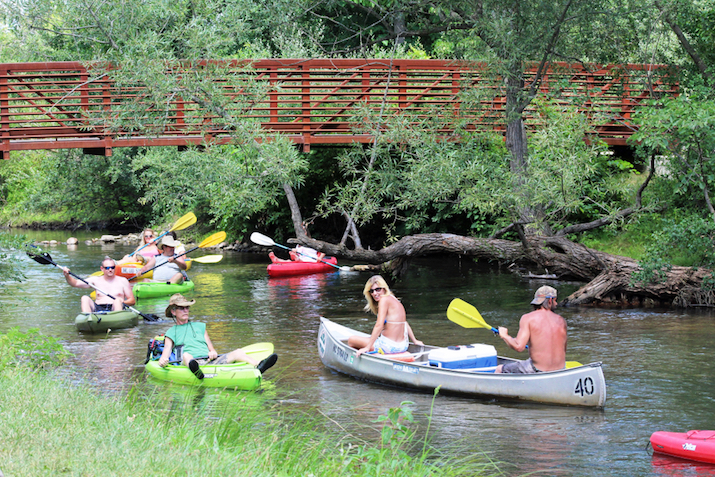 Photo by Barbara Kalbfleisch via Shutterstock
The Huron River sits in southeastern Michigan and stretches for a total length of 130 miles. Parts of the river touch the following counties: Livingston, Monroe, Wayne, Washtenaw, Ingham, and Oakland.
The river's headwaters begin in Big Lake and the Huron Swamp to the northwest of Pontiac. It then flows down to the marshes of Point Mouilee where it finds its outlet into Lake Erie.
There are a total of 13 recreation areas, game tracts, and parks along the length of the river that offer access for varying uses. Fishing, kayaking, and swimming are the main uses along this rather slow-moving Michigan river.
There are many dams along the main stretch of the Huron River, which contribute to its slow-moving qualities. More than 96 dams along the length of the river are one of the major reasons why it is such a good river for recreational kayakers.
The good news is that many of these dams are quite small and can easily be portaged if you have a lightweight kayak. The Huron River Water Trail, for example, covers 104 miles of the river's total length and provides a great mix of flatwater and mild whitewater.
2. Big Manistee River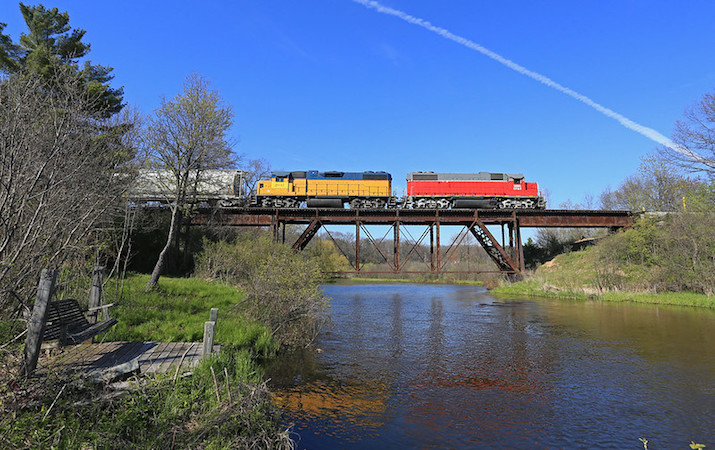 Photo by GLC 392 via Flickr
The Big Manistee River is very wide and slow-moving, which makes it another great choice for the casual, recreational paddler. It is located in the northwestern Lower Peninsula of the state and stretches for a total length of about 190 miles.
Eventually, this river enters Lake Michigan at its outlet and it passes through the cities of Sharon, Smithville, and Mesick along the way. Along with the Au Sable River (more on that later), this river is widely regarded as one of the best rivers for trout and salmon anglers in the state.
While most of the river is pretty mellow, there is a little bit of whitewater a little further upriver as you travel towards the headwaters. Speaking of those, this river originates in the historic glacial sand hills on the border of Antrim and Otsego counties.
There are many access points along the length of the Big Manistee River for kayaking. If you want to paddle on a very gentle section, check out Red Bridge Access and then paddle downstream onto Tippy Dam Pond.
3. Two Hearted River
Photo by Dave Garvin via Flickr
With an outlet into Lake Superior, the Two Hearted River is a relatively short river with a total length of 23.6 miles. It gets its name because of the two branches of the river that feature sandy shorelines and plenty of opportunities for wildlife viewing.
The river runs through the eastern section of Michigan's upper peninsula and has gained surprising notoriety in pop culture in spite of its shorter length. It is featured on the graphics of Bell's Brewery's Two Hearted Ale and was the subject of Ernest Hemingway's short story called Big Two-Hearted River.
If you are looking for a more remote kayak camping destination, the Two Hearted River may be the perfect fit. There are campsites all along the river and multiple access points that make it easy to plan and execute a one-day or multi-day trip.
Paddling at the mouth of the river also provides an opportunity to experience both it and the waters of Lake Superior. Plus, there are tons of chances to see bald eagles, otters, and other native wildlife in this region.
4. Platte River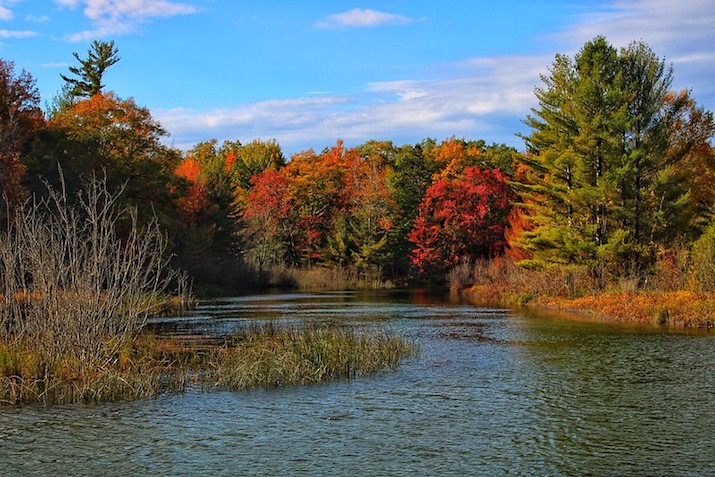 Photo by bioprof52 via Flickr
The Platte River runs within the boundaries of Sleeping Bear Dunes National Lakeshore and flows for a total length of 30 miles. Its origins can be traced back to Long Lake, which lies in Grand Traverse County.
Eventually, the river empties into Lake Michigan and it passes through many lakes and wetlands along its course. This makes it an epic choice for wildlife viewing and several different types of kayaking.
The upper portion of the river moves more swiftly and offers great runs for whitewater kayakers seeking a more speedy course. The lower section is more attractive for kayakers, canoe enthusiasts, and even tubers.
The lower section is also much warmer than the upper, spring-fed section of the river. The average water temperature on the lower section can often reach 80 degrees in the summer while the upper section maintains a more brisk 65 degrees as a result of the many natural springs that feed into it at various locations.
5. Grand River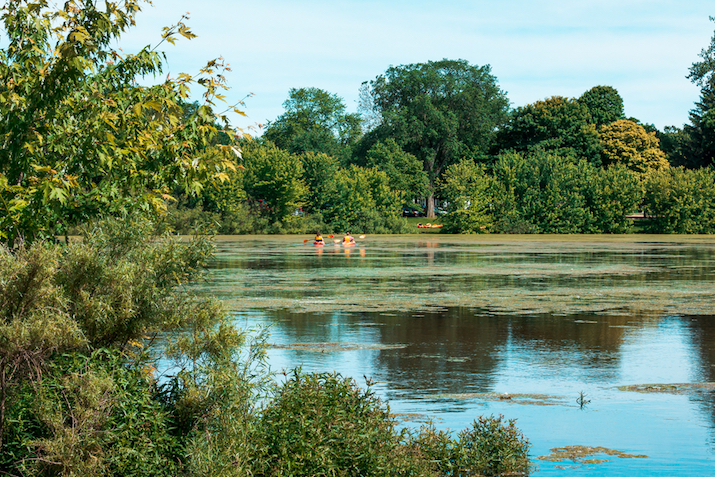 Photo by Michael Deemer via Shutterstock
The Grand River is the longest stretch of river in the entire state of Michigan. It has a total length of about 260 miles and it flows right through the cities of Grand Rapids, Lansing, Grand Haven, Jackson, Eaton Rapids, Grand Ledge, Portland, Lowell, and Ionia before emptying into Lake Michigan.
The construction of dams in several locations along the river's length has created wide, slow-moving sections that are perfect for folks with a recreational kayak. There are 14 dams along the main river, but more than 200 dams have been constructed along its tributaries as well.
The Grand River also drains the second-largest watershed in the entire state. It drains a total of 5,572 square miles and accounts for roughly 13 percent of the cumulative water that runs into Lake Michigan from the Great Lake state.
Because of its rapid-less nature, the Grand is used by the rowing and crew teams at Grand Valley State University. If you are looking for a place to launch your kayak onto this river, check out Grand River Park outside of Grand Rapids.
6. Au Sable River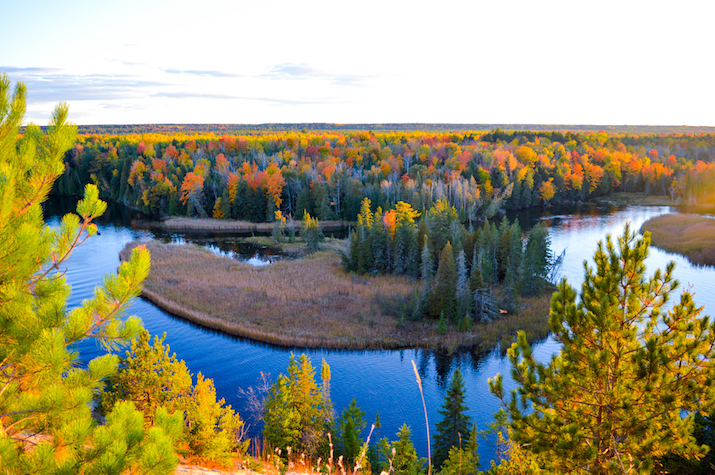 Photo by In His Image via Shutterstock
The Au Sable River runs for a length of approximately 138 miles before it empties into Lake Huron. The river originates at the confluence of two creeks (Bradford and Kolke) in Crawford County.
This river has become well-known for its magnificent fall colors along its banks. Under the surface, however, there are some of the best brown trout waters in the entire region.
Roughly 23 miles of the Au Sable have been designated as a Wild and Scenic River and this stretch is managed by the United States Forest Service. This stretch (along with most of the rest of the river actually) is known for its high water quality and cultural significance.
The Au Sable River Canoe Marathon is one of the more popular modern cultural events that take place on a 120-mile stretch of the river. Held annually on the final complete weekend in July, this race is part of the Triple Crown of canoe racing.
7. Pine River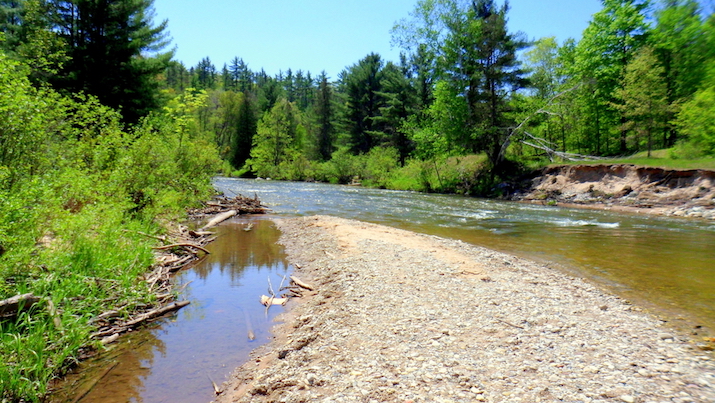 Photo by Bob Klann via Shutterstock
There are roughly 67 miles of navigable waters on the Pine River and these waters are protected on two fronts. These protections are established under the Michigan Natural River Designation and Plan and the Federal Wild and Scenic River Designation and Plan.
With a seven percent river gradient, it is one of the fastest flowing rivers on average in the entire state. The Pine has also been claimed to be the best river for paddlesports in the entire Midwest because it offers the kind of exhilarating whitewater that you can't often find elsewhere.
The river is for experienced paddlers only and can be used for single-day, point-to-point kayak trips or multi-day expeditions. Because of its popularity, there are established maps for float times and access points that can be of great use when you are planning your trip.
The Pine River does get quite busy during the summer months and, as a result, the forest service has begun mandating a river pass for all recreationists. These can easily be attained at any forest service location prior to your arrival.
8. Crystal River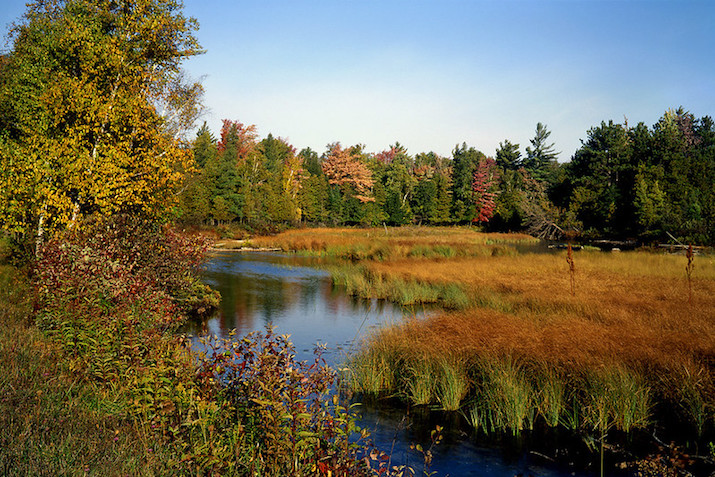 Photo by Tom Powell via Flickr
The Cyrstal River is a shorter stream that covers a length of roughly 6.3 miles and is protected as part of a partnership with Sleeping Bear Dunes National Lakeshore. The river boasts clear waters and an abundance of aquatic and land-based wildlife.
Some of the area's most popular residents include blue heron, white-tailed deer, bald eagles, otters, turtles, frogs, and several different species of fish. The river itself flows from Glen Lake into Lake Michigan to the north of Glen Arbor.
On average, the river is barely more than one foot deep at most locations and stretches from roughly 15 to 20 feet in width. There is no hiking trail system along the river, which makes kayaking or canoeing the best way to see it.
There are several outfitters that can guide trips along the Crystal River if you don't have your own equipment. If you do, just know that there are several portages along this river at sections where it flows through drainage pies under county roads.
9. Rifle River
Photo George Thomas via Flickr
The Rifle River begins in Ogemaw County and flows for a little more than 60 miles before it drains into Saginaw Bay on Lake Huron. While it was once used as a logging river, it now enjoys protected status as a Michigan Natural River.
This means that the primary activities on the river are kayaking, canoeing, and fishing. During the spring months, the Rifle River is known for having one of the best runs of White Sucker in the entire state.
It is also one of the few rivers in Michigan that doesn't have any dams along its length. This eliminates the need for any portages, which makes for easier long-distance kayak trips on the Rifle.
The Rifle River Recreation Area is a great starting point for experiencing the river and its watershed. The area spans more than 4,000 acres, includes a vast section of the river, and also includes 10 unique scenic lakes.
10. Jordan River
Photo Gary Johnson via Flickr
The Jordan River was actually the very first river to be granted protected status under the State of Michigan's Natural Rivers Act way back in 1972. Its headwaters are spring-fed and this river originates in the upper Jordan River Valley to the northeast of the town of Mancelona.
The river then flows approximately 25 miles into Lake Charlevoix and is actually that lake's largest tributary. The headwaters of the Jordan River are only accessible on foot or by an all-terrain vehicle, but there are several access points along its length.
When it comes to launching a kayak onto the Jordan River, you will have options. There are vehicle-accessible launch points at Graves Crossing, Jordan River Road, Old Bridge Road, Mount Bliss Road, and Penny Bridge Road.
The Jordan is also known for being one of the best locations for anglers looking for brook trout. Throughout the spring and fall, steelhead and salmon are also prevalent throughout the river's course.
11. Sturgeon River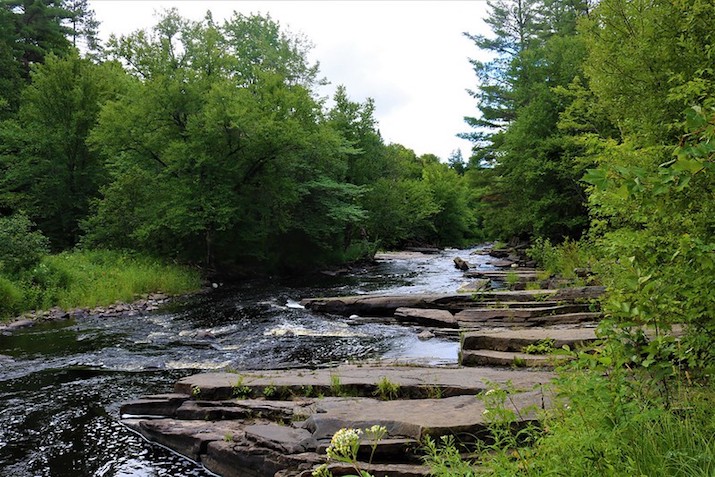 Photo Zach Frieben via Flickr
Located in Michigan's Upper Peninsula, the Sturgeon River is another federally protected wild and scenic river. The Wild and Scenic section stretches for roughly 21.7 miles while the river's total length is closer to 41 miles.
There are actually several rivers in Michigan with the same name (and many offer great kayaking!). The Sturgeon we are referring to, however, flows through Hiawatha National Forest before emptying into Lake Michigan near the historic town called Nahma.
This stretch of river offers excellent opportunities for fishing and wildlife viewing (like all of the rivers in Michigan!). It is particularly popular for elusive steelhead, brown trout, and salmon.
There are two small sections of rapids along the river that will challenge even the experienced kayaker. Also, keep in mind that the Sturgeon is best paddled from early summer through late fall.
12. Thornapple River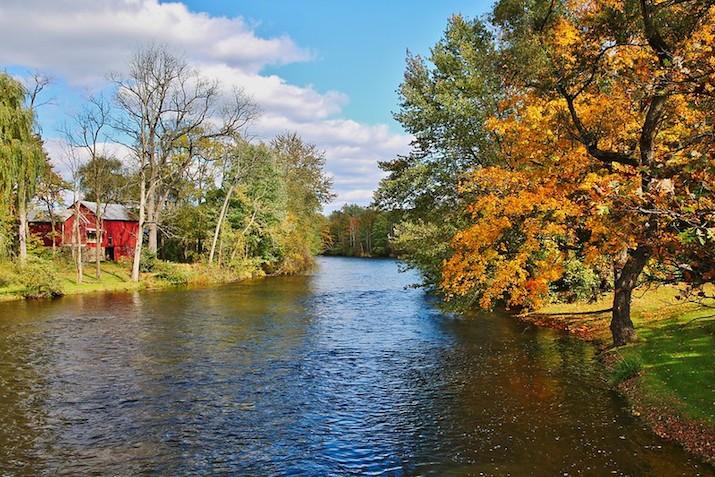 Photo David Juckett via Flickr
Stretching for an approximate length of 88 miles, the Thornapple River is a tributary of the Grand River. It begins in Eaton Country and primarily drains rural farmland in the central part of the state along its path to intersect with the Grand near the town of Ada.
Because this river is not commercially navigable, it makes for easier and more peaceful paddling for kayakers and canoers. The best stretch runs from Thornapple Lake down to the first dam near Irving and is approximately 14 miles long.
Above Thornapple Lake, the river is quite narrow, and heavy undergrowth can make passage nearly impossible. After the first dam impoundment, the river turns into a series of heavily developed reservoirs.
The river is also known for being one of the best smallmouth bass fisheries in Michigan. In addition to bass, you can also fish for several other species, including northern pike, perch, and three types of trout.
13. Rogue River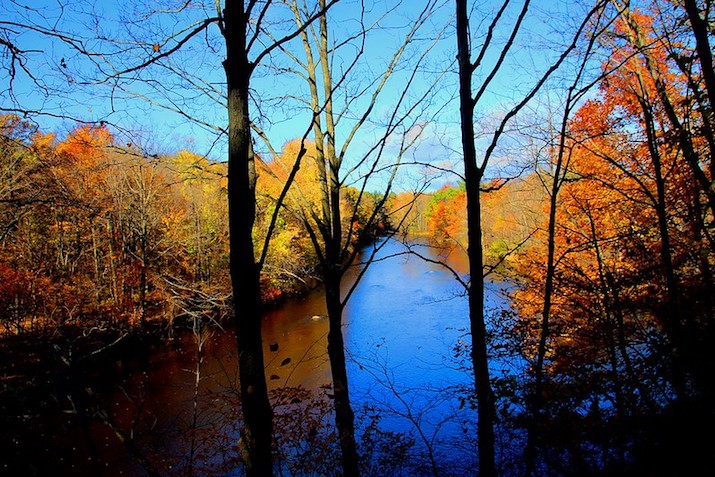 Photo by neukomment via Flickr
The Rogue River is actually another major tributary of the Grand and it stretches over a length of about 48 miles. Its origin story is somewhat unique, as its headwaters actually begin in a series of ditches that drain the historic bed of Rice Lake in Newaygo County.
The river eventually drains into the Grand near the town of Belmont and it is quite popular for trout anglers. It is also great paddling for recreational kayakers because it has been well-suited to casual inner tubing for more than 100 years.
For those interested in a short trip on the Rogue, try putting your kayaks in below the dam near the town of Rockford. For some whitewater paddling, you may want to journey roughly 45 minutes downstream to the site of the old Chilsdale dam.
14. Boardman River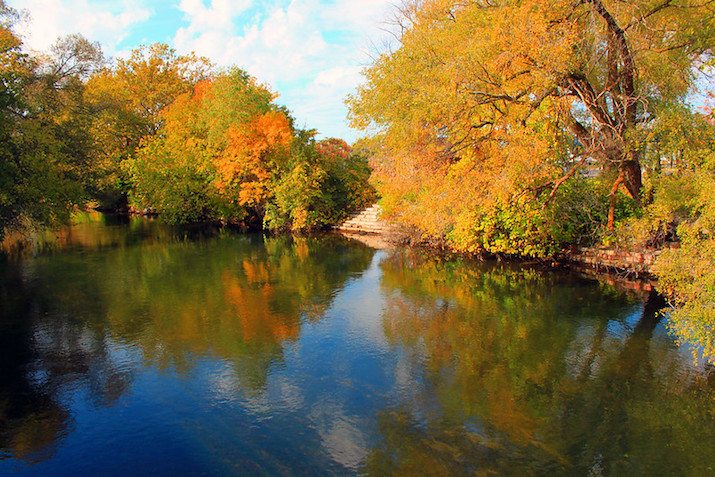 Photo by Gabe Popa via Flickr
The Boardman is another one of the best trout rivers in Michigan and it logs more than two million user days per year. The river begins close to the town of Kalkaska before running a little more than 28 miles and draining into Grand Traverse Bay.
In addition to trout, anglers can also catch smallmouth bass, northern pike, walleye, perch, and several other species in the river's waters. This is especially the case in the river's lower section where the Union Street Dam turns it into Boardman Lake.
If you are anywhere near Traverse City, this is a great place to launch a kayak to explore the river. If you want to head upriver, check out the paddle from Shecks State Campground down to the takeout at Brown Bridge.
15. Manistique River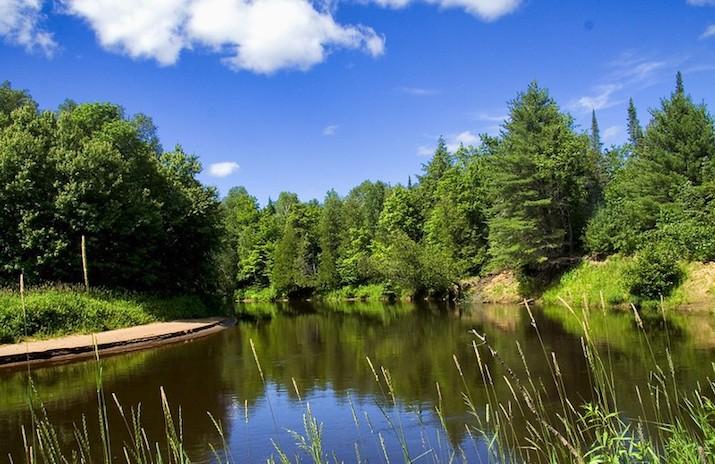 Photo by ksblack99 via Flickr
You will find the majestic Manistique River in the central portion of Michigan's Upper Peninsula. It originates at the outlet of Manistique Lake in Luce County and flows for roughly 71 miles before draining into Lake Michigan.
This river is great for a remote kayaking trip because it actually flows through the Seney National Wildlife Refuge. It also allows you to choose your own adventure for a short day paddle or a multi-day journey that lasts as long as six days.
The entire length of the river runs through an alluvial bed of sand and silt, which means it flows relatively slowly and features minimal rapids. This makes it a great selection for beginner-to-intermediate paddlers.
Despite heavy logging activities in the 1910s, the river and its surrounding habitat have been restored to become one of the longest undeveloped stretches remaining in the state. If you are planning a multi-day paddle, the state forest campgrounds at Mead Creek and Merwin Creek may come in handy.
Honorable Mentions
We honestly couldn't keep our list to just 15 rivers after we really started diving into our research. So here are a couple more Michigan rivers you should consider for your kayaking adventures!
Flat River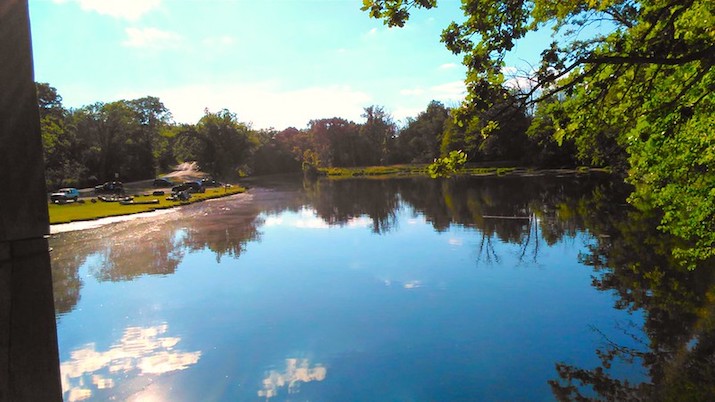 Photo by neukomment via Flickr
The Flat River is actually a tributary of the Grand River and it flows roughly 70 miles after originating in the Six Lakes region. Fallasburg Park is a great place to launch a kayak onto the Flat, and you can actually paddle downstream from there all the way to the confluence with the Grand at Lowell (approximately seven miles).
Tahquamenon River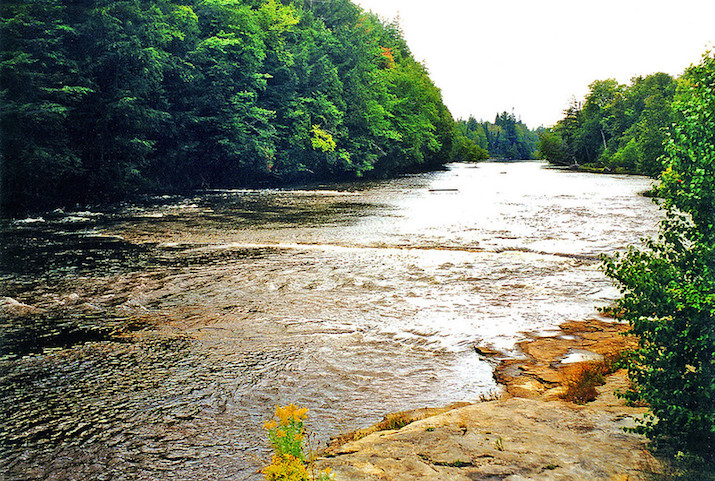 Photo by John Koenig via Flickr
The Tahquamenon is a blackwater river that runs for a little more than 89 miles through the eastern part of Michigan's Upper Peninsula. Tahquamenon Falls State Park is a popular location for getting acquainted with this area and it also features one of the largest waterfalls to the east of the Mississippi.
Final Thoughts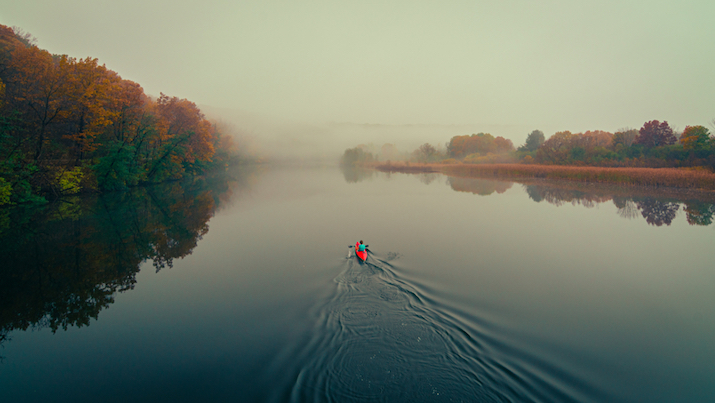 Photo by Christophe Merceron via Shutterstock
Michigan sure does hold a lot of opportunities for exceptional river kayaking. We found that this was so true that we couldn't even restrict our list to just 15 rivers!
As always, we hope that you found this guide useful and that you now have some new ideas for rivers to kayak in Michigan. Of course, we would like to conclude by wishing you only the safest of paddling adventures in the months to come!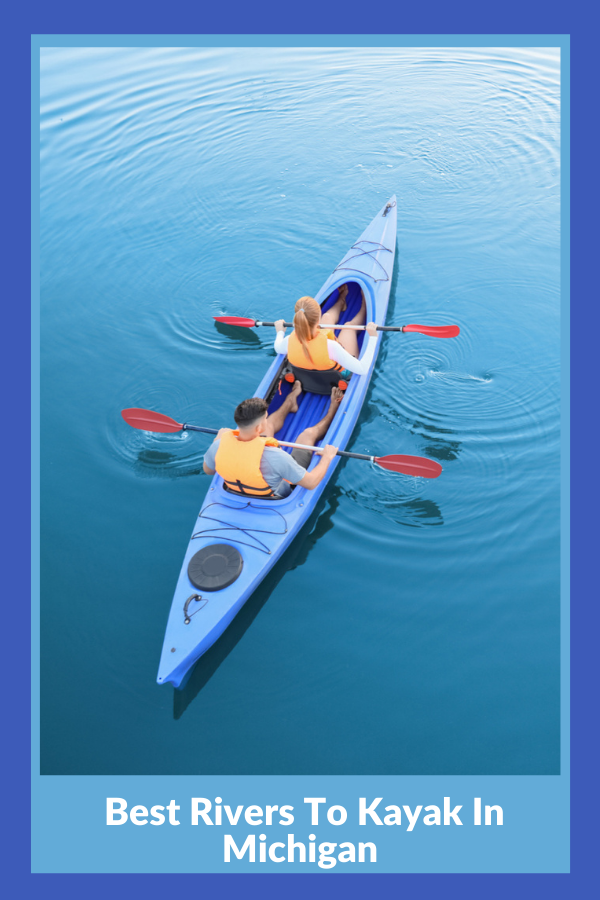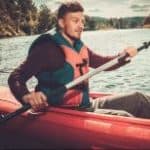 Author: Peter Salisbury
Pete is the Owner of KayakHelp.com. Born and raised in Cleveland, Ohio, he grew up kayaking, fishing, sailing, and partaking in outdoor adventures around the Great Lakes. When he's not out on the water, you can find him skiing in the mountains, reading his favorite books, and spending time with his family.